Most Profitable Cricut Projects To Sell For A Side Hustle
This is a sponsored post written by me on behalf of Cricut. All opinions are 100% mine.
These are the most profitable Cricut projects to sell for a side hustle. Bring in some quick cash with these easy crafts to make and sell. You can sell in person or online and quickly grow your own business from scratch using your Cricut. Let's dive into exactly how to accomplish that!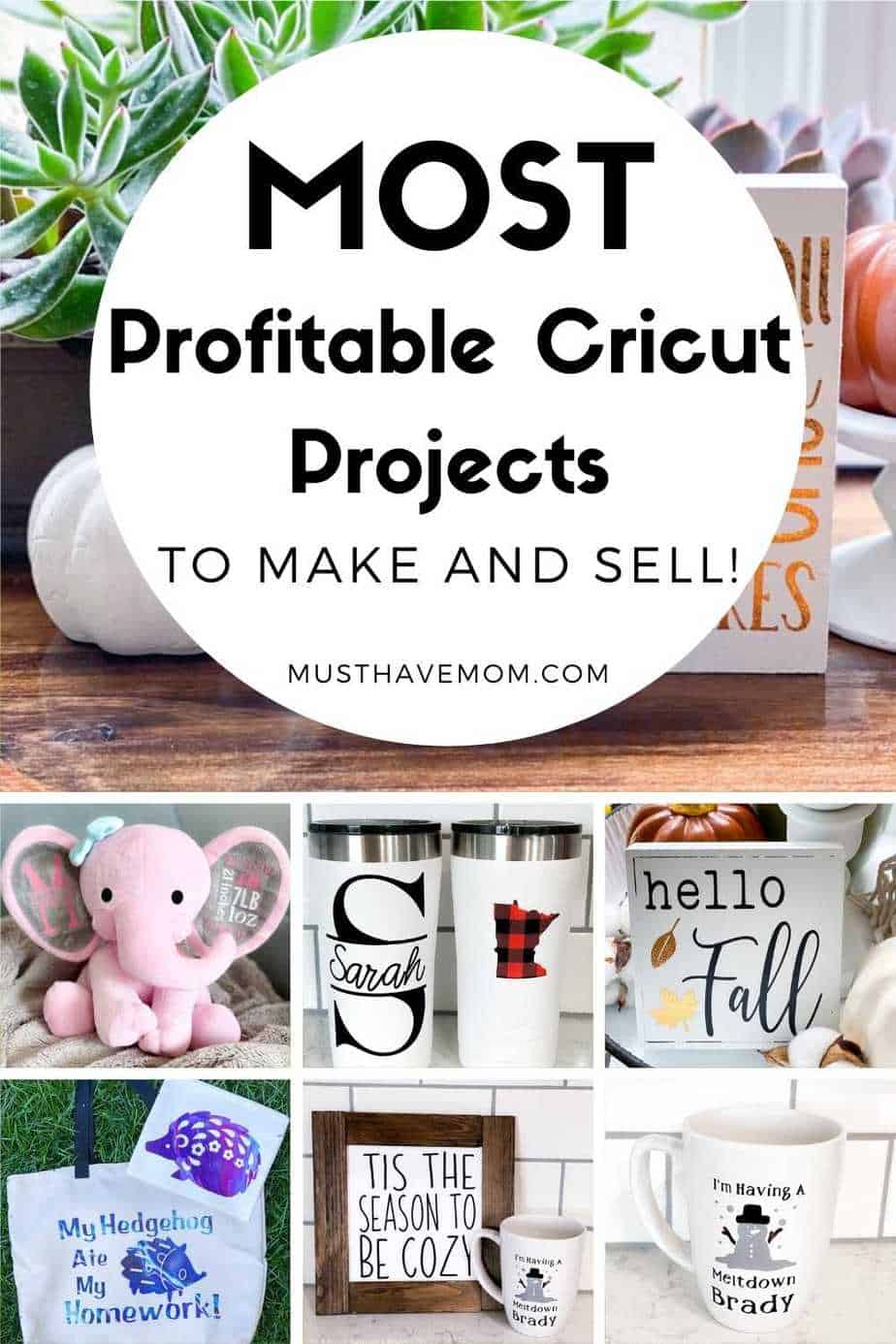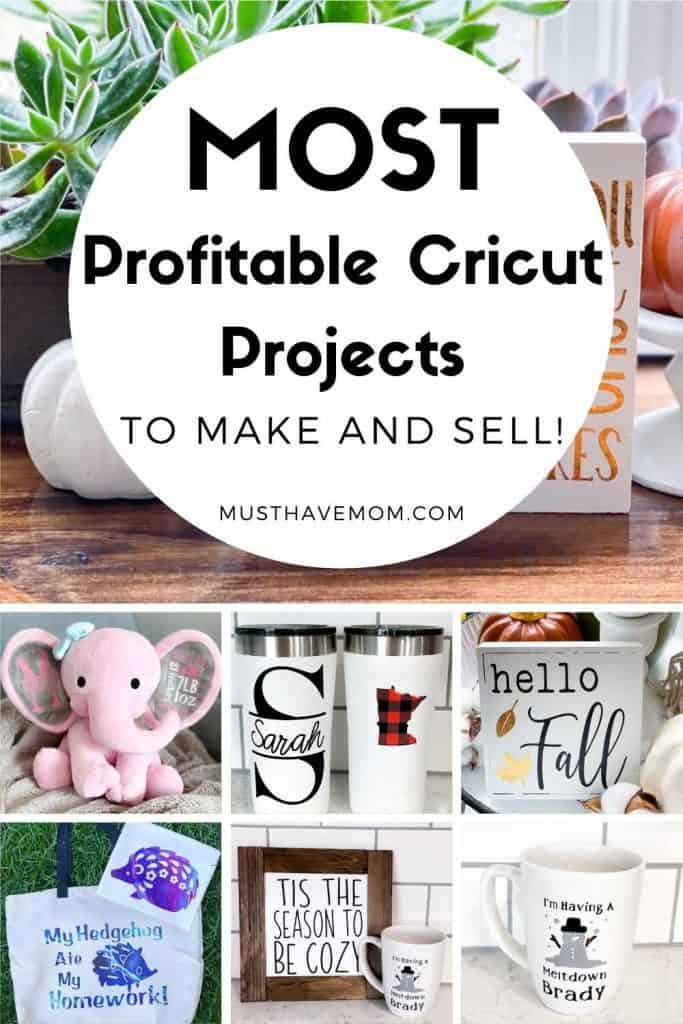 Whether you are a Cricut beginner or you've got loads of experience under your belt, you can easily get started in your very own Cricut crafting business with our easy guide below. We will show you which Cricut crafts are the most profitable, how to get started selling, where to sell and outline the important things you don't want to forget when setting up your side hustle or small business.
Cricut Side Hustle
I am an entrepreneur at heart so of course, when I got my first Cricut machine I knew I could make some quick cash by making and selling Cricut crafts to my friends and family. Boy was I right! The orders started pouring in and I was pleasantly surprised at how lucrative this side hustle proved to be.
I even got my kids involved! I wanted to teach them the value of starting your own small business so I had them each create a mock-up project of a Cricut Christmas craft that they could sell. They each chose their craft taking into consideration the cost of materials, time and difficulty level in creating it and the profit.
We then listed the items on my personal Facebook profile (only visible to friends/family) to take orders locally and deliver the items personally. We soon had a flood of orders and the kids were ecstatic with excitement about the profit potential.
We were up late at night filling orders and I was impressed that for the most part, the kids were just really excited to see their hard work paying off so quickly.
We filled the orders and finally closed our little shop for the holiday season so we could enjoy our holiday. The kids got a taste of entrepreneurism and they made some cash to spend on Christmas gifts.
After seeing how successful my side hustle was with the kids, I decided to start my own little business selling the Cricut crafts I was making to friends and family locally. I can tell you one thing. I can sell WAY more than I have time to create. If you are thinking of starting your own Cricut side hustle there is definitely a lot of opportunity here.
Let's take a look at how I created my Cricut side hustle and how you can too!

Crafts To Make And Sell
Much like my children did when they started their side hustle, you'll need to decide on what crafts to sell and figure out the cost of materials and profit margin. Here's a breakdown of the things to keep in mind when choosing what craft ideas to sell:
Popularity – take into account what is trending at the moment and which decor items are hot at the moment.
Cost of materials – how much will it cost to make each craft?
Availability of materials – are the supplies you need readily available or will you need to order them?
Sales price – how much can you sell the craft for? It needs to be priced reasonably while still affording you a profit
Labor – how labor-intensive is the craft? How much time will it take to create? You should be able to make several in a short amount of time in order to fulfill orders in a timely manner.
Size – how big is the finished item? Will you be able to ship it or only deliver locally?
Make a list and outline your ideas with these five points in mind. Draw out cost of materials, profit margin and how time-intensive each idea is and then scratch out any ideas that have a low profit margin or are too time-intensive. Need some ideas? Scroll down for ideas.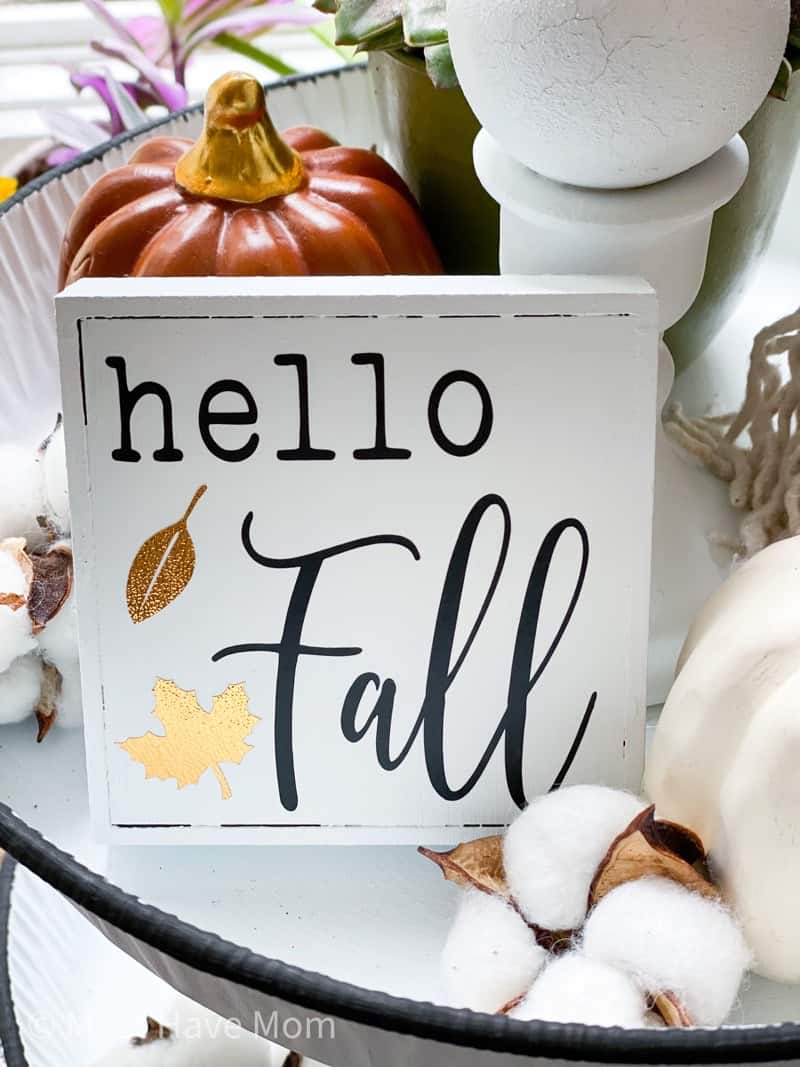 Most Profitable Cricut Projects To Sell
You're likely wondering what the most profitable Cricut projects to sell are so we have put together a list below for you to draw ideas from! These are the most profitable craft ideas to sell and will be a great addition to any side hustle or small business.
Wall art – You can easily make trendy wall art at a low cost. Take farmhouse wall decor for example. There are over half a million searches on Pinterest alone for farmhouse wall decor. Make your own and sell it. See my post here on how I made Cricut farmhouse signs with supplies from the dollar store! My supply cost on these was very low and we charged $5 for the small signs and made a killing on them!
Tiered tray signs – The small square signs like the one pictured above are the perfect craft to sell. You can make seasonal signs and people are always updating their tiered tray decor so they tend to sell very well. See my fall dollar tree Cricut projects here for instructions on making the tiered tray sign and others.
Custom decals – Use your small business to create personalized decals for people to apply to anything they'd like. Big box businesses can't offer this so you've got an edge here!
Personalized stickers and labels – Sell custom stickers and labels for people to label their children's belongings, customize their pantry organization, etc. The sky is the limit here!
Children's birthday party decor – There is huge opportunity to create custom party supplies that are personalized and tailored to your customer's needs. Every had a child choose an off-the-wall party theme and have trouble finding any decor for the party? That's where you come in and fill a need!
Planner stickers – Planners are a hot trend right now and you have the ability to create custom planner stickers at a low cost and a low shipping rate.
Wedding decor and favors – Weddings are expensive and more and more people are turning to small businesses to add a personal touch to their event and make their Pinterest dreams come true.
Cricut cake toppers – Make custom cake toppers for birthdays, weddings and parties of every kind.
Custom etched glasses – Did you know you can etch glass with the help of your Cricut? Create custom etched drinking glasses, wine glasses, personalized glass bakeware and more. See my tutorial on how to etch glass with Cricut for instructions.
Leather earrings and bows – these are super easy to make with your Cricut and are lightweight for shipping. Create all different style and even branch into doing custom holiday earrings!
Tea towels – customize inexpensive tea towels or flour sack towels with iron on vinyl and sell them. You can create themed towels like farmhouse kitchen themes or even make personalized and monogrammed towels. These make great gifts and people readily purchase them.
T-shirts – Custom t-shirts are very popular and easy to make using iron on vinyl. You can mother/baby sets, witty sayings and personalized shirts.
Birth Stat Stuffed Animal – Create custom birth stat stuffed animals which are very popular baby gifts!
Personalized blankets – Create personalized baby blankets and even adult blankets with sayings like "this is my Christmas movie watching blanket" on them.
Custom drink coasters – You can create custom drink coasters using vinyl or infusible ink. Match decor, monogram or personalize them.
Custom drink tumblers – People love stainless steel drink tumblers and personalizing them is the perfect way to sell them. I apply permanent vinyl to mine and I get the Ozark tumblers for cheap at Walmart and they work just as good as my name brand tumblers.
Personalized Coffee Mugs – Use permanent vinyl to create custom coffee mugs. I get mine at Dollar Tree and personalize them.
Personalized lanyards – Create custom lanyards for groups and individuals.
Holiday buckets – Create personalized holiday buckets for Easter, Halloween and more using inexpensive dollar store buckets and applying children's names to them.
Personalized book bags – Use iron on vinyl or infusible ink to create personalized book bags and totes. Custom back to school supplies are always a big hit.
Monogrammed throw pillows – Using infusible ink or iron on vinyl you can create custom monogrammed throw pillows that make excellent housewarming gifts or wedding gifts.
Baby Onesies – Custom baby onesies are a great baby gift and a low cost item to make and sell.
Selling Crafts Online
Once you have decided what crafts to make and sell, how much it will cost and what your prices will be, it is time to start selling! You can sell your Cricut crafts online or locally. You'll need to decide what is best for you. A few things to consider when deciding to sell online or locally:
Are your items large or expensive to ship?
What will the cost of shipping be and can you include it in the price of your goods?
Do you want to package and ship items or just deliver them locally or via pickup?
Do you have any local events or craft fairs where you can sell your items?
You may decide to sell locally, online or both. The choice is yours. To get started selling online you'll need to do the following:
Choose a site to sell your crafts on. This can be a site like Etsy, a personal webpage or even a Facebook group.
Take well-lit photos of your products that are representative of what you make. Never use someone else's photos as that is a copyright infringement and can cause you problems (not to mention it is just wrong).
Create an attention-grabbing description of your product including all of the details, measurements, materials, and common uses.
Choose a way to accept payments. If you choose a site like Etsy then you'll be able to take advantage of using their payment processor. If you use your own webpage you'll need to install something like Stripe to process payments. For Facebook you can use Paypal or the Facebook payment processor.
Decide how you will deliver the goods. Figure out how you will ship the goods to your customers and be sure to factor in that cost.

Selling Crafts Locally
If you decide to sell your crafts locally there are several ways to do so. I recommend doing what I do and purchasing the Cricut machine tote and EasyPress tote so you can bring your machines along to local events and personalize items right there on the spot!
Here are some general ideas for ways to sell crafts locally instead of online.
Sign up for a local craft fair or vendor event
Post your crafts for sale in community buy/sell/trade groups
Create a Facebook group where you post all of your available crafts
Get a table at the local farmer's market
Find groups that share the same interest as your crafts cater to and market to them
Pitch ideas to local clubs, teams and groups for custom items
Enlist your children to sell to friends and family members
Tips For Easy Crafts To Sell
Make sure to test your ideas before going all out and buying a lot of materials. Buy a small amount and post your craft for sale and see how well it sells before buying materials that you may not sell.
Don't sell crafts made with materials that are hard to get. Often I see people sell a lot of items and run out of materials only to have to wait several weeks for more materials to arrive which causes a delay for the customer and leads to a bad customer experience. Choose crafts with easily sourced materials in case you do have a big boom of sales.
As I said before, don't choose time-intensive crafts that don't pay well. If you get orders for 50 crafts that take 5 hours each to make then that is a huge time commitment. You need to make sure the profit reflects the time you put into the craft.
Price your items wisely. When choosing the price for your item don't just arbitrarily choose a number. Do some research and see what similar items are selling for, if people are buying them and what the cost of materials vs. profit is and price accordingly. If you price too high your items won't sell. If you price too low then you'll undervalue yourself and your time. Put some thought into this.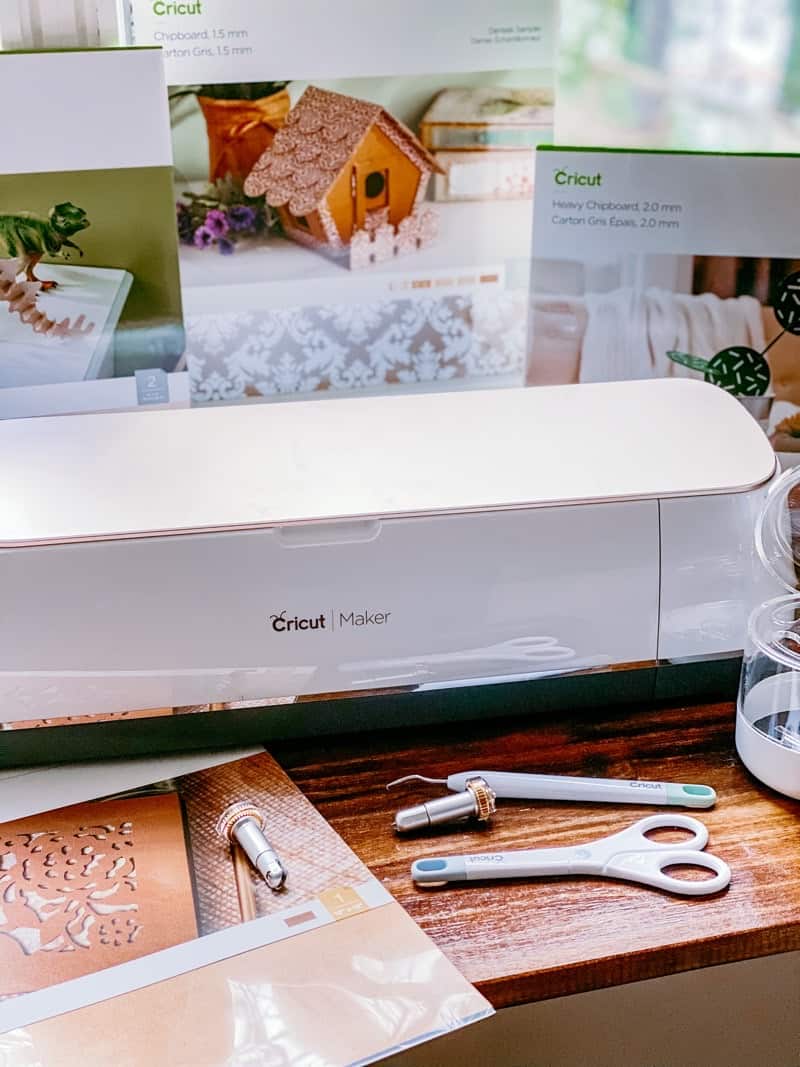 Are Cricut Machines Worth It?
Cricut machines may seem expensive but by creating your own side hustle, the Cricut machine can quickly pay for itself! That's the beauty of all of this. When choosing your Cricut machine for your side hustle I recommend buying the Cricut Maker as it has the widest array of cutting capability and will allow you more options when making Cricut projects to sell. It is worth the little bit extra between the Cricut Explore Air 2 and the Cricut Maker. I have both machines and love them both but if I had to choose just one I would go with the Maker hands down!
Here are a few benefits of the Cricut Maker to consider when planning your side hustle:
professional-level cutting performance and versatility
Cuts 300+ materials, from the most delicate fabric and paper to matboard and leather
Adaptive Tool System™ for professional-level cutting performance and expandability
Fast Mode for up to 2X faster cutting and writing
Not only are Cricut machines worth the money, but they can even make you money! Pay for your craft addiction by selling some items to fund it or start a lucrative side hustle.
Can I Sell Cricut Projects?
Absolutely! You can sell the projects you create with your Cricut and make some extra cash. A few things to consider when selling Cricut projects are:
Make sure the font or images you use came with a commercial license that allows you to sell the finished items
Never sell items that contain images that are a copyright infringement (such as a brand name or logo)

How Do I Get Free Cricut Projects?
There are a multitude of free Cricut projects shared online and on Pinterest. I have many free Cricut projects right here on this site. You can also find many free Cricut projects in the Cricut design space software. To find these go to "projects" and select "free" in the dropdown menu as shown in the picture above. If you pay for Cricut Access you'll also have access to TONS of free projects in Design Space. It's well worth the minor monthly fee and quickly pays for itself. I talk about that in more depth in my article: Is Cricut Access Worth It?
What Do I Need To Start A Cricut Business?
The great thing about starting a Cricut business is that the overhead costs are very low and you don't need much to get started. Here is a list of what you'll need:
Cricut machine (I recommend the Cricut Maker but the Explore Air 2 or the Joy will also work)
Permanent vinyl, iron-on vinyl, cardstock, etc depending on what crafts you choose to make
A place to sell either locally or online (see above)
A way to take payments
A method to deliver goods
That's it! Use the post above to guide you through the process of starting your own online Cricut business.
I have tried to cover every aspect about starting your own Cricut side hustle here in this one post. If you have any other questions please leave me a comment and I will be sure to answer your questions. I am cheering you on as you start your very own side hustle!! It's such an exciting and empowering thing to have your own business. This is such an easy way to get started as an entrepreneur and makes for the perfect entry point into owning your own small business!