How To Personalize Back To School Supplies With Cricut
This is a sponsored post written by me on behalf of Cricut. All opinions are 100% mine.
This school year is likely to be unlike any other and we are planning on making it super special! We are personalizing everything for back to school using our Cricut machine! I'll show you how to make personalized back to school supplies for your child, no matter what their name is. No kids left out of this one! It's guaranteed to make kids feel extra special this year.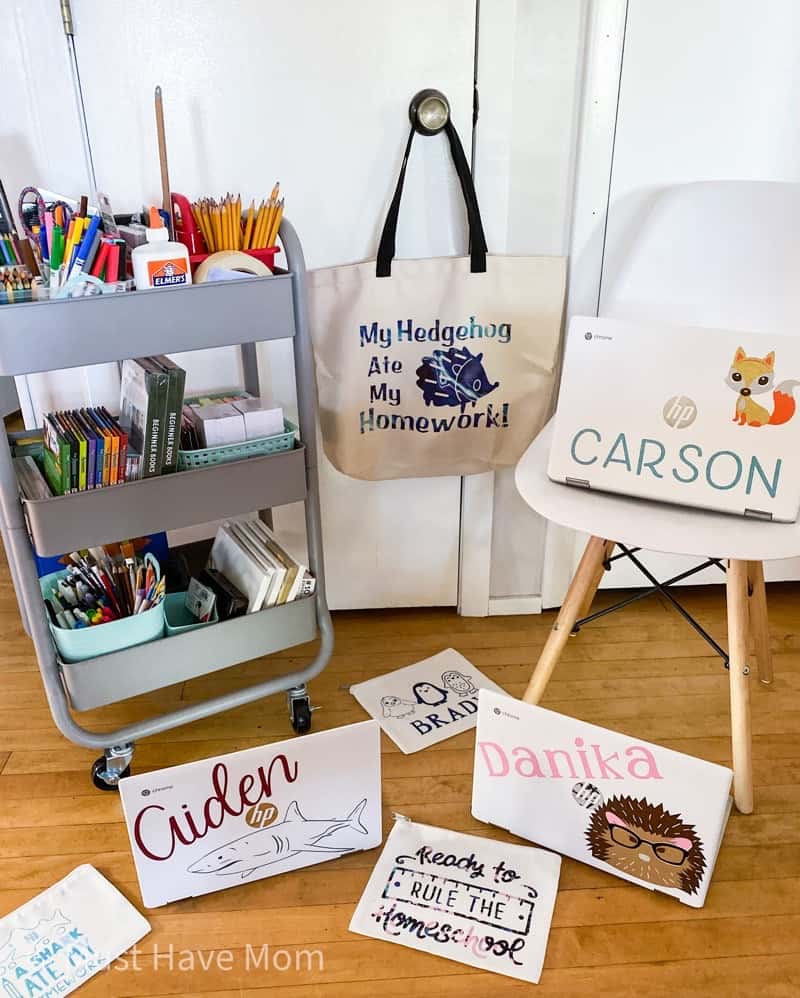 We love using our Cricut to create everything from personalized birth announcements to etched glass and even tic tac toe bags! Now that back to school season is here we are using Cricut to personalize all of the kids school supplies! We will show you how to make this year extra special for your child with personalized school supplies. It's SO easy!
Personalized Back To School Supplies
When you were a child do you remember going to that special gift shop and finding a pencil or trinket with your name on it? It felt SO special to get something with your NAME on it, didn't it? Or maybe you were the child with a unique name that could NEVER find anything with your name on it? That was so disappointing wasn't it? Thanks to Cricut everyone can have personalized supplies now! No kid left out!!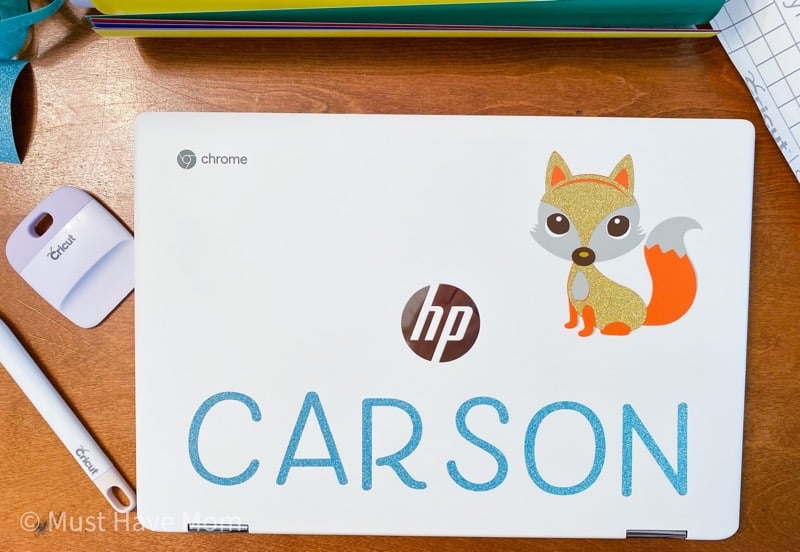 Personalized Laptop
We decided to start our personalized back to school supplies by personalizing each child's laptop. This year my kids will be doing homeschool so 3 of the 4 kids needed a laptop in order to do their curriculum. Since they all have the same laptop, it was hard to quickly figure out which computer was which. We used Cricut's removable vinyl to personalize each laptop with the child's name and chosen image. They had so much fun picking it out their colors and fonts and image.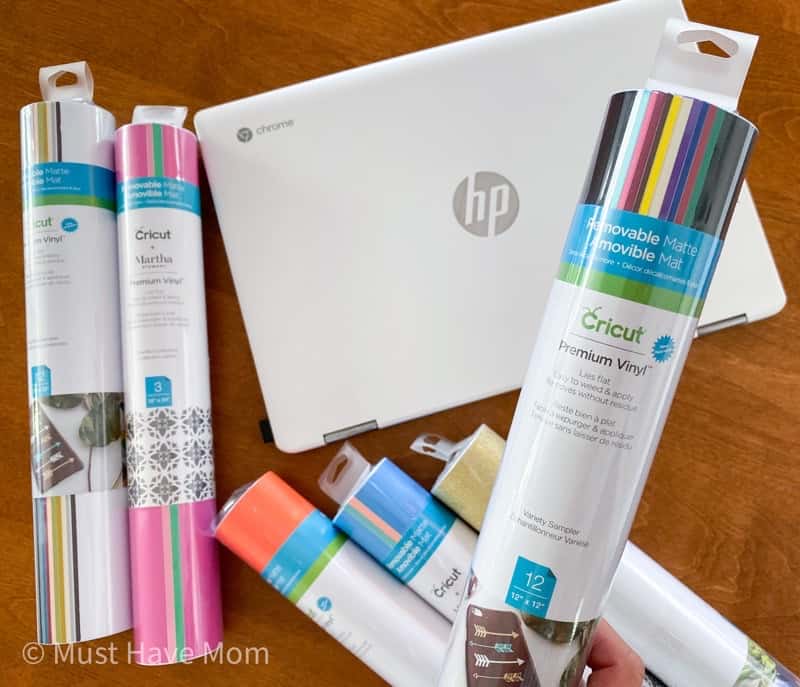 Personalized Laptop Supplies:
Start by having your child choose the font and color for their name. Then browse Design Space for the image they'd like to use. My son chose a shark and his brother chose a fox. My daughter had her heart set on an SVG that she purchased of a hedgehog in glasses! Each child's personality really shone through on this project. The shark and fox are both free in Design Space, along with the fonts we used, with your subscription.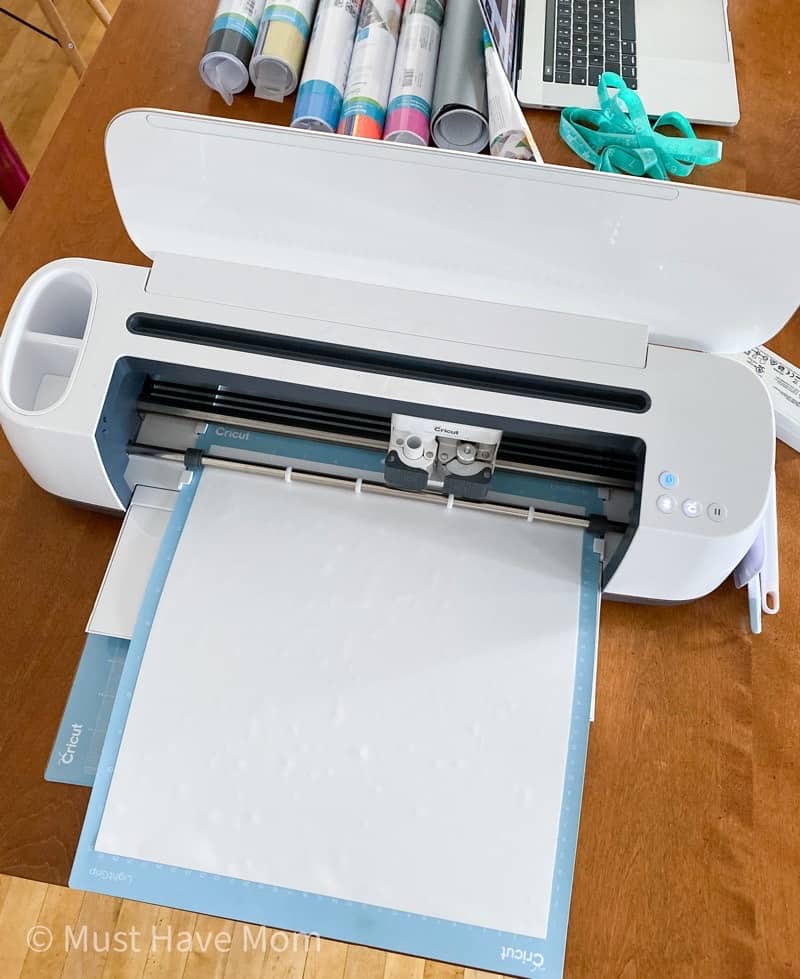 After finalizing your design in Design Space, cut the vinyl using your Cricut machine.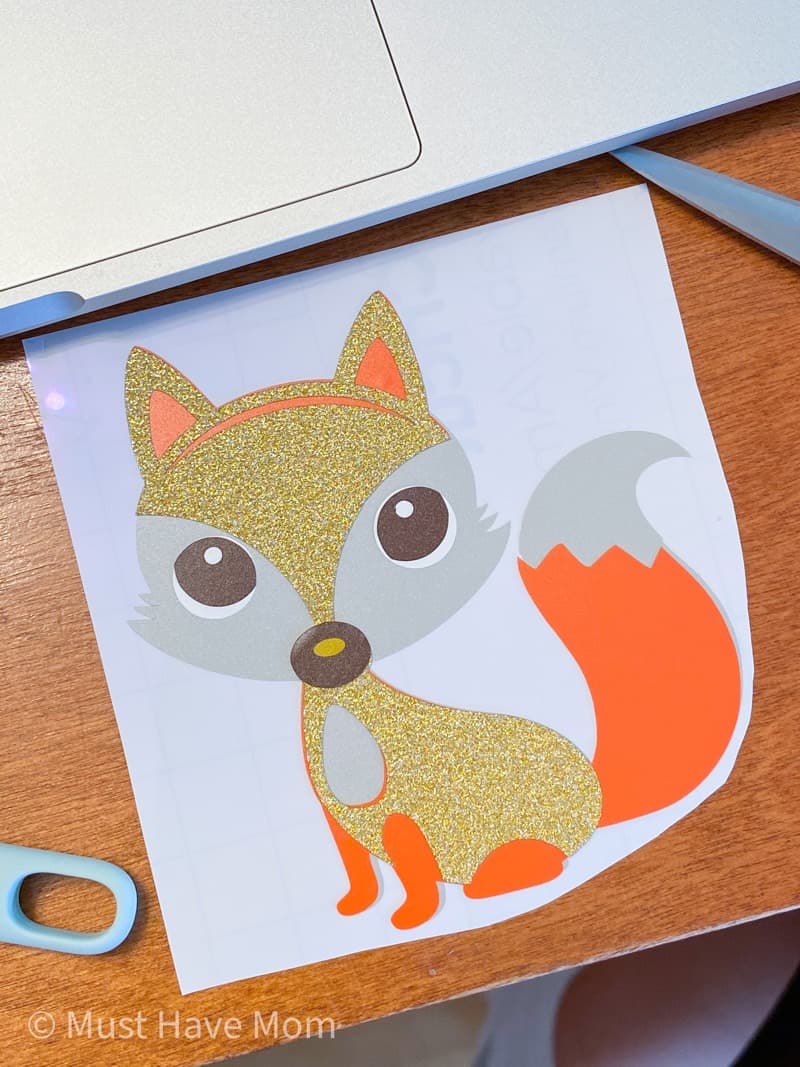 Weed the vinyl and use Cricut transfer tape to apply it to the laptop. Be sure to apply it so that when the computer is open the design is oriented correctly. Since it is removable vinyl you don't need to worry about damaging the surface and your child can change the design anytime they like!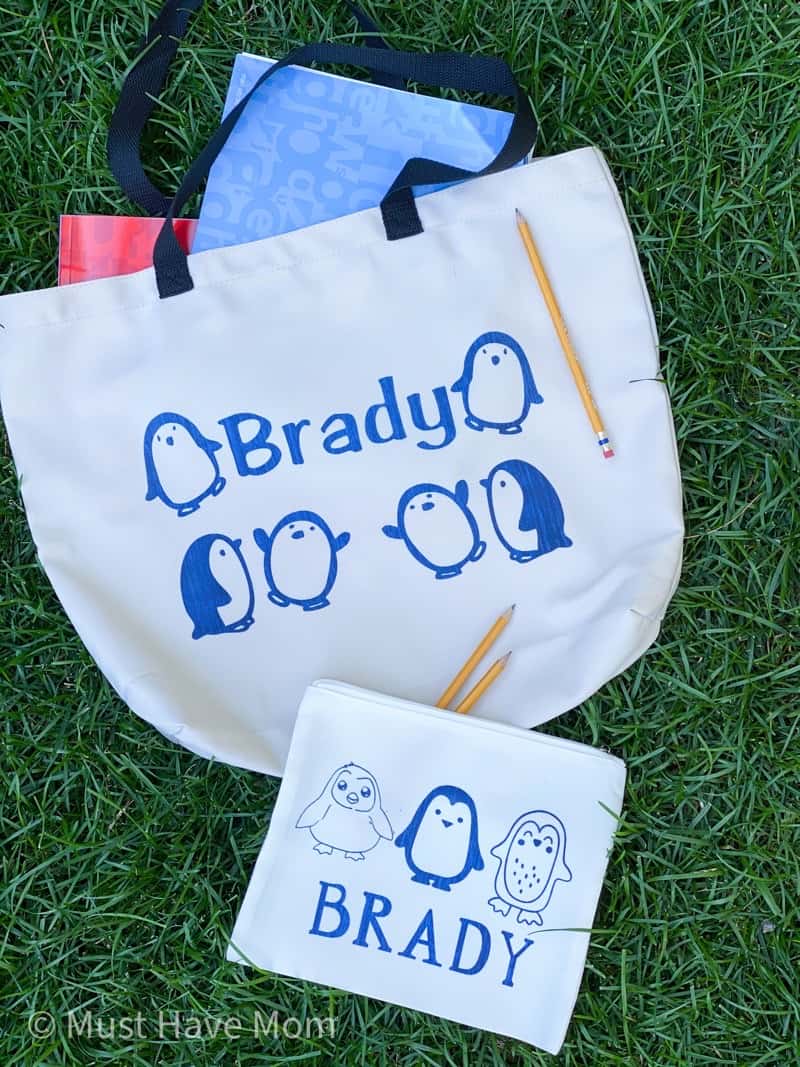 Cricut Infusible Ink Tote Bag
Since we will be doing lots of school at home this year, along with borrowing many library books for our studies, we decided that instead of personalizing backpacks we would personalize book bags! We used these Cricut tote bags and Cricut Infusible Ink to create a personalized book bag for each child's library books!
Personalized Tote Bag Supplies:
Cricut Maker, Explore Air 2 or Joy
Infusible Ink – your choice color/pattern
EasyPress Mat
Begin by using Design Space to personalize your design. I let each child have their own time to create a design for their tote bag.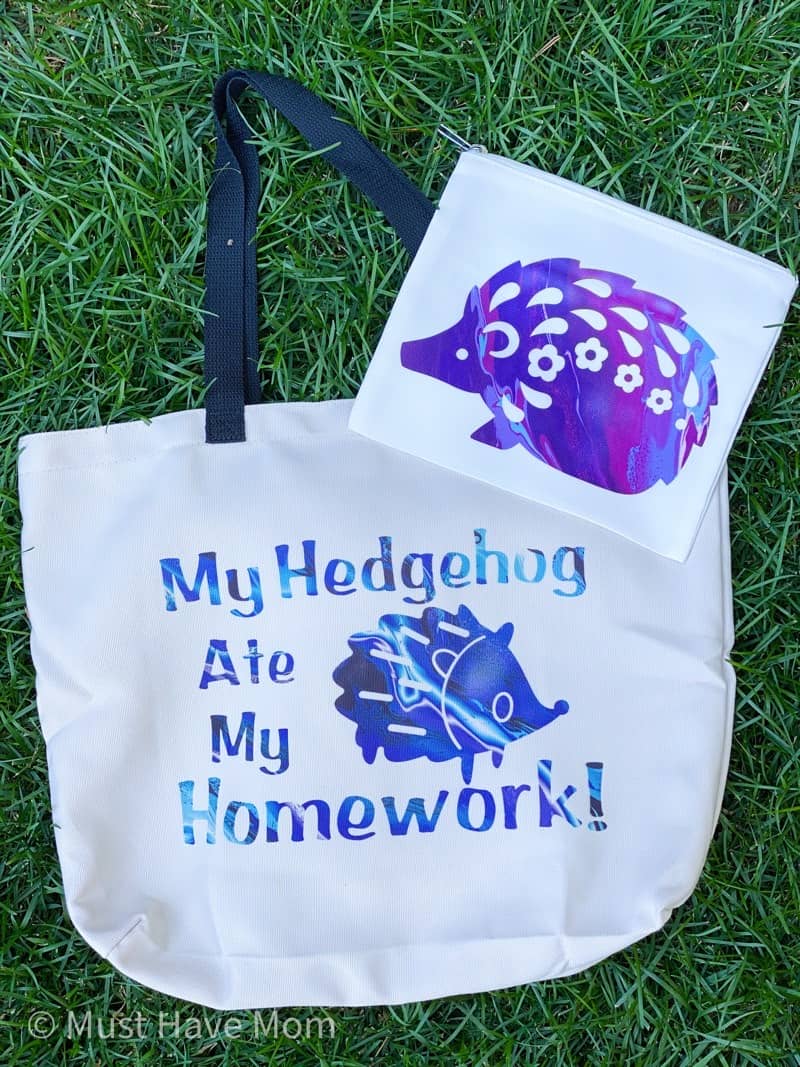 My daughter stuck with her hedgehog theme and used images available in Design Space.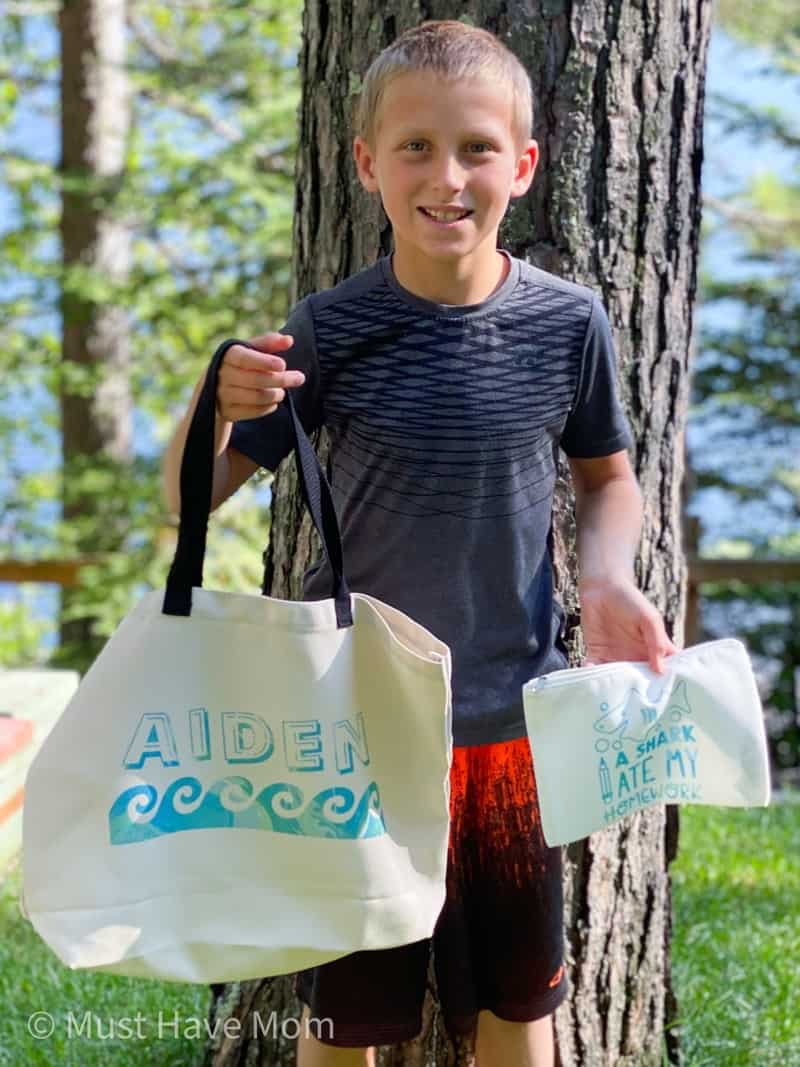 My son Aiden chose a shark theme.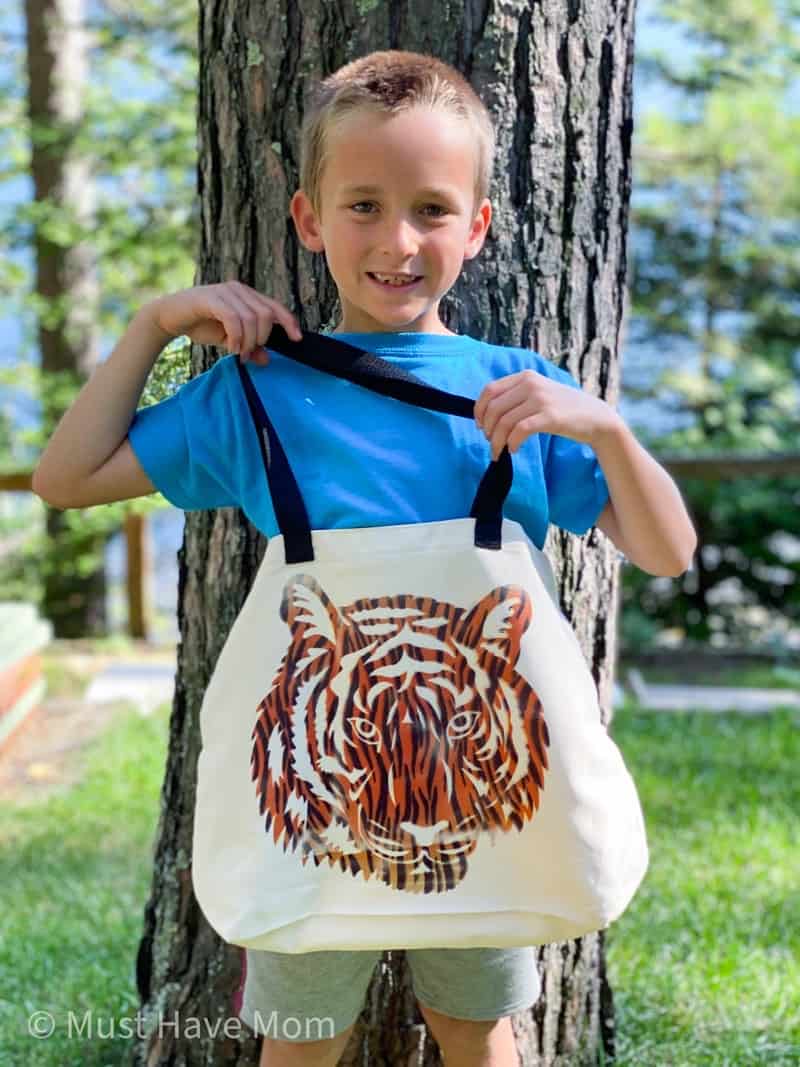 Carson did a huge tiger head which is also available in Design Space!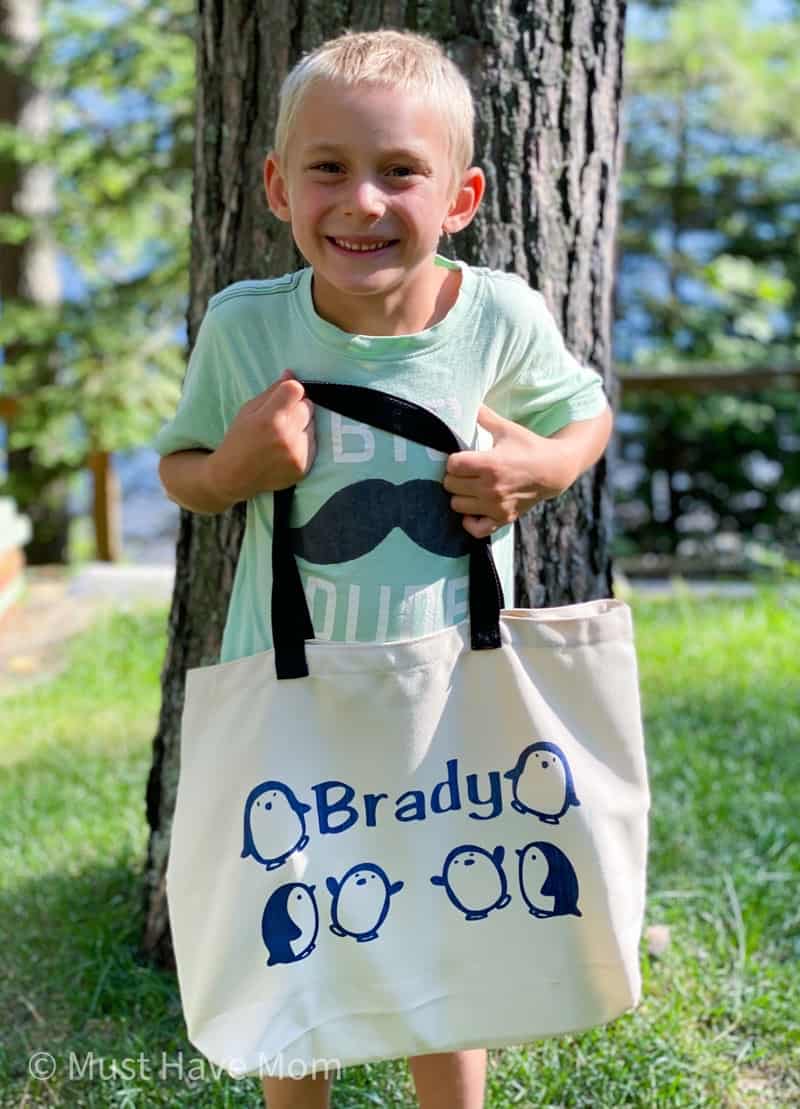 Brady loves penguins so he chose those. All the images shown here are from Design Space!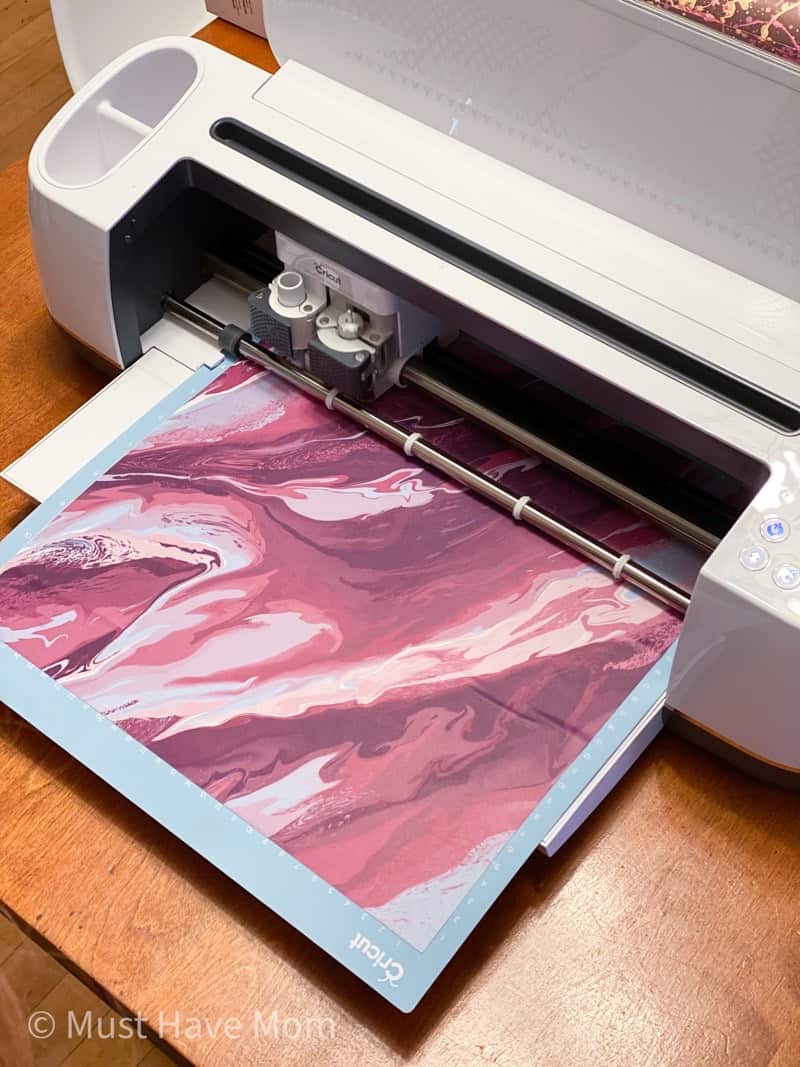 After creating the design, use your Cricut machine to cut out the Infusible Ink transfer sheets. You'll want to place the Infusible Ink right side up on the cutting mat.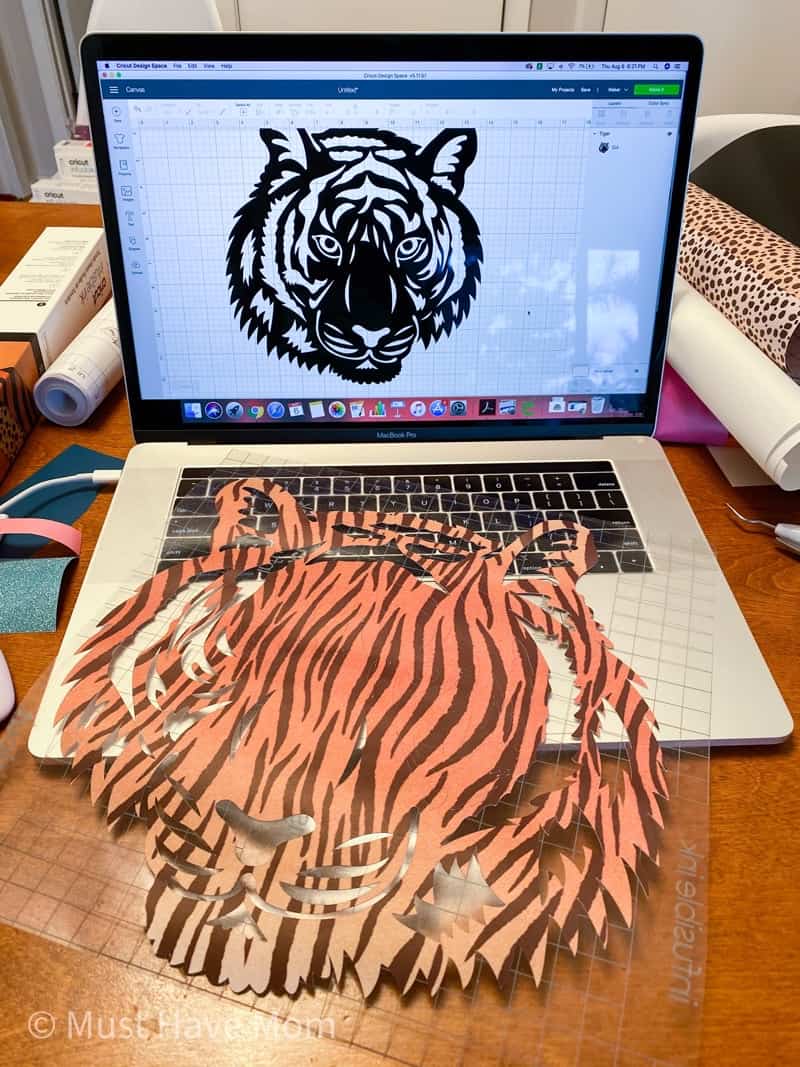 Weed the designs. Follow the Infusible Ink directions in the Cricut Heat Guide or in this Infusible Ink post to transfer your design onto the tote bag blank using your EasyPress 2.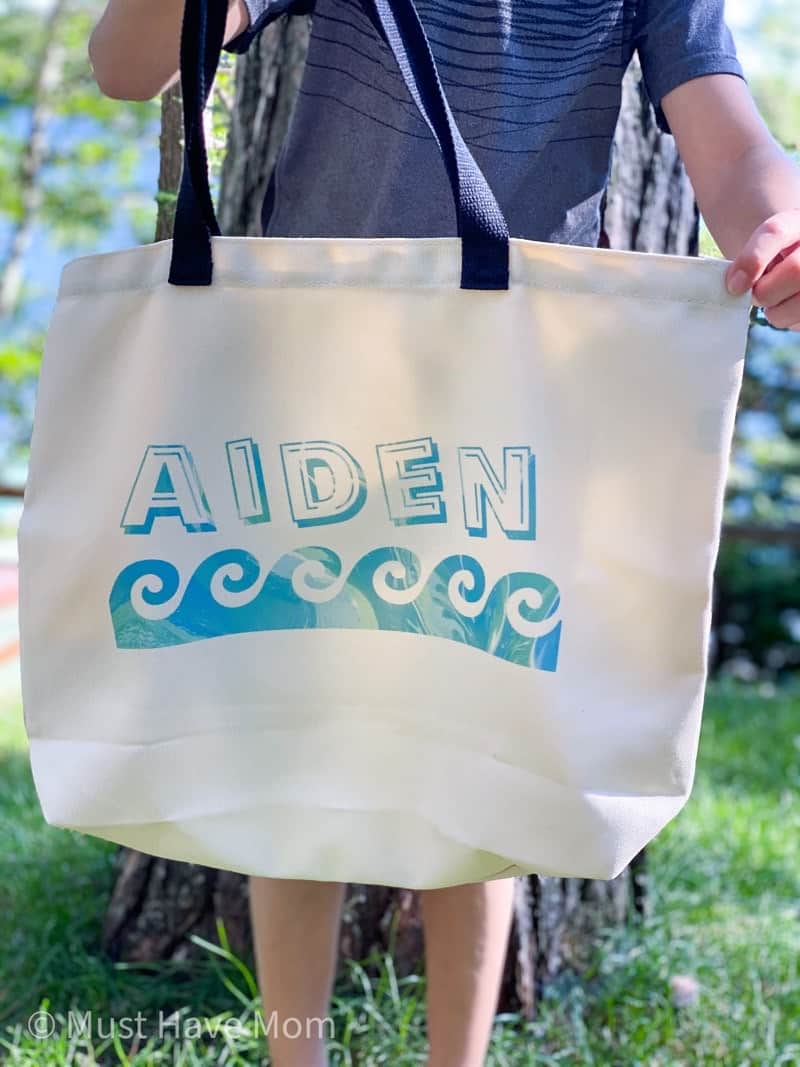 It is SO cool how the Infusible Ink becomes the fabric! I absolutely LOVE Infusible Ink and it's not hard to do at all!!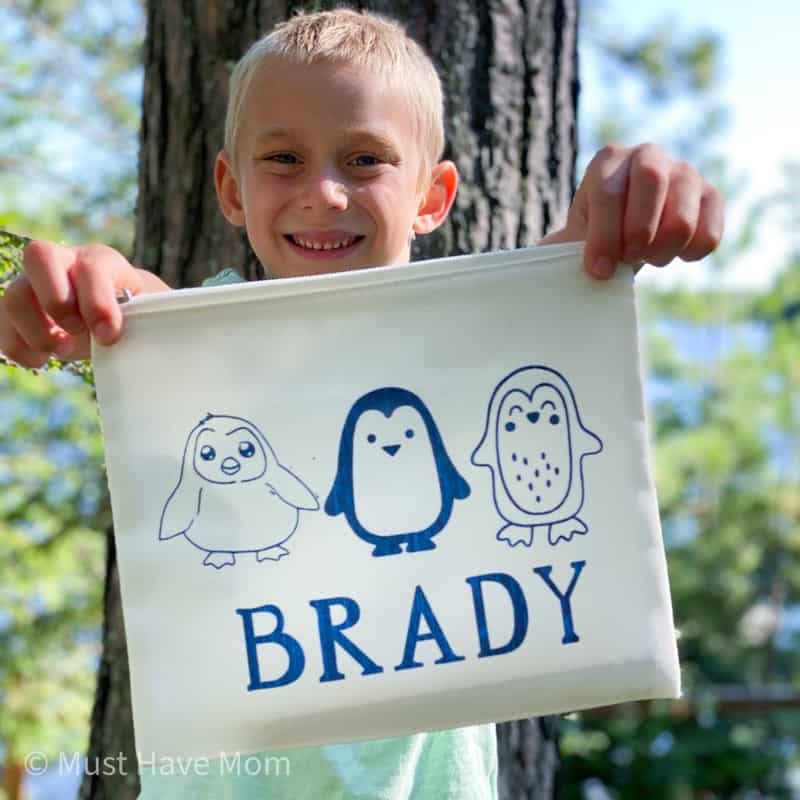 Personalized Pencil Pouch
When my daughter was in kindergarten she went through so many pencil boxes! We bought the inexpensive plastic pencil boxes and the kids would put their chairs up on the tables with their pencil boxes and for whatever reason, they fell off the table and cracked often. We have now switched to pencil pouches because the fabric zipper totes don't crack and they are easier to carry around without having them spill open and dump the contents. Make your own personalized pencil pouch with Infusible Ink!
Cricut Pencil Pouch Supplies:
Cricut Maker, Explore Air 2 or Joy
Cricut Cosmetic Bag Blanks
Infusible Ink in your choice colors/patterns
EasyPress 2
EasyPress 2 Mat
Begin by creating a design for your pencil pouch using Design Space. Use your Cricut machine to cut the Infusible Ink. Lay the Infusible Ink right side up on the mat. Weed the design. Follow the Infusible Ink directions in the Cricut Heat Guide or in this Infusible Ink post to transfer your design onto the tote bag blank using your EasyPress 2.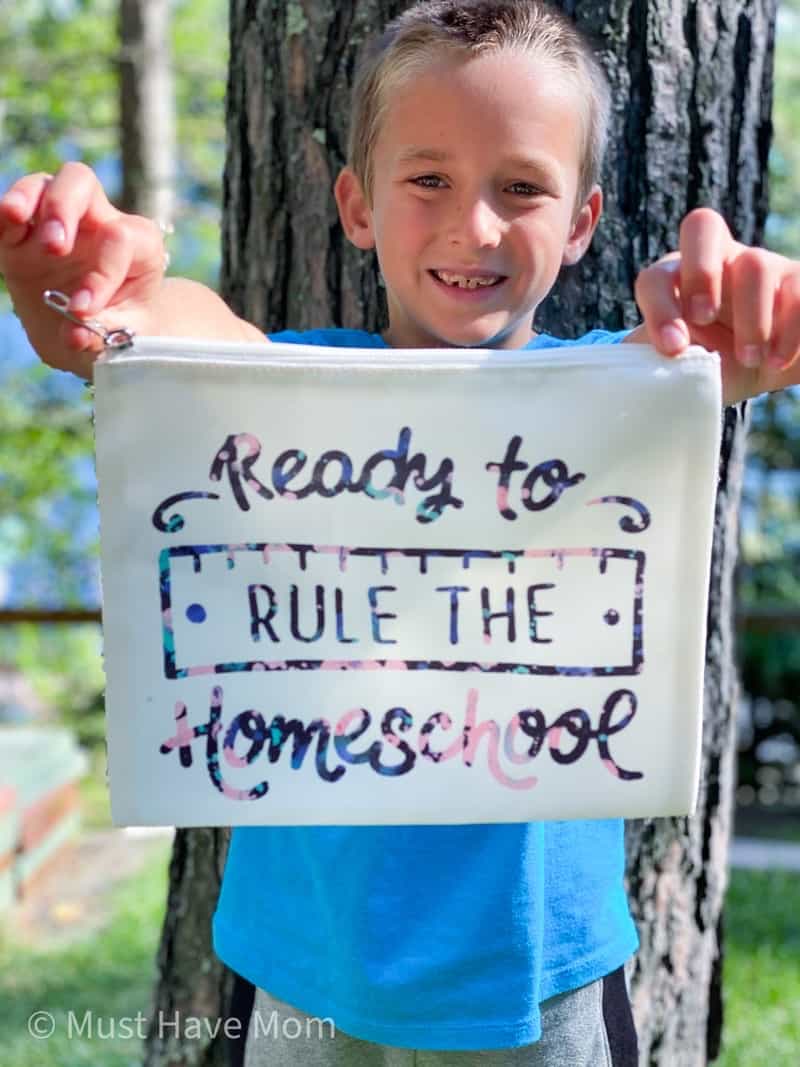 Now the zipper pouch is ready to be filled with pencils, erasers, markers and more!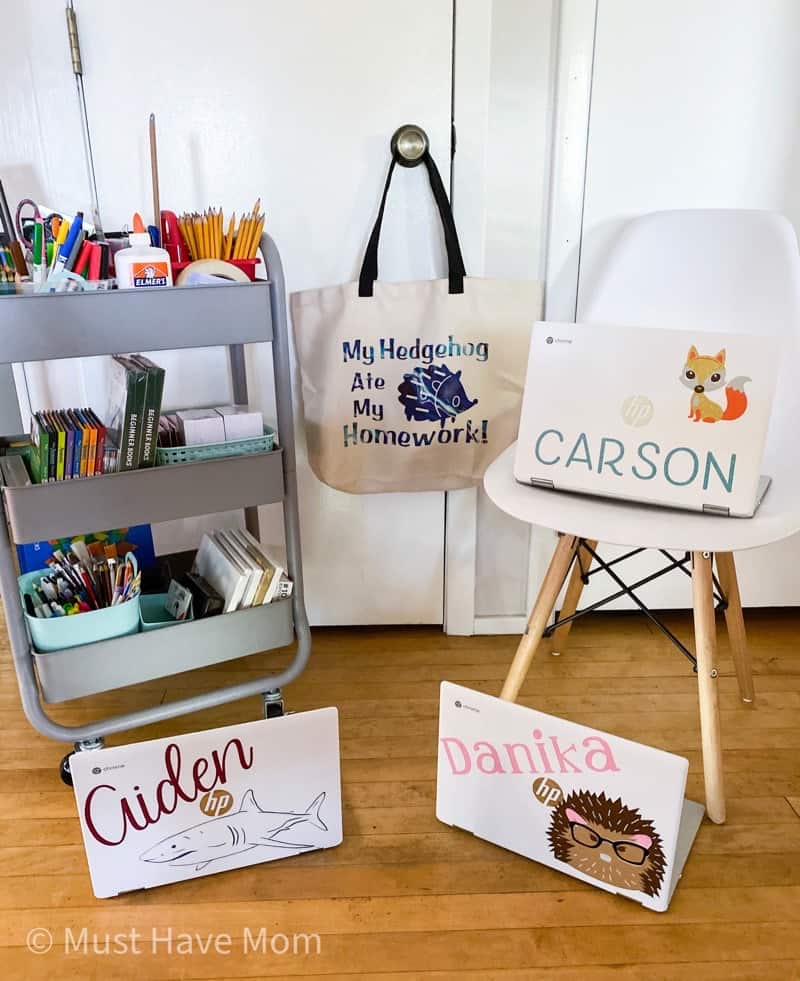 Using your Cricut to personalize your children's supplies for back to school couldn't be any easier! It's an inexpensive way to label all their supplies and make them more fun. I have spent a small fortune on fancy labels that don't come close to being as cool as these personalized back to school projects we did with our Cricut. This is just the start of my personalizing too! Since we are homeschooling I also have clear plastic tubs for each child with their books inside. I'll be adding their names to each tub and organizing my metal supply carts with Cricut labels too! It's easy, it's economical and it is so much fun! This turned out to be a super fun tradition that the kids want to do every year.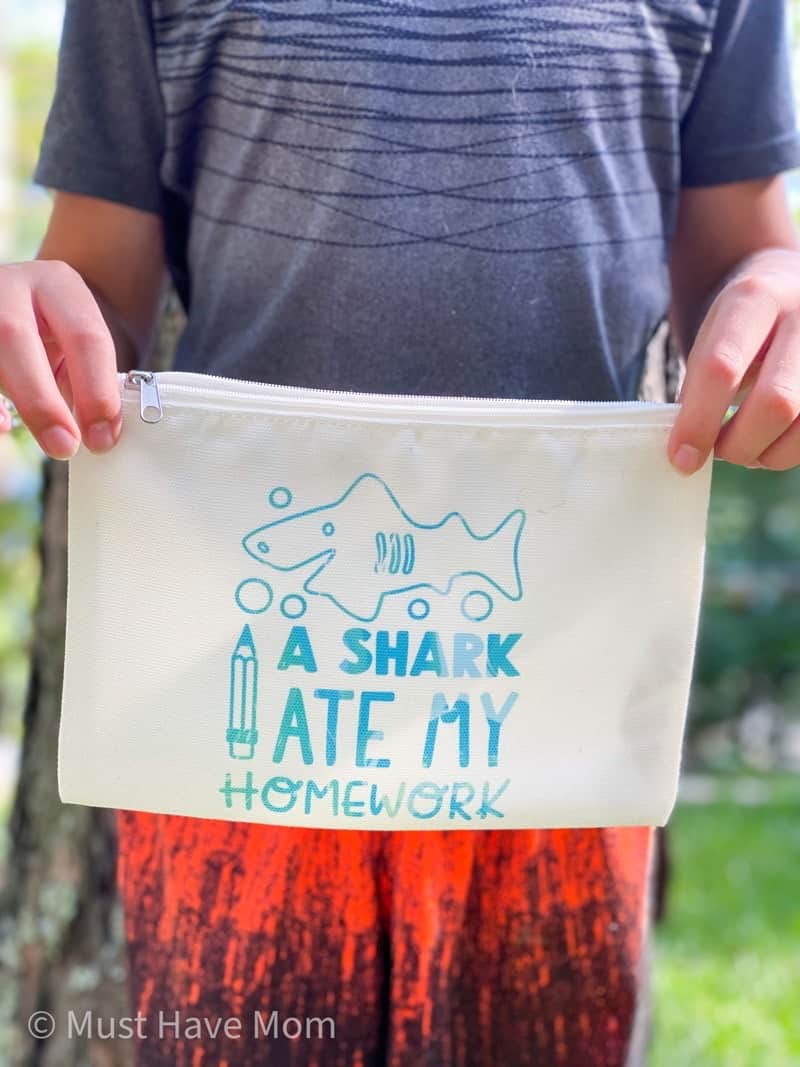 No matter if your child is going back to in-person schooling, distance-learning or you chose to homeschool this year, make it more fun with these personalized back to school projects!!
Pin Personalized School Supplies