Causebox Fall 2020 Unboxing
Causebox is my all-time FAVORITE subscription box and the fall 2020 Causebox did not disappoint! Let's take a look at what was inside my fall Causebox!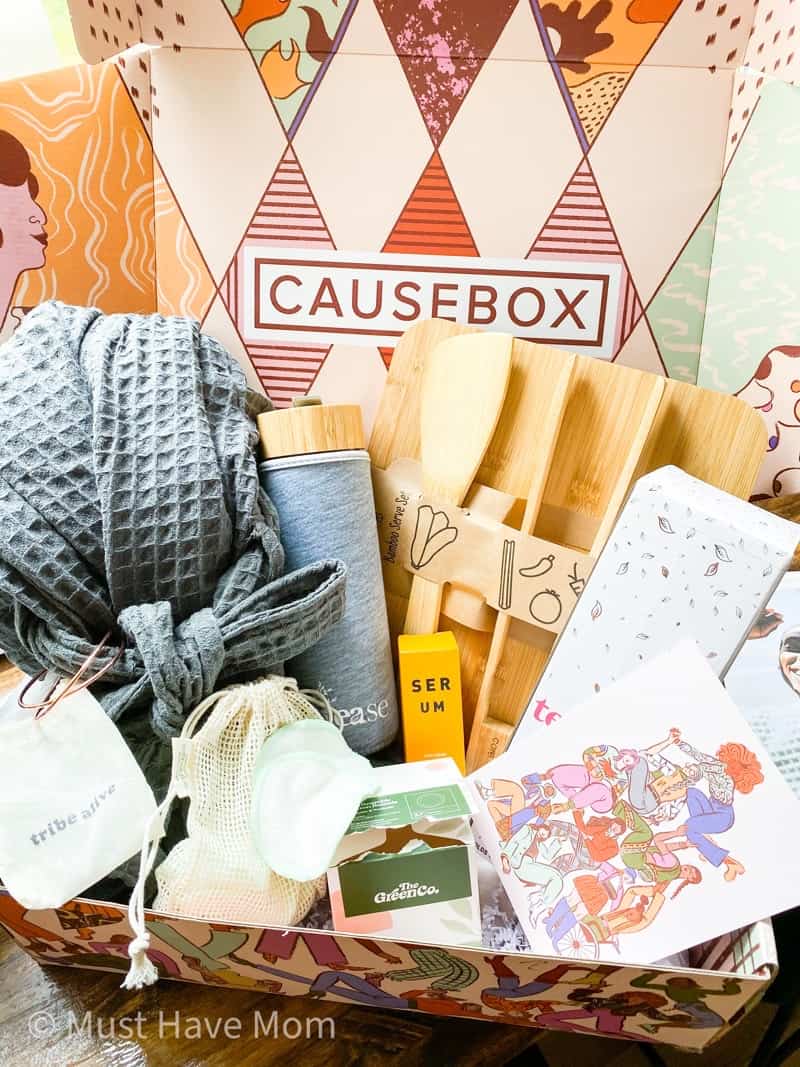 I love a good subscription box but I am pretty selective about which subscription boxes are actually worth the price you pay. The Causebox is my all-time favorite subscription box. I just renewed my yearly subscription because I love it SO much! After receiving a year of Causeboxes I can confidently say they are well worth the price and the items you receive are the best quality and worth more than what you pay for the box.
I shared my Causebox fall 2019 unboxing with you last year so it is only appropriate that I share the fall 2020 box! Let's take a look!
Causebox Fall 2020
After receiving 4 Causeboxes over the course of the past year, I can confidently say that it is my FAVORITE subscription box and I have yet to be disappointed by it. The items included in all of my Causeboxes have surpassed the price I paid for the box. I can also say there hasn't been a single item that I have re-gifted because I have loved all of the items I have received. It feels like Christmas every time my box arrives and since I don't often spoil myself, it feels like a well-deserved treat just for me!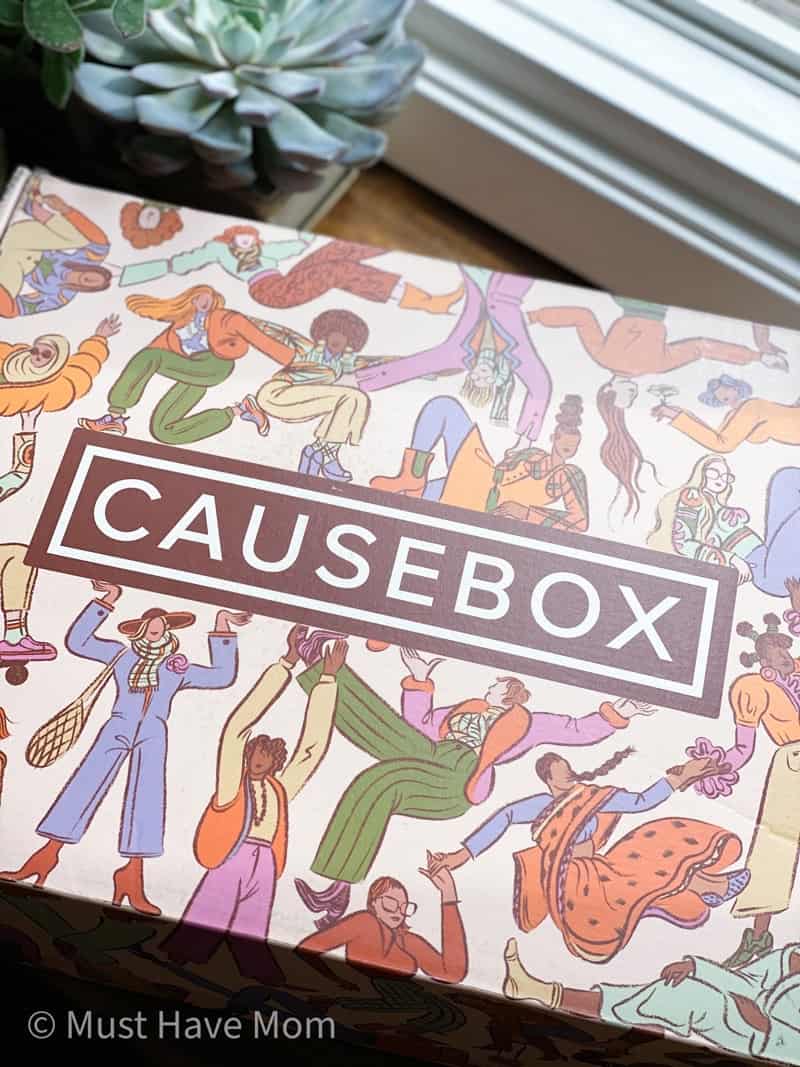 Every Causebox arrives in a beautifully decorated box which I have a hard time tossing so I always repurpose them! My summer Causebox is currently the home of my daughter's fairy garden collection. Even the box is useful.
What's inside the Fall 2020 Causebox? Let's open it up and find out!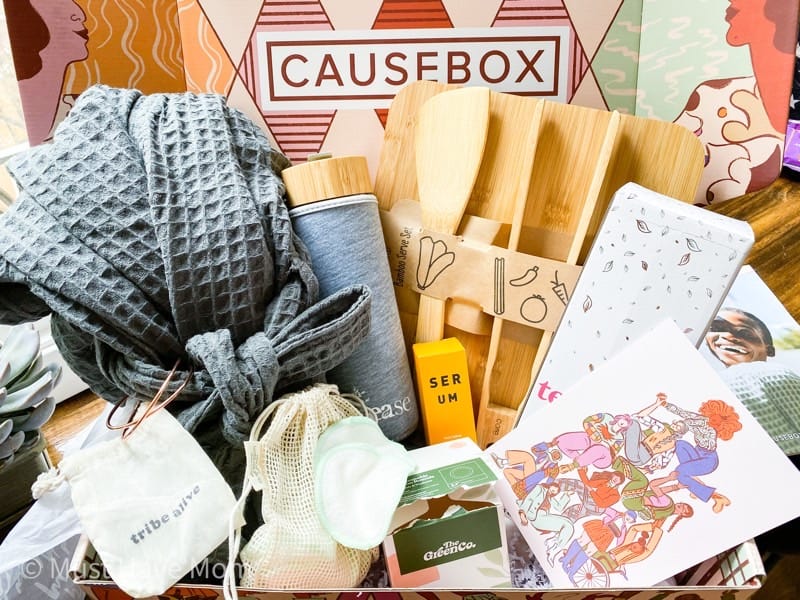 The Fall 2020 Causebox included the following amazing items!
Waffle bathrobe OR waffle towel set – I chose the waffle bathrobe and I LOVE it! I was able to choose mint or charcoal and I went with charcoal. Alternatively, you could choose the waffle towel set. Remember you only get to choose if you are an annual member. Quarterly members will have their options chosen for them. Both are a $90 value!
Bamboo serve set – every box included this awesome bamboo cutting board and serving utensils set! $35 value!
3-in-1 Tea & Fruit Tumbler OR Milky Way Lantern – I went with the tea tumbler and I LOVE LOVE LOVE it! I am actually drinking red tea infused with raspberries in it right now as I write this! The alternate choice was a gorgeous home decor lantern. $40 value!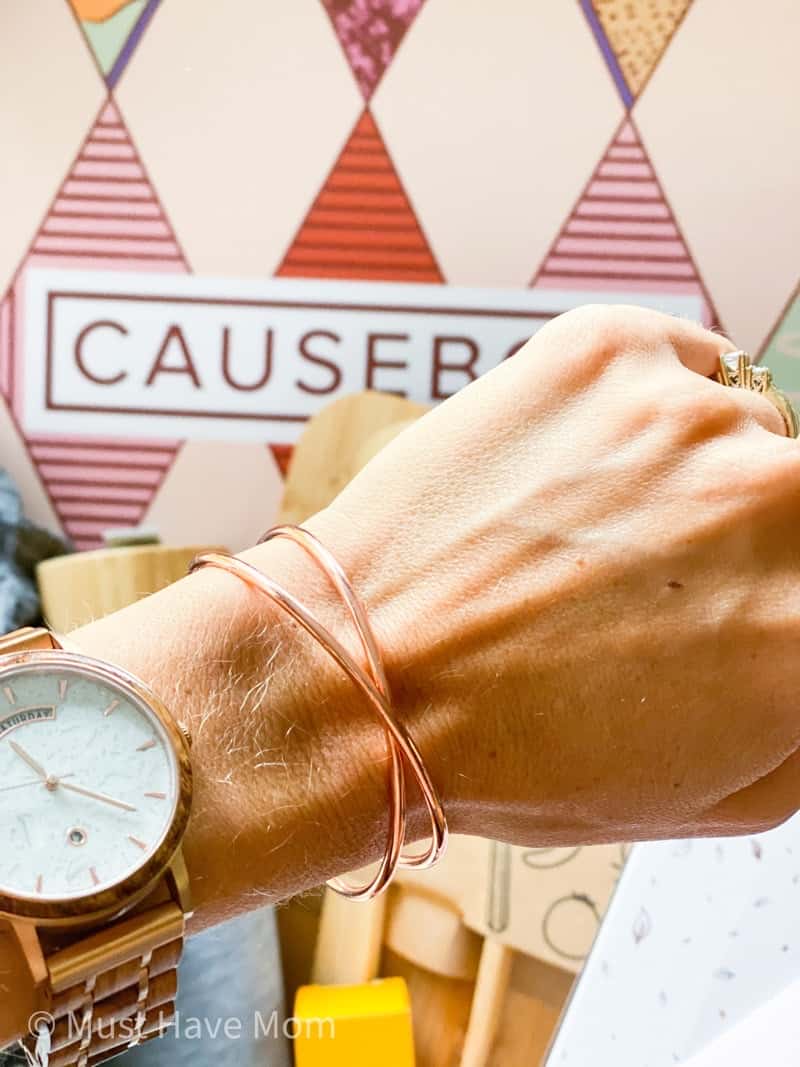 Criss Cross Cuff OR De-Stress Muscle Gel OR Love Scrub – I chose the gorgeous criss-cross cuff in rose gold (my favorite!). Handmade in Moradabad, India, this stylish bangle features an intricate criss-cross design and a rose gold finish. A $42 value. You also had the option to choose de-stress muscle gel: First it cools, then it warms. Made with black pepper and ginger, this gel might just be your new post-workout BFF.  A $39 value. OR The secret to glowing, radiant skin: exfoliation. Scrub away the day while red tea, seaweed extract, and hyaluronic acid hydrate and nourish. A $56 value.

Brightening Face Serum – Included in EVERY box is the face serum. For a healthy, dewy glow. This brightening face serum fights free radicals, hydrates skin, and, well, brightens. Made with Vitamin A and C. A $37.50 value. I use my PMD face scrubby to apply it which was included in the summer Causebox!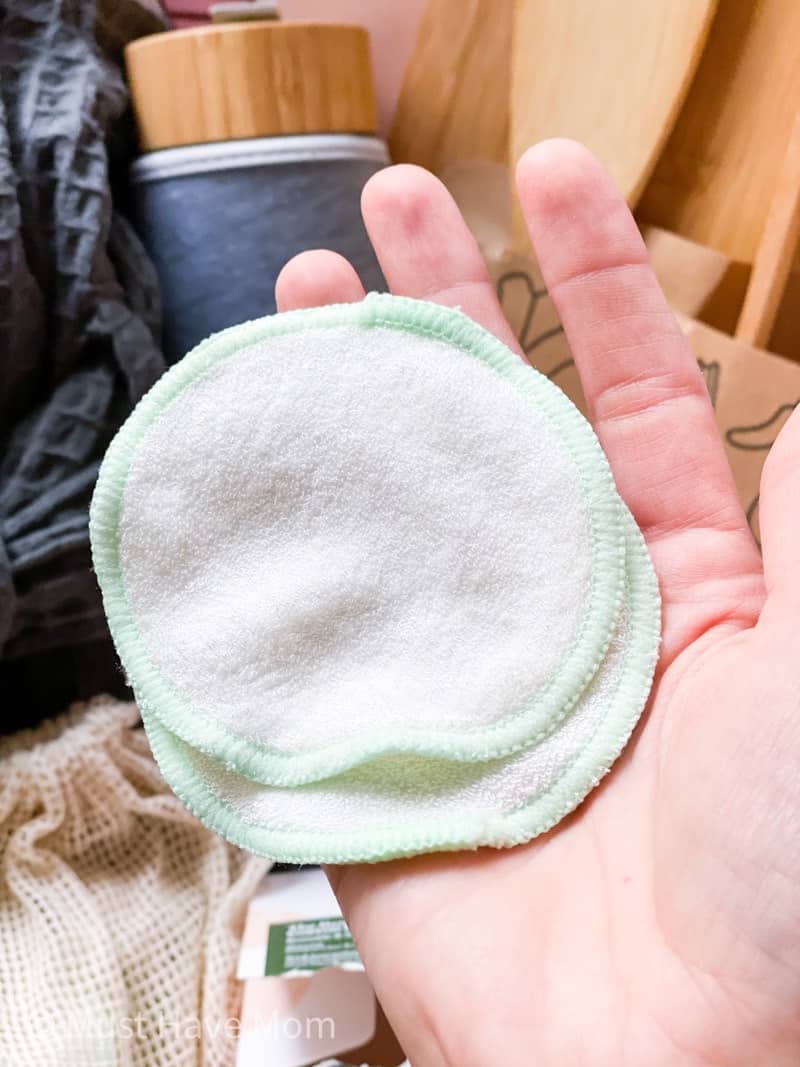 Set of 10 Reusable Facial Pads OR Basil Grow Kit – I chose the reusable facial rounds and they are so soft and amazing! They also include a little mesh bag to toss them in for washing so you don't lose them in the wash! Replace up to 10,000 cotton balls or facial rounds. One side scrubs, the other gently applies. The included laundry bag makes washing easy. A $10 value. Alternatively, you could choose the basil grow kit. Freshen up margherita pizza or pesto with home-grown basil. No green thumb is necessary. A $10 value.
What Is Causebox?
Every Box includes 6 sustainable, ethical products. If you're an Annual Member you get to pick which products you'd like in your box. If you're a Quarterly Member, they'll make the customization picks for you. There are no bad options, but I highly recommend doing the annual membership so you can pick your options! It is always a pick between 2-3 products. Perhaps you'll get to pick your favorite color or choose a bracelet instead of a muscle cream, etc. It's worth the annual membership!
In my experience, the 6 products are always high quality and value. The total in value is to be over $250!
Causebox Reviews
Since I have received a year of Causeboxes (one for every season – 4 total), I can confidently give you some Causebox reviews. I can't pick a favorite Causebox because I have loved them all. I have also found several products that I love which I would never have found prior to trying them in my Causebox.
I love that the Causeboxes don't include a lot of beauty and cosmetic items. I am very picky about what I will use on my skin and don't like products with chemicals and toxins in them. Thus far, my Causebox boxes haven't included more than one beauty item and everyone has been a clean beauty item which I love! I even spotted some of them in my local health food store. The price tags were over half of what my entire box cost too! The fact that Causebox doesn't include a lot of cosmetic or beauty items is a huge plus for me as those items are typically not a good match for me and end up being unused or re-gifted.
I'm sure you can see why the Causebox is my absolute favorite subscription box. It is a great way to spoil yourself and to discover new products and brands from ethically sourced companies!
Pin Causebox