This healthy pumpkin pie uses only real food ingredients and is served up in mini pumpkin pie tart size portions which makes this treat a guilt-free indulgence for your holiday guests!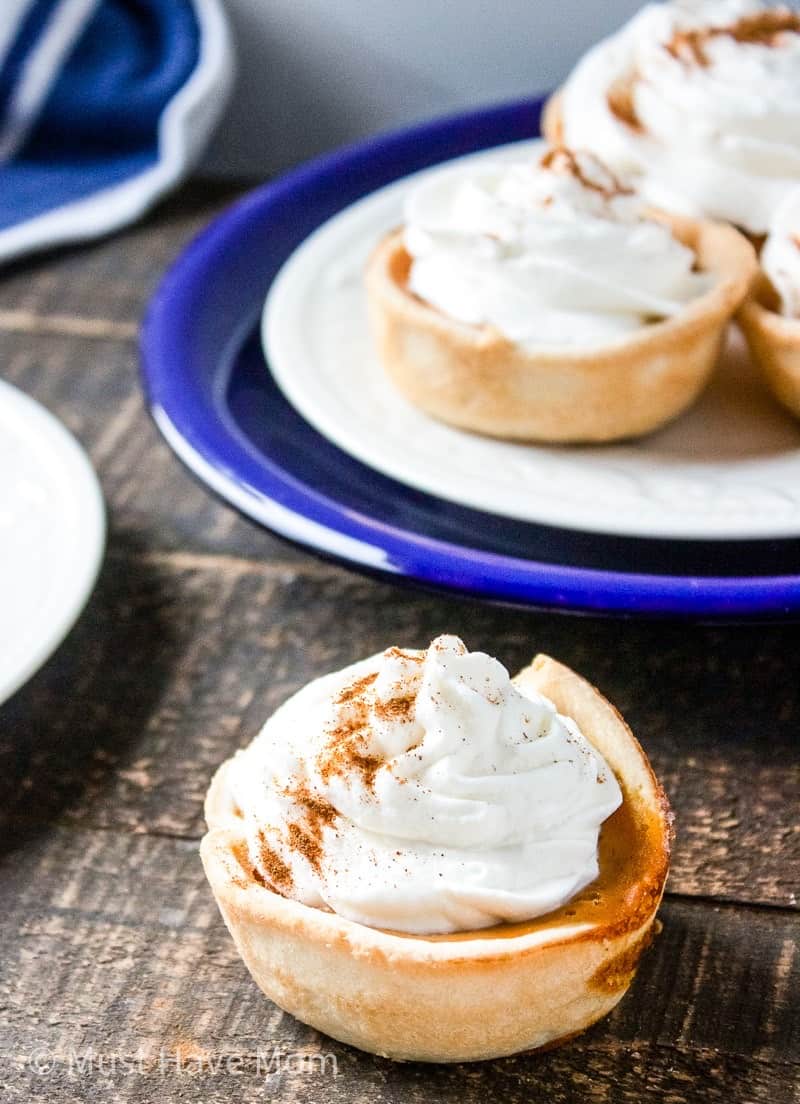 I love a good pumpkin recipe. From my favorite, healthy pumpkin spice latte to this healthy pumpkin muffins recipe, take your pick of healthy pumpkin recipes and enjoy the taste of fall! Pumpkin is a healthy ingredient and makes for a great base to these healthy dessert recipes.
Healthy Pumpkin Pie
Many pumpkin pie recipes use pumpkin pie filling which contains added sugar and other unnecessary preservatives. For this recipe, we use the healthier option, pumpkin pie puree. We use a small amount of sugar so it isn't overly sweet and is much better for you. You can also use a brown sugar substitute so that it is a sugar-free pumpkin pie! Make this recipe as healthy as you desire.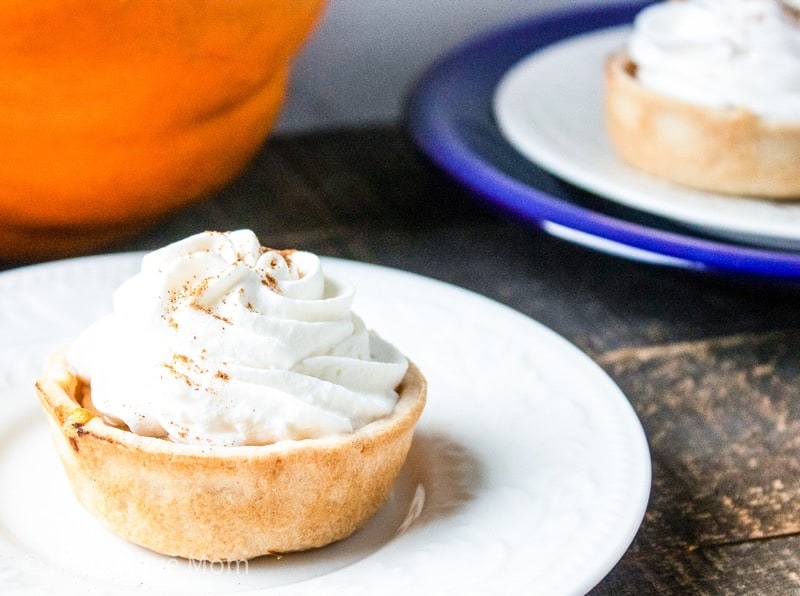 Using Healthy Ingredients
The key to creating the perfect, healthy pumpkin pie is to only use real ingredients. We prefer to use all non-GMO ingredients in our healthy recipes. You can find healthier options for ready to bake pie crusts at your natural health food store. You can also substitute gluten-free pie crust to make this recipe gluten-free.
You can even top your pumpkin pies with a healthier version of whipped cream! Here are some suggestions:
Coconut whip (freezer section) – dairy-free
Almond whip (dairy section) – dairy-free
Homemade whip cream using grass-fed heavy cream and cane sugar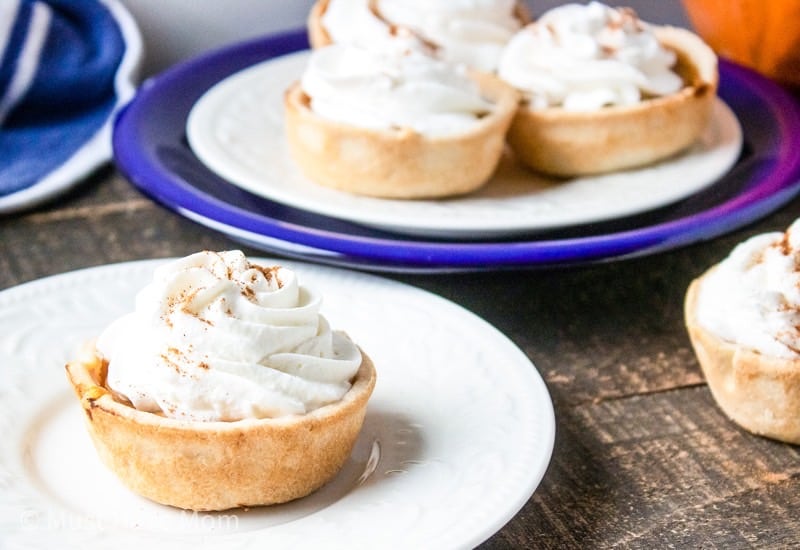 How to Make Pumpkin Pie
This healthy pumpkin pie recipe is SUPER easy to make! We used ready-to-bake pie crusts found at our local health food store but you can also prepare a gluten-free pie crust if you are gluten-free. You'll then be cutting the pie crust into circles and pressing it into a muffin pan to make pumpkin pie tarts in individual size portions.
How To Make Pumpkin Pie Filling
Mixing the pumpkin pie filling is easy and requires mixing the pumpkin puree (not to be confused with pumpkin pie filling) and evaporated milk along with brown sugar, eggs and spices. Then just fill each pie crust, dividing the mixture evenly. Before you know it you'll have the easiest ever mini pumpkin pies fresh from the oven! Scroll down for the recipe!
Healthy Pumpkin Pie Recipe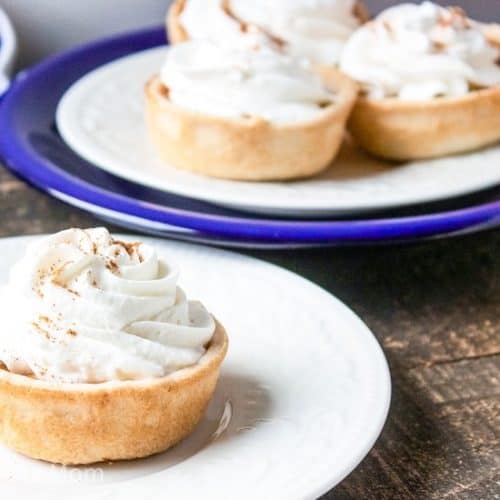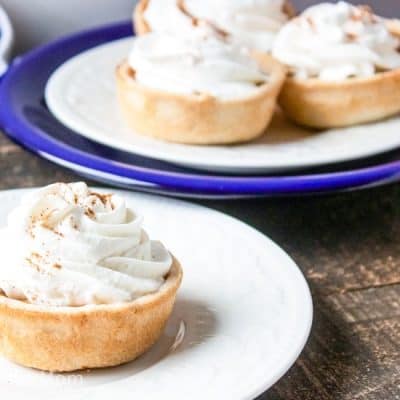 Healthy Pumpkin Pie
This healthy pumpkin pie recipe tastes the same as the regular version but uses cleaner ingredients. Make personal pie tarts for each guest!
Ingredients
15

oz

package ready-to-bake pie crusts

15

oz

can pumpkin puree

(not pumpkin pie filling)

12

oz

evaporated milk

3/4

cup

 brown sugar

2

large

eggs

1

tsp

 ground cinnamon

1/2

tsp

ground nutmeg

1/4

tsp

 ground cloves
Toppings
 Whipped cream

 ground cinnamon
Instructions
Preheat oven to 425°F and spray a 24-cup mini muffin pan with nonstick cooking spray. Set aside.

Cut pie crust out into circles using a wide-mouth jar lid. Push pie circles down into the muffin cups. If needed, gently knead and roll out any extra dough left from the rings to make a total of 21 circles. 

Mix pumpkin pie puree, evaporated milk, brown sugar, eggs, cinnamon, nutmeg and cloves in a large mixing bowl until smooth. Divide filling among the mini pie shells.

Place in the pre-heated oven and bake for 10 minutes. Reduce temperature to 350 and bake an additional 10-12 minutes, until pie filling is just set and a toothpick inserted into the center comes out clean.

Remove from oven and cool for 10-15 minutes before removing from muffin tin and topping with whipped cream. Garnish with some ground cinnamon, if desired, and enjoy
Frequently Asked Questions
Does pumpkin pie need to be refrigerated?
Homemade pumpkin pie can sit out for 2 hours and then should be stored in the fridge. It will last about 4 days in the fridge. Store-bought pumpkin pies that are sold sitting on the shelf typically are loaded with preservatives and can be left at room temperature. For these delicious homemade pumpkin pies, you should definitely refrigerate them!
What is pumpkin pie spice?
Pumpkin pie spice, also known as pumpkin spice, is a mixture of cinnamon, nutmeg, ginger, cloves and sometimes allspice. For this recipe, we simply used cinnamon, nutmeg and cloves. This way you don't need to buy pumpkin pie spice which you are less likely to use than the other more popular baking spices.
How long does pumpkin pie last?
Freshly baked pumpkin pie will last 3-4 days in the fridge. Cover it with plastic wrap to keep it fresh!
How do you tell if pumpkin pie is done?
It is easy to see if pumpkin pie is done. Simply insert a toothpick in the center and if it comes out clean then it is done.
How do you store pumpkin pie?
For homemade pumpkin pie, store in the fridge covered with plastic wrap. It will keep for 3-4 days.
Can pumpkin pie be frozen?
Yes! Pumpkin pie can be frozen. Simply bake the pie or pies and allow them to fully cool. Once cooled, wrap in several layers of plastic wrap followed by a layer of foil. Freeze pies on a level surface until frozen and then you may move them. Pumpkin pie stays good in the freezer for 1 to 2 months or longer if you have a deep freeze.
Is pumpkin pie good for you?
Pie is still a treat but here is why you should reach for the pumpkin pie at the dessert table instead of other sugary desserts. Pumpkin pie contains healthy fiber, vitamin A (benefits eyesight and immune system), potassium, vitamin C and iron. Pumpkin pie is clearly a better choice than say, the chocolate cake.
Pin Healthy Pumpkin Pie Tarts