This baked spaghetti squash recipe makes the perfect gluten free meal or side dish and pairs wonderfully with a homemade red sauce! The possibilities are endless with spaghetti squash and this recipe is everything you need to start enjoying spaghetti squash to the fullest.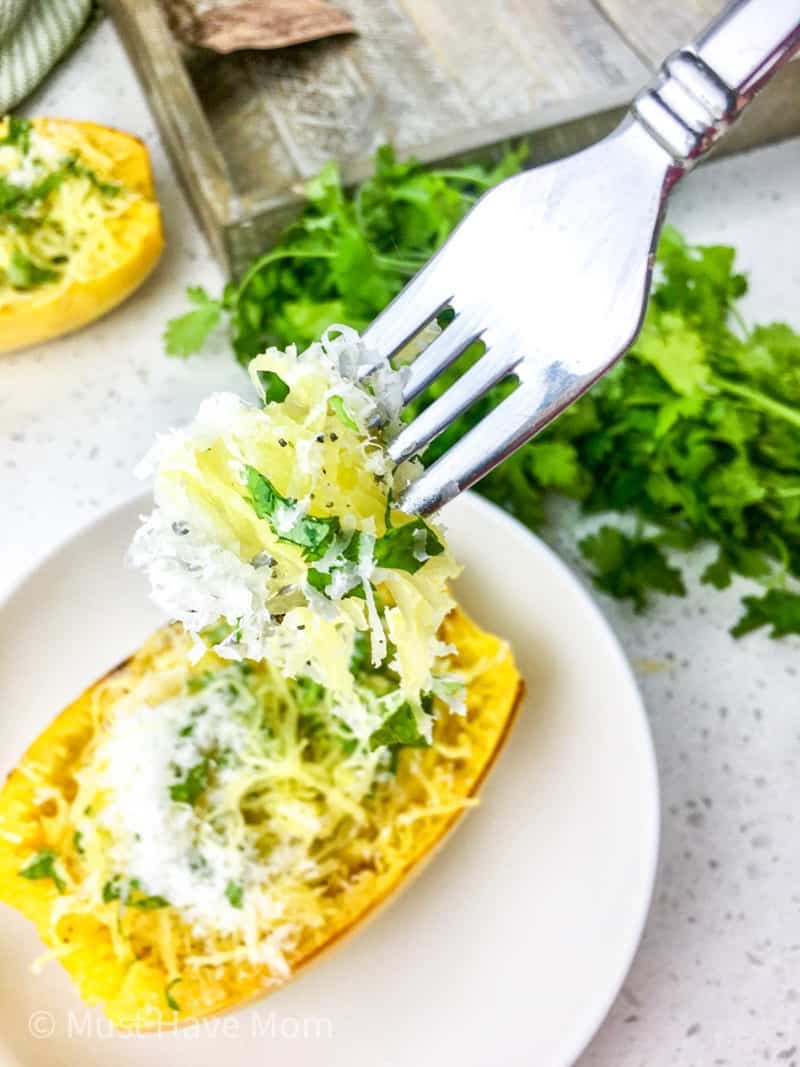 This is a great standalone roasted spaghetti squash and is also the method used to cook spaghetti squash to be used in other recipes like my spaghetti squash lasagna that I love so much. Serve it just like this with Parmesan and parsley or pair it with some homemade basil pesto or veggie meatballs.
Baked Spaghetti Squash
If you have never made roasted spaghetti squash before then you are seriously missing out! This is the best ever recipe for making spaghetti squash in the oven. It is SUPER easy and tastes AMAZING! It is my absolute favorite way to bake spaghetti squash and once you try it you'll see how easy it is.
How To Bake Spaghetti Squash
Spaghetti squash is really easy to bake and the hardest part is actually cutting the squash in half! Some people microwave their squash for a short time to soften them up, however we do not have a microwave and I prefer to cook our food in the oven so we just cut the squash in half with a sharp butcher knife slowly and carefully. Rock the knife back and forth to carefully cut the squash lengthwise all the way around.
Next, you'll need to use a spoon to scoop out the seeds and strings but be careful not to scoop too deep and remove the spaghetti squash inside!
You can save the seeds for later and roast them just like pumpkin seeds if you like!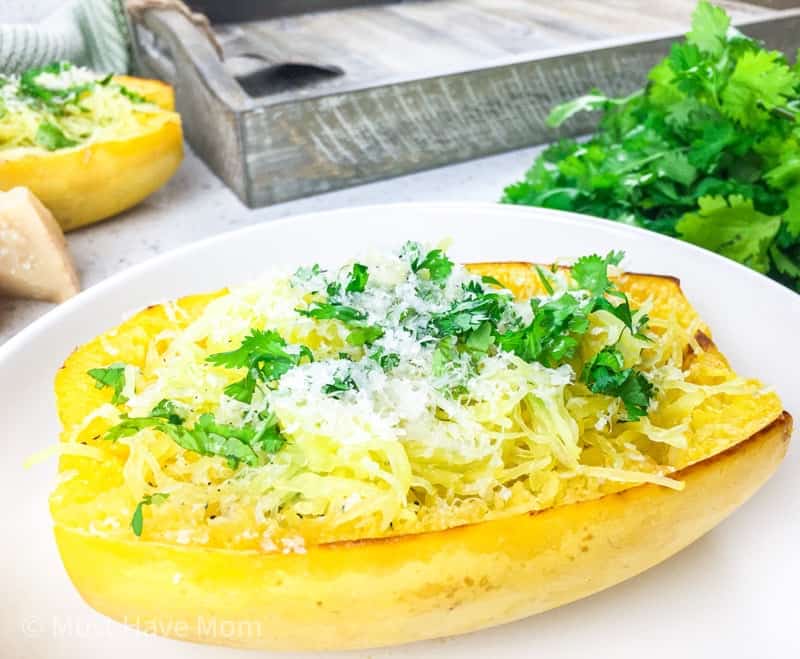 After that you are ready to put it on a baking sheet and drizzle it with olive oil and seasonings. This recipe calls for cooking the squash face-down however we have done it both ways and face-down and face-up both work fine!
We topped our spaghetti squash with Parmesan cheese, butter and parsley and seasoned it with garlic powder. It tastes SO GOOD all by itself and works great in place of pasta in any recipe to easily make a gluten free meal.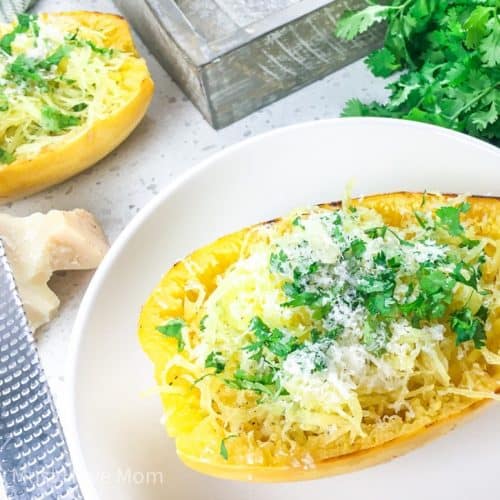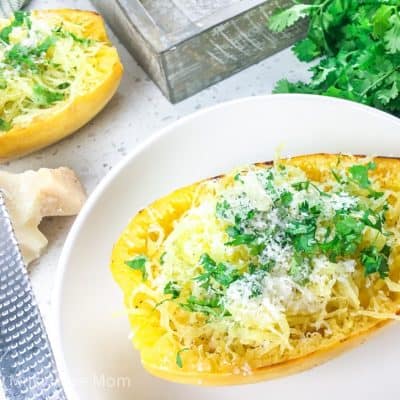 Easy Baked Spaghetti Squash
Easy roasted spaghetti squash with parmesan and parsley. Healthy garden recipe that tastes amazing!
Ingredients
2

medium spaghetti squash

3

Tbsp

extra virgin olive oil

½

tsp

garlic powder

Sea salt & black pepper

to taste

¼

cup

unsalted butter

melted

¼

cup

Parmesan cheese

freshly grated

2

Tbsp

fresh parsley

chopped
Instructions
Place top oven rack in the center position and pre-heat oven to 400°F. Line a large, rimmed baking sheet with parchment paper or a Silpat™ baking sheet. Set aside.

Using a sharp knife, carefully rock the knife back and forth to cut the spaghetti squash in half lengthwise. Scoop out the pulp and seeds with a spoon without piercing all the way through the squash. Reserve seeds and set aside to toast later, if desired.

Brush the edges and inside of each squash half with olive oil. Sprinkle each half with the garlic powder and season with sea salt and black pepper, to taste.

Place the squash cut side down on the prepared baking sheet and place in the pre-heated oven for 40 minutes, or until the squash is for fork tender.

Remove from oven and cool for several minutes. Once cool enough to handle, flip over the squash and carefully "shred" the inside with a fork to create spaghetti-like strands, leaving the shredded squash inside the squash shells.

Drizzle the melted butter over the spaghetti squash and top each with some Parmesan cheese. Place back into the oven until the cheese is melted and starts to brown.

Remove from oven and serve immediately with some freshly chopped parsley sprinkled on top. Enjoy!
Is Spaghetti Squash Keto?
Spaghetti squash is a GREAT keto friendly pasta alternative! You may find you like spaghetti squash even BETTER than pasta (I do!). This recipe is keto friendly and I promise you'll love it and won't feel like you are missing out on pasta anymore!
How To Cut Spaghetti Squash
Using a sharp butcher knife, poke a few small slices in the spaghetti squash skin. You can also poke in a dotted line along where you plan to slice the squash in half to make it easier to slice it. Gently rock the knife back and forth working your way around the squash carefully until you've sliced all the way around.
You can also microwave spaghetti squash for 5-6 minutes and allow to cool slightly. Then you can easily slice through the outside of the squash.
Alternatively, you can roast the spaghetti squash whole for an hour. Poke holes in the outside with a fork before roasting so that steam can escape.
Pin Baked Spaghetti Squash Recipe