Immune Boosting Elderberry Gummies Recipe
These immune boosting elderberry gummies have become a MUST at our house this week. The influenza virus has hit hard here in our local school. We live in a rural area and have a pretty small school. Just yesterday there were over 100 kids absent with influenza A or B virus. In our small school that is a HUGE number. Thanks to the relative ineffectiveness of the flu shot this year, the influenza virus is spreading like wildfire through the school. Here at our own house my 5 year old son Carson has influenza A. I usually am so good about staying healthy and preventing cold and flu, however this year I didn't make my elderberry syrup recipe like I usually do and sure enough he got influenza. Now I have gone on the offense against influenza and I'm taking all the steps I can to avoid the rest of our family getting sick. So far so good and it's been 5 days since Carson came down with the flu. The rest of us are staying healthy. Want to know how we avoided getting the flu? I'll share all my tips including this immune boosting elderberry gummies recipe!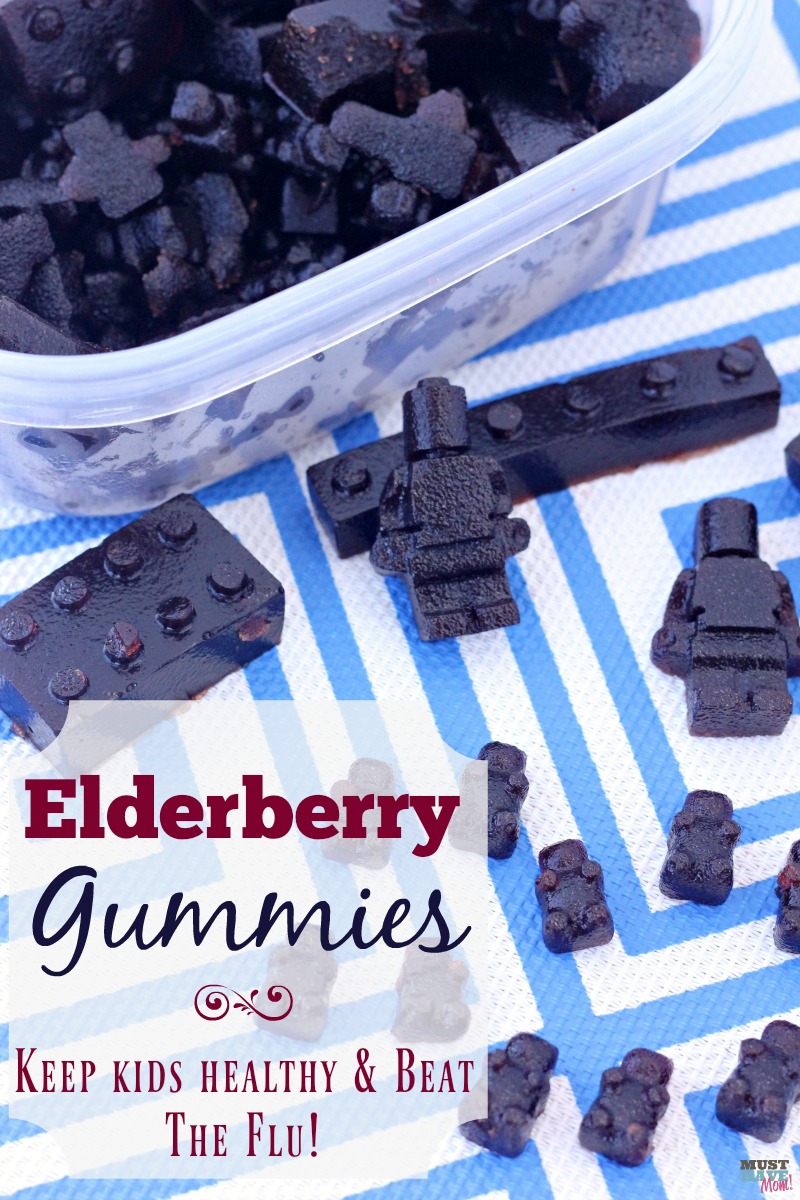 Immune Boosting Elderberry Gummies Recipe
Every kid loves gummies. Typically they are loaded with sugar, corn syrup and other bad-for-you ingredients, but these immune boosting elderberry gummies have nothing but good stuff in them! These gummies make for a great mess-free way to get your daily dose of elderberry syrup.
Supplies:
Want to make them? Here are the supplies you'll need. Order them NOW so you can get started making them right away! I grabbed all of the supplies on Amazon since they deliver to my doorstep for free in 2 days time which means I don't have to go to the store and expose myself and my kids to more germs! Here's what you'll need to order so you can get started right away!
Frontier Natural Products Whole Elder-European Berries — 16 oz
Honest Raw Honey, 22oz
Vital Proteins Collagen Protein, Pasture-Raised, Grass-Fed, Non-GMO, Beef Gelatin (16 oz)
Cherry Works Tart Cherry Original Montmorency 16 fl oz (473 ml) Liquid
Gooj-Gummy Bear Molds- (Recipe included on the box) 3 Silicone Molds 150 gummy bears total +3 Droppers- BPA Free (3 Pack; Green, blue, and Yellow)
Americas Best Buys 8-Pack Silicone Candy Molds and Ice Mold for Lego Lovers with Recipe eBook
Elderberry Syrup Benefits vs. Tamiflu:
When Carson tested positive for the influenza A virus they offered us Tamiflu. Unfortunately (or maybe fortunately), the pharmacy was already closed so we needed to wait until the next day. Tamiflu is only effective if taken in the first 48 hours since the time the symptoms began. The doctor explained that it also only shortens the duration of the flu by HOURS or 2 days AT MOST. Elderberry on the other hand has been shown to reduce the flu by 3 DAYS or HALF the usual duration of the flu (source and source). Furthermore, elderberry can help PREVENT THE FLU. Elderberry works by preventing the influenza virus from latching on to cells (source). Elderberry syrup benefits beat out Tamiflu benefits.
After researching some of the side effects of Tamiflu in children I found that it can cause nausea, vomiting, hallucinations, nightmares, insomnia and worse (source). After reading this I opted to skip the Tamiflu and dose him with elderberry syrup and these elderberry gummies instead. The benefits of only possibly shortening the duration of the flu with Tamiflu were far outweighed by the list of side effects. Furthermore, the elderberry studies were more promising in delivering relief and a shorter duration of illness than the Tamiflu studies have been. The elderberry syrup benefits won out in the end!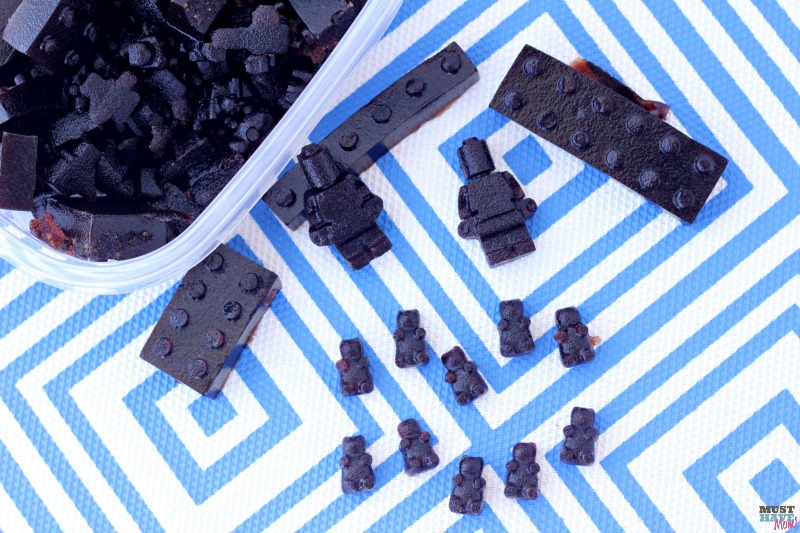 Now that you have the information to make an informed decision about preventing or treating influenza and elderberry syrup benefits, let's move on to the elderberry gummies recipe! These are SO easy to make! If you go to buy elderberry gummies at the store you'll find that a typical vitamin-size bottle of them will set you back about $20! Yikes! You can make them for far less!
You'll first need to make this elderberry syrup recipe and then put it in the fridge to cool. Once it has chilled you are ready to make your elderberry gummies.
Making these gummies is a quick process so have all of your supplies set out and ready. Set your silicone gummy molds on a baking sheet so they are easy to transfer to the fridge to chill without spilling. We used both the gummy bear molds and the lego molds. I will say the gummy bears are a better size for kids and the lego molds were a little thick to eat the gummies. The kids loved the lego guys though! Either one works find but some of the legos were larger than a usual dose of the elderberry would be.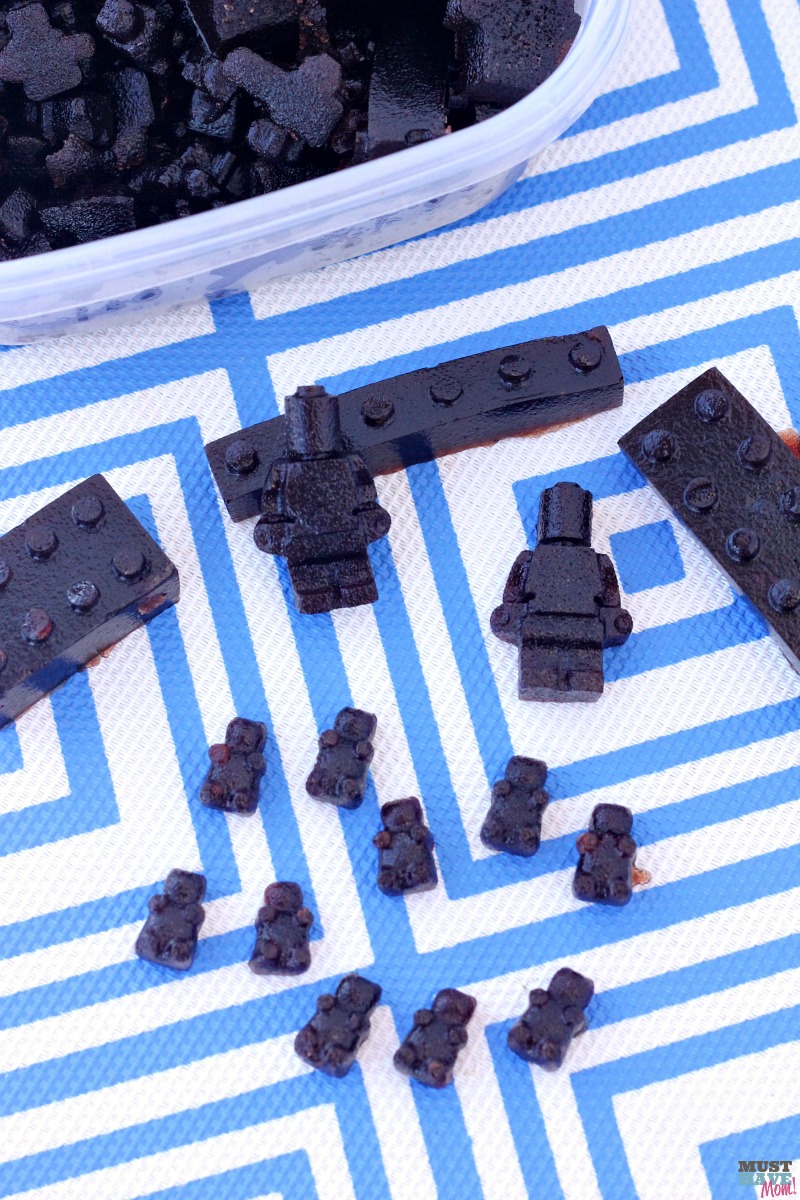 Using a glass 4 cup measuring cup (I use this one), measure 1/4 cup of tart cherry concentrate into the glass measuring cup. *NOTE: You want to use tart cherry concentrate NOT tart cherry juice. Tart cherry concentrate adds many benefits including an immune boost, joint health, muscle recovery after exercise, antioxidants and it also adds flavor. If you don't want to use tart cherry concentrate then you can substitute 1/4 cup of elderberry syrup.
Next, add 1/3 cup of grass fed gelatin and whisk quickly to dissolve all of the gelatin powder. I highly recommend buying a quality grass fed gelatin as it has SO many health benefits (see health benefits here) as opposed to something like Knox gelatin which doesn't carry those benefits.
Then add a 1/2 cup of very hot water (our tap water gets really hot so I just use that-you don't want it to be boiling!). Whisk together well then add 1 cup cold elderberry syrup and whisk.
Now carefully (but quickly!) pour the mixture into your silicone molds. You will find it starts to gel quickly so you need to work fast. I just pour it right out of the measuring cup. You can use the dropper to fill them but it usually takes me too long if I do that. If they overflow a bit it's fine, they will rip apart once they gel. If it gets too thick to pour just heat in the microwave or on the stove top for a few seconds until it liquifies again.
Place filled molds in the fridge for about 30 minutes until they are set. Then pop them out of the molds and store in an airtight container in the fridge. They last approximately 2 weeks in the fridge.
*If you have leftover elderberry syrup that you won't use you can freeze it for your next batch of gummies! Just freeze in 1 cup portions and you can thaw it as you need to make more gummies.
The typical dose for elderberry syrup is 1 tablespoon for an adult and 1 teaspoon for a child each day if used as a preventive measure. If the flu strikes increase the dosage to 4 times a day. Depending on the size of the silicone mold you use, you will need to figure out how many gummies equals a dose. My 3 year old loves these and eats 4-6 bears a day without issue. He would eat the whole container if I let him!
In addition to our family taking elderberry every day to prevent the flu, we have also been diffusing Thieves essential oil to kill the germs in our home and keep us healthy.
Print the Elderberry Gummies Recipe: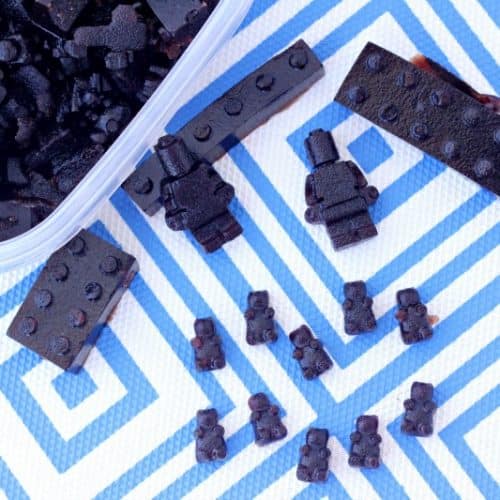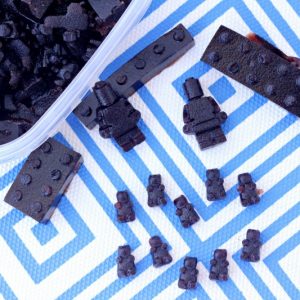 Immune Boosting Elderberry Gummies Recipe
Immune boosting elderberry gummies to prevent the flu or shorten the duration of colds and flu.
Ingredients
1/4

cup

tart cherry concentrate

not juice

1/3

cup

grass fed gelatin

1/2

cup

very hot water

not boiling

1

cup

cold elderberry syrup or store bought elderberry syrup
Instructions
Prep all of your supplies before getting started. Place silicone gummy molds on a baking sheet so they are easy to transfer to the fridge. Get a 4 cup glass measuring cup, whisk and additional measuring cups ready.

Measure 1/4 cup tart cherry concentrate into the glass measuring cup. If you don't have tart cherry concentrate you can substitute 1/4 cup elderberry syrup.

Mix in 1/3 cup grass fed gelatin and whisk to dissolve the powder.

Add hot water and whisk.

Add cold elderberry syrup and whisk.

Quickly pour into silicone molds. If mixture gels before you finish just heat for a few seconds until it liquifies again.

Put in the fridge for 30 minutes or until set. Pop gummies out of the molds and store in an airtight container in the fridge. These last about 2 weeks in the fridge.
Share This Post & The Elderberry Syrup Benefits!
We love when you pin our posts and use the sharing buttons to share on Facebook and Twitter!

You might also like: