Does it seem like everyone you know is using essential oils? I'm sure your Facebook feed is full of "oily" posts. There's a reason! After using Young Living Essential Oils every day for over a year, I can tell you what all the fuss is about. They work. And I'd love for you to experience their effectiveness for yourself! I was the biggest skeptic so I promise you there's good reason I waited a year before bringing you this. I wanted to make sure these were the real deal before ever recommending them.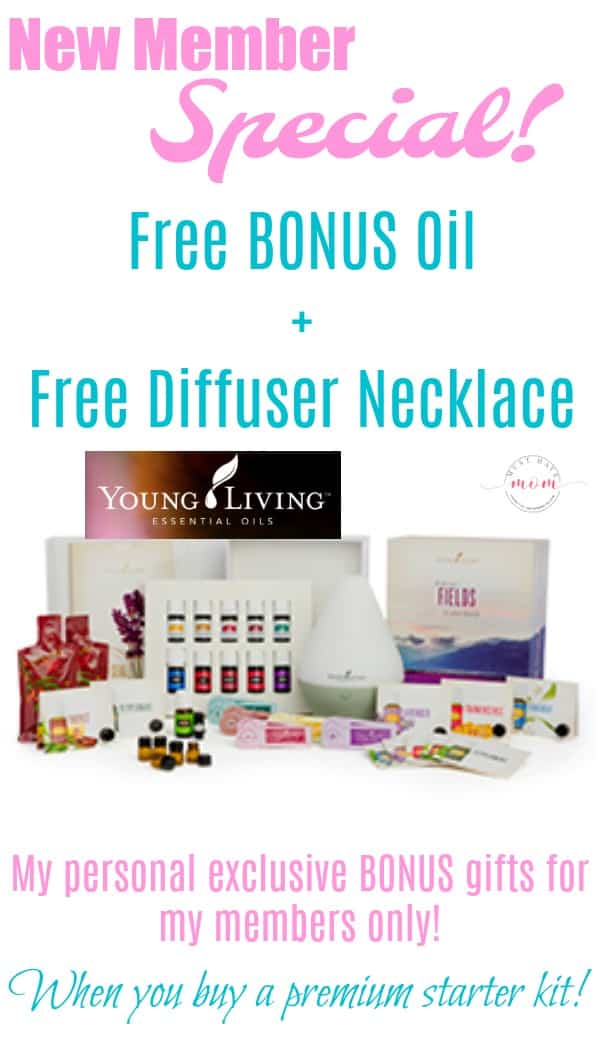 I'm offering an amazing special that includes everything you need to get started with essential oils.
Purchase a Young Living Premium Starter Kit ($160 for over $300 worth of product. What a great deal on it's own!) and I will send you the following resources to get you started off on the right foot! This is a special that I am funding myself because I believe in these and I want you to get all the benefits from them. This is above and beyond what you will get when you order your starter kit from Young Living!
Surprise Oil – I will send you one of my favorite oils as an extra surprise! BONUS!
Diffuser Necklace – I will send you a BONUS diffuser necklace so you can wear your oils all day long and breathe them in! They are gorgeous and I wear mine all the time too!
Access to Oily Family Room and Oily Connections on Facebook – Oily Family Room is over 22,000 members strong! If you've got a question, chances are you can find an answer there. Join our Oily Connections Facebook group for a smaller, more personal experience. Ask questions, share your excitement about essential oils, and get to know others along the way.
Email Support – Ongoing support from yours truly. 🙂 I'm happy to help you with anything you need and give advice and a helpful hand.
These powerful, effective oils are created to work perfectly with our bodies! People have been using them for thousands of years, so I kind of cringe when I here them referred to as a trend. Their popularity has certainly grown but they are nothing new.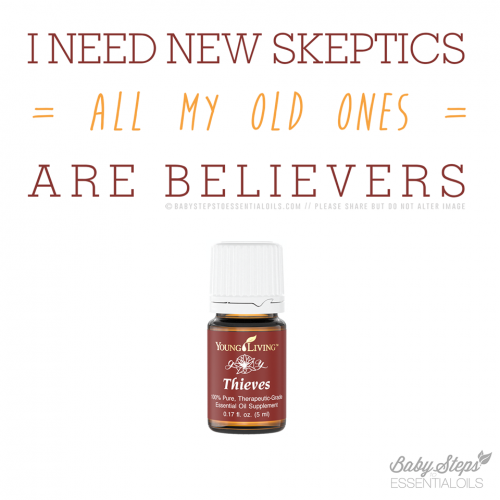 How we got started with Young Living
Honestly, I got started using Young Living after becoming so fed up with so many oil posts in my Facebook feed that I just had to try them and see if they were all they were touted to be. After hearing so much about essential oils and deciding to give them a try, I proceeded to research them to death. If you're a detail-oriented person like me, you know the feeling! I am just like my Dad and I love to get to the bottom of things. I researched until I had looked into every major player in the essential oils world.
Several hours into my quest for information, I had narrowed down my supplier of choice to two different companies. In the end, I chose Young Living. I felt confident in my choice because knowledge is power and I had plenty of research behind my decision.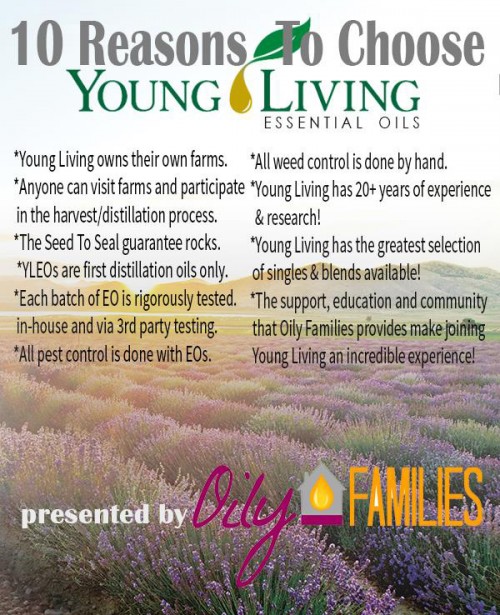 Here are a couple of additional factors
besides the 10 listed above
that contributed to my decision:
1. When it comes to essential oils, you get what you pay for – If a supplier can afford to sell a bottle of lavender oil for $7 at your local health food store, that's not 100% lavender. It's diluted at best and barely a step up from fragrance oil at worst. Choosing an essential oil company isn't about price shopping, but finding the best quality possible. This eliminates the majority of brands right away. The other two companies I considered were comparable in cost to Young Living. *Since then I've gone one step further and I've tried oils from two other companies. I wasn't impressed with the quality of their oils and I have stuck with Young Living for that reason.
2. Young Living doesn't use brokers – What does that mean? Young Living distills products from their own independently-owned farms for maximum quality control. The other two companies I considered purchase harvests from many different farmers or purchase oils already distilled before selling them to you. By using Young Living you are cutting out a middleman.
There is a bounty of information on the internet about essential oils. I encourage you to do some research yourself rather than just taking my word for it. I'm confident you'll come to the same conclusion.
Now I don't leave home without my oils. Seriously. I made that mistake once when we stayed overnight at a hotel with our four kids. My husband makes sure I never forget them again! After a night of no sleep and listening to our kids grind their teeth all night, I was sure I always had my Peace & Calming oil for the kiddos bedtime whenever we travel! It gives us ALL a peaceful sleep!
Are you ready to get started with Young Living? Here's a helpful guide to answer questions and walk you through the process.
Step by step instructions on how to join Young Living Essential Oils:
1. Click here to begin the quick and easy enrollment process.
2. Select "Member" not retail customer. This is the wholesale membership. You are NOT AGREEING TO SELL or distribute anything. Pinky promise! If you select "Retail Customer" you will not receive wholesale pricing and will pay retail which is 24% more than wholesale.
3. Make sure my member number (1724068) is in the Sponsor ID and Enroller ID spots.
4. Be sure to include your email address so I can invite you to the Oily Family Facebook support group. This support is vital for empowering you to use the oils to the fullest.
5. Choose the Premium Starter Kit you want (there are five to choose from) then proceed to check out. You do not have to order an Essential Rewards kit to join. Essential oils reward will place you on an autoship program to get free oils. If you'd like to be part of this program you can sign up at a later date and you still won't have to purchase a kit to be part of it.
6. Done. Your oils are on their way, and so is your gift from me!
Young Living Wholesale Member FAQs
Why Should I Become A Wholesale Member?
Because this option provides you 24% off retail price! As you use the oils and you share your testimonials with friends and family, you have the option (zero pressure!) of earning commissions when others join and purchase Young Living oils.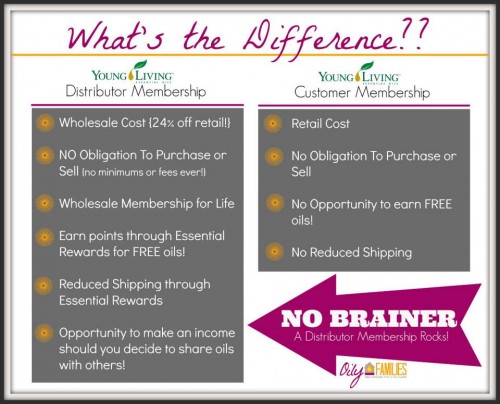 Is there a monthly order minimum?
NO. You can just order what you need when you need it. Amen? No muss no fuss.
What kit do you recommend that I get started with?
To get the most bang for your buck, order the premium kits. I suggest the Premium Starter Kit with Dewdrop Diffuse.
You receive the 11 bottles of essential oils plus more! It's over a $300 value for $160! 
There are ZERO obligation to sell oils when you join as a wholesale member.
Since I had just retired from selling Thirty One I would never have joined myself if I was expected to sell anything.

 Selling was something that I wasn't interested in when I joined and there was zero pressure to sell. In the year since I joined I have decided to sell them simply because Young Living essential oils are now a part of my life and consequently a part of my blog posts. For example, I want readers need to know how they can buy the best oils for their homemade headache salve and the other oily posts I create in the future. Believe me when I tell you that you don't have to sell a thing.
Are you *sure* there are no monthly order requirements?
To retain an active wholesale account, you have to place one 50PV minimum order per year. If you miss that deadline, you can reactivate your account by calling Young Living Customer Care with a 100PV (point volume) order.
If someone wants to join Young Living through me, what do I give them?
When you join, you will be assigned your own member number to give to your friends and family who are interested in joining as well.
Is there a way to save even more money? 
Yes! The Essential Rewards program offers reduced shipping, credit for free oils & more!  Each month there are great promotions for free oils when you place an Essential Rewards order. The Essential Rewards program is completely optional and never required at sign up.
What kind of support do I get after joining Young Living through you?
When you join Young Living through me, I don't leave you hanging or wondering what to do next.  You will get access to the private Oily Family Room Facebook group that is a wealth of information. You can search the archives, ask questions, get tips on how to use your oils, and "talk shop" with other oilers.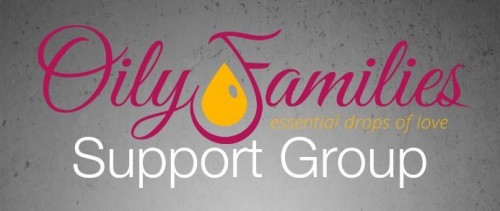 If you have any concerns or questions, please don't hesitate to reach out to me at sarah@musthavemom.com. Please put "Young Living" in the subject so I don't miss your email! 
These statements have not been evaluated by the FDA. This product is not intended to diagnose, treat, cure, or prevent any disease.