Homemade Elderberry Syrup Recipe
I made it through the whole Winter without getting sick only to have a cold strike me this Spring! Grrr! I wasn't about to give in and settle for a 2 week cold. I knew I needed to whip up a batch of homemade elderberry syrup so I'd have a fighting chance at kicking this thing in less time! Elderberry syrup is great for cold and flu prevention as well as reducing the duration of a cold or flu. This elderberry syrup recipe is easy to make and only takes about an hour from start to finish. Most of that time is simmering it on the stove so you aren't actively making it for that long.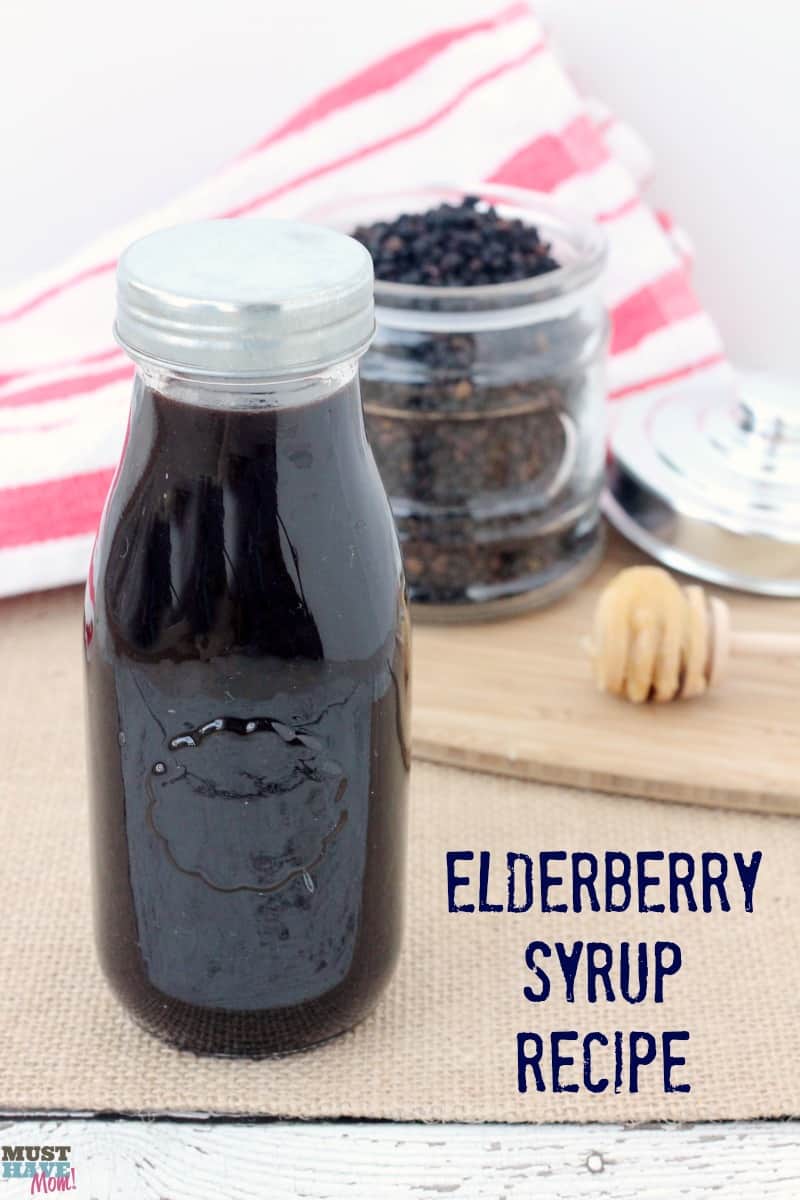 This elderberry syrup recipe uses the dried berries of the Sambucis Nigra plant. These berries are naturally high in immune-boosting compounds that are specifically shown to help beat the cold and flu more quickly. Elderberries contain high levels of A, B, and C vitamins and they help stimulate the immune system to prevent or treat cold and flu. Read more about how elderberry helps prevent cold and flu or shorten the duration of illness in my elderberry gummies recipe post.
You can buy natural elderberry syrup but it will cost you about $16 for just 4-8 ounces. This recipe will make about 16 ounces for under ten dollars and it tastes better than the varieties I have tried from the store.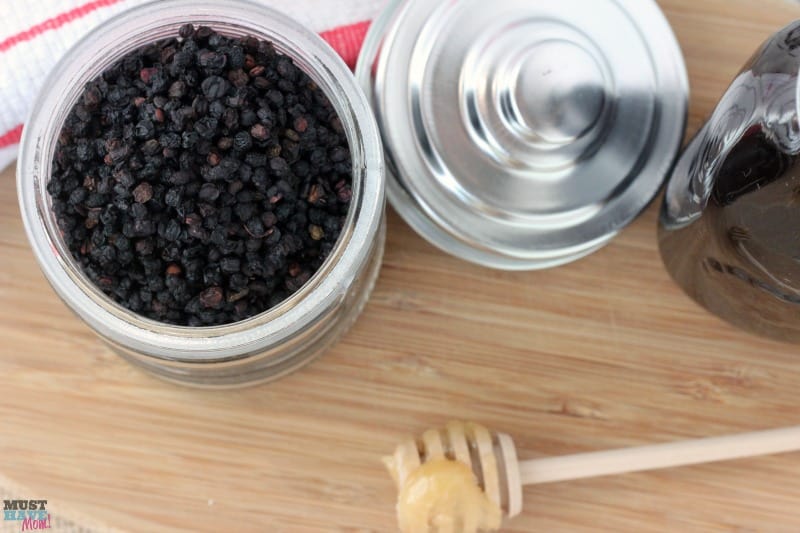 You will need black elderberries to make this elderberry syrup recipe. I bought mine in bulk from Amazon and saved a bundle. They are freeze dried and keep for a long time so by buying them in a one pound bag I am able to make a ton of elderberry syrup from just one bag. Plus I love that the black elderberries sold on amazon are also organic! At around $17 for a pound of dried berries, you'll be far ahead because you can make so many batches from this one bag. Just store it in a cool, dry place inside an airtight container.
You'll also need raw honey for this recipe. Raw honey differs from processed honey in that it retains beneficial enzymes that heat destroys. Be careful to follow the recipe closely so you don't kill those benefits of the raw honey by adding it to your syrup too soon! You need to wait until it cools! Raw honey has also been shown to help with allergies so it is most beneficial to buy your raw honey locally. If you are unable to find raw honey that is local to you then you can buy raw honey here. The reason it is so beneficial to buy local raw honey is that the bees have used pollen from your own local plants so if you suffer from allergies the honey made with that pollen can benefit you in reducing your allergic response to those allergens.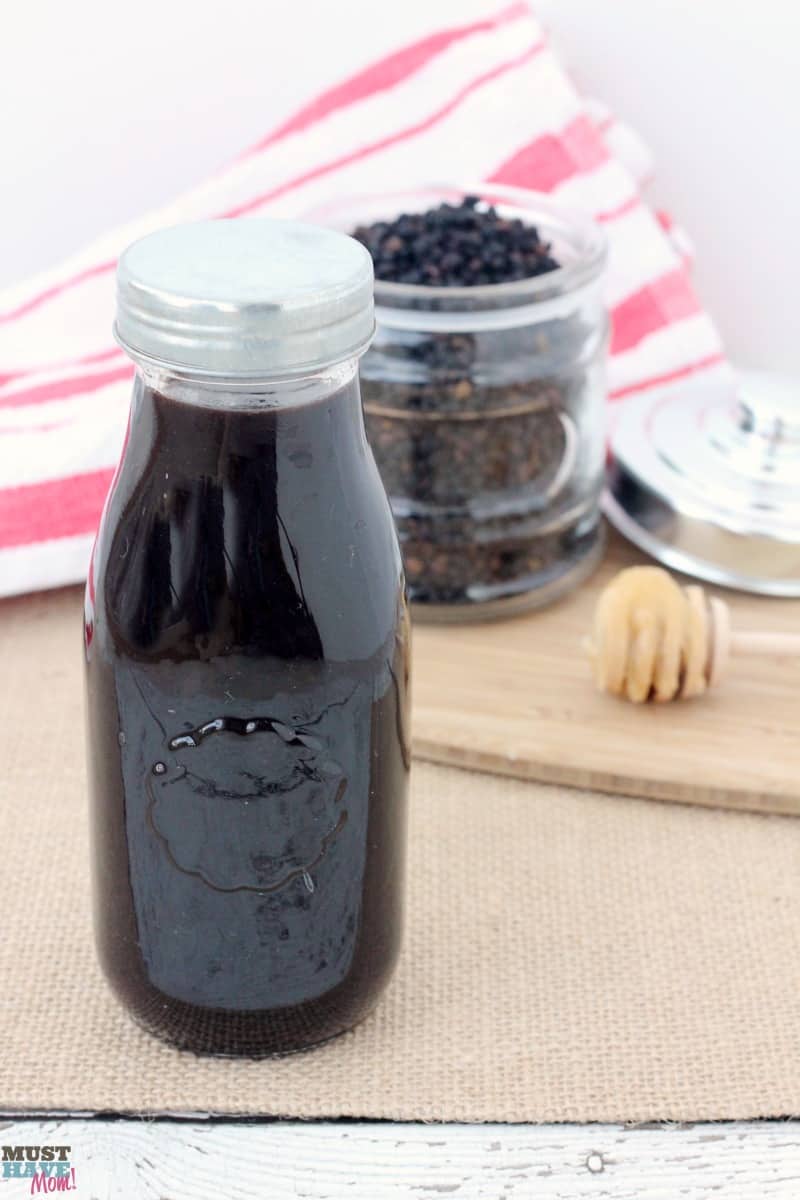 To make the elderberry syrup you will need to simmer the berries with water, ginger, cinnamon, and cloves for about 45 minutes. This will reconstitute the berries and reduce them into a syrup. It's important not to add the raw honey until after the mixture has finished simmering and cooled completely.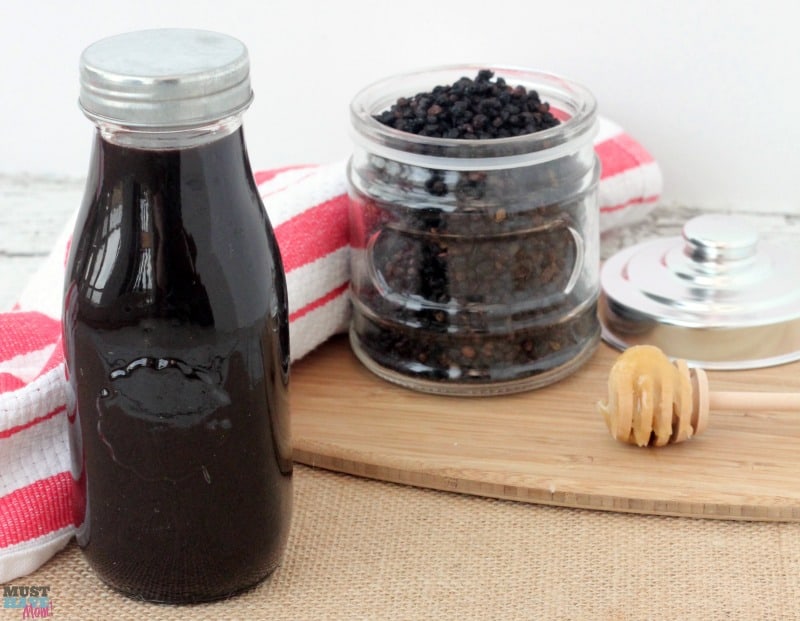 Take once daily for an immune boost. Kids take ½ tsp to 1 tsp daily. Adults take ½ Tbsp to 1 Tbsp daily. If you are experiencing the flu or a cold, take the normal dose every 2-3 hours instead of once a day until symptoms disappear.
Print the Elderberry Syrup Recipe: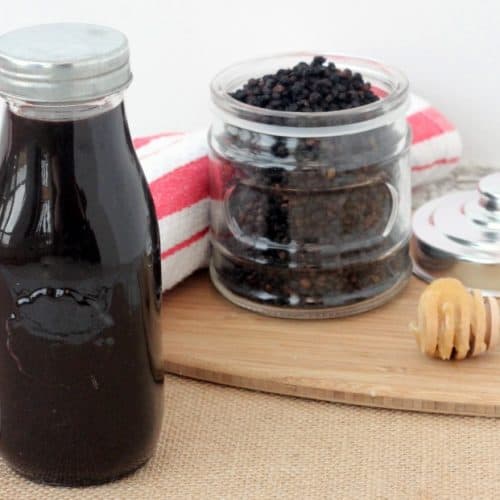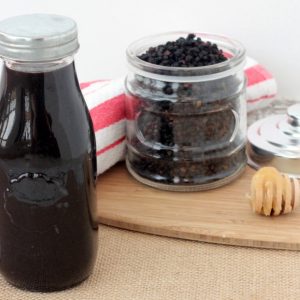 Homemade Elderberry Syrup Recipe
Homemade elderberry syrup that can be taken as cold and flu prevention or reduce the duration of a cold or flu virus.
Ingredients
⅔

cup

black elderberries

3½

cups

of water

2

Tablespoons

fresh or dried ginger root

use fresh if possible!

1

teaspoon

ground cinnamon

½

teaspoon

cloves

1

cup

raw honey

best to buy this locally
Instructions
In a medium saucepan combine elderberries, water, ginger, cinnamon and cloves (do not add raw honey yet!)

Bring to a boil over medium high heat. Once it has reached a boil, cover and reduce to a simmer for about 45-60 minutes or until the liquid has reduced down to about half it's starting volume.

Remove from heat and let cool slightly. Using the back of a serving spoon mash the berries as much as possible. Pour mixture through a metal sieve into a glass bowl and mash the berries again while in the sieve to extract as much juice as possible from them. Toss the elderberries.

Allow the liquid to cool to room temperature.

Once cooled add 1 cup of raw honey and stir well until combined.

Pour the syrup into a 16 ounce glass bottle or jar.

Store in the fridge.

Take once daily for an immune boost. Kids take ½ tsp to 1 tsp daily. Adults take ½ Tbsp to 1 Tbsp daily. If you are experiencing the flu or a cold, take the normal dose every 2-3 hours instead of once a day until symptoms disappear.
Be sure to pin it or share to Facebook if you enjoyed this recipe!
Pin the Elderberry Syrup Recipe: