DIY Bath Salts Recipe For Stress Relief
Relaxing in a hot bath filled with these DIY bath salts is my favorite way to end the day. I probably take at least five baths a week because the detox benefits and relaxation is so worth it to me. Carve out 30 minutes and sit in the tub. You'll be glad you did!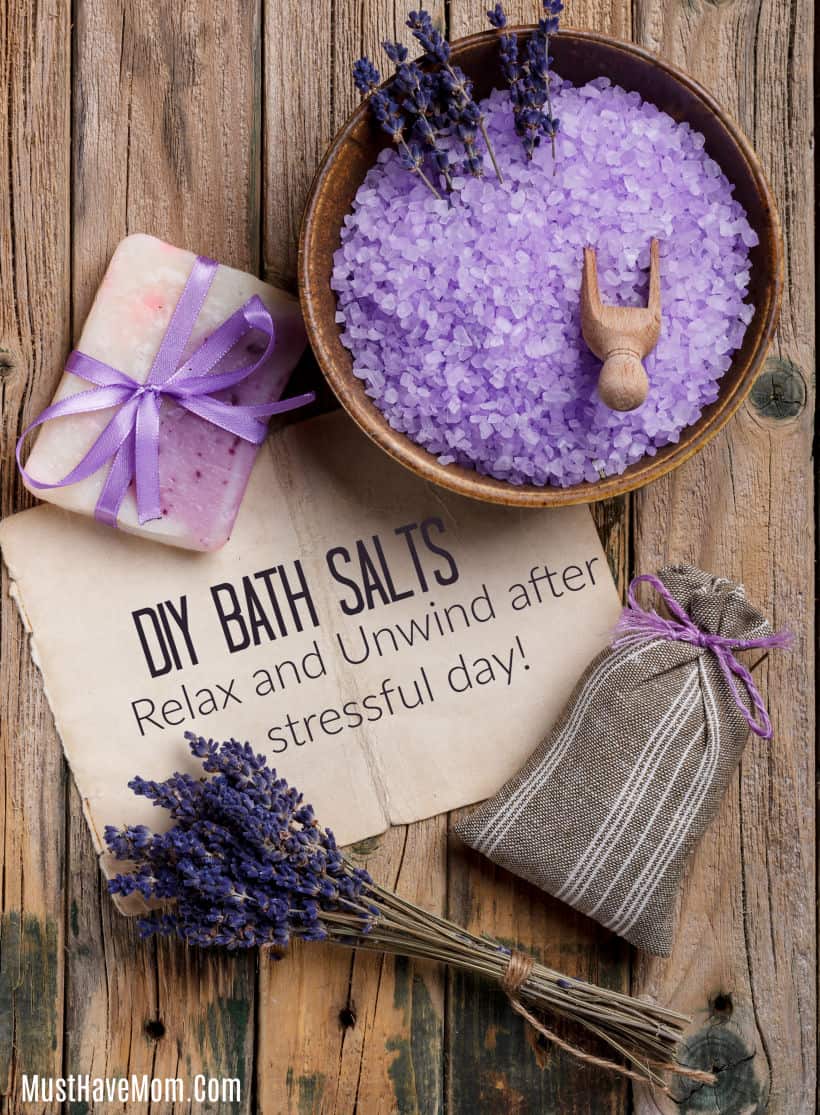 DIY Bath Salts
Making your own bath salt recipe is a great way to customize your bath time to deliver the precise benefits you are looking for. Whether you are looking to unwind and relax, destress, or recover achy muscles, you can make your own bath salts to help target those needs. Today we are going to make our own DIY bath salts for reducing stress and helping to unwind and relax after a busy day. It is really easy and inexpensive to make your own bath salts at home! I love making my own bath products and you'll see how easy it is to make your own! I have made everything from copycat LUSH bubble bath dough to shimmery lavender bath salts to my favorite back pain relief bath soak and they are so fun and easy! Let's get started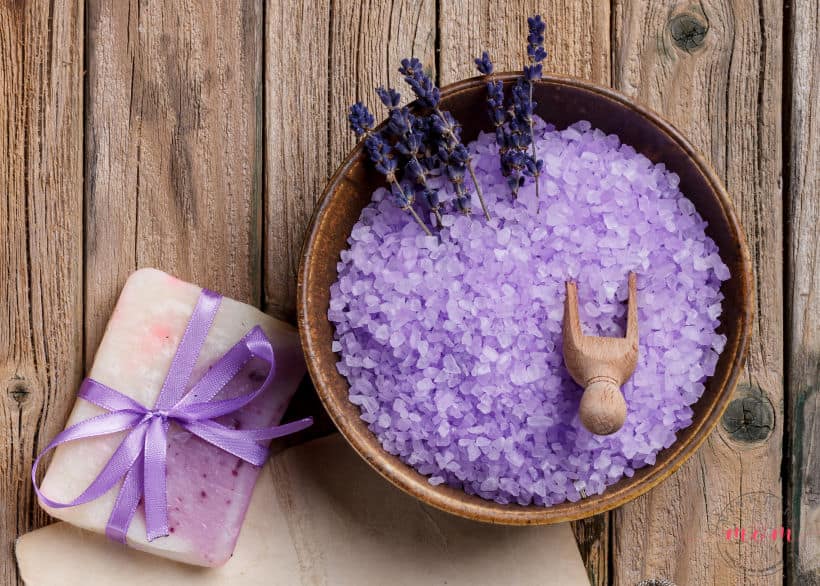 Lavender Bath Salt Recipe
The one thing I look forward to each week, and my guilty pleasure, is not only great for de-stressing but it's a must for every mama out there, I promise you! Plus it only takes minutes to whip this bath salt recipe together. Make a big batch and hand them out to your friends. They'll be grateful for an excuse to soak in the tub this week!
Begin by mixing together:
Stir together well. If you want your bath salts to have the lavender color that mine do then add lavender soap dye and mix well. I actually mix mine in a mason jar that I keep by the tub and then I shake it up and dump it into a hot bath. Then sit and soak for at least 20 minutes in the tub once a week. This weekly indulgence will draw out toxins, lower stress-related hormones and balance your body's pH levels. It's so good for you, not only physically, but mentally too! Give it a try!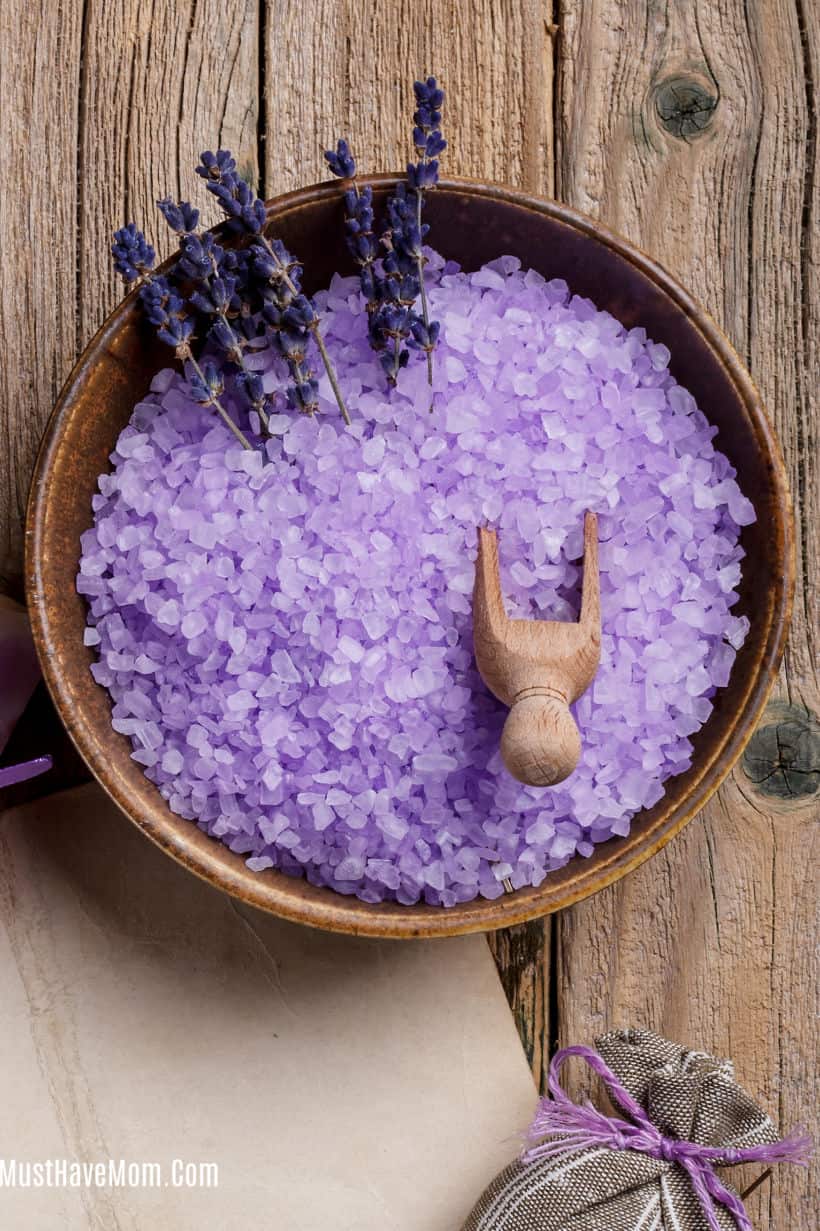 How Much Epsom Salt In Bath?
How much Epsom salt should you add to your bath? You should add 2 cups of Epsom salt to a standard bath while it is filling and allow it to dissolve. Then soak for at least 20 minutes for the most benefits.
Epsom Salt Bath Benefits
There are many benefits to taking an Epsom salt bath. These include relaxing the nervous system, curing skin problems, soothing back pain and aching limbs, easing muscle strain, healing cuts, treating colds and congestion, and drawing toxins from the body. Epsom salt baths can even help ease constipation and help make insulin more effective! Pretty awesome stuff right?
Print Lavender Bath Salt Recipe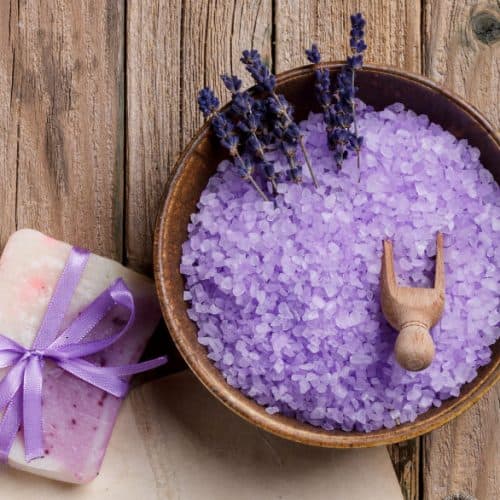 DIY Lavender Bath Salts Recipe
Easy bath salt recipe that draws out toxins, lowers stress related hormones and balances your pH levels.
Ingredients
1

Cup

epsom salts

10

drops lavender essential oil

1/2

C

baking soda

soap dye

optional
Instructions
Combine ingredients and stir to mix.

Add to hot bath and soak for 20 minutes.

Do this once a week.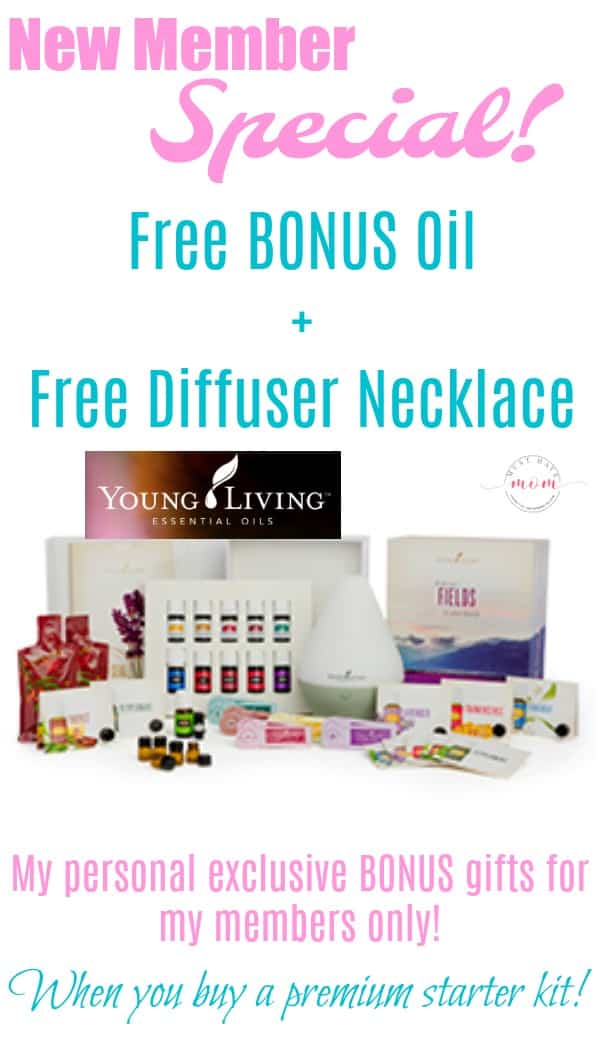 Pin DIY Bath Salts