Easy Shrimp Scampi Recipe
This easy shrimp scampi recipe delivers a restaurant-quality meal in around 30 minutes! Don't over-pay for fancy meals. Learn to make them yourself. This easy shrimp scampi recipe without wine uses common ingredients and easy steps.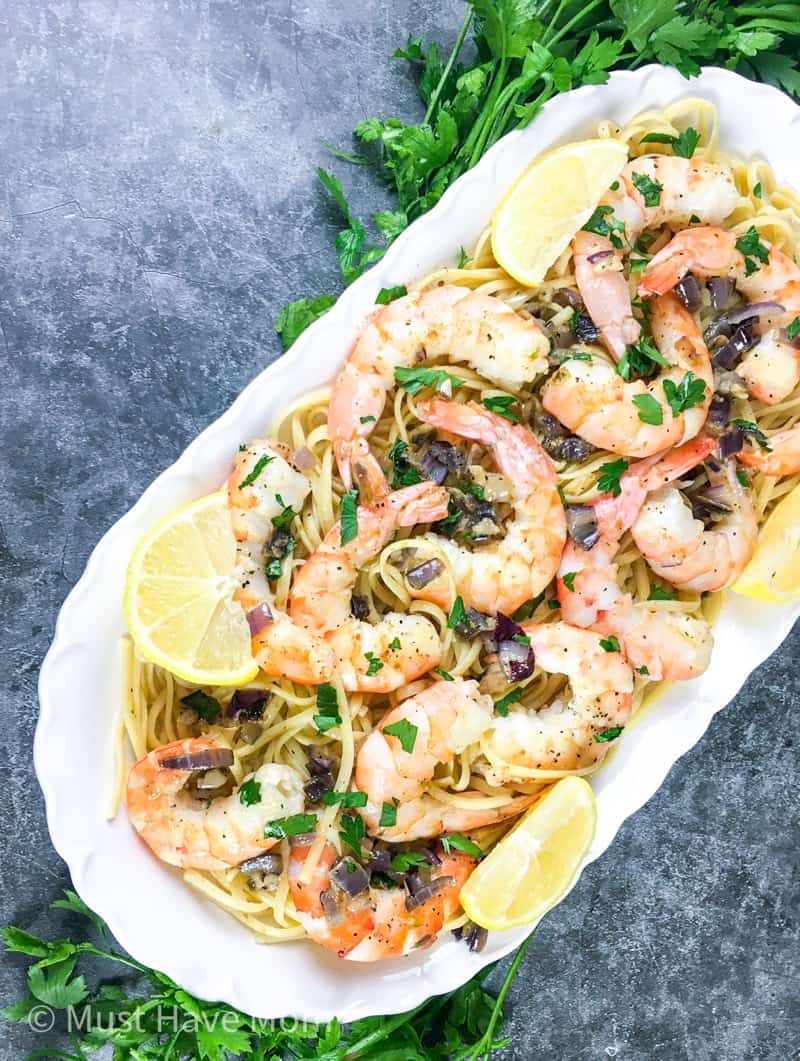 Shrimp scampi is a great meal for a date night in or a special occasion you are hosting at your home. Grab this free date night printable to go with this fancy meal or try these 25 out of the box date night ideas!
How To Make Shrimp Scampi
Shrimp scampi sounds intimidating and fancy, but you'll be delighted to see it is really easy to make. It tastes amazing and is definitely a must-make recipe! Shrimp scampi is a delicious combination of shrimp, butter, lemon, garlic and spices over a bed of pasta. With a few healthy choices, you can even make this a healthy shrimp scampi recipe! By doing things like using grass-fed butter and gluten-free pasta this recipe becomes a healthy indulgence.
This shrimp scampi recipe is made on a skillet on the stovetop. You'll begin by boiling a pot of water for the pasta and you'll proceed to cook the shrimp scampi while the water is coming to a boil and then while the pasta is cooking. I love to use this pasta pot because it is super easy to drain the water and there is no need to dirty a colander!
For the skillet I cook the shrimp in, I like to use this brand of clean cookware because it is one of the safest brands of non-toxic cookware on the market.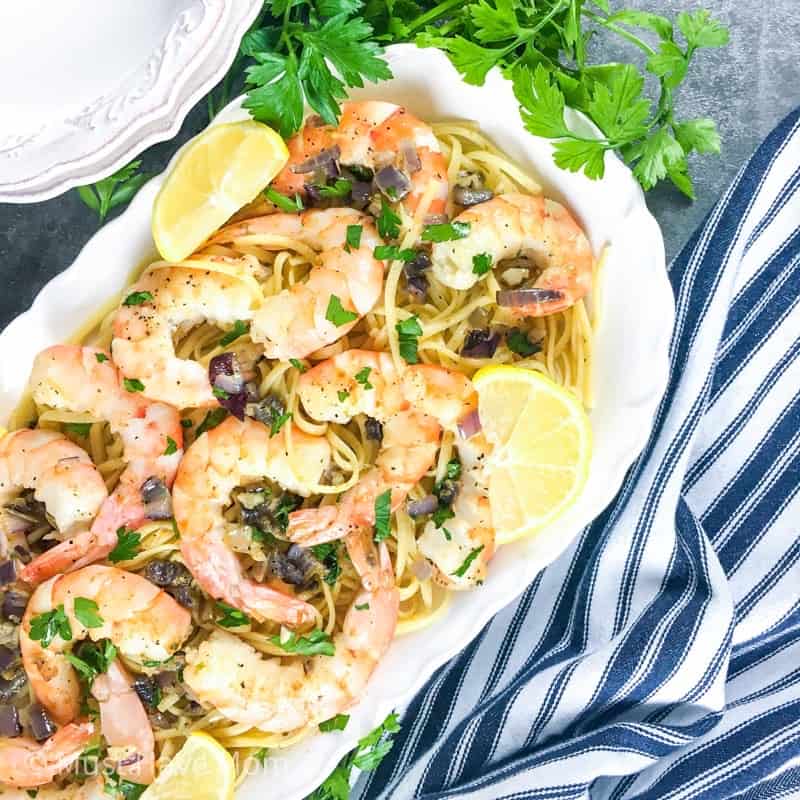 Since shrimp is a quick-cooking protein, this recipe comes together very quickly and dinner will be ready in around 30 minutes! That's a big win in my book. I don't have time to be spending hours on a fancy meal. 30 minutes is the perfect amount of time to have dinner on the table.
The biggest thing to watch out for with this recipe is to make sure you don't overcook the shrimp! Be sure to start with fresh (or thawed) shrimp and not frozen. They only take a few minutes to cook and are done when they turn a slight pink and curl like a c a little. If they curl too much they are over done and will taste rubbery. No one likes that!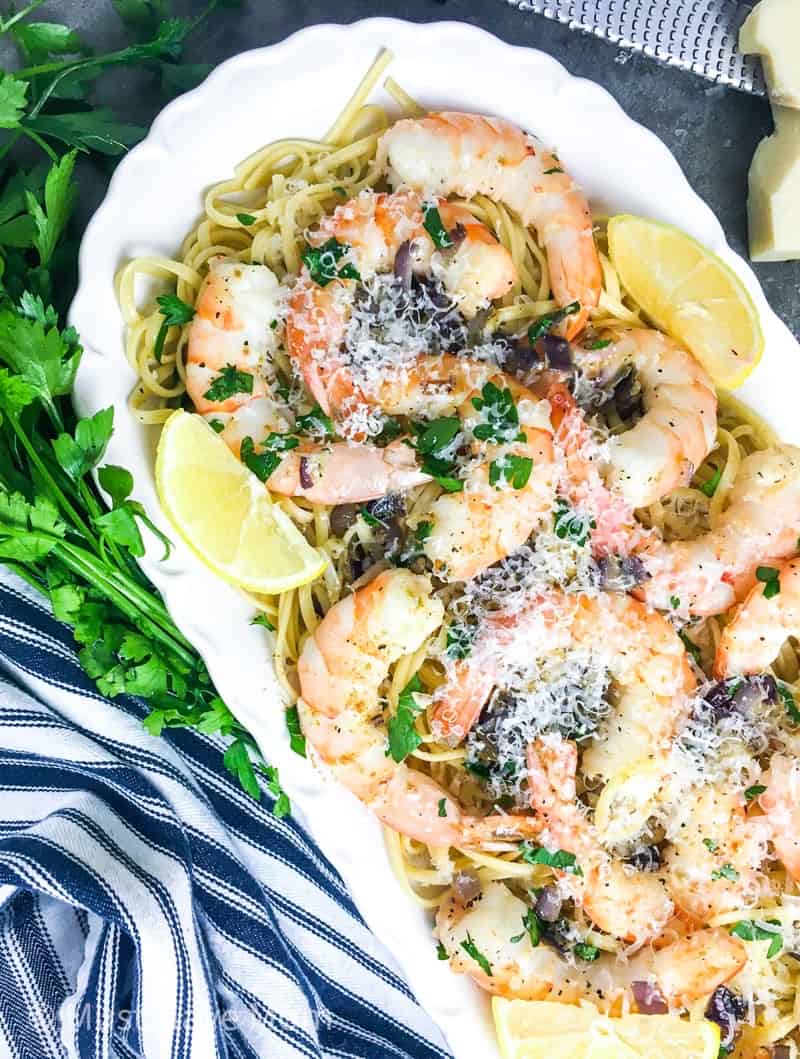 What To Serve With Shrimp Scampi?
I like to serve shrimp scampi with a fresh tossed salad and some yummy warm bread. This spinach and artichoke dip pull-apart bread makes a great appetizer to go with garlic shrimp scampi!
How To Reheat Shrimp Scampi
Shrimp scampi can be reheated by warming up a skillet over medium heat and adding a little bit of butter. Add the shrimp (and noodles if you'd like) to the skillet and heat just until they are warm. Remove and eat. The best way to reheat pasta is to boil water and drop the cooked pasta in and then remove it immediately. Tastes fresh!
What Vegetable Goes With Shrimp Scampi?
There are a few vegetables that go GREAT with shrimp scampi! Here are a few suggestions:
asparagus
broccoli
Brussel sprouts
colored peppers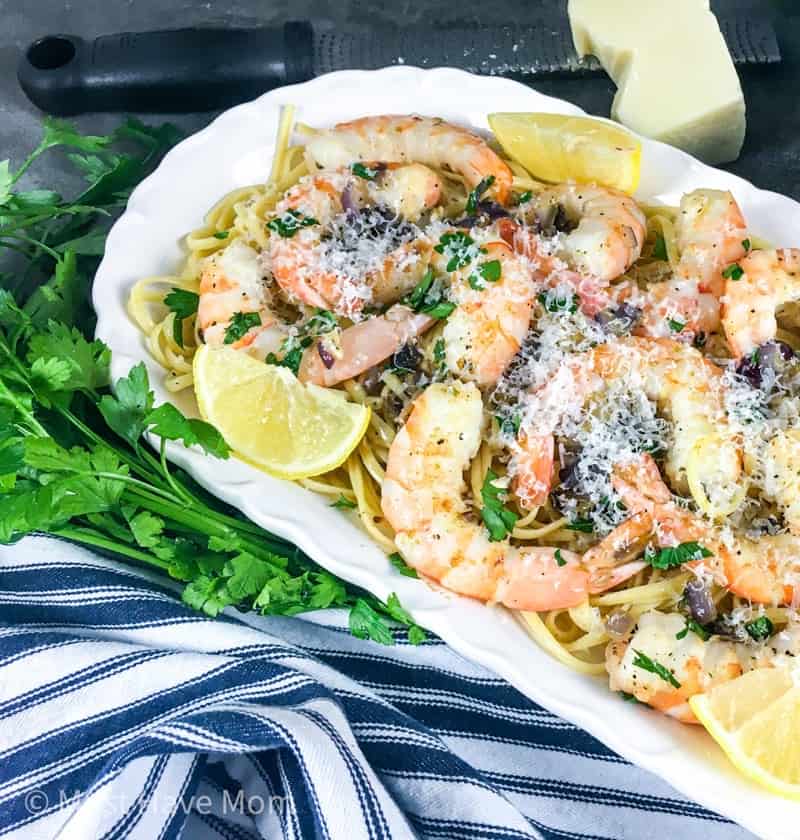 Can You Freeze Cooked Shrimp Scampi?
Yes! You can freeze cooked shrimp scampi. Simply cook the shrimp as directed in the recipe and allow to cool. Freeze shrimp in freezer bags. To cook, thaw and warm in a skillet with a little butter just until warm. Serve over fresh cooked pasta.
How To Make Shrimp Scampi With Zucchini Noodles
To make this shrimp scampi recipe using zucchini noodles simply swap regular pasta for zucchini noodles. Cook zucchini noodles as desired and serve shrimp scampi over a bed of zucchini noodles.
What To Do With Leftover Shrimp Scampi
Store leftover shrimp scampi in a covered container in the fridge and follow reheating instructions above. You may also follow freezing directions above if you wish to freeze it for later!
Print Easy Shrimp Scampi Recipe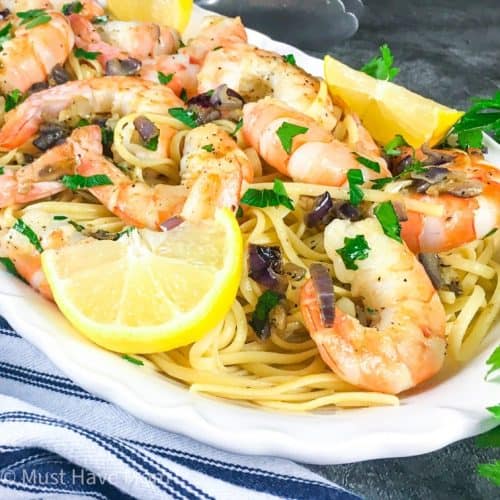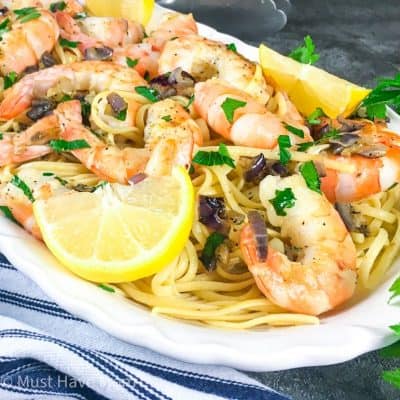 Easy Shrimp Scampi Recipe
Easy shrimp scampi recipe without wine! Make it in 35 minutes and enjoy a fancy meal at home. Shrimp combined with butter, garlic and spices served over a bed of pasta is sure to make any meal special.
Ingredients
1

16 oz.

box spaghetti

gluten-free if desired

2

Tbsp

butter

½

large red onion

diced

3-4

cloves

garlic

minced

½

tsp

ground cumin

divided

Sea salt and black pepper

to taste

1¼

lbs.

large shrimp

peeled and deveined

3

Tbsp

fresh parsley

chopped

2

large lemons

cut into wedges, divided
Optional To Serve:
Parmesan cheese

freshly grated
Instructions
Heat a large pot of salted water over medium-high heat. Add spaghetti and cook according to package instructions.

While the spaghetti is cooking, add butter to a large skillet set over medium heat. Add red onion, garlic, and ground cumin. Season with salt and black pepper, to taste, and stir to combine. Cook, stirring occasionally, until the onion softens and begins to develop some color, approximately 6-7 minutes.

Add the shrimp to the skillet and cook, stirring frequently, until the shrimp changes color and starts to curl slightly, approximately 2-3 minutes. Do not overcook!

Remove skillet from heat and add the chopped parsley and a couple squeezes of fresh lemon juice. Season with additional salt and black pepper, if desired, and stir to combine. Set aside.

When spaghetti is ready, remove from heat and pour into a colander. Rinse briefly with warm water to prevent sticking. Shake off excess moisture and transfer to a serving platter. Top spaghetti with the cooked shrimp mixture and serve immediately with the remaining lemon wedges and some freshly grated Parmesan cheese, if desired. Enjoy!
Notes
To make this recipe healthier use these swaps:
*grass-fed butter
*gluten-free pasta
*organic or dairy free parmesan 
You May Also Like…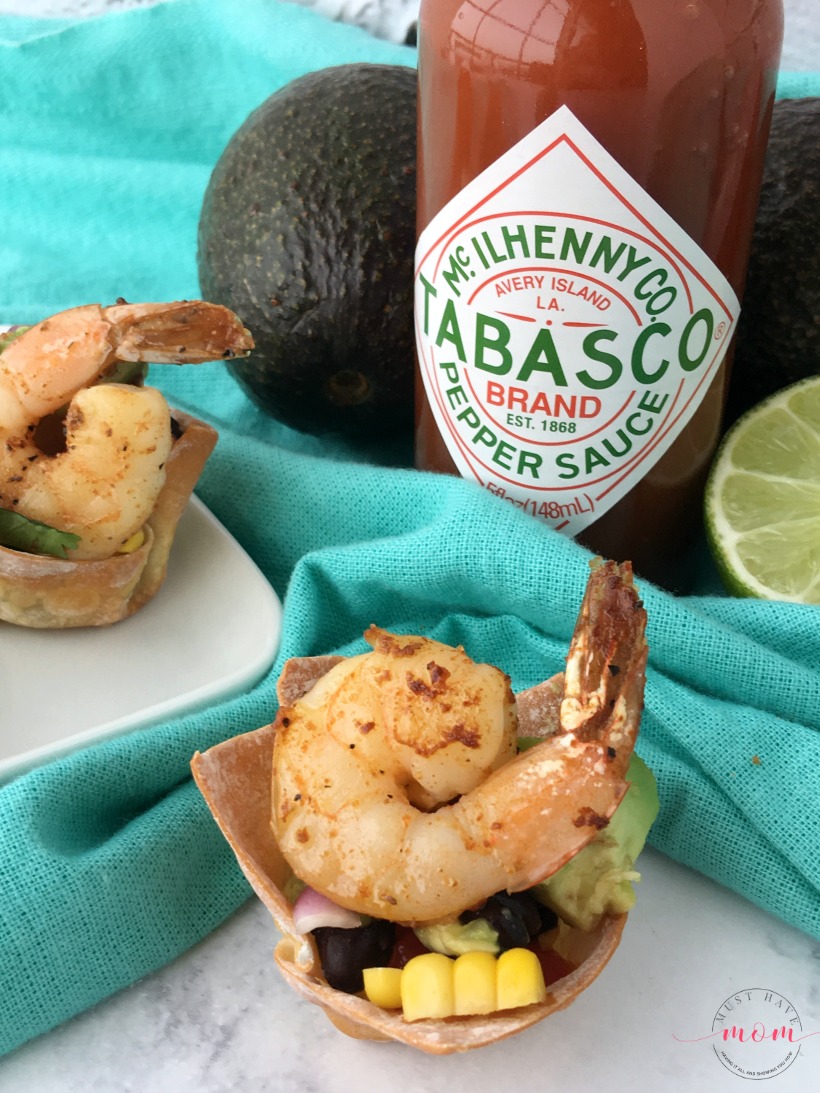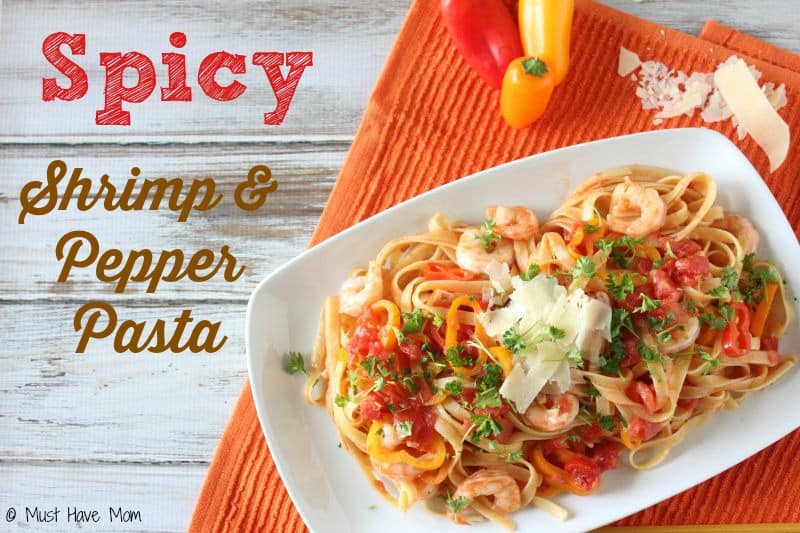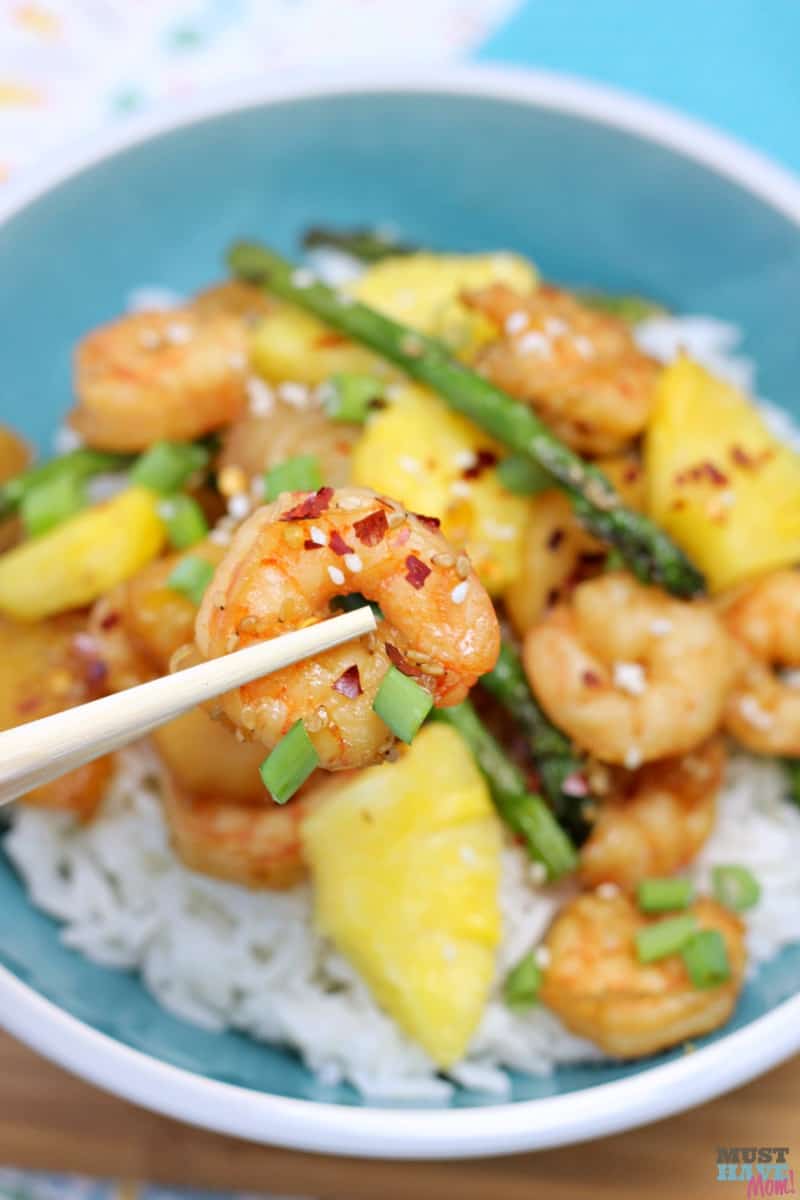 Pineapple Teriyaki Shrimp Rice Bowl