Cricut Thrift Store Crafts
These Cricut thrift store crafts will get your creative juices flowing! Take a basic thrift store item and turn it into high-end farmhouse style decor for pennies on the dollar. Decorate your entire house on a budget with these fun thrift store flips!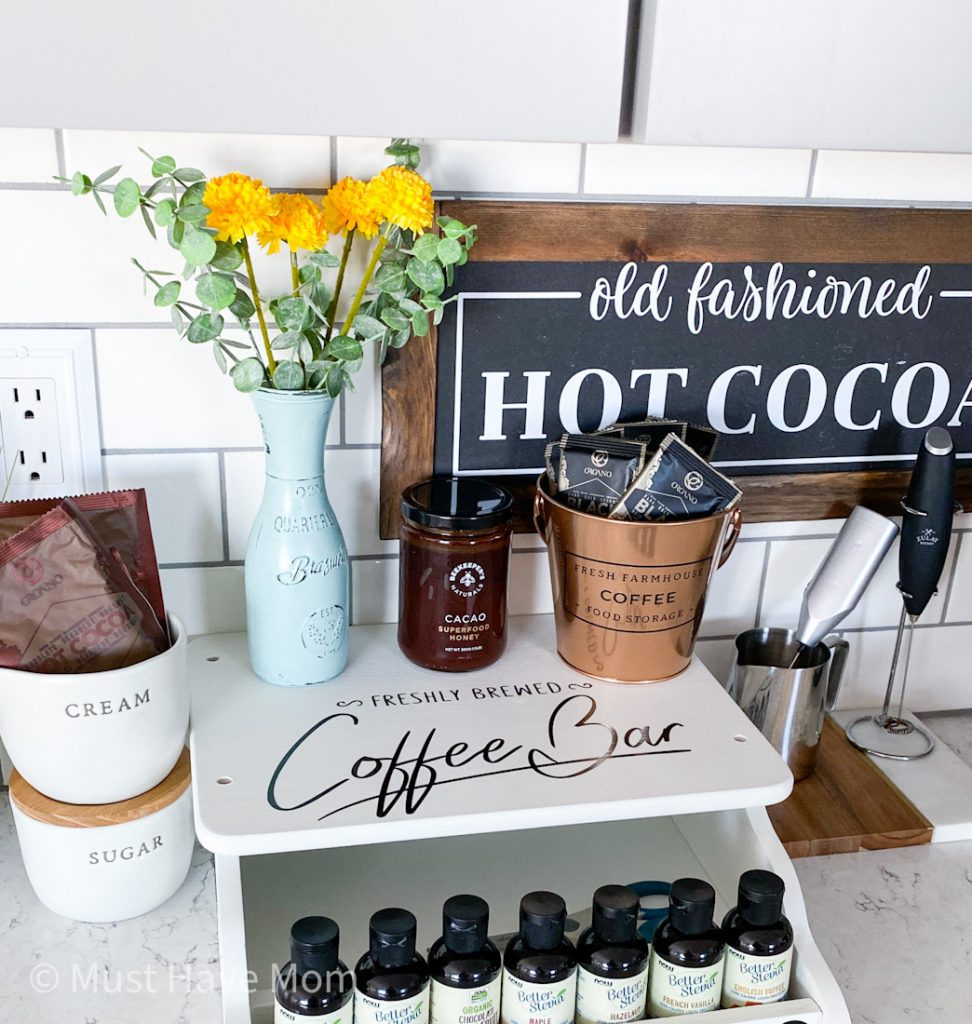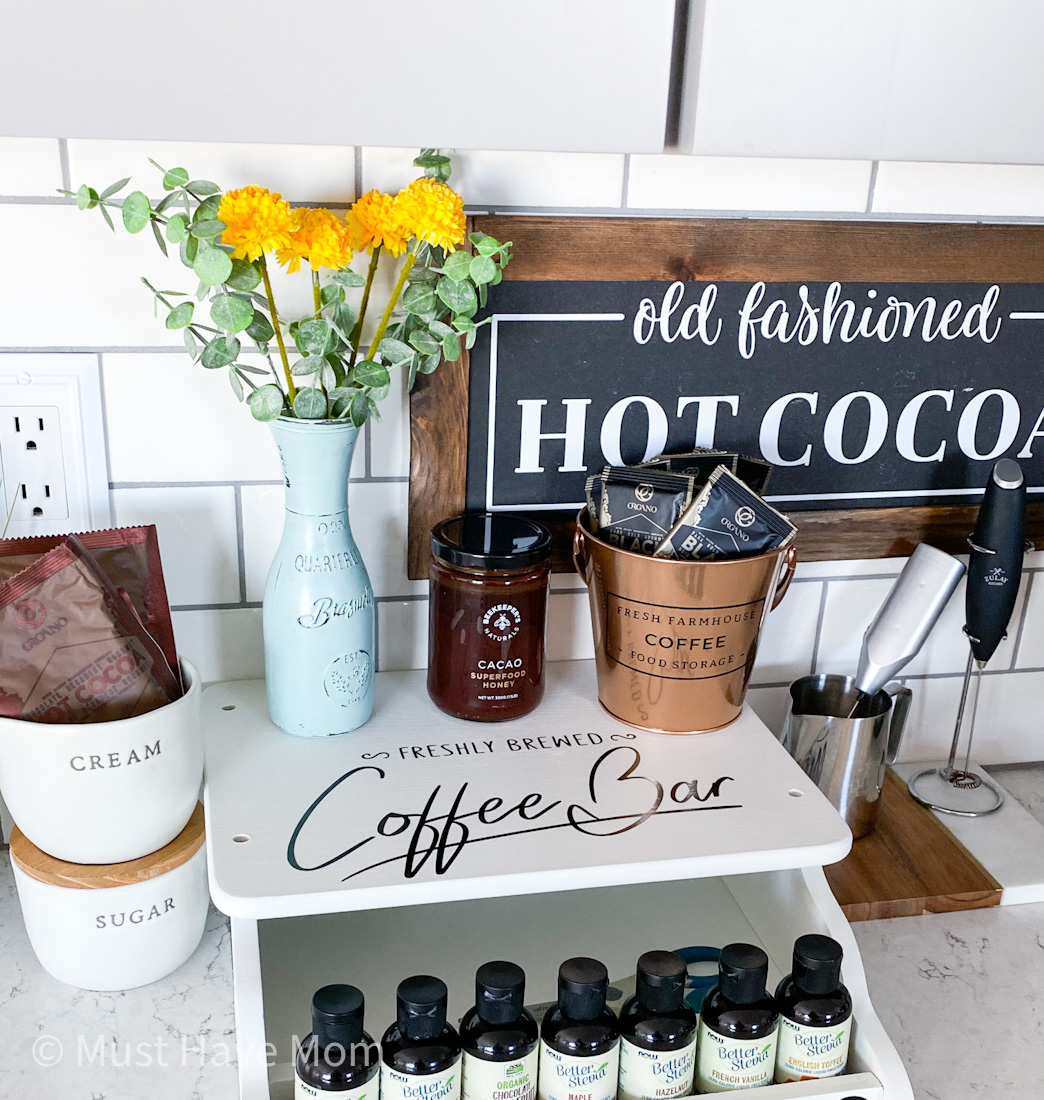 I have several thrift store flips to show you today! My daughter and I went thrifting and picked up a few items for super cheap and turned them into high end farmhouse decor. I loved budget farmhouse decor and have done several inexpensive farmhouse decor crafts from this DIY book stack decor to these Valentine's Day gnomes and even this DIY wood block calendar!
Farmhouse Decor On A Dime
I am the queen of farmhouse decor on a dime and grabbing what would otherwise be considered tossed out, thrift store junk and turning it into high-end decor is one of my secrets for getting a home that looks like it belongs in a magazine but without the high-end budget. Ready to do some thrift store crafts? I'll show you how I did each one and share the Design Space files with you so you can make your own! Let's get started!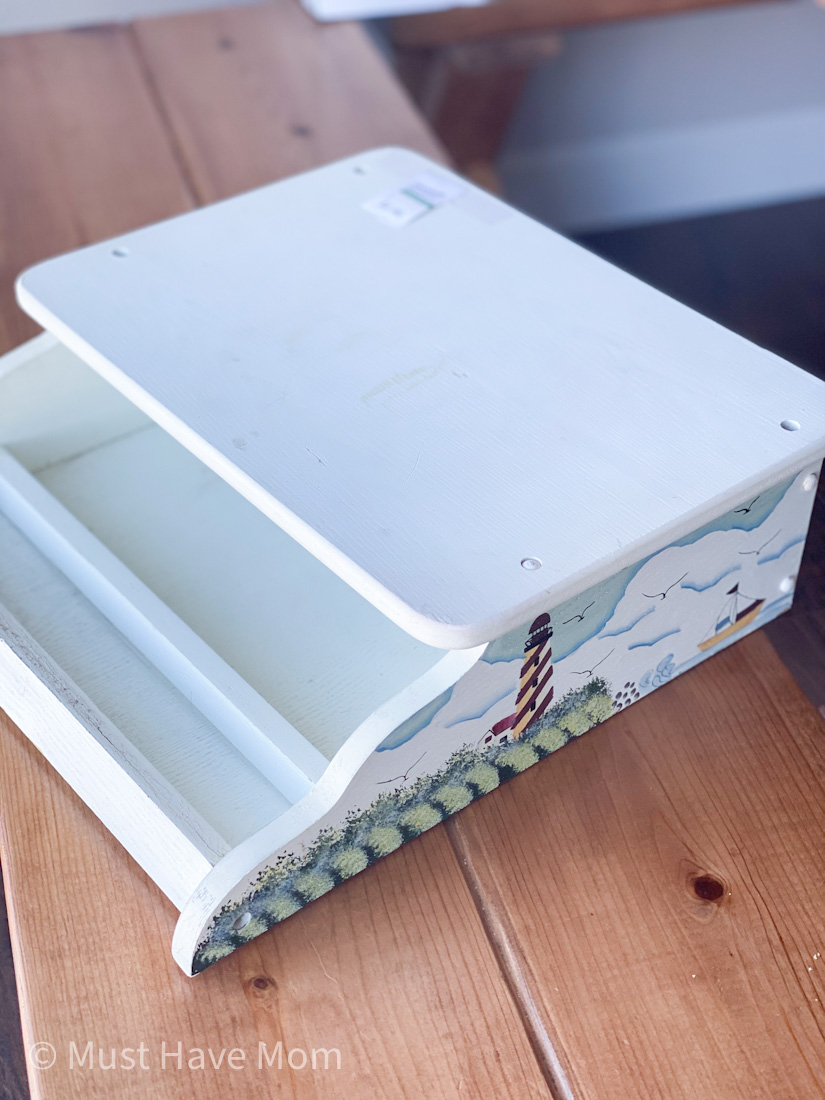 Project #1: Magazine Rack Turned Coffee Bar
Our first project started out as a lighthouse wall hanging that could hold magazines and such. It was pretty ugly and not something I would ever put in my home. I paid $2 for it. I immediately envisioned a coffee bar made with this item as the riser for the coffee bar and with convenient storage for all my flavored stevia bottles in the front where they could be easily read and accessible. Not seeing it yet? Don't worry, you will!
Part of thrifting is using the ability to see the potential in items rather than seeing them for what they are. The same is true of successful house flippers. They don't see the ugly paint color and outdated carpet, they see the potential for a gorgeous room thanks to good lighting and an open floor plan. See where I'm going with this? Open your mind to see the potential.
Supplies needed for this coffee bar: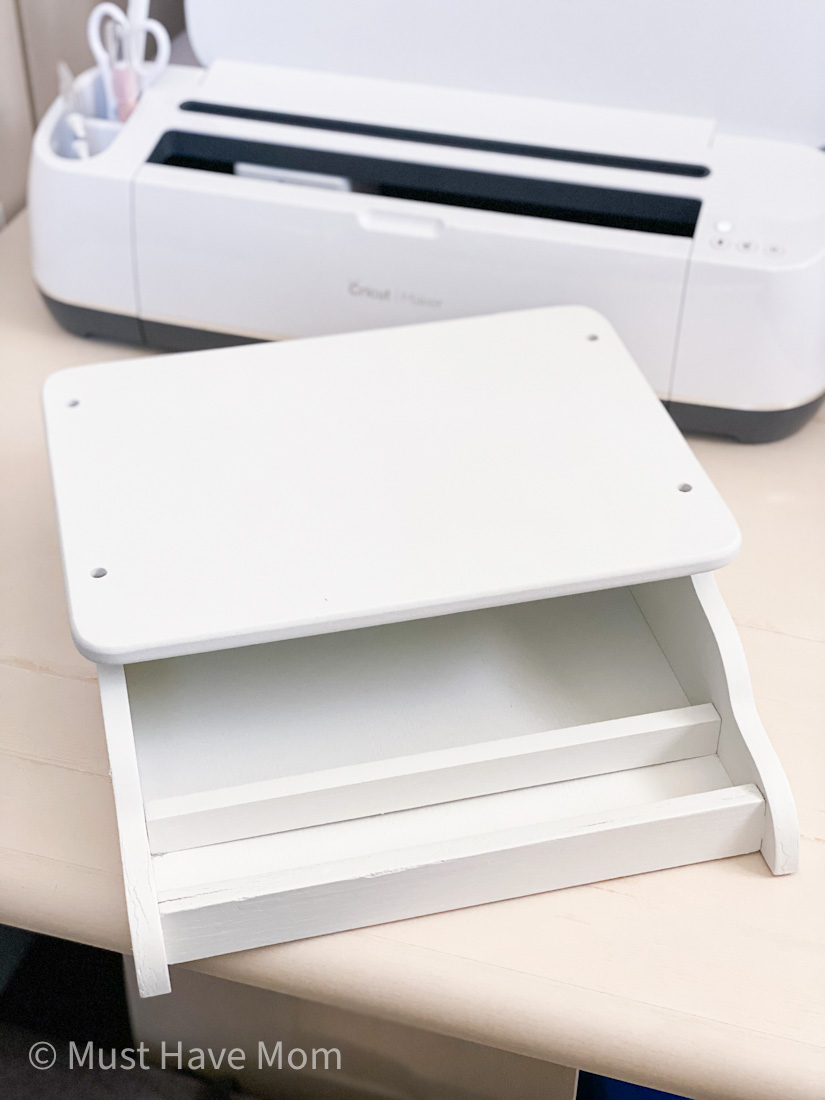 My first step was to grab some chalk spray paint and give this piece some new life by painting it. I removed the top and got the inside as well so this piece would be good as new with a fresh coat of paint. I also glued the front piece as it was a little loose. Once you have painted and done any necessary repairs to your item, the fun starts!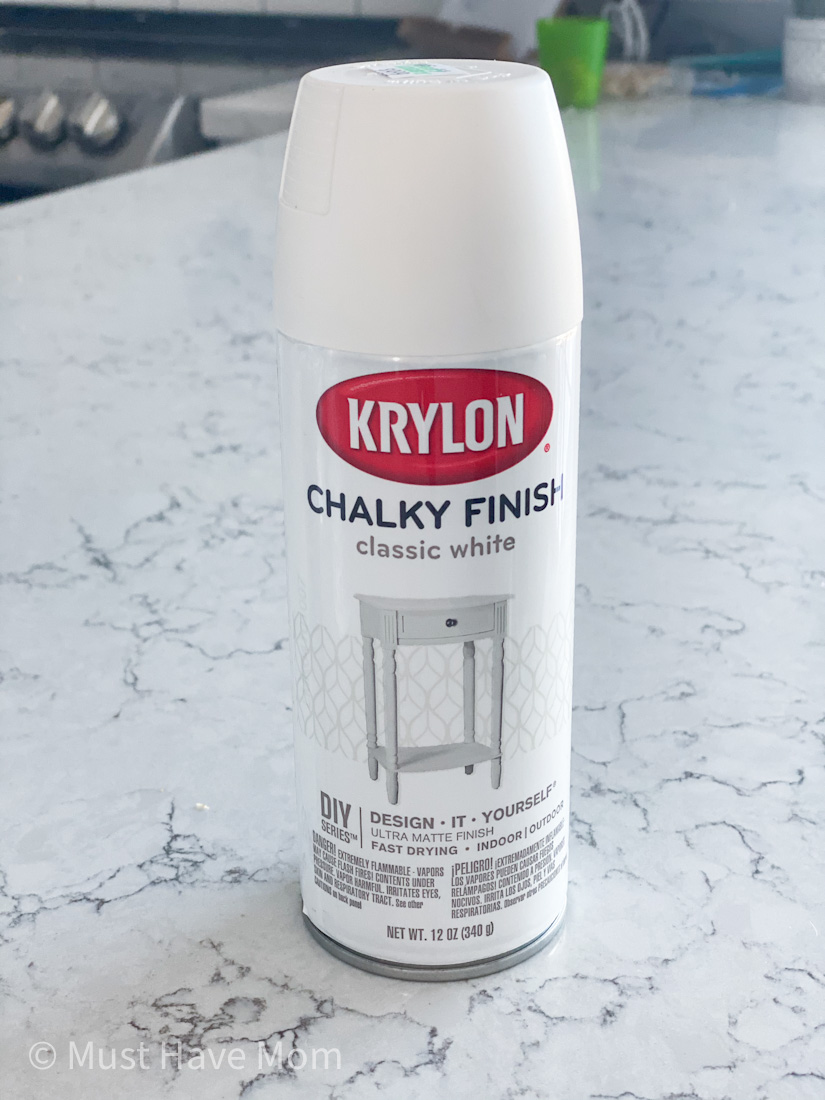 This is the chalk spray paint I used on this piece.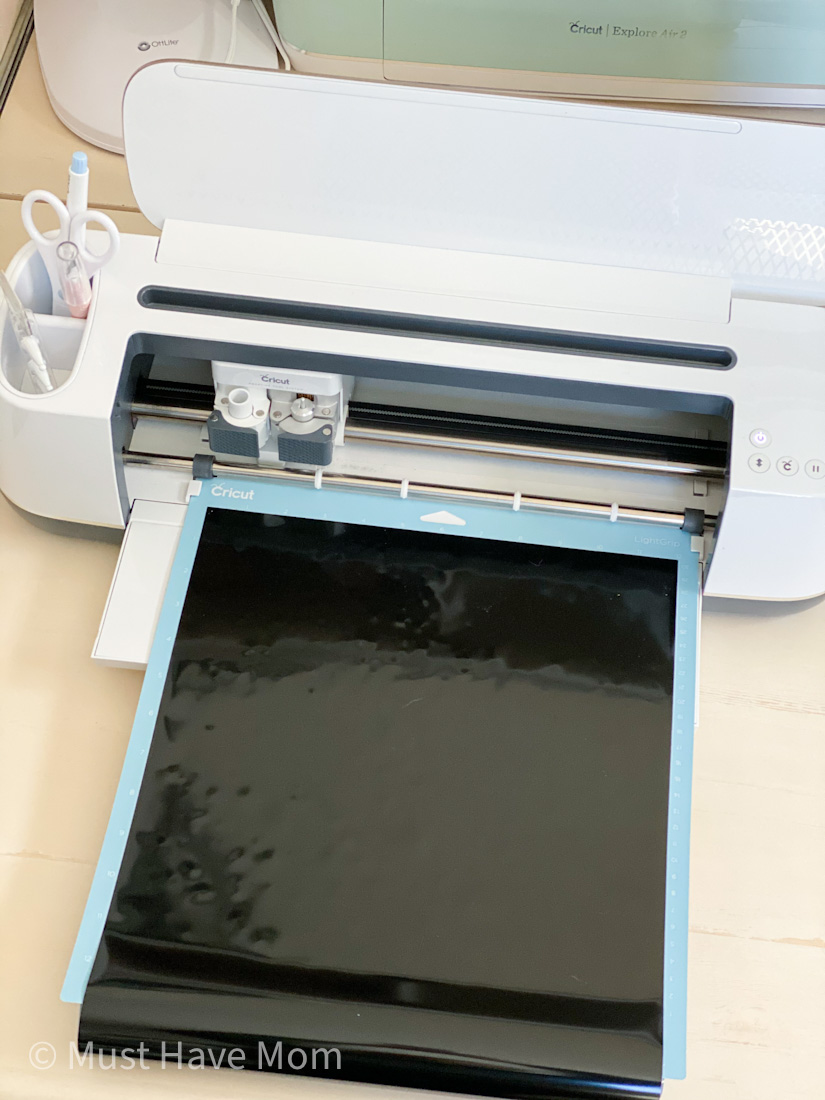 Now it is time to cut the vinyl on your Cricut Maker or Cricut Explore Air 2! I have all the cut files I used for free in Design Space all ready for you to use. Grab the cut files here.
Load the Cricut black permanent vinyl into your maker and cut. Make sure to resize the cuts as needed for your particular piece.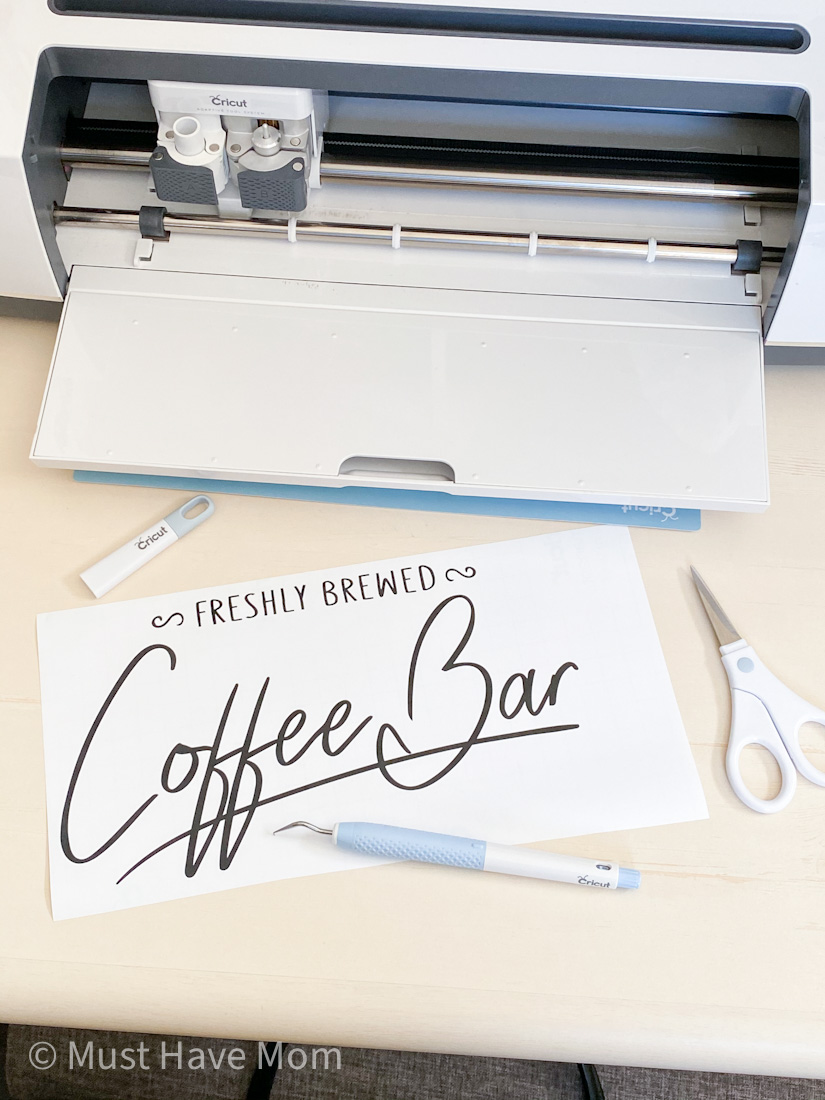 After you perform all of the cuts, weed the excess vinyl away to reveal the design.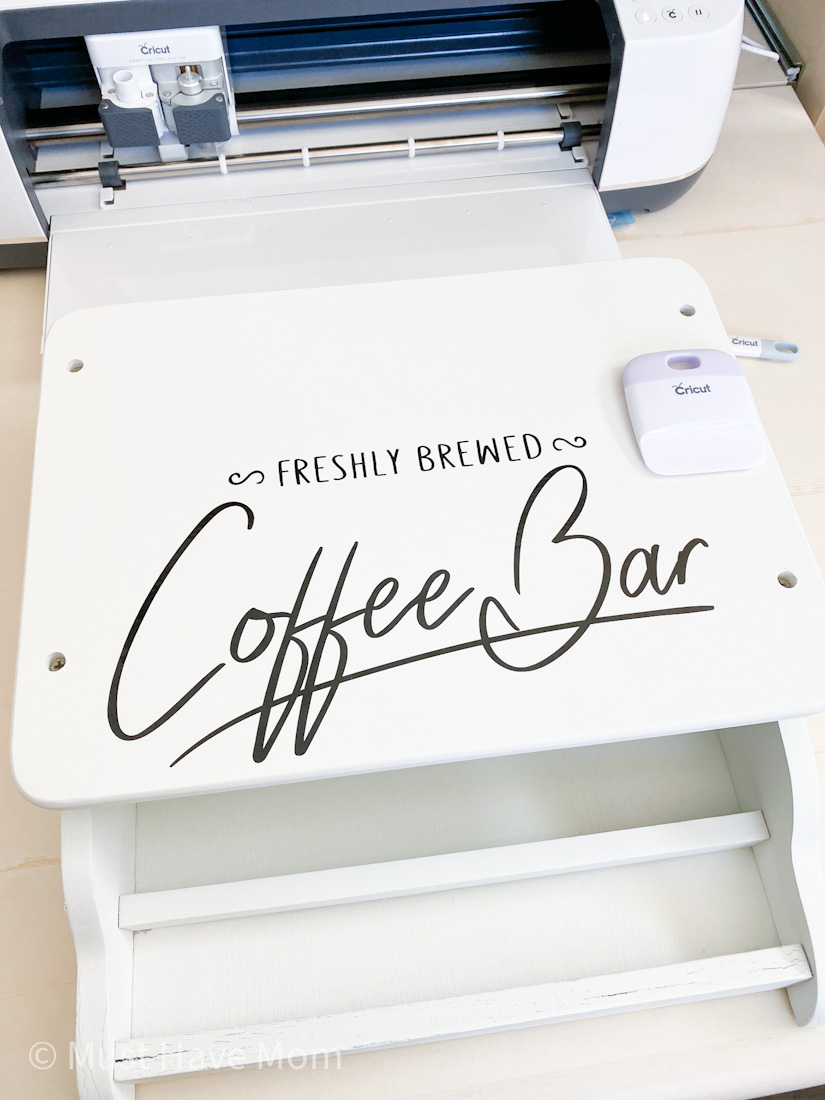 Then use Cricut Transfer Tape over the top to transfer the vinyl to the transfer tape and then onto your project in the desired location. Press down vinyl and remove the transfer tape.
Please be cautious with fresh paint and transfer tape. Allow paint to fully dry/cure overnight before putting transfer tape on it and then be gentle with it so it doesn't pull the paint off.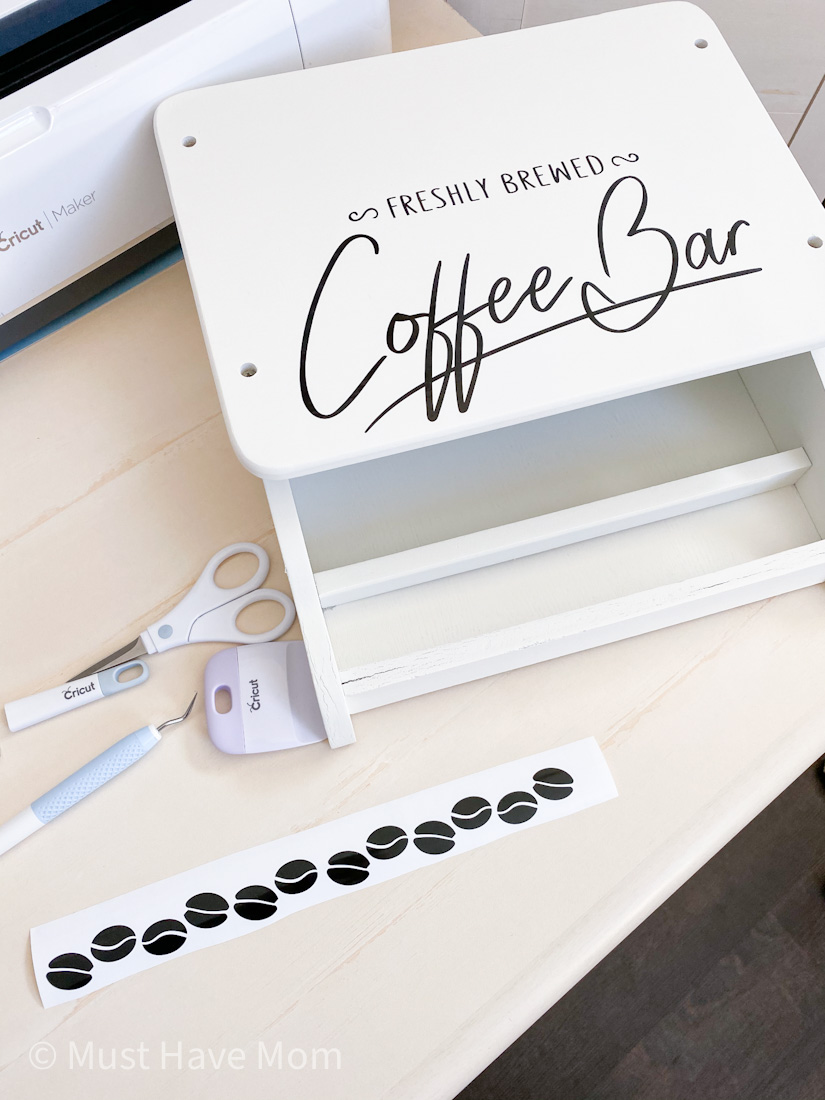 Continue applying each of the vinyl designs onto your coffee bar. I placed the line of coffee beans on the front of the coffee bar. I love the stark contrast of the black vinyl on the white background. It looks sharp!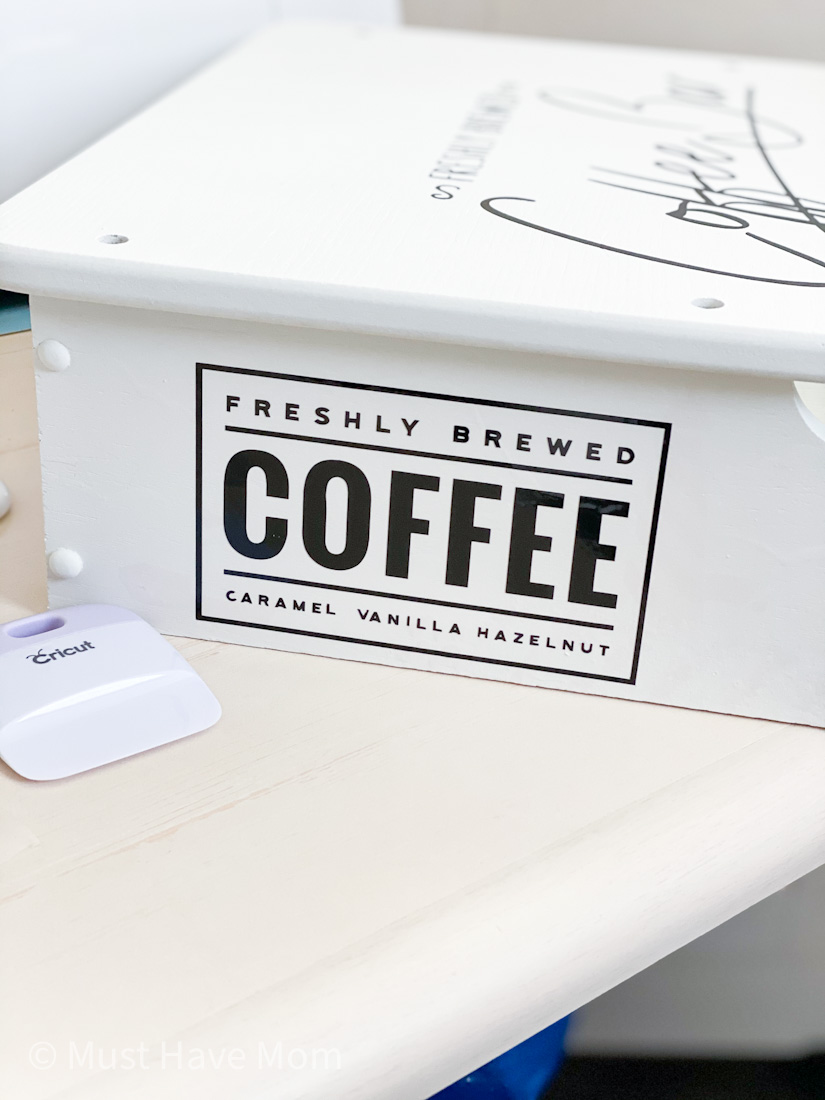 I added this fun "Coffee" vinyl on to each side of the coffee bar.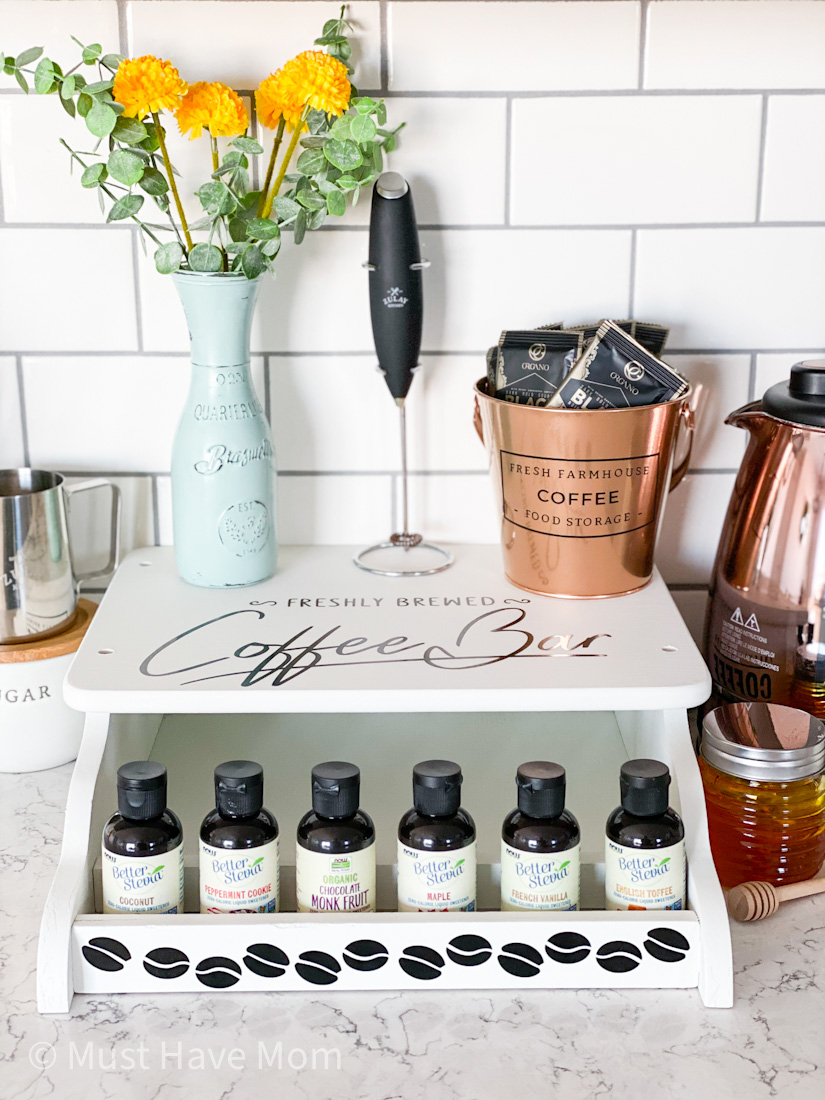 Now your farmhouse coffee bar is finished! Add your favorite coffee flavors, sugar, honey, frother, and some fresh flowers (or fake flowers!).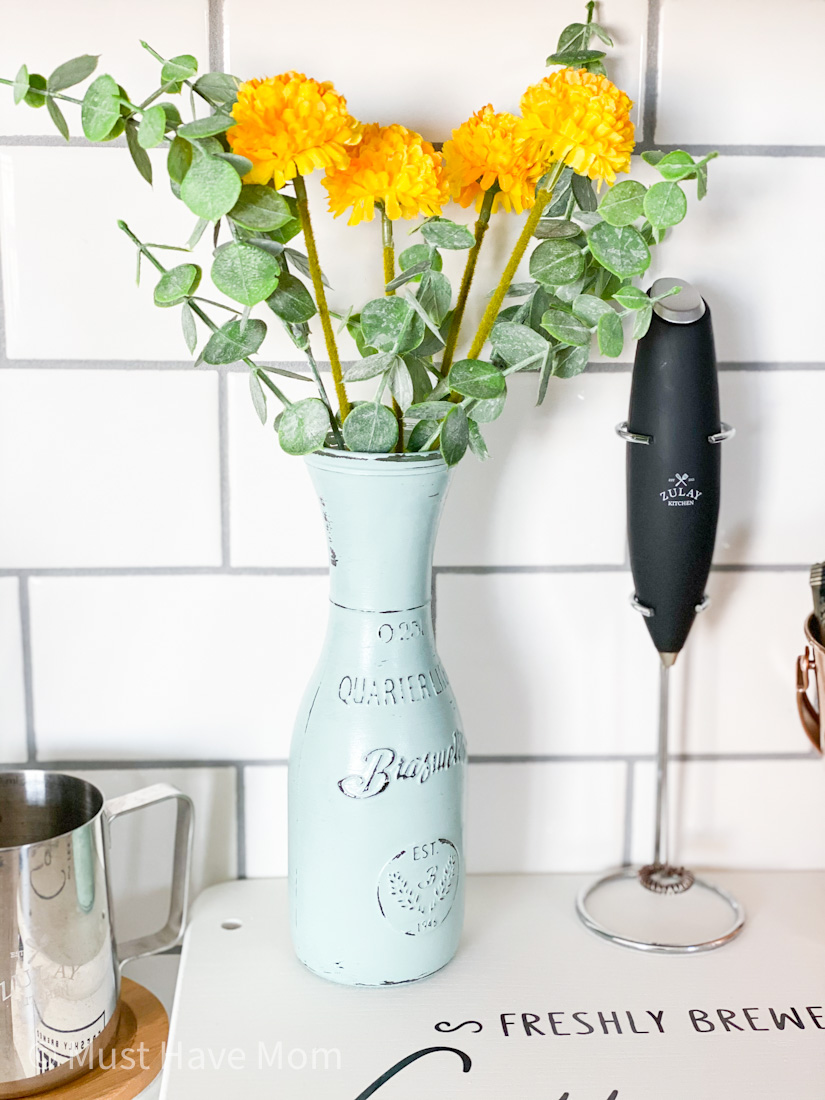 Project #2: Quick Vase Makeover
I also thrifted this pretty vase. Get a vase with raised writing on it and chalk paint the outside. Allow to fully dry and then lightly sand off where the letters are raised. Fill with real or artificial flowers for a simple yet beautiful addition to your coffee bar. I found these artificial flowers at Hobby Lobby.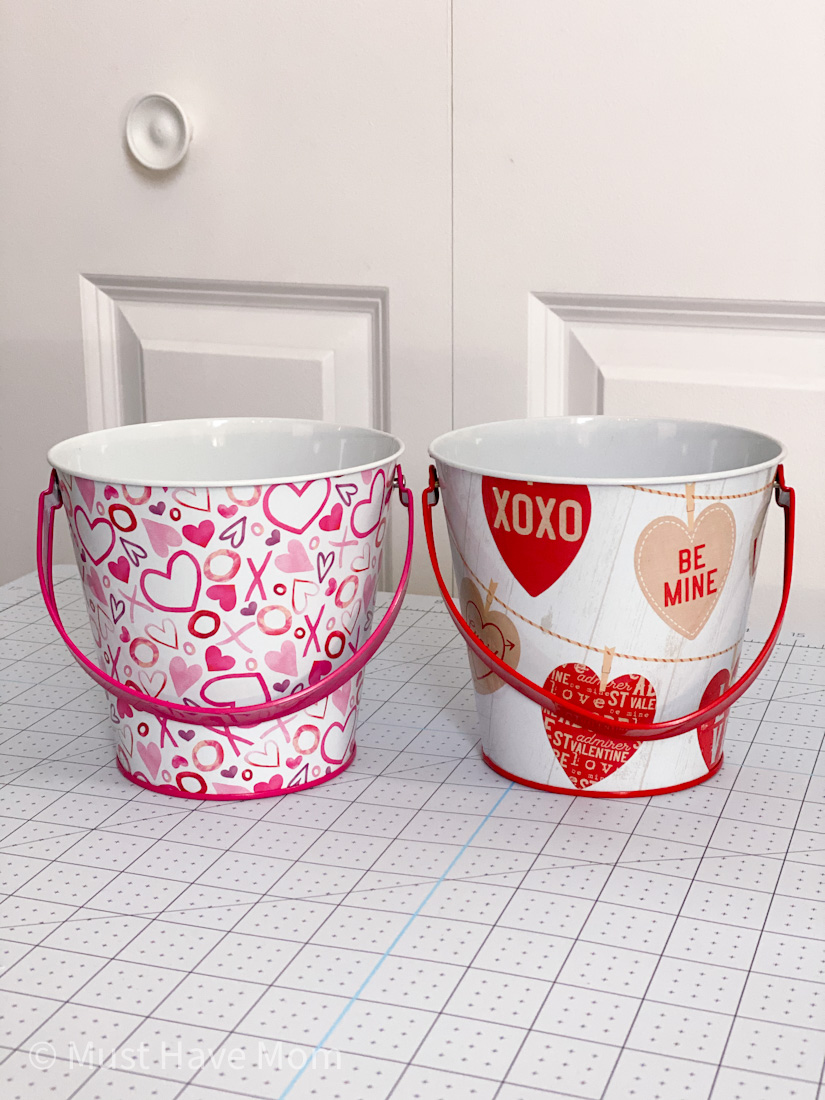 Project #3: DIY Copper Buckets
For our next thrift store craft, I took some metal buckets with Valentine designs on them and transformed them into high-end copper buckets that are gorgeous! I'll show you how.
Supplies needed for this copper bucket project: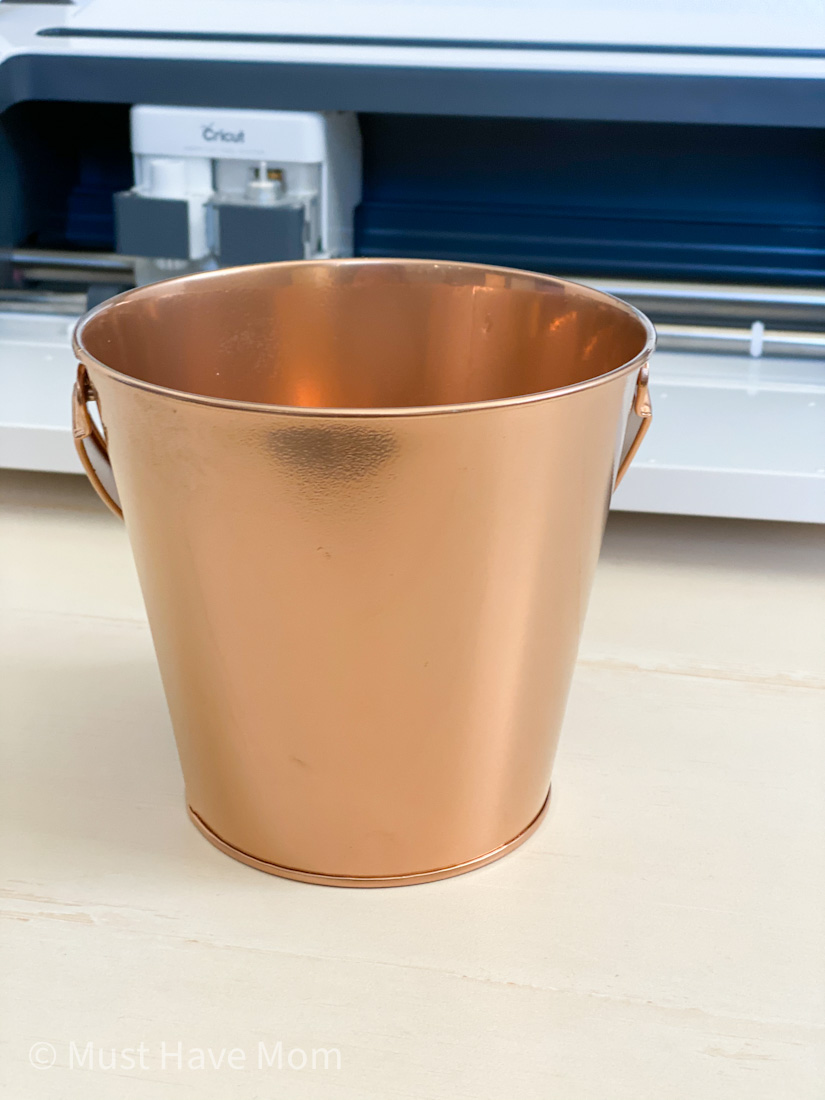 Begin by spray painting several light coats of copper spray paint on your bucket. Be sure to do the inside, outside and handle. Allow to fully dry overnight.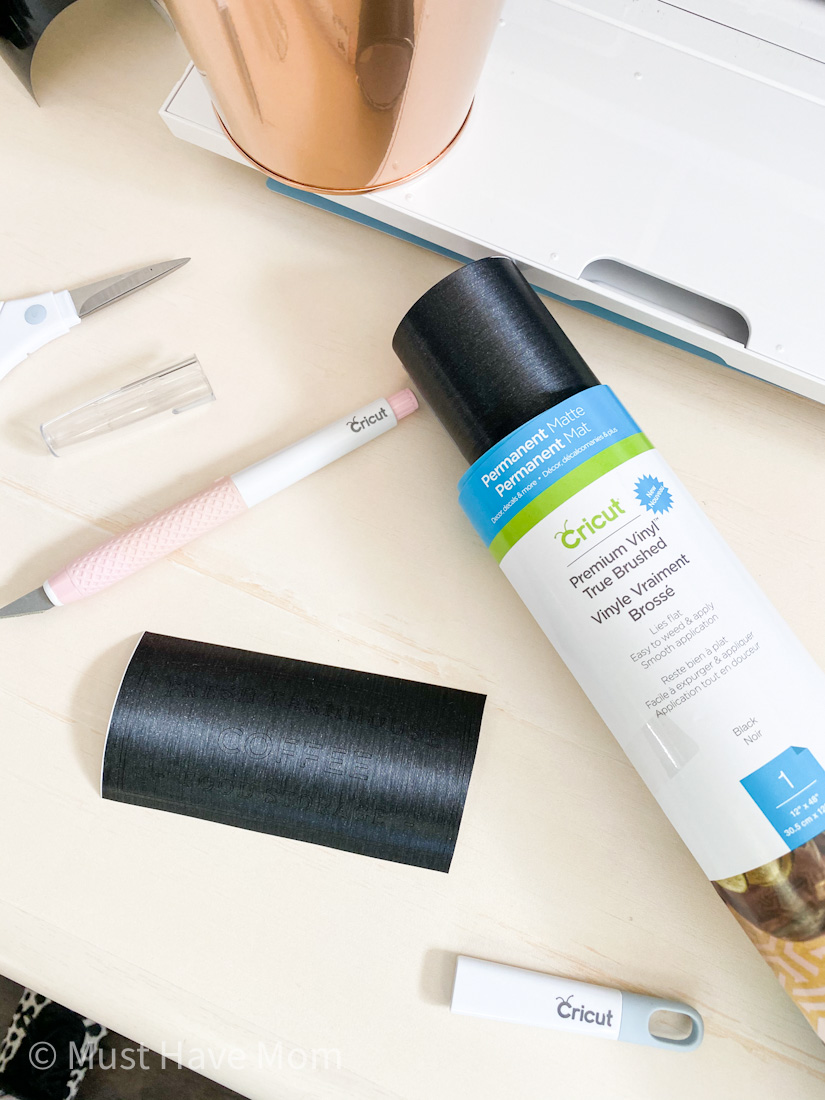 Next, you are ready to cut the vinyl. I used this really cool Cricut True Brushed Vinyl in black. It is metallic looking and very cool vinyl. I love it!
Grab the Design Space file and size it according to your bucket size.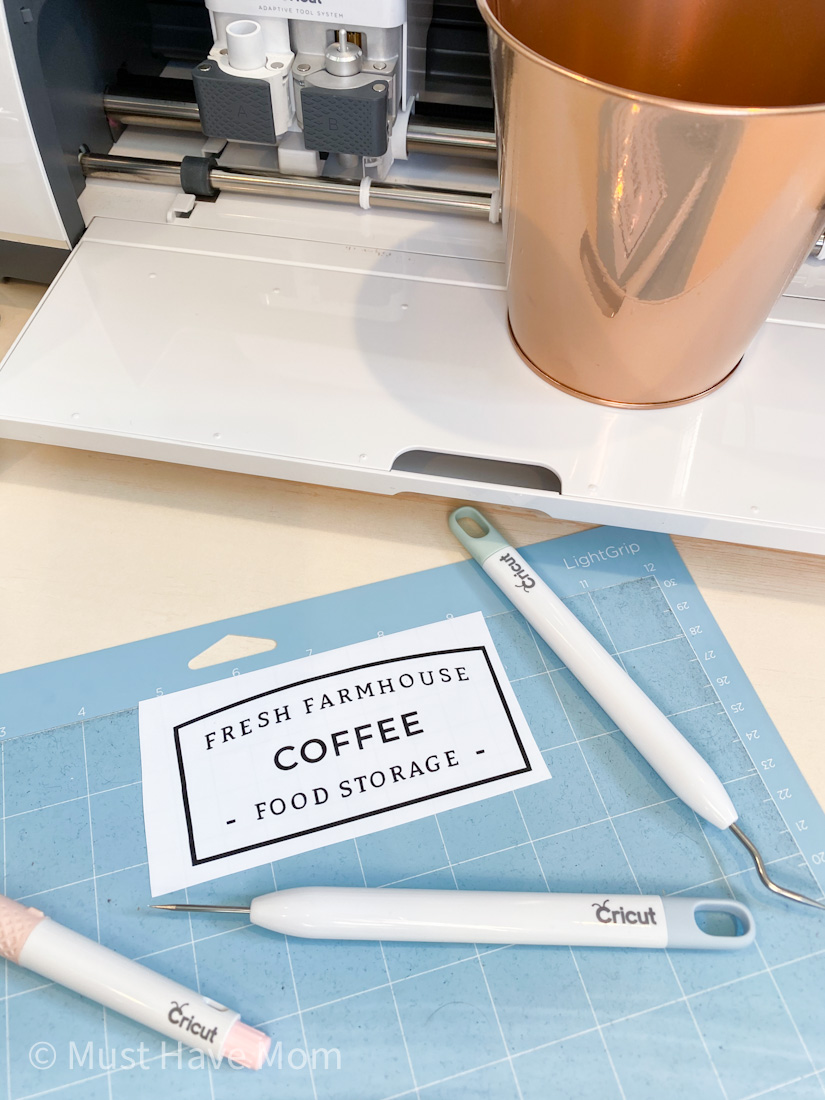 Cut the file on your Cricut Maker or Explore Air 2 and then use your Cricut weeding tools to remove the excess vinyl.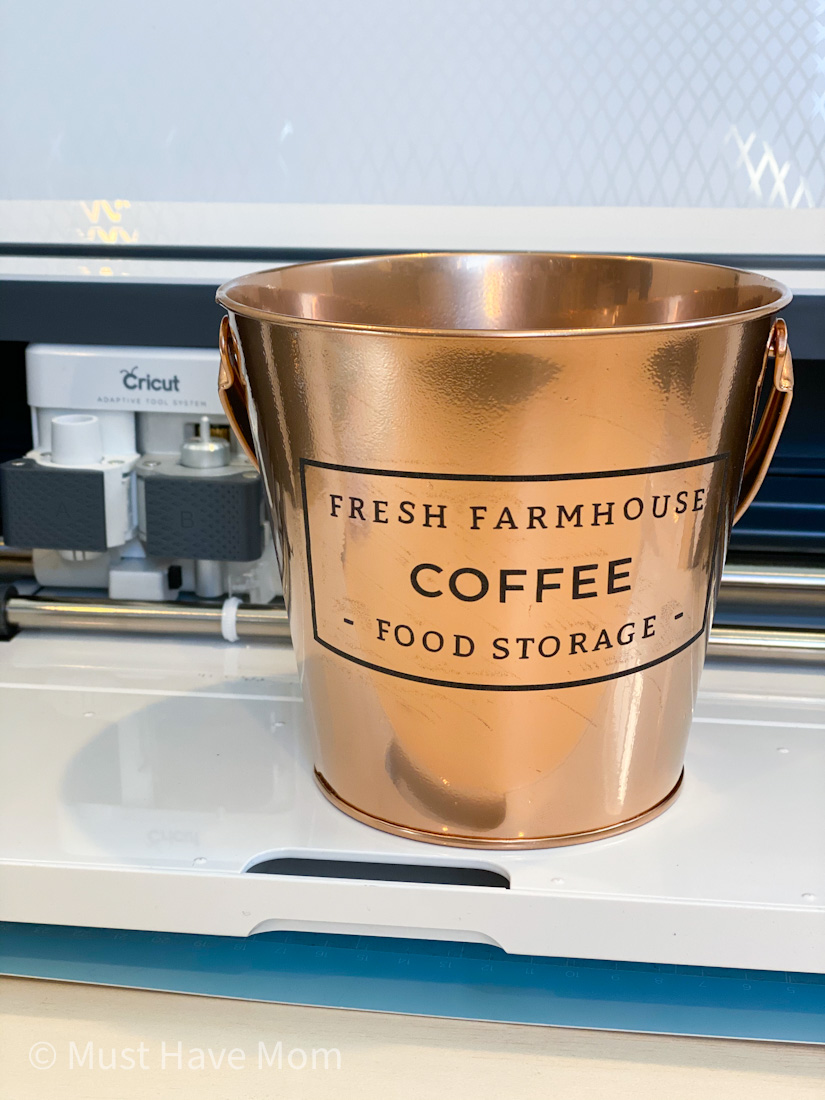 Apply transfer tape over the top of the design and carefully transfer it to your bucket. Isn't it pretty?! I have to admit that I didn't know how it would turn out with the copper spray paint but it is so beautiful and now I want to spray paint everything copper!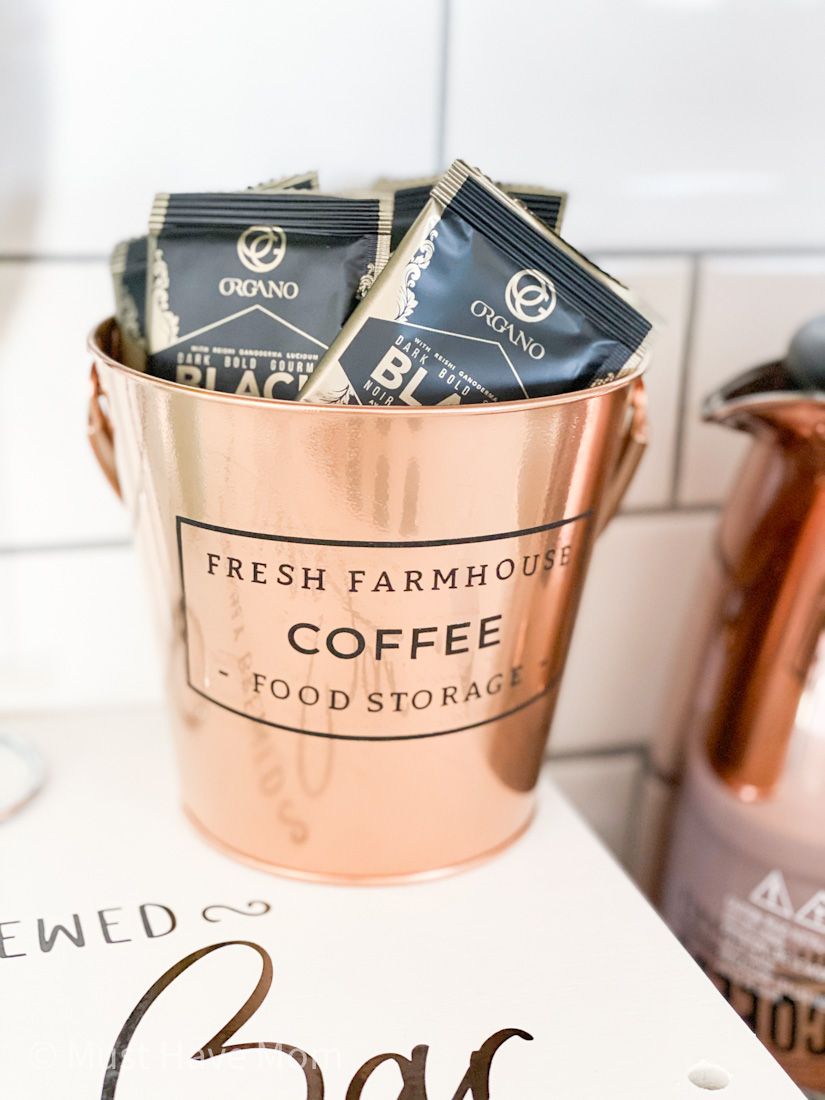 Now you can fill the copper bucket with coffee sachets (like my favorite Organo reishi coffee) or coffee pods. Add it to the top of your coffee bar for a beautiful copper touch to the coffee bar!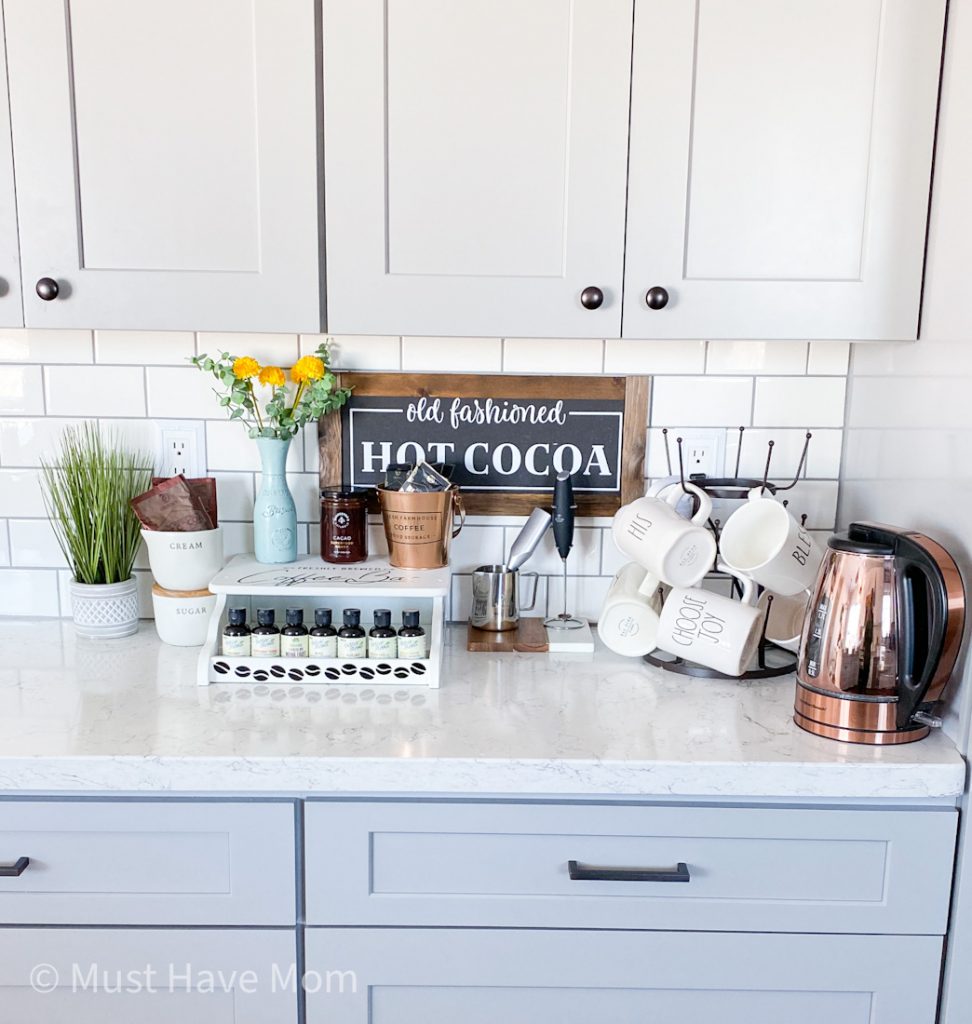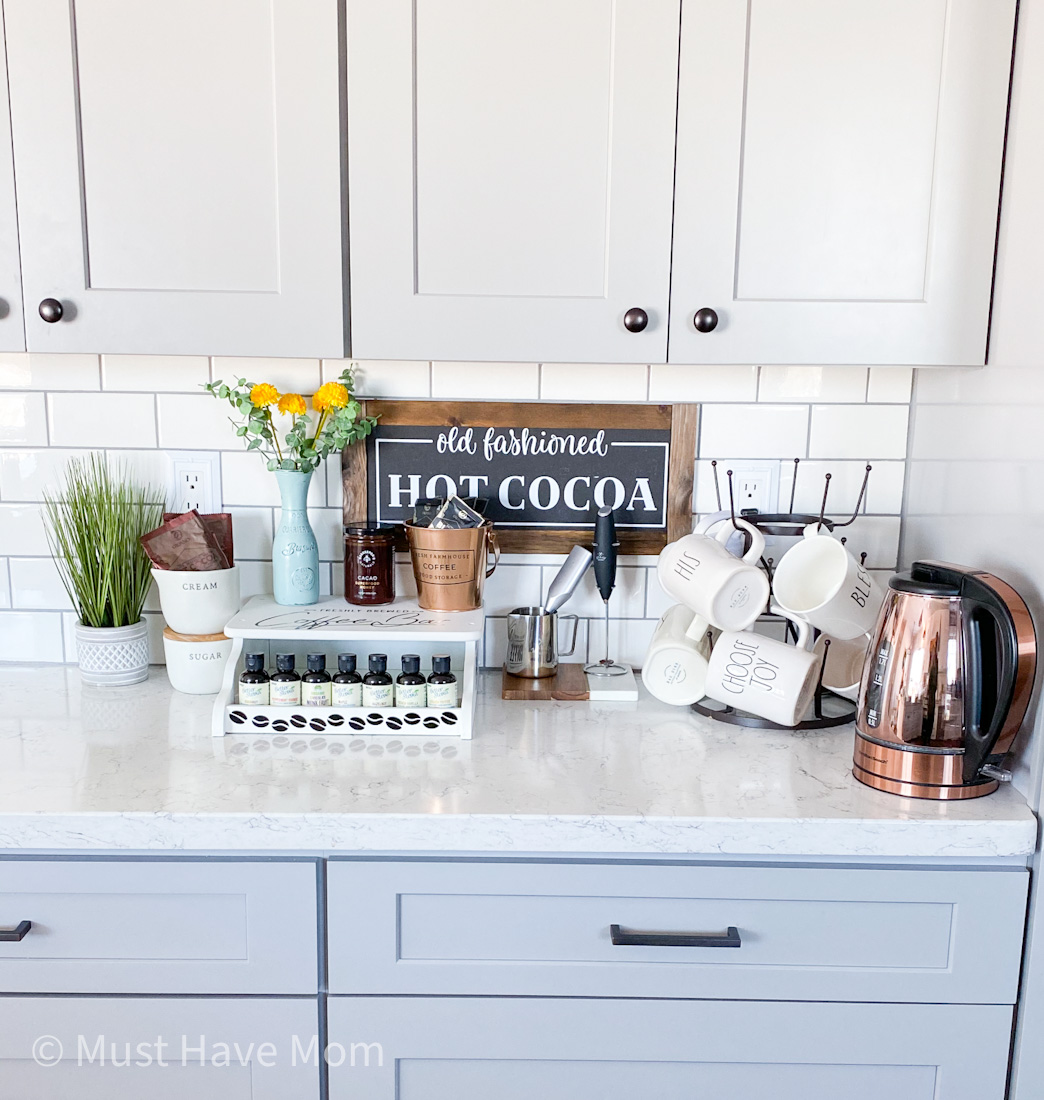 All in I spent $1 on the copper bucket, $2 on the coffee bar and $1 on the vase. For $4 and some crafting supplies, I was able to create a high-end farmhouse decor coffee bar! See how easy it can be to make something that looks expensive from something that you might otherwise view as trash? What will you make next?! Stay tuned for more thrift store craft inspiration coming soon!
Check out Cricut's latest sale here! They always have the best sales online and you can score some amazing deals and stock up your Cricut stash for future crafts. That is how I have managed to amass a huge collection of Cricut supplies to craft with when I find thrift store steals!
Pin Thrift Store Crafts
We love when you pin our crafts! Pin for easy finding later.