25 Out Of The Box Date Night Ideas You've NEVER Tried!
Have you ever been sitting beside your significant other debating what to do that night? When my husband and I have this discussion it pretty much goes like this:
Me: "What do you want to do tonight"
Hubby: "I don't know, it's up to you"
Me: "Well I don't have any ideas so just decide."
Hubby: "No, you decide"
Me: "I don't care"
Hubby: "I don't care either"
Silence.
We banter back and forth trying to make the other person decide on what to do that night until one of us gives in and picks something. If your date night planning goes anything like ours then pin this post for later because I've got 25 out of the box date night ideas for you to choose from! If you have a tough time settling on a particular idea then just make a date night calendar and pre-assign the dates so neither one of you has to decide! Problem solved!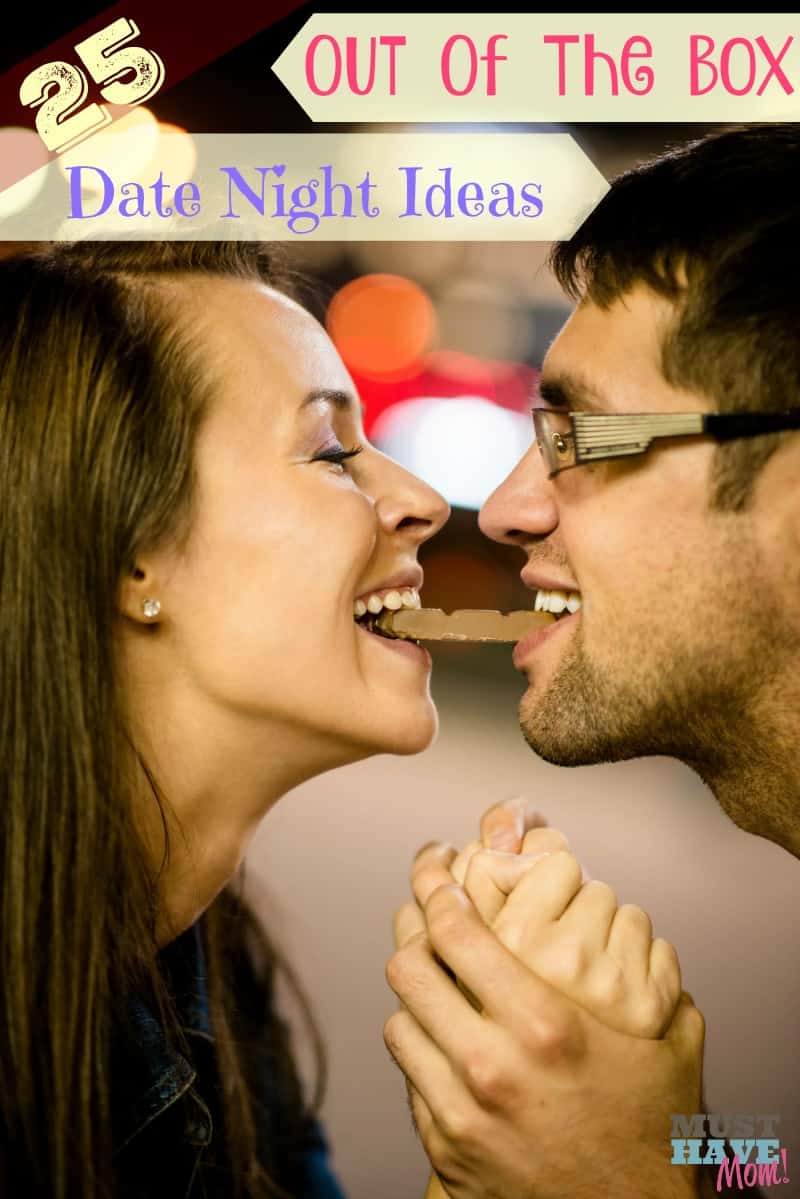 Unique Date Night Ideas
Here are 25 creative date night ideas that go beyond dinner or a movie! I love these and can't wait to start checking off the list with my hubby!
Have a dollar store date! Go in with $10 and each of you have 5 minutes to run around and buy 10 things. Create a date with the things you bought. Since neither of you will know what the other person is buying it will get interesting! Rule: You must use all the items in the date you create!
Have a progressive dinner date! Start with an appetizer at one restaurant, a main dish at a 2nd restaurant and dessert at a 3rd restaurant! Make it extra interesting by randomly flipping to places with your eyes closed and choosing. You could eat Chinese, Italian and Mexican all in the same night!
Fill the bed of your truck (or a blow up kids pool) with pillows and blankets. Drive to the middle of nowhere and gaze at the stars. Add in a bottle of wine and cheese for a snack!
Have a Penny Date! Get dressed and get in the car. Have your partner pick a number between 10-20. This will be the number of times you flip your penny! Head out of your driveway and begin. If you get a heads you turn right and if you get tails you turn left. Every time you come to an intersection flip the penny and go that direction. Once you get to the number your partner picked at the beginning STOP and make a date wherever you are!
Go for a hike and have a scavenger hunt! 
Go bowling! Bowling is like a blast from the past. Night bowling is even more fun! Grab pics of your matching bowling shoes.
 Be a local tourist! Visit the tourist attractions in your town and take lots of pics! We've never been to many of the local tourist attractions in our own town. Can you believe we have the hockey hall of fame and I've never been there?!
Go to the airport and get the cheapest flight to anywhere. Stay the weekend and return! Talk about being spontaneous!
Get up before dawn and have a breakfast picnic watching the sunrise!
Visit a local farmer's market and each choose a few things without discussing it. Create a meal from what you've picked!
Have a fondue party with another couple! Have everyone bring cut up fruit, bread, meats, etc and have an oil, cheese and chocolate fondue!
Have a spa day together! Get couples massages and enjoy dinner afterwards. Can't afford the spa? Give each other massages!
Have a board game and pizza night! Board games have almost become extinct but they are so much fun!! Here is one of our favorite games, an oldie but a goodie!
Have a bonfire and make s'mores! Set up a s'mores bar with various flavors of marshmallows, chocolates and graham crackers. My favorite is a coconut marshmallow and rolo on saltine crackers! Try it, trust me.
Go for a bike ride followed by a picnic!
Go for a nighttime swim followed by dessert!
Go to a thrift store and create a date from things you can buy there for $20!
Play a round of mini golf with high stakes! Loser does dishes all week!
Do a puzzle together and eat appetizers! It makes for a relaxing date.
Visit the frozen yogurt shop and take it to go. Stroll through the park as you eat it!
Go strawberry picking and return home to make something with your berries!
Play frisbee golf. We have several local courses and I've never played!
Go for a boat ride and bring along dinner to eat while you cruise the lake.
Have a stay-cation and stay at a local hotel. Take advantage of the pool, hot tub, sauna and breakfast in bed!
Visit an old fashioned candy store. Buy your favorite candy and go for a stroll while you indulge.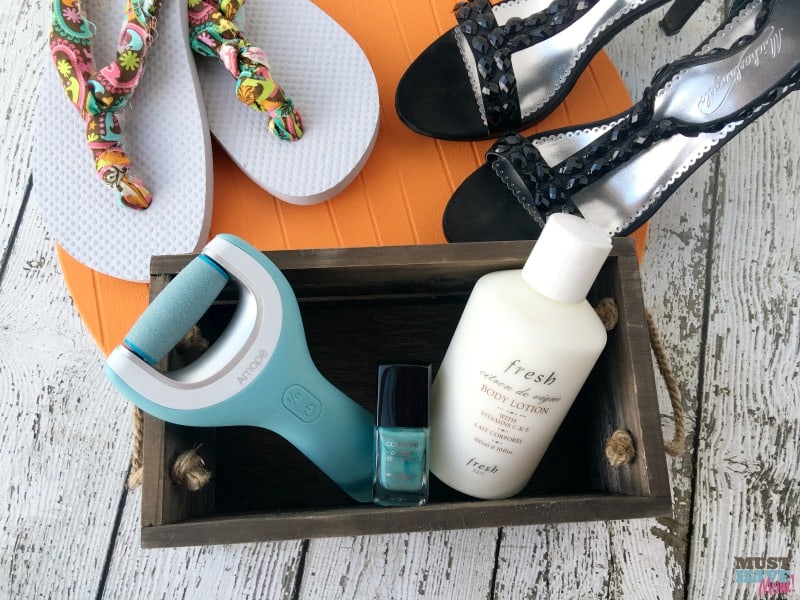 Now you have no excuse not to go on an amazingly fun date night with your partner! Now you just have to get ready! Once you've picked your date (or just make your partner pick a number 1-25 and do that one on the list!) then it's time to go from beach day to date night-ready!
Trade in your flip flops (do you see those adorable DIY fabric flip flops up there?!) for heels or whatever shoes will be appropriate for your date night! Get those feet ready too!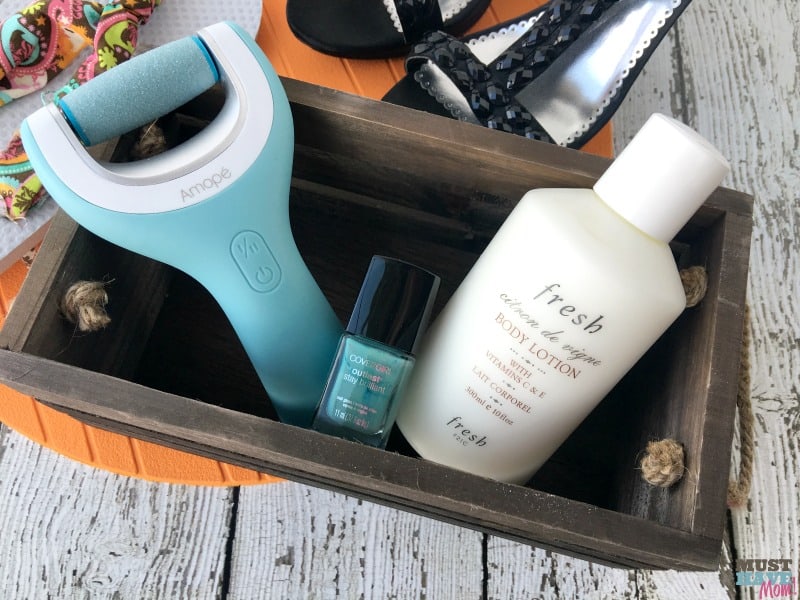 My feet have been so scratchy on the bottoms from too much sandal wearing! To fix that I use the Amopé™ Pedi Perfect Wet & Dry Rechargeable Foot File. You can use it dry or in the shower! It will get rid of all that dead skin in no time and leave your feet feeling so soft and smooth.
Follow your Amopé™ foot treatment with some luxurious lotion and be sure to clip those toenails and paint them too! Now your feet will be date-night ready!
Got some extra time on your hands before date night begins? Relax and rejuvenate your feet with this homemade foot soak! It's like a day at the spa. Incredible! Better yet, do it with your man and give his feet some pampering too!
Buy Our Favorite Date Night Supplies:
Cuisinart CFO-3SS Electric Fondue Maker

SCAVENGER HUNT: How to Host A Scavenger Hunt 1980

Pay Day Board Game (Editions may vary)

Discraft Deluxe Disc Golf Set (4 Disc and Bag)Models and plastic blends may vary

The Date Night Cookbook: Romantic Recipes & Easy Ideas to Inspire from Dawn till Dusk

52 Uncommon Dates: A Couple's Adventure Guide for Praying, Playing, and Staying Together

Amopé Pedi Perfect Wet & Dry Electronic Foot File, Regular Coarse – Waterproof, Rechargeable, Cordless, Dual Speed

What is your favorite out of the box date night idea? Don't forget to pamper those feet before your date!
Pin 25 Date Night Ideas: