Xtrema Cookware | Safe Cookware
Did you know that the cookware we choose can have a direct impact on our health? I've been on the hunt for the safest cookware options out there and Xtrema Cookware checked the boxes for me so I took it for a spin and I've got the results for you. See if Xtrema pure ceramic cookware is the right choice for your family and start cooking on safer cookware.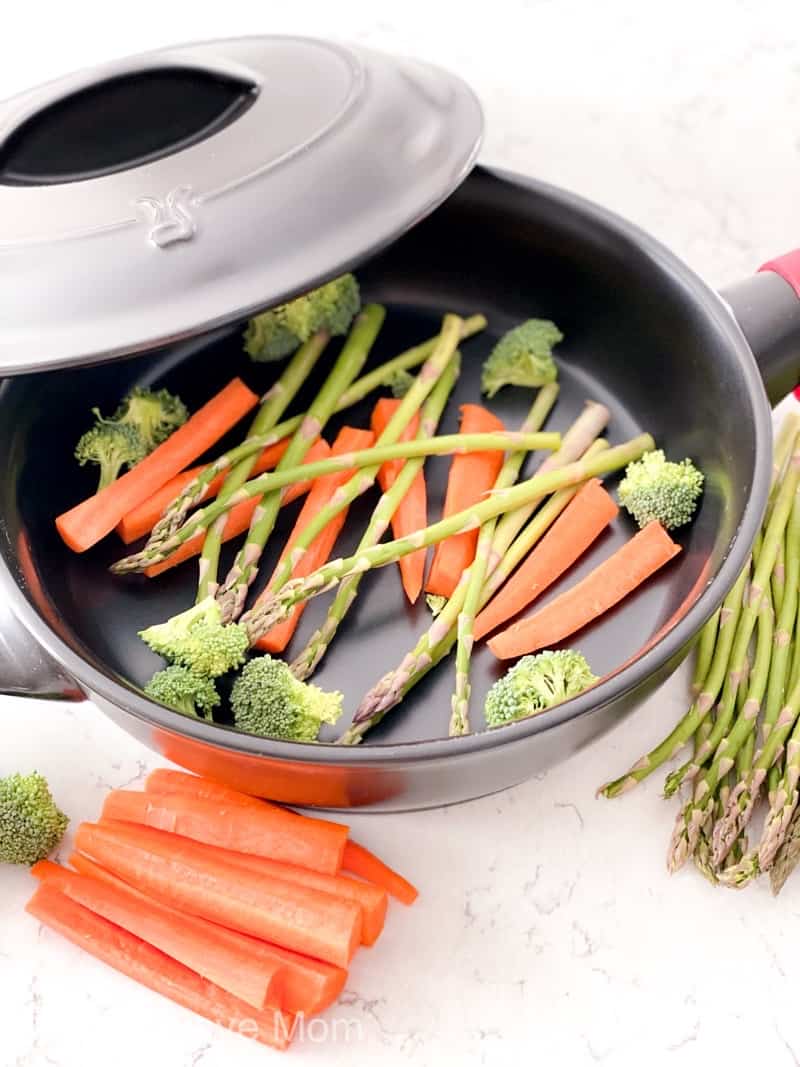 A lot of times when we cook organically, our main focus is the food, and whether is it grown organically. We hardly talk about the cooking process, or rather the cookware.
Your cookware is an important choice. You might be surprised if I tell you that many times your cooking pots and pans are made from toxic materials, and their toxicity can seep into your food. This means that even though you made the effort of researching and buying organic food, your dish is still toxic and thus so is your expensive organic food.
And so, in this post, I'm going to show you how to remedy that problem. I have found the safest cookware option out there and it doesn't suck (yay!).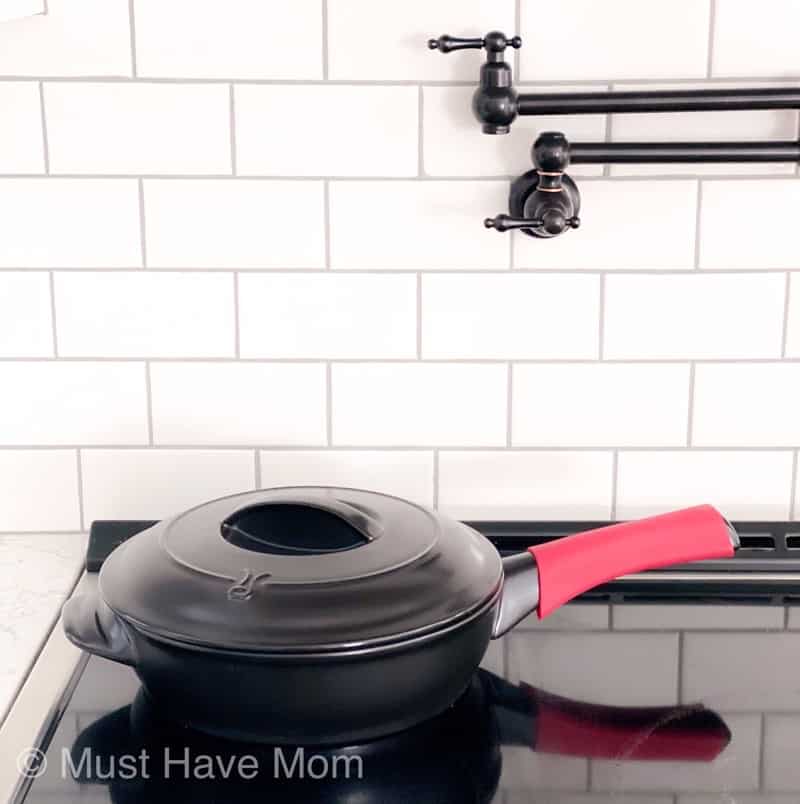 Why Xtrema Cookware?
Xtrema cookware, made from 100% pure ceramic is unique. From the glaze to the core, it's 100% ceramic; safe non-toxic cookware.
It contains no artificial dyes, glues, coatings, and polymers; and has no PFOA or PTFE which are popular for their cancer-causing properties.
Moreover, Xtrema cookware, promises to never drain any sort of chemicals, cadmium, lead, metal or lead to any changes in your food. Unlike other Teflon coated cookware, Xtrema cookware is made from ceramic through and through. It's not like they just glazed the outer layer with ceramic, but the entire range of products are made from ceramic. There is nothing toxic hiding underneath a layer of safe material like many other options.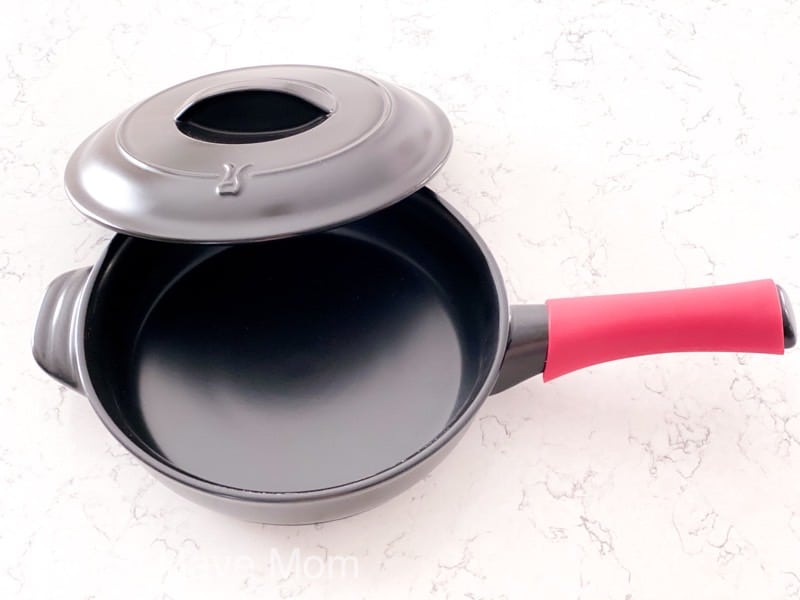 Is Ceramic Safe?
Xtrema Cookware is made from 100% ceramic. Now the question you might be asking would be, 'Is Ceramic safe for cooking?'
Yes, Yes Yes!
100% Ceramic means that this cookware does not contain the chemicals PTFE or PFOA which are often found in non-stick pans and pots. And as I already told you, these cause cancer.
Plus, this cookware is glazed in a kiln. It's not coated or dipped, which means it will not lose its coating into the food you are cooking. This means the food turns out more flavorful. So far, I've tried my Mongolian Beef and my Cashew Chicken Stir Fry in it and both turned out amazingly well.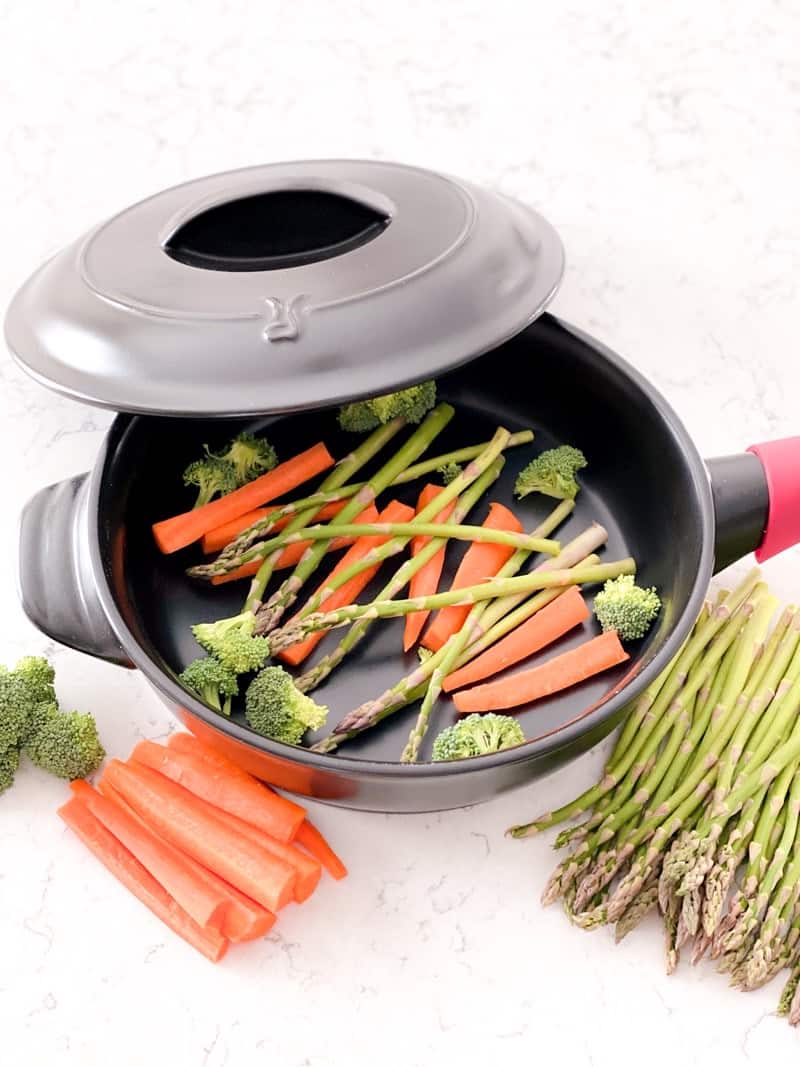 Safe Non-Toxic Cookware
A lot of times cookware companies claim their product is 100% ceramic, but it's not. Xtrema cookware is an FDA approved brand and reaches the benchmark of California Prop 65 – which efficiently certifies that Xtrema cookware is free of 800 plus cancer-causing agents, long term harm or birth defects.
To ensure maximum safety, all Xtrema cookware shipments need to pass through an examination and inspection process before they are departed from the manufacturing facility.
It is safe non-toxic cookware that is beneficial for you and the environment. Safe ceramic cookware, which is crafted from pure raw materials (renewable) via non-hazardous and eco-friendly manufacturing methods.
You will find health bloggers, medicinal practitioners, physicians, and homeopathic-practicing families using it in their homes. Also, supermoms like me love this product. I feel confident cooking with Xtrema because I feel like I can't give my family anything less than the healthiest version. And if you know, you know there's no compromise when it comes to health.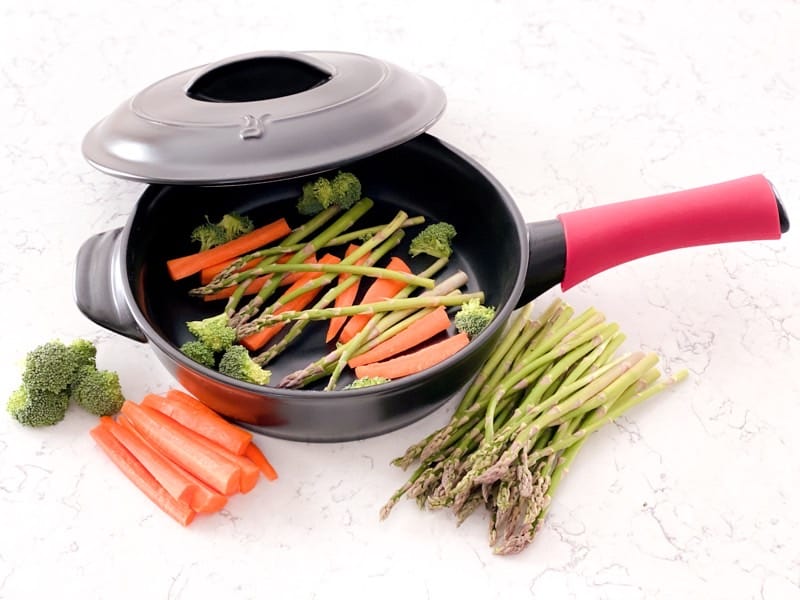 Ease of Use
Because XtremaCookware is made from 100% ceramic, it ensures your food is evenly heated. Plus, the cookware looks gorgeous. You can just take it from the stovetop or your oven (if you are baking with it) and put it on the table. Cuts down the dishwashing part for me!
I also found the washing of the dishes to be easy and quick. No major scrubbing required.
Xtrema Cookware can go from fridge to oven to stove to table. I love the versatility of it!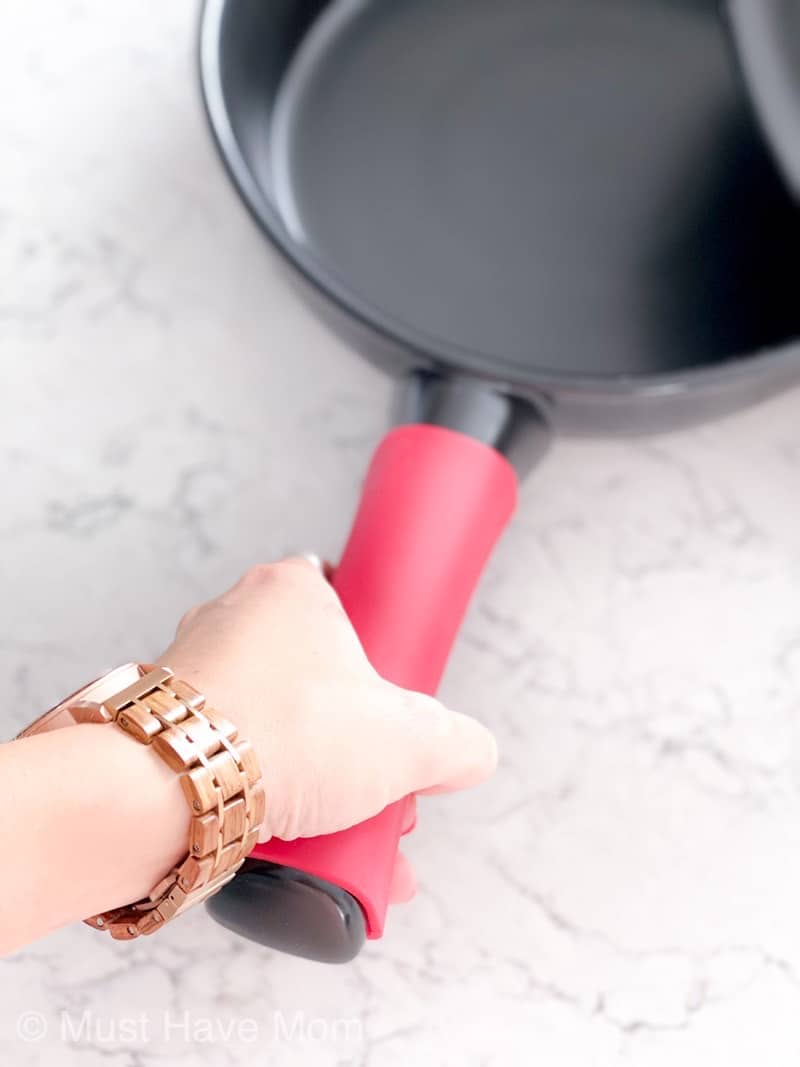 How To Use Xtrema Cookware
There are a few things to know before using your Xtrema Cookware. Since it is 100% ceramic you likely aren't used to cooking with this type of pan. Here's how to use your Xtrema cookware:
Go Low and Slow – The efficient, even heat conduction of ceramic means you never need to crank up the heat. Always set your gas or electric stovetops to low or low-medium temperatures. Even when you're using a teapot or boiling liquids, medium heat is all you need. Don't let that liquid boil away – overheating a teapot or pan can cause a thermal crack and void your warranty. Keeping it low and slow will lock in flavor and keep foods from burning or sticking.
PRO TIP – For best results, allow your Xtrema® skillets to warm on the lowest setting for one minute on the stovetop or oven before adding food and beginning the baking, sautéing, and cooking process.
Watch That Heat – Once your cookware reaches the proper temperature, reduce the heat to a lower setting because pure ceramic will retain heat longer than other materials.
When frying or scrambling eggs – warm up your skillet or braiser for 2 minutes on low heat. Once the cooking surface is heated, spray with cooking oil, then turn up the heat to low medium.
Keep it Lightly Oiled – When using Xtrema cookware, quality oil is essential (we use avocado oil because it has a higher smoke point)! Make sure your cookware is lightly coated with your favorite quality oil, nonstick spray, water or liquid stock before adding and cooking food. Butter is not recommended because of its low burn temperature. Always apply the oil after warming your pan. Never put oil in a cold pan, it will cause sticking.
You can also use water in place of or in addition to the oil/cooking spray to keep the pan moist. This method works great with eggs.
Careful With Cold – The 100% solid ceramic construction of Xtrema cookware makes it sensitive to sudden temperature drops (similar to how glass would crack if suddenly exposed to a temperature change). To prevent sudden cracking, thaw frozen foods before adding to hot cookware and do not add cold water to a heated Xtrema® pan. Hot skillets and pots can crack if placed on a cold granite countertop or a cold glass top burner.
How To Clean Xtrema Cookware
While Xtrema cookware is dishwasher safe, hand washing with hot, soapy water is often the easiest way to keep your cookware clean. You can use abrasive cleaners like baking soda or scrub with steel wool, SOS or Brillo pads. Unlike other cookware, you don't have to worry about scratching the durable ceramic surface! And no worries, Xtrema will not stain or retain odors like metal and aluminum cookware does!
PRO TIP: To clean stuck-on food, add water to the pan with baking soda and heat for several minutes at a low temperature. When the warm water begins to release the food residue, scrub and wash as usual.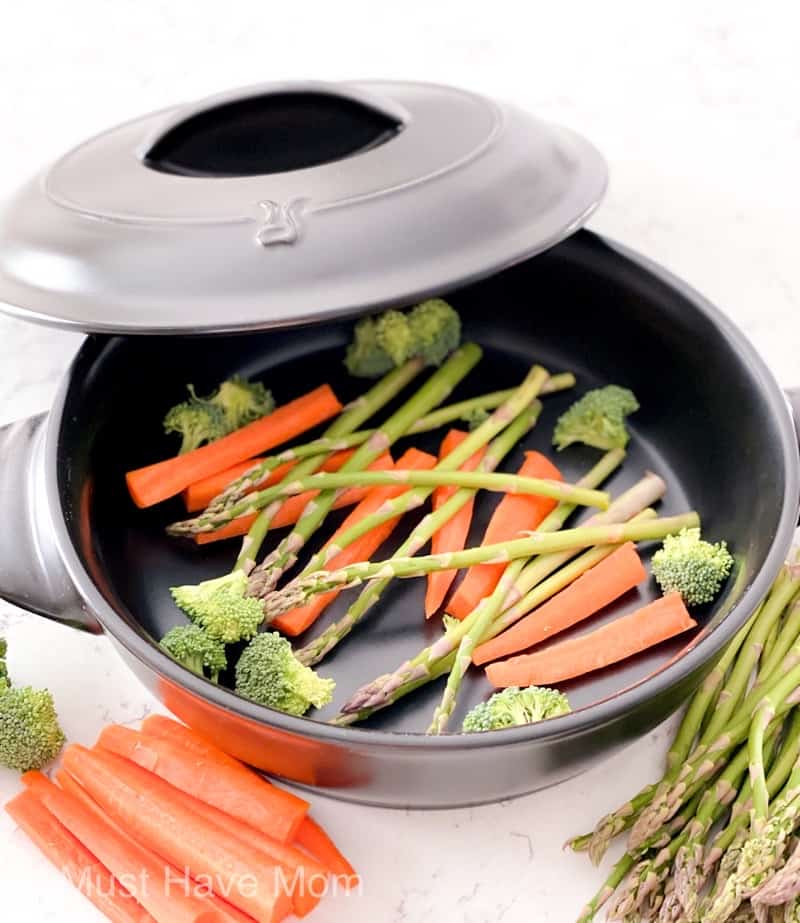 Xtrema Cookware Reviews
Before buying any product, I do careful research and review. So, I also researched for Xtrema Cookware reviews during my consideration process.
What I found was that some of the people and organizations I respect most are also recommending Xtrema Cookware. With me, that goes a long way. If you search for Xtrema Cookware reviews, you will see how families are enjoying a safe and simple-to-use product.
The product isn't just safe, but most users find that the dishes also come out flavorful. That's because now you are enjoying the actual flavor of the food and the spices used in it, and nothing from the coatings of the cookware you made your food in. You might think I'm exaggerating this stuff, but I'd recommend you try out Xtrema Cookware and I'm pretty positive I'd be reading your experience in those same Xtrema Cookware reviews.
Where to Buy Xtrema Cookware
I recommend buying Xtrema Cookware directly from their website. This ensures you are getting 100% pure ceramic cookware that is safe for your family. They frequently run sales too! Head to THIS LINK for the latest sales.
Xtrema Cookware Discount Code
Save 10% on your purchase at Xtrema Cookware with the discount code: MHMOM10  
To use this code click here or enter it at checkout.
Pin Safe Cookware