Weight Watchers 1 Point Snacks + Portion Size Tricks!
Weight Watchers 1 Point Snacks
Use these weight watchers 1 point snacks to stay on track with your diet and health goals. Portion size tricks and smart snack choices will help you feel satisfied and stay on track with your weight goals. You don't have to starve yourself in order to lose weight! Follow these tips to snack safely and not fall into the snack binge pitfall! Be sure to also check out my list of Weight Watchers zero freestyle points recipes!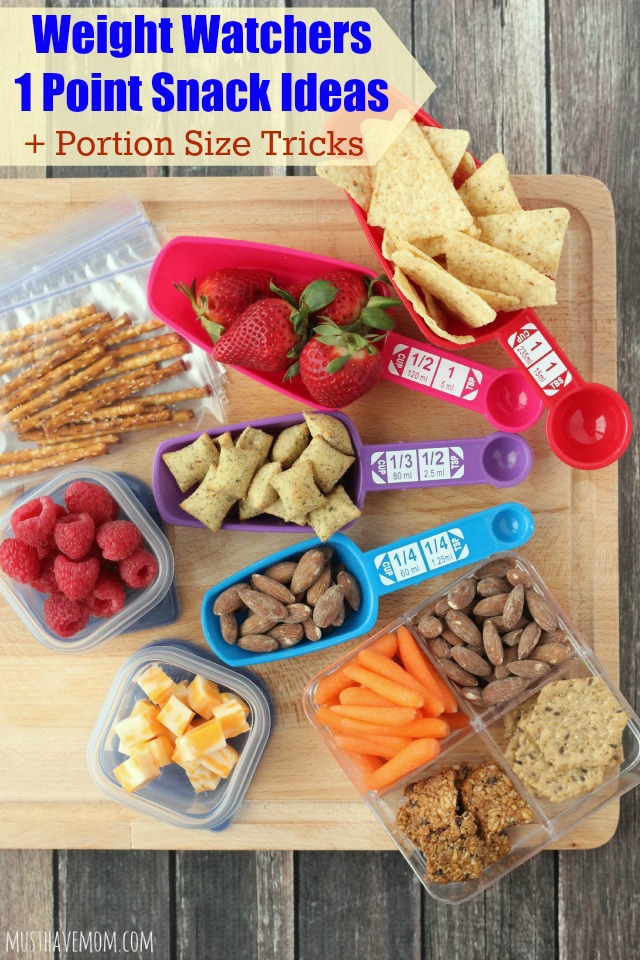 Losing weight can be difficult but there are many tricks to keep you on track to losing weight and staying healthy. One area I think we all struggle with is portion sizes. In a world of bigger is always better, our view of a "normal" size portion for any given food is often very skewed. In the land of super size portions, what is normal? I've got some tips for easily portioning out serving sizes as well as some great Weight Watchers 1 Point Snacks for you. I'm a snacker by nature and I know that can be the pitfall for many people trying to lose weight. I'll show you the snacks you don't have to feel guilty eating and how to enjoy the proper portion sizes so you can stay on track to your weight loss goals.
We have lots of recipes to help you stay satisfied and on track with your goals! Try these Weight Watchers pancakes that are just 2 points for 3 pancakes! Need an appetizer idea? Try this jalapeno poppers Weight Watchers recipe!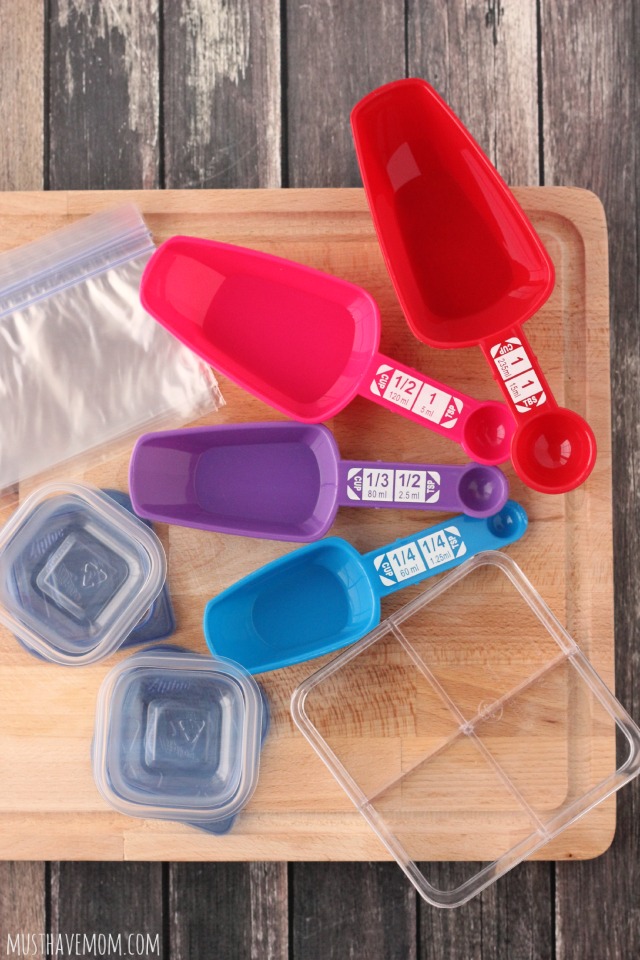 Having a few very inexpensive tools to help you portion your food is a huge help. I found these awesome measuring scoops
 on Amazon (also at Walmart). I LOVE them because the scoop side is in common serving size portions and the handle of it contains a measuring spoon side which works great for measuring out nut butters, oils and dressing. Often times I will have some ranch dressing with my salad and think that I can eyeball what 1 Tbsp looks like. It turns out my idea of 1 Tbsp and an actual tablespoon are very different! Always measure! Once you have an accurate idea of what a teaspoon or tablespoon of something looks like then you can go back to eyeballing if you must.
I also love having the little reusable snack containers
on hand. These are the smallest size, typically used for things like salad dressing. They are perfect for portioning out weight watchers 1 point snacks. I also love the divided containers
which allow me to portion out snacks ahead of time and have them at the ready, while keeping them separated. Finally, having the snack size zip top bags
is a must.
Order the Portion Control Tools Now:
Take a minute and order the portion control tools I used in this post right now. They are invaluable to helping me stay on track with my weight loss goals and not be de-railed by snacking! Here are my favorite portion control must haves:
Mainstay 4-Piece Scoop Set

Rubbermaid Easy Find Lid Square 1/2-Cup Food Storage Container, 6 pack

Ziploc Snack Bags

Rubbermaid TakeAlongs Square Food Storage Container, Divided, Single

ONE DAY SALE – 21 Day Portion Control Containers (7 Piece) Colored Set Meal Prep Kit for Diet Weight Loss + FREE 21 Days Planner +2 E-Books +U/Guide +Measuring Tape +Mobile Stand by All-Green Products

Weight Watchers 2017 SMART POINTS Calculator – For the Smart Points Diet Plan

Weight Watchers 2017 Fruit Infuser Bottle

Meal Measure 1 Portion Control Tool

Healthy Steps 10-Piece Portion Control/Weight Loss Utensil Set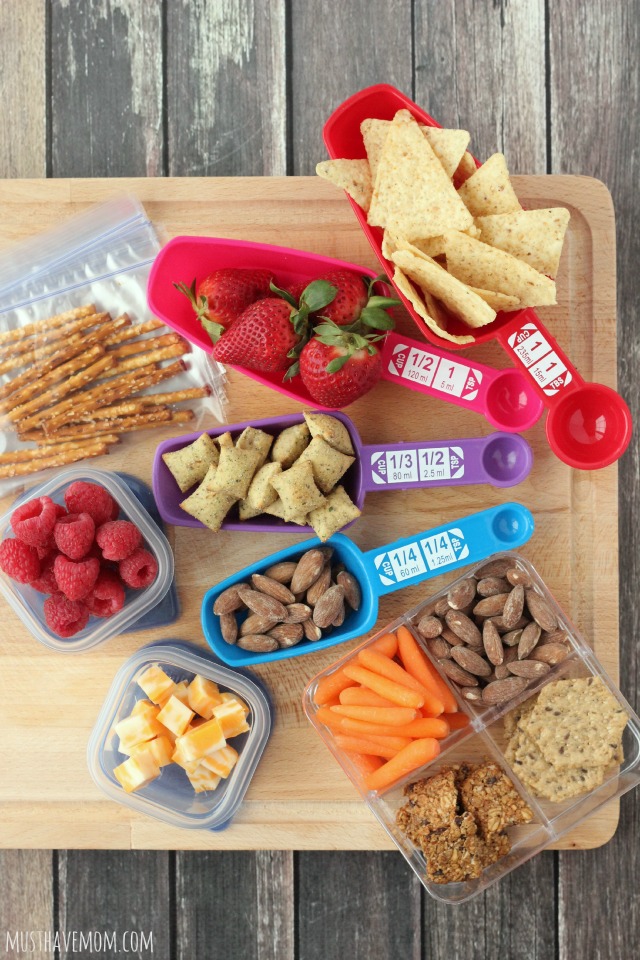 Measuring out your portions is a must. When you decide to have a snack just whip out a measuring scoop and measure it out and put it in a bowl or bag then put away the container so you aren't tempted to grab more. Portioning out snacks ahead of time is the perfect way to grab a healthy snack without the temptation of grabbing something more convenient. At the beginning of the day (or week) portion out single servings of each of these snacks so you can easily grab them later!
Weight Watchers 1 Point Snacks:
20 pretzel sticks
1 wedge of Laughing Cow cheese
1 Weight Watchers string cheese stick
7 almonds
1 cup raspberries (Zero points!)
1 cup strawberries (Zero points!)
2  of these Jalapeno Poppers
16 Food Should Taste Good Pesto Pita Puffs
1/2 of a Colby Jack Cheese Stick
1 cup baby carrots with 2 Tbsp fat-free ranch dressing
1 cup air popped popcorn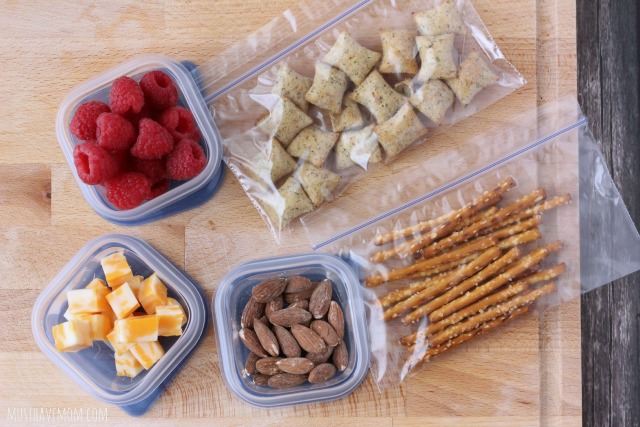 These are all great ideas to get you started. I love the Weight Watchers app so I can easily see how many points a snack will cost me right from my phone. Just punch in any food and it will tell you the number of points that the food and portion size will add up to. Don't have the Weight Watchers app or subscription? Try this Weight Watchers Smart Points Calculator to track your daily points and calculate how many points you have left for the day. *hint: you don't need to join Weight Watchers to use this calculator! Save yourself money and buy it now! Get on the track to weight loss now and stop putting it off.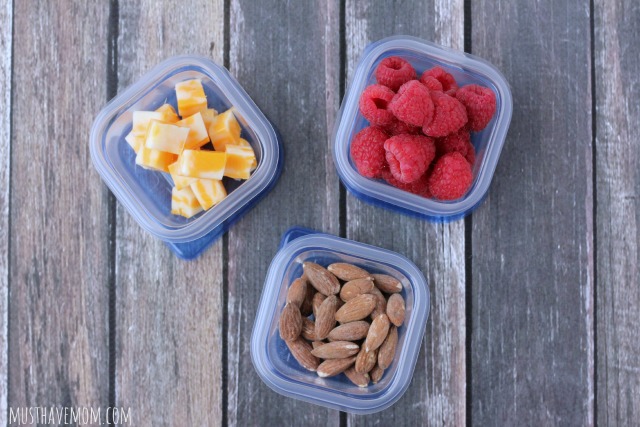 I love choosing foods that keep me filled up. Almonds are a favorite that really keeps me full for a long time. Cheese is a great mid-morning snack and paired with fruit it's a great snack! I love that fruit and vegetables don't cost me any points. I can pair a serving of raspberries with my cheese or almonds to help fill me up and I don't have to add any points to my daily total!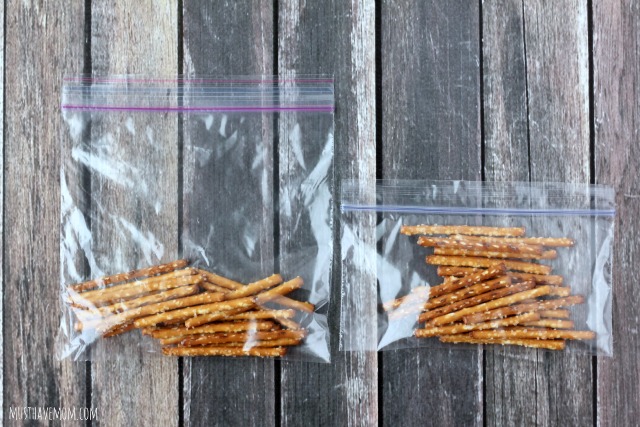 Not only do I try to portion our snacks ahead of time, but I also use smaller packages. You can fool your eyes into thinking you are eating more than you actually are. Have you ever heard the phrase "My eyes were bigger than my stomach"? It's true. Our eyes and our perception of how much food we are eating plays a big role in how full we feel and how much we pay attention to our hunger cues. Instead of using the large sandwich bag for your single serving of pretzels use a snack size bag instead. Now your bag looks full instead of looking almost empty. It LOOKS like a bigger snack than it would if it were in a larger bag.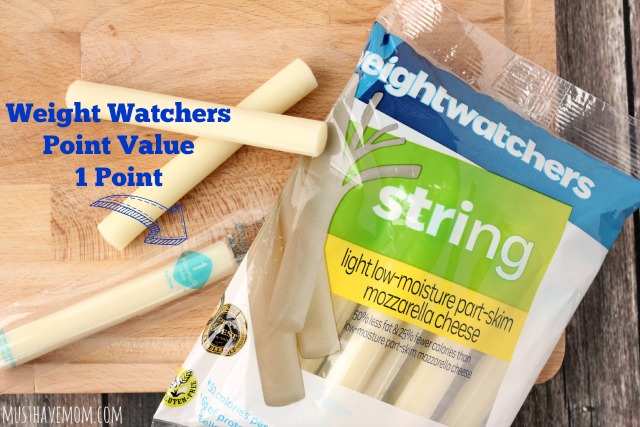 Another way to have easy snacks on hand is to buy things that already have the points calculated for you. The Weight Watchers String cheese is 1 point each and say that right on the package! It makes it easy to keep track of your points. There are also a ton of other Weight Watchers snacks
to choose from.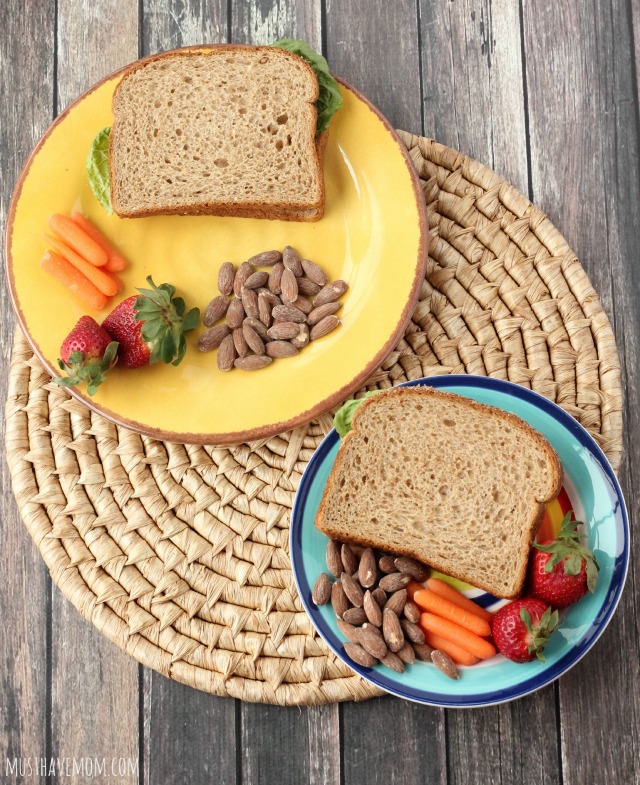 Which of these two plates would you pick? They both have the same amount of food but the smaller plate looks more full since there is less plate area to fill. By choosing smaller dinner plates you naturally take smaller portion sizes because you can't fit as much on your plate. You also trick your eyes into thinking you have more food on your plate than you really do!
By utilizing these easy tips and having weight watchers 1 point snacks on hand you can get through those tough moments in your weight loss journey. Planning ahead is key! Set yourself up for success! Don't forget to take advantage of Weight Watcher's app and their cheat sheets they have online for fast food places and other times when you are eating away from home and needing healthy choices. I also love the Weight Watchers Smart Points calculator. Weight Watchers makes it easier to lose weight even if you are a busy mom like me!
Pin the Weight Watchers 1 Point Snacks image below: