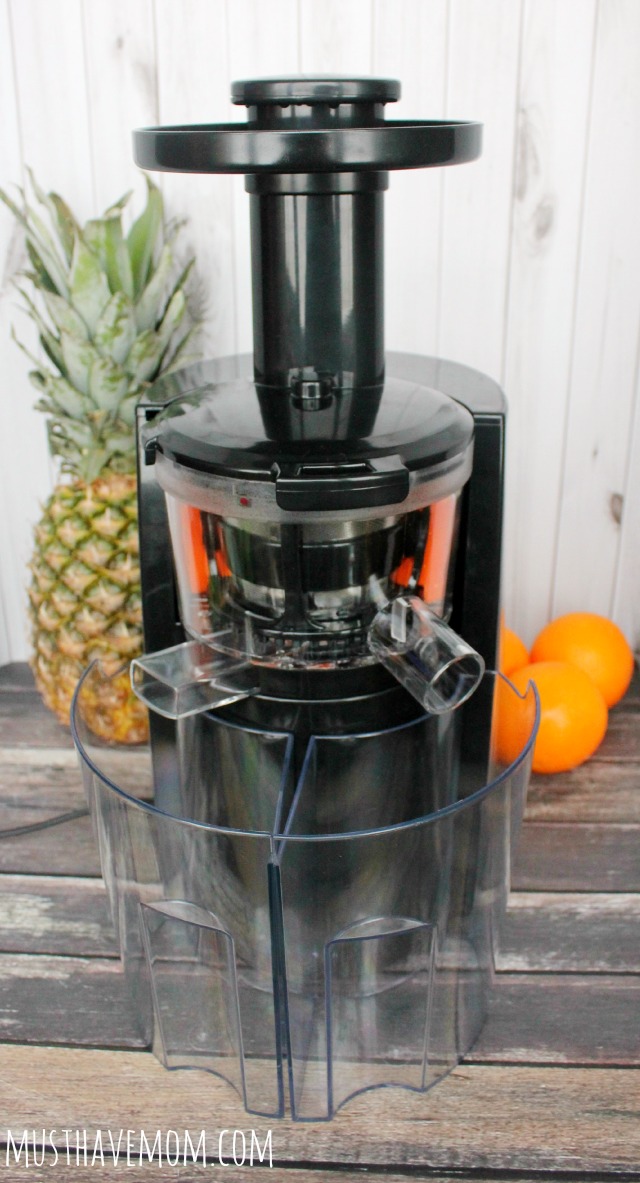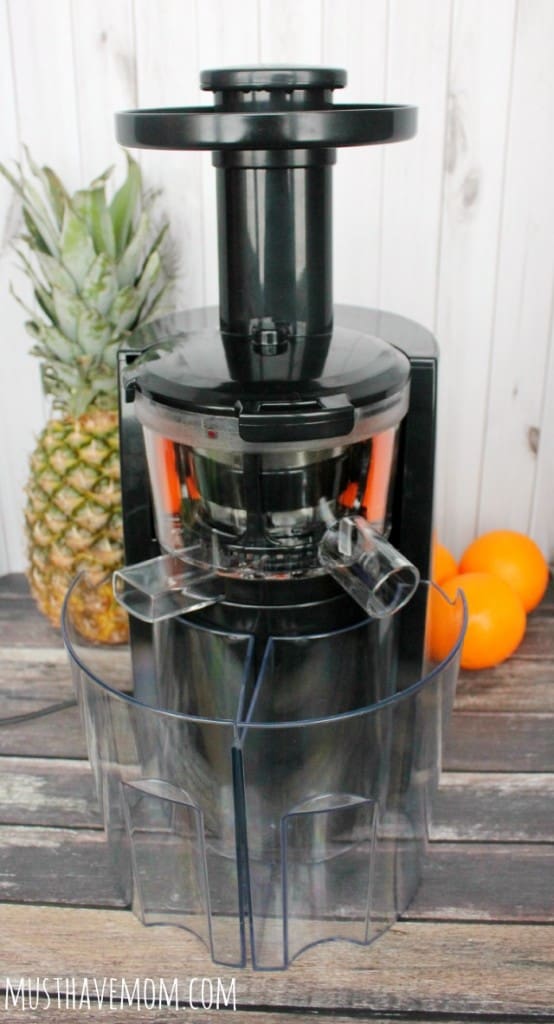 I was beyond excited when this beauty showed up at my house this month! I am officially the owner of a juicer now. What the heck is a juicer? That's what this beauty is, a juicer. It extracts the juice from fruits and veggies and allows you to make your own juice. That means you can harness the many benefits of the vitamins and minerals locked in those fruits and veggies and extract them into your own juice blends. Don't be intimidated! I'm going to show you everything you need to get started juicing.
I have wanted a juicer for a long time now and I went with the VonShef 150W Slow Masticating Single Auger Juicer for a few reasons. I liked that this juicer extracts juice using a Low Speed Extraction Method which means the juicer extracts instead of grinding which retains all the nutrients and enzymes for a healthier, natural juice. I also liked the price point. This is a very affordable juicer and has a great value for the features offered. Last, I chose this juicer because it gives you the maximum yield of juice for both fruits and vegetables.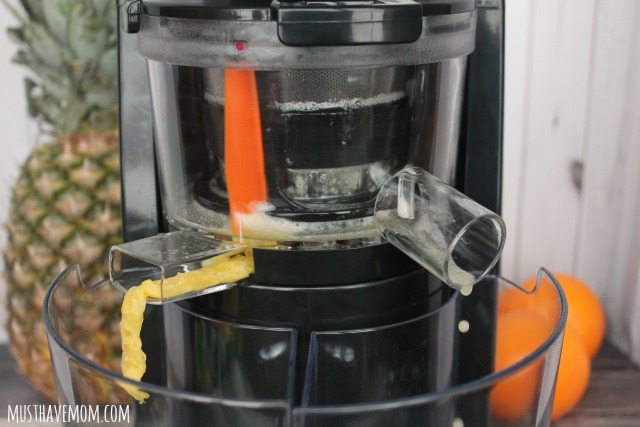 Now that I had my juicer in my hands I was excited to see for myself if my research had paid off and given me a fantastic juicer for a fabulous price. I opened the box and washed the pieces. Next I assembled it according to the included instructions. Assembly took me five minutes or so to read through and piece together. Then I was ready to start juicing. I started with half a pineapple. I had already sliced the pineapple so it was all ready to be juiced. I inserted half rings into the juicer and it easily extracted the juice and in no time my juice collecting bucket was filled with pineapple juice. Fresh squeezed pineapple juice tastes amazing!
The pulp was sorted into one catch bucket and the juice went into the other bucket. The juicer uses a slow extraction method so it takes a little bit but I was impressed with how much juice was extracted even when I moved on to juicing kale and ginger. This juicer is known for it's ability to extract the maximum amount of juice from leafy greens and even harder things like nuts.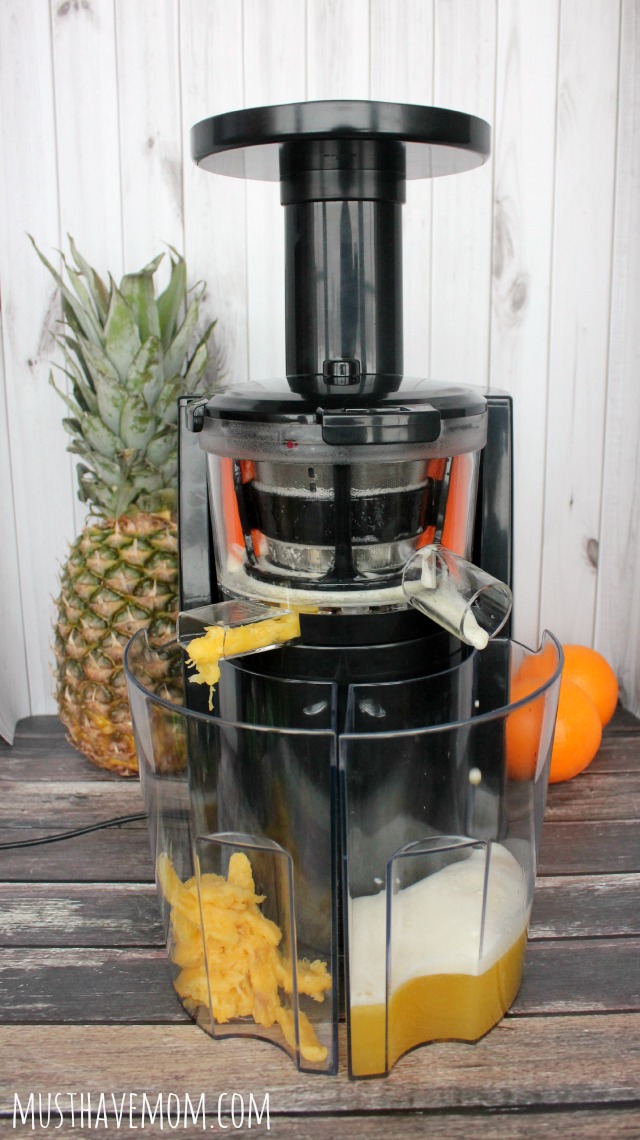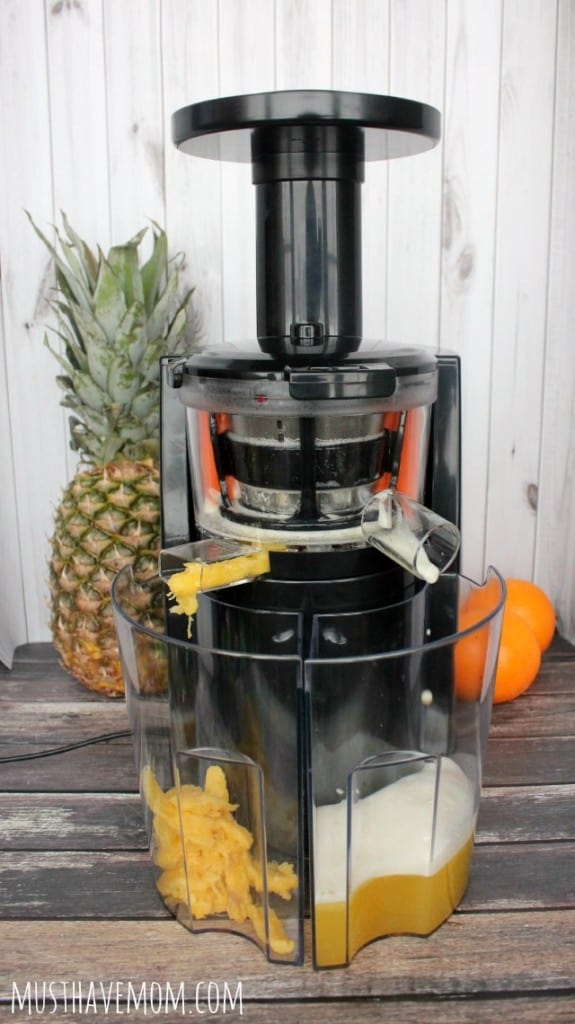 I enjoyed making my own juice so much that I made several different batches my first time I used it. I made a cold and flu prevention juice recipe and I also made a delicious pineapple orange juice that was to die for. My cold and flu prevention recipe will be coming next week so check back!
I am so impressed with this juicer. It did a fantastic job juicing everything from oranges to kale. It yielded a good amount of juice and the method of extraction allows for the maximum amount of beneficial ingredients to be retained in your juice.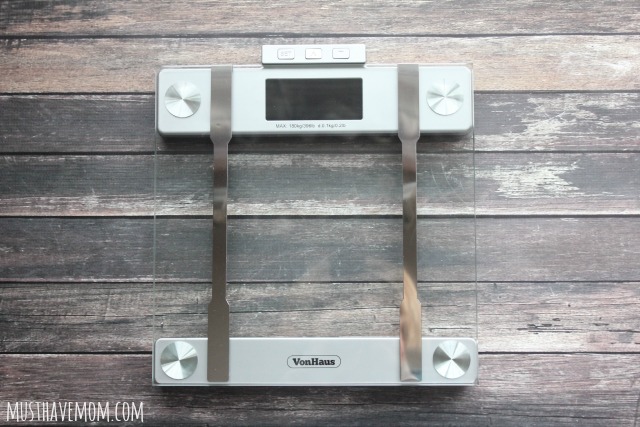 Going hand in hand with my resolutions to eat healthier is a resolution to live an all around healthy lifestyle. I'm buying more organic, GMO free foods, juicing and the last thing on my list is to begin exercising more. I wanted a scale that would measure more than just my weight.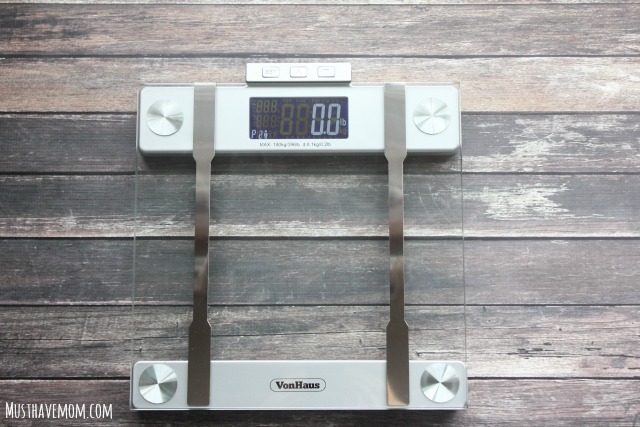 The  VonHaus Body Fat Scale offers a comprehensive look at your body. It gives you not only your weight, but your fat percentage, estimated bone weight, recommended daily calorie intake, muscle mass percentage and body water percentage along with your BMI. Isn't that cool?! I thought it was amazing.
It also allows you to program in more than one user (you can do up to 12!) so everyone in the family can benefit from their calculated values. Simple select the user and enter in age, height and gender. It will then weigh you and calculate the rest. My husband and I love this scale.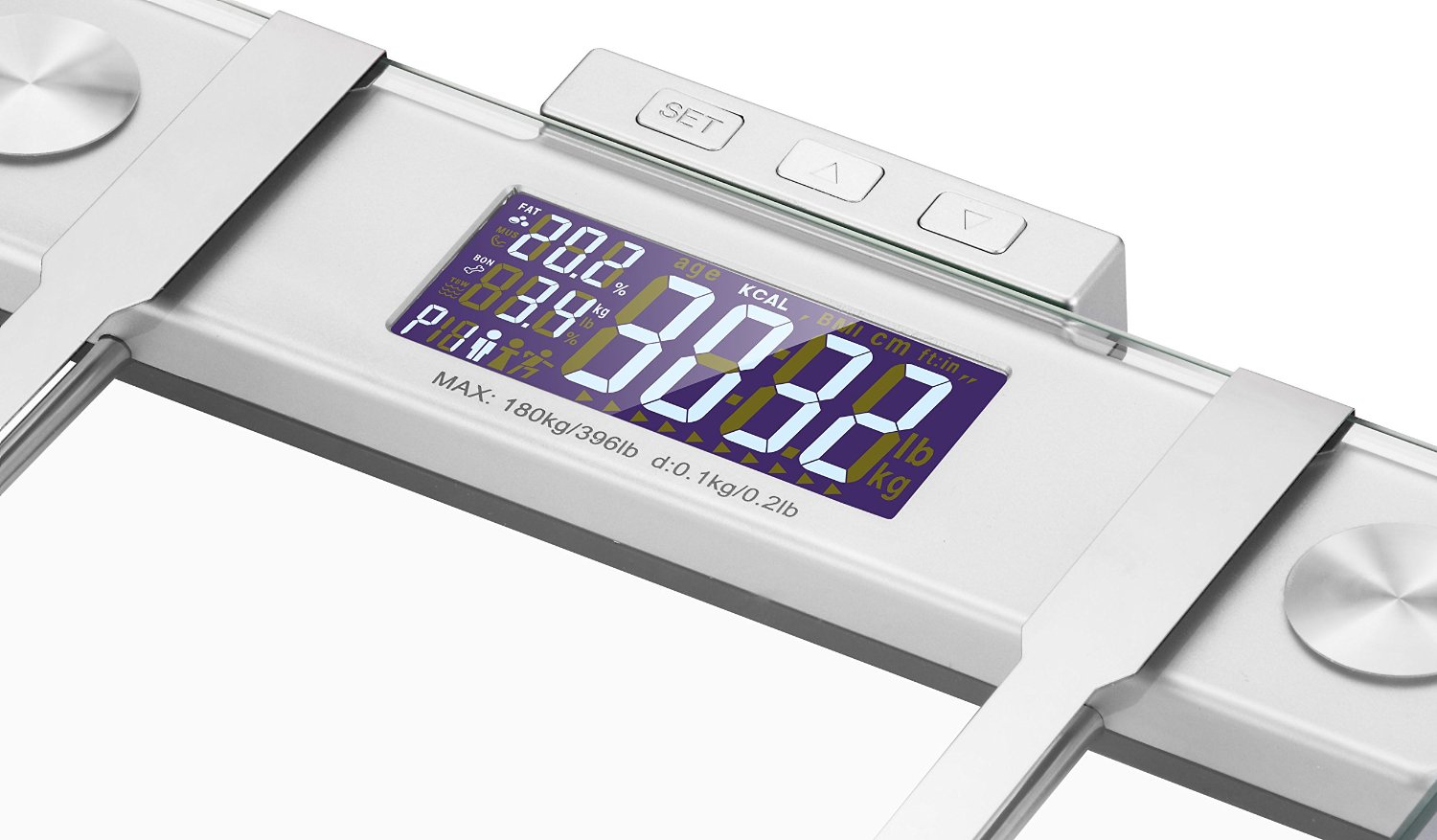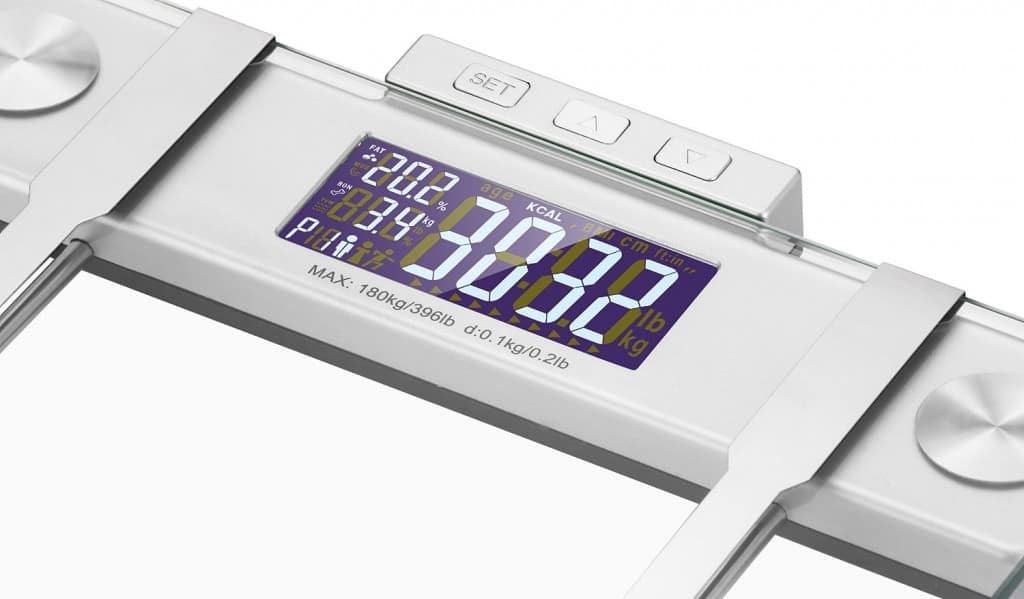 This scale calculates so much more than a regular scale while still looking appealing in my bathroom and it won't break the bank either. At just $22.99 you can't go wrong!
Print off my free Weight Tracker so you can easily fill in all of your numbers from the scale and track your progress! Set a goal for yourself and write it down. Then fill in your numbers each day and compare them to the scale.
You can find the VonShef 150W Slow Masticating Single Auger Juicer and VonHaus Body Fat Scales on Amazon at 50% off retail!!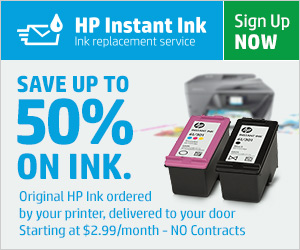 *PRO TIP* If you have a printer and love printing free printables, photos, checklists and more then you definitely need to sign up for HP Instant Ink and save 50% on your printer ink! I have been personally using this service for years and print up to 100 pages a month and never worry about how much ink I am using. When your printer starts running low it automatically orders more ink and it shows up at your door! No postage fees! And with plans starting at just $2.99 you can quit worrying about how much ink you are using and print all the color photos and printables you want! This is the best way to save on printer ink!
Sign up today
and start saving money on your ink.
Be sure to check back next week for my favorite juicing recipes!
Have you ever used a juicer? What is your favorite recipe?