Jalapeno Poppers Weight Watchers Recipe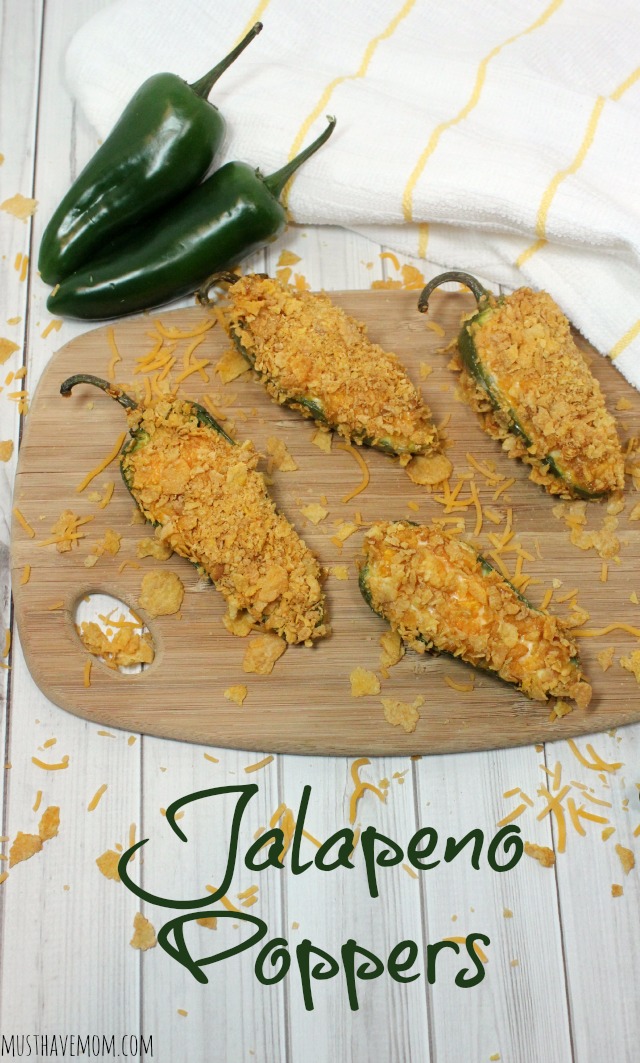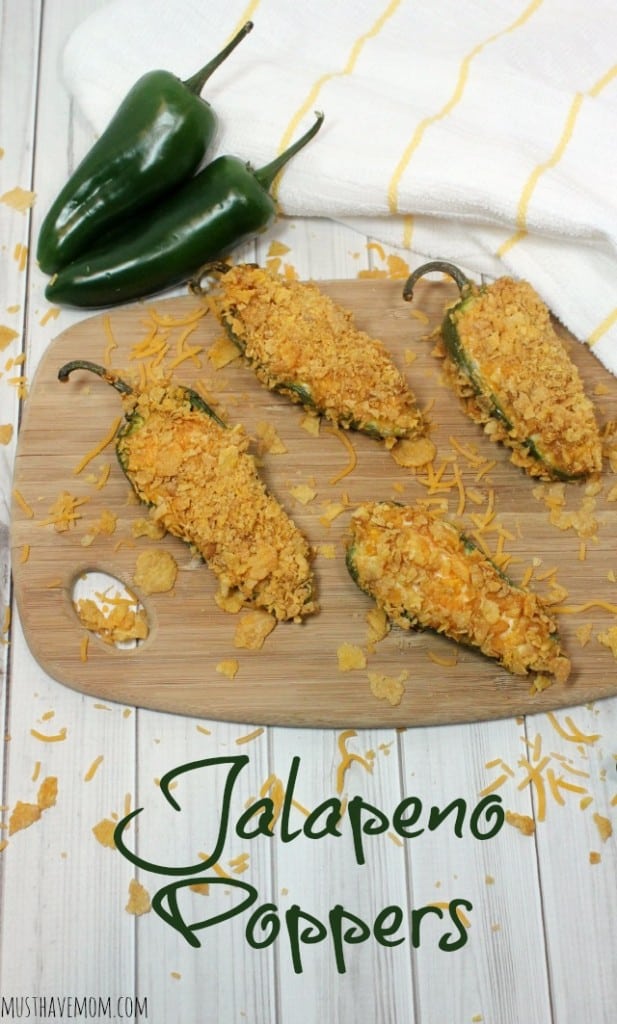 Did you watch the big game yesterday? I did, mostly for the commercials and the half time show, although I have to admit the end of the game was exciting! Did you catch the Weight Watchers commercial? It really resonated with me and what I'm going through as I change my eating habits and the habits of my entire family. Didn't catch it? Check it out now:
​
This commercial really highlights our unhealthy relationship with food. In addition to overeating, many of us desire to eat healthier foods but find ourselves sabotaged by the foods around us. I have been victim to wanting to eat healthier while actually eating a very unhealthy diet. Instead of feeling tired and sluggish all the time, I'd much rather feel energized and healthy. That's why I am committed to changing my habits and changing the habits of my entire family. It's out with the junk food and in with the healthy habits! That doesn't have to mean giving up everything we love though! If you do that then you are sure to fail.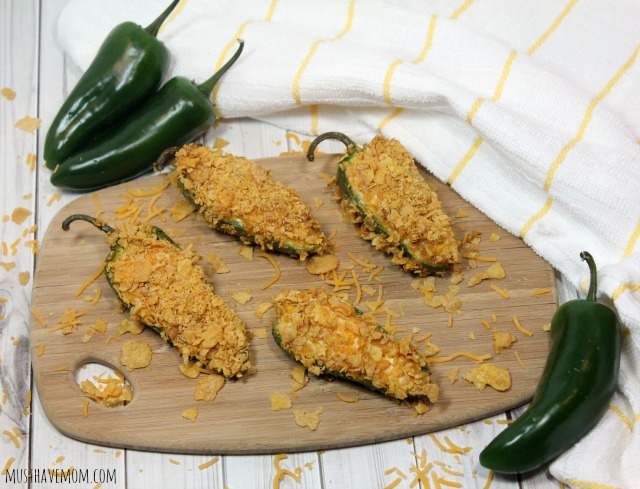 This is where Weight Watchers personal coaching program comes in. You will get your very own coach who is at the ready for every time you face a challenge. They are there to help with the hard stuff! For example, watching the big game is prime time to indulge in a whole lot of unhealthy foods. My coach has taught me that planning and choices are key though. By planning ahead I was able to make these delicious Jalapeno Poppers Weight Watchers recipe and they were only 1 PointsPlus value for each serving of TWO poppers! After two poppers I was full! These were incredibly delicious and I liked them even better than their unhealthy, deep fried counterparts because I wasn't left feeling bogged down after eating them. They were satisfying and filling!
Next time you will be faced with a similar situation, plan ahead! It saves you having to deprive yourself because you'll already have a healthier version of your favorite foods ready and waiting! My biggest thing when starting my journey to a healthier lifestyle was that I knew deprivation wouldn't work well for me. Moderation and the occasional indulgence has worked very well and I'm proud to say that I now pass on the unhealthy processed foods I used to buy and opt for organic options instead. In the end I feel better for it!
Grab this delicious Jalapeno Poppers recipe or pin it for later!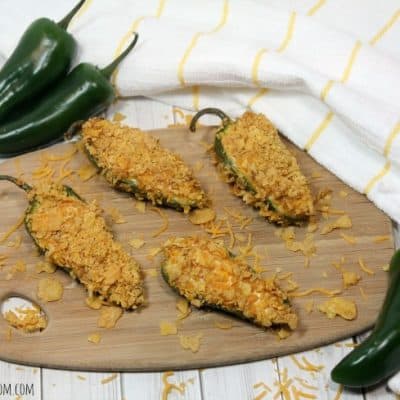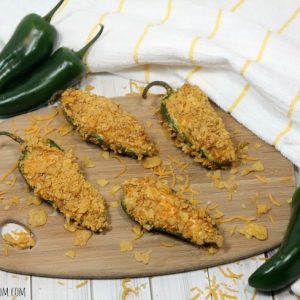 Jalapeno Poppers Weight Watchers Recipe
Homemade Jalapeno Poppers with a Weight Watchers PointsPlus value of 1 point per serving (2 poppers).
Ingredients
4

spray

s olive oil cooking spray, divided

1/2

cup

s low fat shredded cheddar cheese

1/4

cup

s low fat cream cheese

1

Tbsp

fat free mayonnaise

8

small jalapeño pepper

s

1/4

cup

s fat free egg substitute

7

Tbsp

cornflake crumbs
Instructions
Preheat oven to 350ºF. Coat a large baking sheet with cooking spray.

In a medium bowl, combine cheddar cheese, cream cheese and mayonnaise; mix well and set aside.

Halve peppers lengthwise and remove seeds; fill peppers wtih cheese mixture. (Oil and seeds from the peppers can be irritating — keep your fingers away from your eyes and I also wear gloves.)

Place egg substitute in a shallow dish.

Place cornflake crumbs in a separate shallow dish.

Dip stuffed peppers into egg substitute and then roll in cornflake crumbs to coat.

Transfer peppers to prepared baking sheet and coat with cooking spray.

Bake until filling is bubbly and outside begins to brown, about 30 minutes. Serve hot.
You can find the original Weight Watchers Jalapeno Poppers recipe on their site along with many other
Weight Watchers recipes
! I love that the points value is calculated for me and I can always find a nice replacement for a favorite recipes. Get the
Join FREE and lose 10 pounds FREE offer
before it expires!!
 Let's take back control of what goes into our bodies! Time to get healthy!