DIY Sick Day Kit With Free Printables!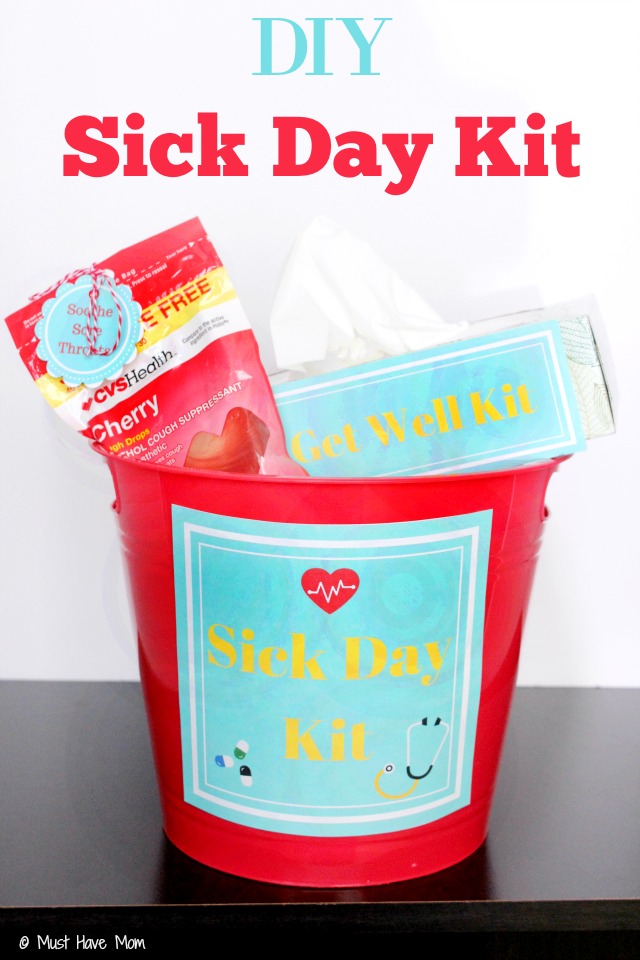 It seems that sickness always strikes at the worst times! Whether it be the middle of the night or in the midst of a weekend, it never comes at a good time to stock up on supplies and be ready for it. Next time sickness strikes you or a family member be prepared with this fun DIY sick day kit with free printables to make it cute too! Keep it on hand for your family or gift it to a sick friend to help them get well soon!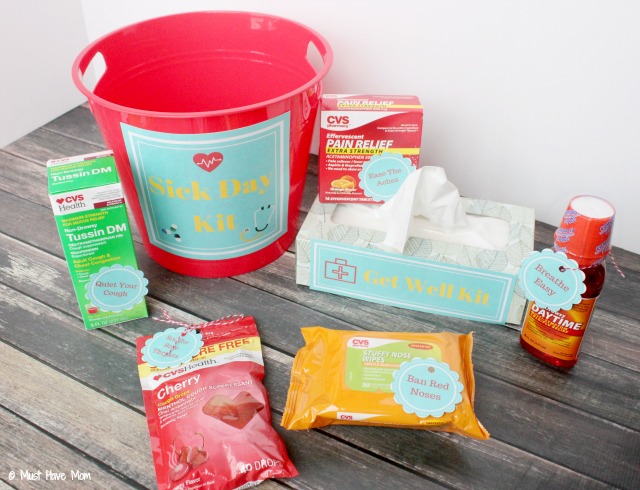 To create your kit you'll need a bucket to serve as the gift basket. The bucket will double as a vomit bucket. I found one at the dollar store. Then you'll need some sick day essentials to fill your sick day kit. I included the following CVS brand products in my sick day kit:
You could also include the sick person's favorite treats, magazine, book, pj's, slipper socks, etc to enhance and personalize your sick day kit! I chose to fill mine with CVS brand products because they cost less than name brand products while still providing the same quality I expect. If you have been hesitant to try a store brand don't be! CVS brand products have a 100% money back guarantee so it's risk free to try them. You'll save money and I bet you'll love them as much as I do!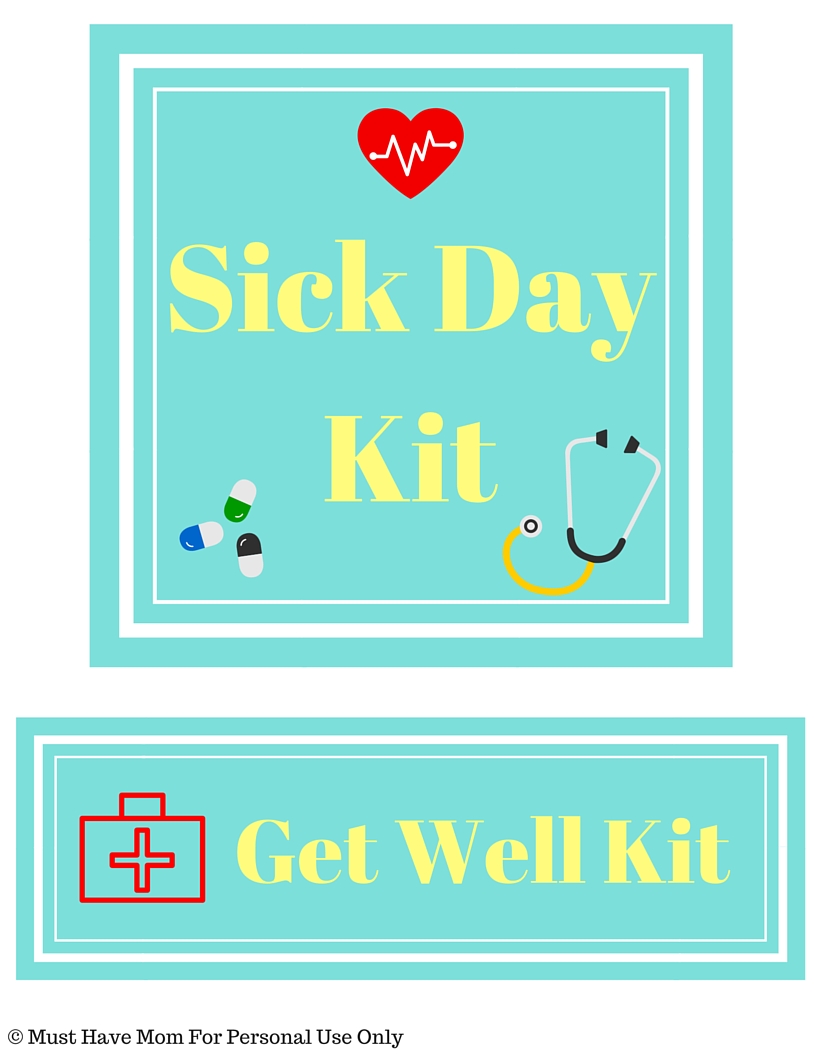 Next print off these two free sick day kit printables on
cardstock paper
. To print them simply click on the photo of each printable or click
here
 then hit print for each page. Cut them out and affix them to your various sick day kit contents.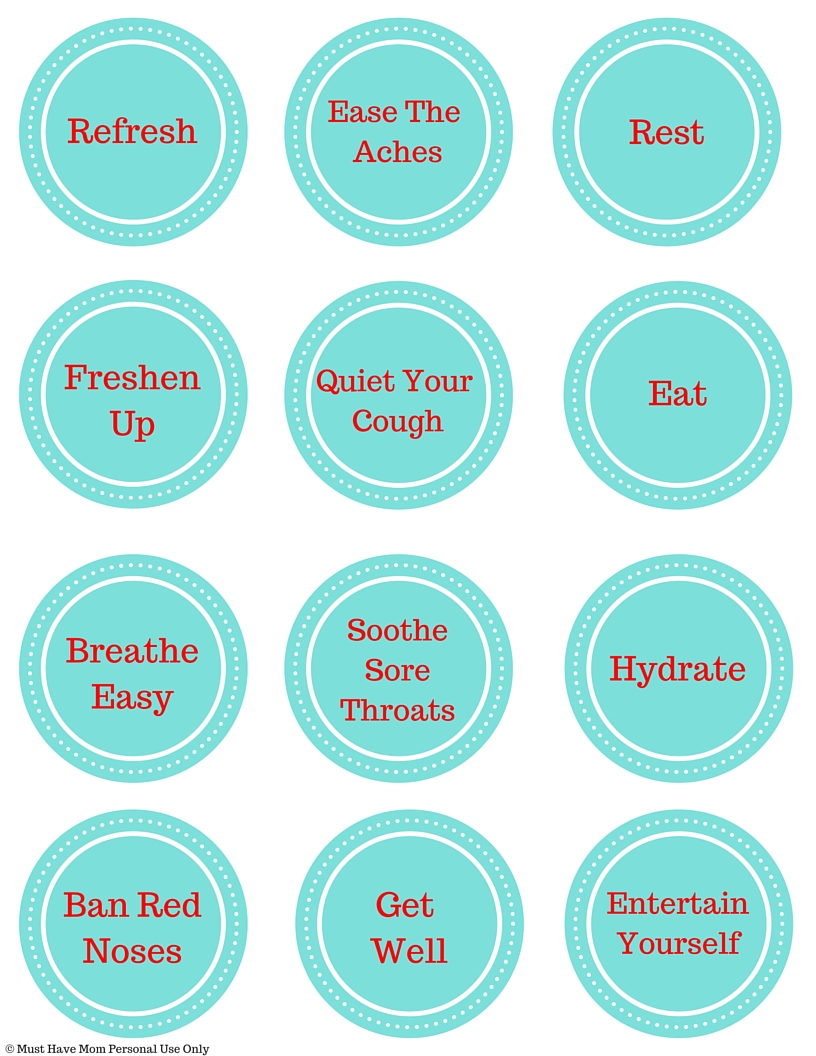 Print off this page and use a circle cutter or scissors to cut them out.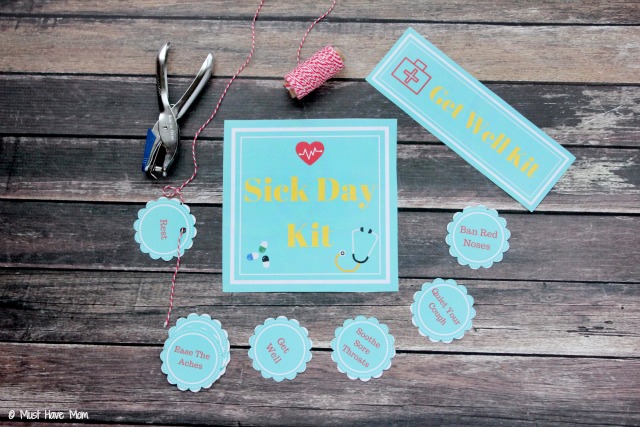 Use double stick tape to affix them to various products or use a hole punch and
baker's twine
to tie them to the products. Here are ideas of what to pair with each tag:
REFRESH: Hand sanitizer, baby wipes or antibacterial wipes
EASE THE ACHES: Pair with CVS Pain Relief, a hot pad or ice pack
REST: Pillow, blanket, slippers, PJ's or an eye mask
FRESHEN UP: Lip balm, lotion, or these DIY shower discs will help them feel fresh
QUIET YOUR COUGH: Cough medicine, vapor rub
EAT: Saltine crackers, plain cereal, or a can of chicken soup
BREATHE EASY: Cold/Flu Relief medicine, tissues
SOOTHE SORE THROATS: Cough drops, honey
HYDRATE: Bottle of water, homemade electrolyte drink
BAN RED NOSES: Tissues with lotion, Stuffy Nose Wipes, Soothing cream or petroleum jelly
GET WELL: Use this to add in any personalized items you want to include
ENTERTAIN YOURSELF: Book, magazine, movie
Bundle these all together in your sick day bucket and you've got everything you need next time someone gets sick!
What is one thing you always need when you are sick?
Save