DIY Edible Finger Paint Recipe For Babies and Toddlers!
*This shop has been compensated by Collective Bias, Inc. and its advertiser. All opinions are mine alone. #PurellWipes #CollectiveBias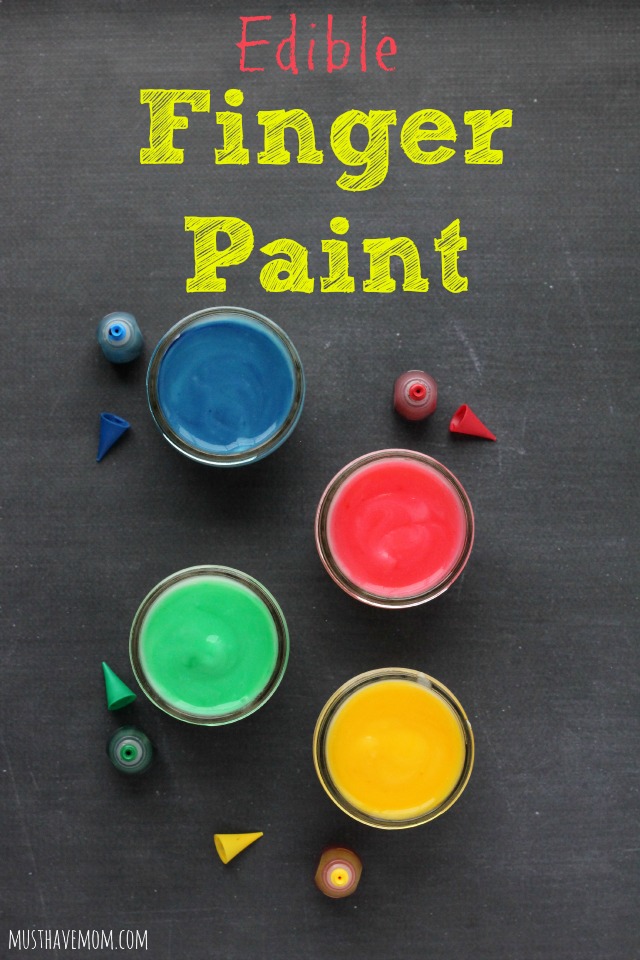 What kid doesn't love finger paint? I can still remember finger painting as a child. I absolutely loved it. I wanted all of my kids to be able to participate in the joy of finger painting, even my youngest who is a year old. I came up with a great edible finger paint recipe that certainly doesn't taste good but is completely safe to ingest if your baby or toddler decides to eat it! I found a lot of moms were using things like yogurt or sweetened condensed milk to make edible finger paint for their kids but I wanted a paint that would dry on paper and be safe to hang up and display. I certainly couldn't do that with yogurt! This recipe is easy and only has 3 ingredients! It's quick and easy to whip up anytime.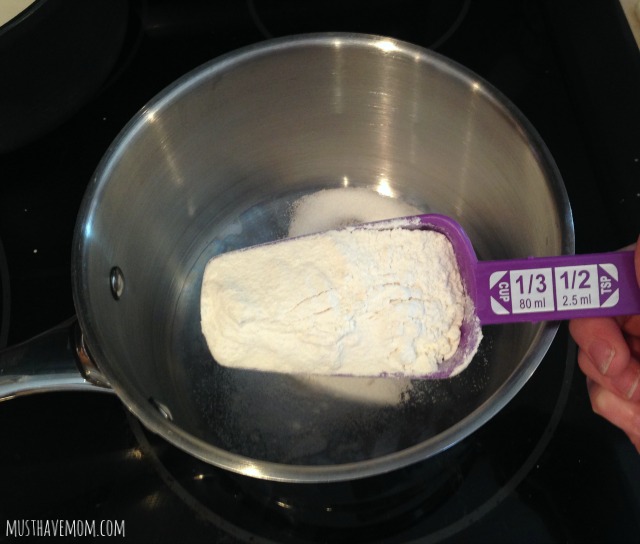 Start by adding 2 Tablespoons of sugar, a pinch of salt and 1/3 cup flour to a medium saucepan.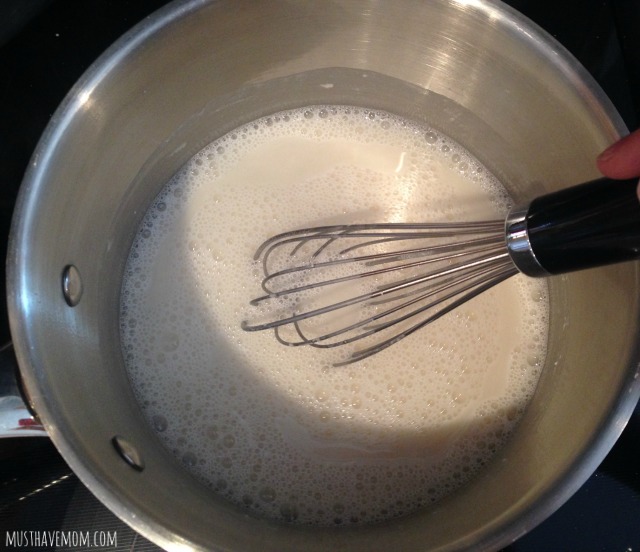 Then add 2 cups of water and heat your burner on medium. Whisk all the ingredients together until the mixture thickens and becomes smooth. This will take approximately ten minutes over medium heat. Keep continually stirring it until the desired consistency is reached. Then remove from the burner and allow it to cool.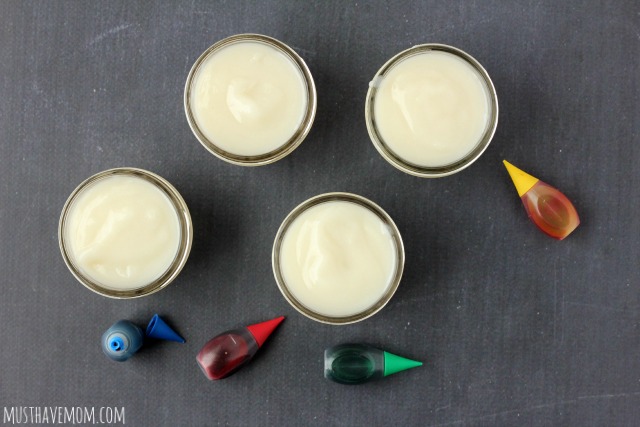 Once cool, portion it out into four different cups. I used little glass mason jars so I could put a lid on and save it if there was any left (there wasn't!).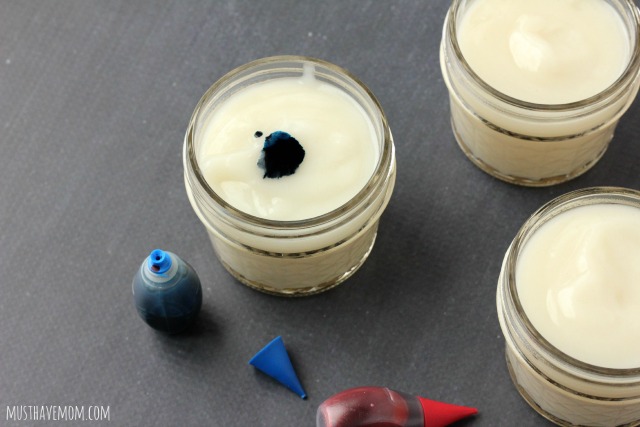 Then add two drops of food coloring to each cup and mix well.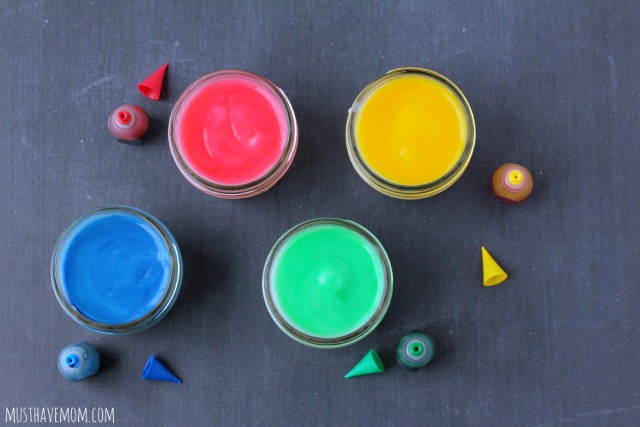 Once you are happy with your colors it's ready to paint with! Just ensure it is completely cooled before letting your little one dig in!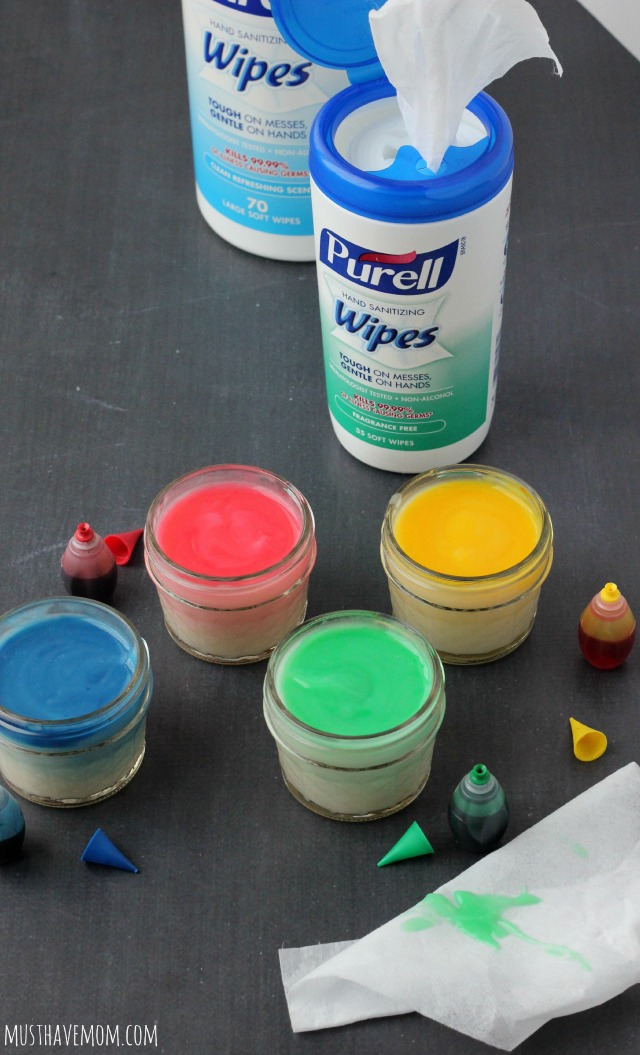 Before we dug in I also made sure I had plenty of PURELL® Hand Sanitizing Wipes on hand to wipe up messes! Let's face it, finger paint is messy!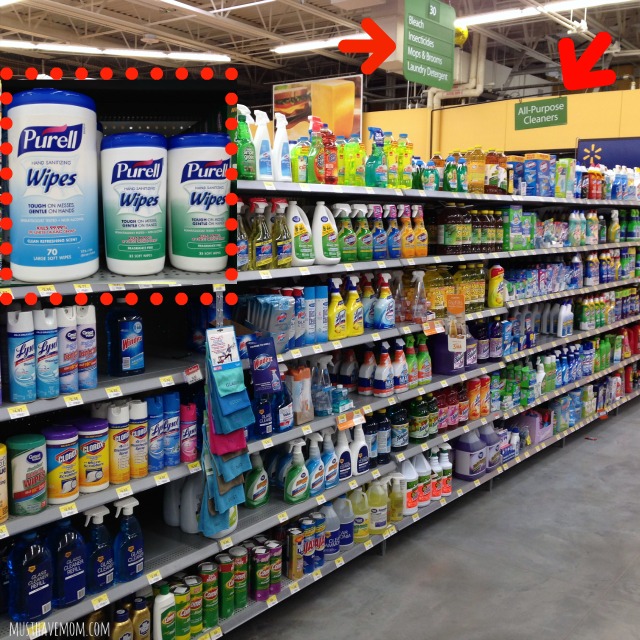 I keep PURELL® Hand Sanitizing Wipes on hand because they are tough enough to kill germs but gentle enough to wipe hands and faces! You can find them at Walmart in the cleaning aisle (and there is a PURELL coupon to grab for Walmart too!). You might think to look near the wipes but you'll find them by the all purpose cleaners and surface wipes. They come in two sizes. I grabbed one of each size! A big container for at home and the smaller container fits in my car's cup holder. Perfect for those drive through lunch times in the car! I can easily wipe the kids hands before they eat and don't have to worry about germs they may have picked up from a shopping cart or wherever we may have been running errands. Beginning on May 17th, be on the lookout for a coupon in the Sunday paper! You'll be able to save $1.00 on any PURELL® Wipes canister or Save $1.00 on any two PURELL® Products!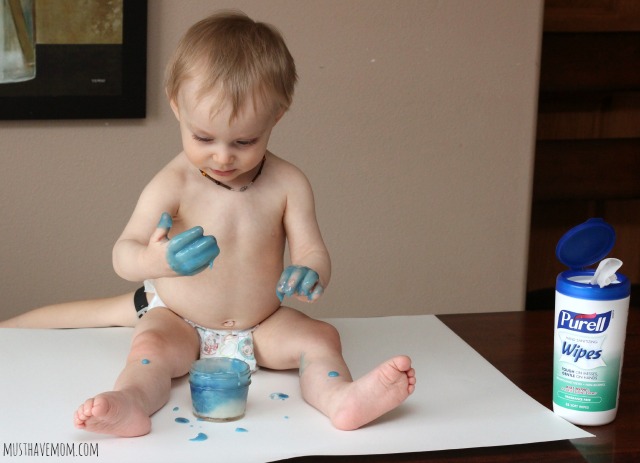 I had the most fun watching my one year old discover finger paint. At first he wasn't sure what to think of it but he was definitely intrigued.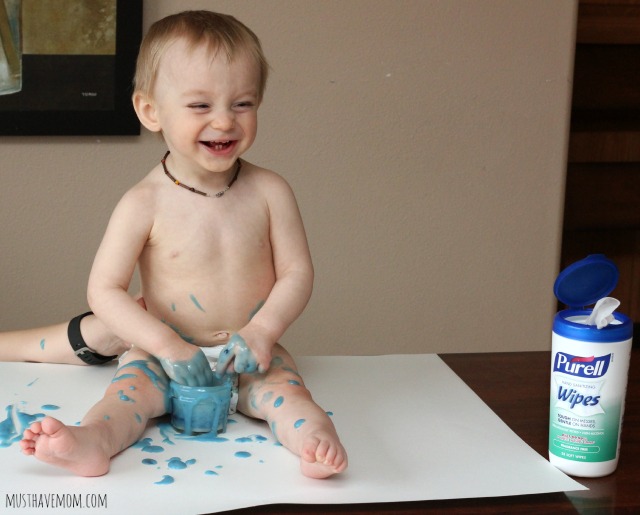 Then he really started having fun with it! He wasn't sure if he should throw it and splatter it all over himself or paint with it! He was thrilled! Pure glee and joy at it's best!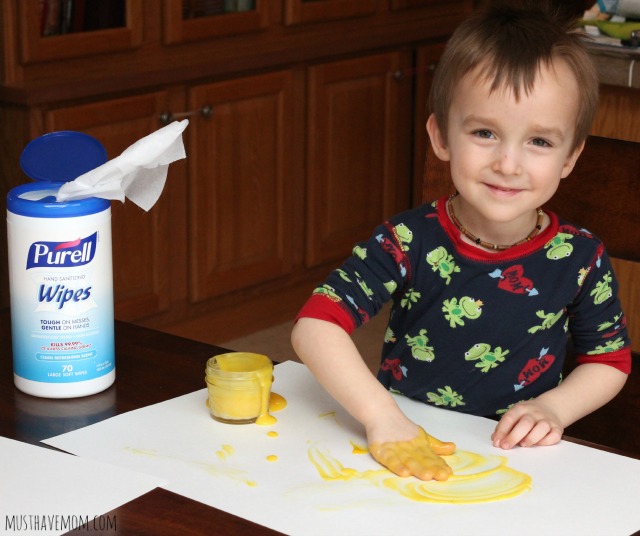 My three year old had a blast painting with it too. He demanded to have the PURELL® Hand Sanitizing Wipes close by because he kept wanting to wipe off his hands. As much as he loved finger painting he also liked being clean!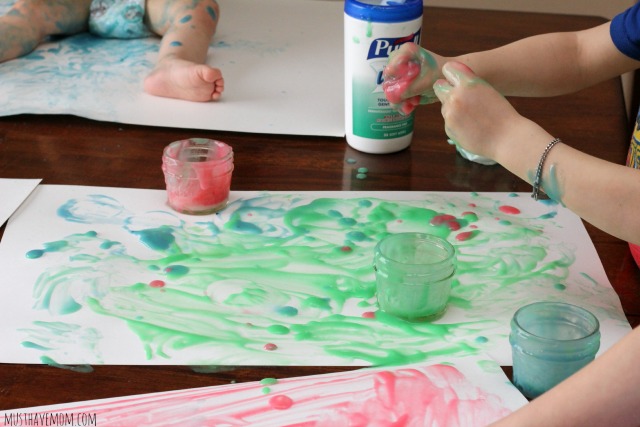 My older two kids also had a blast with it and were creating "fireworks" by dripping the finger paint on their paper. I used posterboard paper for them to paint on so it would be sturdy and not get too soaked as I anticipated there would be an overabundance of paint on the paper!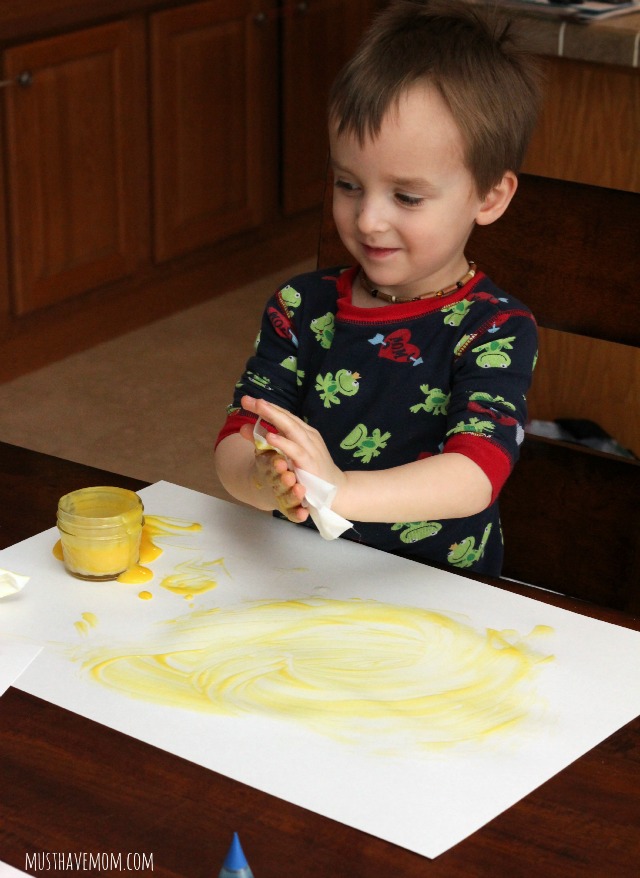 The wipes were perfect for cleaning up their messy finger paint hands and they were gentle on their little hands so their skin didn't dry out.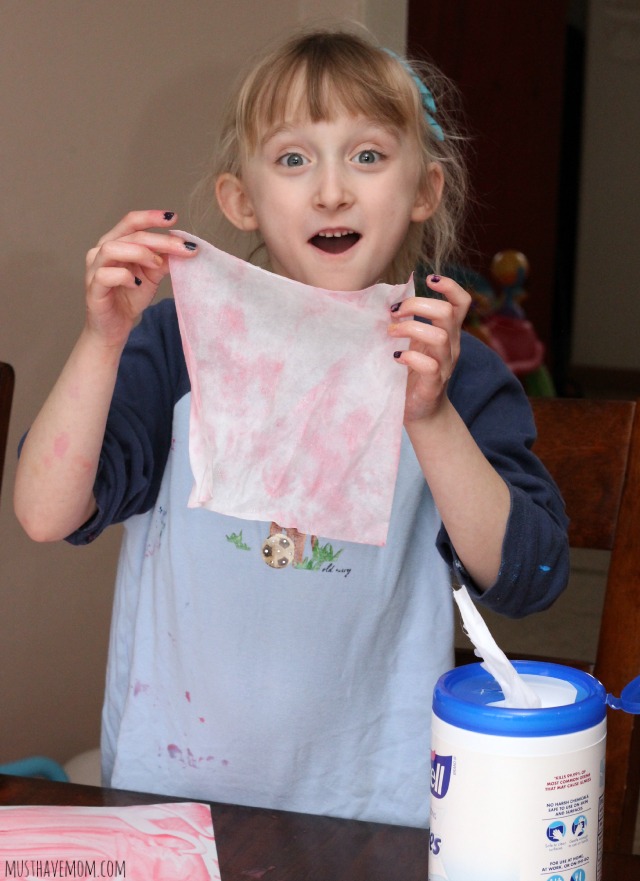 Danika was covered in red finger paint and even she was surprised at how much paint came off on the wipe!
Brady on the other hand was quite a bit more messy! He required several wipes to get all that blue finger paint off! I love that they are gentle enough to use on hands and faces, even for baby!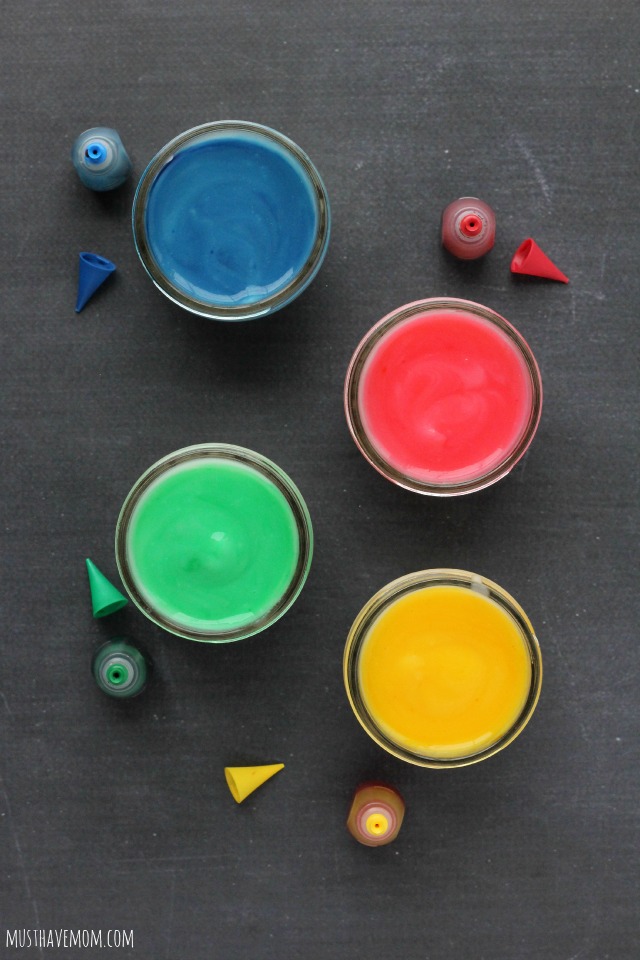 You can pin this post for later or print off the edible finger paint recipe below!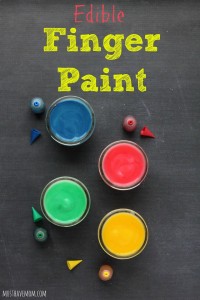 Rainbow Edible Finger Paint
Easy edible finger paint for babies and toddlers. Dries on paper and is safe if they ingest it. I used posterboard paper for painting on.
Ingredients
2

Tbsp

Sugar

A pinch of salt

1/3

C

flour

2

C

water

food coloring

cups
Instructions
Add sugar, salt and flour to a medium saucepan.

Mix in 2 cups of cold water.

Whisk together over medium heat until mixture thickens and becomes smooth. This should take 10-15 minutes approx.

Remove from burner and allow to cool completely.

Divide mixture into four cups.

Add 2 drops of food coloring to each cup and mix well.

Allow your child to paint, ensure the mixture is no longer hot.
Check out the
PURELL® loyalty program
too! If your kids are anything like mine, I'm sure you go through plenty of PURELL® hand sanitizing wipes, you may as well be rewarded for buying them!
What are your kids favorite messy activities? Grab these PURELL® Coupons and stock up before your next messy activity!