How To Pack School Lunches That Your Kids Will Actually Eat
Turn the dreaded cold lunch into something your child looks forward to with these school lunch ideas! We've got you covered so you can skip the standby PB&J and mix it up a little!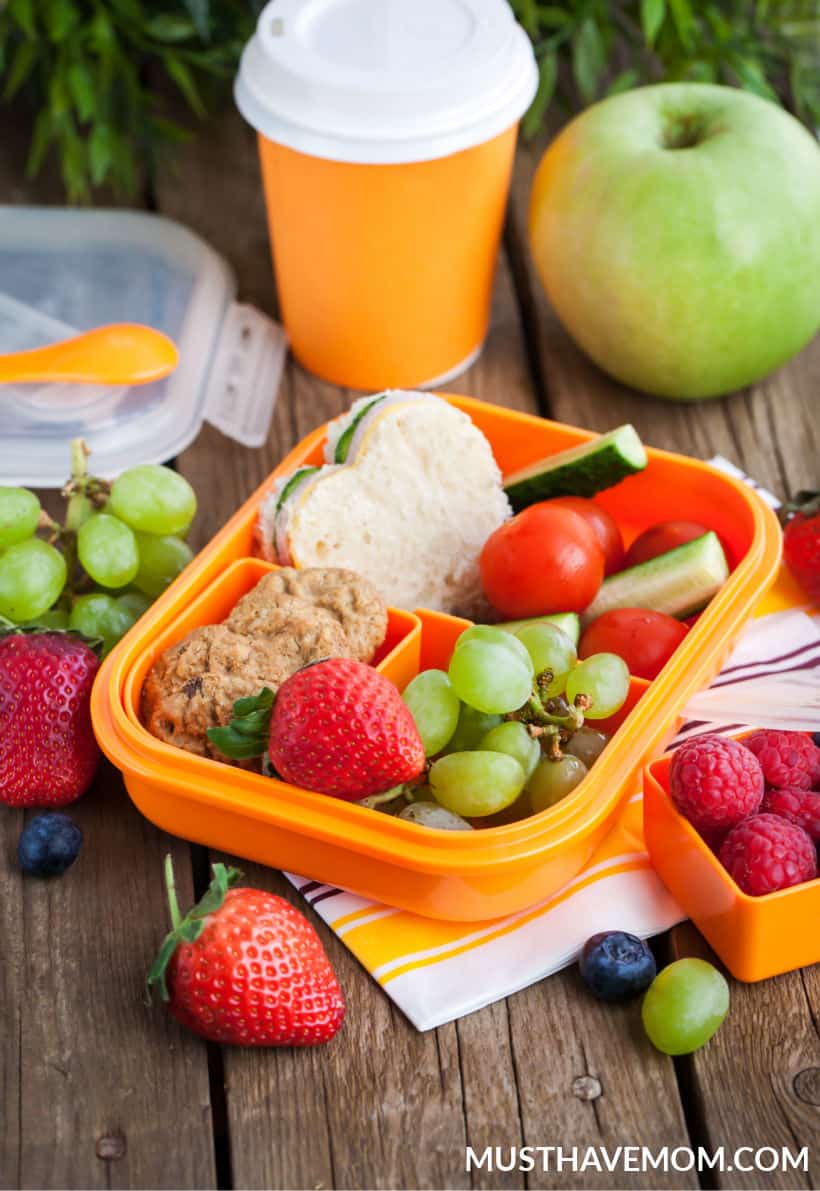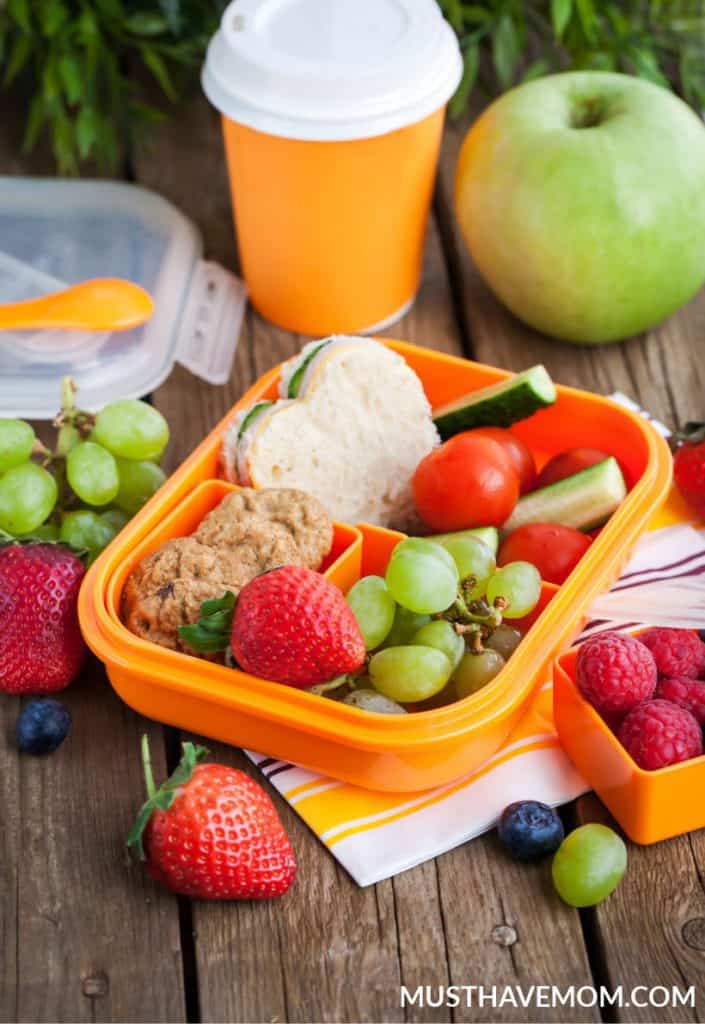 Summer is coming to an end and school is about to start. That of course means it's time to get back into a school year routine. This year may look a little different and many parents will find themselves packing more cold lunches than usual. In the past we've shown you how to pack a week of cold lunches in 1 hour, how to make healthy make-ahead lunches for the week and even gave you 20 peanut free school lunch recipes and ideas.  Today we are giving you even MORE solutions to the boring school lunch problem.
School Lunch Ideas
Packed lunches are a great option when your child isn't too fond of what the school has to offer or you want a little more control over what your child is eating.
Of course, if your child has dietary restrictions or food allergies, packing lunches is a must. Frankly, packing a lunch allows you to include healthy foods your child will actually eat and it doesn't have to cost any more than what you would be paying for lunch at school.
Packing a cold lunch every day doesn't do any good if your child doesn't eat it or ends up trading most of it away for junk food. The key is to find things that your child loves and enjoys eating. (It doesn't hurt to also tell your child they cannot trade away the food you pack.)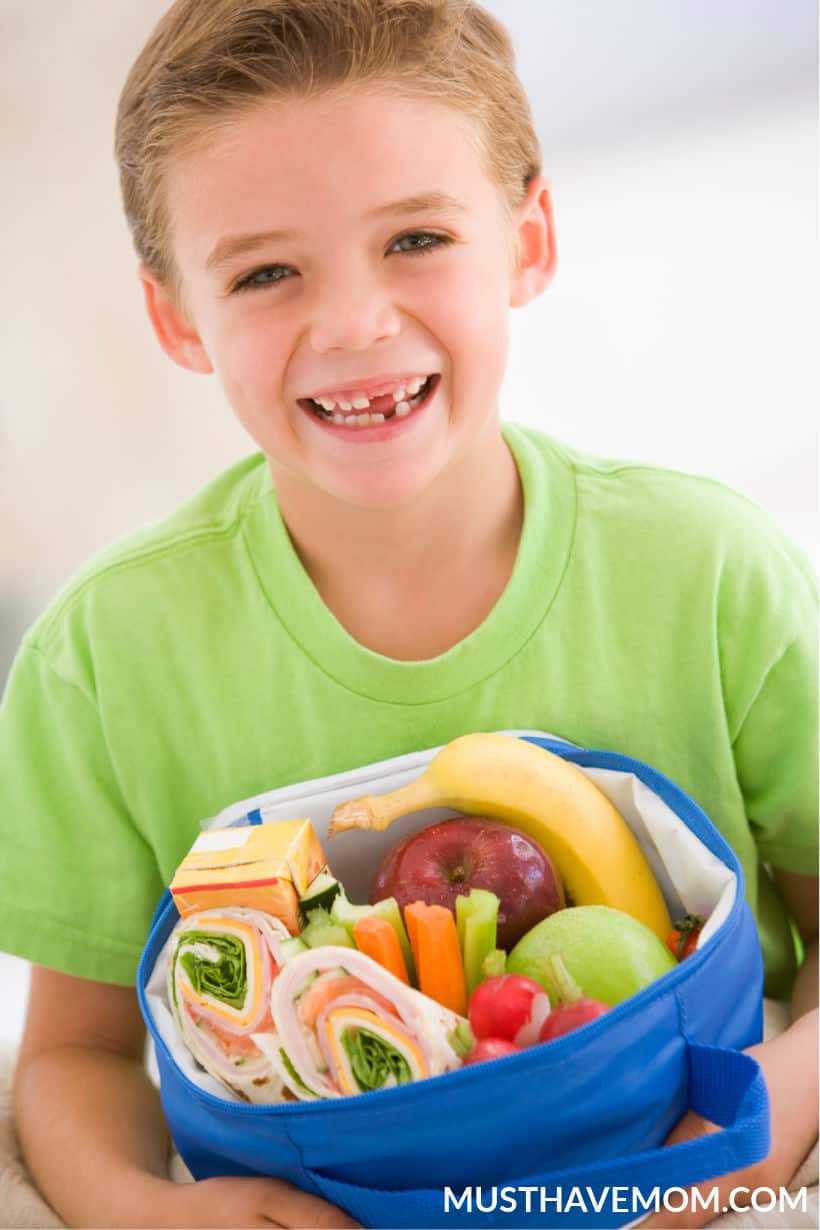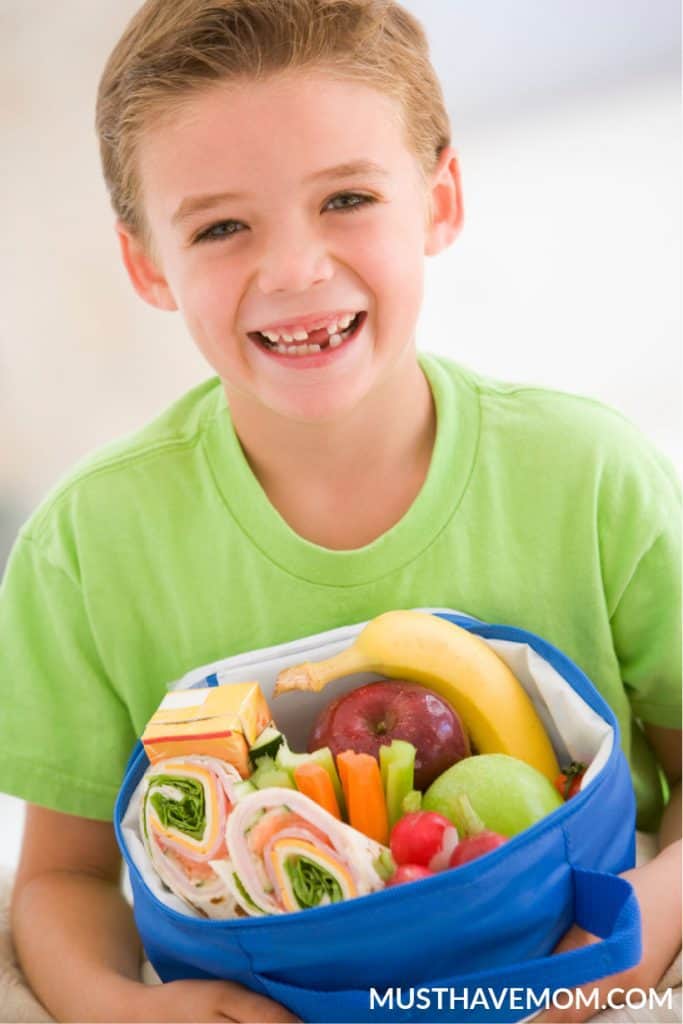 So how do you accomplish this?
The best place to start is to get your child involved. Depending on the age of your kids, you could even put them in charge of making their own lunches. Not only do you know that they'll pack something they will eat, being in charge of packing lunch will teach them responsibility.
Start by talking to your kids about what they want in their lunch box. Make a list of options and then head to the store so you have everything you need for the first week of school. Getting the kids as involved as possible will make sure that they end up with lunches they will eat. For older kids that may mean making their own lunches (under your supervision of course).
Younger children can help. Even your kindergartener can wash grapes and put them into a container, or pick a snack for his lunch box. Get in the habit of making lunches together the night before. Over time you can give the kids more and more responsibility for their lunches. This alone will help make sure they eat what they've packed. After all, it's the lunch they made. Along the way, you're teaching them independence and important life skills.
Of course, you want to encourage your kids to pack and eat healthy foods. Insisting on all healthy, organic food options all the time may not be your best strategy though. Strike a balance and make compromises. If your kids pack and eat a healthy wrap or salad for example, let them have some cookies for dessert. Teach them to make good choices, and indulge in a treat once in a while. Your goal is to get them to eat fairly healthy and make smart food choices, and include them on the process.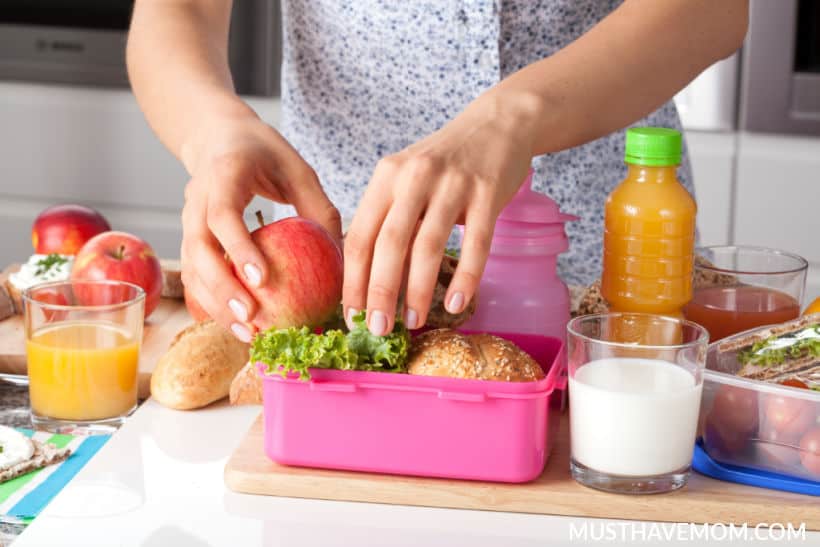 Kids School Lunch Ideas
When you think about packed school lunches, PB&J or ham and cheese sandwiches come to mind. While sandwiches certainly make for a nice school lunch, they are not your only option. Mix it up by fixing something different for your kids this school year. We've got plenty of ideas for you!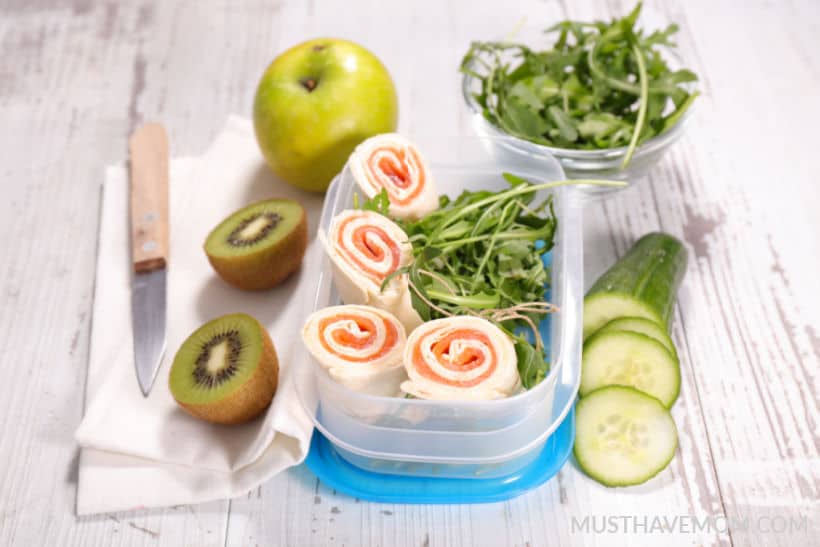 Make It A Wrap
A quick and easy alternative to a sandwich is a wrap. Grab some tortillas and fix your child's favorite sandwich as a wrap. Wraps are also great for adding lots of lettuce and extra veggies. Hummus and cucumbers make a delicious vegetarian lunch option.
When you're done adding your toppings, roll it up like a burrito and cut it in half or in slices to create little wheels. The wrap is good as is, or you can pack a small serving of salad dressing to dip. Homemade ranch dressing is always a favorite around here. Just make sure you pack it in a small, leakproof container so your child doesn't end up with ranch all over her lunch box (ask me know I know).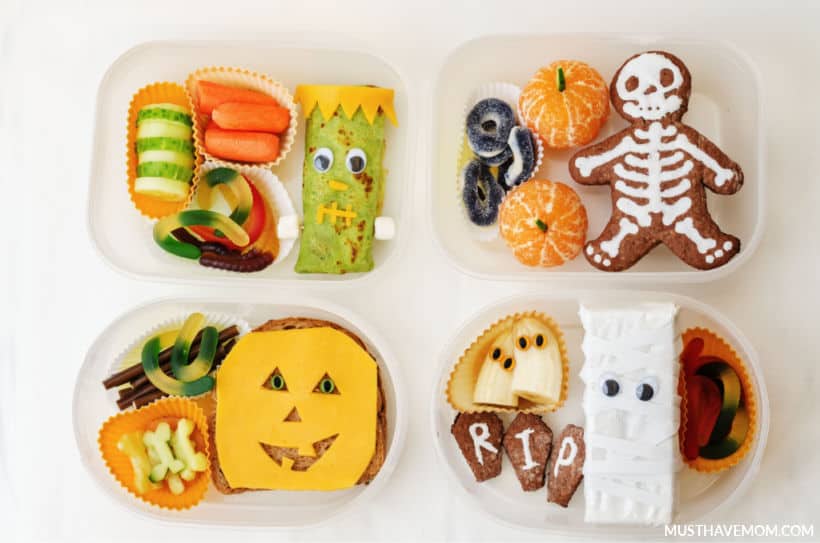 Who Doesn't Love Snack Food And Lunchables?
I have yet to meet a child that doesn't love Lunchables. But have you looked at the price of those found at the grocery store lately? Plus I'm not the biggest fan of the food options. Why not make your own version instead with fresh ingredients and food you know your child will eat. Start with some sandwich meat and cheese cut into bite-sized pieces. Add some fresh raw veggies like sliced cucumber, cherry tomatoes, and baby carrots. Throw in some fresh or dried fruit and you have a delicious, healthy, homemade version.
Of course, you can turn any of your child's favorite snack foods including popcorn, trail mix, crackers, cheese, fruits and veggies and the likes into lunch. Grab a container with lots of little dividers (bento boxes are perfect) and fill them up with kid-friendly favorites.

Healthy Salads For Lunch
Salads are another great lunch option, particularly for older children. Get a container with a tight-fitting lid and add all your child's favorite salad ingredients minus the dressing in there.
Start with a bed of lettuce greens, add raw veggies, croutons, bacon bits, nuts and seeds and the likes. Top it with a source of protein like cheese, hard-boiled egg, ham or turkey, or even some grilled chicken.
Pack dressing in a separate container along with a fork and napkin and lunch is done. You can assemble the salad the night before and store it in the fridge. The key is to make sure all your ingredients are very dry. If you're washing your lettuce, use a salad spinner, or dry it on some paper towels before starting to pack it. Cutting everything into small bite-sized pieces will ensure that the lunchtime salad is easy to eat.
Another option is to create mason jar salads. These can be made ahead for the whole week on Sunday night and then you are done! Just pack a plate and fork so they can dump it out and eat it at lunch time.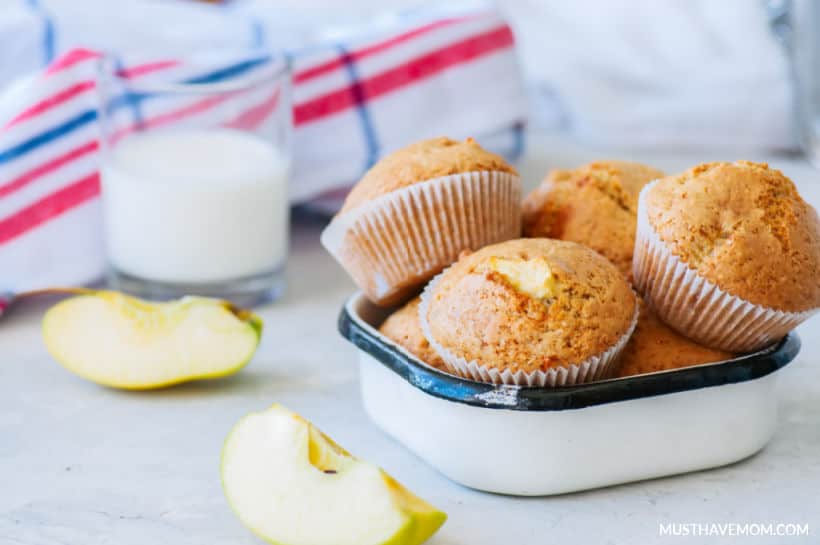 Muffins For Lunch
Muffins are a great alternative to sandwiches! Bake up a batch of muffins and pack a couple in a bento box along with fruit, veggies and some protein. My kids love these healthy pumpkin muffins! You can even bake the muffins ahead of time and wrap them individually and freeze them and just pull them out of the freezer when you pack their lunches. We've even got a recipe for pizza muffins coming soon!
There are TONS of ways to keep your child's cold lunch exciting! Mix it up and keep your sanity by using these simple tips. We'll be sharing how to pack hot lunches for cool fall days, simple tips to get organized and make fixing lunches easier and easy lunch recipes in the coming weeks so be sure to subscribe to get notified when we share them!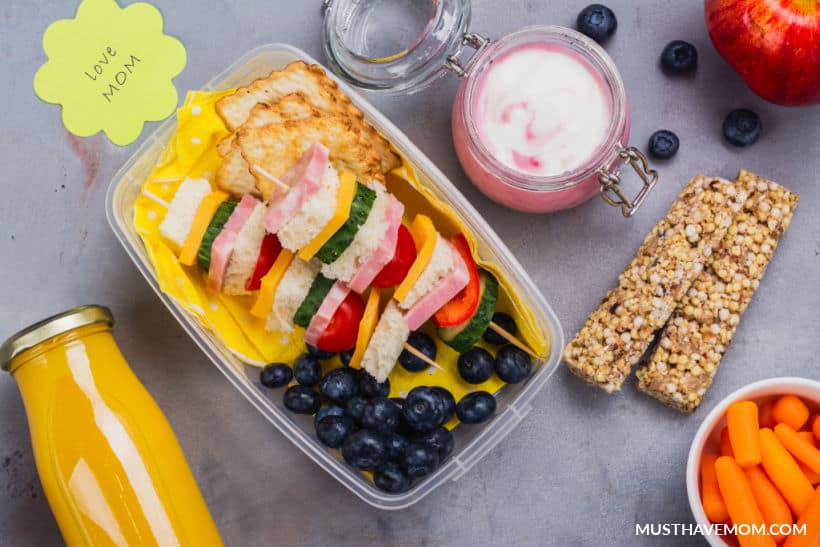 Kids Kabobs
Mix up those boring cold lunches by serving up some kabobs! Everything is better on a stick and cold lunches are no exception. Try these shorter 6″ skewers to fit in their lunches.
The sky is the limit when it comes to cold lunch kabobs and you can use all sorts of things to make fun kabobs for kids. Try cutting up the sandwich fixings into squares and skewering them. You can also do a fruit kabob using grapes, cubed melon, strawberries, kiwi, oranges and more. Veggie kabobs are fun too. Use bell peppers, celery, cherry tomatoes, cucumbers and broccoli.
Kids like cold hot dogs (my youngest does!)? Skewer some hot dogs with cubes of cheese in between. Summer sausage and lunch meat are great options alternated with cheese too. You can even try pepperoni alternated with balls of mozzarella cheese.
There is no reason you can't have breakfast kabobs either! Alternate mini pancakes with blueberries and strawberries for a fun treat. Serve yogurt on the side to dip in.
Get creative!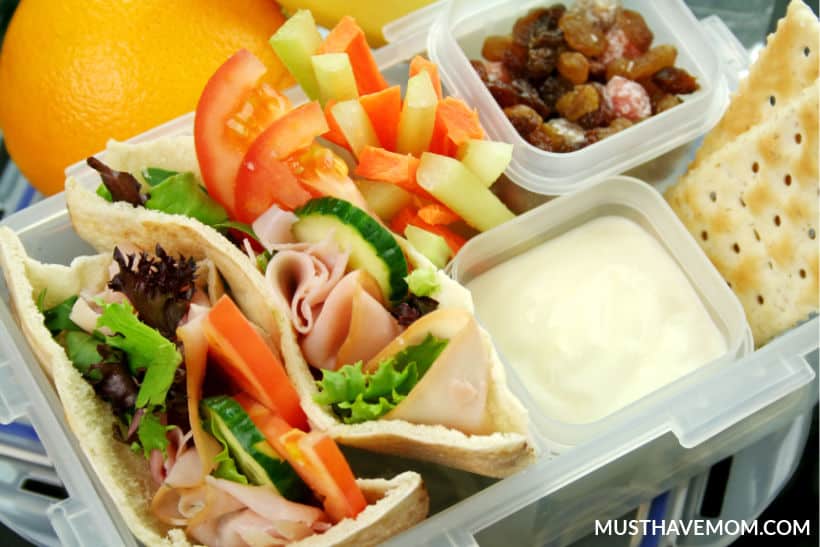 Pita Pockets
Pita pockets are yet another way to skip the boring sandwich between two slices of bread and mix it up a little. Instead of using bread or a wrap to make your favorite sandwich, use a pita pocket stuffed with all the fixings instead. 
Try turkey and cheese with veggies, peanut butter and bananas, a vegetarian pita pocket stuffed with fresh veggies and dressing on the side or even a bacon, lettuce and tomato pita pocket. 
Anything you can make in a sandwich you can turn into a pita pocket instead!
---
As you can see there are TONS of ways to spice up your cold lunch routine and make lunches that your child will actually want to eat. Keep this page pinned or bookmarked for the whole year so you can always come back to it for fresh ideas!
Pin School Lunch Ideas
Pin this so you can find it easily later!