Pack A Week Of School Lunches In 1 Hour!
See how you can easily pack a week's worth of school lunches for your child in just 1 hour! Prep them ahead of time to save you time (and sanity) in the coming week. With these cold lunch ideas you're sure to keep things exciting all year long.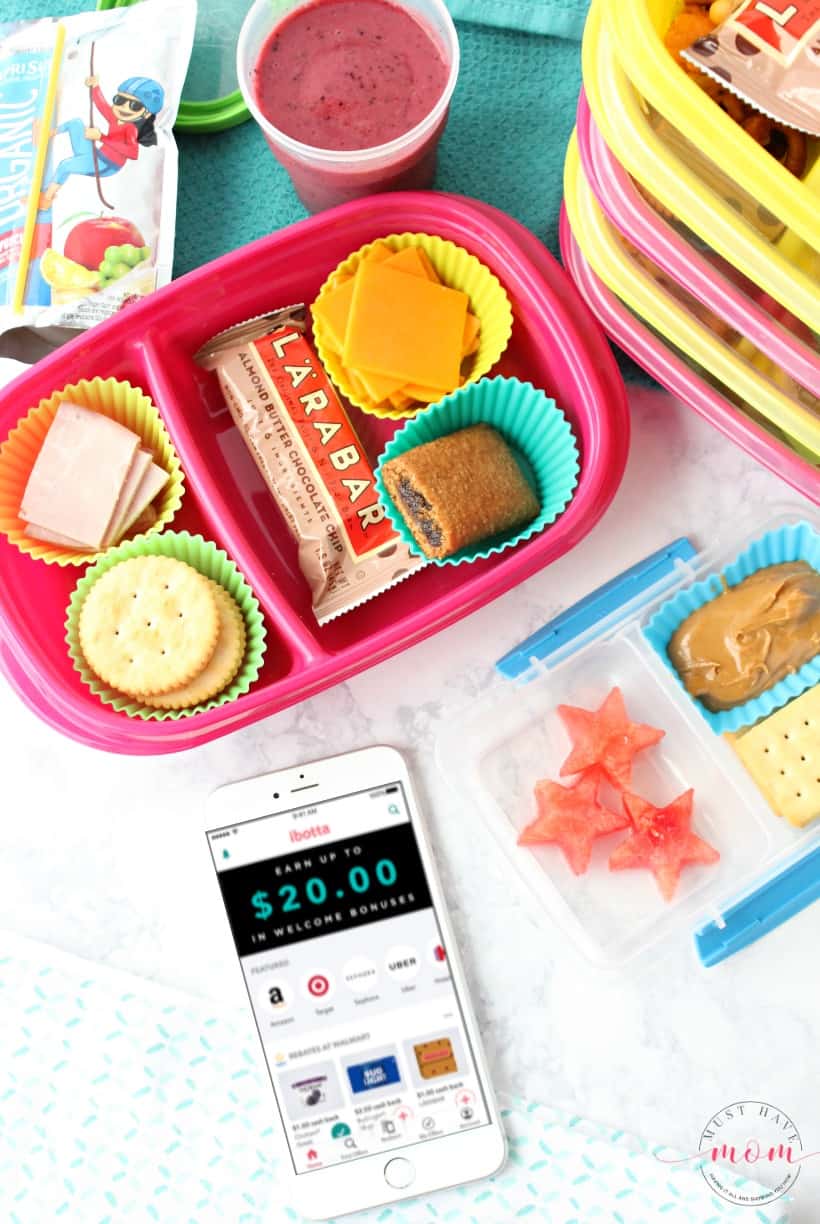 If there is anything I hate about back to school time it is the return of the dreaded lunch packing chore! I start of the school year really gung-ho and excited to pack these amazing lunches for my kids and about 3 weeks in I'm completely burned out on it and tossing together whatever I can the morning of school. This creates a stressful, chaotic morning and isn't the way to start anyone's day. I'll show you how I have revamped my school lunch packing system this year and how you can easily pack a week's worth of school lunches for all of your kids in just one hour!
Why I Pack A Week Of Lunches In 1 Hour
You can save yourself tons of time and frustration by packing a week's worth of lunches in an hour or less. Your mornings will transform from chaotic and stressful to organized and relaxed. I hate sending my kids out the door after a chaotic morning. It just feels like I'm sending them out to start their day on the wrong foot. Now that I pack their lunches on Sunday night, I can relax and enjoy mornings with the kids and really engage with them instead of being distracted and running around trying to whip together a lunch for each of them.
I like to plan and be organized and also save money when I can. Having a household of six people with four kids in school means we go through a LOT of food in a week! While I used to be a crazy coupon lady, I no longer have time to clip coupons and scout sales, but that doesn't mean I can't save money on my groceries. I use the Ibotta app to quickly and easily save myself time and money without having to clip coupons. Before I go grocery shopping for the week of lunch supplies I scan through the Ibotta app and see what items I can save money on. I then plan the week of cold lunch ideas based on those items.
How To Save On Groceries With The Ibotta App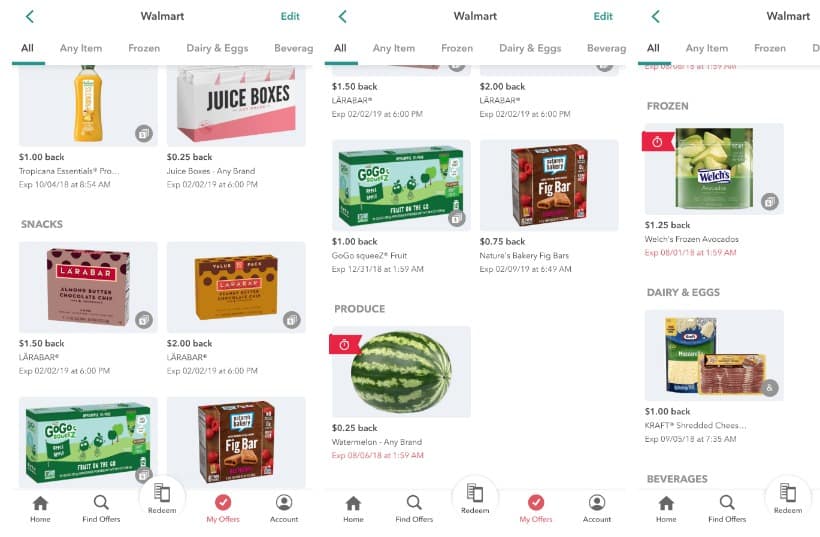 This week I checked my Ibotta app and found some GREAT savings on lunch items that my kids love. (All offers were valid as of publish date. Don't forget to check your app for details as offers change frequently and may not be available in all areas.) Based off these offers I planned for a week of lunches for my four kids using these items. I'll show you what I made with the items I bought from these offers. Haven't used Ibotta before? It's easy! I'll show you quickly how it works so you can effortlessly save money on your groceries too.
Start by downloading the free Ibotta app, it works on iOS devices and Android. There are no subscription fees or in app purchases so don't worry about that! As a new shopper you'll receive up to $20 in welcome bonuses as well. Ibotta can be used at many stores and on just about every category of household and grocery supplies and so much more.
Once you've downloaded the app then you can peruse the offers and add your favorites. Then buy the products and upload your receipt to redeem your cash back. It's that simple! Now that you've downloaded the app you can go grab some offers and save on your cold lunch ideas for the week as well! Now let's talk about how to pack a week of lunches in an hour or less!

How To Pack A Week Of Lunches In 1 Hour
Based off the Ibotta offers that I was able to redeem, I planned for making pizza pinwheels, frozen smoothies (these are great because they thaw by lunchtime), meat/cheese/crackers/peanut butter and watermelon paired with some of the lunch snacks that I redeemed like the GoGo Squeeze, Larabars, Fig Bars and juice boxes. The key to packing lunches ahead of time is to pick things that hold up well in the fridge and don't get soggy. I also like making things that freeze well like smoothies.
I also like using bento box style containers and packing it all and then sticking it in the fridge so the kids can easily grab them and pack them in their bags. There are a TON of things you can use to mix up this routine and keep the food ideas interesting. I'm giving you an example of a week of lunches to get you started and then you can let your imagination go from there. Like I said, I like to base it off the current Ibotta offers as a jumping off point for each week.
Cold Lunch Ideas
Here are some cold lunch ideas that I used to pack a week of cold lunches for my four kids. These are all items that hold up well for 5 days in the fridge and keep my kids interested in their lunch selections. Mix them up or pack them the same for each day, that depends on your preferences.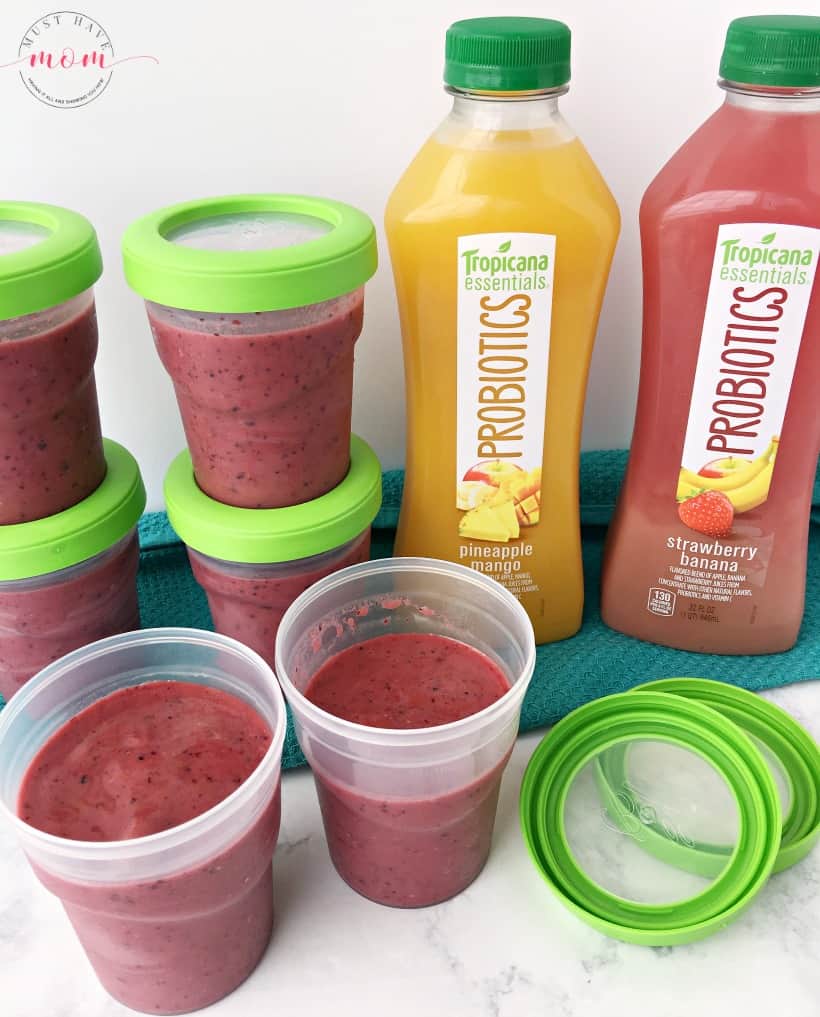 Frozen Smoothies
I used the Tropicana probiotic juice and frozen avocados that I got with the Ibotta offer to make some smoothies. I also added in frozen fruit and yogurt to complete the smoothie. I blended them together and portioned them into plastic freezer jars (commonly used for canning) and froze them. I then pack them in their lunches in the morning and they thaw by lunch! My kids LOVE these.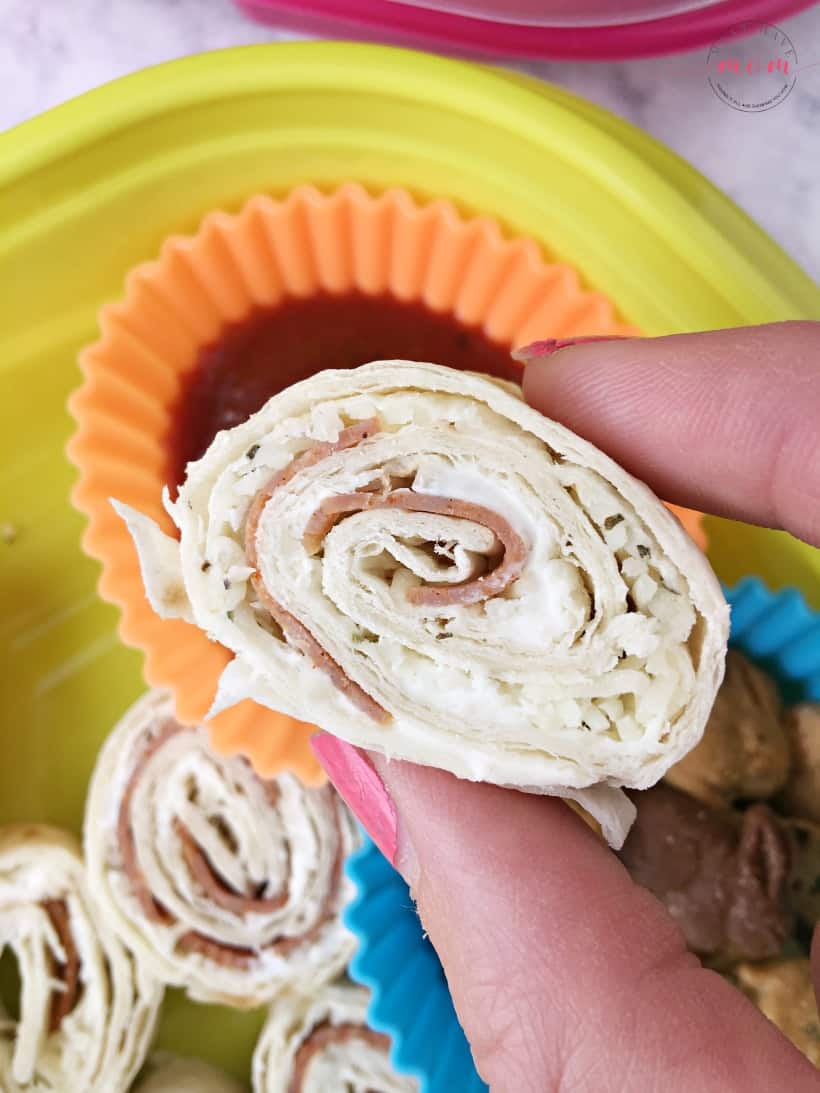 Pizza Pinwheels
I love changing things up from the boring sandwich routine and these pizza pinwheels do just that! Get a flour tortilla and spread cream cheese (or Neufchatel cheese) over the whole thing. Sprinkle mozzarella cheese over it. Add some Italian seasoning and garlic salt, then top with pepperoni. Then roll up the tortilla and slice into 1/2″ slices to make the pinwheels. I used the mozzarella cheese from the Ibotta offer. Then I serve with pizza sauce for dipping.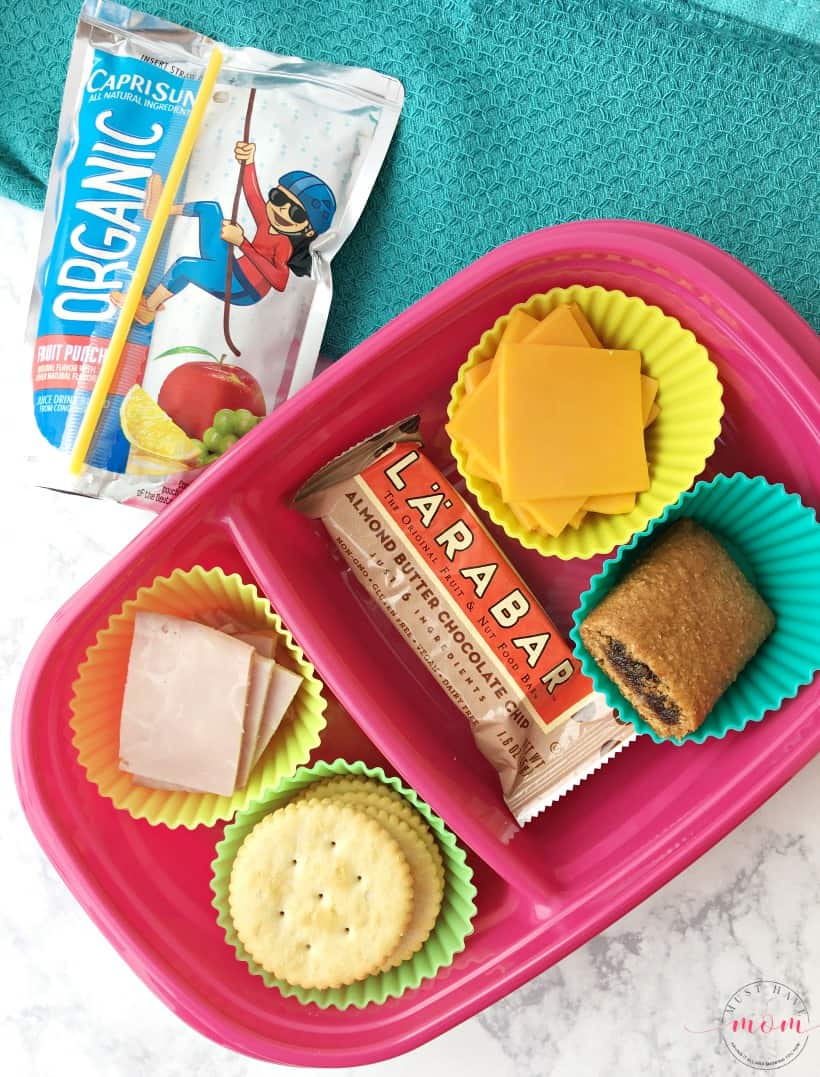 DIY Lunchables
Skip the lunchables and make your own for much less with crackers, ham or turkey and cheese. Make them in a bento box and pair with a GoGo Squeeze applesauce pouch and Fig Bar along with a juice box (thanks to Ibotta I even got cashback on my choice brand of juice boxes).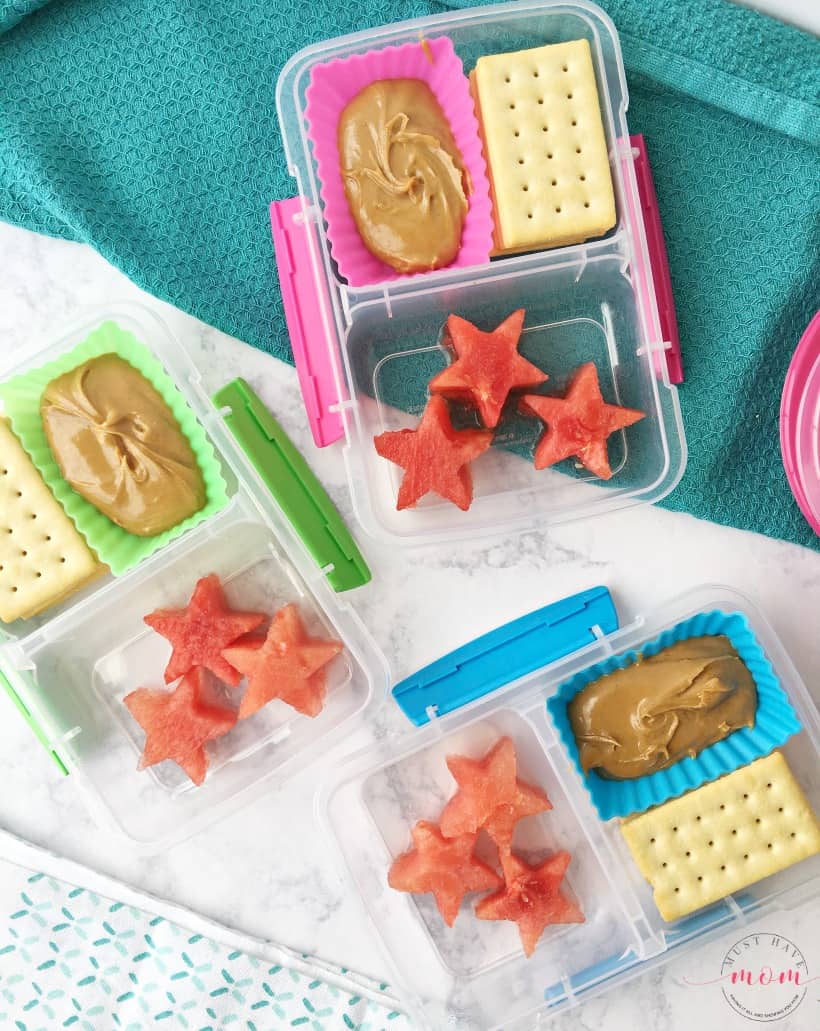 Pre-Cut Fruit
I was able to get cash back on a watermelon which is so rare so I was really excited about that offer. By pre-cutting the fruit and portioning it into containers for the week you save yourself a ton of prep time later. Pair it with some crackers and peanut butter for a healthy snack container or addition to your child's lunch.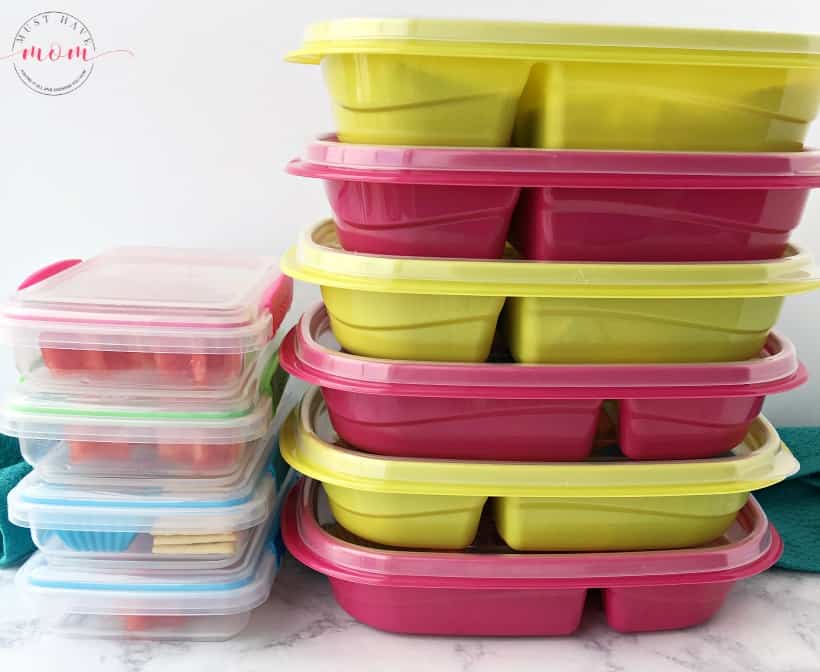 As you can see it is EASY to pack a week of lunches in under an hour each week. This is worth putting the time and effort into so you can buy yourself peaceful mornings before the busy day begins! I hope these cold lunch ideas inspired you to change up the routine and get ahead of the chaos.
As summer comes to a close, easing back into your usual routine can be hard. Luckily, getting cash back with Ibotta is easy! Download the free Ibotta app and start earning cash back today.
Pin A Week Of Lunches In Under An Hour