5 Brain Boosting Activities To Do With Your Baby!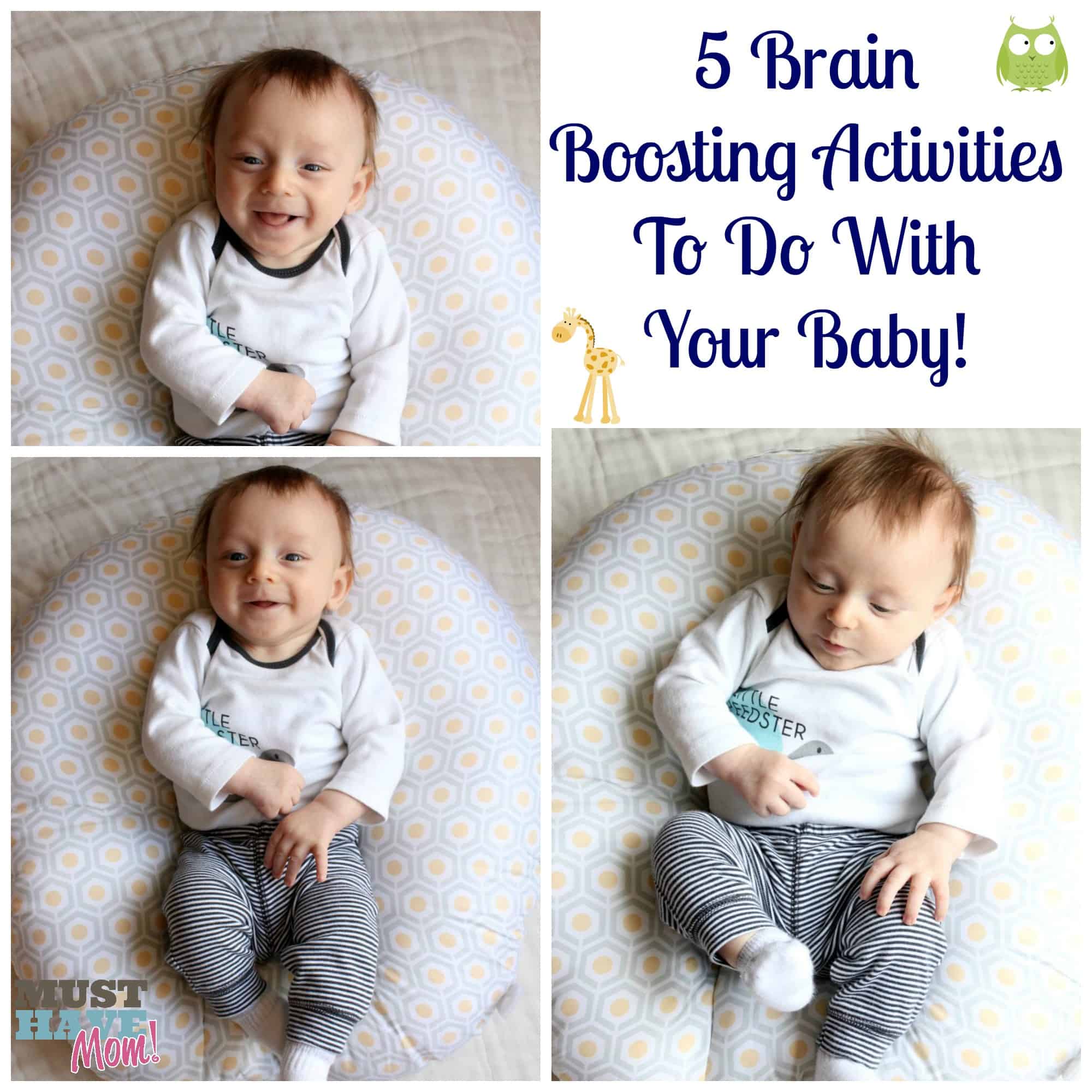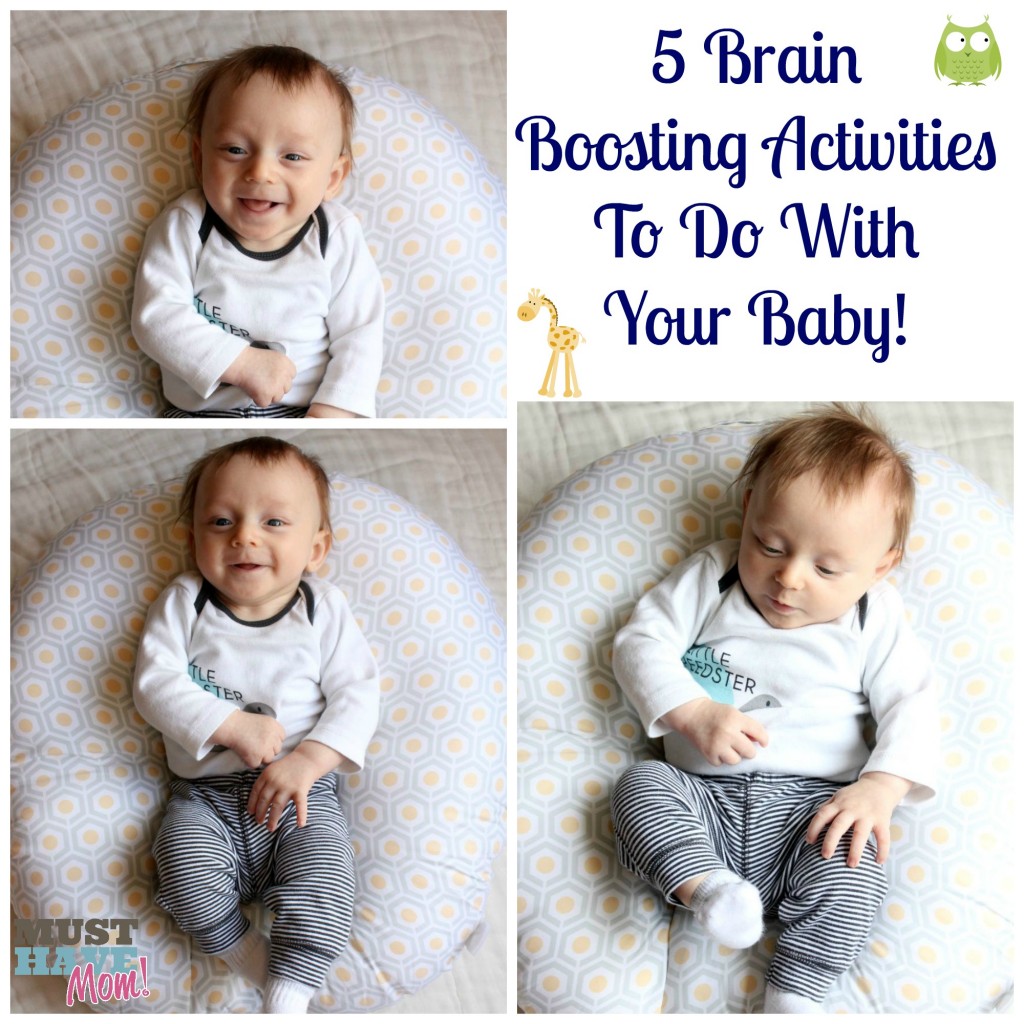 So you've mastered the swaddle. You've got breastfeeding down pat (not yet? Check out my breastfeeding must have checklist). You're a diaper changing pro. Now what? How do you play with your baby when they don't do much yet? Although you may not know it yet, play is a very important part of your child's development, even at a very young age. It helps to form brain pathways and put together the puzzle, so to speak. The best way to engage with your baby at 0-3 months old is to engage his senses. Their world is limited to that which is right in front of them. They are still nearsighted as their vision hasn't fully developed to see far away objects yet and EVERYTHING is new to them. That means that helping them discover new things is easy and fun!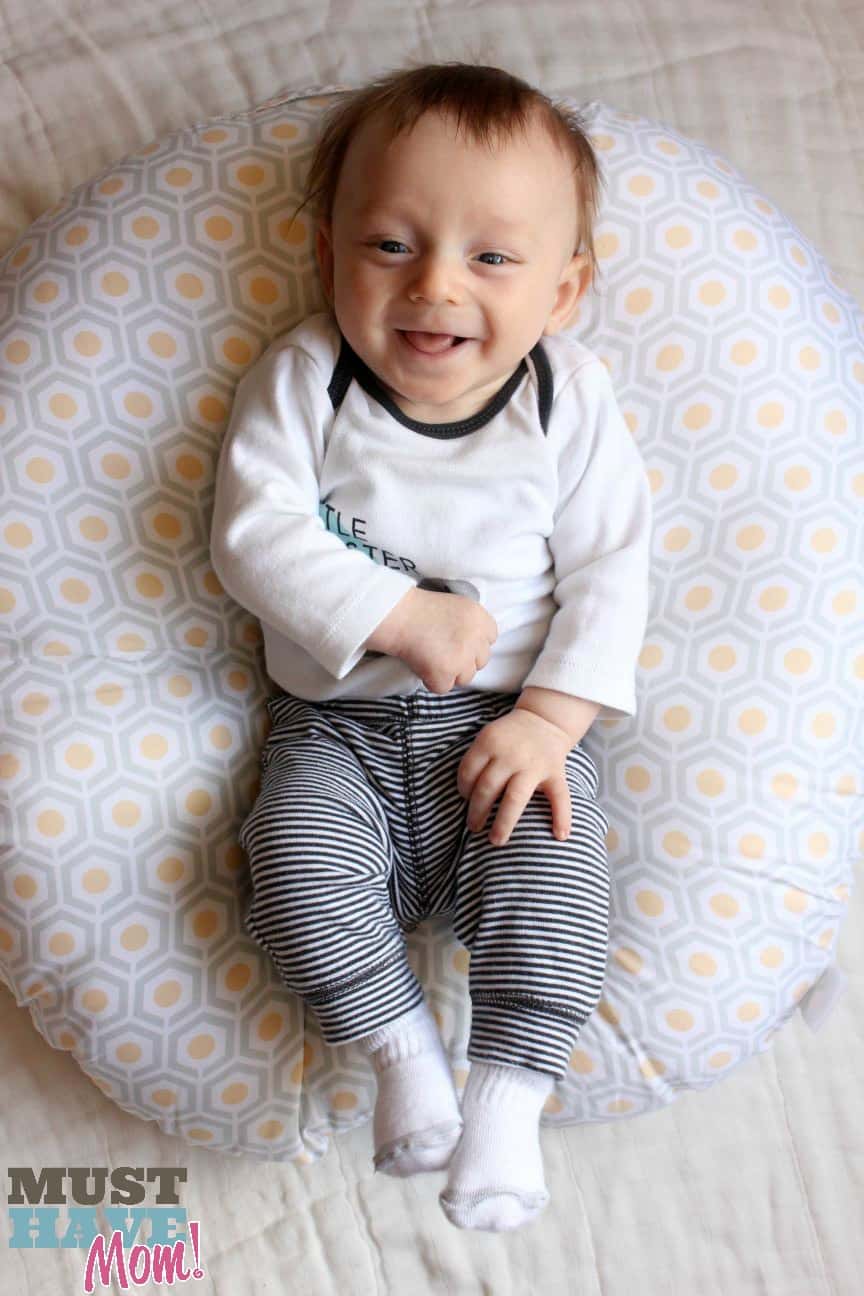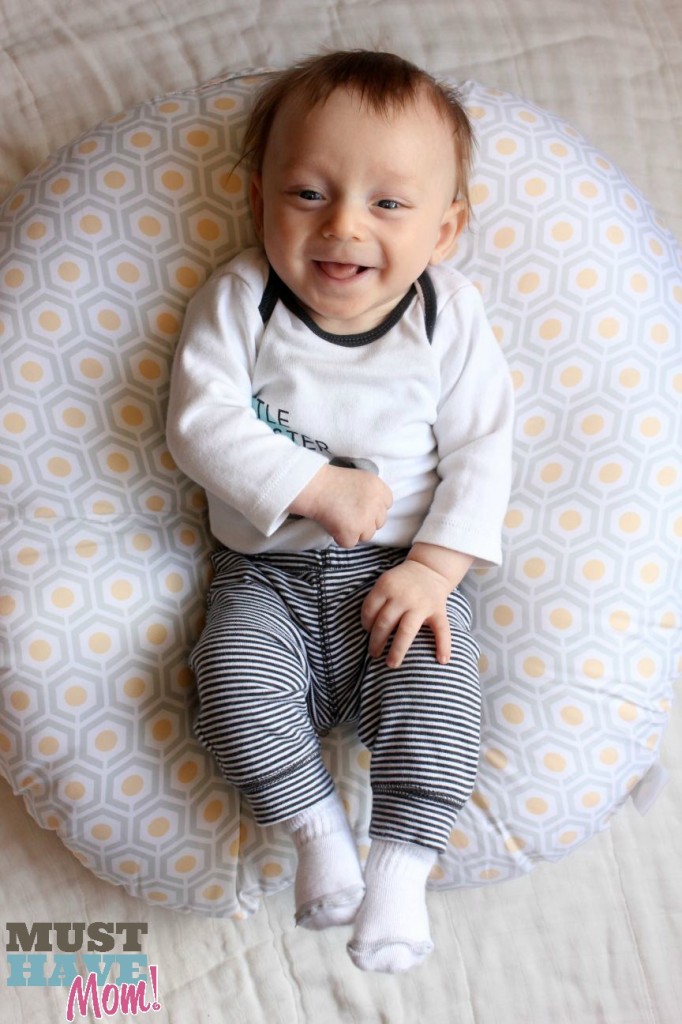 Here are 5 Brain Boosting Activities To Do With Your Baby!
1.) Let's start with baby's sense of touch! Take a silky scarf
from your closet and run it gently through baby's hands and across his face. Let him feel the cool, silky fabric as it glides across his skin. Go slowly so you don't overwhelm his senses. Continue while baby smiles and looks for the scarf. Babies move slowly so give him time to process what is happening. If he cries or looks away then it's time to stop or find a new activity.
Having a comfy place for baby to sit while you play is important. You want your hands to be free so you can be in front of baby where he can see you. I love the Boppy Newborn Lounger
for my playtime with Brady. It is specifically designed for baby's awake time which makes it ideal for interactive play with your baby. It has a recessed interior where Brady's bottom rests snugly and he can lay or kick and coo. He loves it.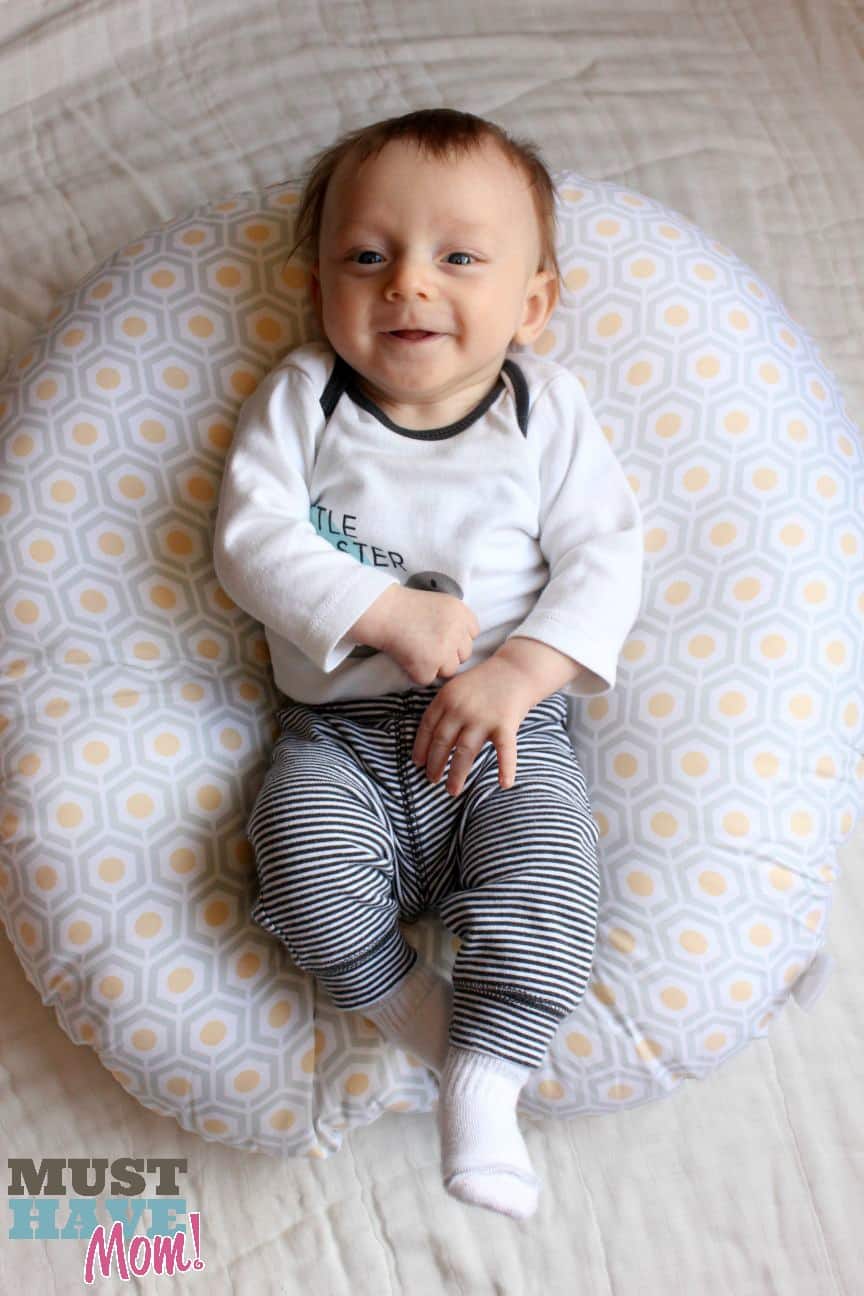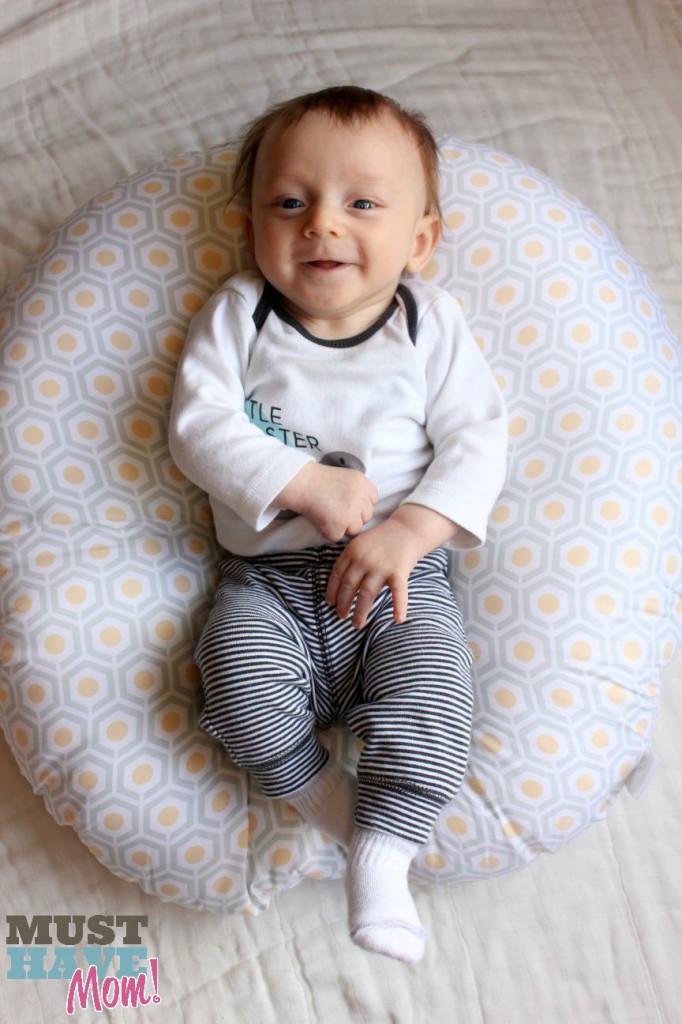 2.) Engage baby's sense of sight! Use simple black and white objects
to engage with baby. They can see black and white colors best at this age. Use board books
to show various images or simple toys to interact with baby.
3.) Engage baby's sense of hearing! Make clicking noises with your mouth and change the pitch of your sounds. Watch as your baby's ears perk up and he tries to listen. Sing songs to your baby. It doesn't matter if you don't have a great voice. He prefers your voice to any other. Sing to him and be sure to smile while you sing. He's studying your face.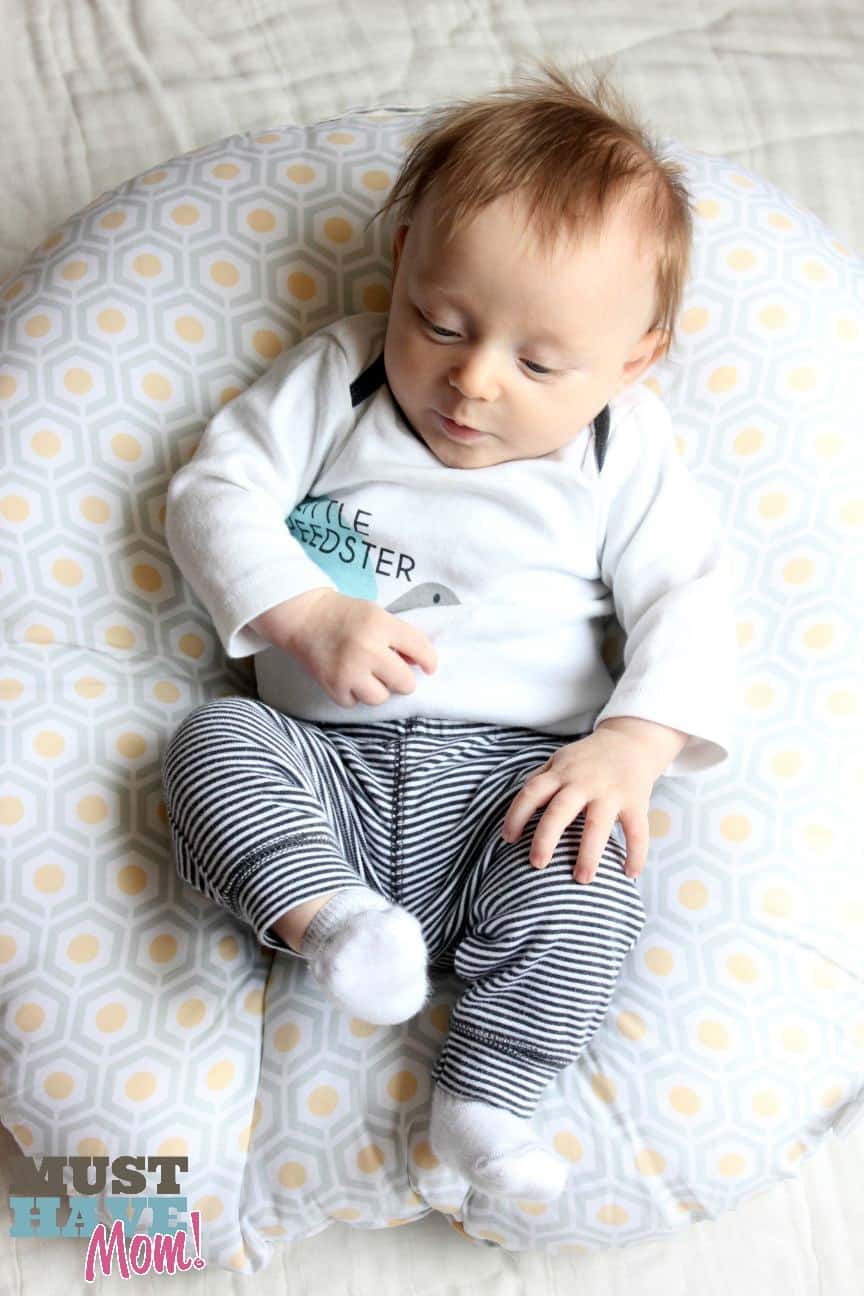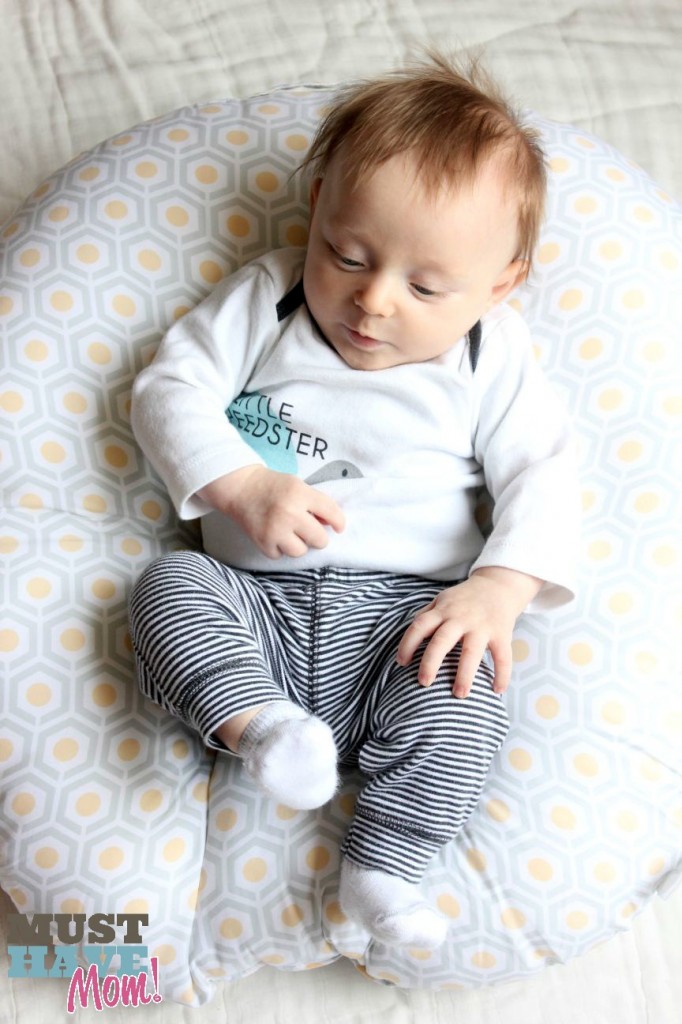 4.) Help baby find his toes! I love watching Brady discover something new. He recently discovered his toes! I love seeing the look of awe in his eyes as he tries to figure out what those things are down there! Help baby discover his hands and feet by allowing him to grasp your finger and showing him his hands. Help engage his interest in discovering his hands and feet by adding in some foot rattles
or wrist rattles. It will entice your baby to find the source of the noise coming from the rattles.
5.) Mimic Game! When your baby is little you need to start this game very slowly. Stick your tongue out and hold it there while your baby studies your face. Your baby will attempt to mimic what you are doing. They will then stick their tongue out! I love this game. It takes repetition before baby understands it but before long they will be copying you. Open your mouth and wait for baby to open his mouth. Close your mouth. Repeat 🙂 This one is fun!
Make sure to add all of these items to your baby registry! You can easily add all the items you need from this post (just scroll down) and sign up for Amazon's baby registry to easily add them to your list!
See more on the Boppy Newborn Lounger
which we love in this short video! You can also follow Boppy on Facebook for more great products to make your time with baby more enjoyable!
Receive 20% off your Boppy Newborn Lounger
with this promo code: NBL20
 What games do you play with your baby?
This is a sponsored conversation written by me on behalf of Boppy Newborn Lounger
. The opinions and text are all mine.