Healthy Make Ahead Lunches for Back To School!
Cold lunches can get boring in a hurry, but not with these healthy make ahead lunches for back to school. I'll give you my favorite quick and easy tips to pack a healthy lunch every day. The best part? You can prep these on Sunday and your child can pack their own healthy lunch with my guided system!
*This post has been sponsored ZonePerfect. All thoughts and opinions are my own.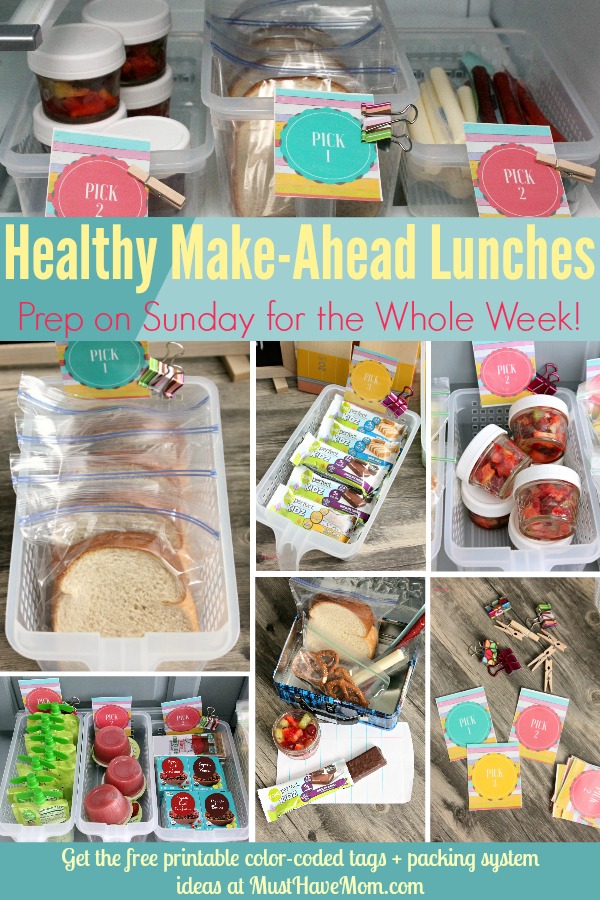 I am always struggling to come up with lunch ideas and I get frustrated with my kids lunches coming home only half eaten. When I started to think about it I realized that a lot of times when their lunches came home untouched their response was "I just didn't feel like eating that". It wasn't that they didn't like the lunch, it was that they weren't in the mood for what I packed. I know I don't always feel like eating the same things over and over so I devised a new system that would allow them to pack their lunches everyday, but would guide them so it was a healthy lunch. If I left it up to my 7 year old son he'd pack a cookie and a juice box along with a bag of potato chips and call it good. With my healthy make ahead lunches system, my kids can still pick what they want to eat, but at the end of the process they end up with a healthy, well-rounded lunch.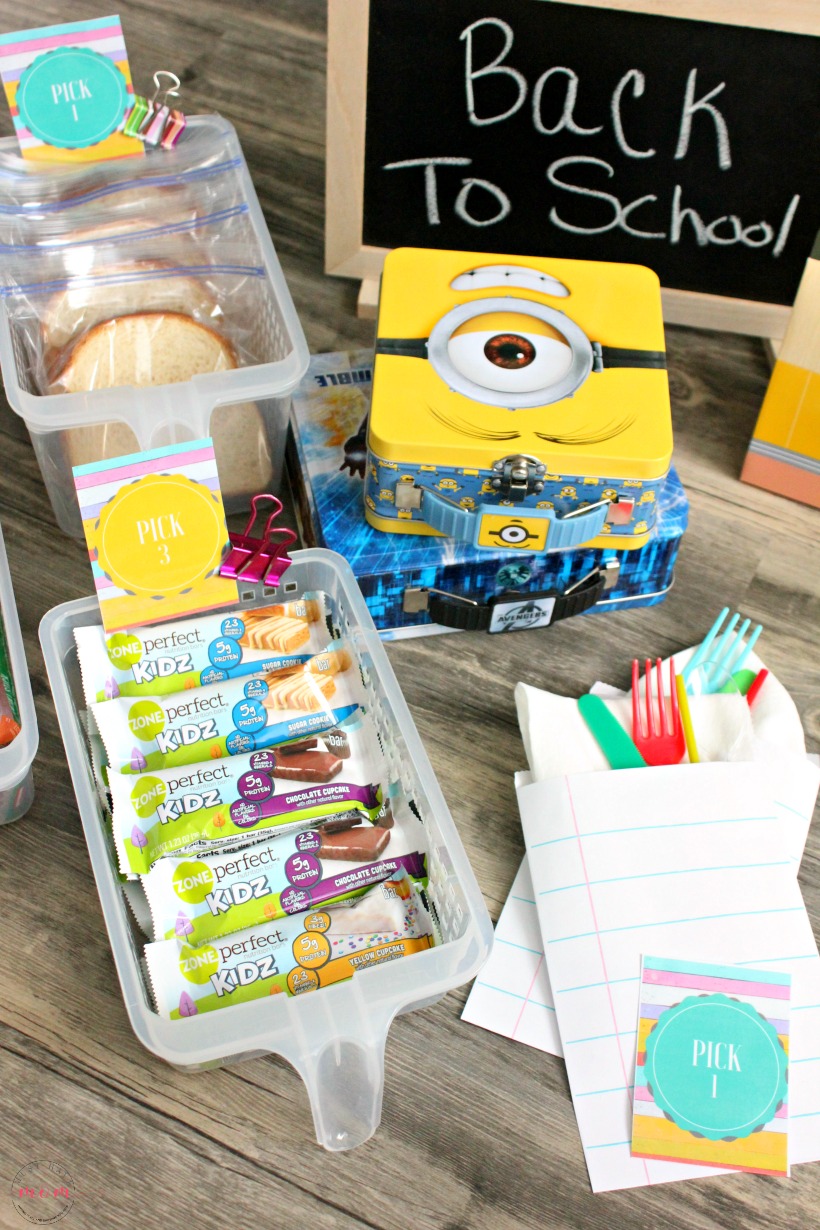 I hate the morning rush to pack everyone a lunch, feed them breakfast, make sure they are dressed and get them out the door. I came up with a way to prep an entire week of lunches on Sunday so I am only prepping lunches once a week, instead of five times a week. It's genius and has saved lots of time and frustration in the mornings. Plus the kids eat more of their lunch since they chose what they wanted to eat that day. My healthy make ahead lunches are kid pleasing and come home eaten every day.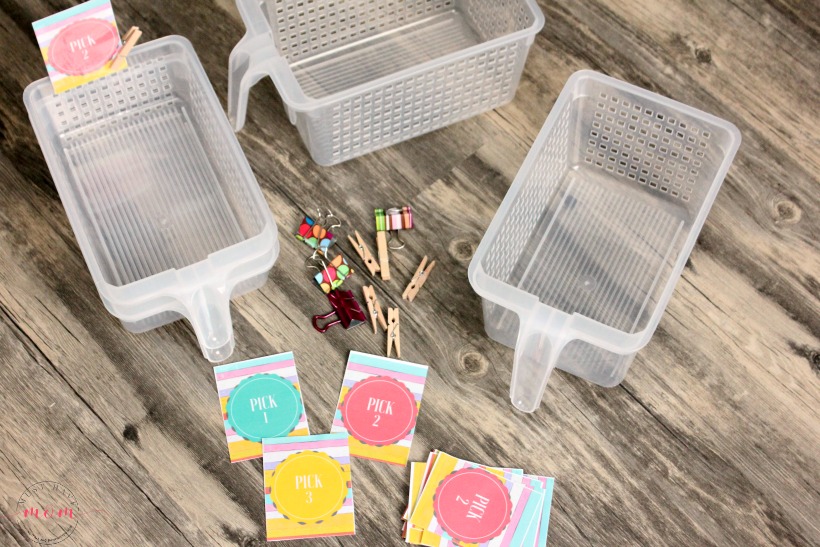 First, you'll need to get some organizing containers. I picked up some inexpensive pantry baskets to organize our lunch foods in. You'll also need some clips or mini clothespins and my free printable lunch system cards.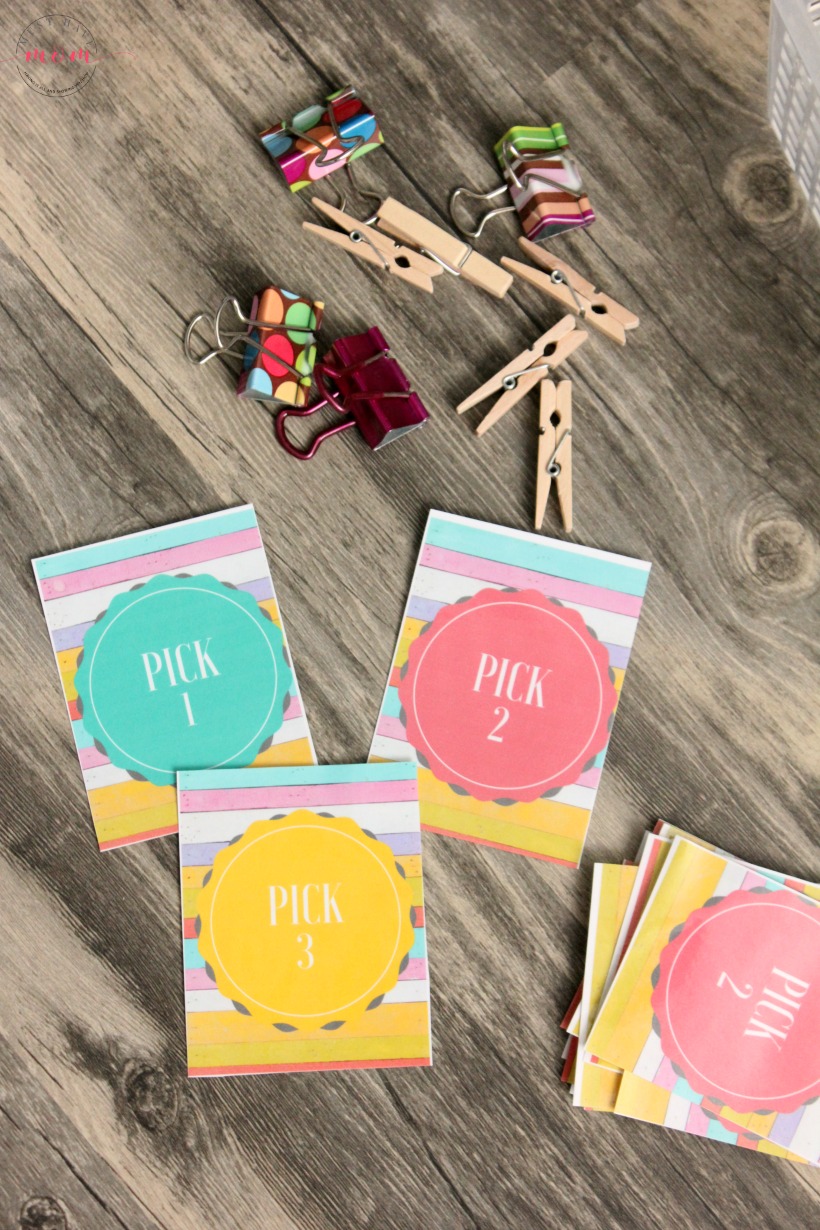 Print out the lunch system cards and then laminate them and cut them apart.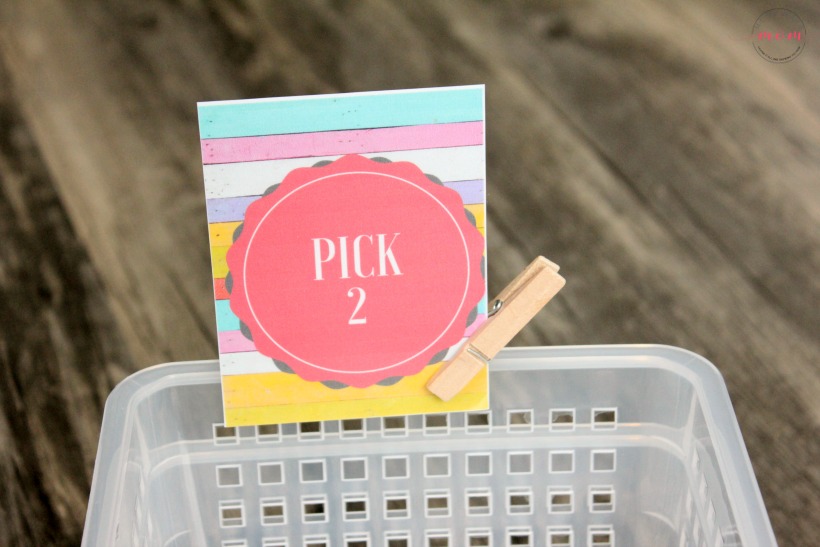 You can use mini clothespins or clips to hold each card on your pantry basket. Now you'll want to decide how many items of each category you want your child to pack in their lunch. The cards are color coded and allow the child to "Pick 1", "Pick 2" or "Pick 3" of each item in that color category. For example, I put the pink "Pick 2" tag on carbohydrate snacks like veggie chips and pretzels. They can pick any 2 items from that color category (not any 2 from each basket).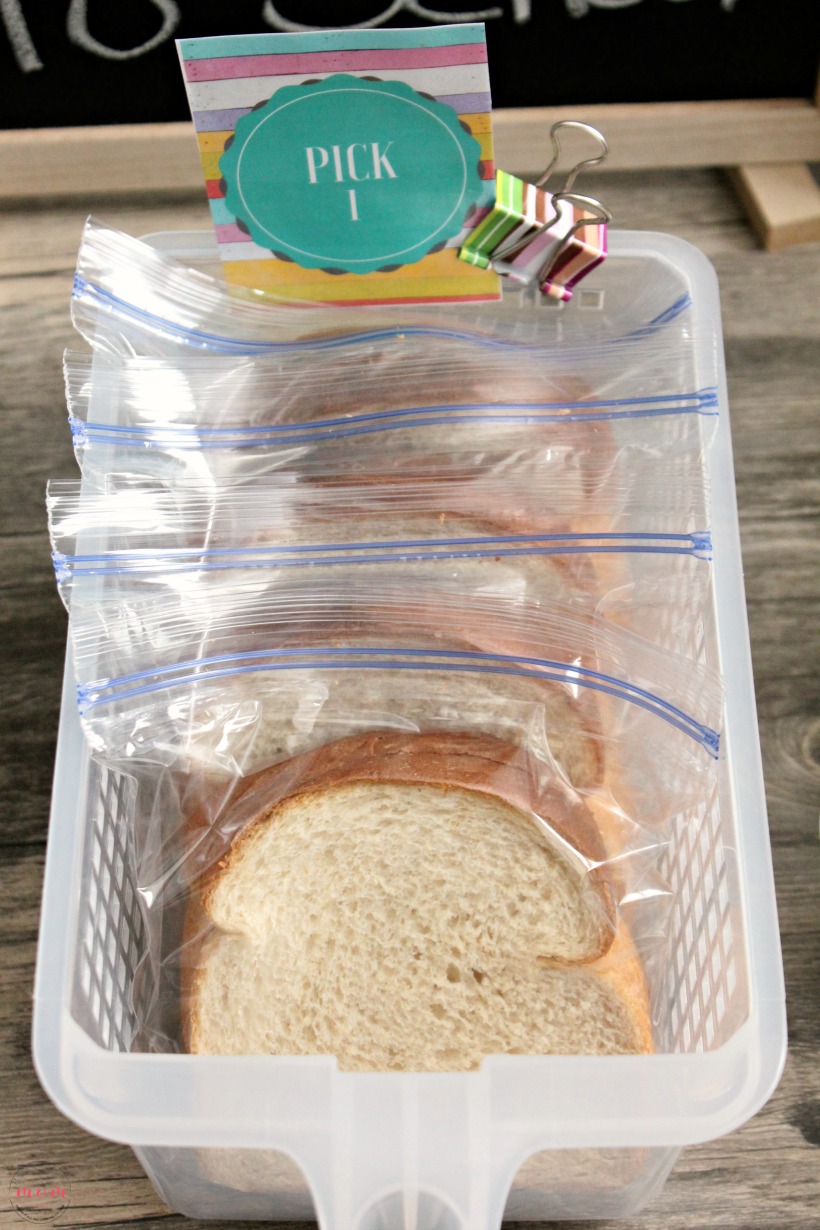 For your "Pick 1" category you should ideally have the main food for their lunch. This can include things like sandwiches, quesadillas, tortilla pinwheels, crackers with meat and cheese, etc. You can prep all of these things on Sunday. My kids are pretty boring and prefer a simple PB&J sandwich. I make a week's worth of sandwiches on Sunday and freeze them. When they are ready to pack their lunch they grab one from the freezer and by lunch time it is thawed and ready to eat. It's like making your own homemade uncrustables at a fraction of the cost at the store. I recommend putting peanut butter on each slice of bread first and then putting jelly so that the jelly doesn't soak through the bread and make it soggy. You can use a sandwich cutout if your kids don't like crust too.
This also works for meat and cheese sub sandwiches. Just place the meat on each side of the bread and sandwich the cheese between it so it doesn't get soggy. Then freeze. If your kids like lettuce, mayo and tomatoes on their sandwich then make baggies of those separately and place in the fridge so everything stays fresh for the sandwich once they are ready to eat it.
If your child is a fan of salads then you can make those ahead of time too! Use the directions and recipes in this mason jar salads post to pack a week of salads and keep them fresh for 7 days! My son Carson LOVES salads and often will just order a salad when we go out to eat. Packing him salads for his school lunch is a great way to mix up the routine and give him something he loves.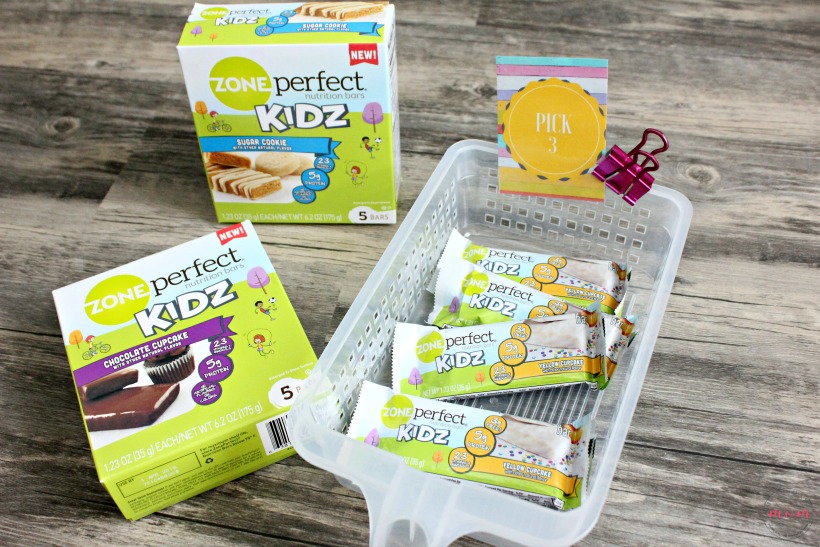 My kids are generally pretty light eaters so I want to make sure I get plenty of protein choices in front of them. Since my kids also have a sweet tooth I found a genius way to swap out a dessert snack for a protein packed treat that tastes just like dessert, but packs a nutritional punch.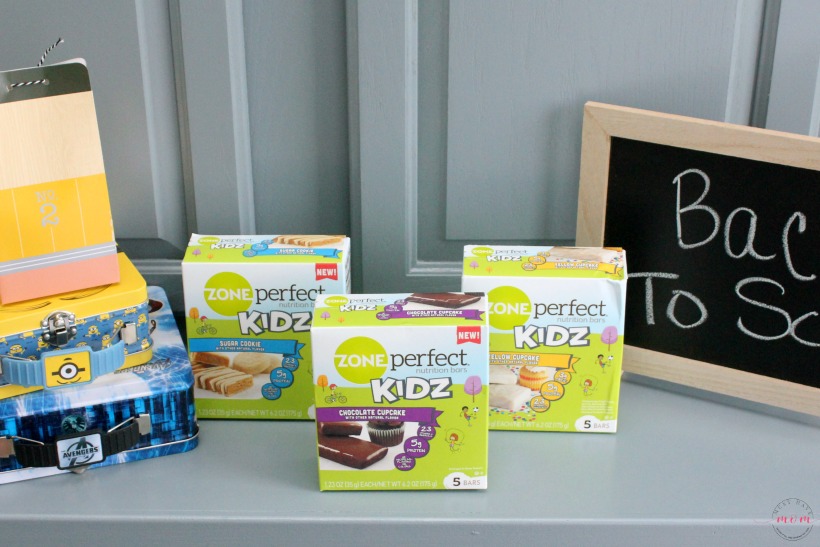 I found these ZonePerfect nutrition bars at Target in yummy flavors like chocolate cupcake, yellow cupcake and sugar cookie. They pack 5 grams of protein, 23 vitamins and minerals and have no artificial flavors or colors. I felt like I hit the jackpot, but the real test would be if my kids thought they tasted like dessert. I grabbed all 3 flavors and brought them home for a taste test. My kids literally devoured their taste test portions and begged for more. I count that as a win!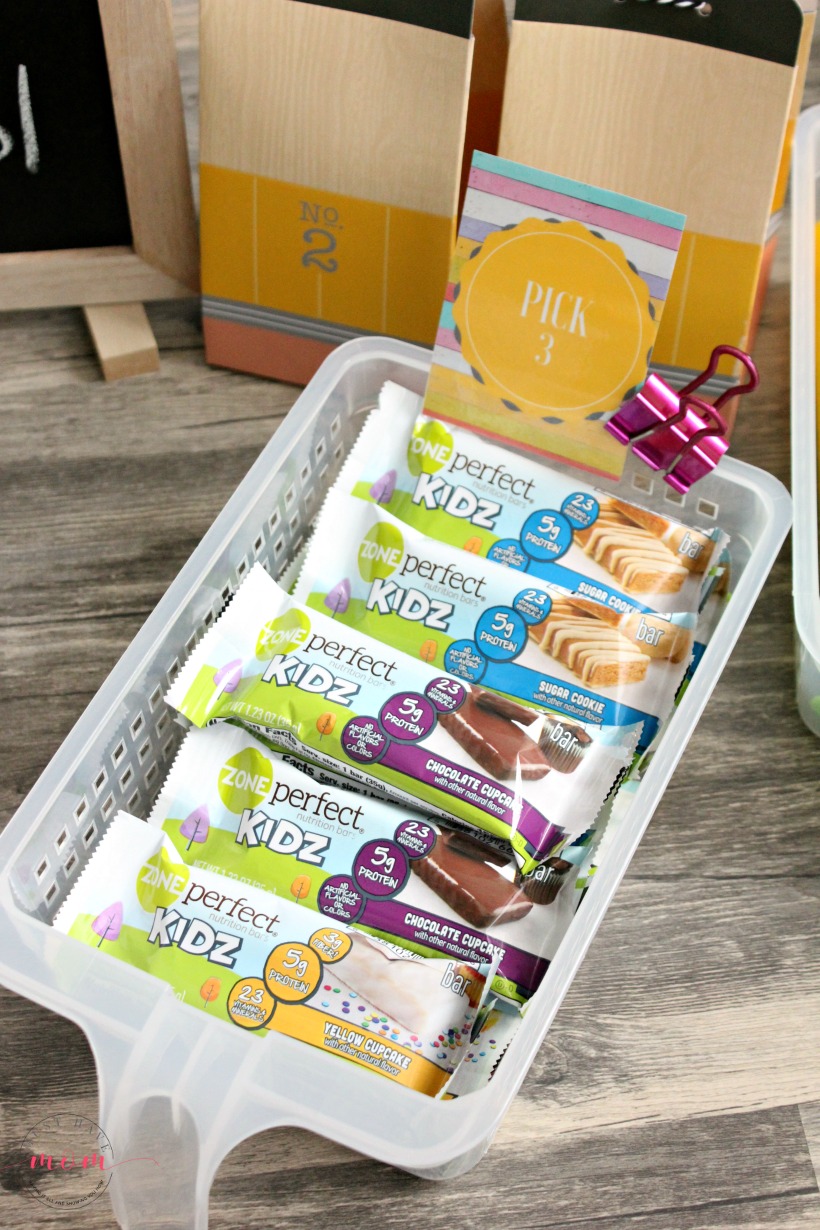 Instead of offering up cookies or cake treats for their lunches, I offer the ZonePerfect Kidz nutritional bars and my kids are equally satisfied by these treats. Plus, they are getting a protein packed treat that will help fill them up and fuel their school day. I admit that I have also stolen these bars when I need a quick, easy snack and they really do taste like their treat counterparts. It's quite amazing how much chocolate cupcake tastes exactly like a chocolate cupcake.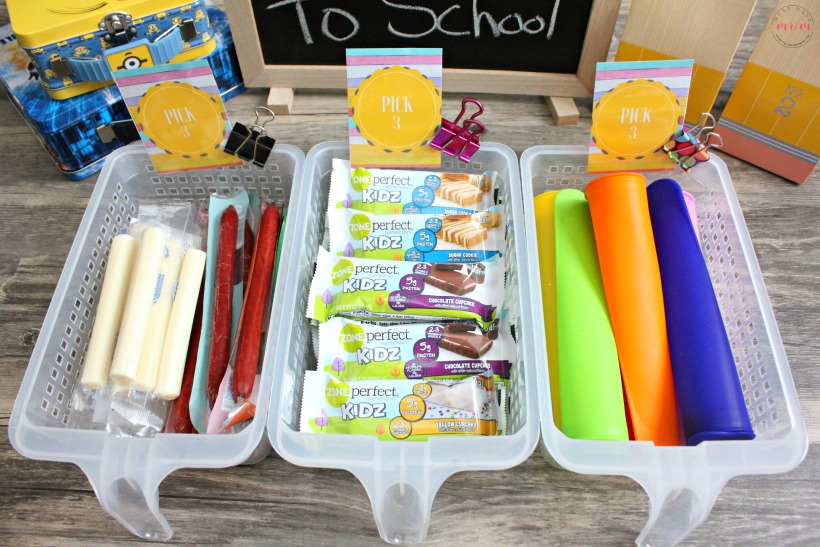 Protein is my "Pick 3" category and I offer up homemade yogurt tubes which I make ahead and freeze. They are thawed by lunch time. I also include the ZonePerfect Kidz nutritional bars, beef sticks, cheese sticks, hummus, peanut butter, nuts, trail mix, and hard boiled eggs. I rotate which options are available each week and I portion/prep them every Sunday.
For my "Pick 2" category I offer up fruits and vegetables. I rotate foods such as applesauce, dried cranberries, raisins, fruit cups, cherry tomatoes, carrots and homemade ranch dressing, celery, homemade fruit leather, dried fruit, easy peel tangerines, etc.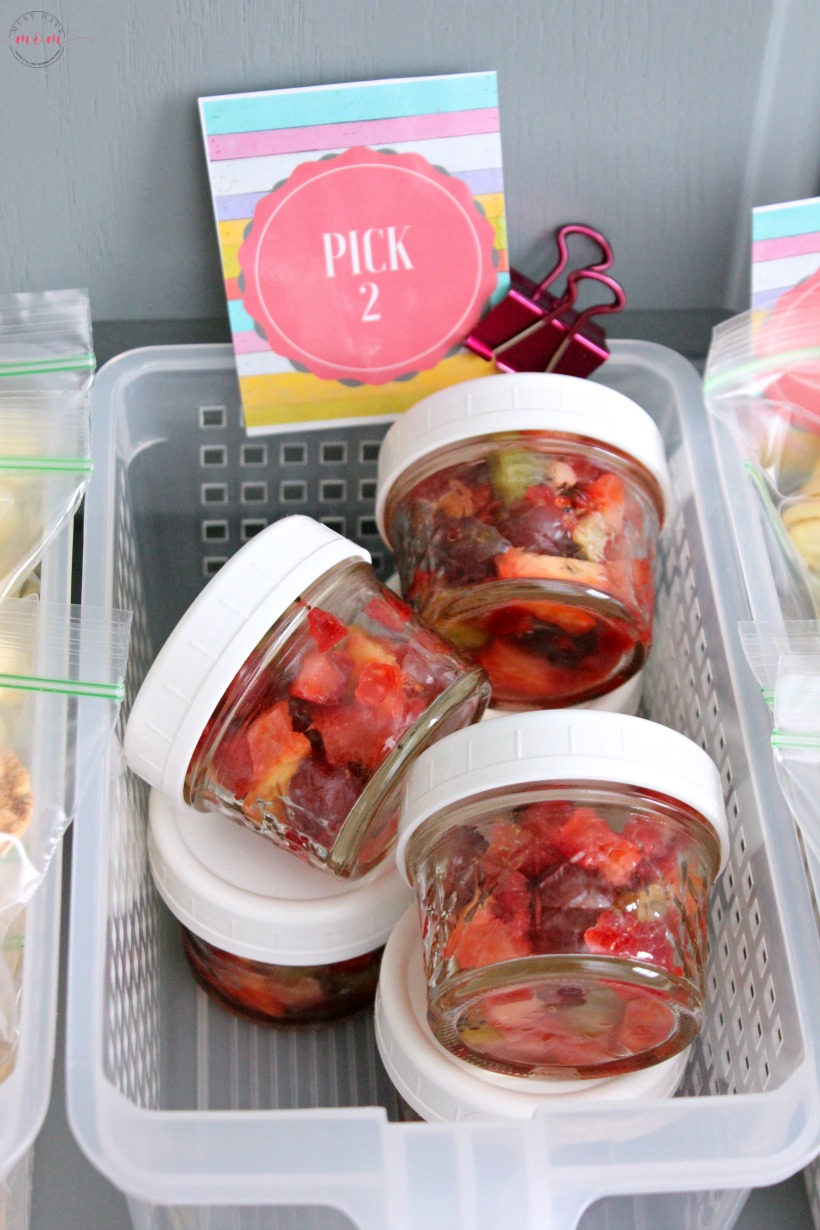 I find the easiest way to prep my fruit for the week, and ensure that it doesn't go bad by the end of the week, is to clean and dice it and put it in small glass mason jars with lids. I have been doing this for years and the fruit will last an entire week (or more) in the fridge this way. If I leave my strawberries in my fridge without doing anything with them, they are bad by the end of the week. By washing it and cutting it up and putting it in the glass jars it stays fresh for SO much longer. The trick here is the glass jars. They somehow help keep fruit fresh for way longer than any other method I've tried. No need for vinegar washing or fancy prepping. Just clean and cut up as normal and put in the jars. Trust me, it will last all week! Fruits that work well for this method (that I've personally used and had stay fresh for a week+) are: strawberries, pineapple, kiwi, grapes, halos, blueberries, and blackberries.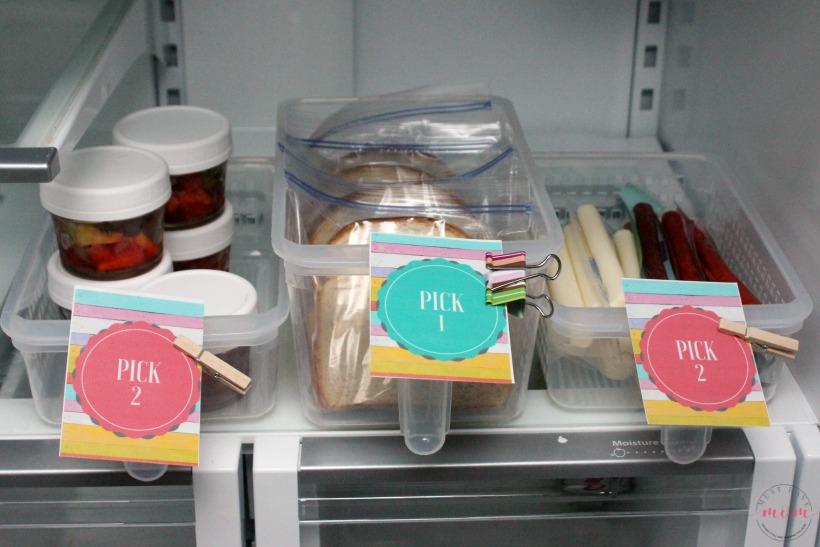 Place the refrigerated foods on a shelf in your fridge and attach the card you want for the number of items they can pick from each color category (remember they wouldn't be picking two fruit jars from this picture, but would be taking two pinks total – ex: a fruit cup and a cheese stick, along with 1 sandwich).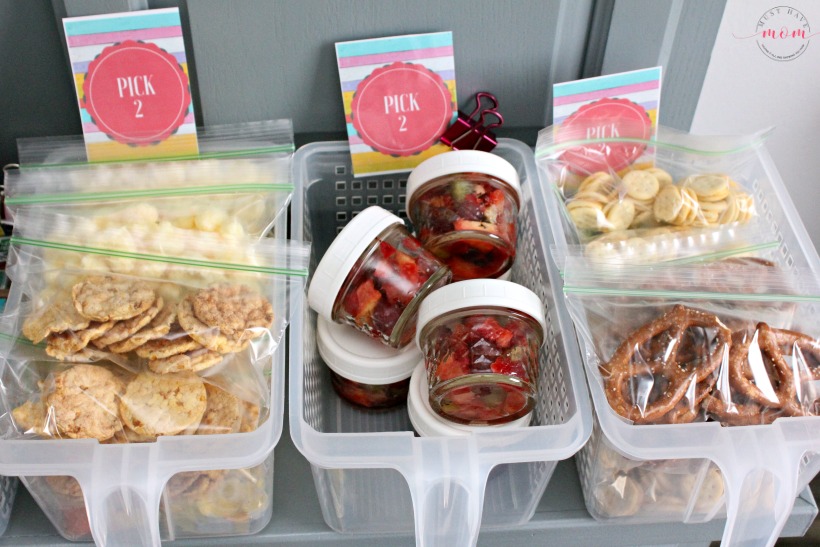 You can either place the snacks that don't require refrigeration (carbs and snacks) in your pantry or you can put them out on the sideboard in the morning for the kids to pick from. Of course, the easier option is in the pantry, but if you are low on space then placing them out in the morning works too!
My carbohydrates are also a "Pick 2" category and I include the following foods in rotation: veggie chips, rice cakes, pretzels, peanut butter crackers, cheese cracker sandwiches, puff corn, homemade cheese crackers, wheat crackers, corn nuts, popcorn, and snack mix.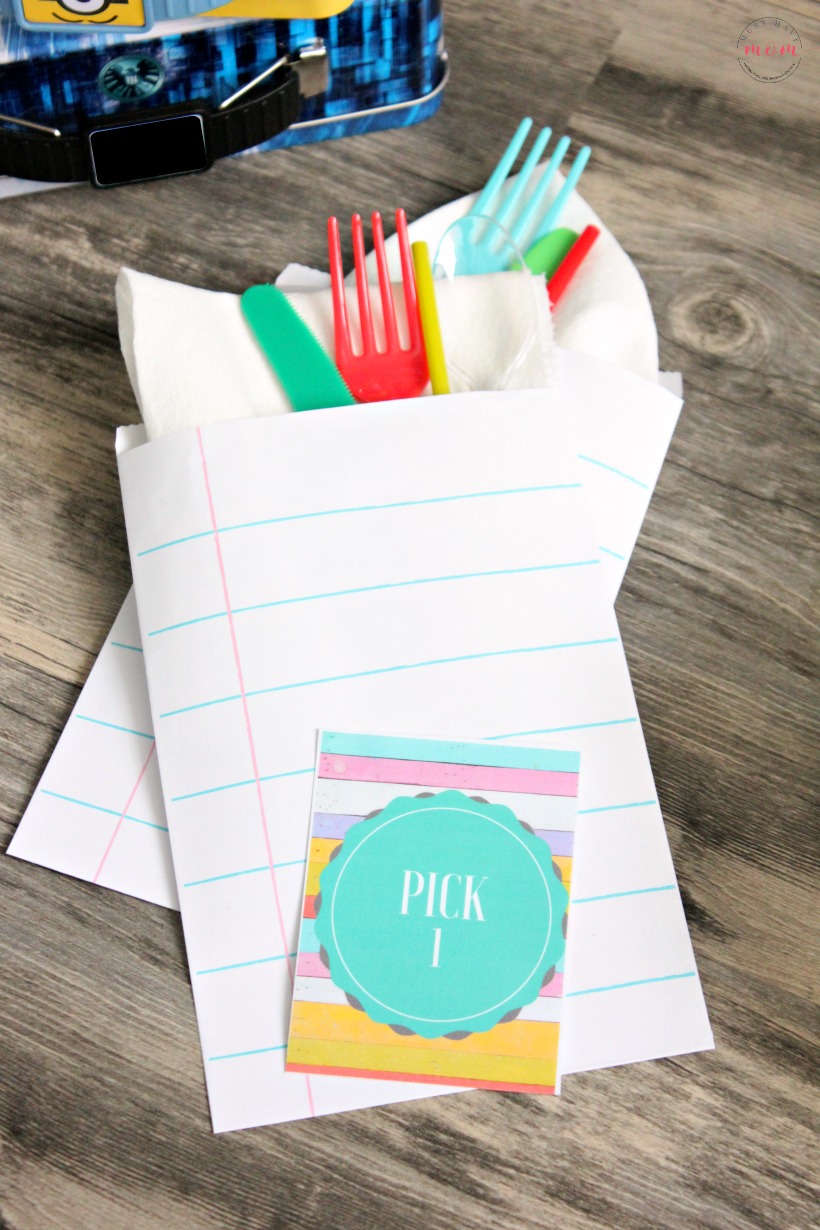 I also make little packets with a napkin and disposable silverware that they can grab and toss in their lunch pail. This ensures that everything they need for their lunch is packed and they aren't left without a fork for their salad or a spoon for their fruit cup.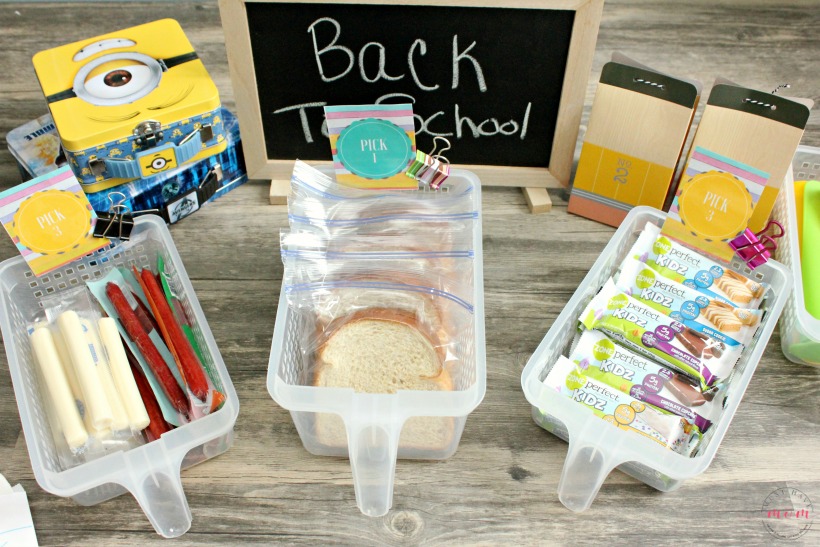 Don't forget to include drinks as well. I keep juice boxes, milk and water in the door of the fridge and they can pick one of those as well.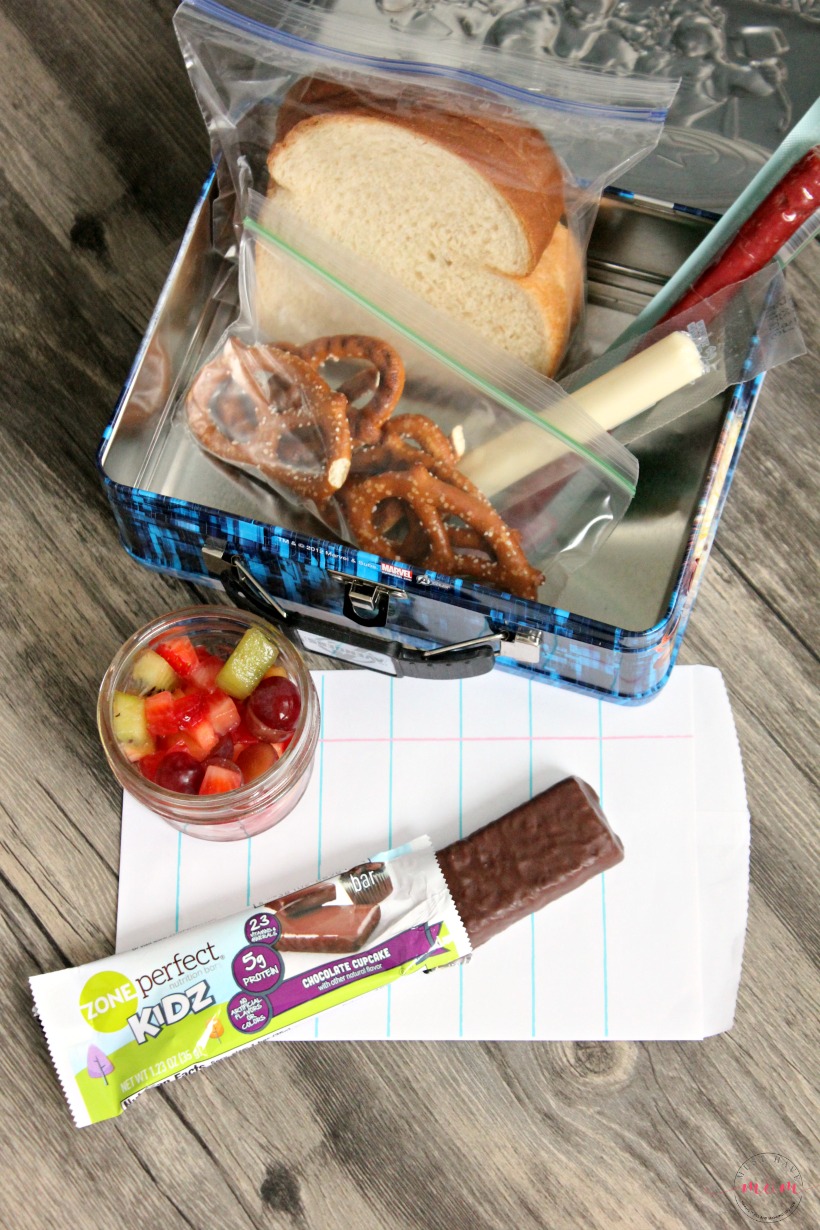 Here is an example of one of the healthy make ahead lunches that my child packed himself. By picking the proper amount of items from each labeled category he was able to pack a well-rounded lunch that has every food group covered. Plus, he packed what HE wanted to eat that day so he actually ate it! Mom for the win!

Want to try my treat-swap trick with your kids? Here is a coupon for ZonePerfect Kidz nutritional bars so you can try them AND save money! Win!
Print the Make Ahead Lunches Cards:
Print the lunch system cards and laminate them, then cut them out.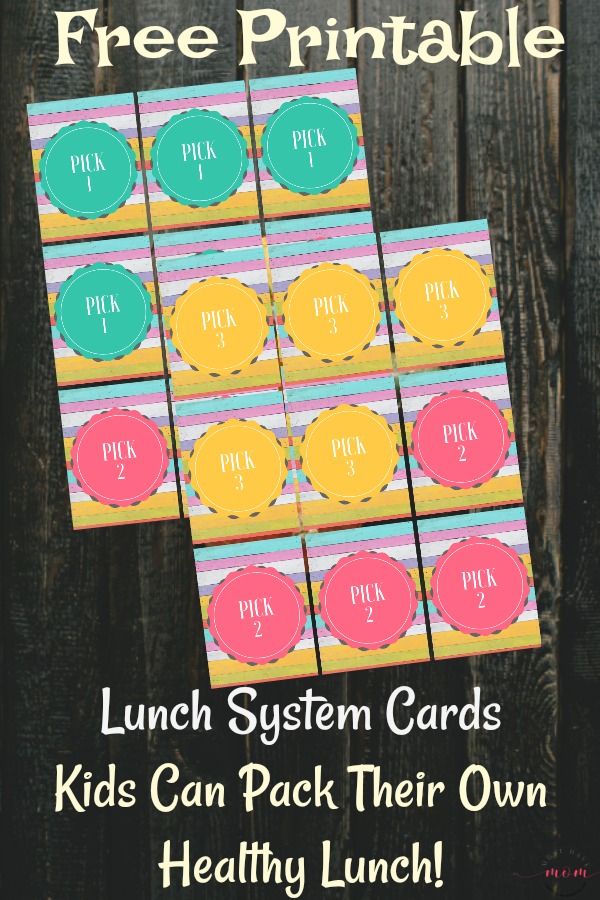 Pin the Healthy Make Ahead Lunches: