This keto breakfast casserole is a spin on the traditional casserole and it is made in a skillet for a fast, easy, keto-compliant breakfast! This also doubles as an easy keto breakfast meal prep option. Make a big batch, portion it out and have breakfast for several days.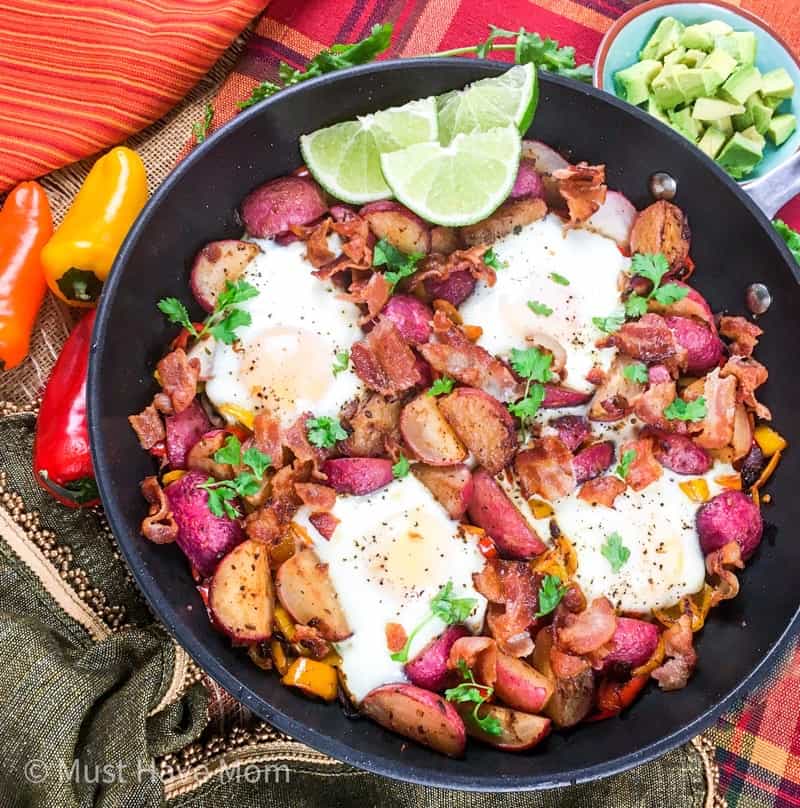 Eating a clean diet doesn't have to be difficult and following a keto diet can be made easy with the right recipes. This breakfast skillet is a tasty take on breakfast that will leave you feeling satisfied. Another favorite keto-compliant recipe of mine is this baked spaghetti squash! I absolutely LOVE spaghetti squash. Broaden your options by branching out and trying new things. Whether you are adopting a clean eating diet or following a strict keto diet, there are plenty of tasty recipes to satisfy you.
Easy Keto Breakfast Casserole
I call this a casserole very loosely as it is made in a skillet and it is not your typical thick, egg-bake dish. I like this version WAY better! Lighter and not so dense with a huge pop of flavor. No bland casseroles here! This recipe uses radishes in place of potatoes so you feel satisfied with familiar textures and flavor profiles but without breaking your keto diet! We had to include bacon and avocado of course because who can resist either? Not me!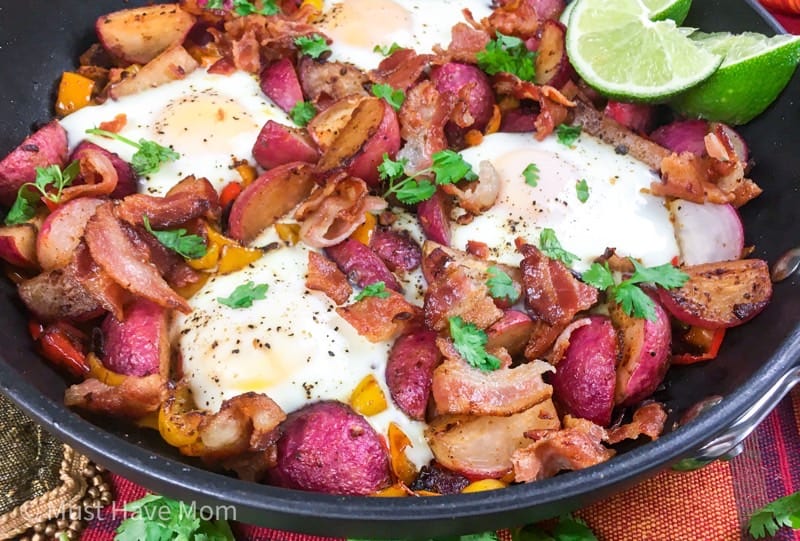 We start by melting butter in a large non-stick skillet. My favorite clean cookware brand is Xtrema thanks to rigorous standards to exclude anything toxic. If you are leading a clean eating lifestyle then be sure you aren't consuming toxins from your cookware too!
I only use grass-fed or organic butter to ensure I am not consuming GMO's in my health keto breakfast. Did you know there is actually a product called ION Gut Health that helps tighten up the junctions between the gut cells and block things like GMO's from entering the bloodstream? I take it every day and I've noticed a huge improvement in healing my leaky gut!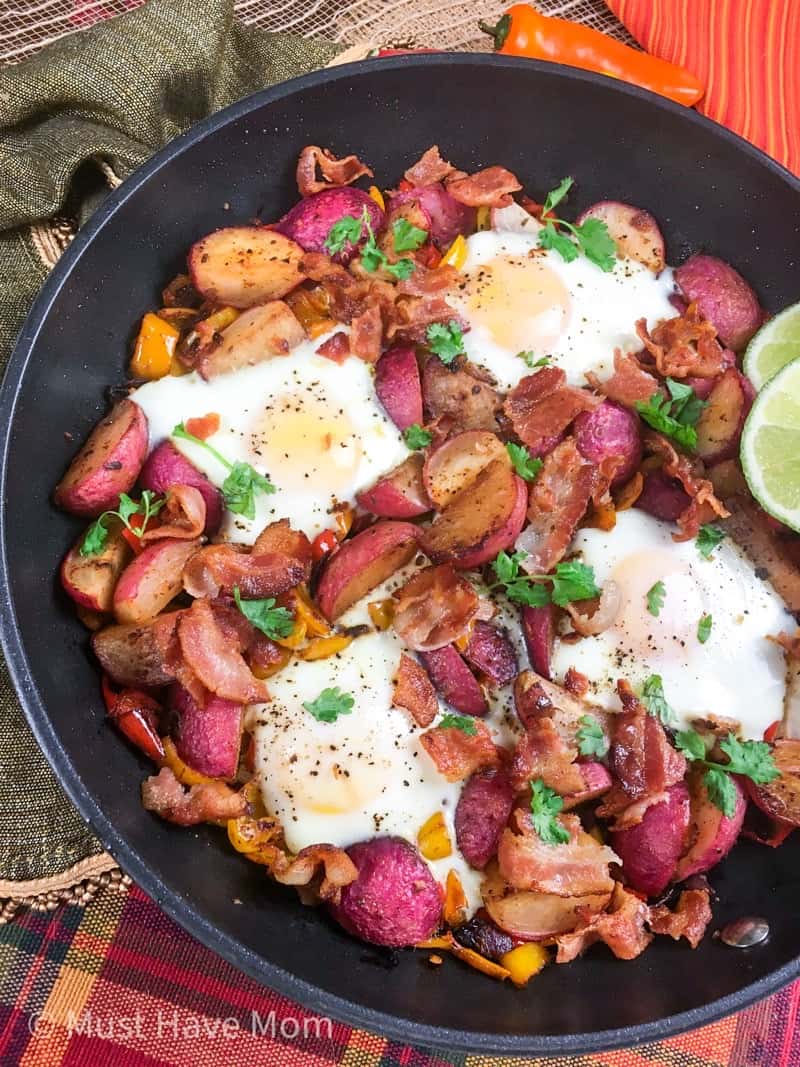 We use southwestern spices to give this keto breakfast a kick of delicious flavor!
After allowing the ingredients to cook, we are then ready to create four wells in the ingredients in order to break our eggs into. Crack the egg into each well and cook the egg through to your desired level of doneness. Isn't it pretty?! This is a great recipe to serve guests because it is such a pretty presentation.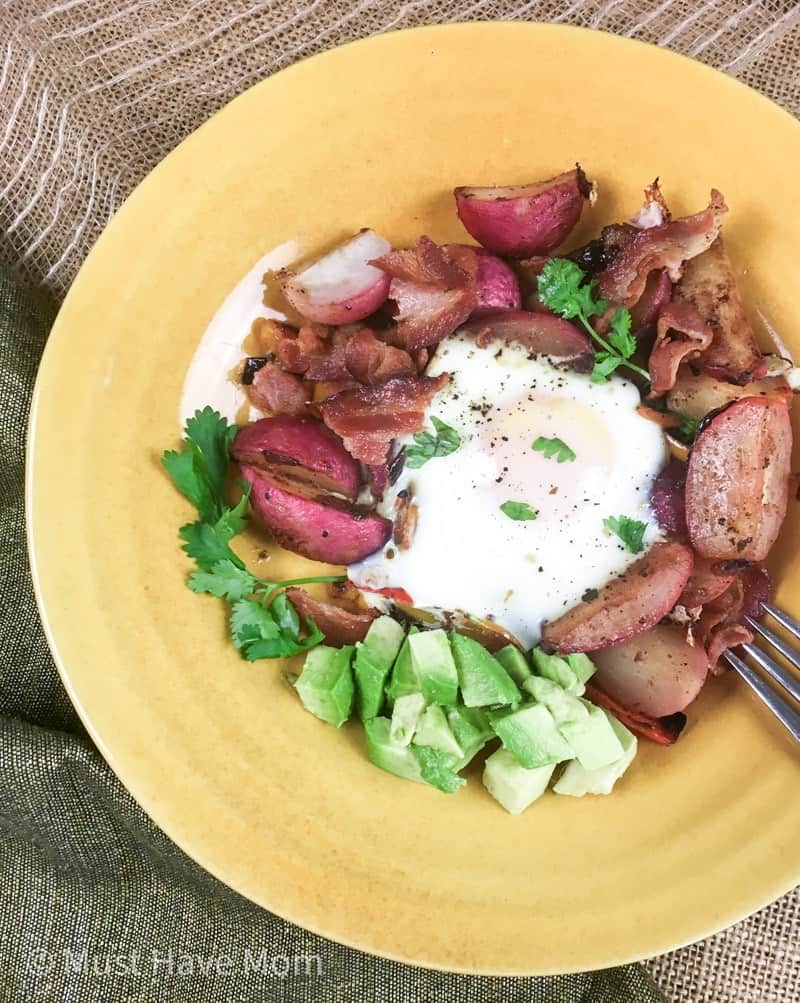 I like to serve mine with fresh cilantro, avocado and lime wedges to squeeze over it!
Print Keto Breakfast Casserole Recipe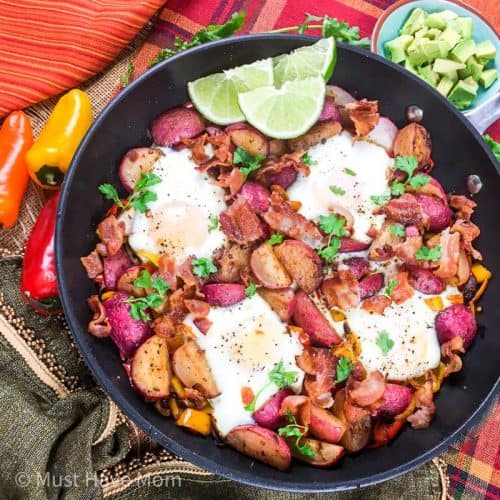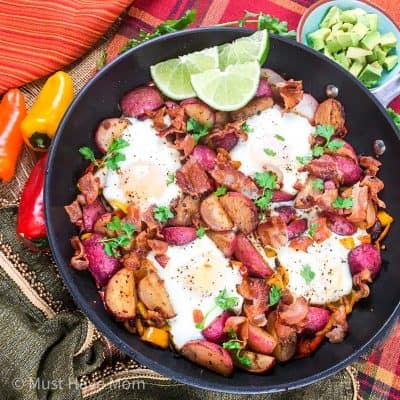 Keto Breakfast Casserole
This southwestern keto breakfast casserole is made quickly in a skillet and packs a big punch of vibrant flavors that will leave you feeling satisfied and satiated!
Ingredients
2

Tbsp

butter

divided

1 8

oz.

bag radishes

rinsed, trimmed, and quartered

¼

cup

red onion

finely diced

2

tsp

Italian seasoning

1

tsp

ground cumin

½

tsp

ground chili powder

Sea salt and black pepper

to taste

¾

cup

mini sweet peppers

diced (tri-color)

4

large eggs

4

strips thick-cut bacon

cooked crispy

2

Tbsp

fresh cilantro

chopped

1

large avocado

diced

1

large lime

cut into 8 wedges
Instructions
Melt one tablespoon butter in a large non-stick skillet over medium heat.

Add the radishes, red onion, and Italian seasoning. Season with salt and black pepper, to taste, and cook, stirring occasionally, until the radishes start to develop some color, approximately 4-5 minutes.

Add the remaining tablespoon of butter and the chopped peppers to the skillet. Cook, stirring occasionally, until the pepper softens, approximately 3-4 minutes.

Create four "wells" in the skillet by pushing the vegetables to the side with a spatula. Add an egg into each opening and reduce heat to medium low. Cover and cook until the eggs are cooked through, approximately 3-5 minutes depending on desired level of doneness.

Remove from heat and crumble the crispy bacon on top of the skillet. Top with the fresh cilantro and serve immediately with the diced avocado and fresh lime wedges on the side. Enjoy!
Notes
Macros - per serving*
Calories: 275
Fat: 21.33g
Carbs: 10.94
Net Carbs: 5.44g
Protein: 11.91g
*Source: HappyForks.com
Nutritional information provided for entertainment purposes only and should not be construed as medical guidance or advice. All information is based solely on results provided by HappyForks.com and is not guaranteed to be accurate.
Pin Keto Breakfast Idea
We love when you pin our recipes for easy finding later! It helps us share our recipes to a broader audience and keep providing you with more awesome recipes!! Thanks for pinning!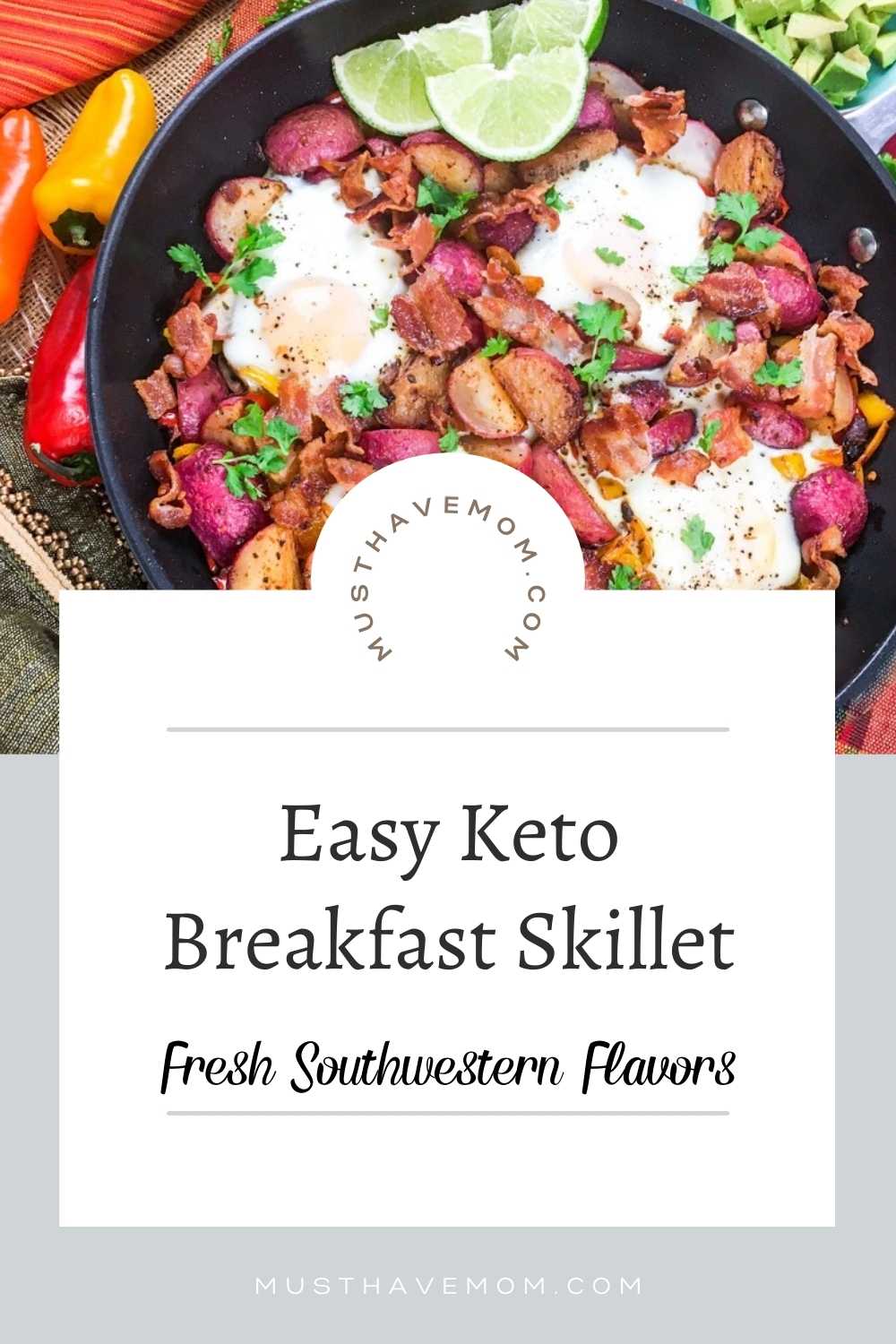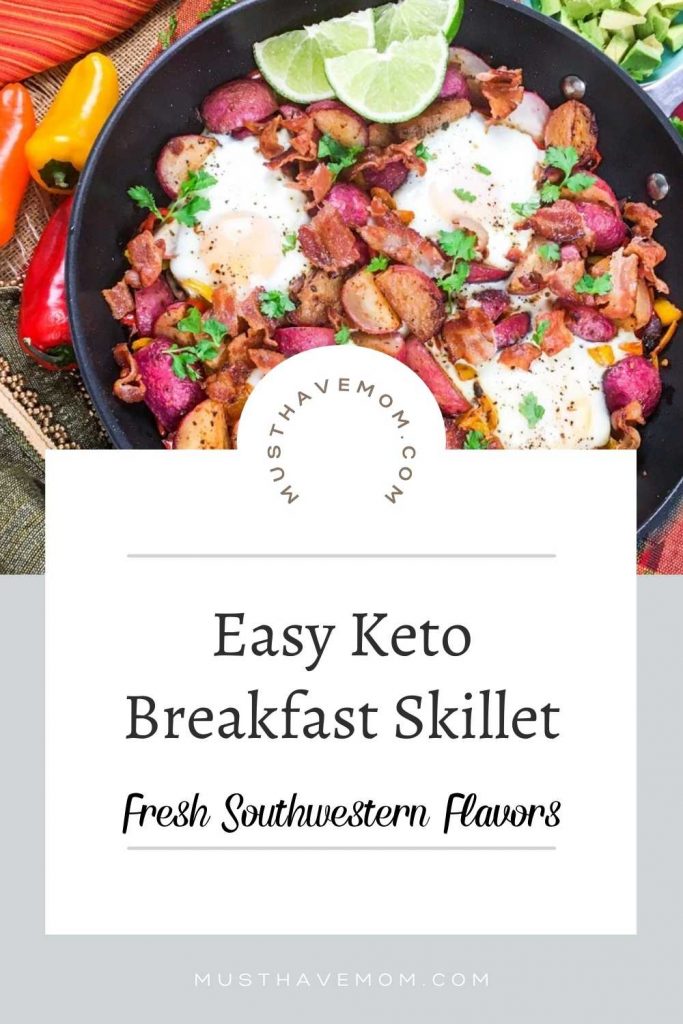 You May Also Like…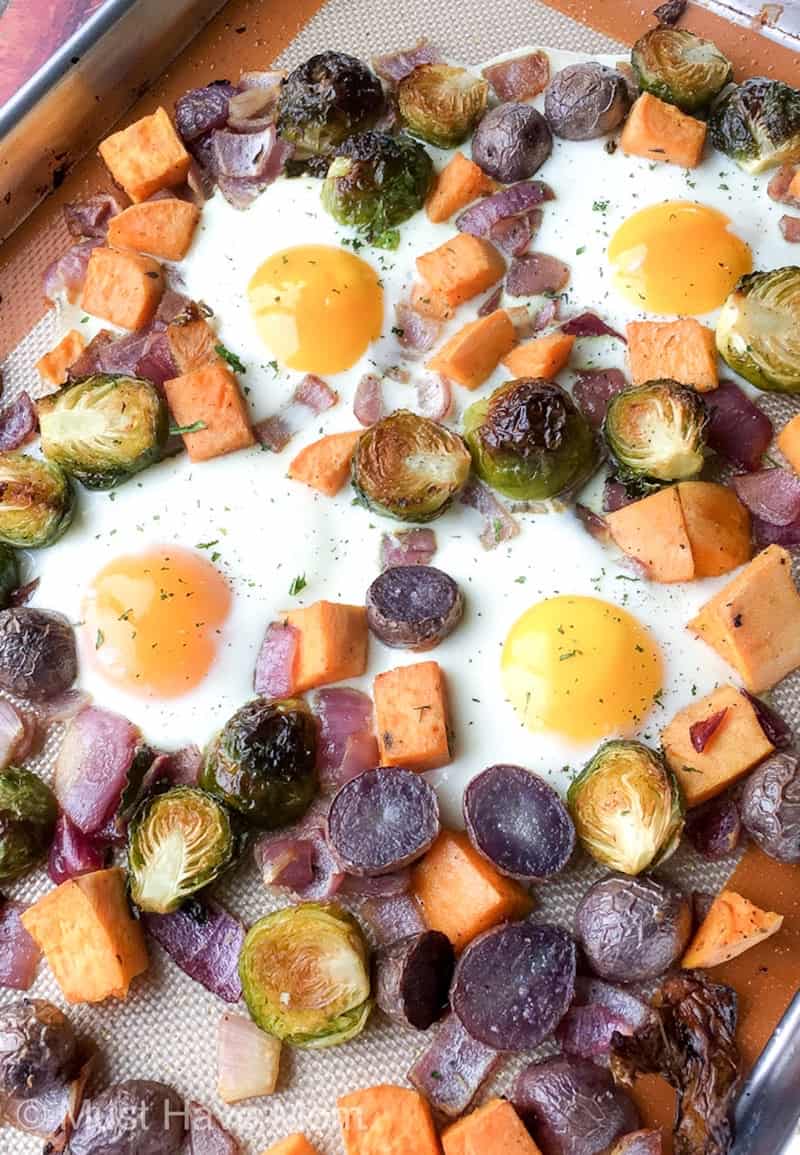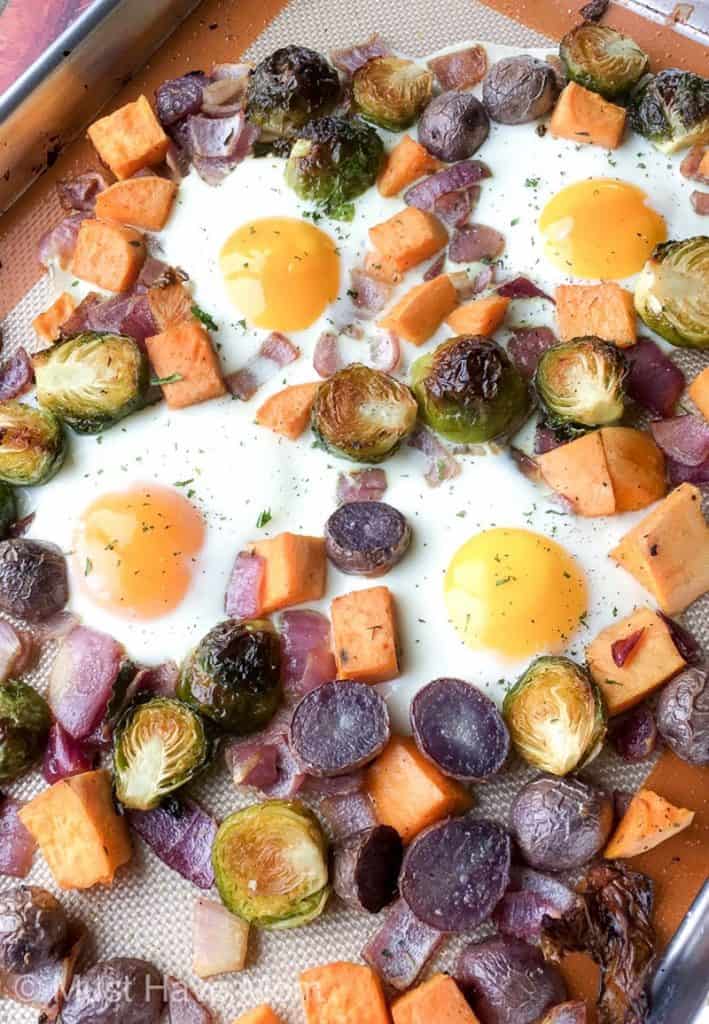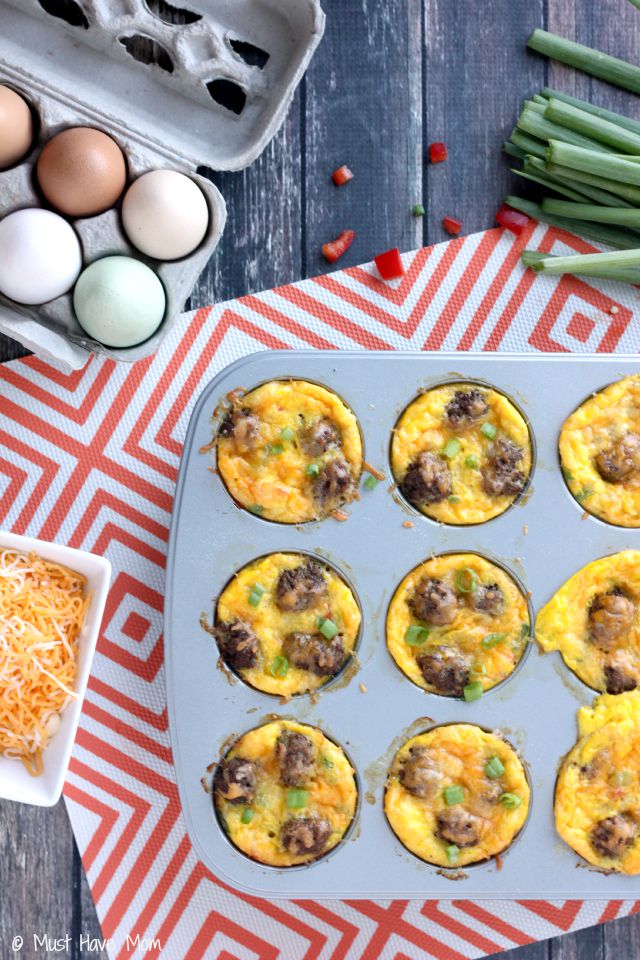 Sausage, Egg and Veggie Egg Cups