Italian Sausage & Broccoli Egg Muffin Recipe
This egg muffin recipe is perfect for quick and easy breakfasts, easy lunch ideas and make ahead lunches! Make a batch and freeze them so you always have breakfast or lunch ready to go!
I LOVE easy breakfast and lunch ideas and these egg muffin cups are BOTH! I have shared my sausage and veggie mini omelettes recipe with you and this is another variation of that idea. These freezer breakfast sandwiches are another favorite, freezer-friendly breakfast idea. Now, on to the egg muffin cups! They are SO easy and SO delicious!
Egg Muffin Cups
These are called egg muffin cups because you make them in a muffin tin so they come out like little muffin cups. The tin makes the perfect single-size portion so it works great! The trick is to make sure you grease the muffin cups so the eggs don't stick. Don't forget this step!
The nice thing about this recipe is that you can switch it up any way you like! It is a very forgiving recipe. Don't like sausage? That's okay, use ground turkey instead! Not a broccoli fan? Substitute diced bell peppers instead. This recipe is also a fun way to use up any straggler veggies in the fridge before they go bad. Toss whatever you have on hand into this recipe and you'll have an ever-changing recipe that never gets boring.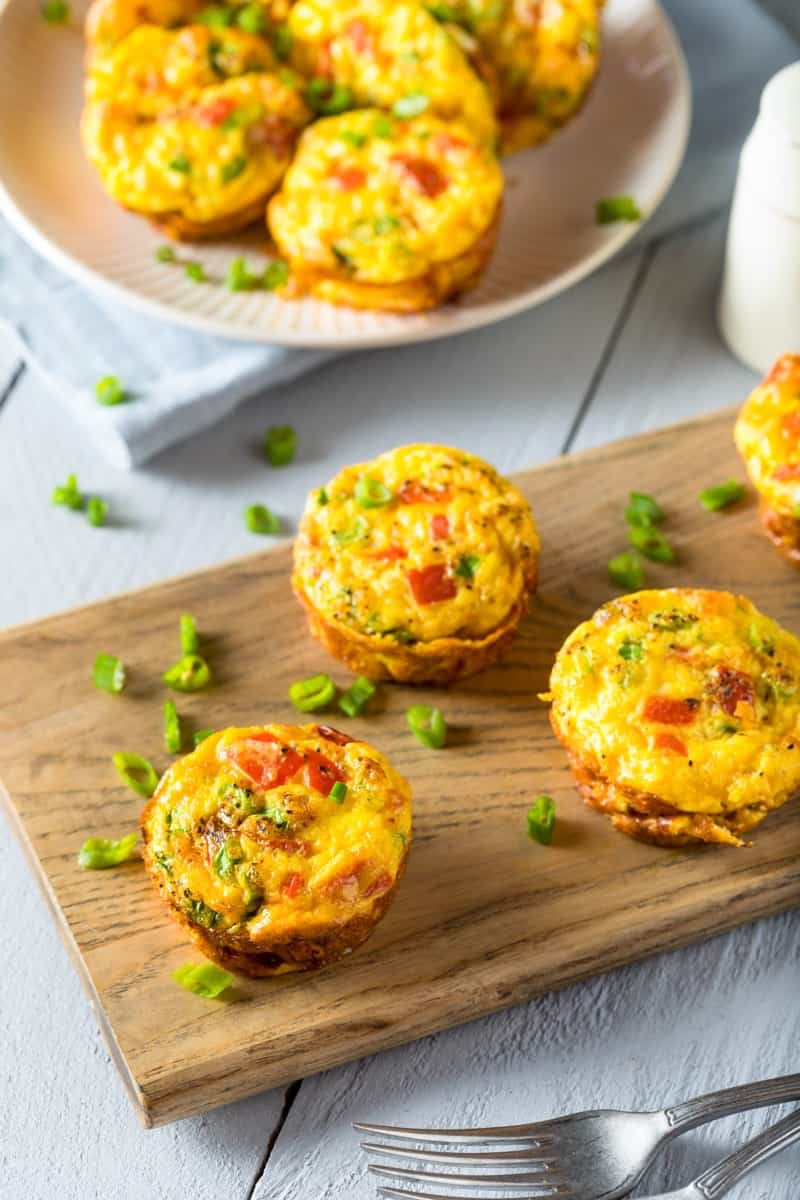 How To Make Egg Muffin Cups
You'll begin by frying your sausage (or ground turkey, beef, chicken, etc) in a pan on the stove. Drain the grease and set it aside. Then, in a bowl you'll whisk together the eggs and other ingredients (scroll down for full recipe). Remember this recipe is very forgiving so feel free to swap veggies and proteins for each other. Add whatever spices are your favorite as well. Don't be afraid to get creative with this recipe.
Grease the muffin tin. I like using Pam olive oil spray. Then the protein will go in the muffin cups first, topped by your egg mixture. You can sprinkle the tops with cheese if you want to but it is not required. Pop them in the oven and in about 20 minutes you'll have delicious egg muffin cups!
You can either eat them immediately (for breakfast yum) or refrigerate or freeze them for future use in lunches! I like to make double or triple batches and freeze them so we always have quick breakfast options or ready to pack lunch ideas on hand. Have you read my post on how to pack lunches your kids will actually eat? This is one of the recipes I promised to share.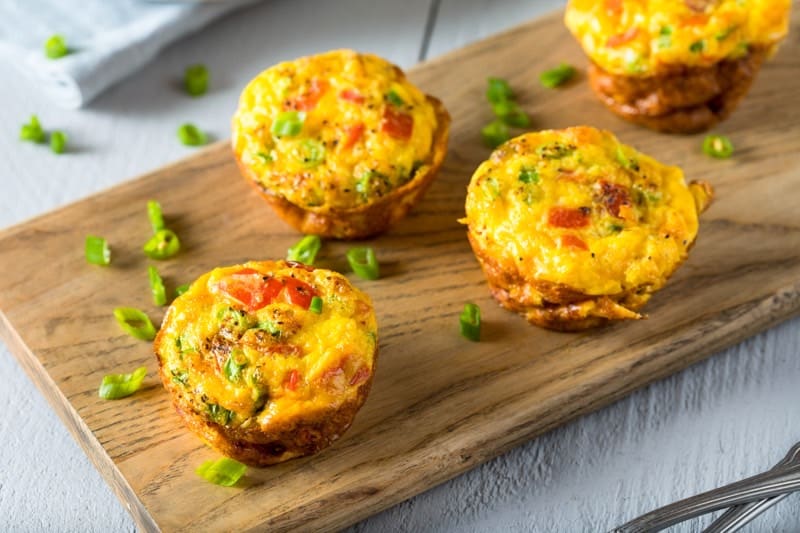 Common Questions:
How Long Do You Cook Egg Muffins?
Cook egg muffins for 15-20 minutes at 375 degrees F or until egg is baked through.
Can You Freeze Egg Muffins?
Yes, you can freeze egg muffins. I like to wrap each muffin individually in plastic wrap or foil and then put them all in a gallon freezer bag. Then you can grab however many you need from the freezer and add them to lunches or warm them up in the oven for breakfast. You can also microwave them.
Can I use cupcake liners for egg muffins?
I don't suggest using paper liners for egg muffins but you can use silicone cupcake liners for egg muffins. They work great!
What temp do you bake egg muffins at?
Bake egg muffins at 375 degrees for 15-20 minutes.
How do you clean a muffin pan with baked-on egg?
Immediately after your pan has cooled, fill with warm soap water and allow it to soak for a bit. Then use a scour scrubbie (such as ScrubDaddy sponges) that won't damage the non-stick finish but will scrape the egg off.
Egg Muffin Recipe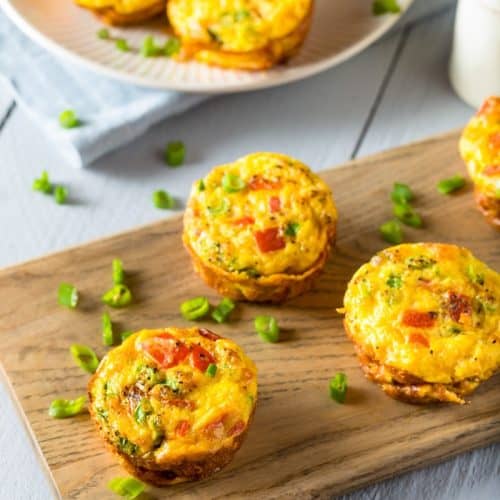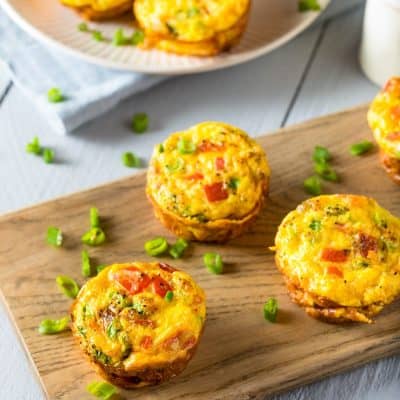 Italian Sausage & Broccoli Egg Muffins
Easy egg muffin recipe that makes a great make-ahead breakfast or lunch idea! You can even freeze them for later!
Ingredients
1

lb.

Italian Sausage

12

Large Eggs

1

Cup

Broccoli Florets

1/2

Tbsp.

Avocado Oil or Olive Oil

1/4

Cup

Milk

use almond milk for non-dairy option

1/2

tsp.

Baking Powder

Salt & Pepper to Taste

Freshly Grated Parmesan Cheese

optional
Instructions
In a large pan, fry up the sausage until it's no longer pink. Drain grease and set aside.

In a medium bowl whisk together eggs, milk, oil, baking powder and salt and pepper. Add broccoli florets and mix together.

Lightly spray a 12 cup muffin pan with oil. Spoon the sausage mixture evenly into each tin. Pour the egg mixture over the top and sprinkle with Parmesan cheese.

Bake for 15-20 minutes at 375 F

Refrigerate lunch portions overnight and add to lunch box in the morning. It's portable and yummy! You can also freeze the egg muffin cups for later.
Pin Egg Muffin Recipe