Homemade Soap Recipe – 10 Minute Bee Soaps!
These adorable honeycomb milk and honey soaps are made using an easy homemade soap recipe perfect for beginners to soap making. Even if you have never made soap before you can master this soap recipe with ease! They make adorable bee party favors for baby showers, wedding showers and any bee-themed party!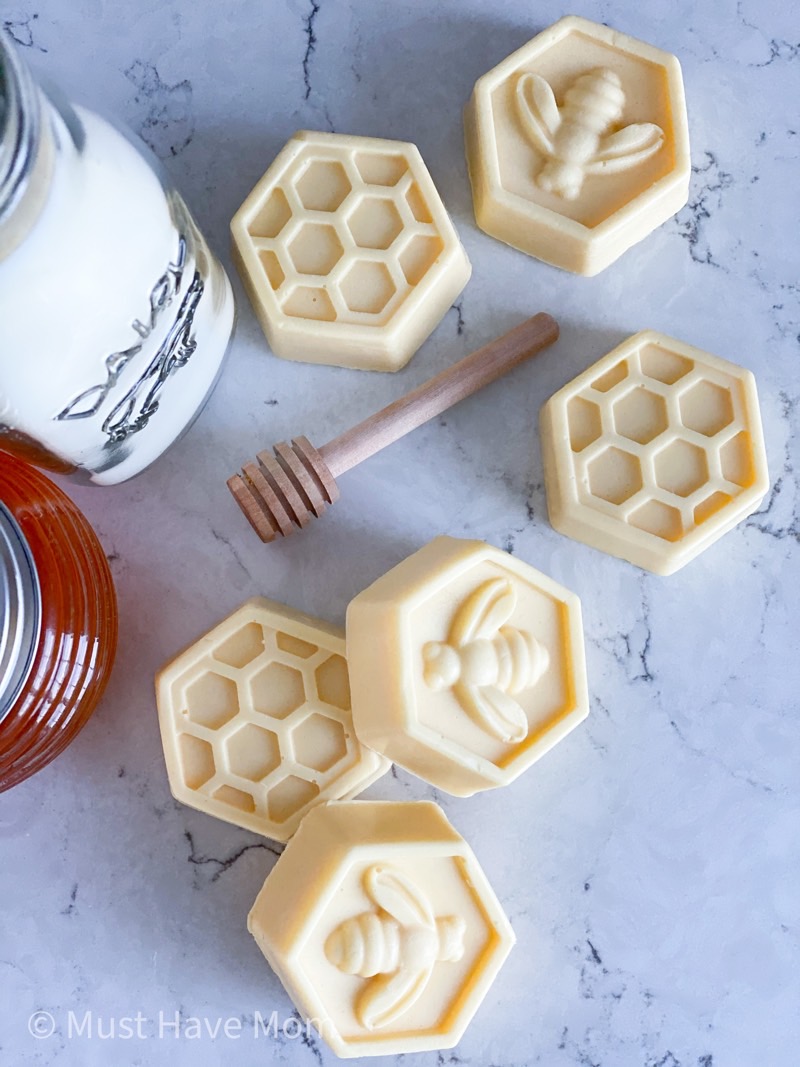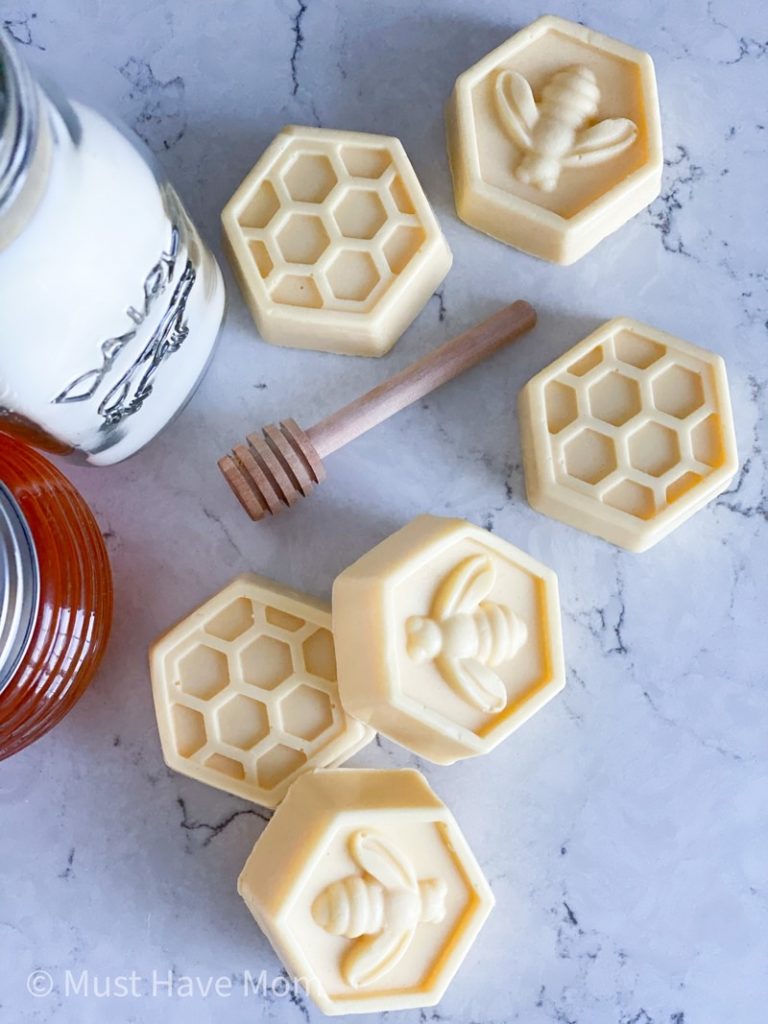 These adorable bee themed soaps were my first experience with making soap. I had made homemade laundry detergent before but hadn't tackled soaps yet. These were so easy that has inspired me to make even more! I'll show you how to make them step by step!
How To Make Homemade Soap
Making homemade soap couldn't be any easier with this recipe! You'll need just a few supplies and about 10 minutes to make a batch! I told you it would be easy. These make the cutest little soaps to put next to each of your bathroom sinks, to give as favors at bee baby showers or bee wedding showers or even bee themed birthday parties! They also make cute hostess gifts when paired with a little soap saver and towel!
Soap Making Supplies
You'll need the following basic supplies to make these honeycomb soaps: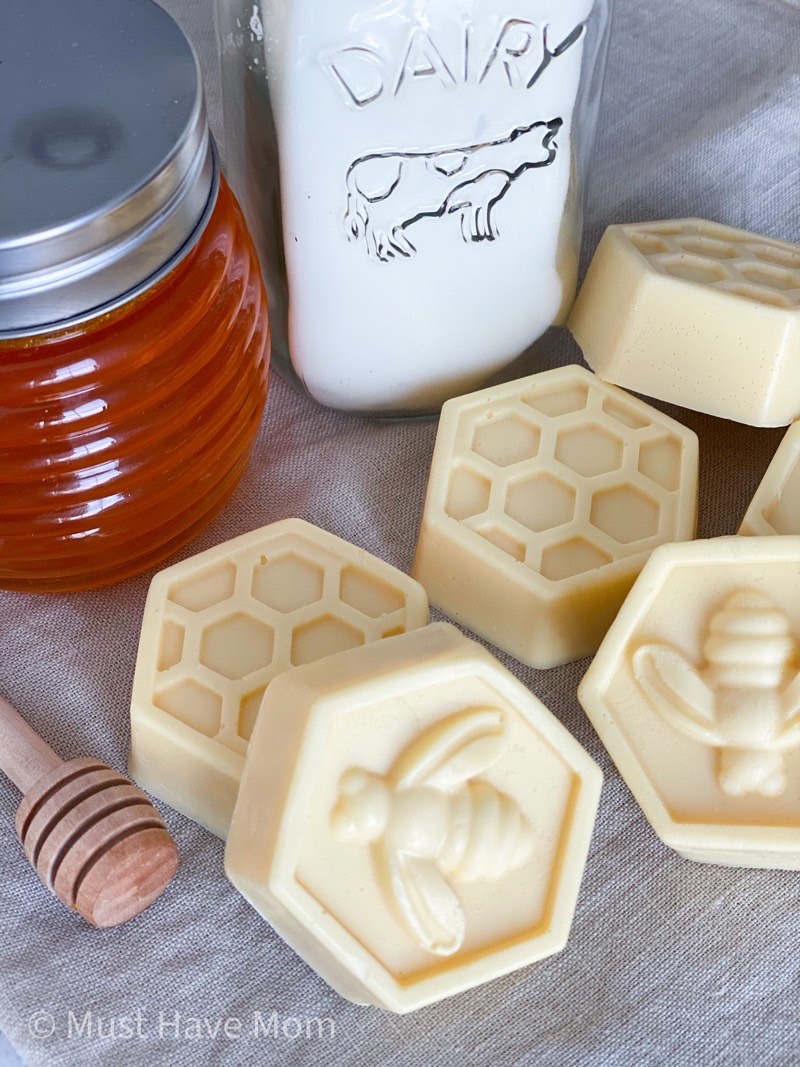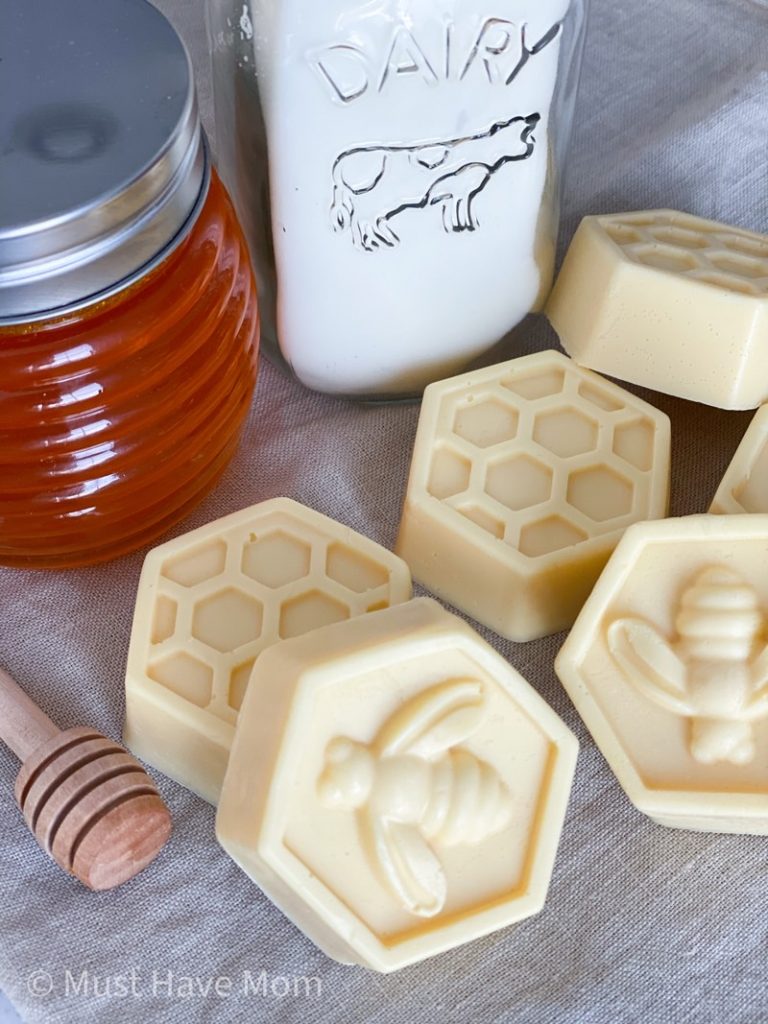 How To Make Soap At Home
Now that you have your supplies gathered it is time to make soap! Got about 10 minutes? That is all the time it takes! How cool is that?! You'll be a soap making pro in just minutes.
Start by bringing your pot of water to boil over medium-high heat. Place the double boiler over it and put sliced cubes of goat milk soap base in the double boiler. I just cut the soap base along the lines. If you have a brick just cut it into 1″ cubes.
Use a spatula to keep stirring the soap base as it melts. Continue stirring intermittently until the soap base is completely melted.
Add a little mica powder at a time and stir in until you achieve your desired color.
Now add honey and stir well.
Pour your melted soap into the honeycomb soap mold. Make sure the mold is on a flat surface where it can sit for a couple of hours undisturbed until it gets hard.
After filling each cavity of the honeycomb mold with melted soap, you'll need to spritz the top with a little rubbing alcohol using your spray bottle. This helps remove any air bubbles. If you see any air bubbles remaining just spritz with alcohol and they will pop.
Allow the soaps to sit undisturbed until they are completely firm. This usually takes about 2 hours. Then pop the soaps out of the mold. That's it! I told you it was easy!!!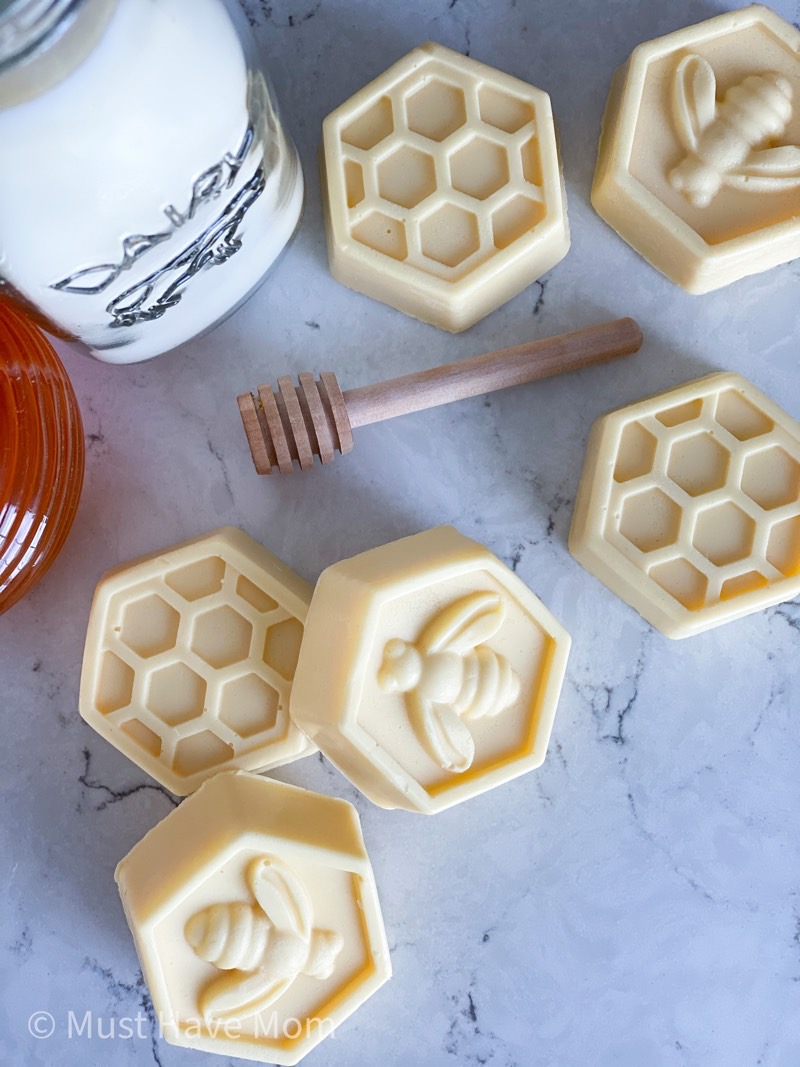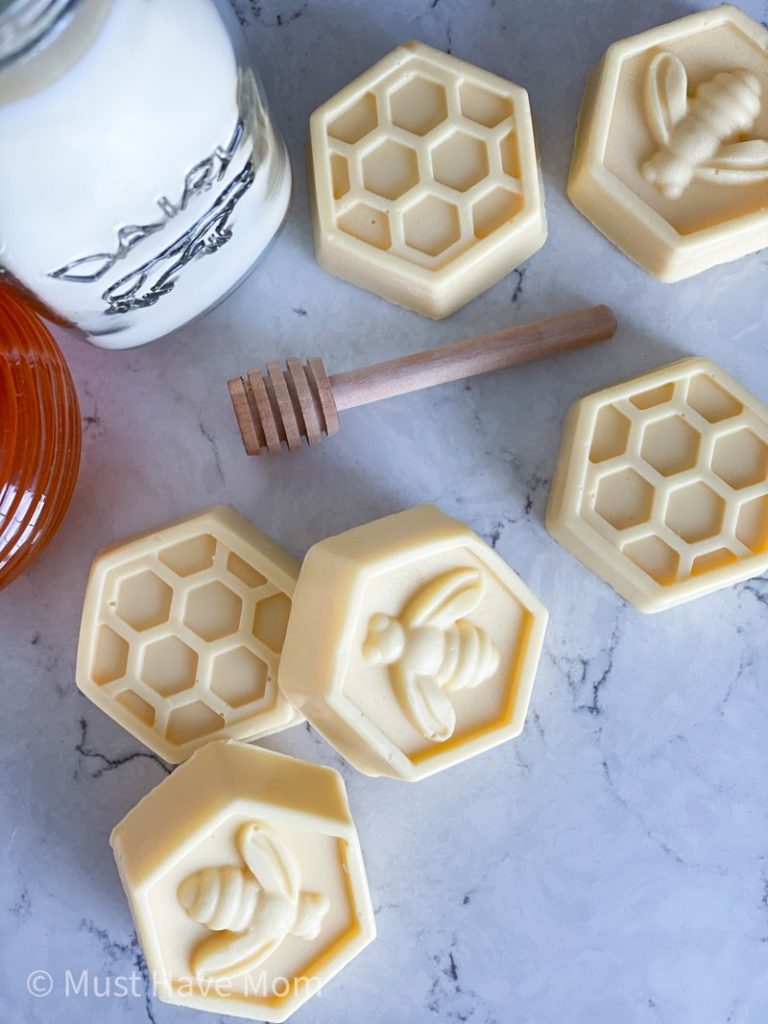 Goat Milk Soap
We use a goat milk soap base for this homemade soap recipe because goat milk soap has many benefits! Making the switch to goat milk soap can help balance your skin for better skin health. Goat milk soap is wonderful for people with dry or sensitive skin or conditions such as eczema or psoriasis. Goat milk soap contains many good for you elements such as:
alpha-hydroxy acids – helps remove dead skin cells from the surface of the skin
variety of vitamins – goat milk soap is particularly high in vitamin A which helps repair damaged skin and maintain healthy skin. You'll also find beneficial niacin, thiamine and vitamin B6 which all help maintain good skin health.
potassium – helps create a skin barrier to lock in moisture
magnesium – helps calm irritated skin and can reduce the appearance of acne
cream – the fat molecules in goat milk soap help boost the moisturizing quality of the soap
 minerals – minerals help support balanced, healthy skin
selenium – can help prevent sun damage to the skin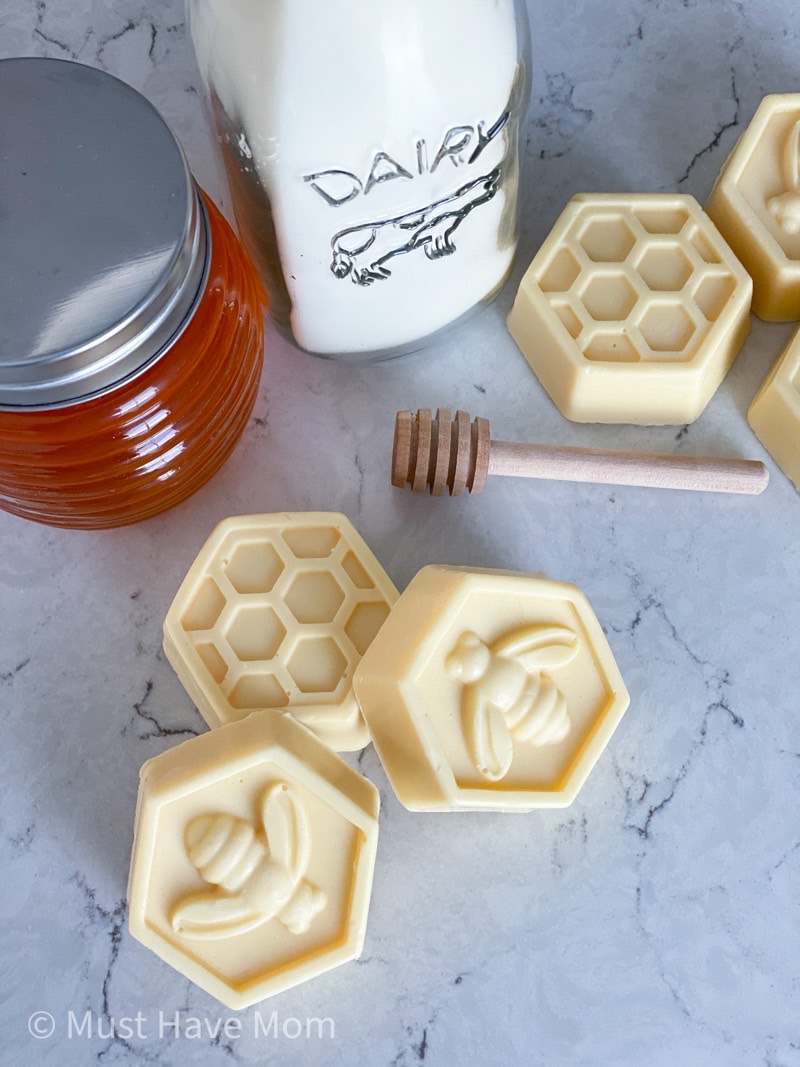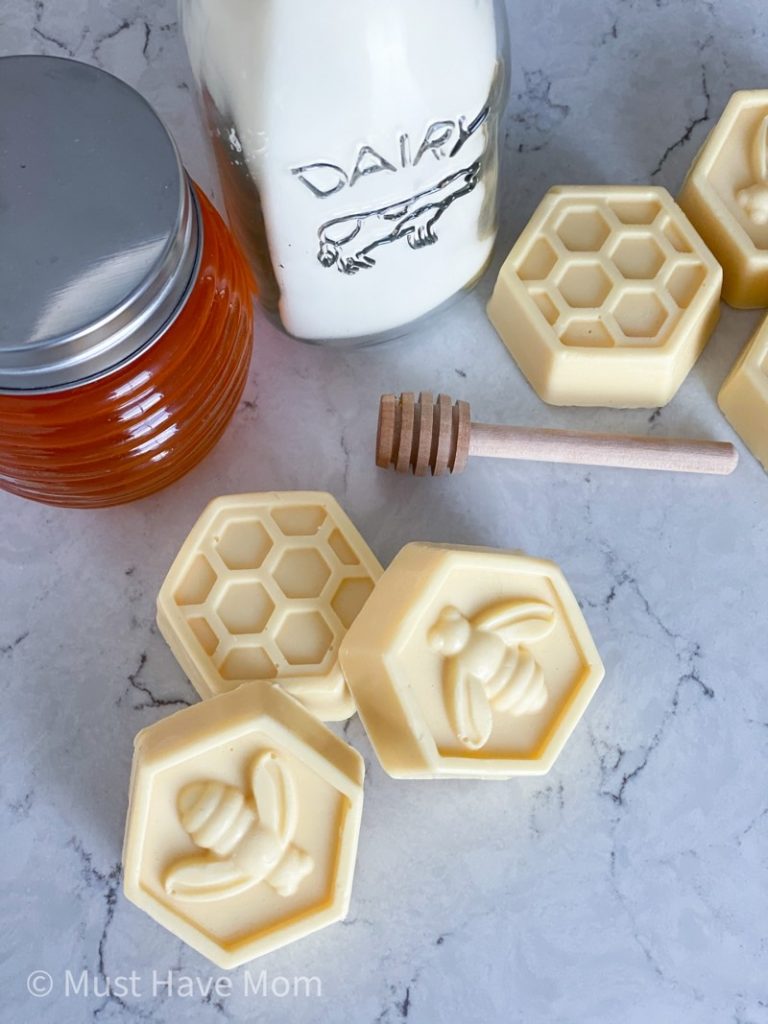 Here are a few questions we've received about this homemade soap recipe!
Does homemade soap go bad?
Most homemade soaps are good for 1 year from the time they were made. They are unlikely to be less effective after this amount of time, however, some natural ingredients may go rancid after a while.
What can I wrap homemade soap in?
We like to package our homemade milk and honey soaps in little clear treat bags with a bumblebee ribbon! We package them in pairs of two, one bee and one honeycomb in each package! You can also package them in plastic wrap, burlap bags or even glass containers.
Are handmade soaps better?
Yes! We find that handmade soaps generally use less chemicals and better quality ingredients for a superior product to mass-produced soaps.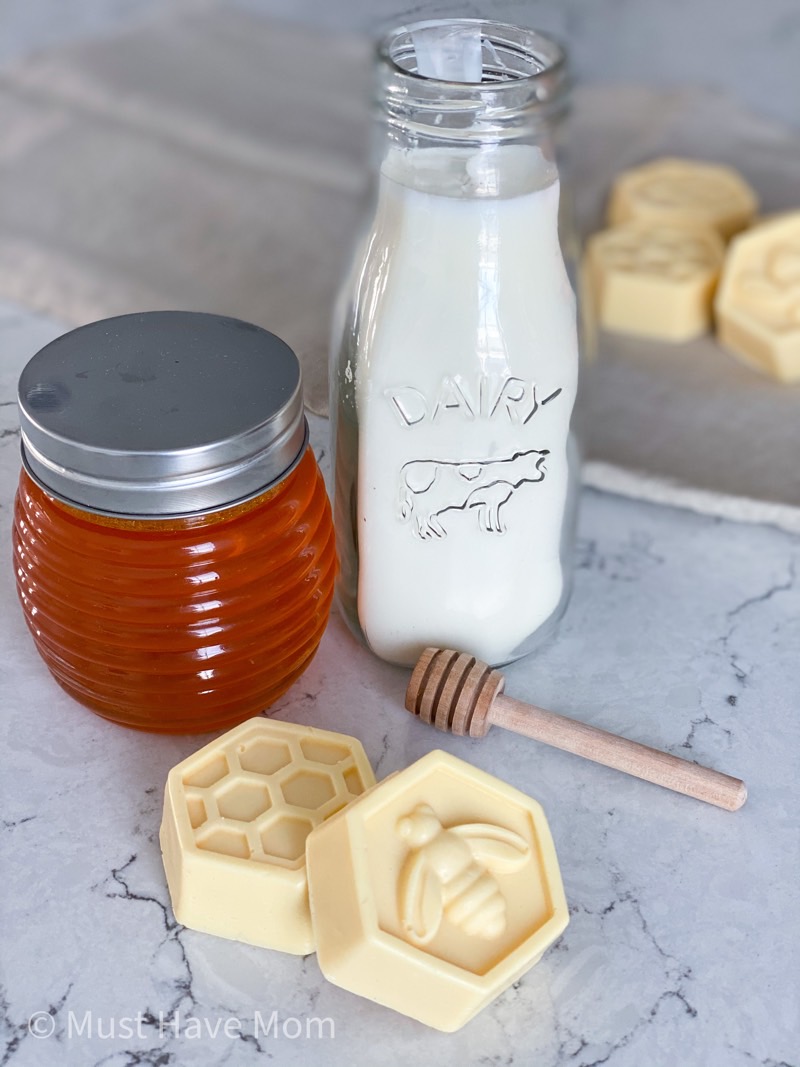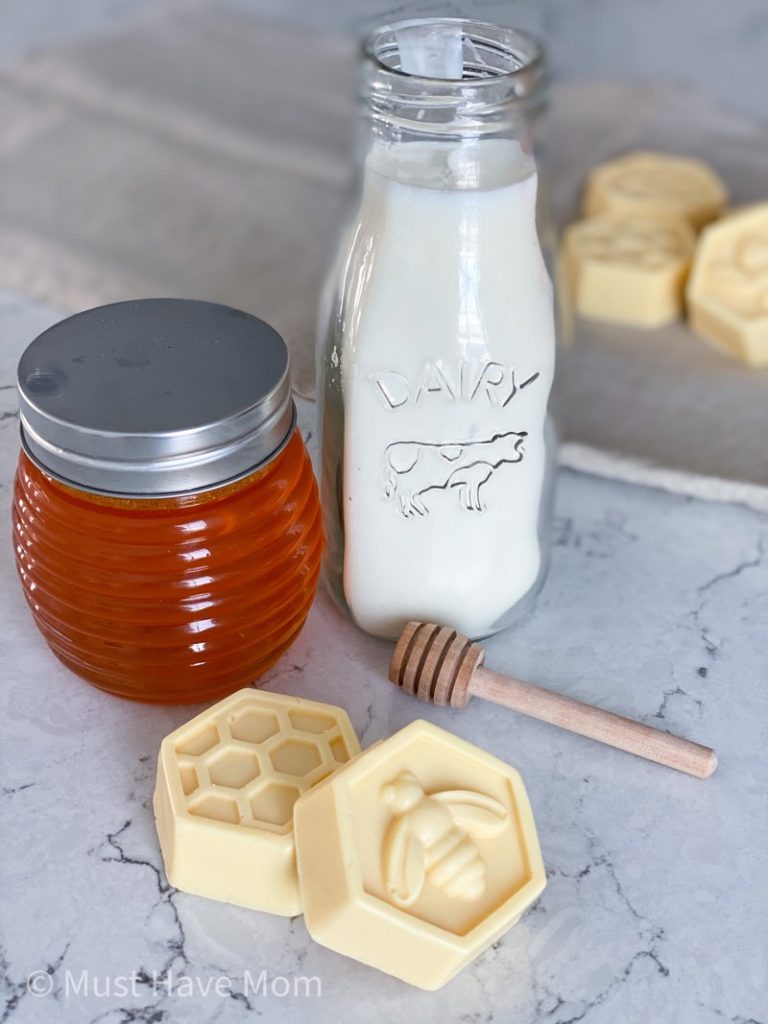 Print Honeycomb Homemade Soap Recipe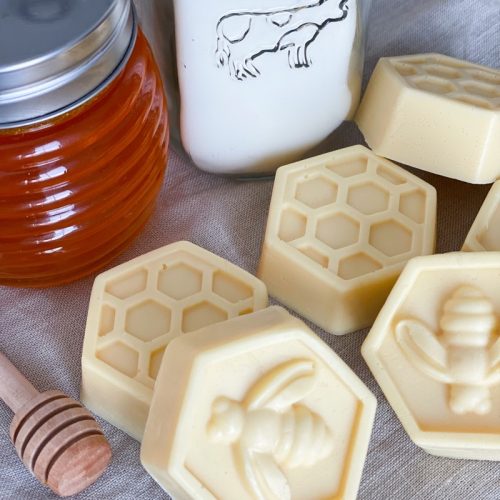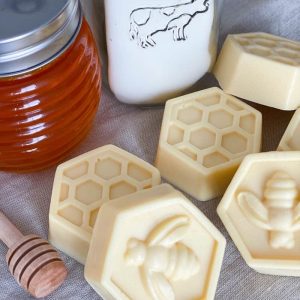 Honeycomb Soap Recipe
10 minute honeycomb soap recipe using goat milk soap and raw honey for luscious, soft skin! Perfect party favor for bee themed parties!
Equipment
double boiler

silicone honeycomb mold
Ingredients
2

lb

goat milk soap base

5

tbsp

raw honey

mustard colored mica powder

91% isopropyl alcohol

in a spray bottle
Instructions
Cut the goat milk soap base into 1" cubes. Bring a pot of water to boil on the stove over medium-high heat and place the double boiler on top. Add the cubes of goat milk soap base and stir intermittently until completely melted.

Stir in the mustard mica powder a little at a time until your desired color is reached. Add raw honey and stir in well.

Pour melted soap mixture into honeycomb mold, filling each cavity to the top but not overflowing the cavity. Be sure your mold is in a place where it can sit undisturbed for 2 hours.

Spritz the top of the soaps with isopropyl alcohol to pop any air bubbles. Once all air bubbles are popped then allow to sit.

Allow to sit undisturbed until completely hard (around 2 hours). Pop each soap out of the mold.
Pin Homemade Soap Recipe
We LOVE when you pin our recipes! It helps us spread the word and helps you find them easily later! Thank you!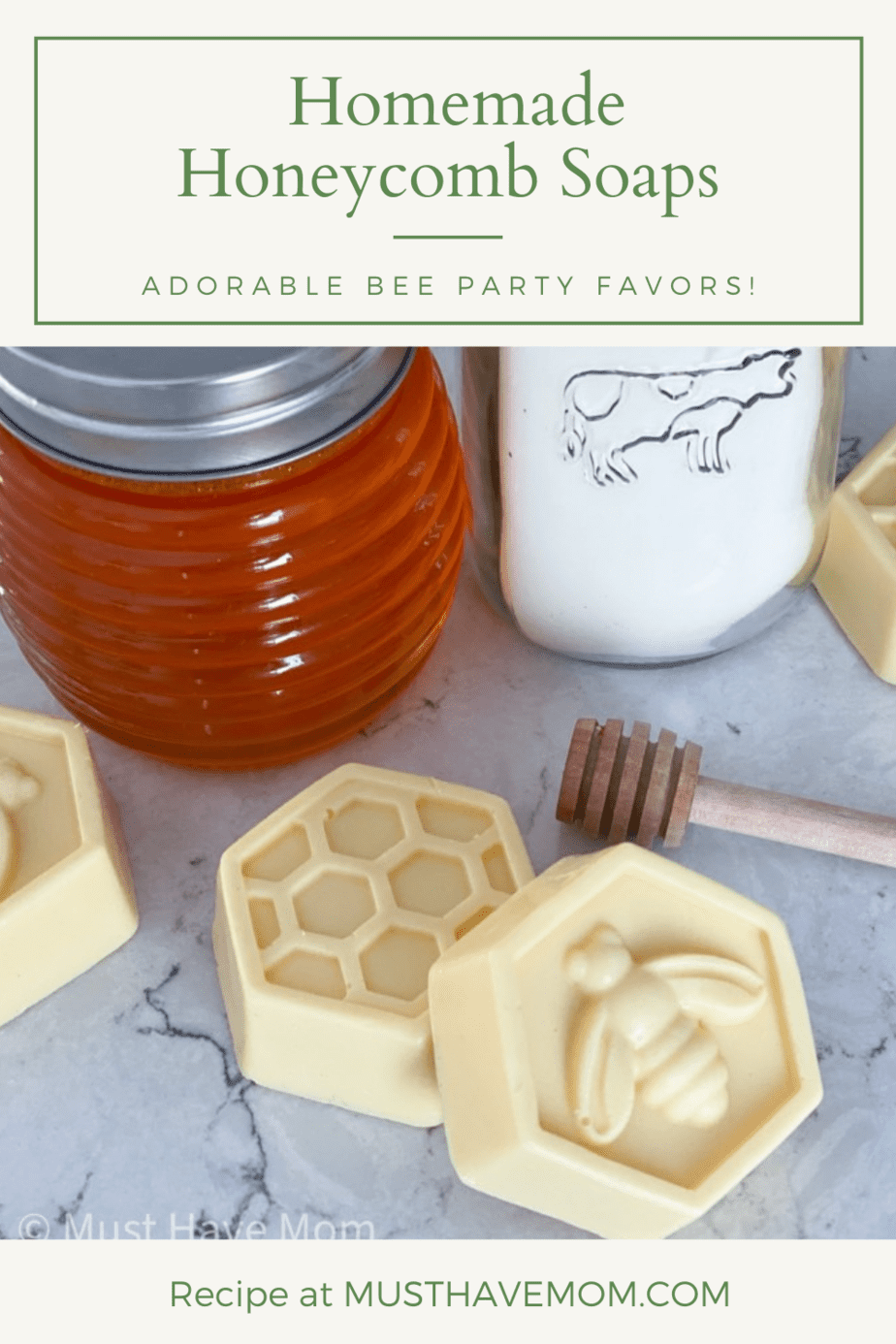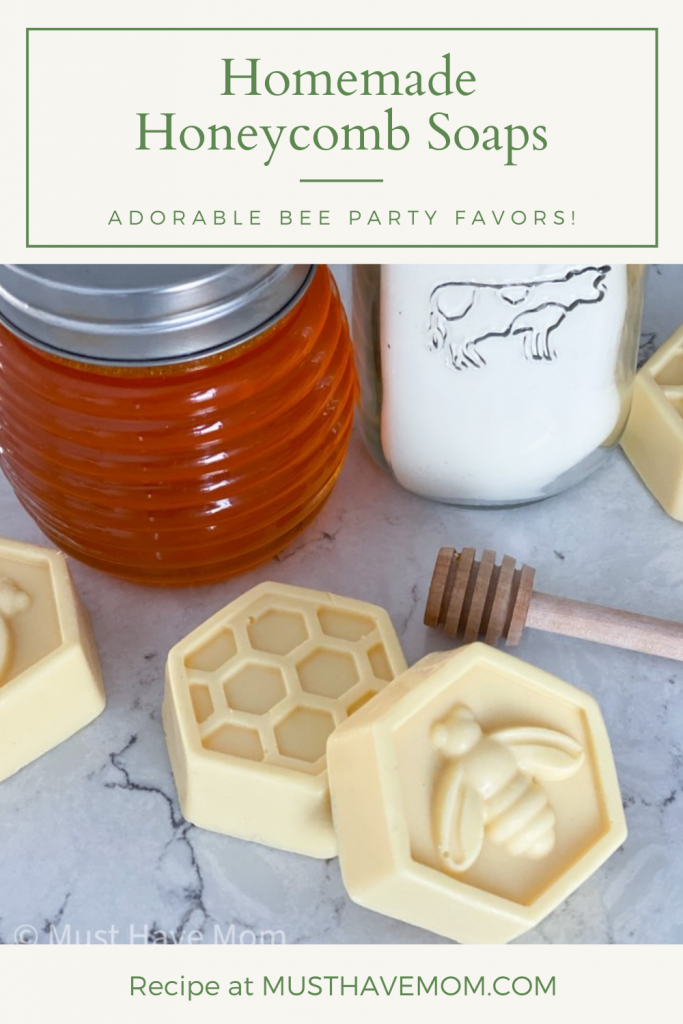 You May Also Like…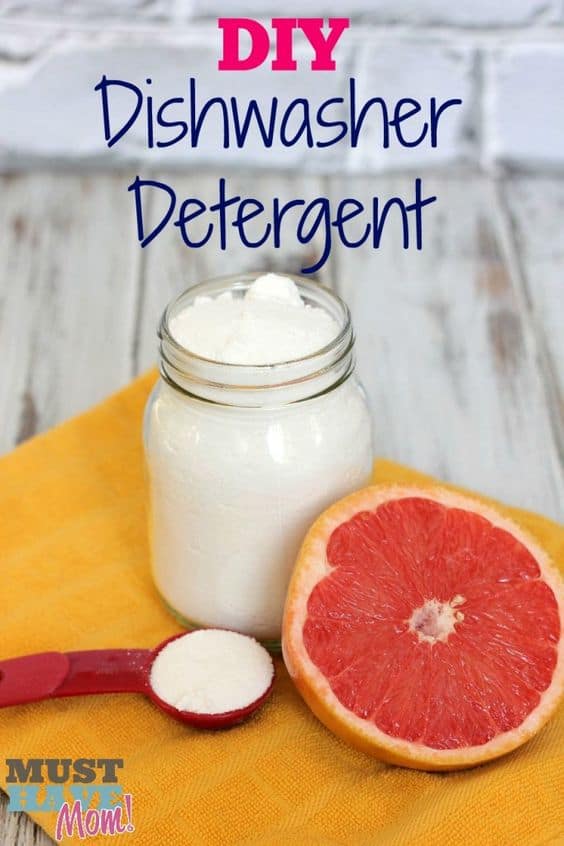 DIY Dishwasher Detergent Recipe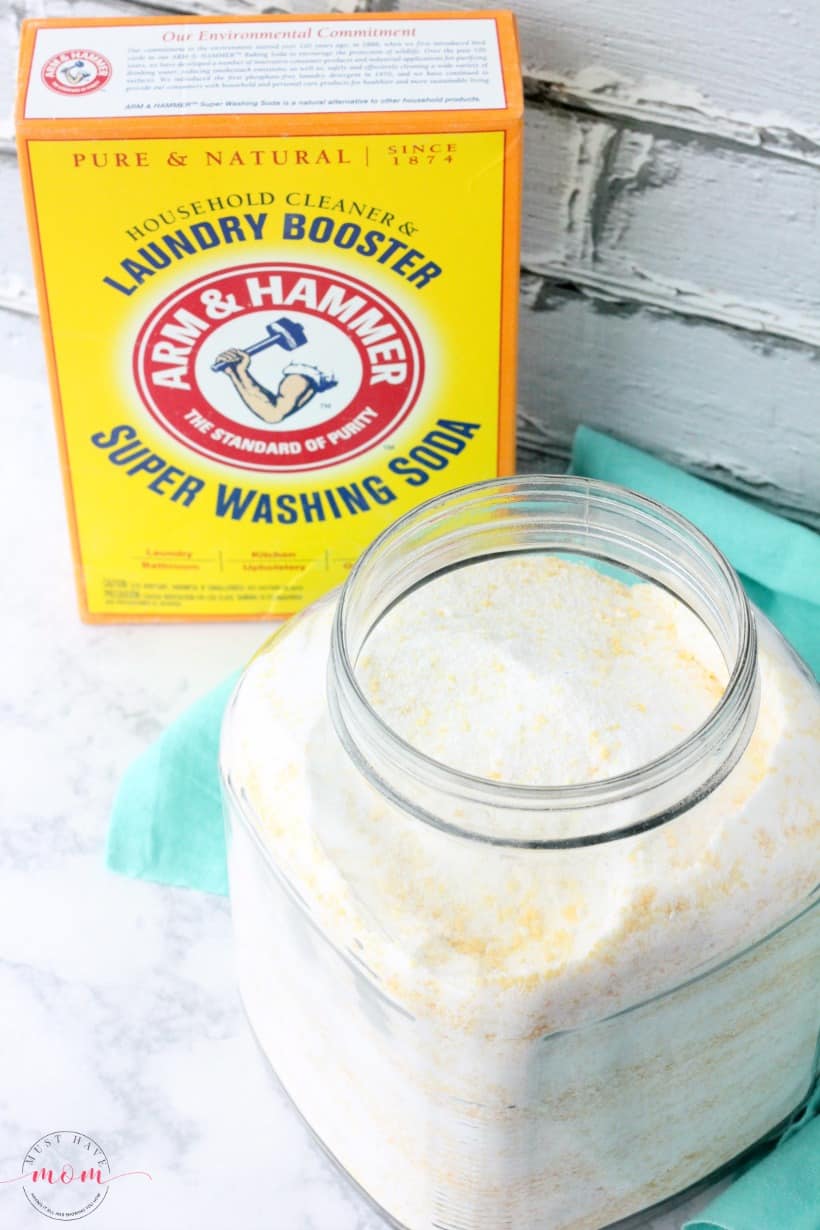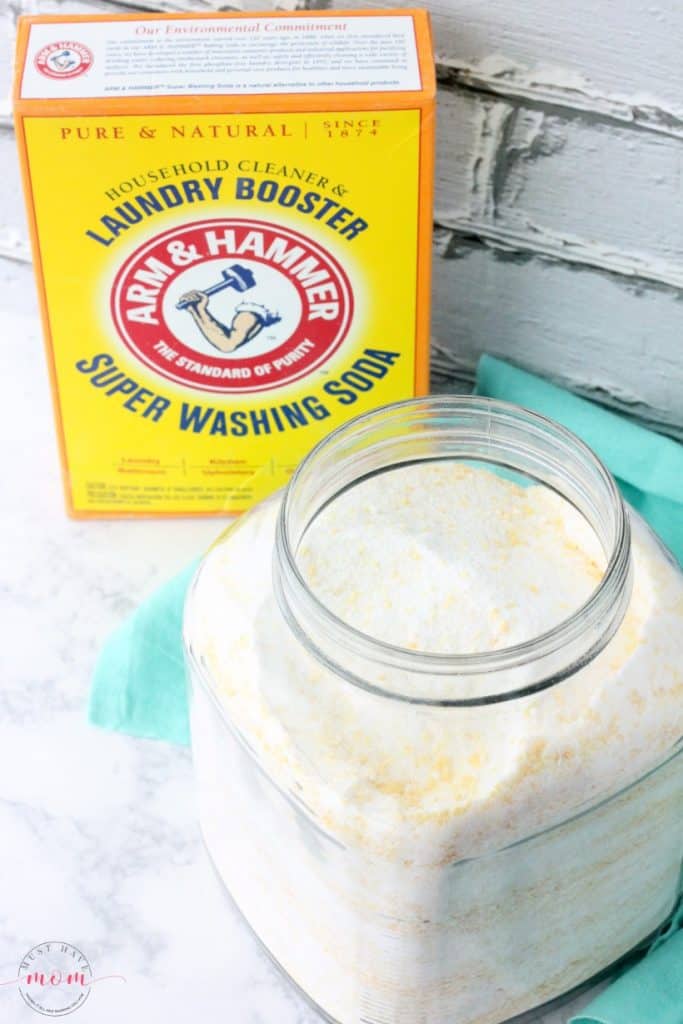 Homemade Laundry Detergent Recipe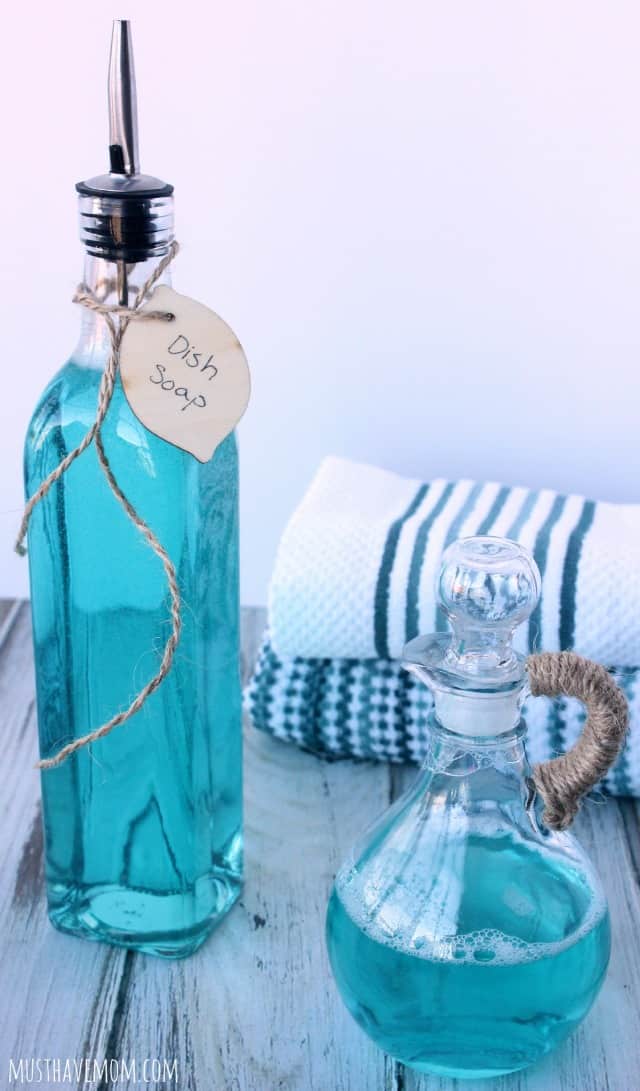 DIY Nautical Dish Soap Bottles