This lefse recipe is authentic Norwegian lefse will bring you right back to your roots or give you a taste of Norwegian culture. I come from a line of Norwegians and this recipe stays true to my roots. I learned this recipe from my mom and it has been handed down to her. It's easy to make and I'll show you the step by step so you are sure to be successful!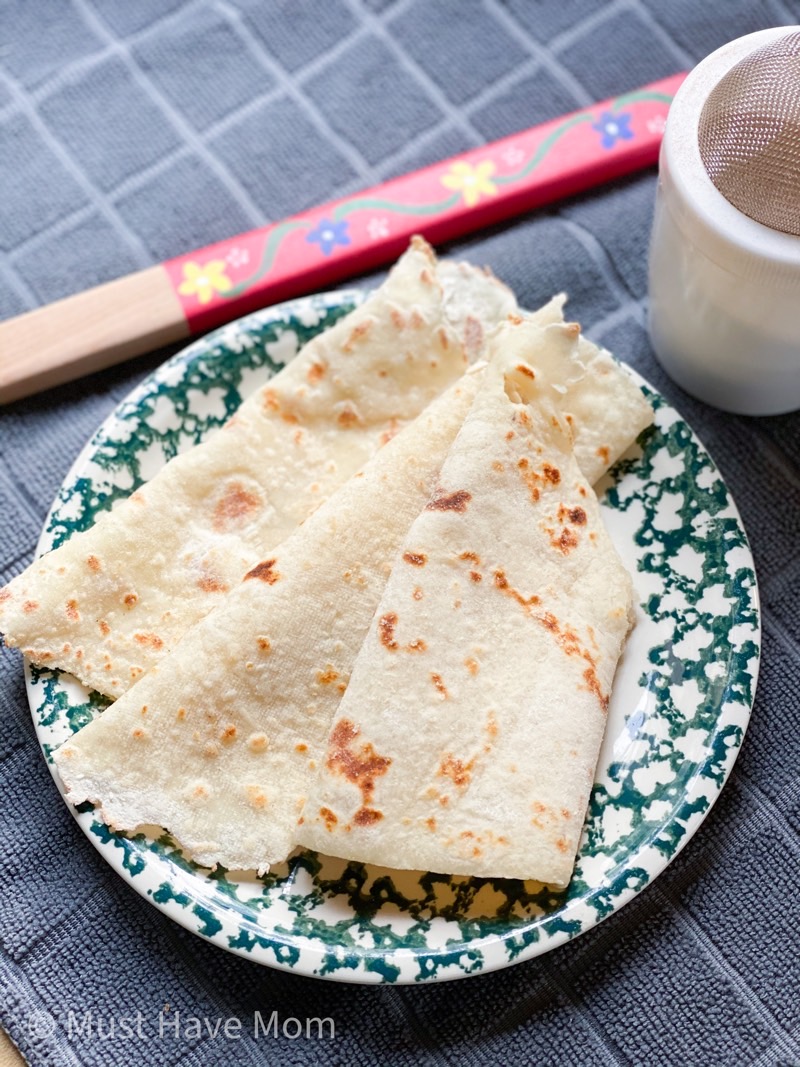 We did a taste of Europe recently and made several recipes from Europe for this. These palmier cookies (aka elephant ears) were a favorite along with this lefse recipe which my mom taught the kids herself! It was such a fun day. We also made spaetzle which was really fun and easy! This lefse recipe was another one on our list to make and it did not disappoint! The kids LOVED it and I loved sharing something from my heritage with them.
What is Lefse?
Lefse is a traditional soft Norwegian flatbread. It is made with the main ingredient of potatoes. It can be eaten hot or cold. I prefer it hot! It is traditionally eaten warm with butter and cinnamon sugar on it. It can also be eaten cold or in a savory manner. Use it in place of a tortilla, as a wrap for your favorite cold cuts, or however you wish!
Lefse has an important role to play in Norwegian culture. No holiday meal is complete without a plate of buttered lefse on the table! This lefse recipe is easy to follow and produces a perfect lefse!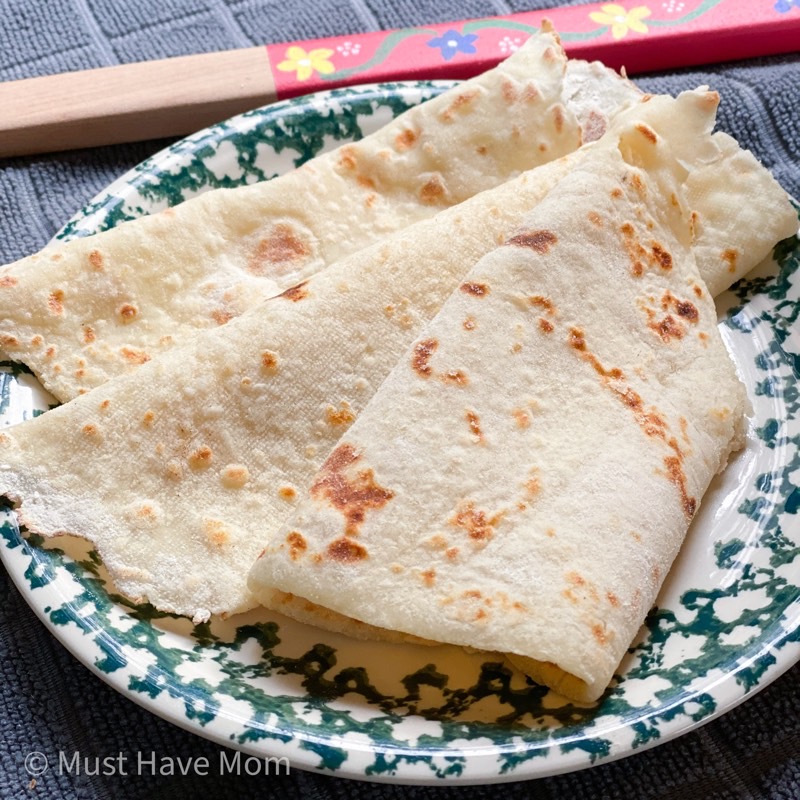 How To Make Lefse
Making lefse is not difficult but it can be intimidating if you have never done it before! Let's go step by step through the process so you can see how easy it is! Making lefse starts the day before you plan on making it and requires you to boil and rice the potatoes ahead of time and then put them in the fridge overnight. Don't overlook this step!
The first step in making lefse is to boil potatoes, sugar and salt together until soft. Then you'll drain them and put them through a ricer along with a stick of butter. You will need 4 cups of riced potatoes for this recipe.
Boil potatoes, sugar and salt until soft
Put potatoes through a ricer along with one stick of butter
Pat potatoes with paper towel, cover bowl with a towel and place in the fridge overnight
The following day you will be ready to cook your lefse!
Begin by re-ricing your potatoes through the ricer again.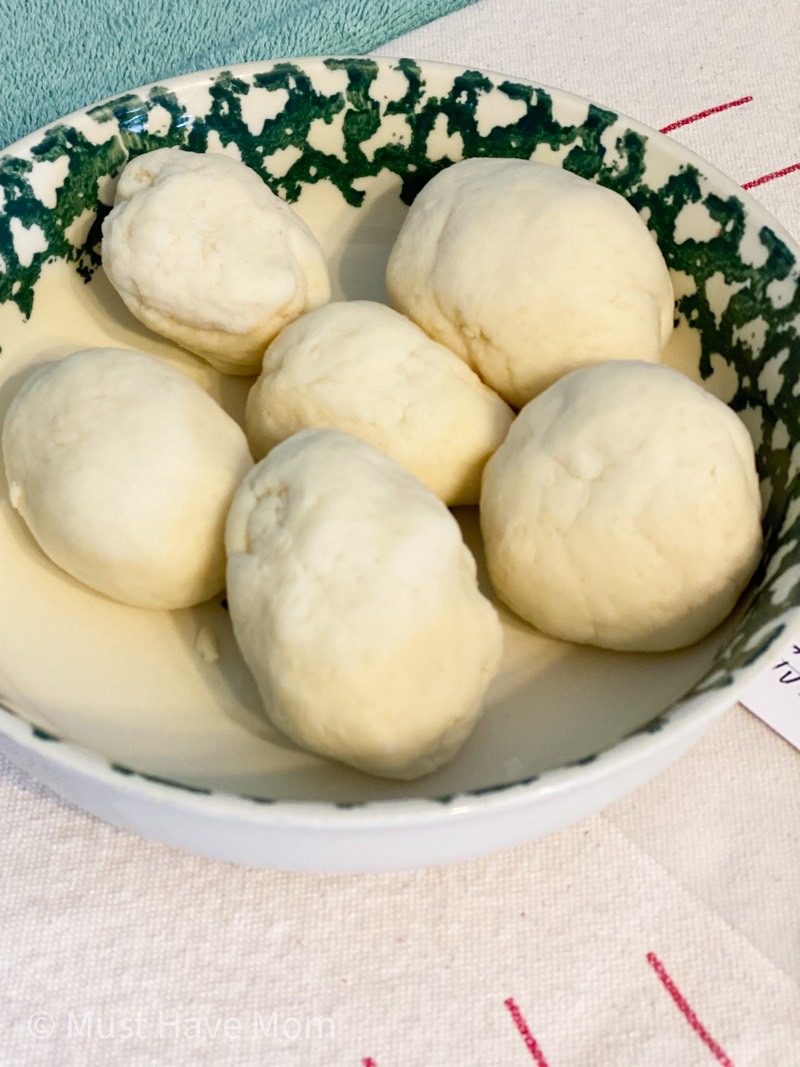 Then, you're ready to mix in milk, salt, sugar and cardamom (optional). Mix well. Add 2 cups of flour and roll dough into egg-shaped balls and return them to the fridge.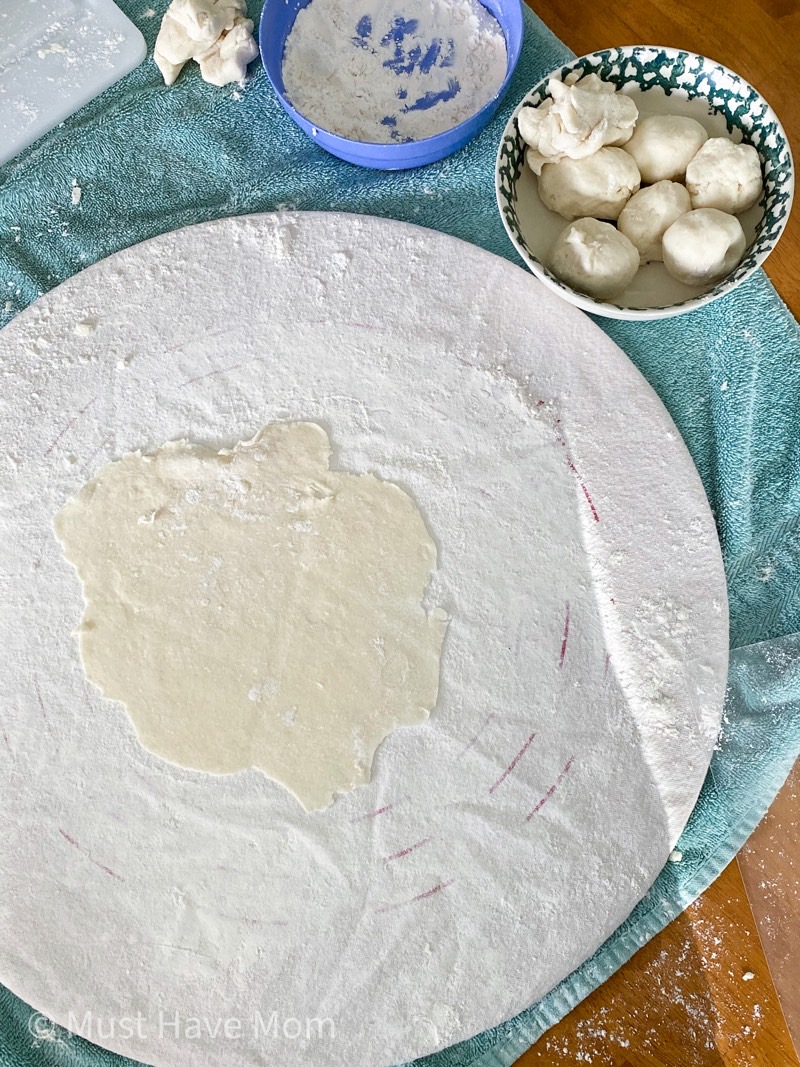 Now the fun begins!
Roll each egg-shaped ball flat. We used a pastry board to roll them out on. The kids each rolled these out on their own! It's easy to do. Roll them thin.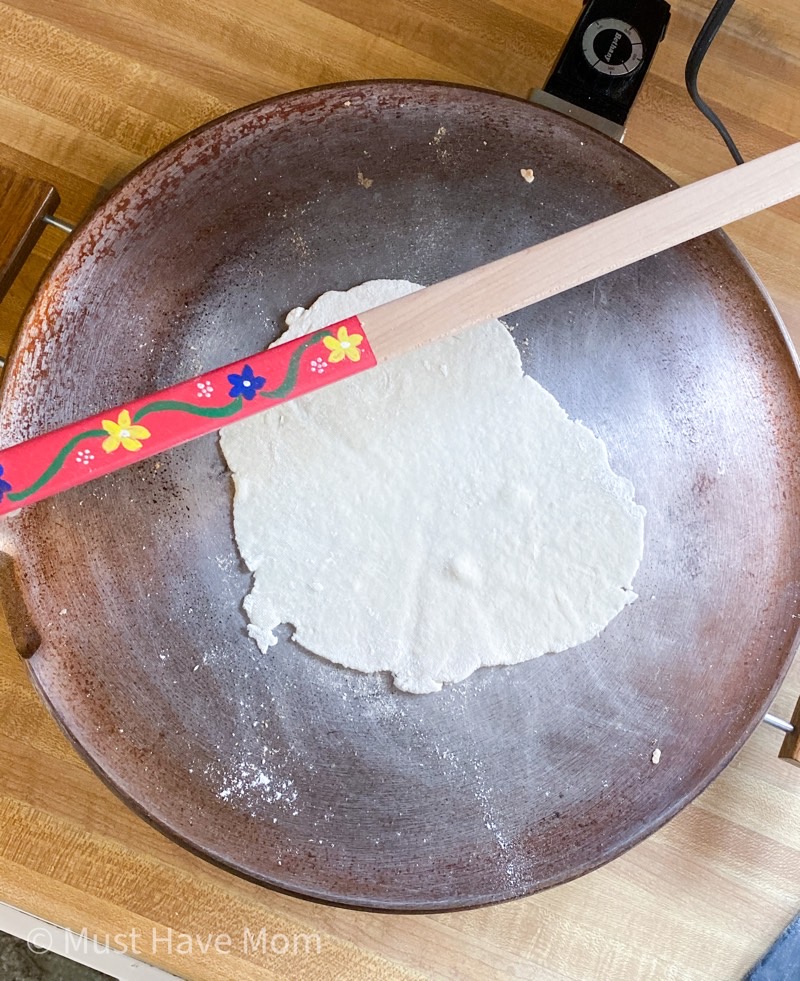 Lefse Griddle
Once your lefse dough is rolled out, you are ready to cook the lefse. Cooking lefse on a lefse griddle is the easiest way to cook it. My mom had this old griddle given to her by a friend and it cooked the lefse perfectly!
This lefse kit includes everything you need to cook your lefse properly! The pastry board, the lefse griddle, the turning stick a corrugated rolling pin and more! The only other thing you'll need is a potato ricer!
Heat the lefse griddle to 450-500 degrees F.
Lefse Stick
Using a traditional lefse stick is a fun way to keep the traditions going. Use this long stick to turn the lefse when it is time to flip it. It also makes a wonderful gift for a family member! Hand down the tradition. My mom has a beautiful, authentic lefse stick for turning her lefse. I love this wood-burned lefse stick that is made in the USA and still affordable! It is perfect for making this lefse recipe!
How do you use a lefse stick?
To use your lefse stick, take your rolled out lefse dough and wrap it around the stick at your work surface. Move over to your lefse griddle and unwrap the lefse dough from the stick onto the griddle. To flip the lefse, simply slide the stick under the lefse and flip it over.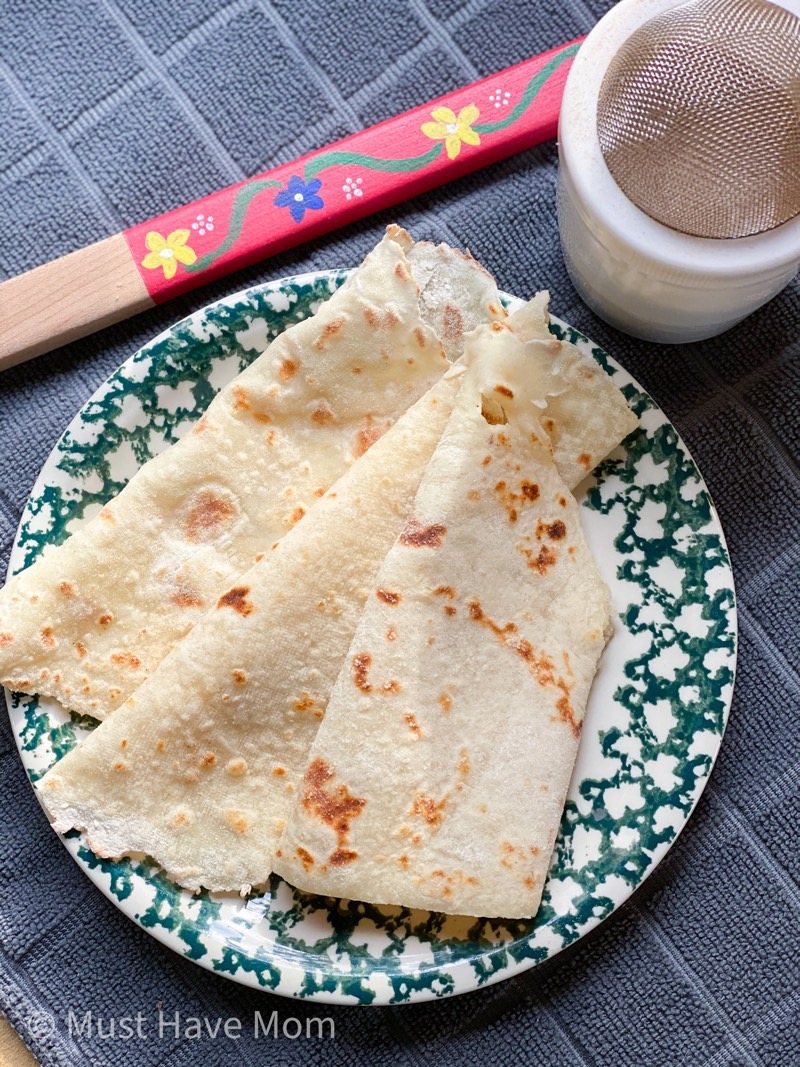 Cook lefse on both sides until slightly brown.
Top with butter and cinnamon sugar and enjoy!
Frequently Asked Questions About Lefse
What do you eat with lefse?
American lefse is traditionally served with butter and cinnamon sugar. You could also serve it with butter and brown sugar or lingonberry jelly. You could also go a more savory breakfast route with your lefse and add eggs, sausage and hashbrowns and roll it up and eat it like a burrito.
Lefse is also good for savory wraps for lunch!
What does lefse taste like?
Lefse is made with potatoes and should taste very neutral and not too much like flour. It is light and delicious and goes along well with both sweet and savory toppings!
Do you eat lefse warm or cold?
Lefse can be eaten either warm or cold! It's so versatile! Serve warm with butter and cinnamon sugar or try it cold with your favorite protein tucked inside and topped with lettuce and sprouts! You can eat lefse warm or cold and it is enjoyable both ways!
How do you store lefse to keep it fresh?
Lefse should be stored in the fridge or frozen for later. Place it in a sealed baggie or container in the fridge. You may eat it cold or warm it up before eating it.
How long does lefse last in the fridge?
Lefse should be stored in a sealed container or bag and will last about 5 days in the fridge. If you don't refrigerate your lefse it will not last as long.
Can you freeze lefse?
Yes! You can freeze lefse. Simply layer each piece of lefse with a piece of parchment paper in between. Place into a baggie or cover with foil and freeze. When you are ready to eat it simply thaw it in the fridge overnight.
How do you reheat lefse?
To reheat leftover lefse you can use the oven or the stove. To reheat in the oven, heat to 350 degrees and wrap up to 8 pieces of lefse in foil and warm for 5-10 minutes until heated through.
To reheat lefse on the stove simply warm up a skillet over medium heat and warm each side until heated through.
Print Lefse Recipe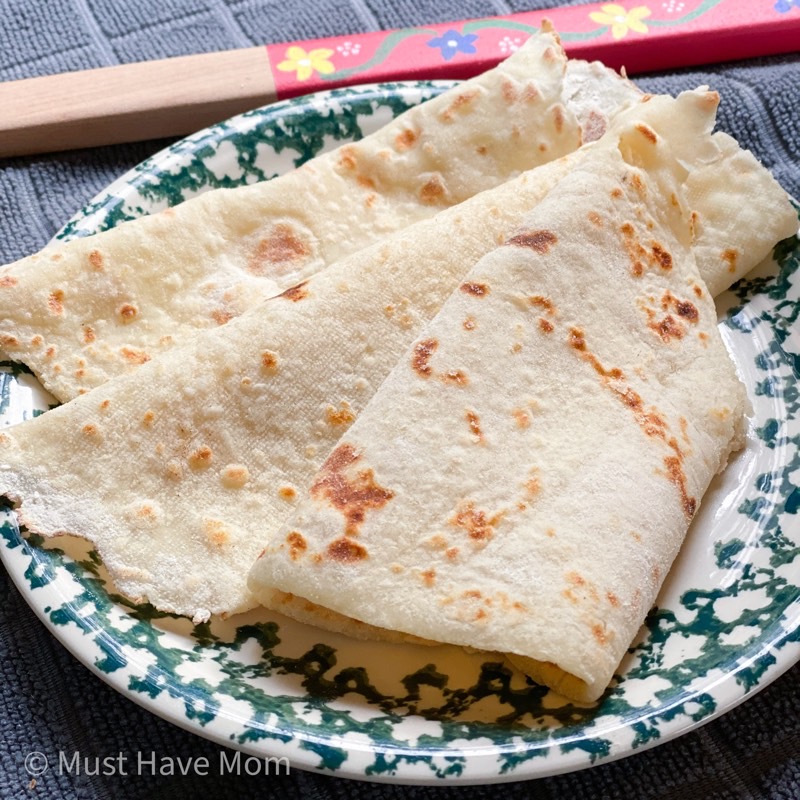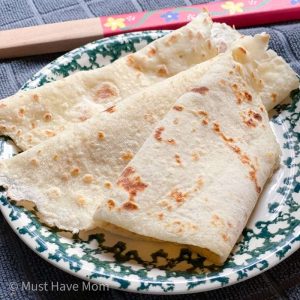 Lefse
Traditional Norwegian lefse recipe using potatoes as the primary ingredient. Can be served warm or cold!
Equipment
potato ricer

lefse griddle

lefse stick
Ingredients
Night Before Cooking Day
6-7

medium

potatoes

washed (optional to dice them)

1

tbsp

sugar

1

tbsp

salt

8

tbsp

butter
Cooking Day
1/3

cup

milk

1

tsp

salt

1

tsp

sugar

1/8

tsp

cardamom

optional
To Serve
4

tbsp

butter

cinnamon sugar
Instructions
Night Before Cooking Day
Bring a large pot of water to a boil. Add potatoes (whole or diced), salt and sugar to pot. For diced potatoes cook 10 minutes, for whole potatoes approx 20 minutes until potatoes are soft. When pierced with a fork, the fork should easily slide in.

Once potatoes are cooked, drain and put through a potato ricer along with 8 tbsp (1 stick) of butter.

Pat the potatoes with a paper towel and then cover bowl of riced potatoes with a towel and place in fridge overnight.
On Cooking Day
Re-rice the potatoes through your potato ricer again.

Add milk, 1 tsp salt and 1 tsp sugar to potatoes and mix together to combine. You may optionally add 1/8 tsp cardamom at this point if you wish. Add 2 cups flour and combine well.

Roll dough into egg-shaped balls and return to the fridge.

Heat lefse griddle to 450-500 degrees F.

Roll out balls very thin on a pastry board using a rolling pin.

Cook on lefse griddle until brown, flip and cook opposite side until brown.

Serve with butter and cinnamon sugar sprinkled on top.
Pin Lefse Recipe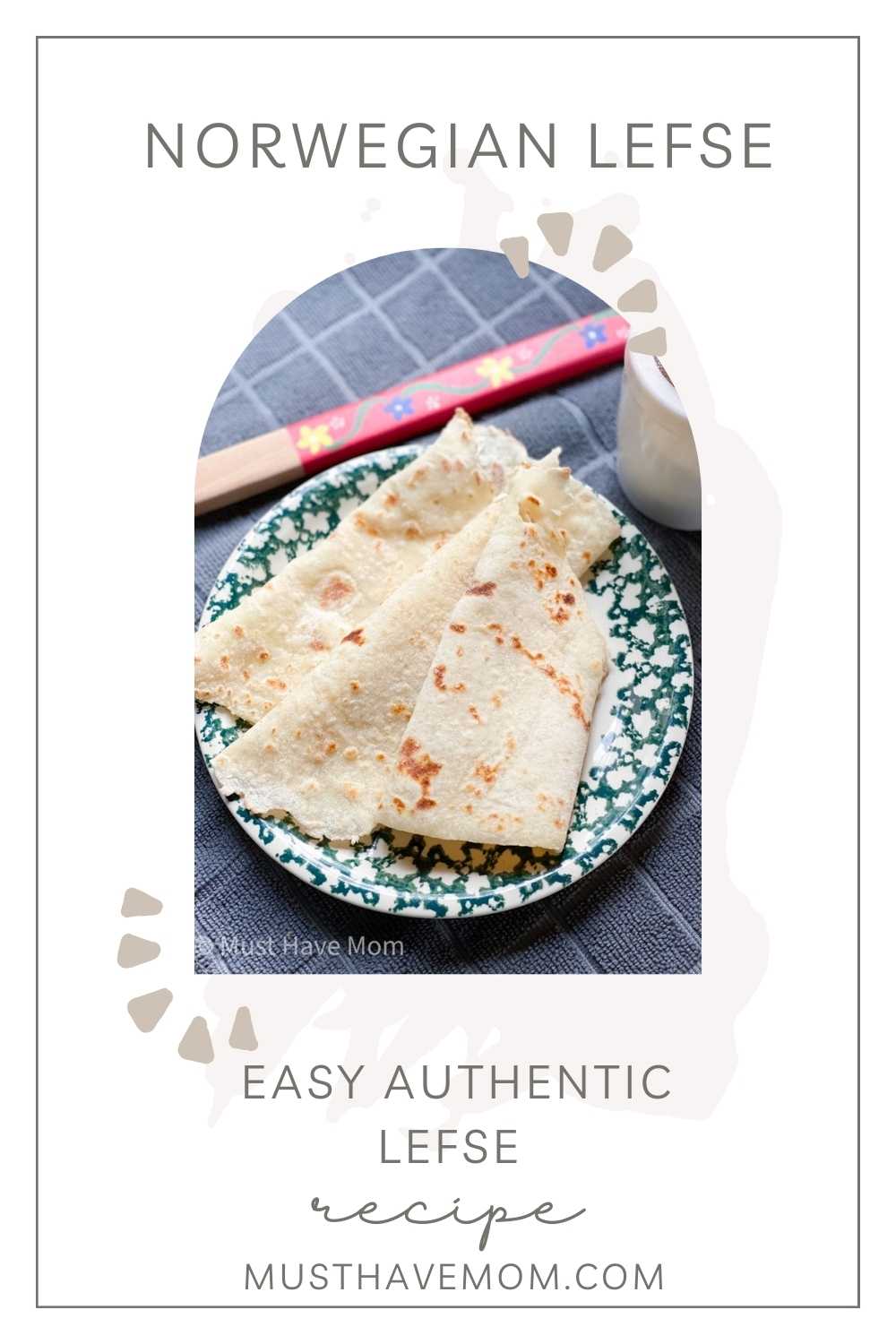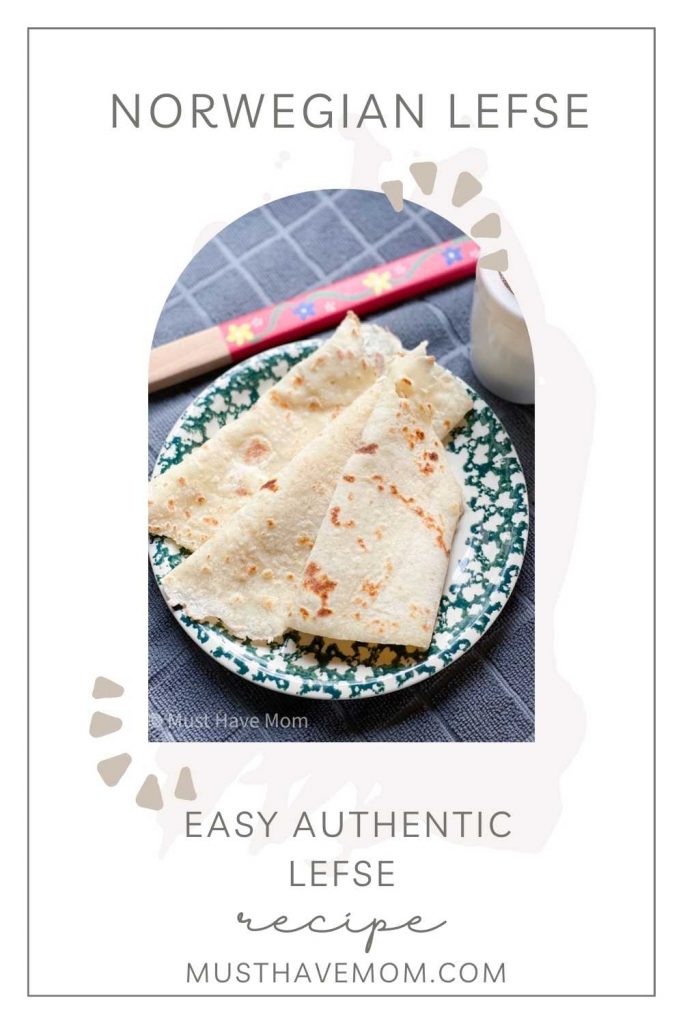 You May Also Like…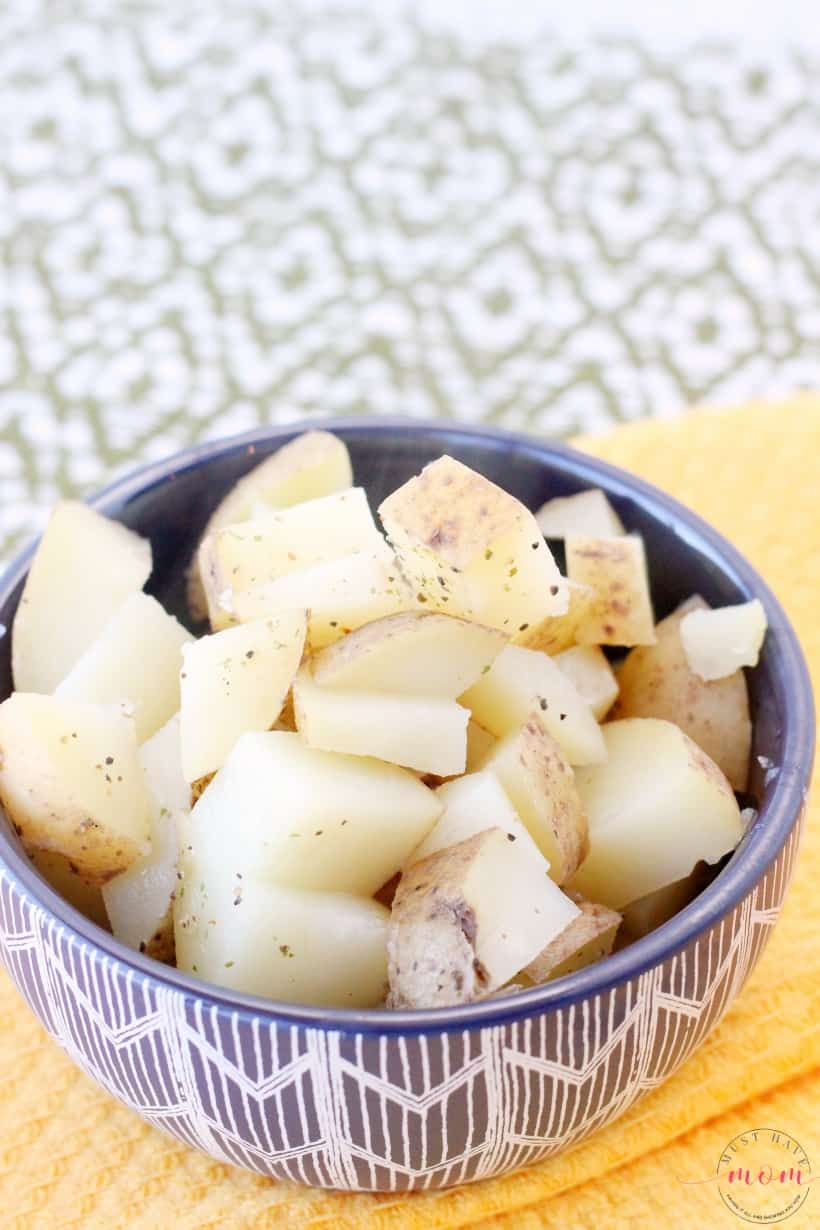 How to cook diced potatoes in an Instant Pot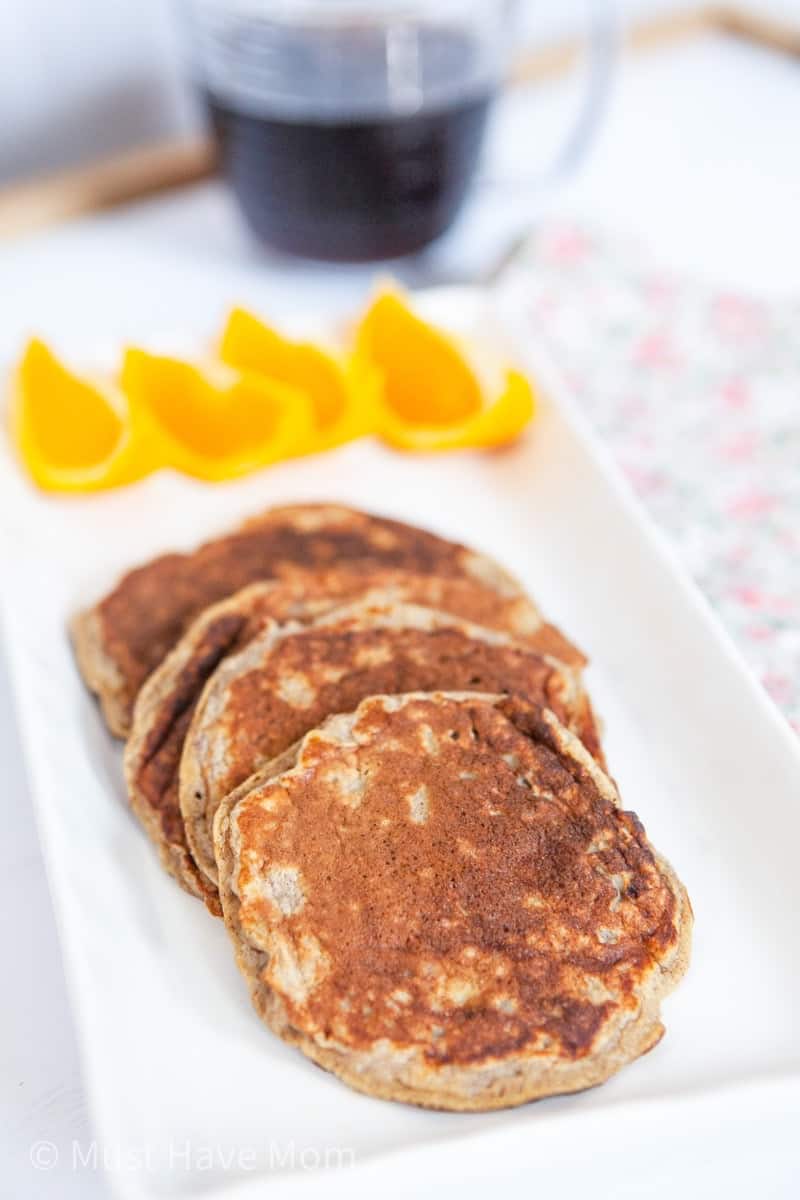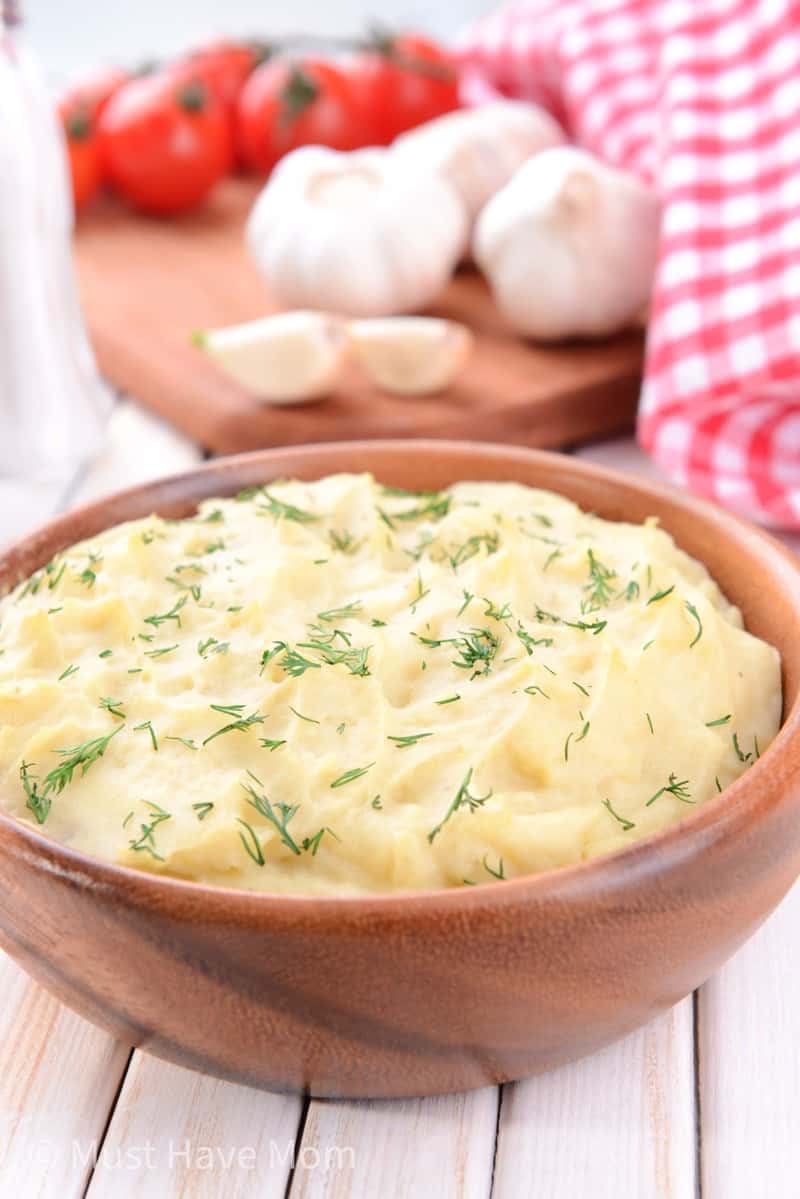 Instant Pot Garlic Mashed Potatoes