I've been making my own laundry detergent for over a year now and I've been really pleased with the savings it has netted me. The detergent works well and is so easy to make a huge batch of. I mix up enough to last us about six months at a time. I never buy detergent at the store anymore and it's freed up money in our budget for other things. If you haven't given it a try yet then I highly recommend it.
Before posting this I wanted to make sure I had tested it out thoroughly and put my stamp of approval on it. Both my sister and I tested out the detergent over the course of a year and have not noticed any difference from the store bought brand other than the lack of scent. I do think it smells clean but of course there aren't added perfumes to make it smell like the store bought kind. I also wanted to test out whether or not my son Aiden's skin reacted to it as he has very sensitive skin and a lot of allergies. He can't use any fabric softener or scented detergents so I was interested to see if I could forgo buying the expensive "sensitive" laundry detergent and use this instead. Sure enough his skin did not react at all to this detergent and I've been really pleased with that! If you DO want your laundry to smell then you can add fabric softener to the recipe (as stated below) and it will give it a nice scent.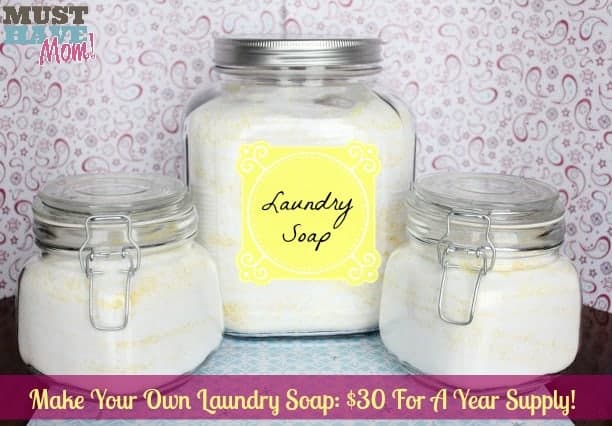 The really incredible thing about making your own laundry detergent is that it will only cost you around $30 a year! That's right, $30 for an entire year supply of detergent for a family of four. It's an amazing savings.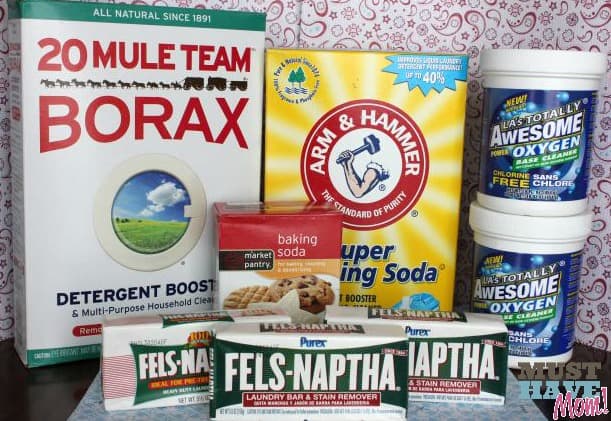 The ingredients you need are basic and inexpensive. You will need Borax, Super Washing Soda, Fels-Naptha Soap (all three of these can be found in the laundry aisle), baking soda, and oxiclean (I used the dollar store brand). You can also get powdered fabric softener to add to it.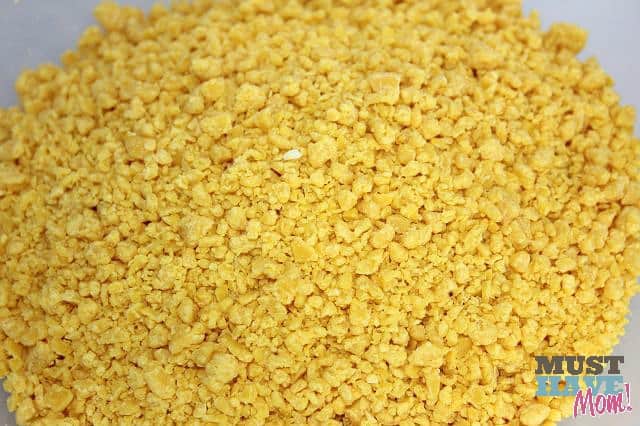 You will need to either grate your Fels-Naptha soap or put it in your food processor. If you don't have a food processor then grate it with a cheese grater. Putting it in the food processor is much easier and faster. Add a scoop of Oxiclean to it to help it reach a fine crushed state. Once you've grated the soap you just need to mix all of your ingredients together. This can be done in a very large bowl or a garbage bag. Then I transfer mine into a big glass mason jar and put the remainder in gallon zip top bags to refill my jar as it empties.
Here is the recipe. It will take you all of 15 min to make this (longer if you need to grate your soap instead). Just think of all the money you will be saving! I use this in my HE washer and it is safe for it. This recipe has directions for both HE and top loaders!
Must Have Mom
DIY: Make Your Own Laundry Soap ~ For A Year Supply! Recipe & How To
Easy Powdered Laundry Soap Recipe
15 minPrep Time
15 minTotal Time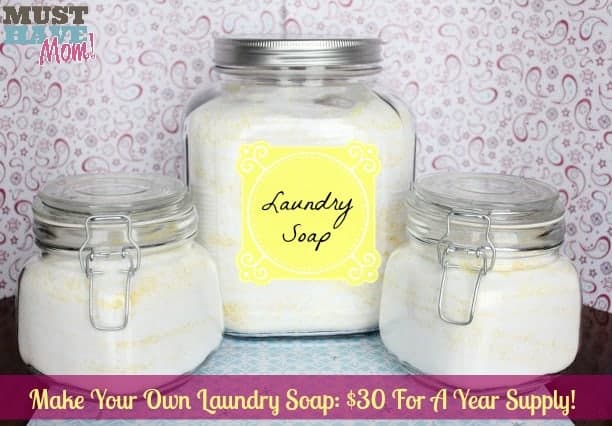 Ingredients
3 Bars Fels-Naptha Soap
1 Box Borax
1 Box Super Washing Soda
2 Cups Baking Soda
2 Containers Dollar Store Oxiclean OR 6 Scoops Oxiclean brand
Optional: 1-2 Containers Purex Fabric Softener Crystals
Instructions
Grate Fels-Naptha soap or place in food processor with a scoop of Oxiclean until finely crushed.
Mix all ingredients together in a large bowl or garbage bag.
Transfer to a glass mason jar or zip top gallon bags.
Use 2 Tbsp per load. For HE machines put detergent directly in barrel.
Top Loaders use 1/4 Cup.
7.6.4
197
https://musthavemom.com/diy-make-laundry-soap-30-year-supply-recipe/
Like this post? Pin it, Share it, Tweet it!