Laundry Hacks Every Mom MUST KNOW!
Laundry is never-ending and these are laundry hacks every mom MUST know! I'll show you how to get wrinkles out of clothes fast, how to make your own reusable dryer sheets and more! Want to save time and money doing laundry? I'll show you how.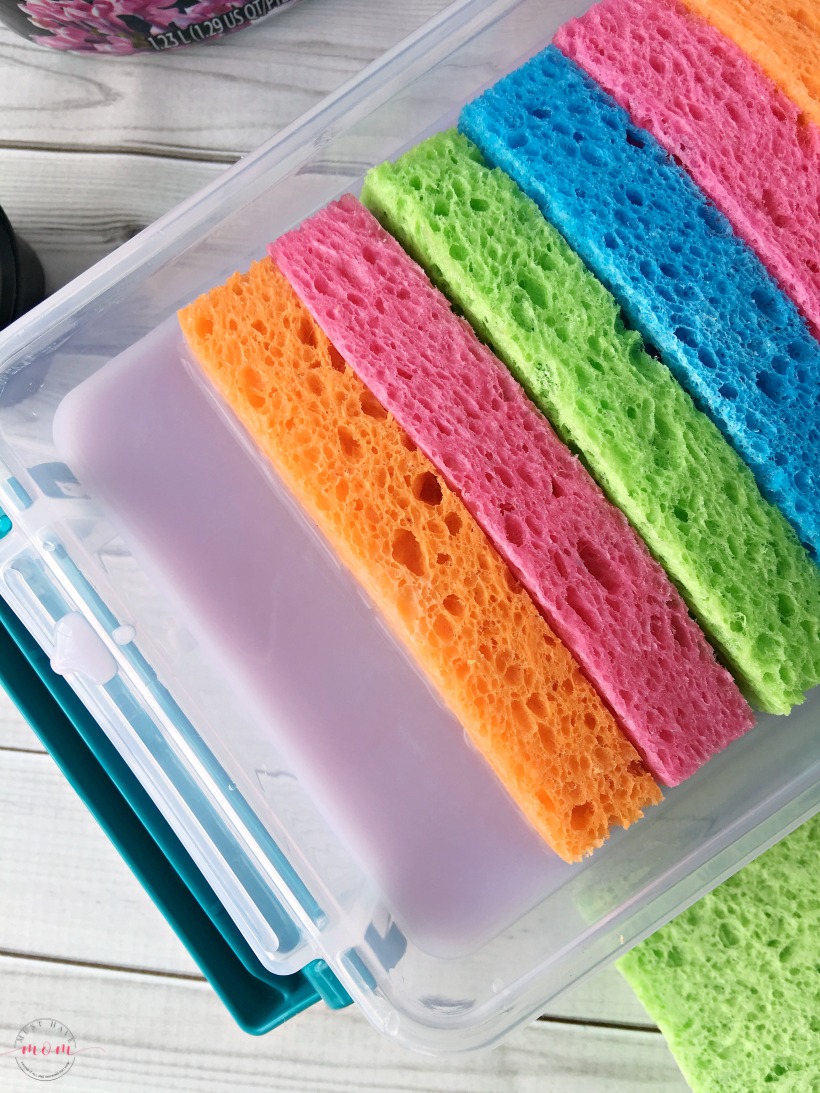 I do laundry every day. With six of us in this house, it is a never-ending pile that never goes away. I've come up with some go-to laundry hacks that I couldn't live without and I want to share them with you to make laundry day (is there ever not a laundry day?) easier in your home too!
Laundry Hacks Every Mom Must Know
Here are some of my favorite ways to save time and/or money on laundry tasks. Hint* anything that saves me time is a win in my book!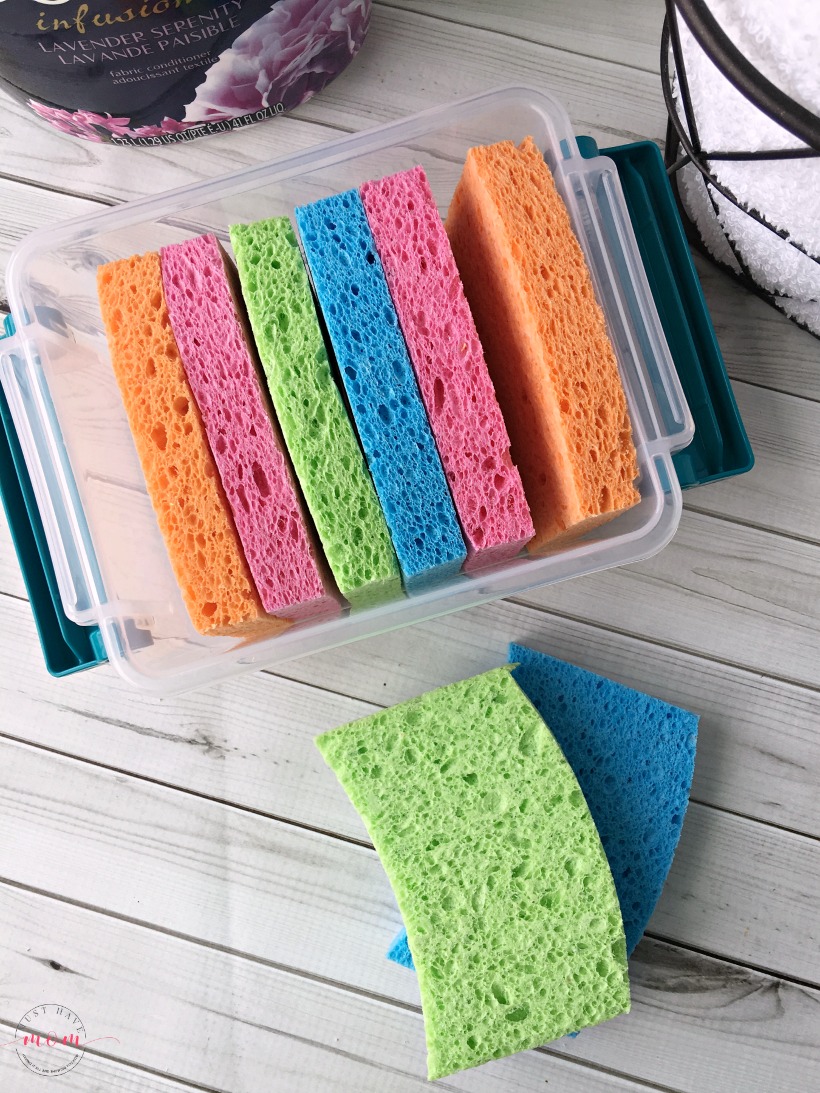 One tip another mom shared with me awhile back is to make your own reusable dryer sheets and stop tossing dryer sheets after every load. These DIY reusable dryer sheets are super simple to make and they will leave your clothes smelling amazing.   To make the DIY reusable dryer sheets you'll need a plastic container with a lid, basic sponges, your favorite Downy fabric softener and water. Make sure the sponges fit in your plastic container. Place them inside.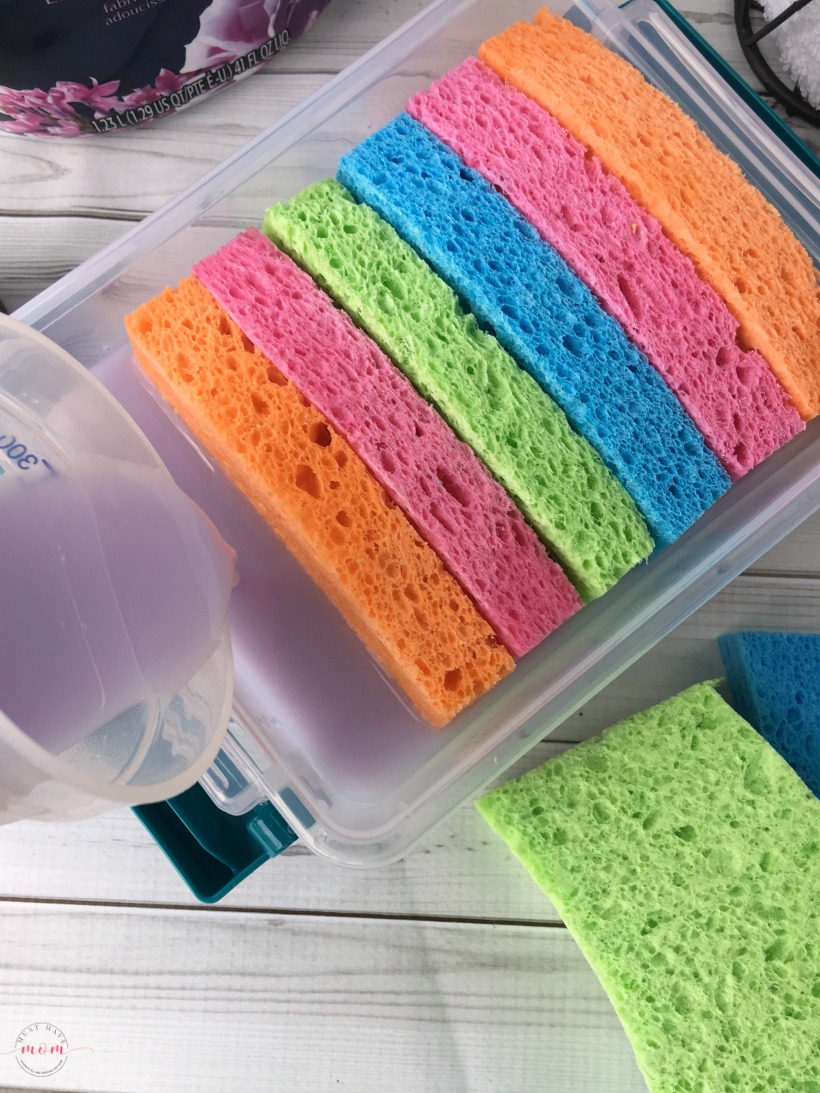 Mix together 2 cups of water and 1 cup of Downy fabric softener (I use lavender serenity scent). Pour the mixture over your sponges.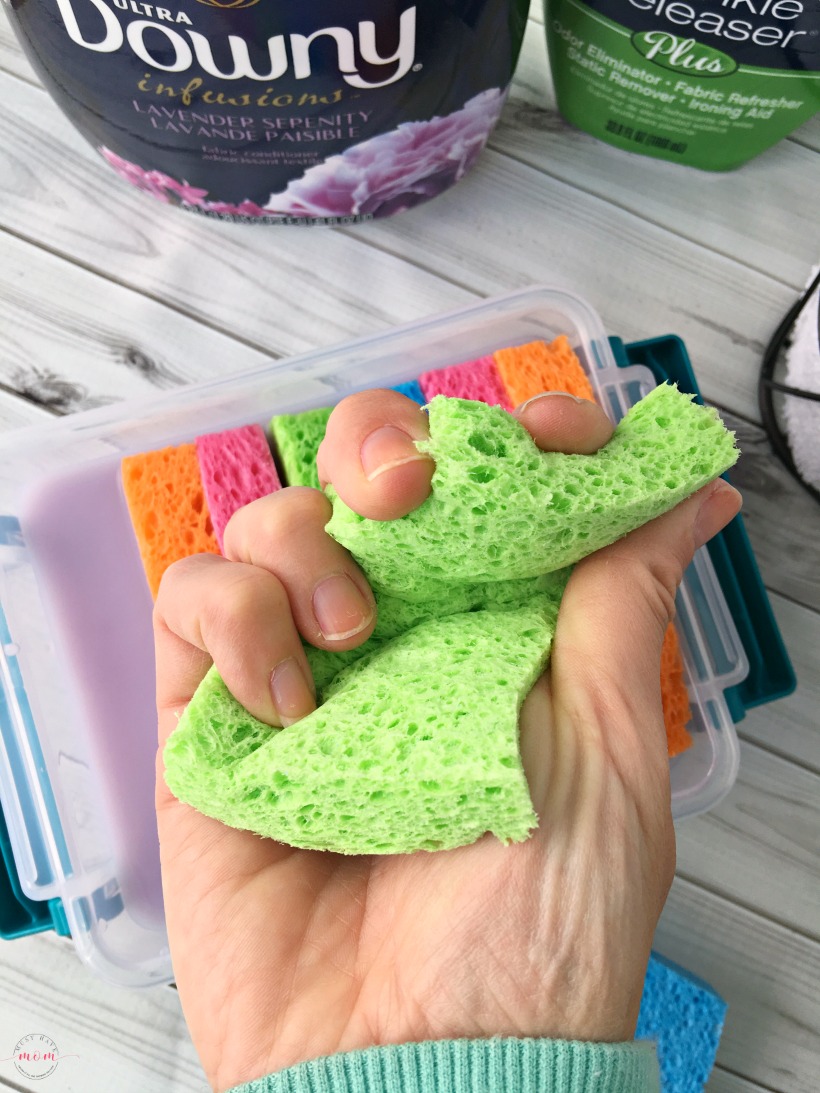 Allow the sponges to soak up the solution. When you are ready to use them simply remove a sponge, squeeze out the excess liquid and toss it in the dryer with your wet clothes. Run the dryer cycle as usual.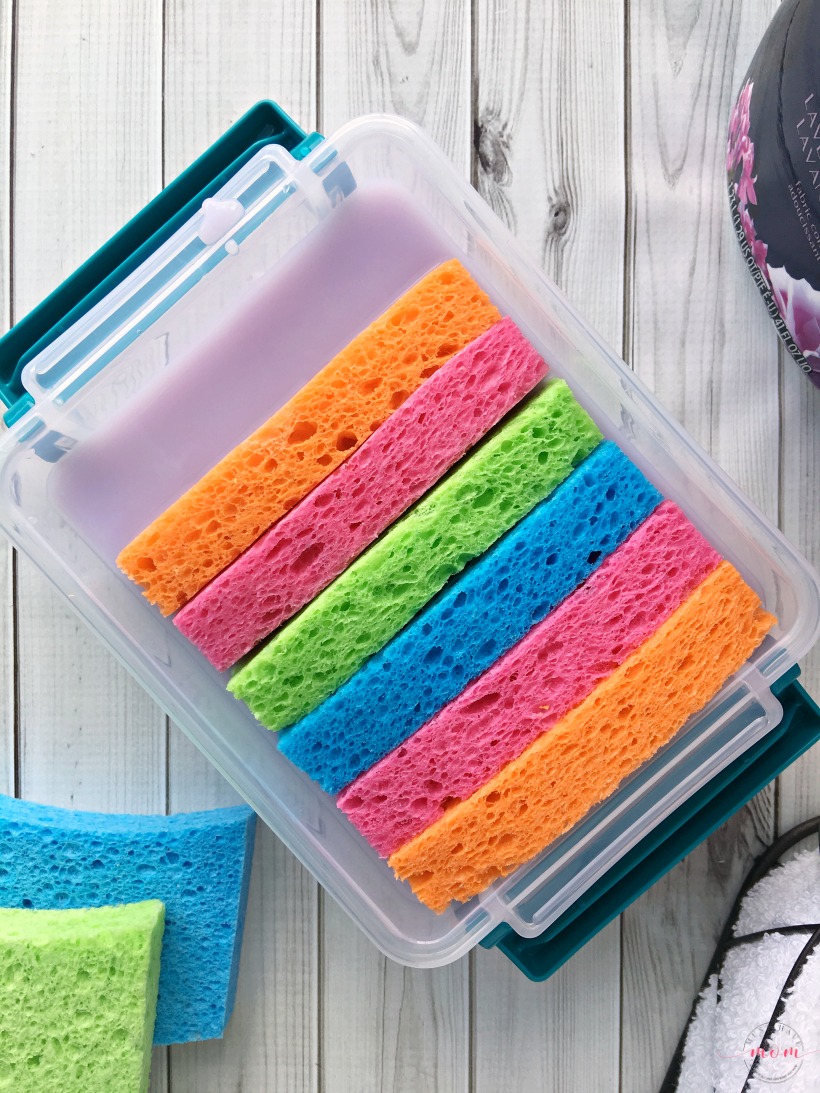 Once the dryer cycle is complete place the dry sponge back in the container of solution to be used again. When you start running low on the solution just mix up another batch and add it to the container. These are endless dryer sheets at a fraction of the cost of dryer sheets! Score a win for mom.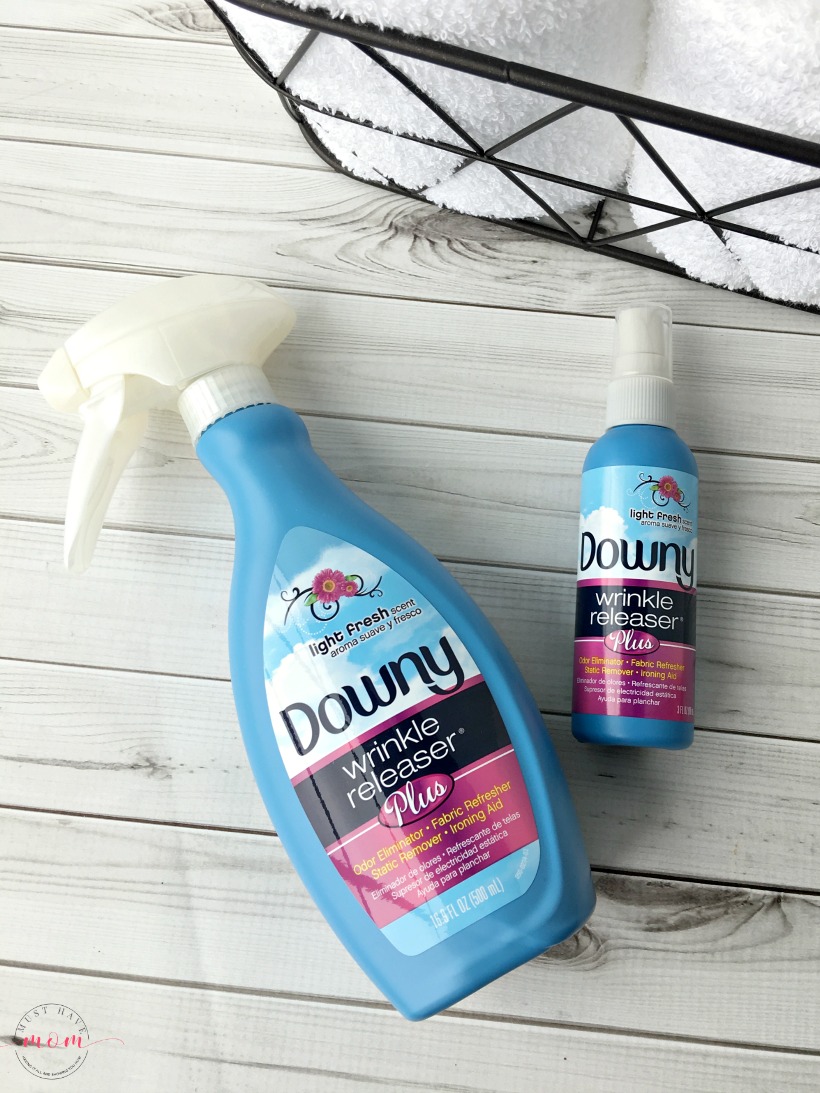 The reusable dryer sheets will have your sheets smelling fresh and static-free, but occasionally I'll get some pieces that are still staticky after they finish in the dryer. For this I use Downy Wrinkle Releaser Plus. It works especially good for those fabrics that tend to retain static (like plush blankets). Just spray it on and let it dry (it's super fast).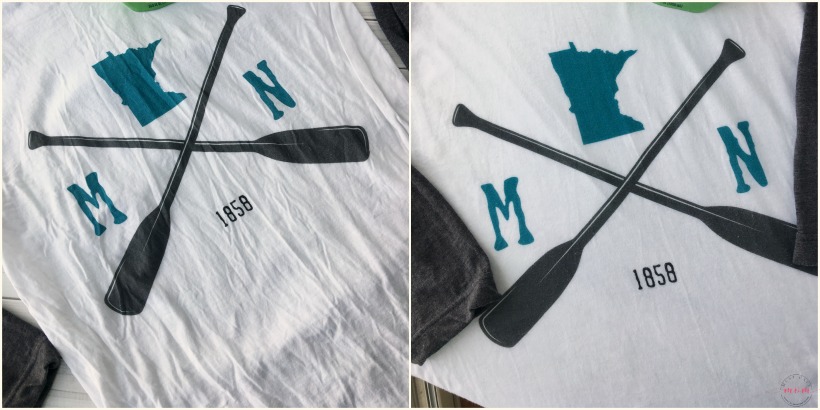 That brings me to my most dreaded activity, ironing! Who irons anymore? Do people actually iron still? My mom irons. I do not iron. I end up ironing more wrinkles IN to the clothes than I get OUT of the clothes! That is why this is my favorite laundry hack! Skip ironing and instead, spray your clothes with Downy Wrinkle Releaser Plus! Just spray whatever item you need to remove wrinkles from, tug and smooth the fabric and hang to dry.
It dries really quickly and the spray nozzle covers a large area making it easy to quickly remove wrinkles from your clothes. You'll end up with a wrinkle-free item that looks a million times better than anything I've tried to iron! See my awesome before and after on my Minnesota Paddles raglan tee above? That took me five minutes total, with only 30 seconds spent doing anything and the rest of the time spent allowing it to dry. Pretty amazing right?

Downy Wrinkle Releaser Plus works amazingly well for getting wrinkles out of clothes fast! It can also be used as a laundry hack for freshening up items that have been sitting in your closet for a long time or eliminating odors on clothes. I also keep a travel size on hand for all my wrinkled clothes that come out of my suitcase when I travel! It's the best laundry hack ever!
To save money on laundry detergent you can make your own for about $30 for a year supply! My recipe: Laundry detergent recipe. Add some Downy Unstoppables fabric softener to it to make it smell amazing!
Use a lingerie bag to put all of your socks into so you never lose another mate! Where do all those socks go anyway?
Use hairspray to remove ink stains on clothing.
Stop folding laundry with this genius laundry system.
My biggest laundry hack that really saves me the most time is to wash each family member's clothing in their own load to save yourself from separating out every single load you wash. With 3 boys in sizes that are very close to each other, I was having to check the size tag on each piece of clothing and it took forever! This simple laundry hack saves me a ton of time!
Do you have laundry hacks that save you time or money? Share them with me in the comments!
Since I love saving you time and money when it comes to the dreaded laundry chores, I've got Downy coupons and offers for you to save even more money with! You can find a store that carries Downy Wrinkle Releaser Plus near you and stock up on my favorite laundry hack! Trust me, you'll toss your iron once you try it!
Pin these laundry hacks!