These easy rock painting ideas show you step by step how to paint each scene! Choose from four winter scenes including a pair of ice skates, a winter hat, a snowman and a pair of mittens! Great rock painting ideas for kids and adults!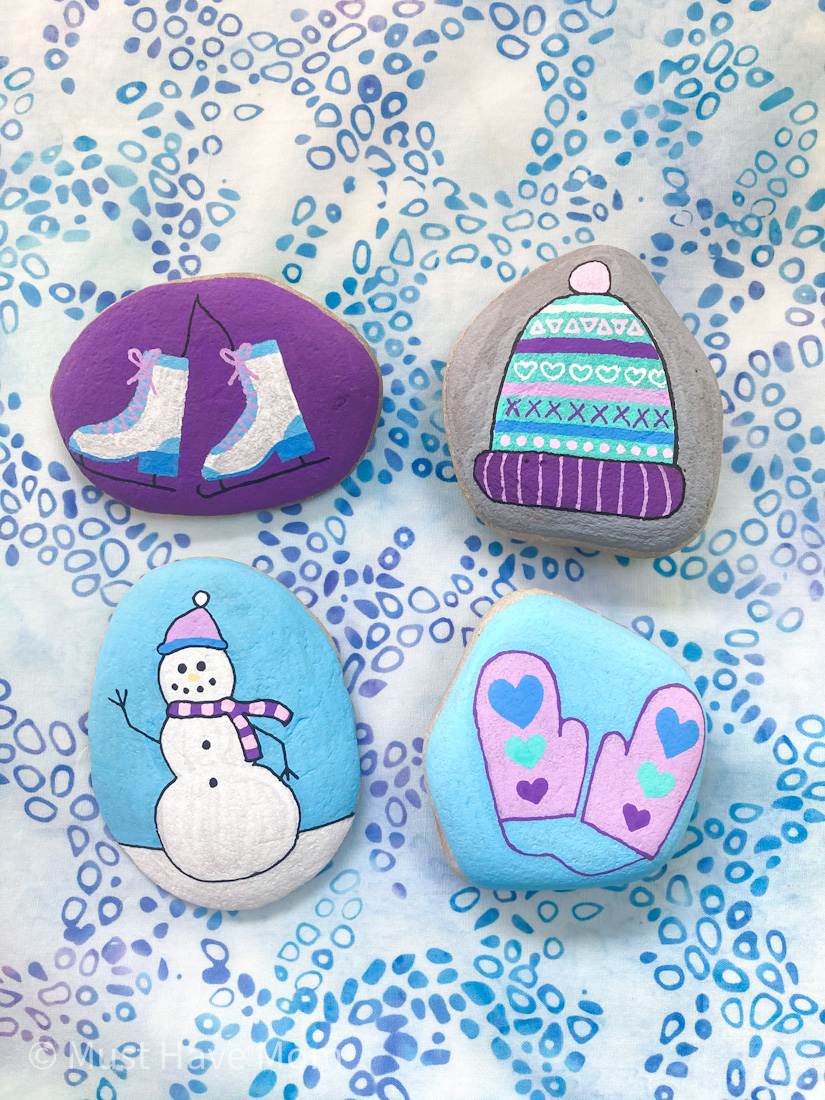 My kids LOVE when they find a kindness rock and that inspired us to paint rocks and make our own kindness rocks! Have you heard of kindness rocks? Essentially, you paint cute scenes on a rock and hide the rock. The person that finds it can choose to keep it or re-hide it and keep the cycle of joy and surprise going! It's really fun! I shared these Christmas rock painting ideas with you already and these winter rock painting ideas go along with it well!
How To Paint Rocks
Painting rocks is not hard so don't be intimidated. Anyone can do it and there is no special art skill required. Just dive in and have fun! Follow our easy step by step directions to make these four winter-themed rocks!
Rock Painting Supplies
There are just a few basic supplies you'll need to paint your rocks!
If you plan on painting, acrylic paint works best on the rocks. If you plan on using a paint pen for your art, you can use paint markers (we suggest the Posca, Artistro, and Tooli-Art brands), artist pens, gelly roll pens, markers, highlighters, etc.
The following directions show how to make each rock painting design. Be sure to scroll further down to see the step by step photos of making each design!

How To Paint Rock Painting Snowman
This friendly snowman is sure to brighten anyone's day! Here is how you paint him on a rock!
Make sure your rock is clean and free of debris.
With a pencil, draw the outline of the snowman- one small, one medium, and one large circle.
Color in the snowman in white.
Color in the background with blue, leaving room for snow on the ground.
Color in two black eyes, two black buttons, and two arms with one waving.
Color in a scarf with purple, and a hat with pink and blue.
Add pink squares to the scarf and a small snowball topper to the hat.
Color in a light orange carrot nose and four black dots for his smile.
Outline the snowman in black.
Add white for the snow below the snowman.
Spray with a sealant to complete the rock.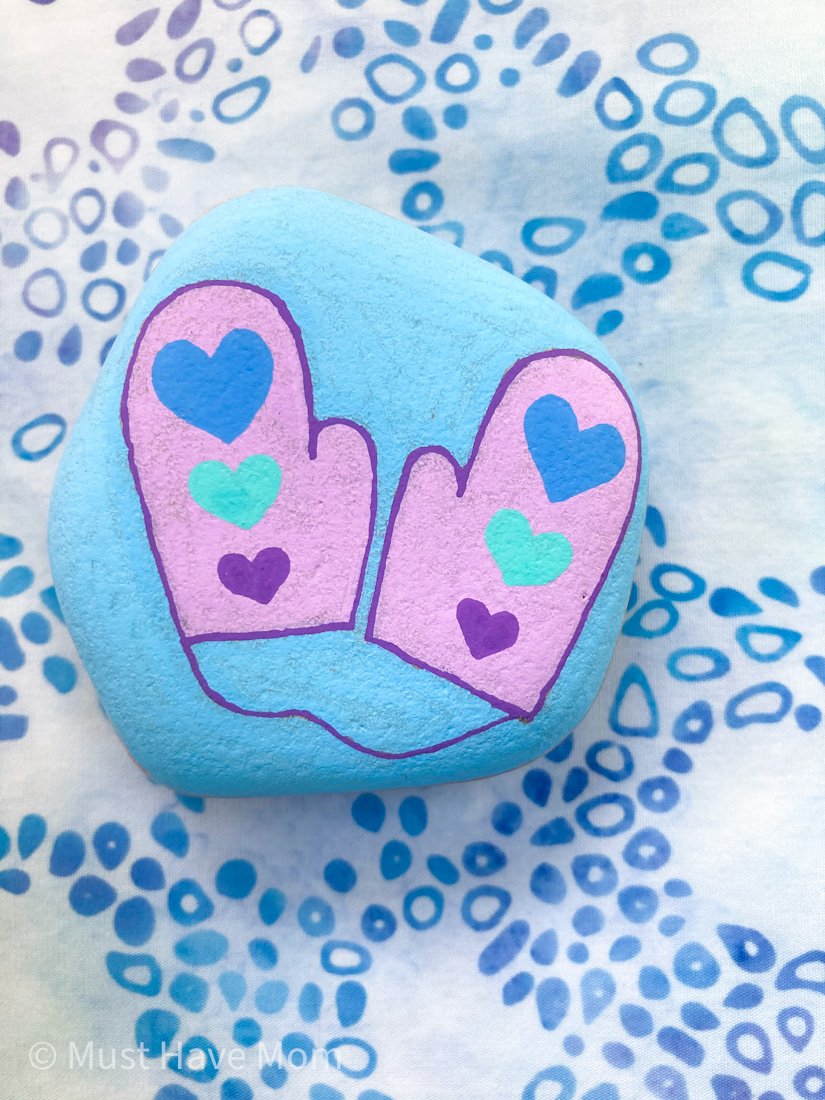 How To Paint A Pair of Mittens
Make sure your rock is clean and free of debris.
With a pencil, trace out the shape of the mittens.
Color the mittens in with pink.
Outline the mittens in purple and add a large blue heart at the tops of the mittens.
Color in the background with blue.
Add a medium sized heart in aqua below the blue heart. Add a small purple heart below the aqua heart.
Draw a purple line to connect the mittens.
Spray with sealant to complete the rock.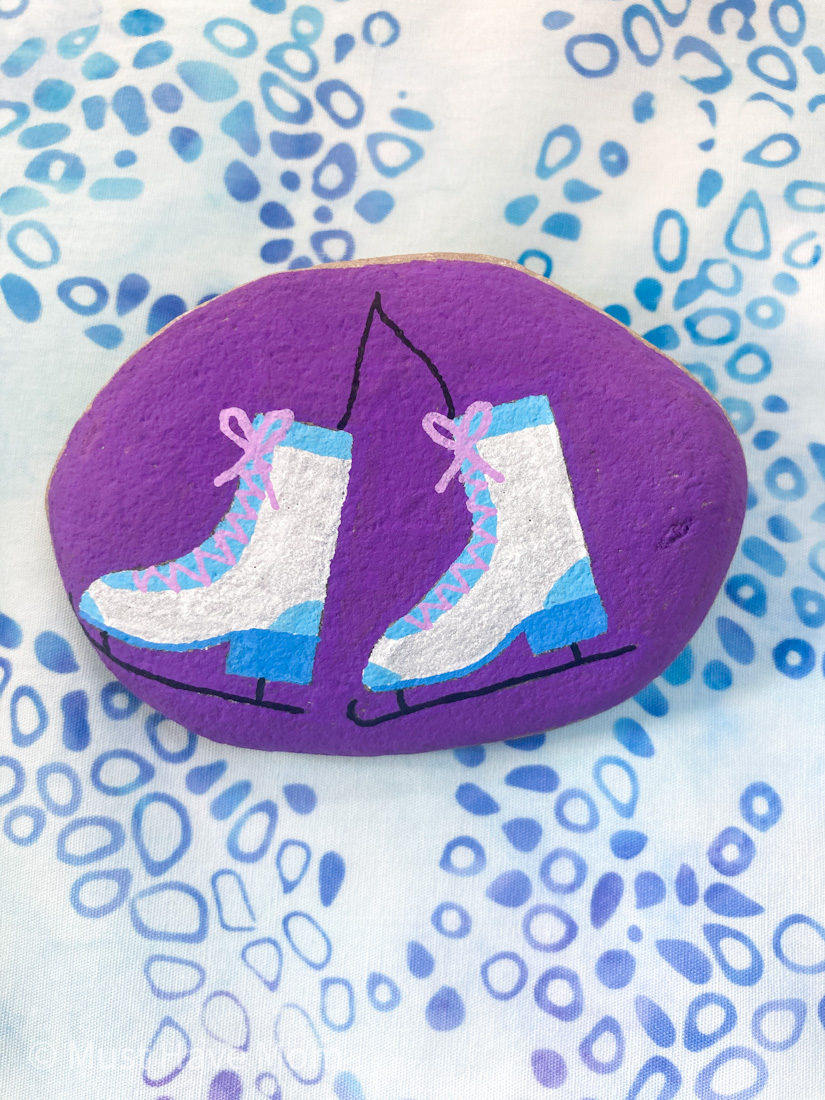 How To Paint Ice Skates
Make sure your rock is clean and free of debris.
With a pencil, draw the shape of two ice skates/boots.
Add the blades of the ice skates.
Color in the ice skate boots with white.
Color the heels and bottoms of the boots with dark blue.
Color in the tip of the toe, back of the heel, and laces area with light blue.
Add light pink laces and bows.
Color the blades with black or silver.
Color the background in purple.
Spray with a sealant to complete the rock.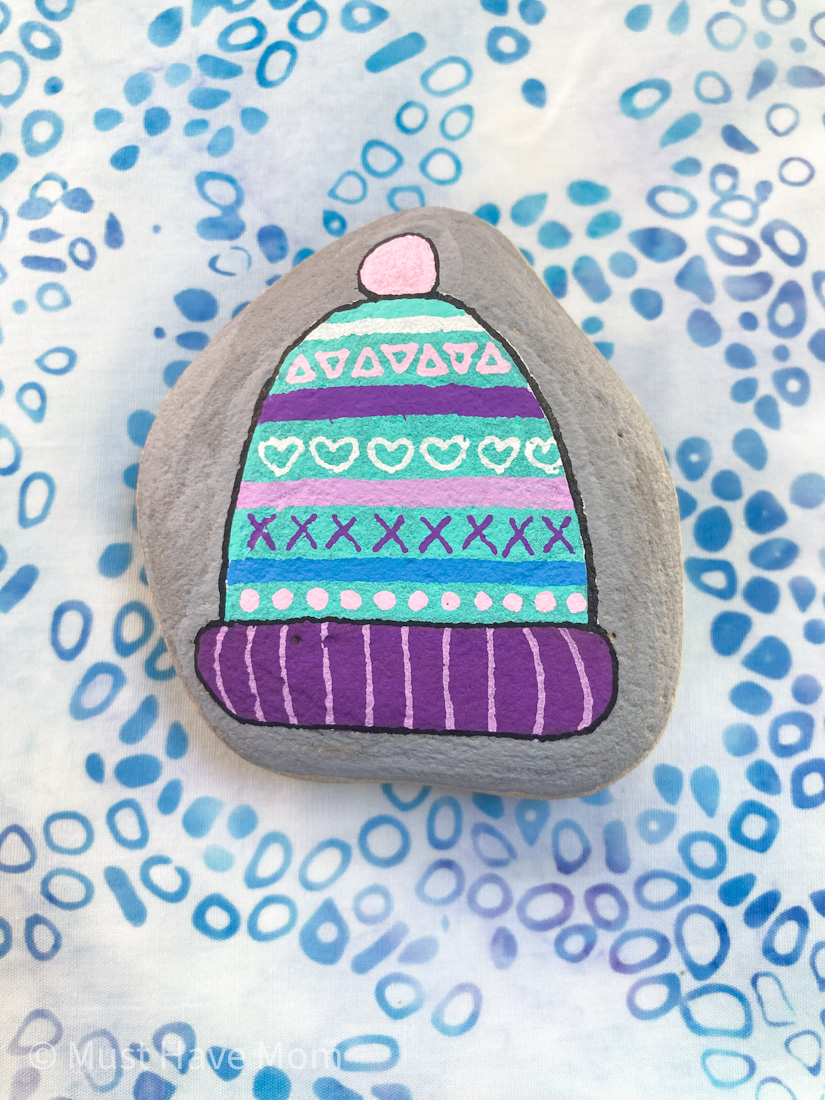 How To Paint Winter Hat
Make sure your rock is clean and free of debris.
With a pencil, outline the shape of the hat, with a snowball topper on top of the hat.
Color the hat in aqua and the brim of the hat with purple.
With several different colors, add different designs on the hat (x's, lines, dots, hearts, etc).
Add small pink vertical lines to the brim of the hat.
Color in the snowball with pink. Color in the background in gray.
Outline the hat in black.
Spray with a sealant to complete the rock.
Step By Step Winter Rock Painting Directions
Follow these step by step photos to create each design. Reference the instructions specific to each design above.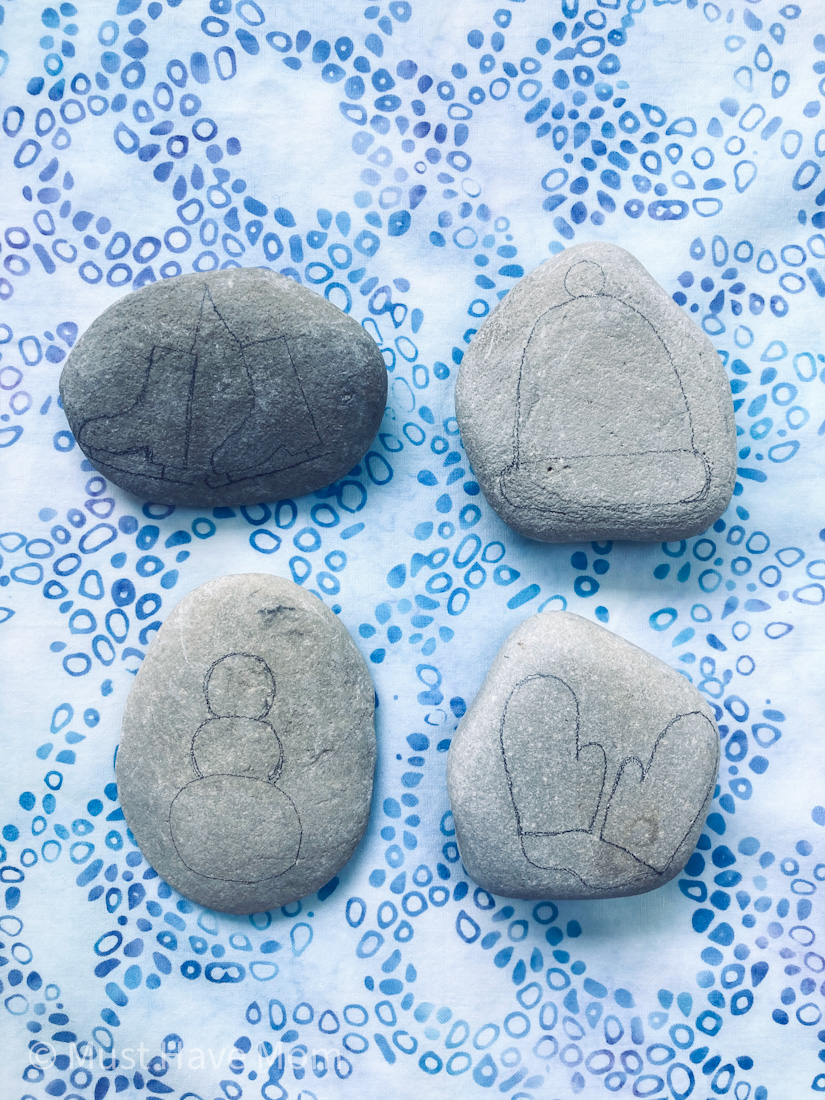 Rocks can be found outside but should not be taken from protected natural areas.
If you are having trouble finding rocks, you can always purchase them on Amazon, a local garden center, or at a local landscaping company. They will usually sell them by the bucket-full.
We do not recommend purchasing the smooth stones/river rocks from craft stores. They come with a coating on them and your paint/pen will not stick very well.
Make sure your rocks are clean and free of debris before starting your art.
We like to begin by lightly tracing the design with a pencil first.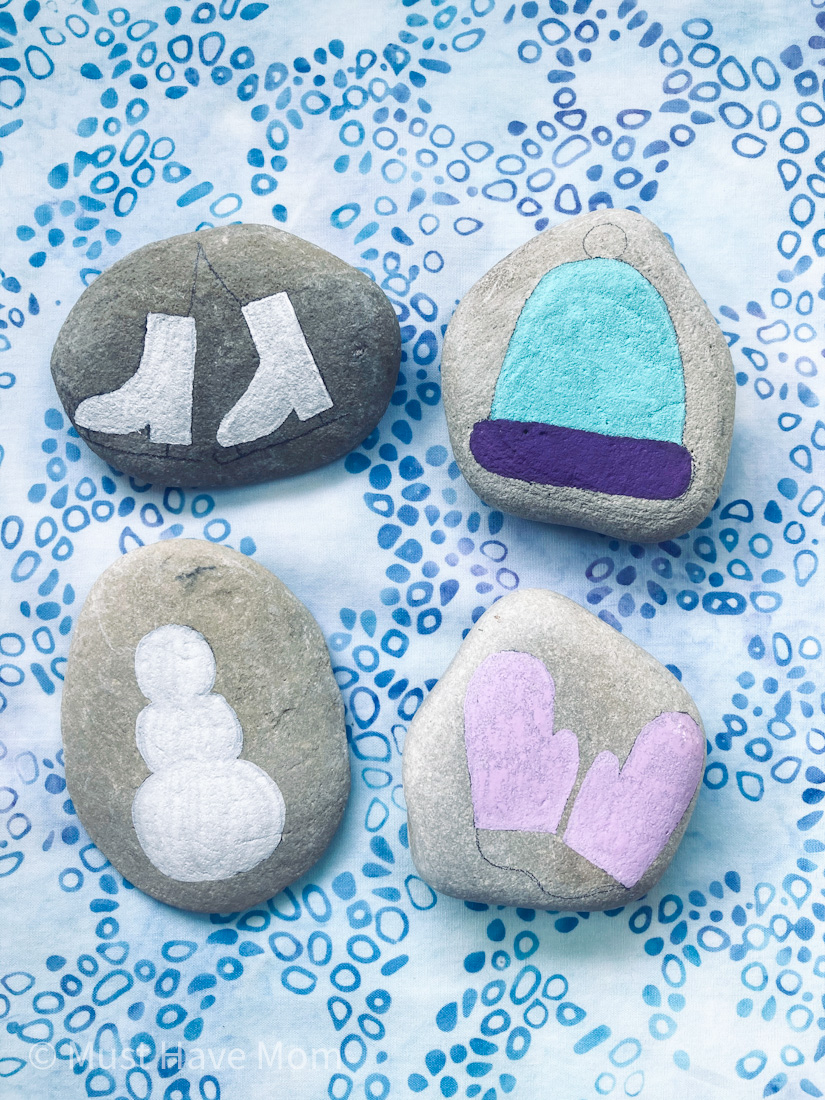 After you've traced your design you can start painting by using acrylic paint or paint pens, whichever you prefer. Allow each color to dry so they don't smear or run together.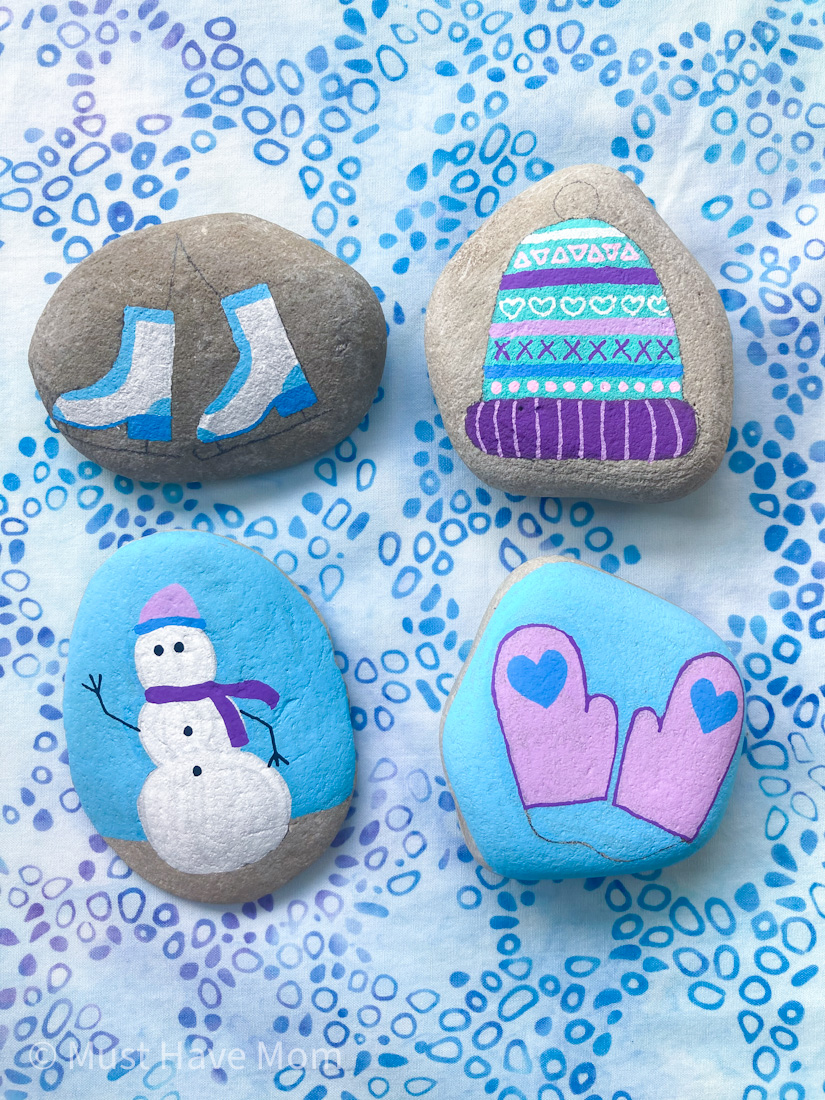 Continue adding layers of color until you have added all the elements you desire.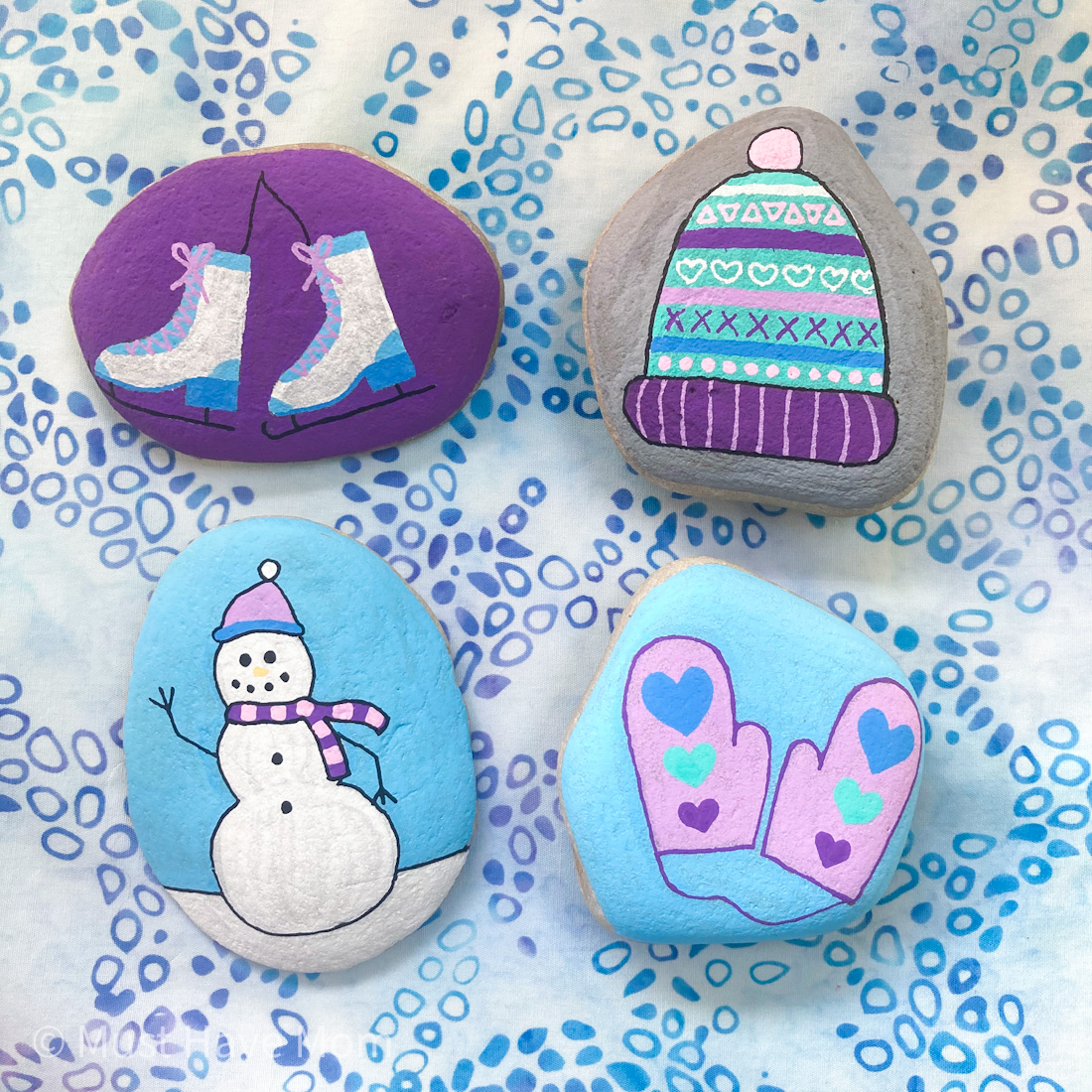 If you'd like to glue anything to your rocks, we recommend the E6000 brand. (Note: it is important to seal your rock with sealant prior to gluing items!)
We also recommend sealing your rocks after you've finished decorating them. You can use whatever finish you'd like (glossy, matte, etc). These can be found online or in your local craft stores. Our suggestions: Rust-oleum and Krylon brands.
Now you can choose to keep these beautiful rocks or go hide them in public spaces for others to find! What will you do with your rocks?!
Pin Winter Rock Painting Ideas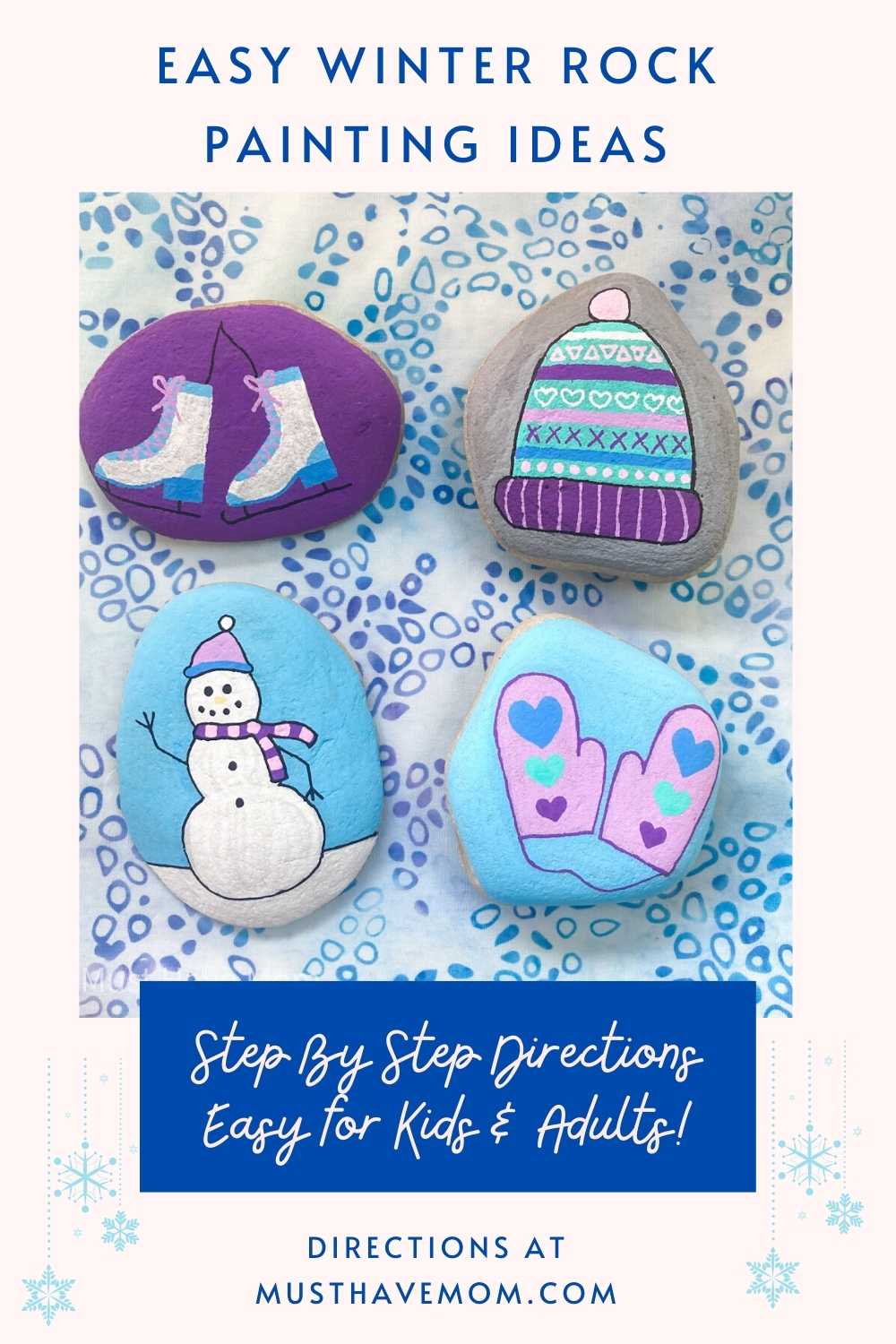 You May Also Like…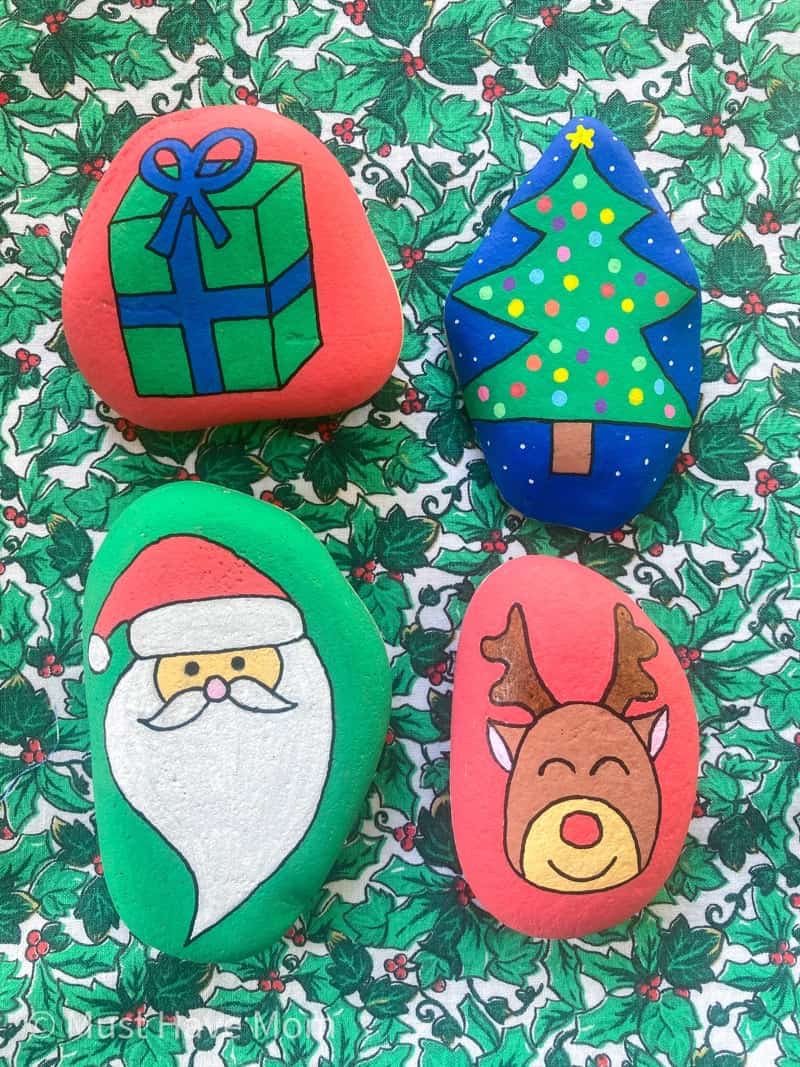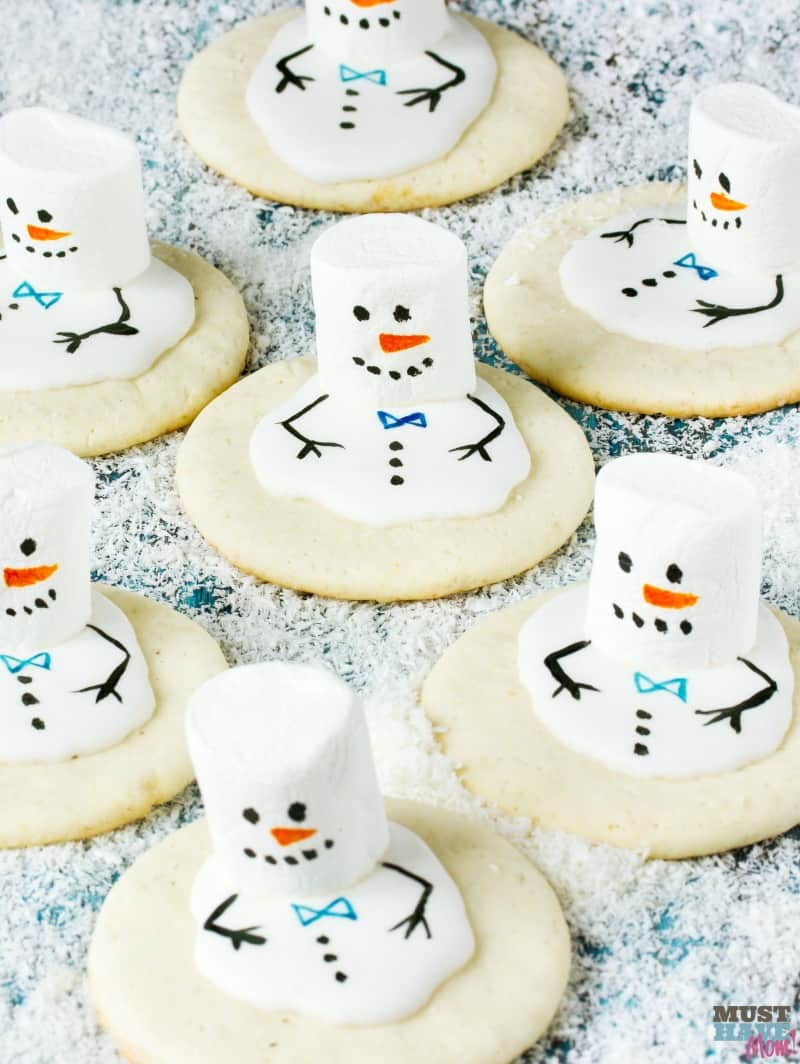 Melting Snowman Cookies Recipe