The Secret Trick To Drinking 8 Cups Of Water A Day! Brita Water Bottle Hack!
This post is part of a social shopper marketing insight campaign with Pollinate Media Group® and Brita, but all my opinions are my own. #pmedia #BritaOnTheGo http://my-disclosur.es/OBsstV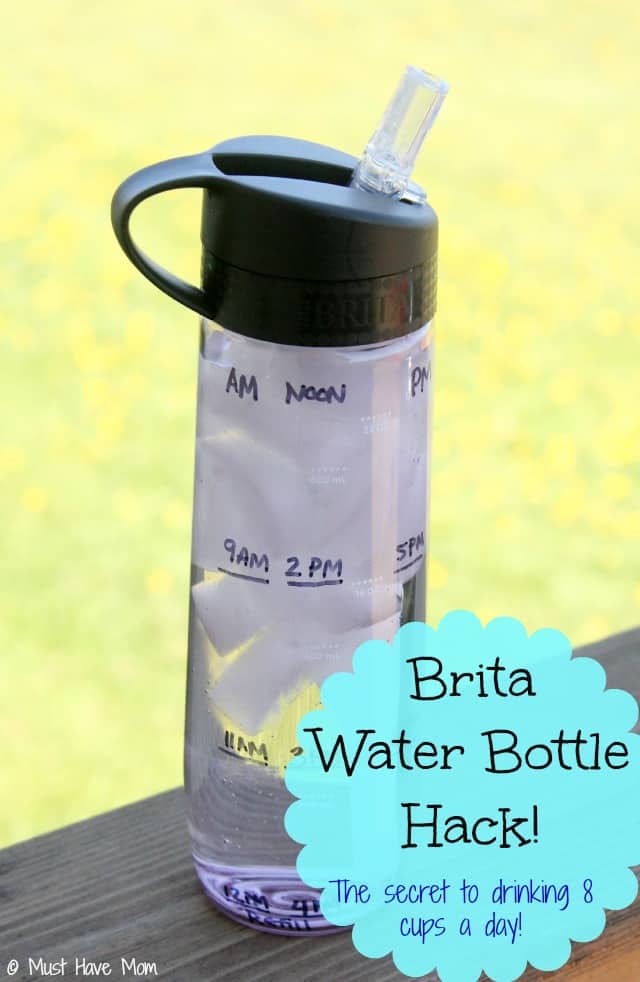 We've all heard before that you are supposed to drink 8 cups of water a day. For many people this feels like a goal that they just can't achieve. Water is my drink of choice and I rarely choose anything other than water to drink and I still find myself struggling to get my daily water intake. This Brita Water Bottle Hack has been the trick to drinking 8 cups of water a day for me. Not only is it an easy DIY trick, but it makes the goal of drinking 8 cups of water easy and measurable. You can see your progress and easily track it.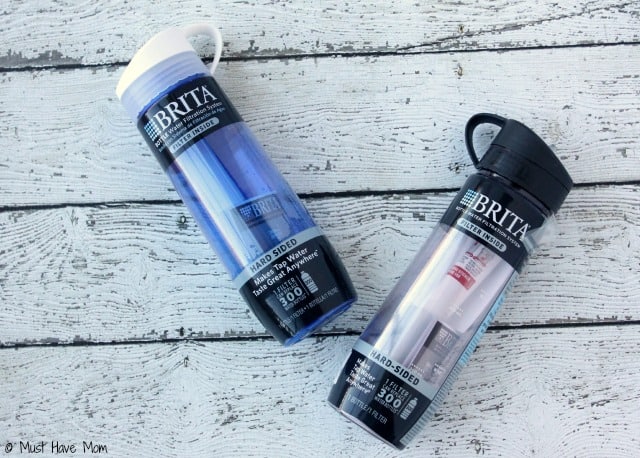 All you'll need to create your own DIY water bottle that will help you easily drink 8 cups of water a day, is a Brita hard-sided water bottle and a permanent marker. I picked up these Brita hard-sided water bottles, which have a filter inside them, from Walmart in the hardware section. I chose these because I can refill them anywhere throughout the day and it makes tap water taste great no matter where it comes from. Now I'm no longer hindered by my location and I can have clean, crisp water anywhere.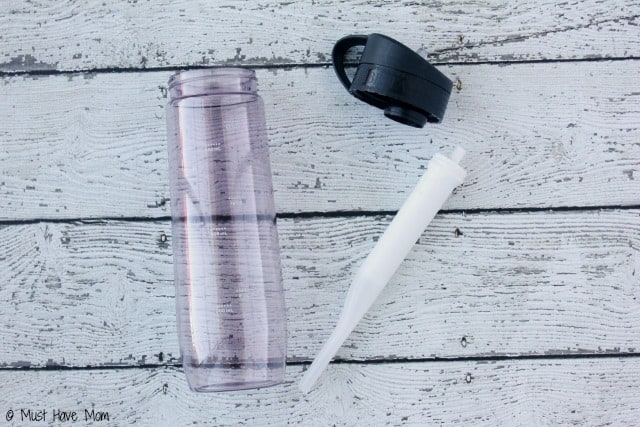 Begin by removing the cap and filter/straw. Rinse the filter under tap water for 15 seconds to activate it. Wash the bottle and cap with warm soapy water and dry thoroughly.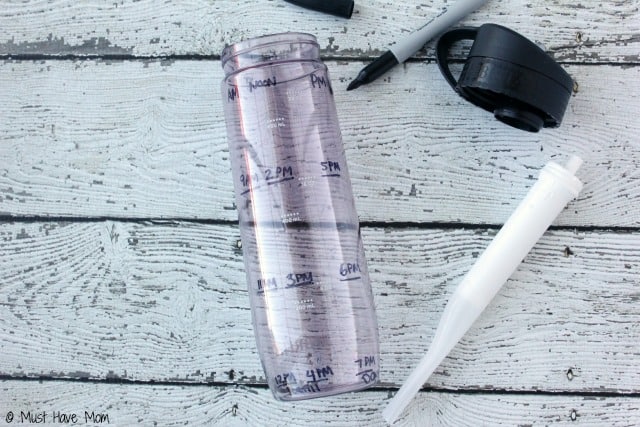 Next it is time to choose your times and draw them out on your water bottle. Which times you choose will depend on your daily routine and they will vary from the times I chose for my own water bottle but my times will give you an idea of what to choose for yourself.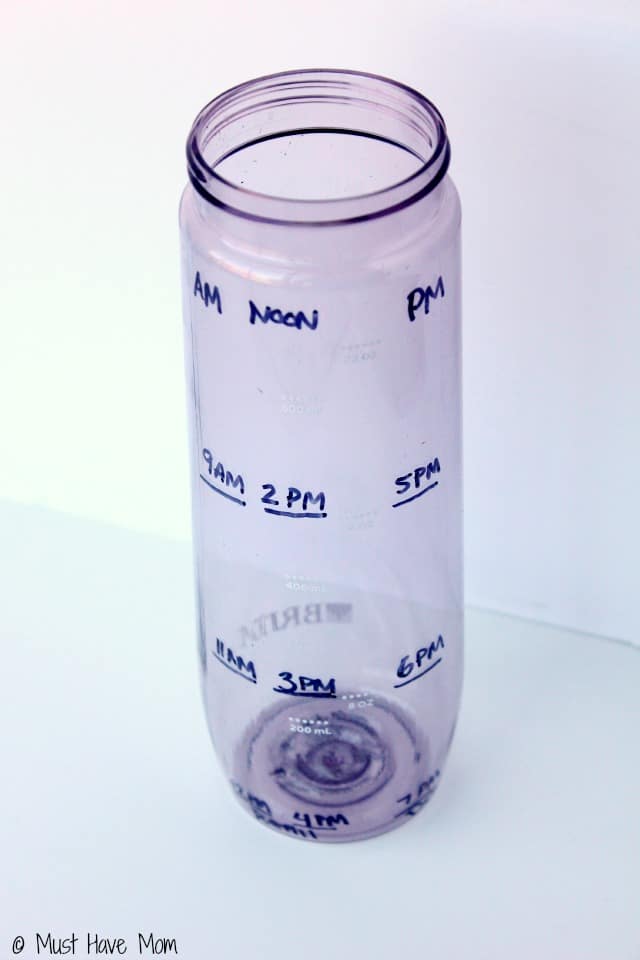 The Brita hard-sided water bottle has markings for 22 oz, 16 oz and 8 oz increments. We will be using these to create our water drinking schedule.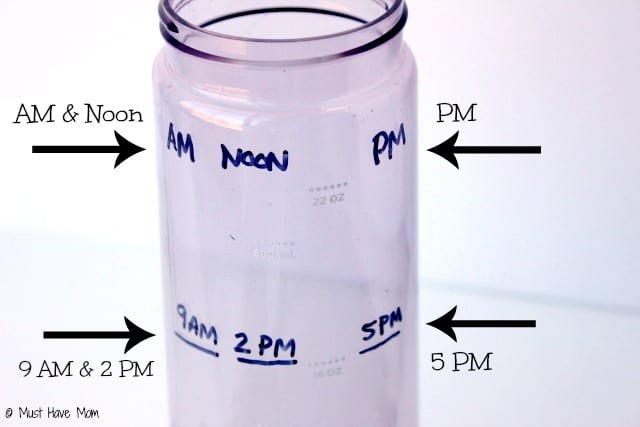 To the left of the 22 oz, 16 oz and 8 oz markings on the water bottle we will be writing our times for the first two refills of the day and to the right side of those markings we will be writing our times for our last refill of the day. You will have a total of 3 refills throughout the day totaling 66 oz, or just over 8 cups of water. By the time you complete your schedule you will have achieved your daily water intake goal (and slightly exceeded it!).
Begin by marking AM and NOON to the left of the 22 oz marking and write PM to the right of the 22 oz marking. Then choose your times based on when you wake up and what works for you. I chose 9AM for my first goal because I generally get up at 7AM with the kids, make them breakfast and then I eat after they are done. You may wake up at 5AM and that will change the times that you choose because you may drink a lot of water in the morning and your first time would be 7AM. You get the idea. Whatever times you choose write your first time all the way to the left of the 16 oz marking under the AM column. It works best to figure out your chosen times on a pice of paper first then draw them out if you end up choosing different times than I did. Write 2PM to the right of your 9AM marking and 5PM to the right of the 16 oz marking.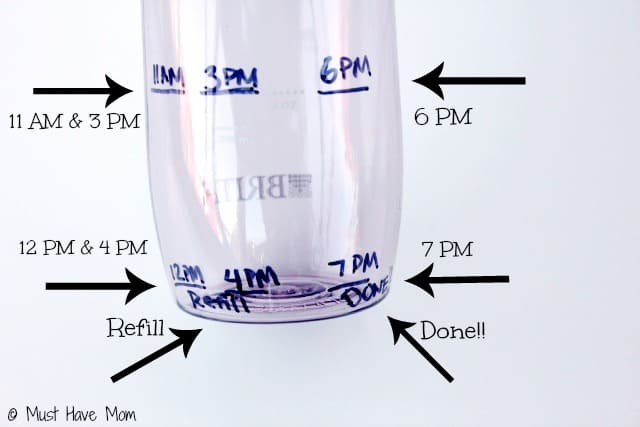 Then move down to the 8 oz marking and write 11AM and 3PM to the left of the 8 oz marking and write 6PM to the right of the 8 oz marking.
Then at the bottom of your water bottle write 12PM and 4PM and write Refill under them. Write 7PM to the right and Done! after it.
That's it! Now fill it with ice and water and start drinking. Once you drink the first bottle then refill it and follow the times listed under the "Noon" column. Once you get to the bottom again, refill it and follow the times until you get to the bottom again and refill it. Then finish your final bottle of water for the day. It makes the goal measurable and easily achievable.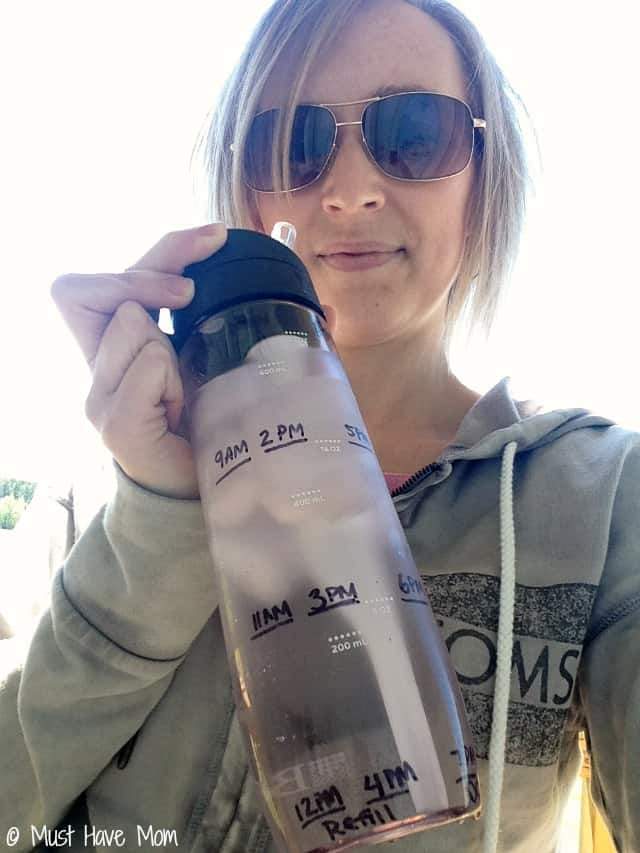 Now start drinking and if you fall behind it's easy to catch up. There have been so many days when I would realize that it was already 4PM and I hadn't drank more than half a bottle of water. Now that I have the time goals written on my bottle I can easily see how much water I've taken in for the day. I love it!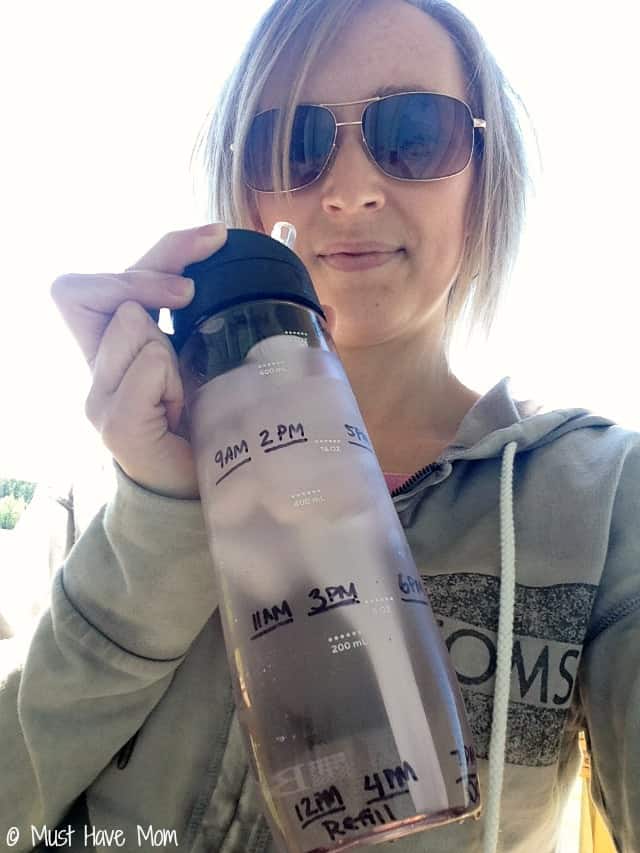 If you are not a natural water drinker and get bored with water then try adding fruit to your water to give it extra flavor without the added sugar or chemicals of other water additives.
Not only are these water bottles great for you, but if you've got kids in sports then they are great for them too! Since they have a filter inside you can fill them up at any drinking fountain and stay hydrated without having to worry about the flavor of the water at your child's sporting activities.
Once you reap the benefits of this Brita water bottle hack you'll want to check out my laundry hack and see my secret to not folding my kids laundry anymore!
Ready to take the water challenge with me? Share this on Facebook and Pin it for later!