DIY Dishwasher Detergent Recipe
Make your own homemade dishwasher detergent and save money in the process! It's easy and only takes a few minutes to whip together a batch of DIY dishwasher detergent.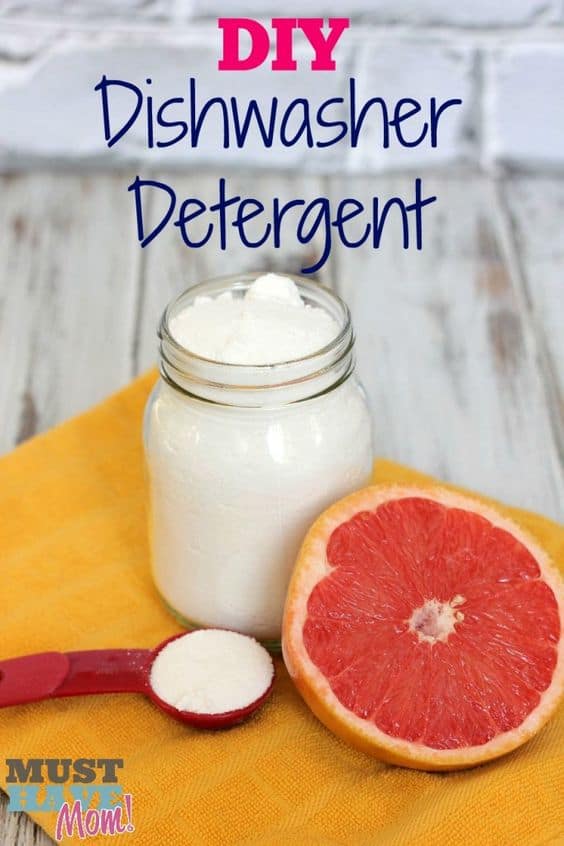 Spring is here and it's got me focused on Spring cleaning. I just did a big overhaul on my kids playroom and now I'm ready to tackle the rest of the house. I love to make my own cleaning supplies (like my homemade laundry detergent) and I knew I could save money making my own DIY dishwasher detergent as well.
I found this automatic dishwasher detergent recipe in the "Whip up your own cleaning products" article from All You. It was quick and easy to make and saves me a bundle by not having to buy pricey detergent.
Homemade Dishwasher Detergent
Making your own dishwasher detergent may sound difficult but it is anything but! It is SO easy. You will need just 3 ingredients and 5 minutes of your time! This recipe uses basic supplies that you likely have already including:
rubber gloves
measuring cup
mixing bowl
32oz container with a lid (a glass jar works great!)
The ingredients in this easy dishwasher detergent recipe are also super basic and found in the aisles of your local big box store or supermarket. You'll need:
washing soda
borax
grapefruit essential oil
I use pure essential oils and don't recommend using anything with "fragrance" in it. They should be "pure" 100% grapefruit essential oils.
Once you have the necessary supplies you just need to mix them together! It really only takes a few minutes and you'll have enough detergent forr 32 loads of dishes.
Another great tip is to add vinegar to your rinse aid compartment. It will help your dishes dry without spots! It's a cheap trick to get sparkly dishes.
Dishwasher Detergent Recipe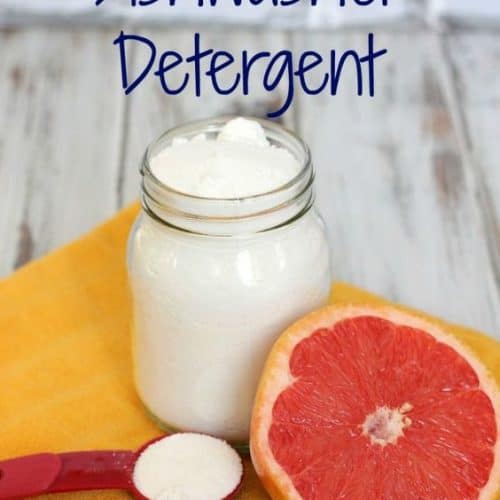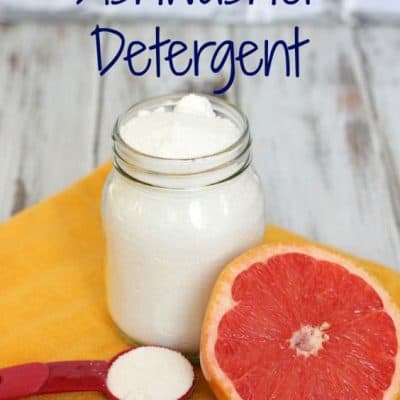 Homemade Dishwasher Detergent
Save money by making your own homemade dishwasher detergent! Dishes, silverware and glassware come out shiny and clean thanks to this simple three-ingredient powder containing antibacterial grapefruit essential oil.
Equipment
Rubber gloves

Measuring cup

Mixing bowl

32-oz. lidded plastic container
Ingredients
2

cups

washing soda

2

cups

borax

25

drops

grapefruit essential oil
Instructions
Put on gloves. Add washing soda, borax and oil to bowl, stirring with your hands to mix and eliminate clumps.

Transfer powder to plastic container.

Use 2 Tbsp. detergent per wash.

You also can add 1 tsp. vinegar, if desired, to the rinse cycle to prevent spots on silverware and glasses.
Follow this hack to clean cloudy glasses too! This trick is super popular! Before you know it you'll have sparkly dishes without spending much for amazing results!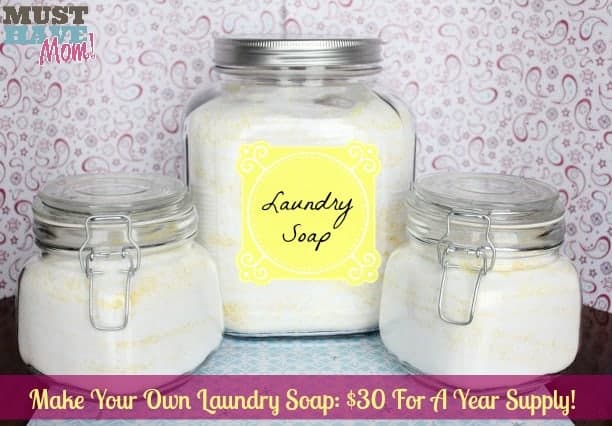 Another cleaning product that I've been making for years now is my DIY Laundry Soap. Get the recipe and start saving! It is possible to get clean clothes without spending a lot on fancy detergent. I use this in my HE washer and I've had great results with getting clean, fresh laundry despite the cheap price tag.