Free Christmas Shopping List Printable
These free Christmas shopping list printable sheets will help get you organized and help to keep track of what you have bought, wrapped and need to buy! They are also great for staying on budget as you can set your target spending amount and keep track of how much you've spent in the handy little chart for each person you have to buy for!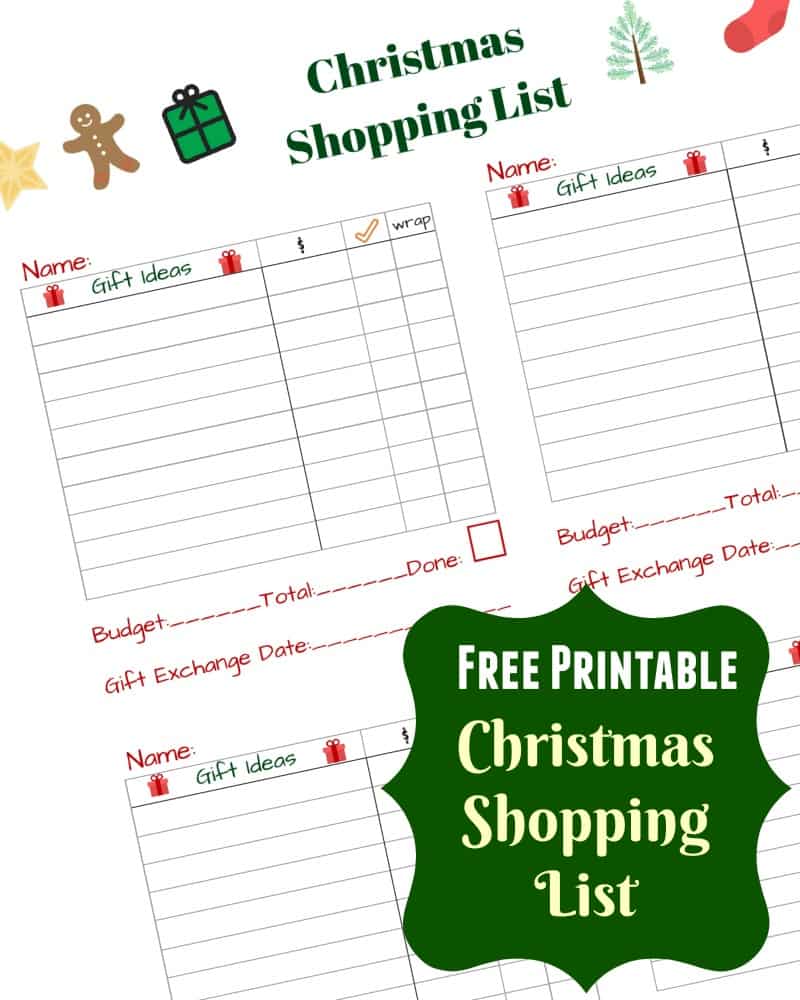 I am a list person. I love making lists and keeping organized by writing things down. As much as I love computers and spreadsheets, I am still very much a paper and pencil kind of girl! When it comes to Christmas shopping I love to write down all of the people I'm buying for and add ideas to the list as I think of them or hear them mention something they want.
Free Printable Christmas List
This handy list is my go-to sanity saver every year! It helps me:
make a list of who I have to buy for
keep track of gift ideas
mark down how much I have spent on gifts I have purchased so far
stay on budget
not forget to buy for anyone on my list
keep track of which gifts are wrapped and which aren't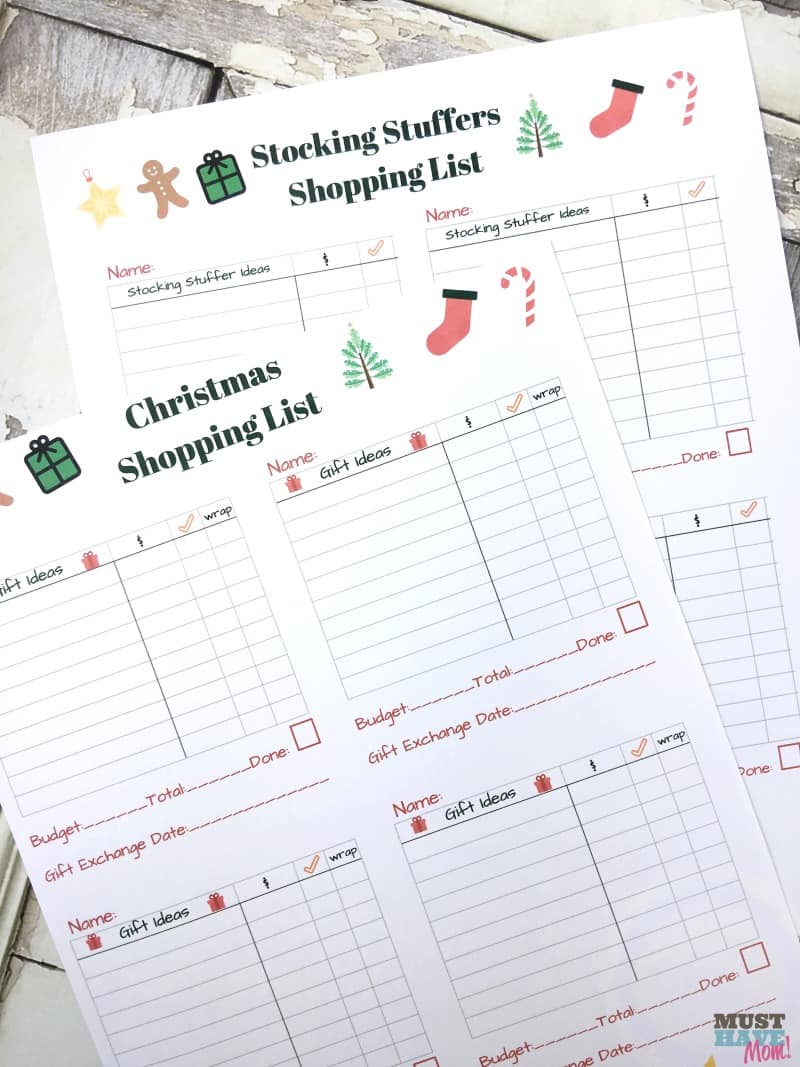 This free Christmas shopping list printable is how I manage to make sure I have bought for everyone on my list and that I haven't forgotten anyone! It also is perfect for staying on budget! For each person you have to buy for simply fill in your target budget amount. Maybe you have a set spending limit for a gift exchange or you simply have your own personal budget to stick to, either way, this will keep you on track. As you buy things for each person, simply check them off the list and fill in the amount you spent on each item.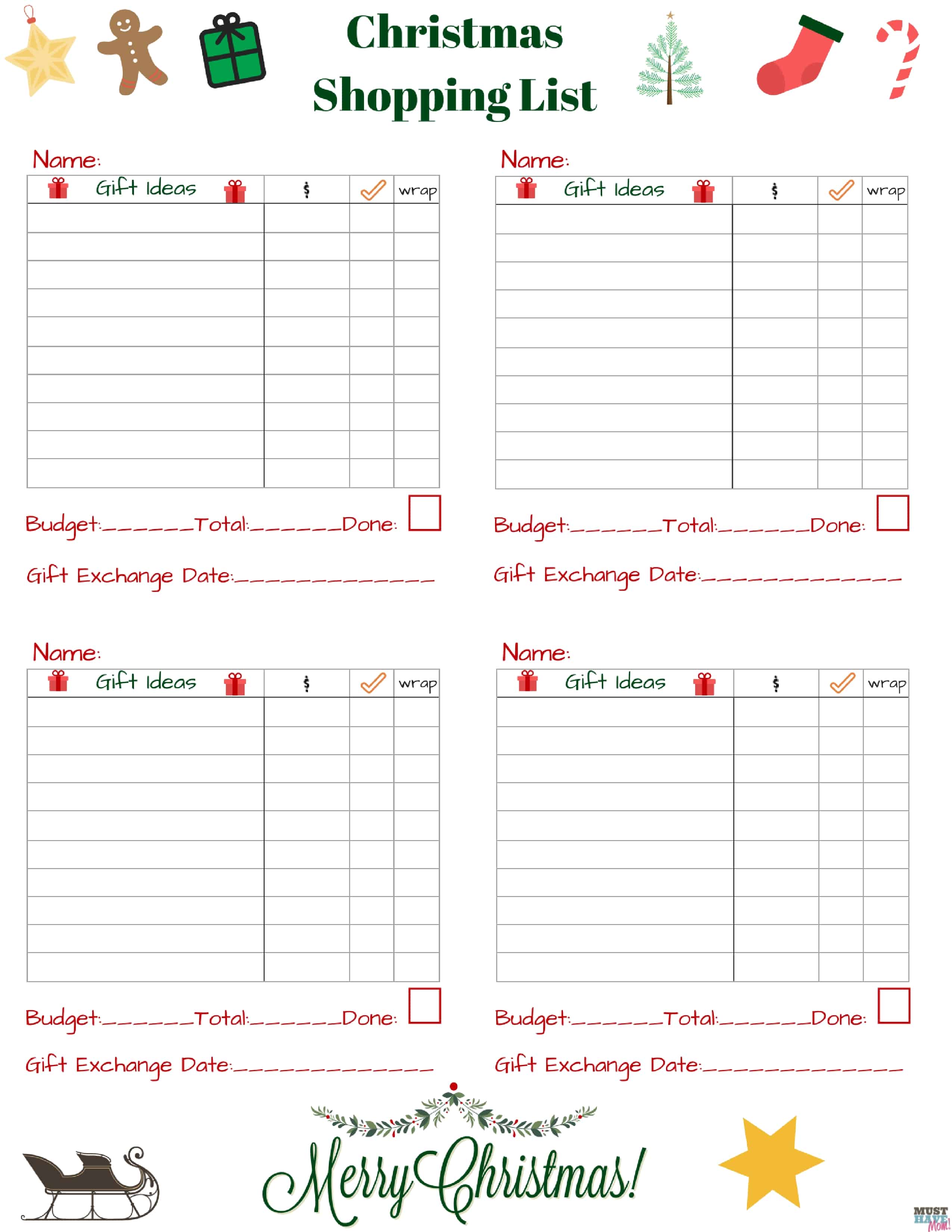 Keep track of the gifts you have wrapped by checking them off once they are wrapped! Once you have finished buying everything you need for each person simply check the done box!
If you have multiple Christmas gatherings or gift exchanges (work, play group, etc), it is handy to keep track of each gift exchange date below each person's name and ensure you have finished your shopping in time for your gift exchange.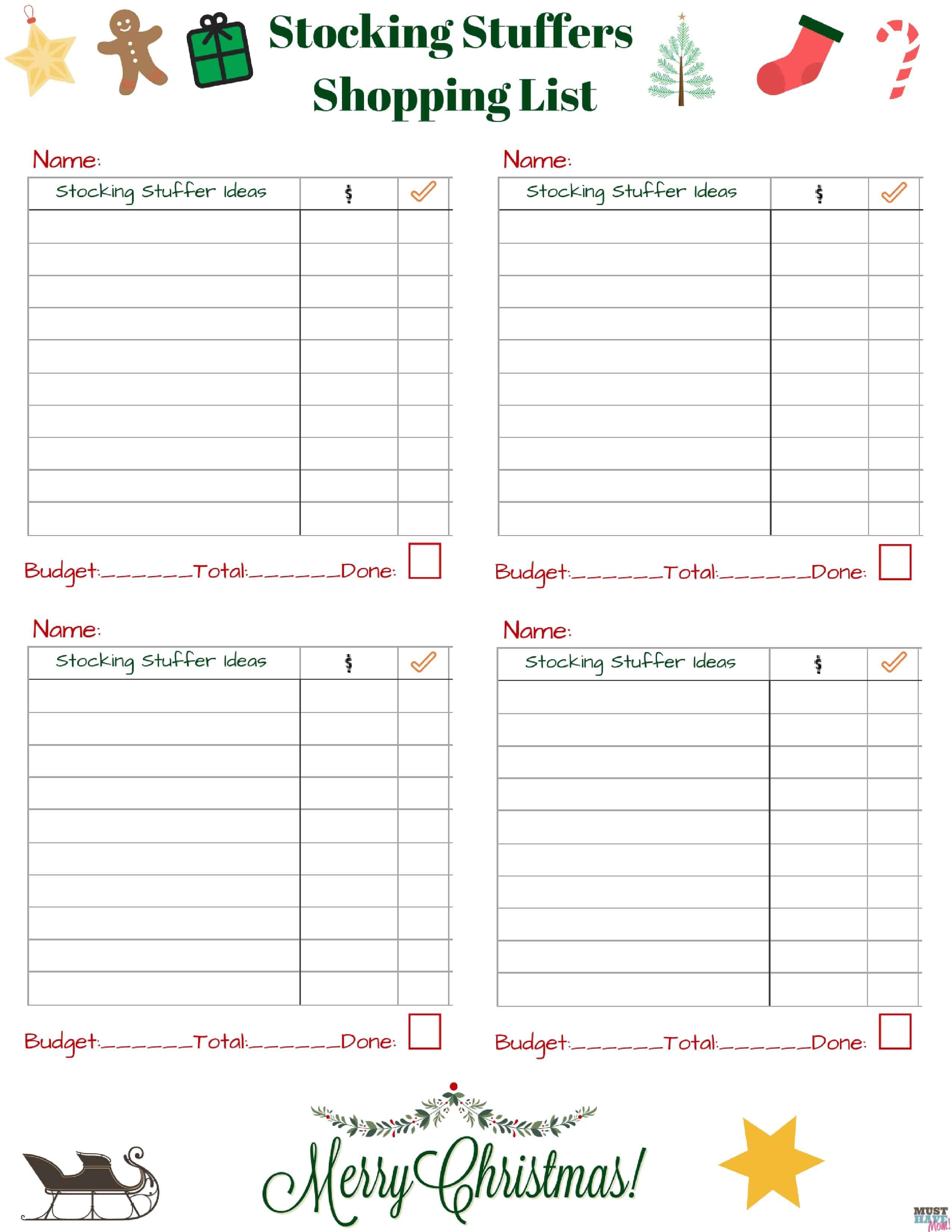 Stocking Stuffers List
I have also included this bonus free printable stocking stuffer sheet along with the free Christmas shopping list printable so you can easily keep track of stocking stuffers. Jot down ideas for each person, your budget and check them off as you buy them. This way you won't overbuy for one child and under-buy for another. I am definitely guilty of finding out I bought way too much for one child and not enough for another. Unfortunately, I usually don't figure that out until it's too late! Keep organized this year and keep track of what you've picked up along the way.
I find the best way to use these lists is to keep them in my purse at all times. That way if someone I am buying for mentions something they'd like to have I can quickly jot it down while the thought is fresh in my mind. Likewise, I can mark things down right at the store as I am buying them. It helps keep my list up to date and keep me organized.
Print off this free Christmas shopping list printable and stocking stuffer shopping list by entering your email in the form below. It will be sent straight to your inbox and if you don't see it right away then check your spam folder. I printed them on thicker cardstock paper so they would last all month in my purse!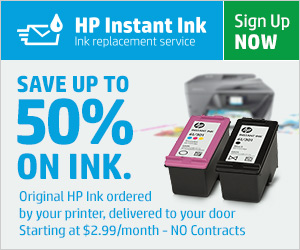 One more tip mommy-to-mommy, if you have a printer and love printing free printables, photos, checklists and more then you definitely need to sign up for HP Instant Ink and save 50% on your printer ink! I have been personally using this service for years and print up to 100 pages a month and never worry about how much ink I am using. When your printer starts running low it automatically orders more ink and it shows up at your door! No postage fees! And with plans starting at just $2.99 you can quit worrying about how much ink you are using and print all the color photos and printables you want! This is the best way to save on printer ink!
Sign up today
and start saving money on your ink.
You might also like: