This is a sponsored post written by me on behalf of eBay. All opinions are 100% mine.
I adore everything Dr. Seuss! Every year my kids do a dress-up day during I love to read week for Dr. Seuss as well so we always try to come up with fun Dr Seuss Costumes that we can DIY. This year we decided to make their Halloween costumes Dr. Seuss and they can use them in March for I love to read week too! Double win for me! I'll show you how you can make your own easy Dr Seuss costumes on a dime thanks to sourcing supplies from eBay!
You can go the easy route and buy Dr Seuss costumes as well, but I think these homemade Dr Seuss costumes are so adorable and so much less expensive too!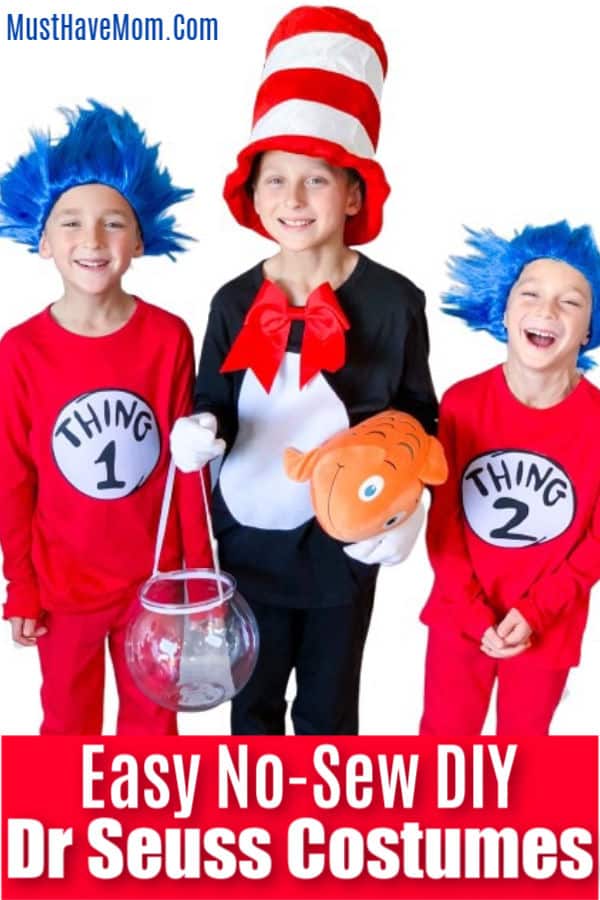 Dr Seuss Costumes
These Dr. Seuss costumes are absolutely adorable and you'll be shocked at how easy they are to make. There is no sewing required and you can have them done in no time at all! I'll show you exactly how I did it so you can do it too. We will be creating a Cat in the Hat costume as well as Thing 1 and Thing 2 costumes for kids. You could easily do these for adults as well using the same instructions and bigger sizes.
I know you already love our Dr. Seuss printables and fonts as well as our Dr. Seuss crafts so I just know you're going to love these Dr. Seuss DIY costumes!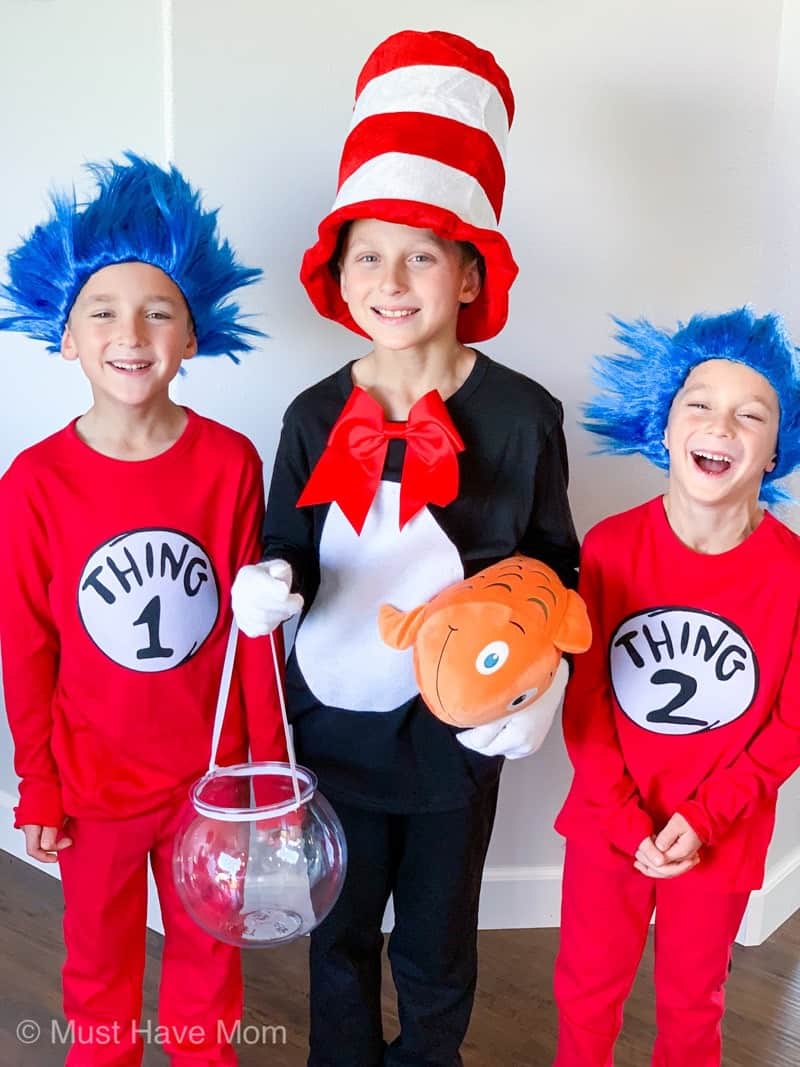 How To Make Dr Seuss Costumes
We sourced everything here from our house or from eBay. Chances are you have some of the materials needed already and everything else can be found on eBay! It's a great way to make these costumes on a dime and you'd be surprised how difficult it is to find some of these things if you run around and shop locally. It was SO much easier to just grab them with a click of a mouse from eBay (cheaper too!).
Cat In The Hat
For the Cat in the Hat costume you'll need the following supplies:
black pants
black long sleeve shirt
white felt (enough to cut a circle for the belly)
red bow
white gloves
white ribbon or rope (for fishbowl handle)
We had some black pants and a long-sleeve black shirt here already but if you don't they are really easy to find! You can search them on eBay in the size you need and you'll find a bunch to choose from.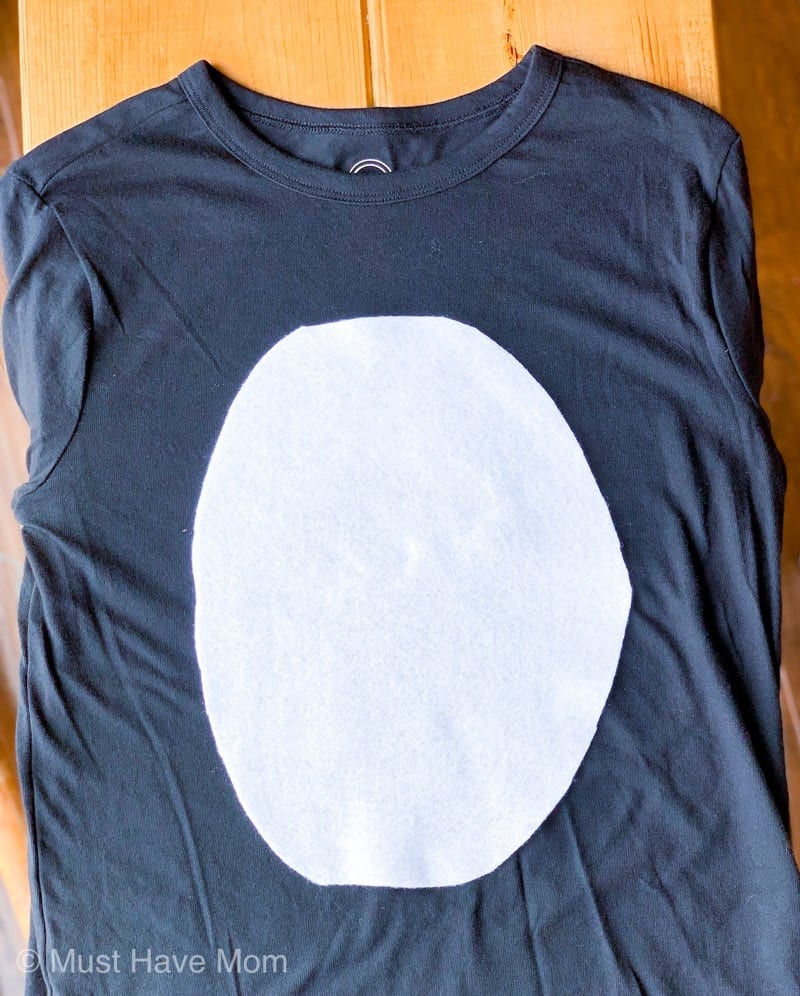 Cut an oval from the white felt and pin it to the shirt. You could also use fabric glue if you don't mind ruining the shirt.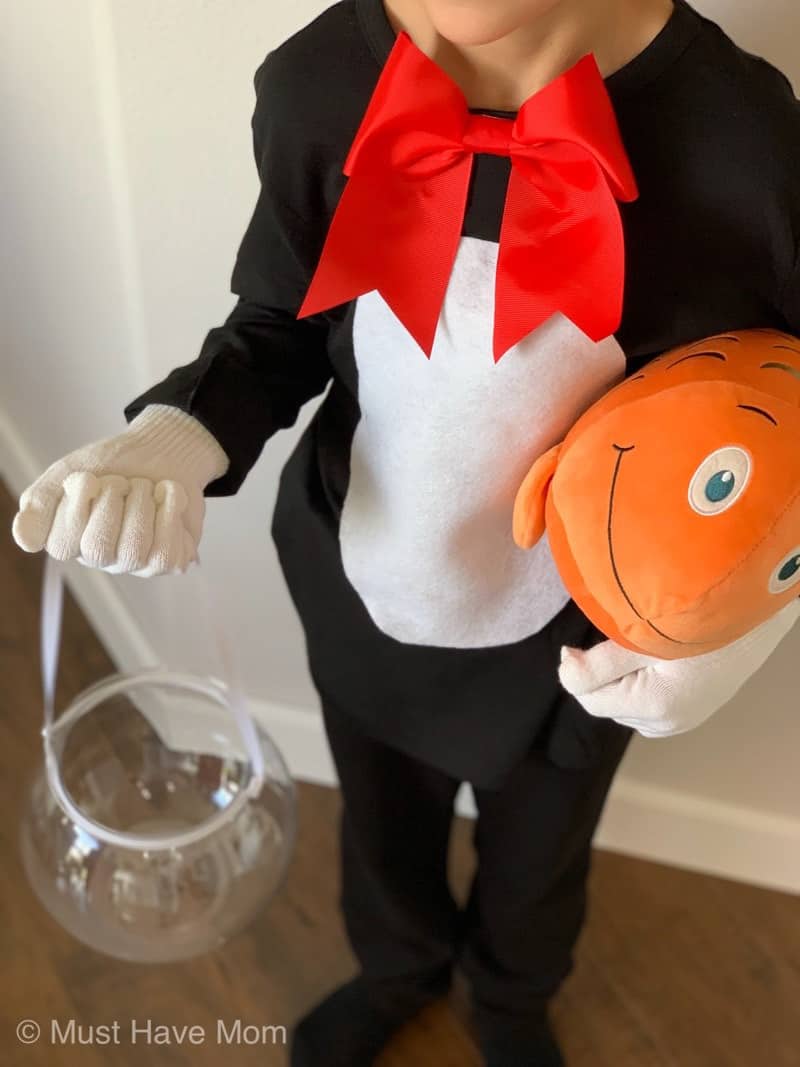 We used red ribbon to tie a big bow at the collar and pinned that on as well.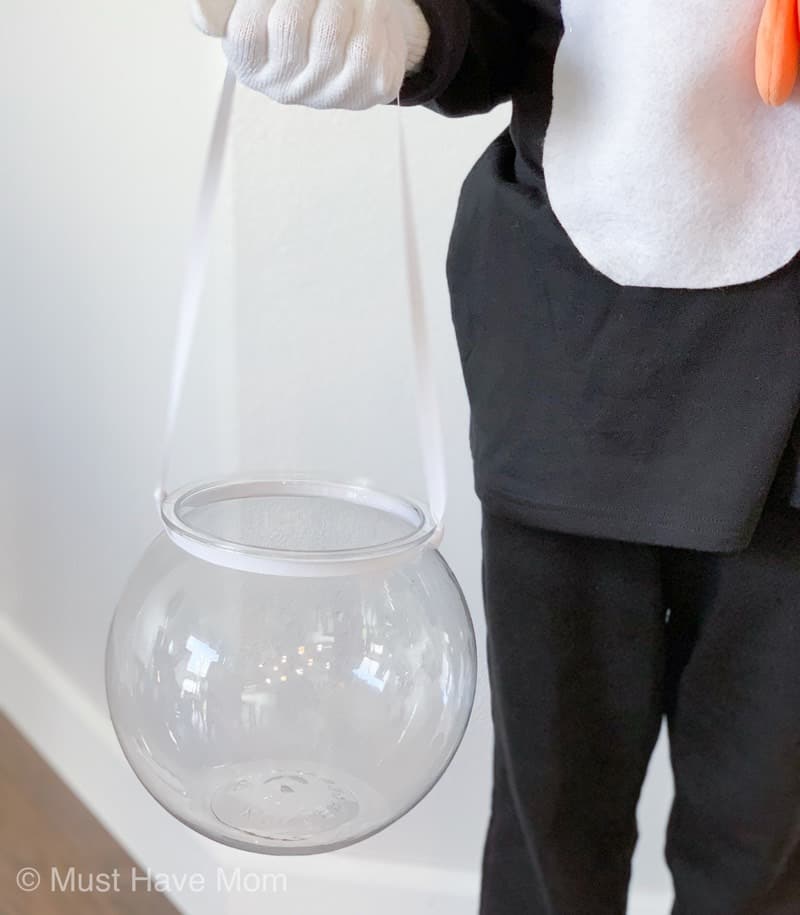 Use white ribbon or rope to tie around the top of the plastic fishbowl and form a handle your child can carry to collect their candy in while trick or treating.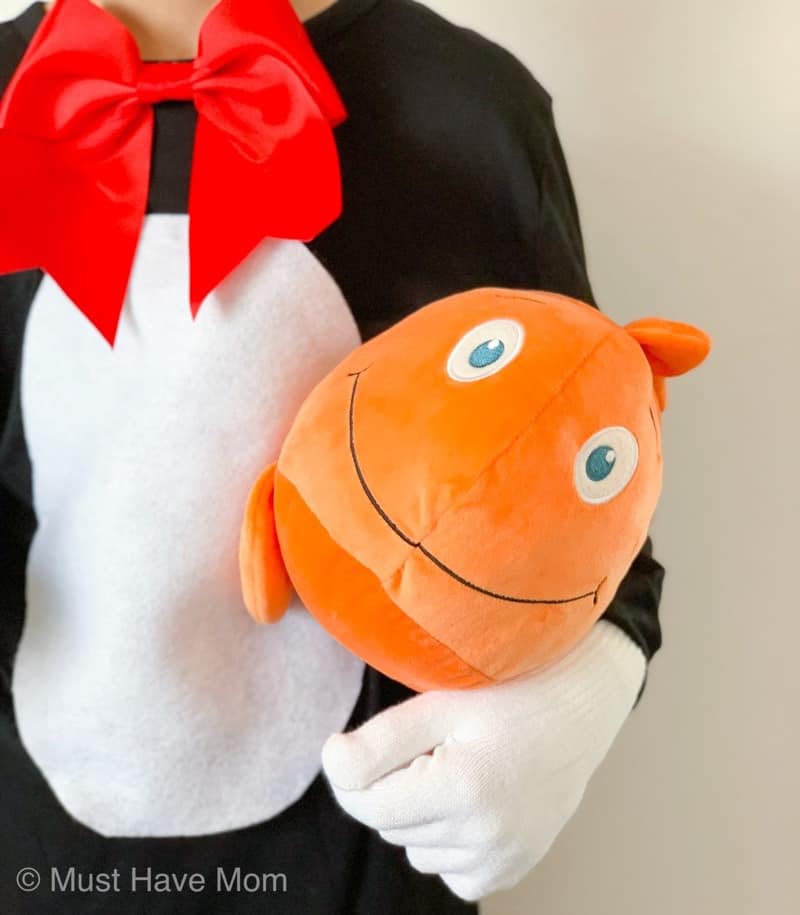 Add in the goldfish and red and white striped hat to complete Cat in the Hat's costume!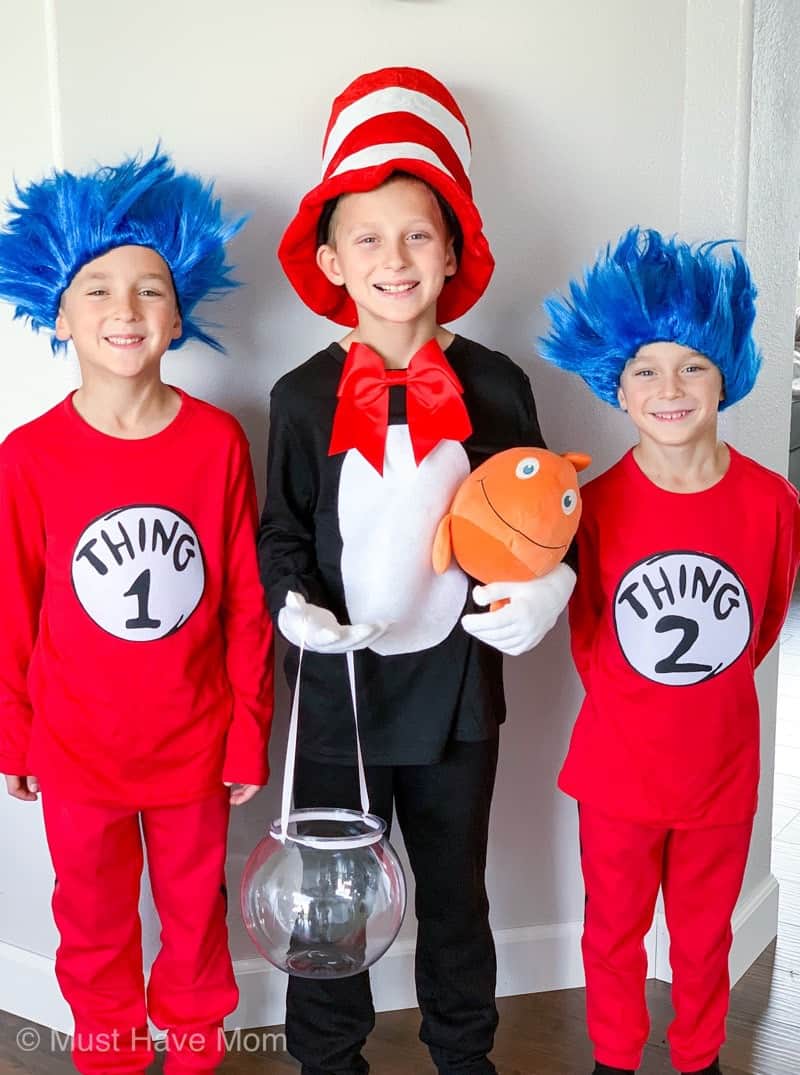 Ta-da! I told you it was super easy! Now you've got an inexpensive Cat in the Hat costume for kids that can be worn for Halloween or Dr. Seuss week!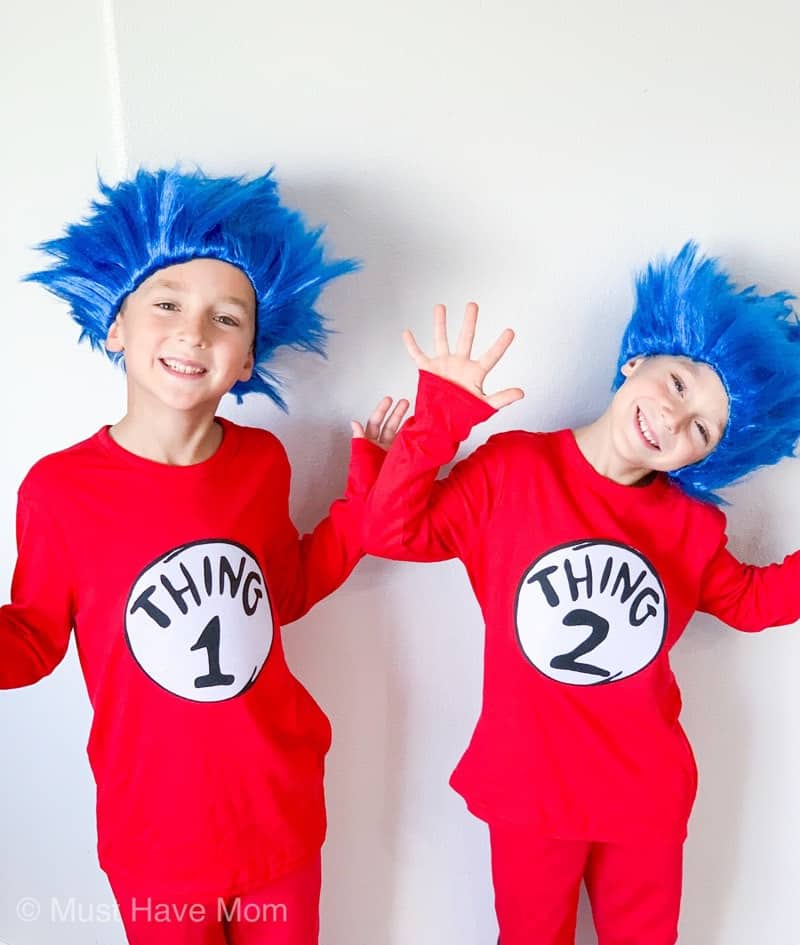 Thing 1 and Thing 2
For the Thing 1 and Thing 2 costumes you'll need the following supplies:
red pants
red long sleeve shirt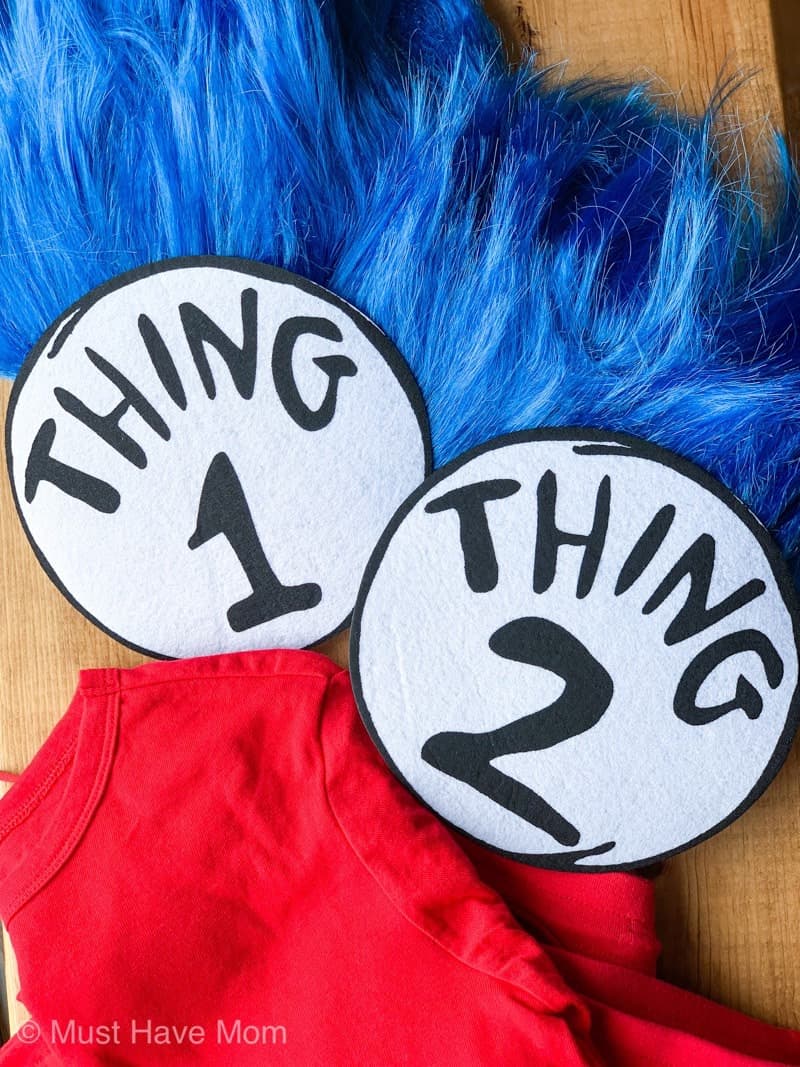 We had red pants and a red long-sleeve shirt here, but once again, you can easily find these in any size on eBay.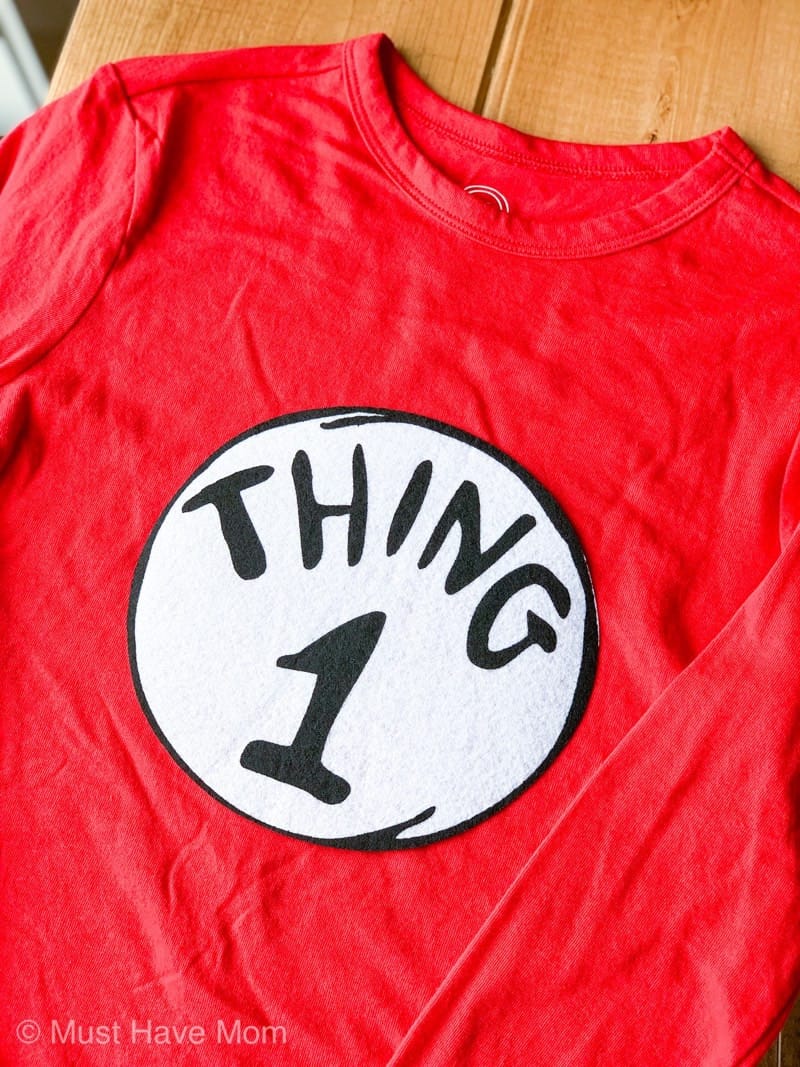 Then attach the Thing 1 and Thing 2 patches to each red shirt. You can iron them on or if you don't want it to be permanent, you can just safety pin them on!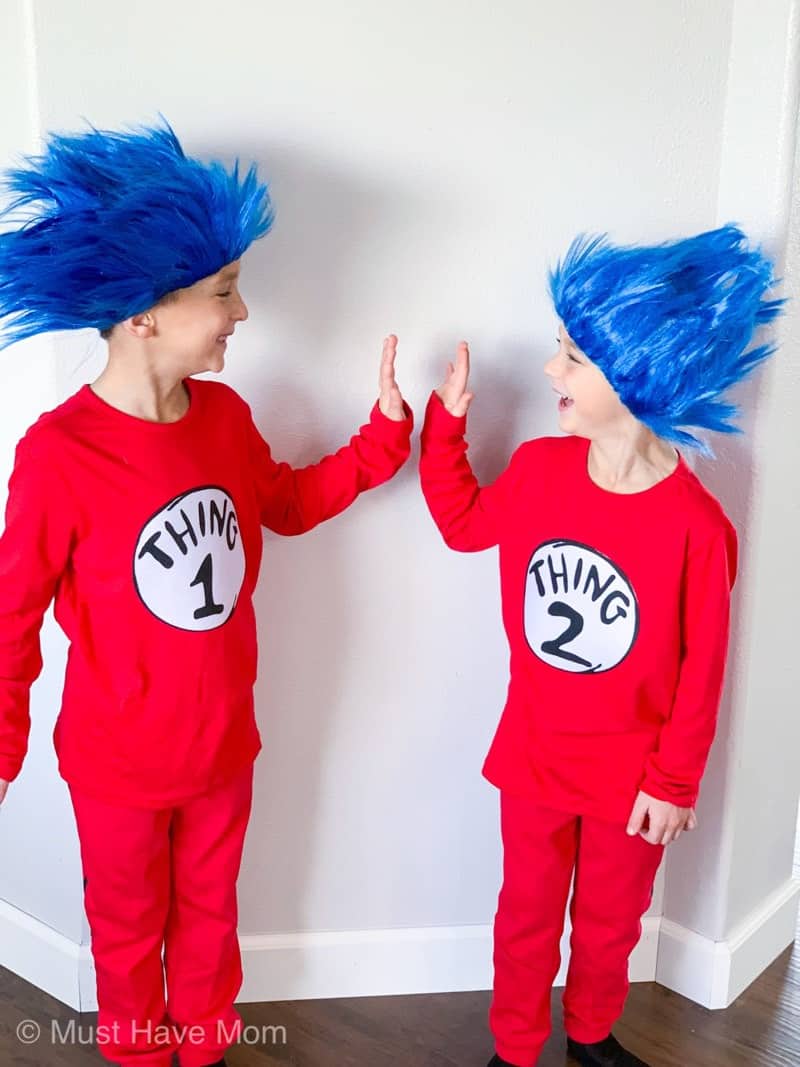 Dress your child in the red pants, red shirt with patch and add the blue wig and Thing 1 and Thing 2 are that easy! They can wear this for Halloween and Dr. Seuss week at school! Double win!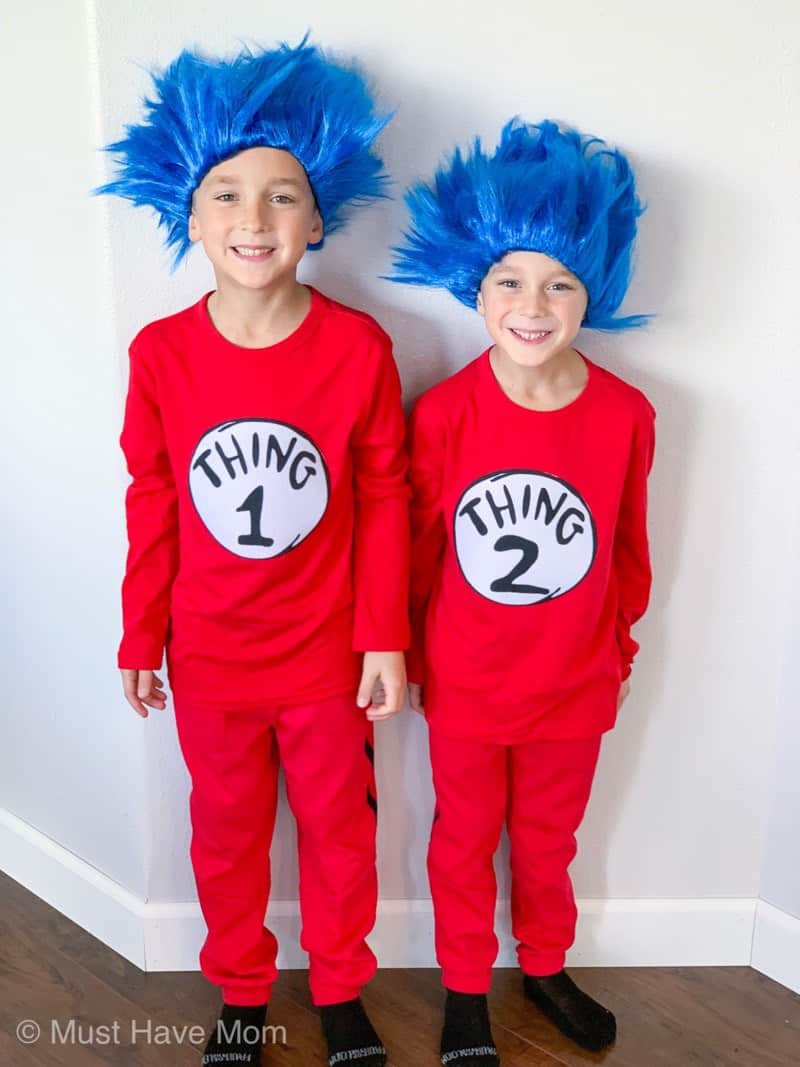 eBay has everything you need for Halloween from costumes to decor to trick or Dr. Seuss treat bags to add to your Thing 1 and Thing 2 costumes. Check there before you run all over town in search of what you need! I've had great luck finding hard-to-find items at great prices on eBay.
Pin Dr Seuss Costumes
Pin this post for easy finding later! We love when you share our posts! Give us a shout on Facebook if you make these costumes we'd love to see your photos! Tag us on Instagram @musthavemom so we can see your fabulous Dr Seuss costumes!