15 Minute Diaper Cake Tutorial Using Diaper Genie Refills & Just 17 Diapers!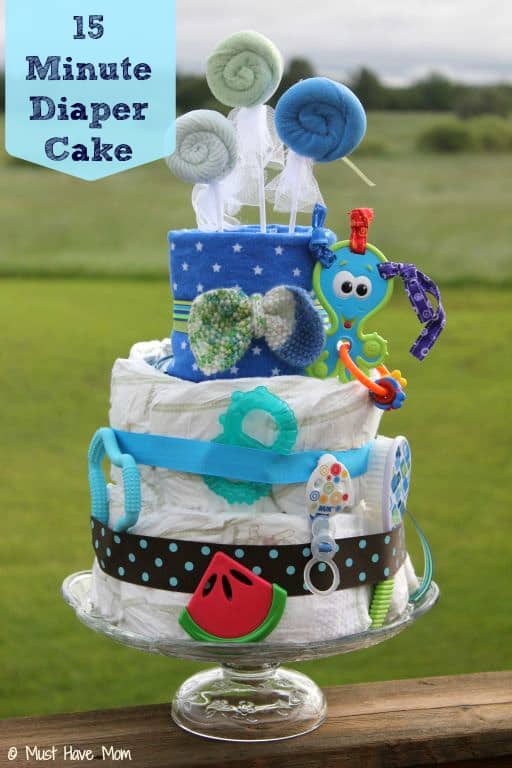 I think diaper cakes are the most adorable baby gifts ever! They don't have to be expensive or time consuming to make either. I created this diaper cake using diaper genie refills for the center structure and 17 size three diapers. Then I decorated it with baby supplies. It takes about 15 minutes to make and leaves a lasting impression with it's recipient! You can even shop the expecting mom's baby registry and include items from her registry to create the cake. I love that I was able to shop off my friend's baby registry and turn her gift into a cute presentation. So much better than a gift bag! Many new moms have a diaper genie and diaper genie refills on their baby registry, just like my friend did. This is a great way to fulfill their registry while still making a cute diaper cake. This diaper cake tutorial is easy to follow and quick to make!
To create the diaper cake you will need:
3 Diaper Genie Refills (I bought two 2-packs)
17 size three diapers
yarn or string
large rubberband
Pretty ribbon
2 flannel receiving blankets (the thin ones)
Tape
"Decorations" of your choice – I used teethers, pacifier clip, toys, bowtie, hairbrush)
3 baby washcloths for the "pops" on the top of the cake
3 lollipop sticks
3 5″ x 5″ white mesh squares for "pops" on top of the cake
Scissors
Cake plate or disposable cardboard cake circle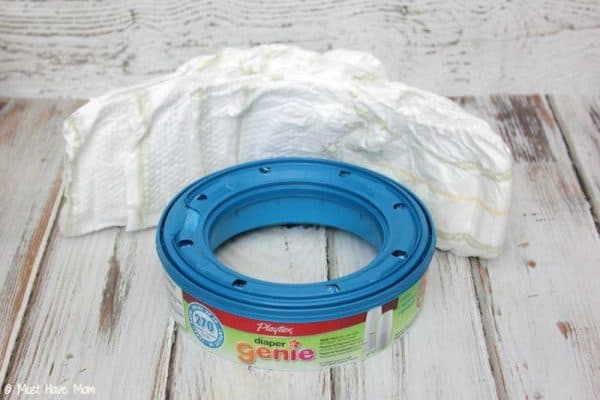 Step 1:
Using one diaper genie refill, wrap 12 diapers around it, layering them one on top of the other so they are overlapping around the diaper genie refill.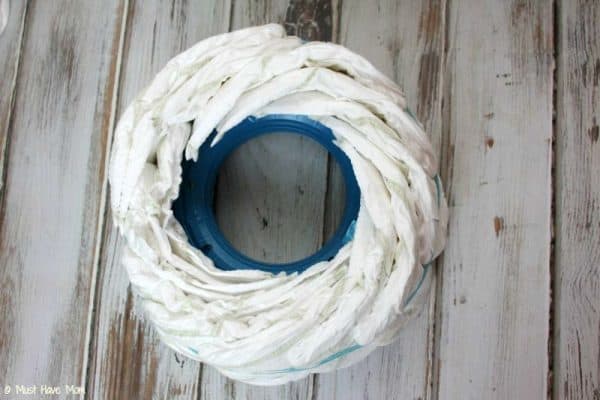 Continue all the way around the diaper genie refill until it's covered. Then use your yarn to tie the diapers tightly in place. I looped around the diapers twice before tying my knot.
Step 2: Repeat the same process with a second diaper genie refill but only use 5 diapers for this layer and use 2 diaper genie refills for the inside. You can also use 2 diaper genie refills for the first layer if you'd like, but it's not necessary.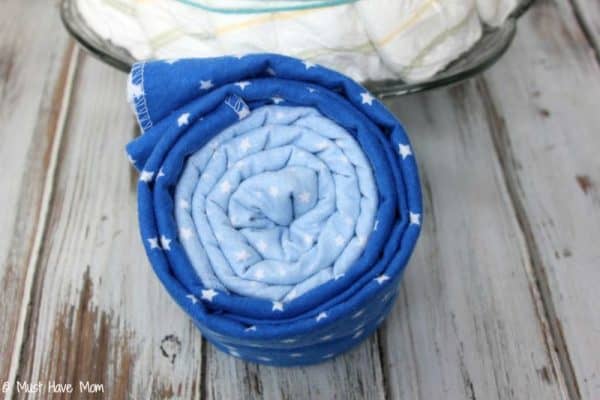 Step 3:
Fold the flannel receiving blankets in quarters. Roll them like a jelly roll, one inside the other. Tie with yarn or secure with rubber band.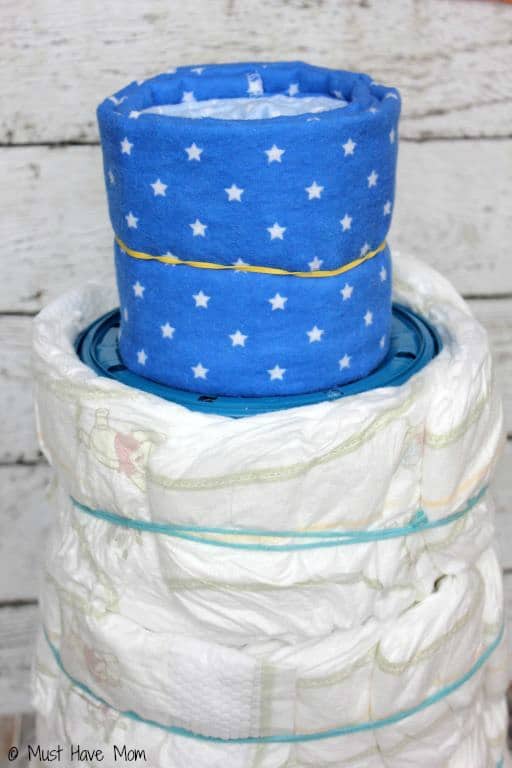 Step 4:
Stack your layers together.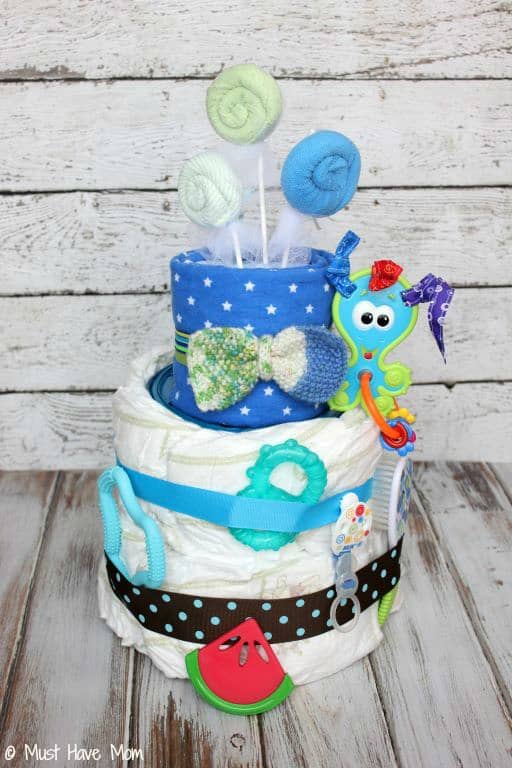 Step 5:
Using your decorative ribbon tie around each layer of diapers to cover the yarn or rubber bands used to secure the diapers. Tape the ends to secure.
Step 6: If you would like to make the lollipops for the top of the cake they are quick and easy! Just use your baby washcloths and fold them up to create a skinny "snake" with them. Then roll like a snake to create the lollipop look. Wrap with white mesh piece, gathering at bottom. Insert lollipop stick and twist the bottom of the mesh to secure. Then tie tightly with ribbon. Stick them in the top of the cake!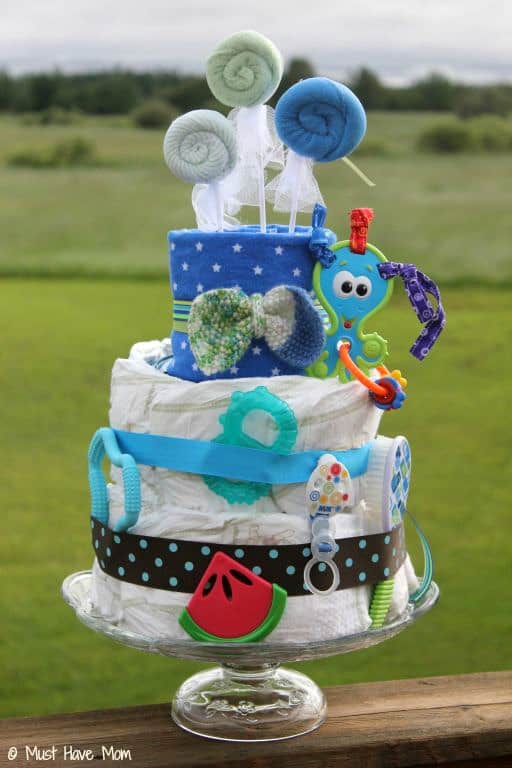 Step 7:
Now the fun part! Decorate with whatever baby items you picked out! I added a cake plate under my cake to create a nice display. Alternatively you can use a disposable cardboard circular cake sheet. Then secure items under the ribbon to hold in place.
In just 15 minutes you've created a beautiful baby gift!
Have you ever made a diaper cake?