DIY Fall Decor For A Stunning Porch
Do you wish you had a gorgeous fall porch to welcome your guests? I have always been envious of those gorgeous pinterest porches I see so I set out to create my own welcoming fall porch and to save some money I created my own DIY projects so you can get a high-end look, without the price tag! Come along and I'll show you how you can create this easy porch.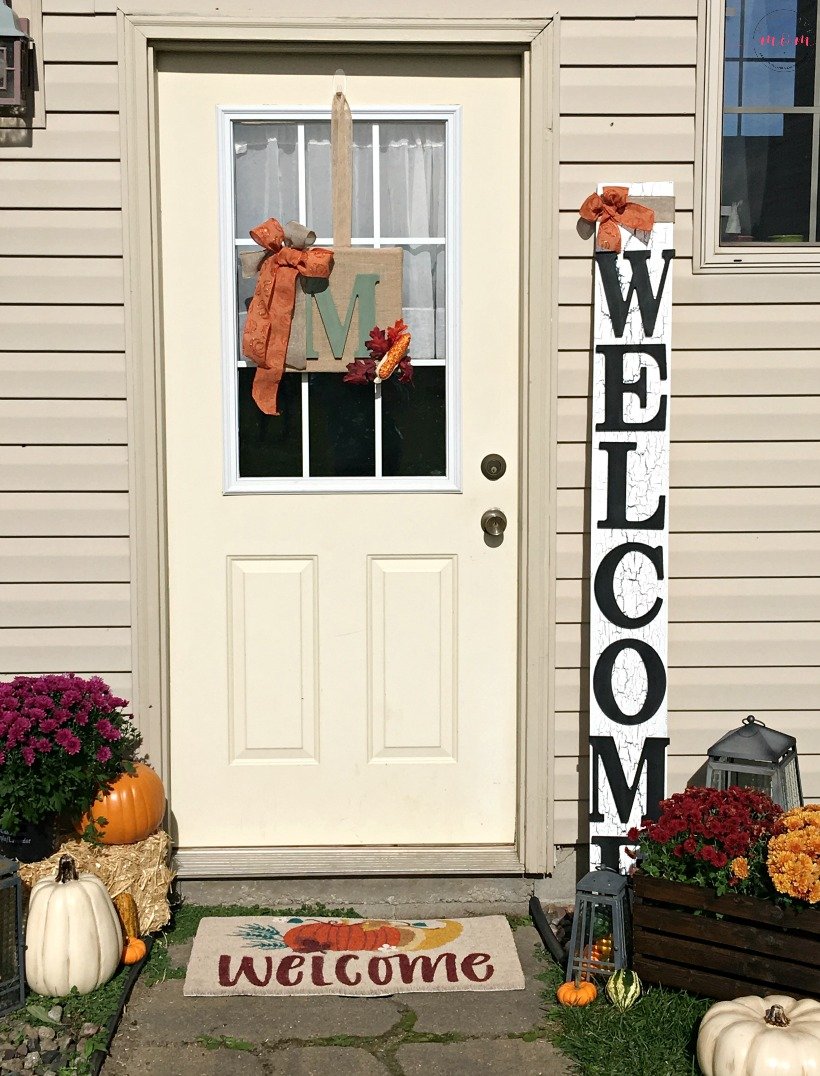 I designed this fall decor for my porch so it would be relevant for Halloween all the way through Thanksgiving. This is the perfect way to welcome trick or treaters all the way through Thanksgiving guests and friends and family. I love how much it improves my home's curb appeal!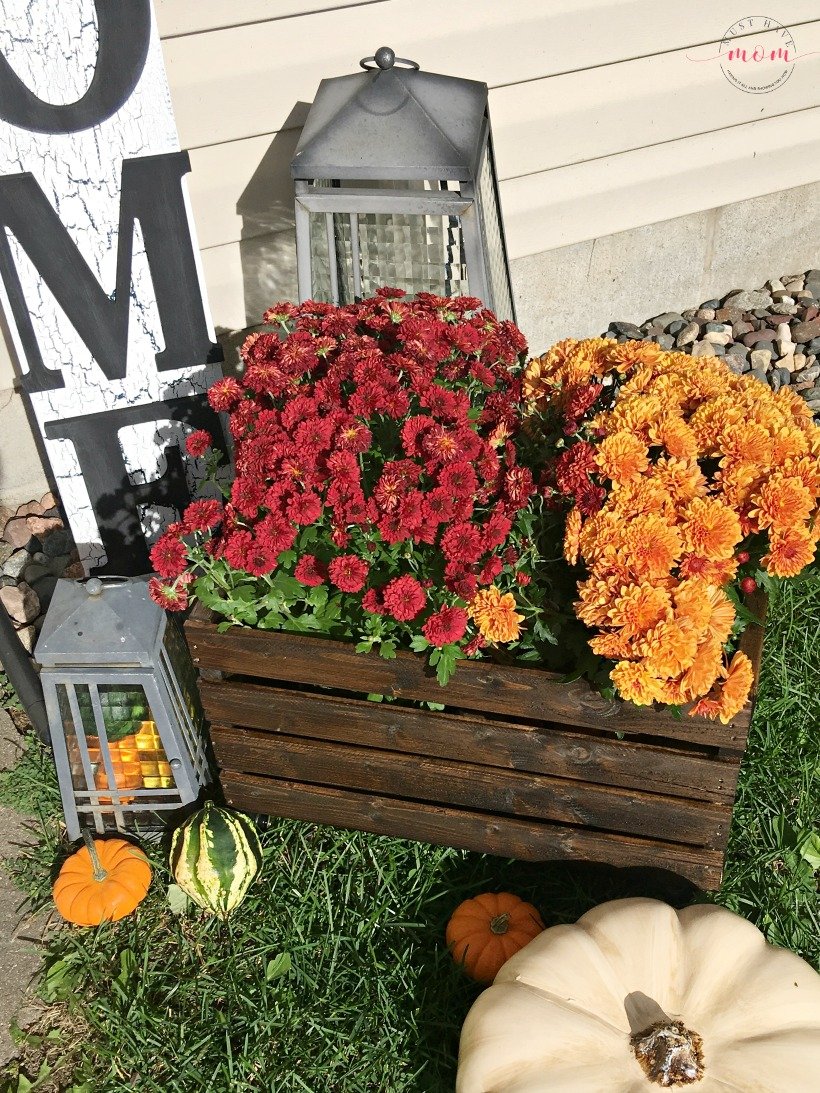 DIY Fall Porch Projects
I have two fun fall decor projects you can make and you can find all the necessary supplies at Lowe's. Plus they even have the fun decor items I used (pumpkins, mums, etc!). I'll show you how to recreate this look!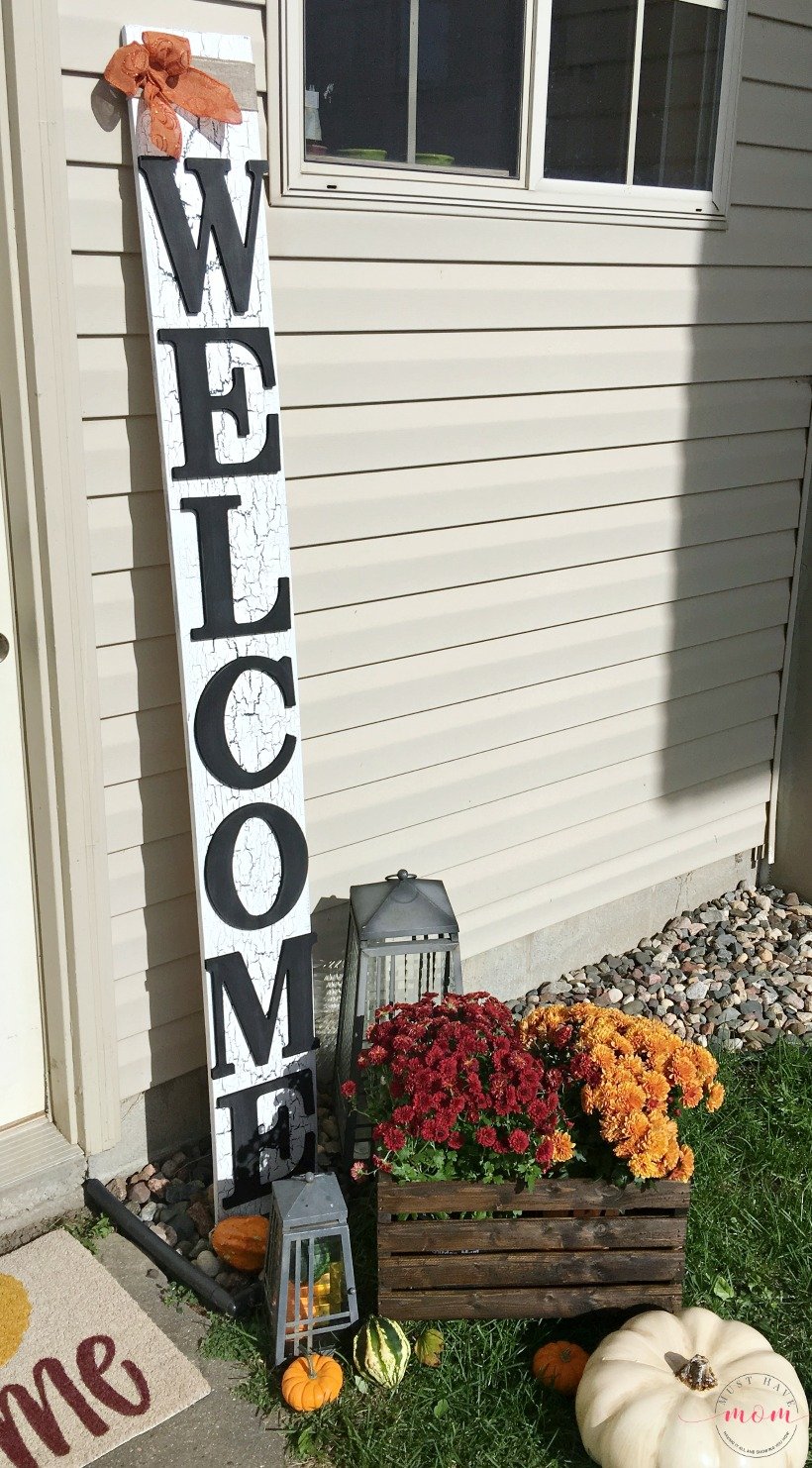 DIY Farmhouse Welcome Sign
One of my favorite elements of my fall decor for my porch was my farmhouse welcome sign. It's the perfect sign for any porch and it's really easy to make. Plus it costs very little to make! You could make several at once and give some as gifts to friends and family.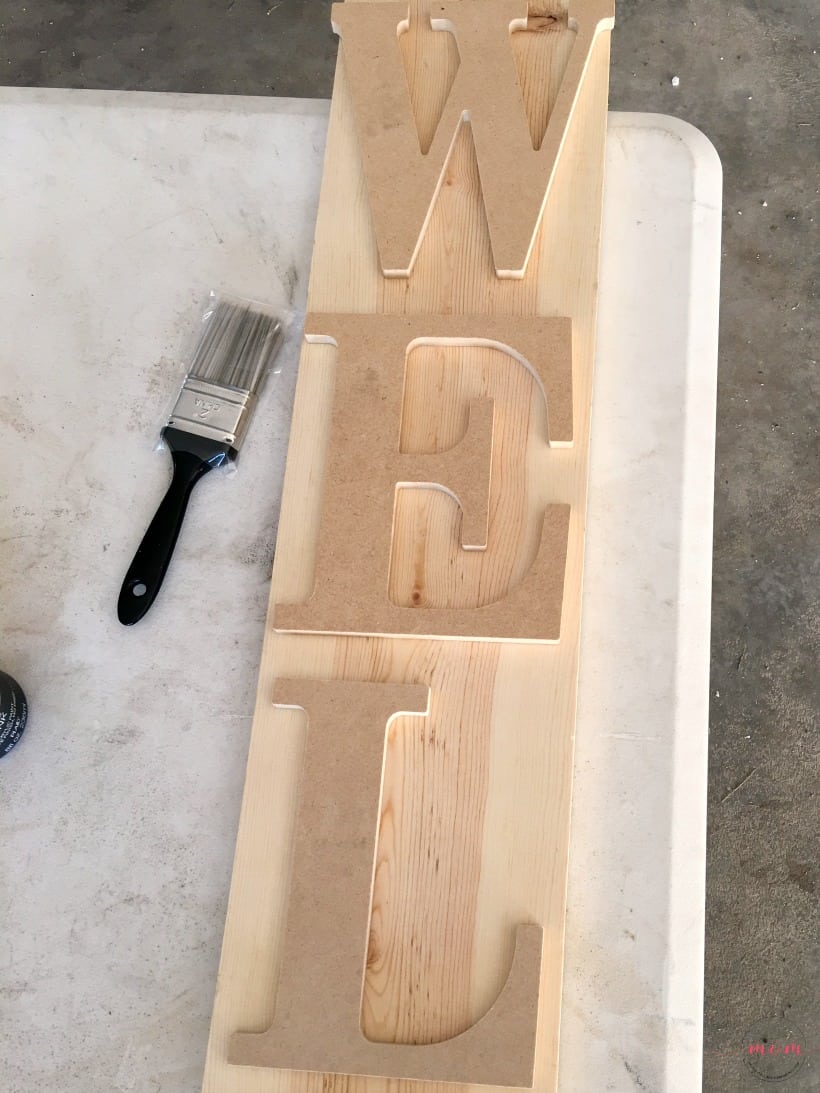 Farmhouse Welcome Sign Supplies:
For this project you'll need one .75″ x 7.25″ x 6′ pine board (find it in the lumber section at Lowe's for approx $4)
Valspar Satin paint (you can use a sample size container or get a quart and you'll have plenty leftover for other projects – I used a farmhouse blue)
Valspar Flat paint (for the top layer of the crackle – I used white)
Letters to spell "Welcome" or whatever you choose – Find these at a craft store.
Black chalk paint (for the letters)
Paint brushes
Sealant (I used a spray on sealer from Lowe's)
burlap, wire edged ribbon in orange burlap and brown burlap (find it at a craft store)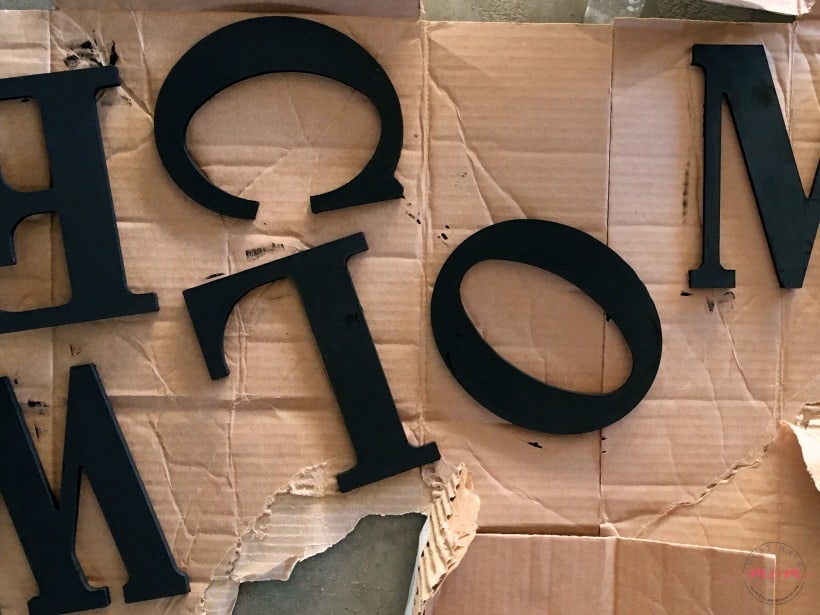 Begin by painting your "welcome" letters with black chalk paint. Let dry.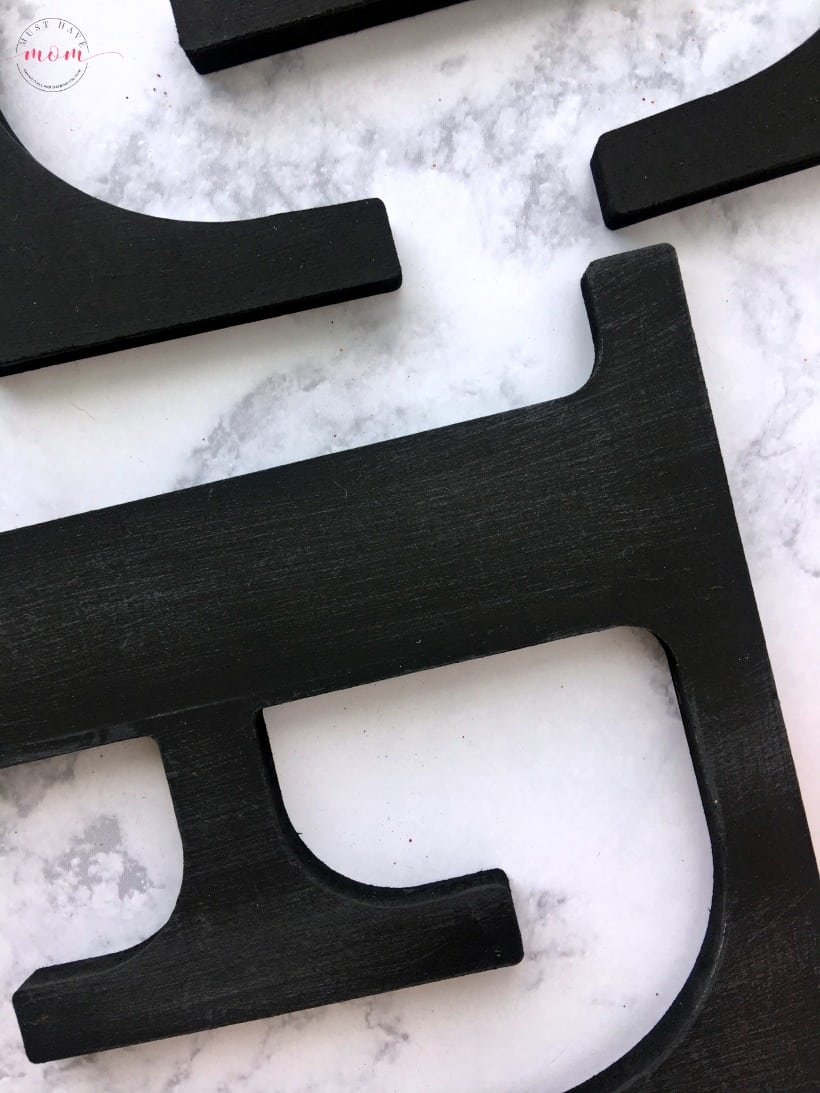 Once the letters have dried use a sanding block to gently create a more rustic look. I just brush over the top of the letters and some of the corners to create a weathered look.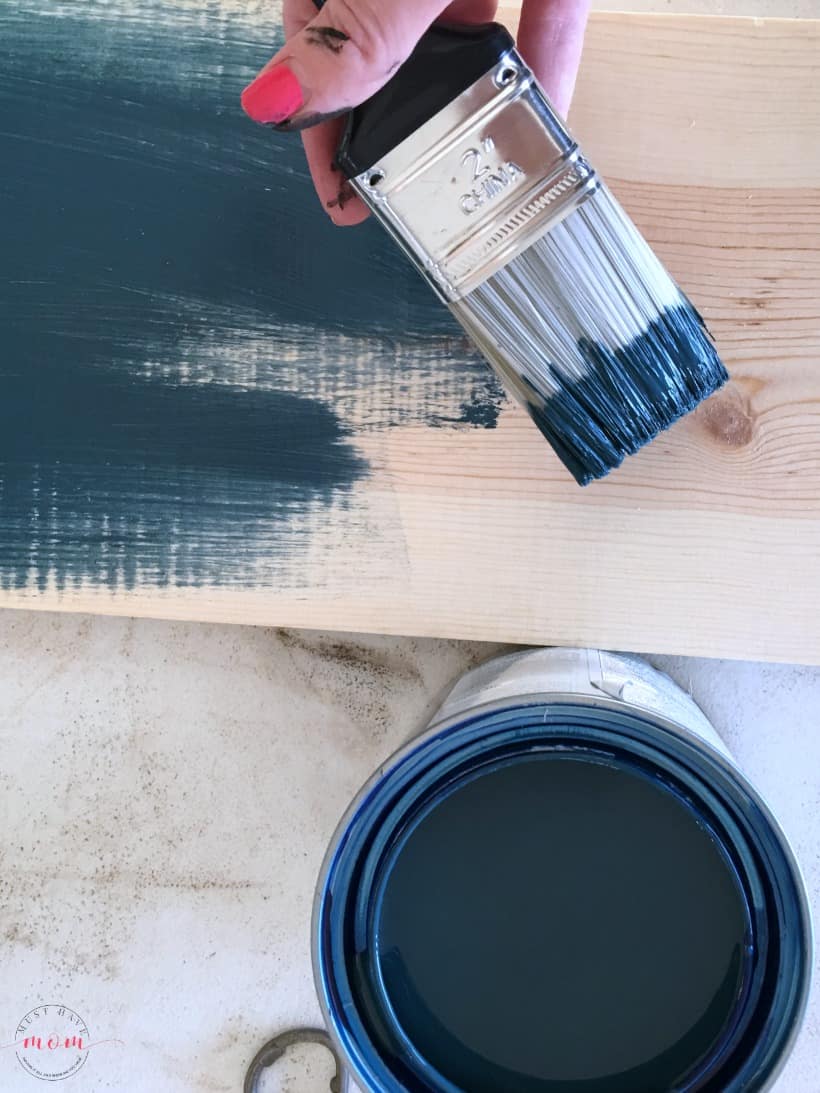 Now for your sign board you'll need to do a 3-step process for the weathered crackling effect. It is important to use the exact type of paint I specify for each step. For your first layer use Valspar satin in whatever color you choose. Allow to fully dry.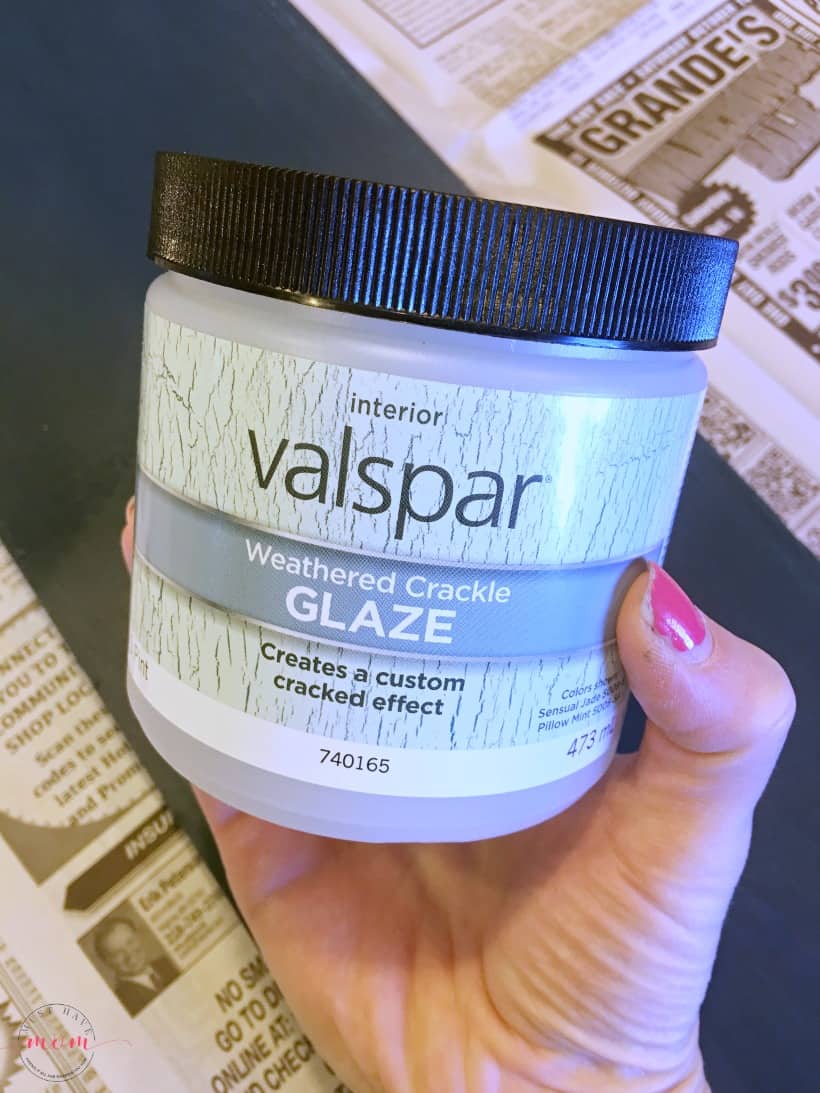 Once the first layer is dried, paint on the Valspar weathered crackle glaze. If you use a thicker coat the crackle will be bigger and a thinner coat will produce smaller crackles. Allow to dry for 1-3 hours, but not longer than that.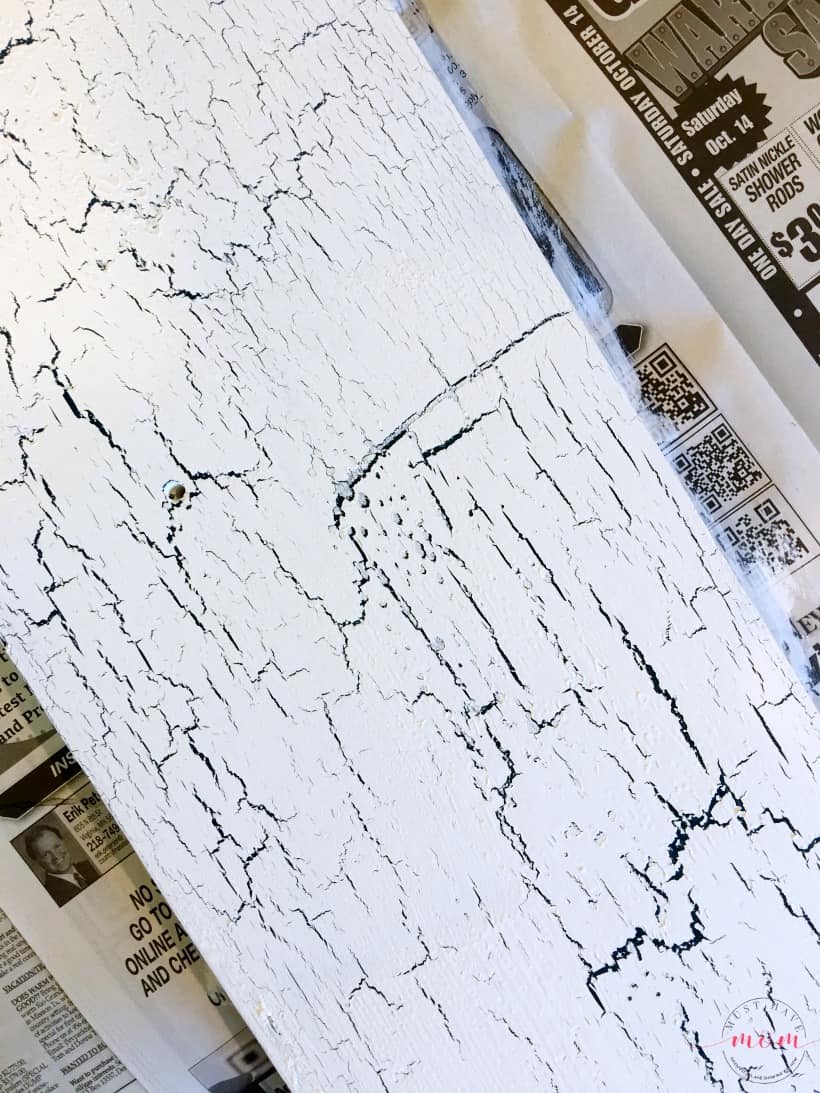 Finally, apply the Valspar flat paint over the crackled coat and it will immediately start to crackle.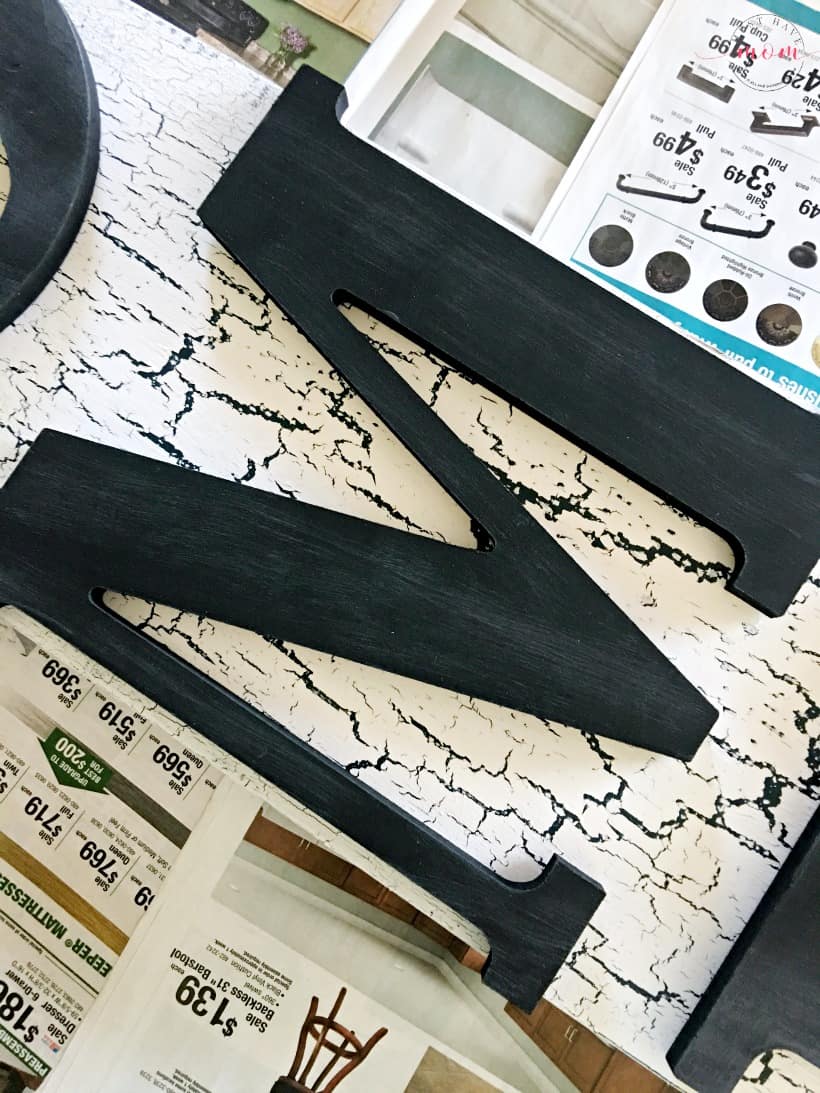 Allow to dry completely. Use wood glue to adhere your "welcome" letters to the sign board. Once dry, apply the sealant (wait three days as instructed on crackle label before sealing) so it will be weather-proof.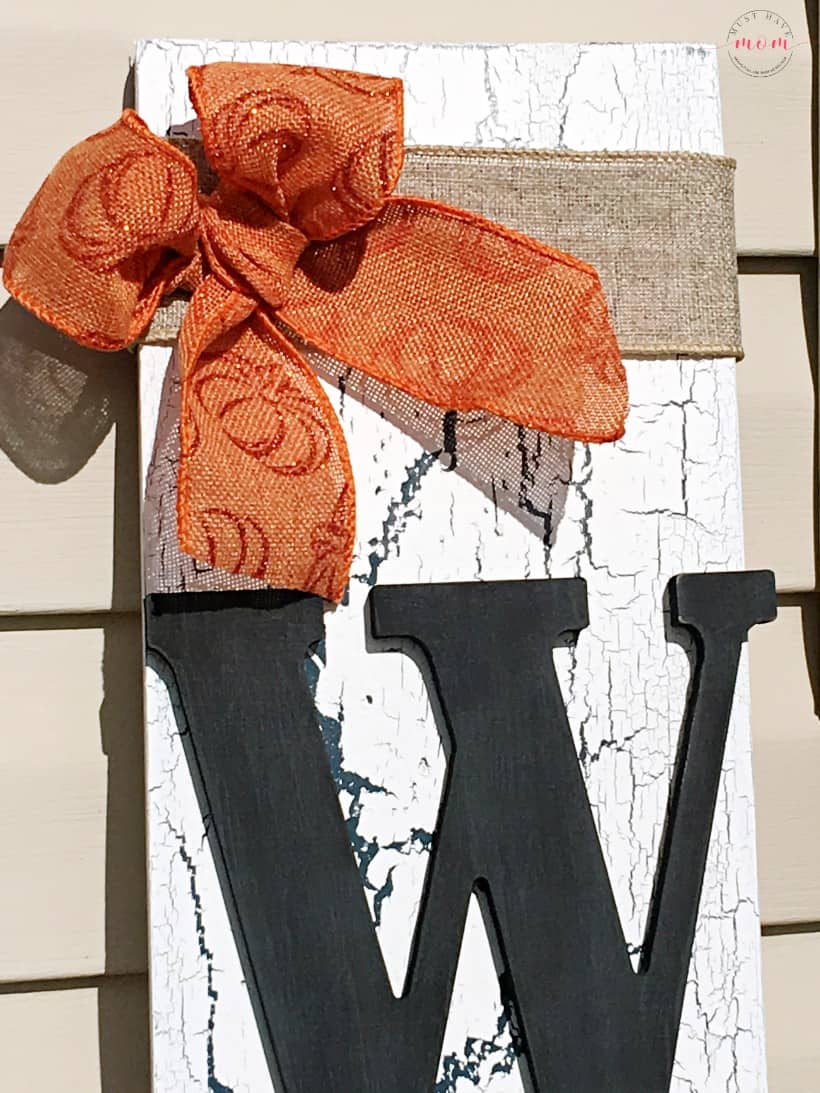 I then used a burlap ribbon around the top and added a burlap orange bow that I created out of burlap, wire-edged ribbon, and hot glued it to the top of the welcome sign.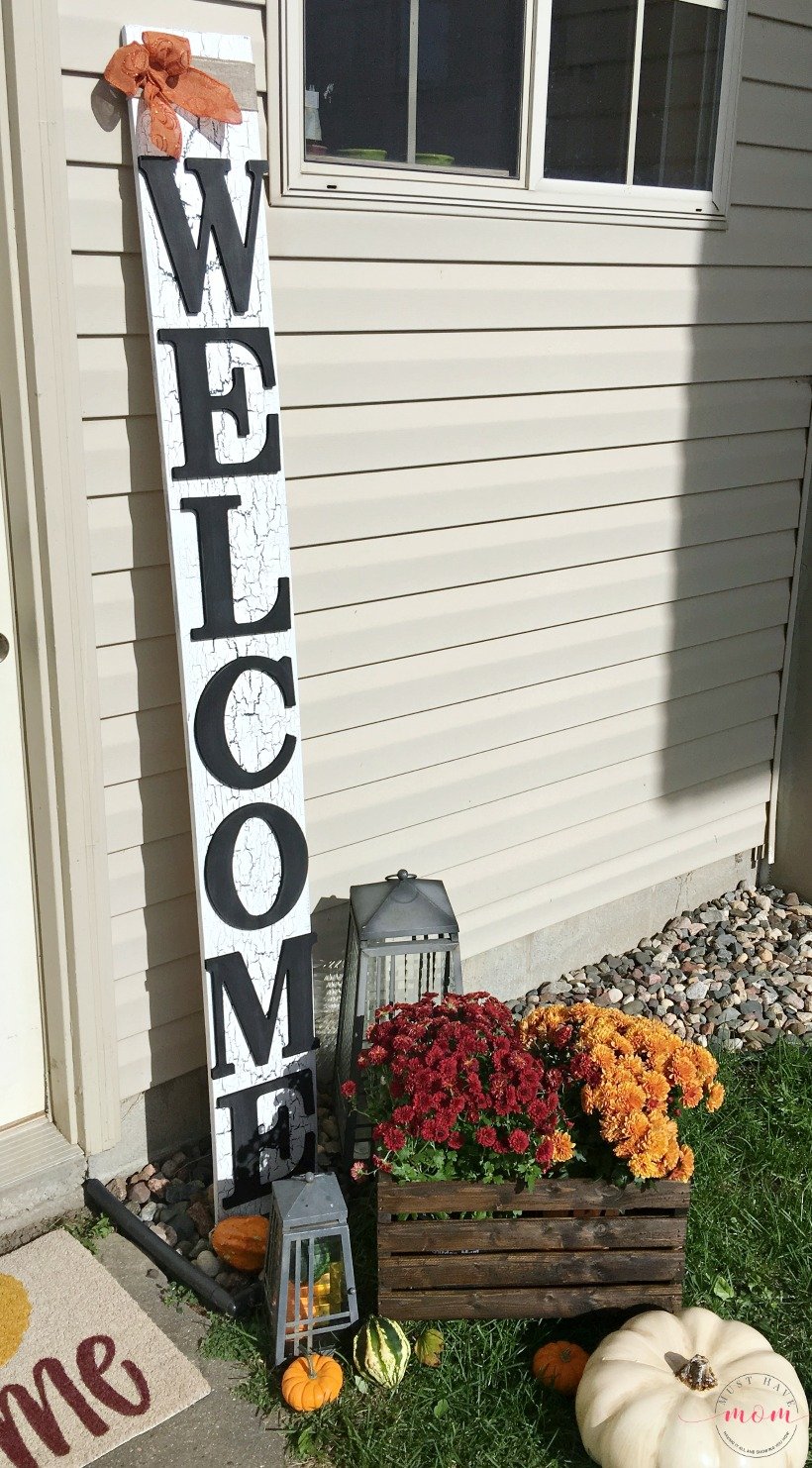 Now, you can add your gorgeous farmhouse porch sign to your porch or front door. Ready to make the crate now?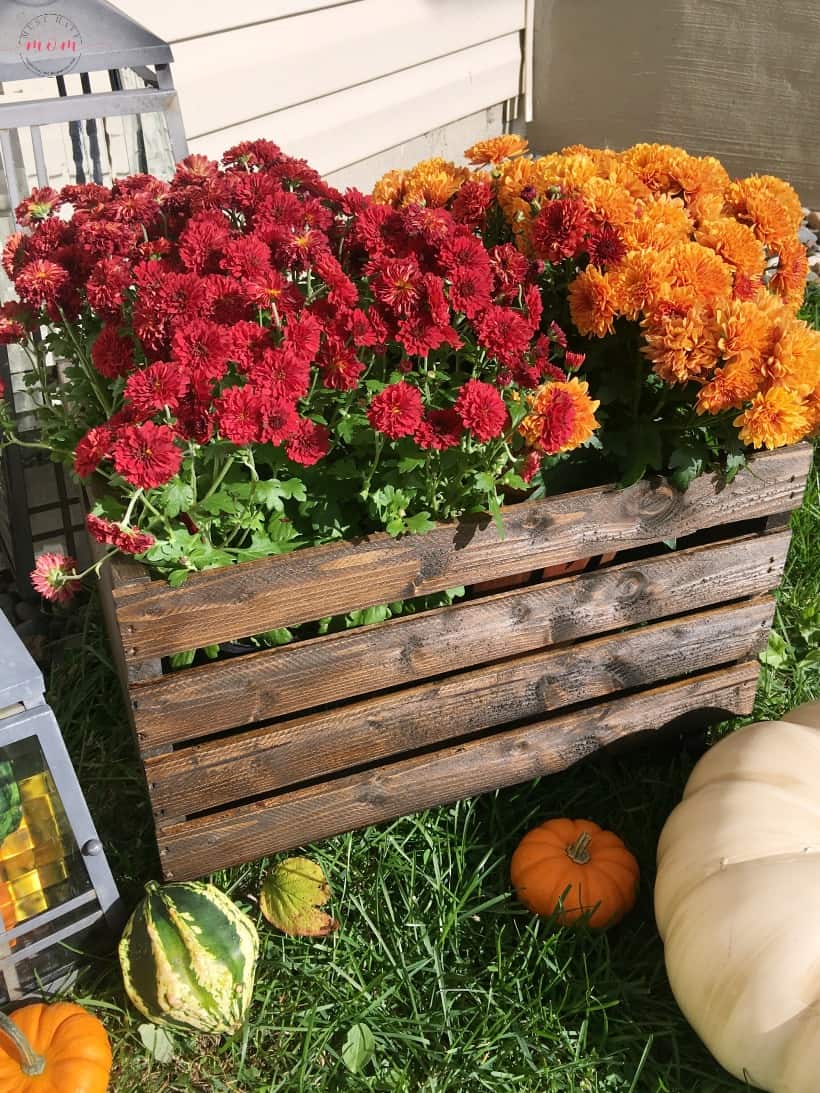 DIY Crate Planter
Create this stunning crate planter for just $12! Add wheels for just a few dollars more and you've got a fall planter you can easily wheel in and out of your door when the frost hits. It's SO easy to make and so much less expensive than buying one from the store. You can get everything you need for this entire fall porch at Lowes!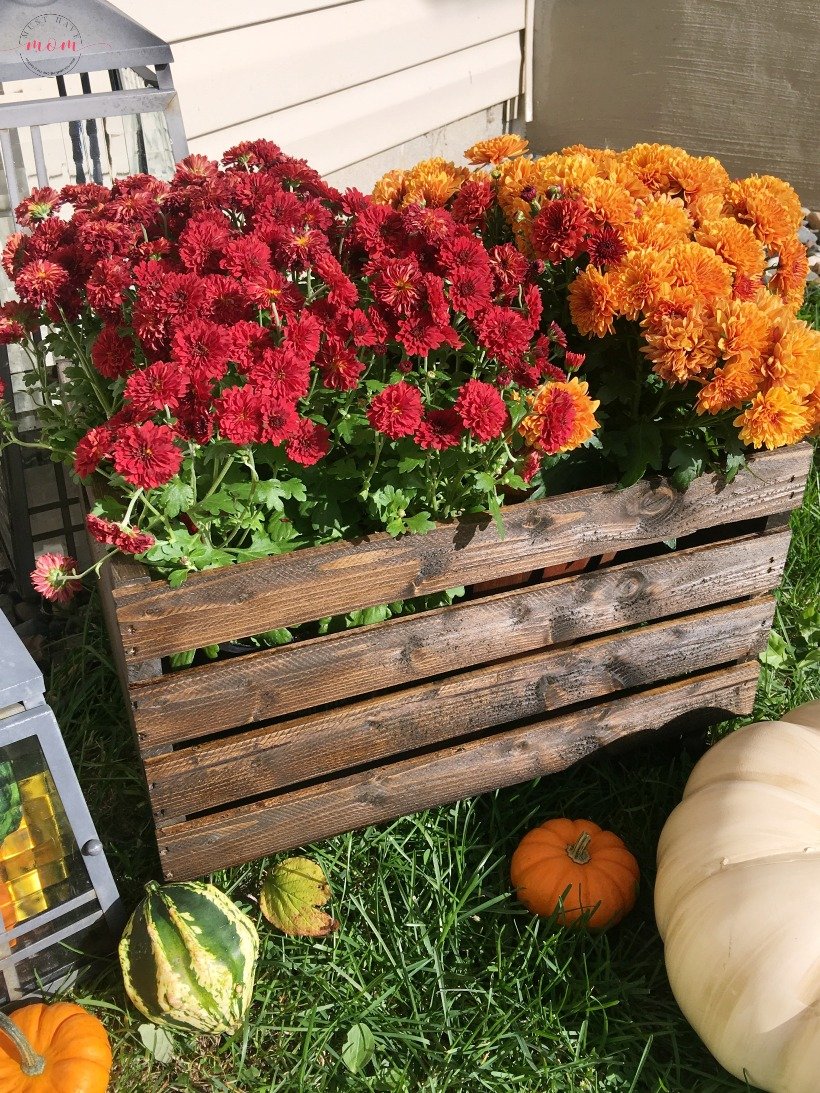 DIY Crate Planter Supplies:
wood crate (find in the shelving section at Lowe's)
oil based stain (I used leftover stain from my farmhouse mirror project in Jacobean color – from Lowe's)
paint brush or rag (rags work great for applying the stain and you'll need one to wipe off the excess too)
Optional: Wheels – Find them near the hardware at Lowe's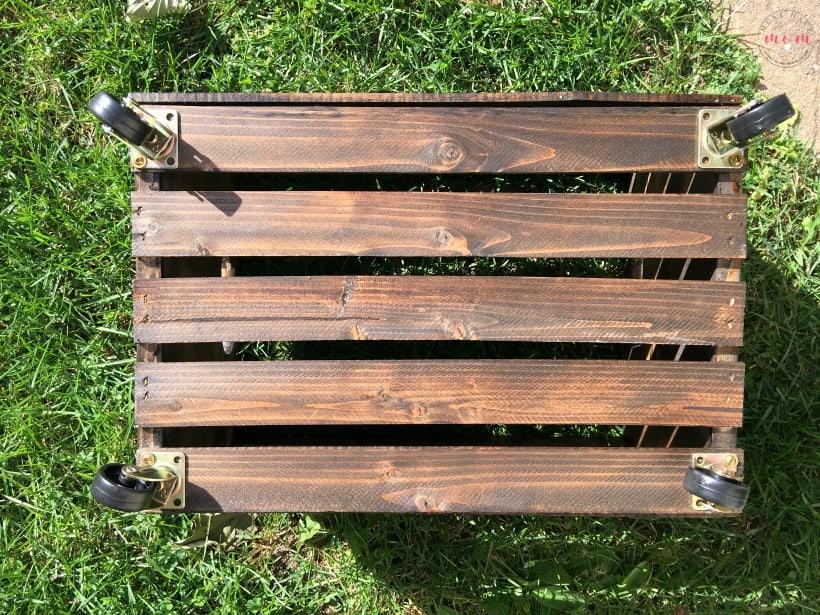 Stain the crate by applying the stain, one side at a time, and wiping off whatever doesn't soak in. Repeat until all sides are covered. Allow to dry completely. Then, you are ready to install the caster wheels! They will go on each corner of the bottom of the wood crate.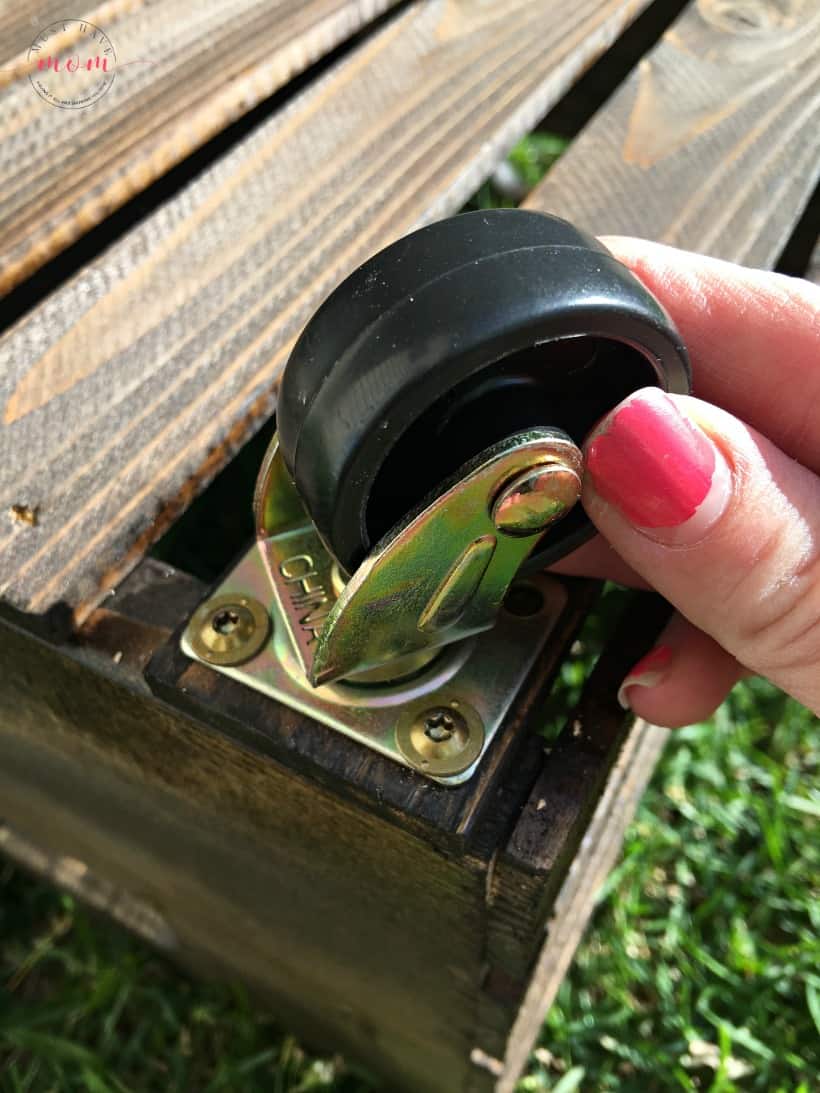 Use an electric drill to attach the wheels with screws on all four corners (bottom side).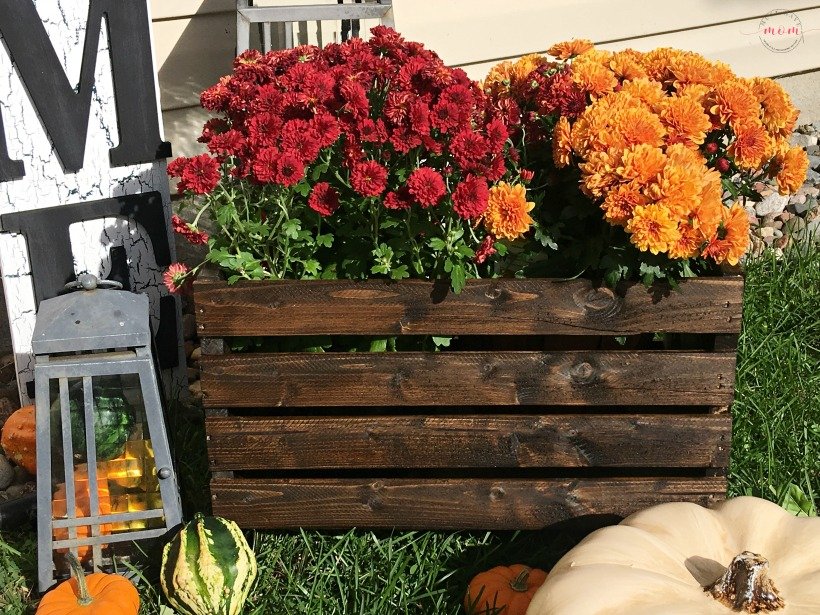 Then fill the finished crate with Mums from Lowe's garden department. They are SO colorful and pretty. I absolutely love how pretty they are and they are also very hardy plants and do well with the cooler temperatures. If it is going to frost, I simply wheel them inside the porch for the night.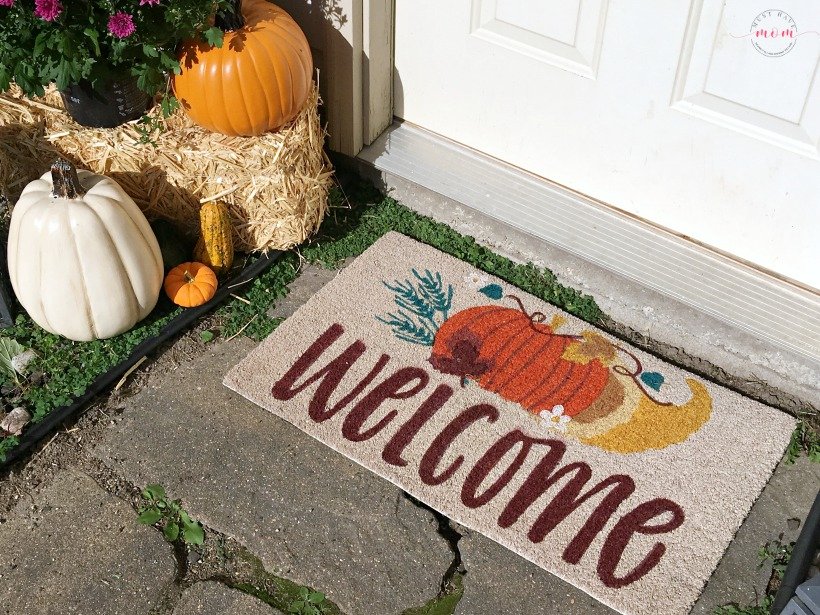 Complete your doorstep with a fall welcome mat (found in Lowe's fall decor section) so guests can wipe their feet and feel the fall love.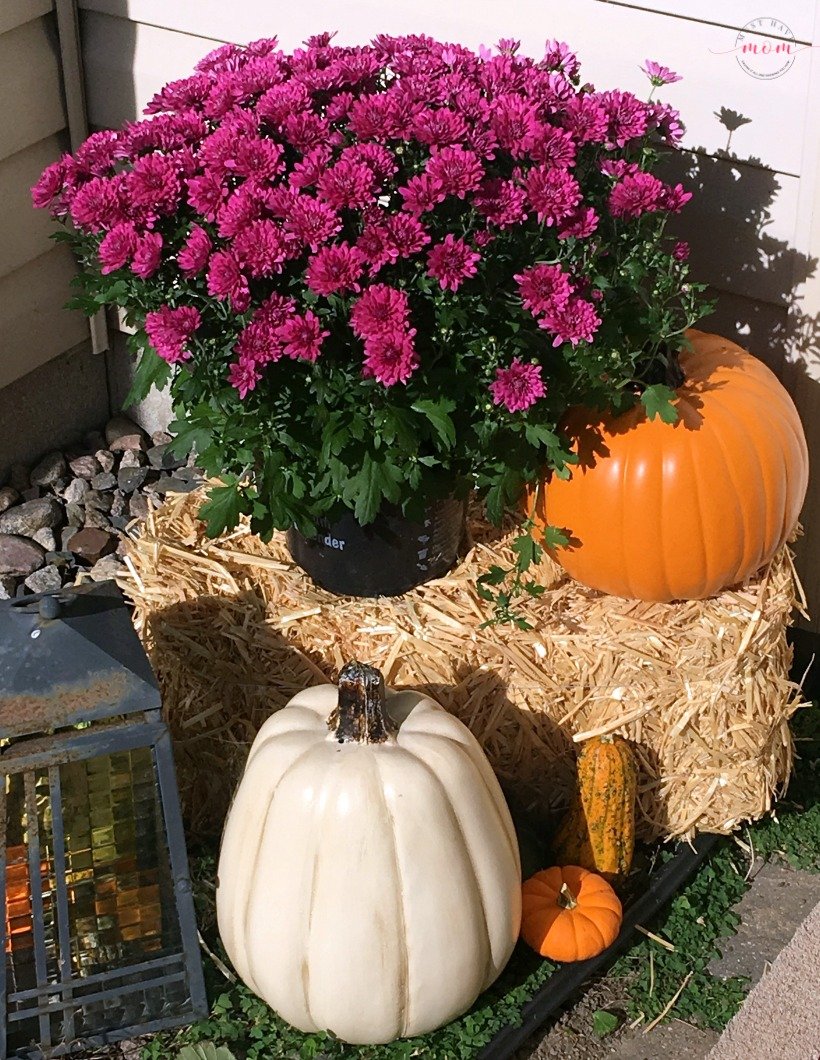 I completed the fall decor look with mini gourds and mini pumpkins, as well as a few larger white and orange pumpkins from Lowe's. The mini gourds and pumpkins are real, but the larger pumpkins I can re-use again and again every year! They look so real but I love that I can use them over and over again every year. Add a pop of fall color with a planter of mums on top of a hay bale and you've got a great look! I also filled my outdoor lanterns with mini gourds to give it a seasonal look!
Get everything you need to improve your curb appeal and welcome guests in style this fall at Lowe's! I had SO MUCH FUN putting together this fall decor for my porch. It looks so festive and makes fall feel a little more inviting!
Pin this $12 DIY Crate Planter:

Pin this Fall Decor and DIY's for your Porch!