Modern Mountain RV Makeover Before & After Pictures
This modern mountain RV makeover is a combination of cozy elements that make you feel at home and modern design that delivers a magazine-worthy aesthetic with function at the forefront of the design.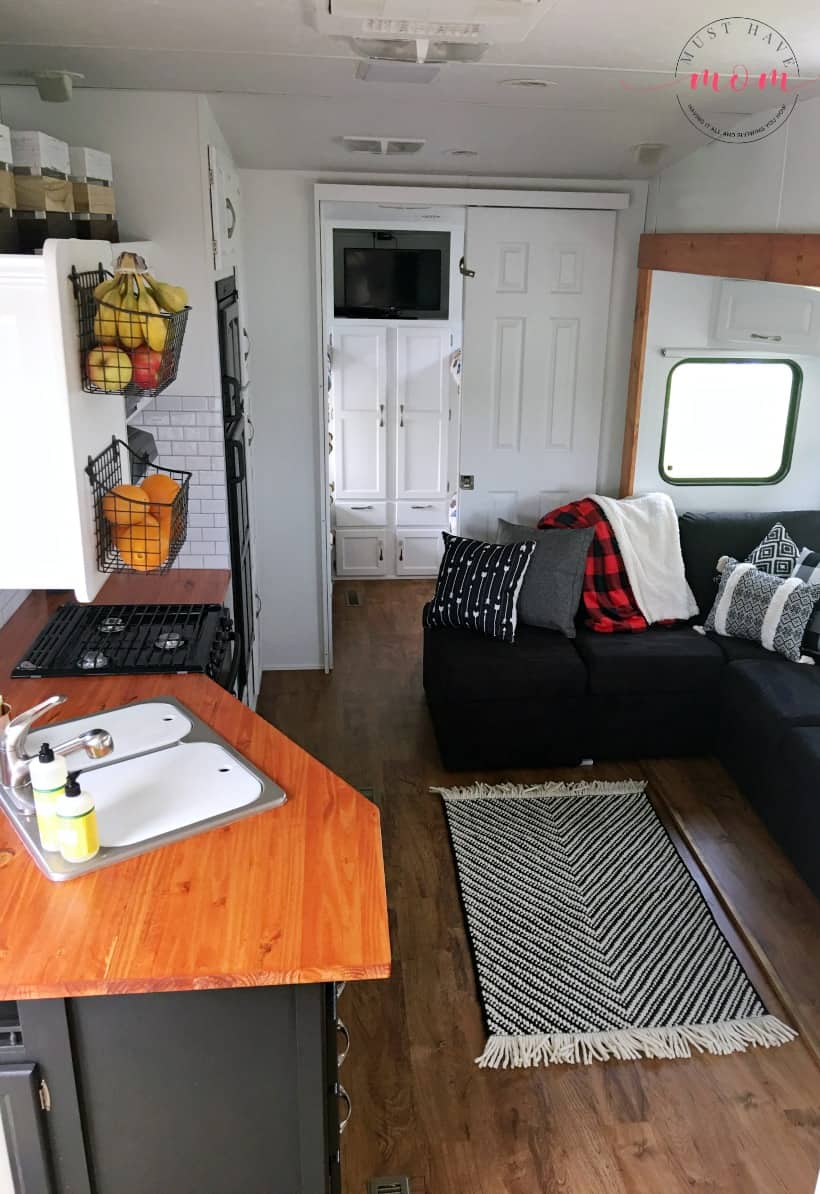 Modern Mountain RV Makeover
We did a gorgeous RV makeover on our last camper. It was a bumper tow 32′ travel trailer and we did a farmhouse style makeover with gray flooring, white upper cabinets and nantucket lower cabinets. It turned out beautiful. We were able to sell that camper at a profit, and thanks to our makeover, we had people lining up to buy it! My husband wanted to upgrade to a fifth wheel so that we can tandem tow our boat and eliminate the need to drive separately when we bring the boat on our camping trips.
I didn't plan on doing a makeover on our fifth wheel immediately, however, after storing it for winter we opened it up to find the linoleum flooring had cracked from one end of the camper to the other. The shower surround had also cracked and needed to be replaced. Since so much work needed to be done to it already, I decided that we should do a makeover on the whole thing. I'm SO glad we did because I absolutely adore the end result! I'll show you all the RV makeover before and after photos in this post and I'll also show you how we did it in subsequent posts so be sure to subscribe to my RV email list so you don't miss any future makeover posts!
RV Makeover Before & After Photos
I am so excited to share these before and after photos of our fifth wheel makeover with you. I think the transformation is absolutely amazing. I hope you enjoy seeing how much you can change the look and feel of your camper with just a little paint and elbow grease!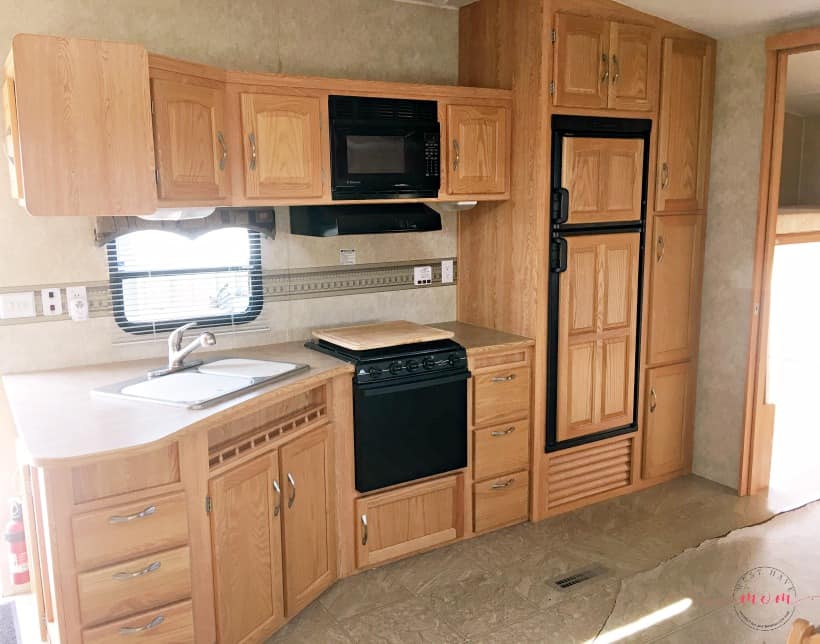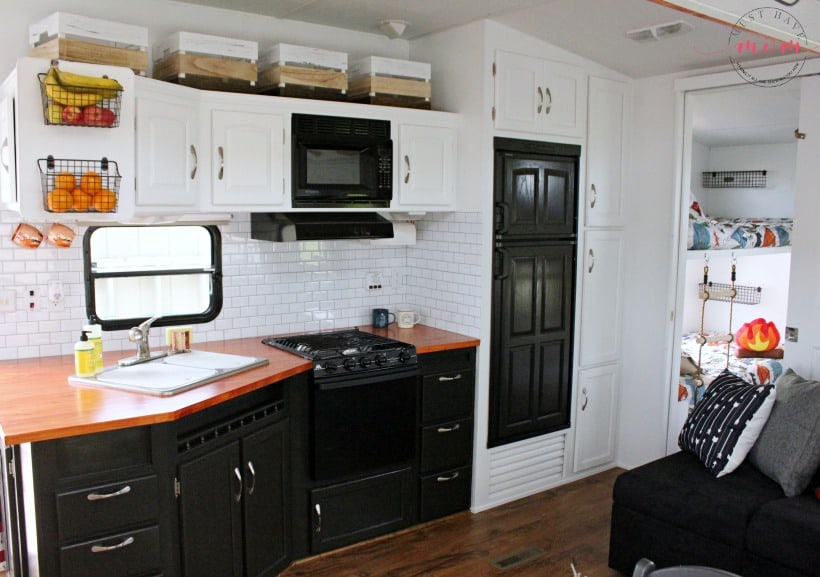 RV Kitchen Makeover
In the kitchen, we painted the lower cabinets a shade of black, replaced the counters with gorgeous DIY wood countertops that I made, and painted the uppers in white. We also added peel 'n stick subway tiles as a backsplash and replaced the window treatments with a simple vinyl roller shade. We also made our own custom copper paper towel holder and added fruit baskets for storage. I added wood crates to the top of the cabinets for extra storage. We were able to keep the silver hardware and after painting the cabinets it looked so much nicer!
Shop This Look
Grab my free RV packing list printable now!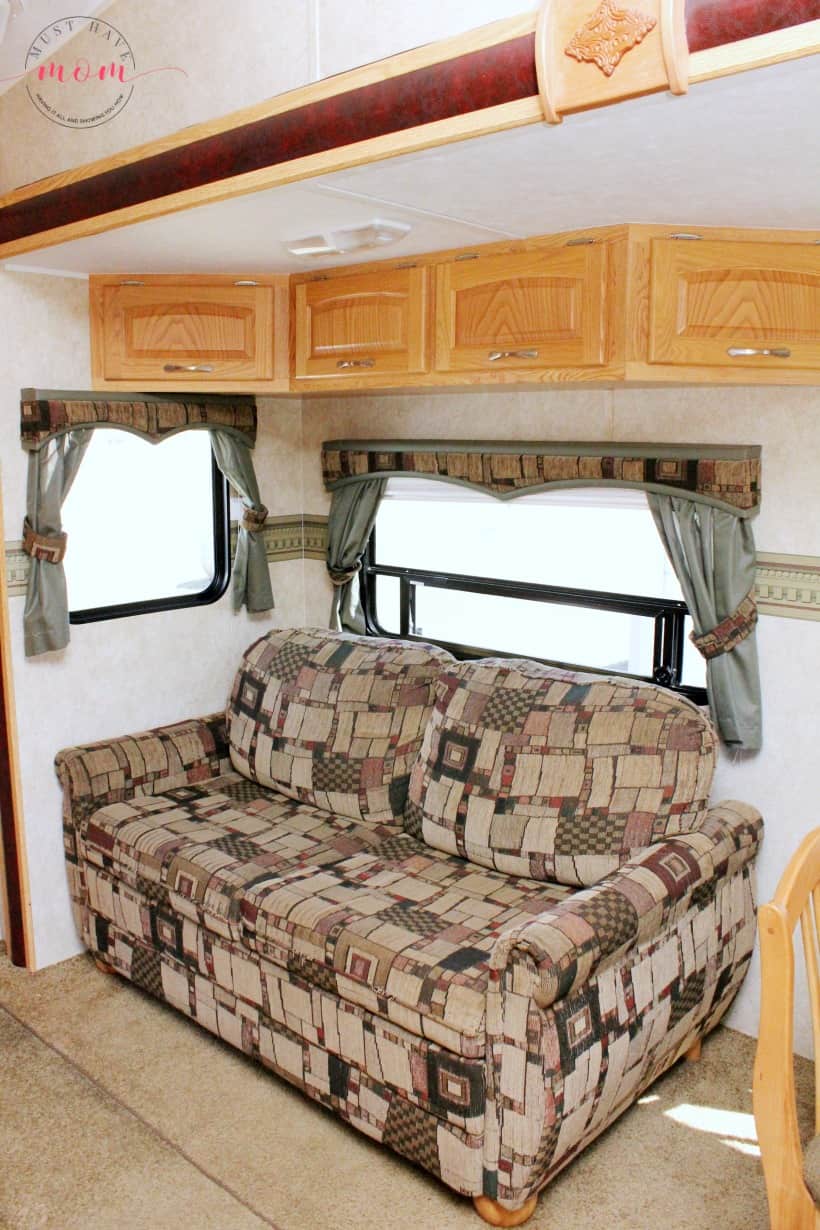 RV Living Room Makeover
In the living room, we found the loveseat to be really inadequate. Not only did it only seat two people at a time (for our family of six), but it also faced away from the TV. The loveseat faced the kitchen and the TV was on the side wall. I knew that wouldn't work well or be functional. I needed something that would seat more people, allow for laying down and face the TV. It sounded like a tall order, but I am thrilled to say that I found a solution!
I ordered a modular sectional couch from Home Reserve. It allows you to order the couch piece by piece so you can get one that perfectly fits your space. I ordered two of the ottomans, two armless seats and a corner piece to create the perfect corner sectional for our camper. Now we are able to fit more people on the couch and we can even stretch out and take a nap. It also allows us to face the TV. I am so pleased with it! It even has built-in storage in each piece and the fabric can be removed and tossed in the washing machine. Perfect for camping! Thanks to the black color, it hides dirt well and I don't have to worry about the kids spilling or getting it dirty.
I added some throw pillows and kept costs low by using new throw pillow covers (this one, this one and this one) over old pillows I already owned. I'm in love with cozy buffalo check blankets so I had to add one to the couch and it coordinated perfectly and it's SO soft and cozy on cool nights. I also added a throw rug from Target.
Shop This Look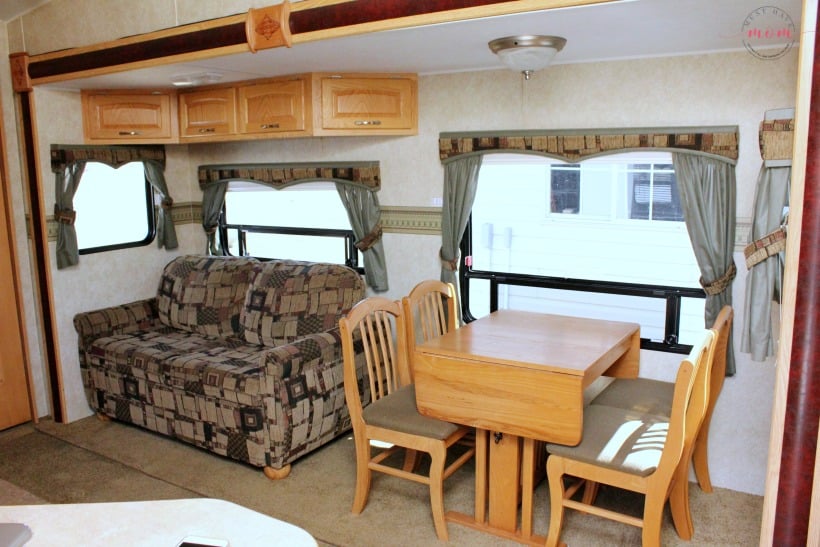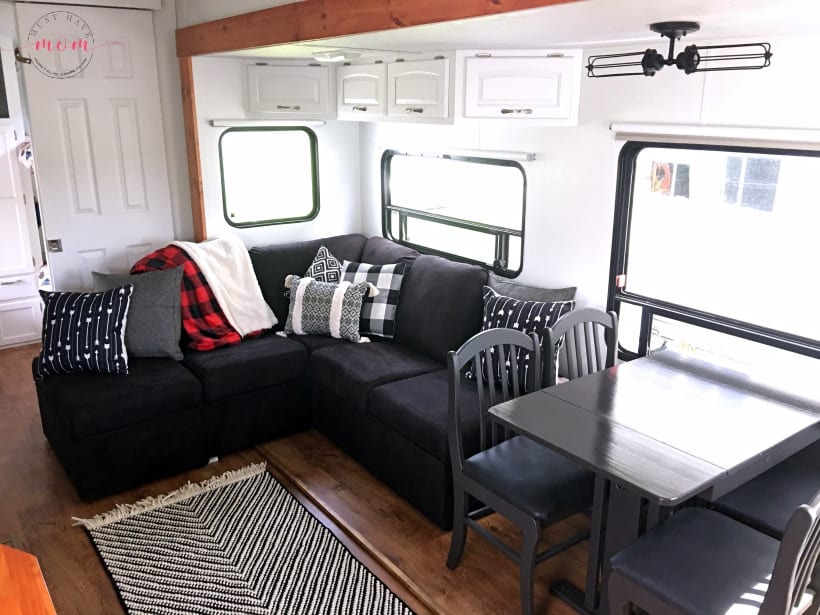 We painted the cabinets white and kept the hardware. We removed the ugly window coverings and added vinyl roller blinds which let in a lot of light but still allow for privacy at night. We changed out the light fixture above the table and replaced the outdated RV fixture with a gorgeous tube lighting fixture. You can use any household light fixture, but you must use 12V bulbs which we ordered from 12V Monster.
We also removed the atrocious faux red leather slide out trim and replaced it with wood trim that we made from pine. We installed Shaw Citadel vinyl click together flooring and removed the linoleum and carpet. I painted the table and chairs the same color black as the lower cabinets and I recovered the chair cushions in leather so they would be wipeable and resist messes from the kids.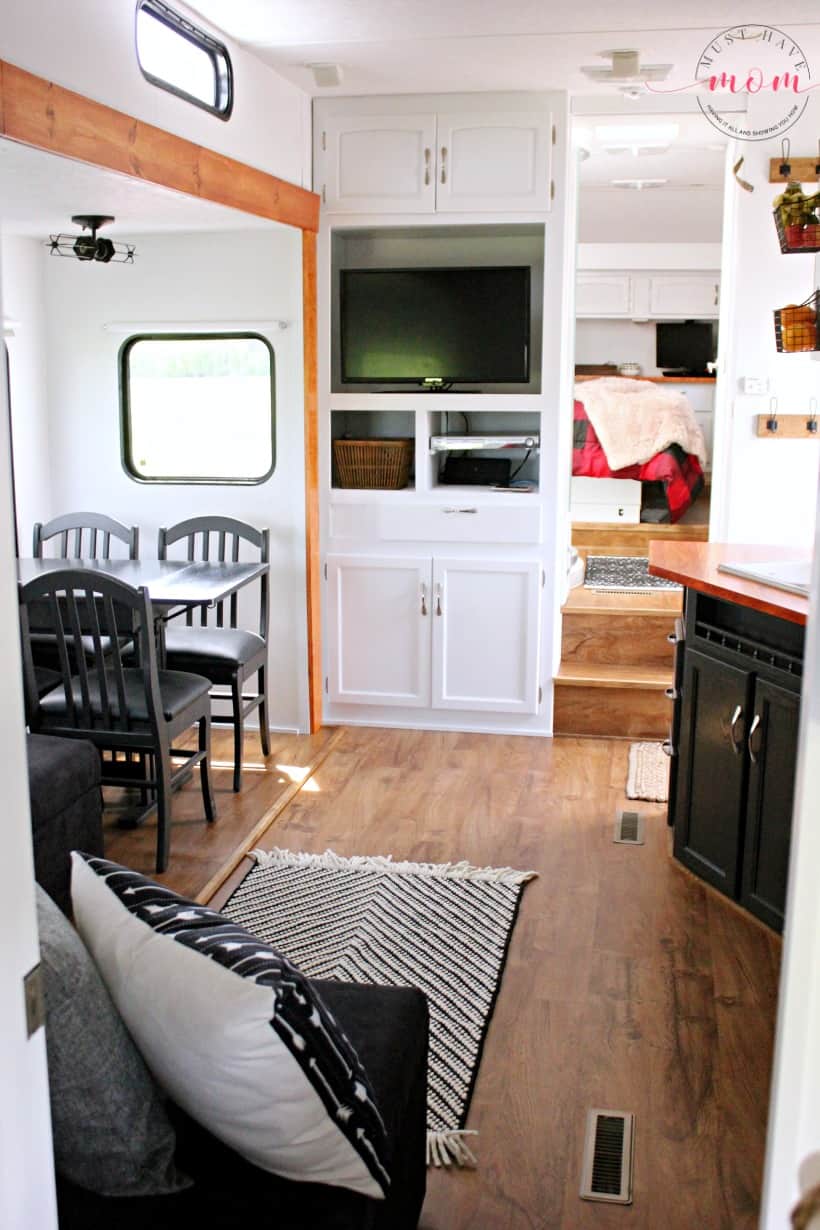 We painted the entertainment center white as well and the couch now faces the TV so we can easily kick back and watch a movie on rainy days.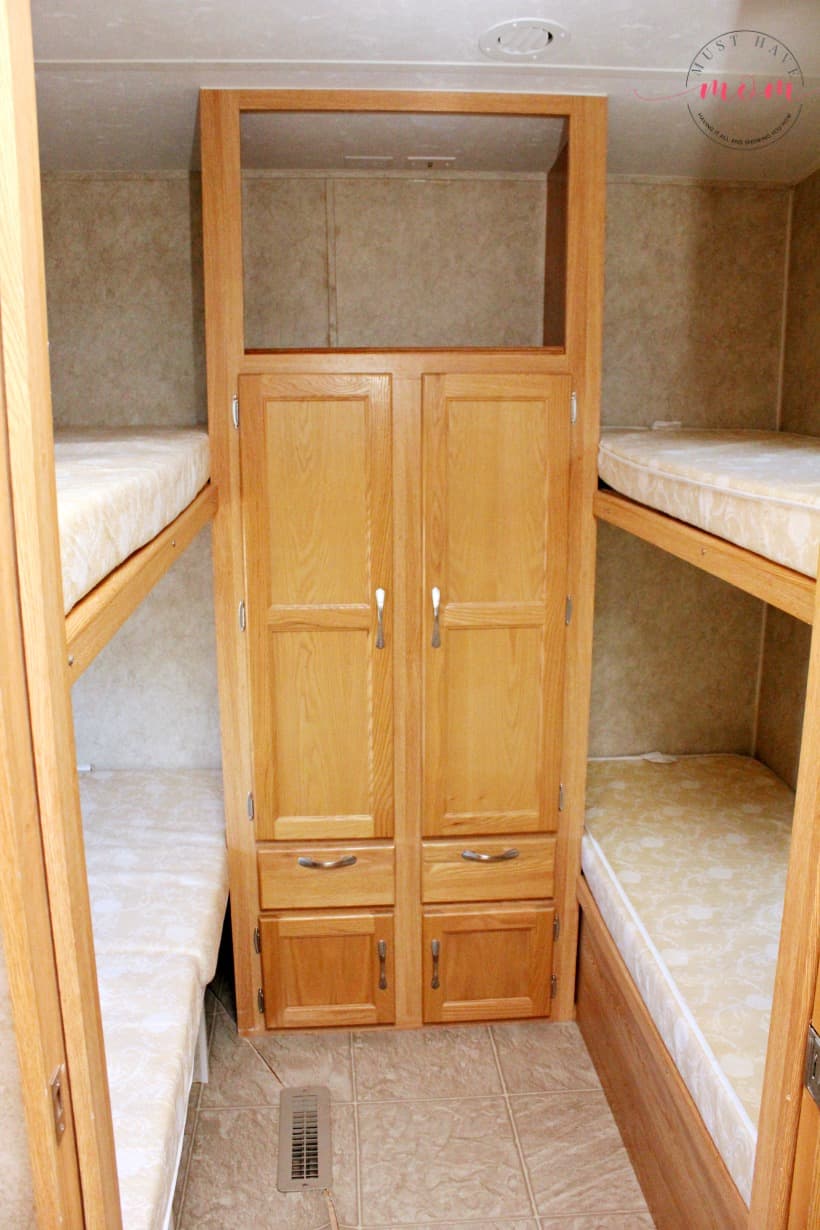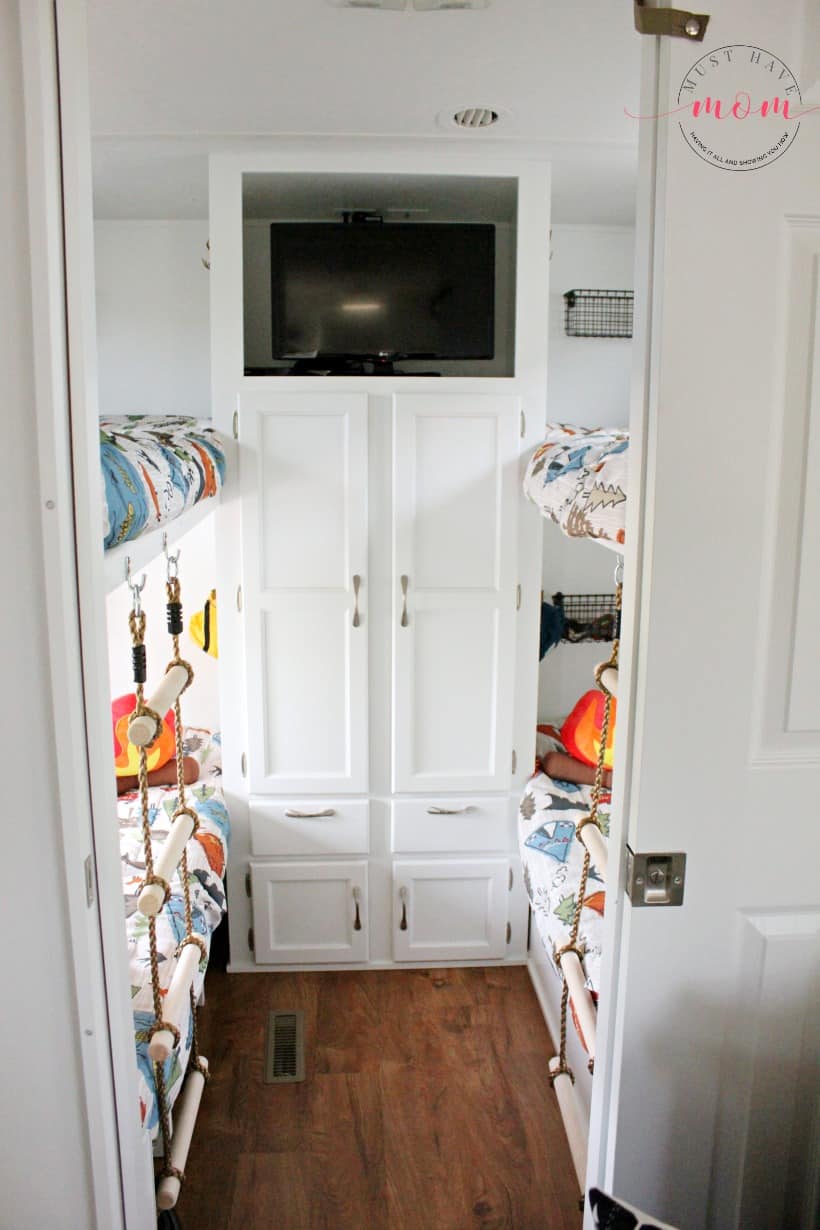 Camper Bunk Room Makeover
In the bunk room in the back of our fifth wheel, I knew I needed a better solution for closet storage, we needed to add ladders to the bunks and it needed some extra storage in the bunks. We solved these problems by painting everything white and replacing the flooring with vinyl click together planks. We added rope ladders to each of the bunks to give it a rustic adventure feeling and added functionality by allowing the kids to easily climb in and out of their top bunks. See how we made these DIY RV bunk ladders here.
In the closet, we removed the hanging bar and added shelving. This allowed me to fit enough clothes for all four kids in the closet and keep them separated so everyone could easily find their clothes.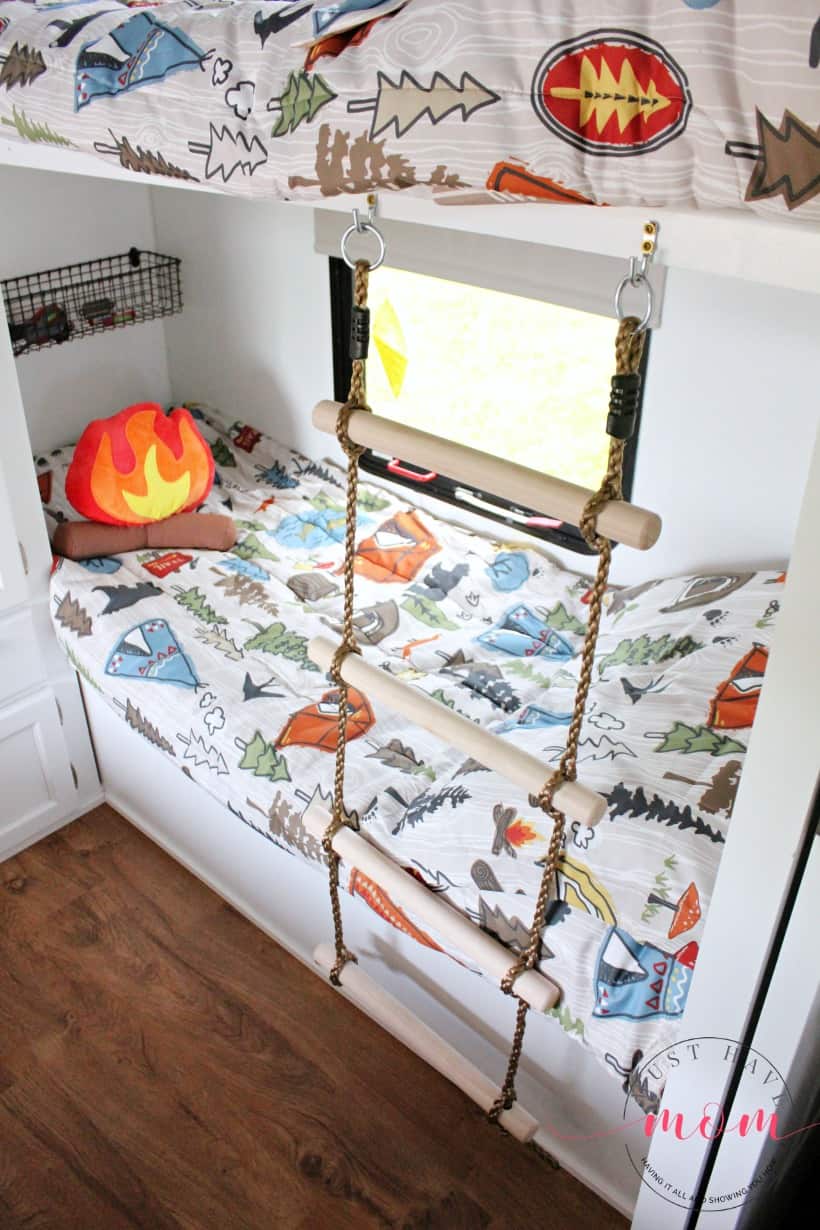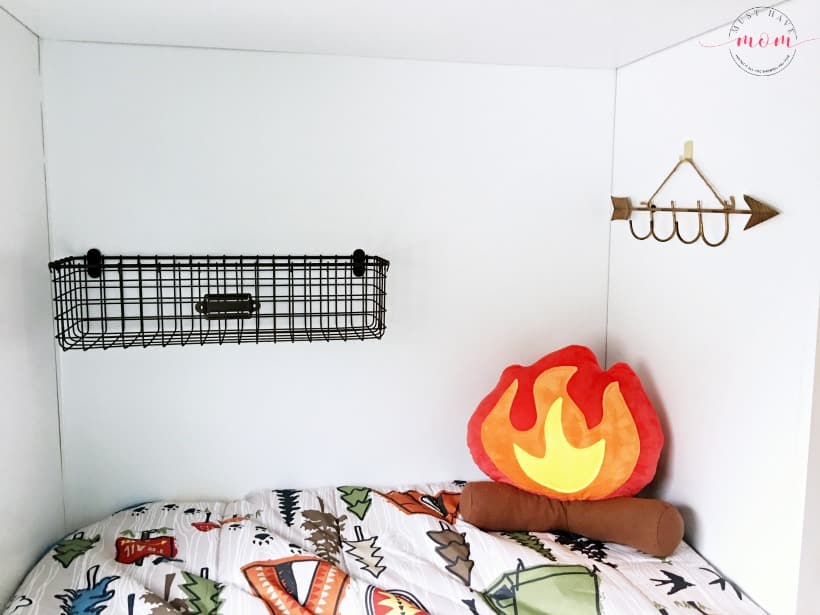 In each of the bunk beds, I added a storage basket and an arrow hook. This is the perfect place for them to store books, toys and to hang things like hats and lanyards. I added campfire pillow from the Target dollar spot for just $5! I added adorable camping themed bedding to each of the bunks as well. The kids LOVE the bedding sets and they were a great value because they came with sheets, pillowcases, a bedspread and a decorative pillow sham.
*It looks like the camping bedding is sold out right now, but here is a really cute camping bedding set alternative!
Shop This Look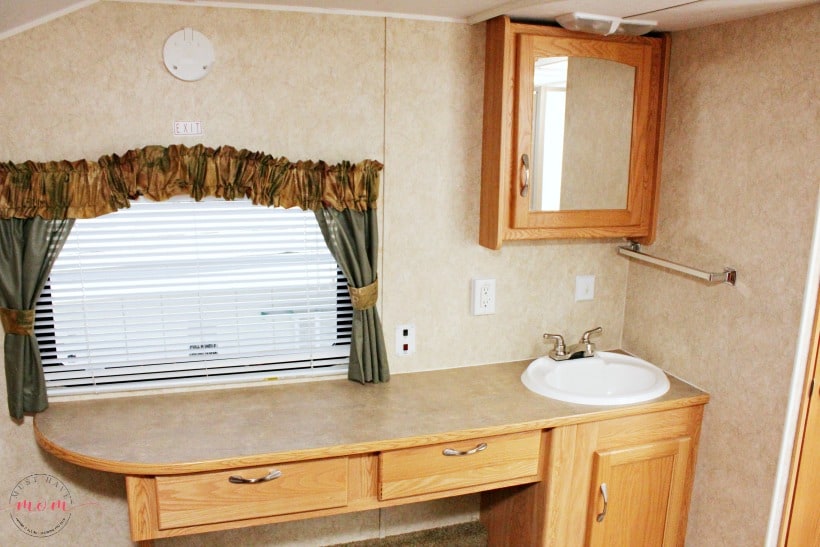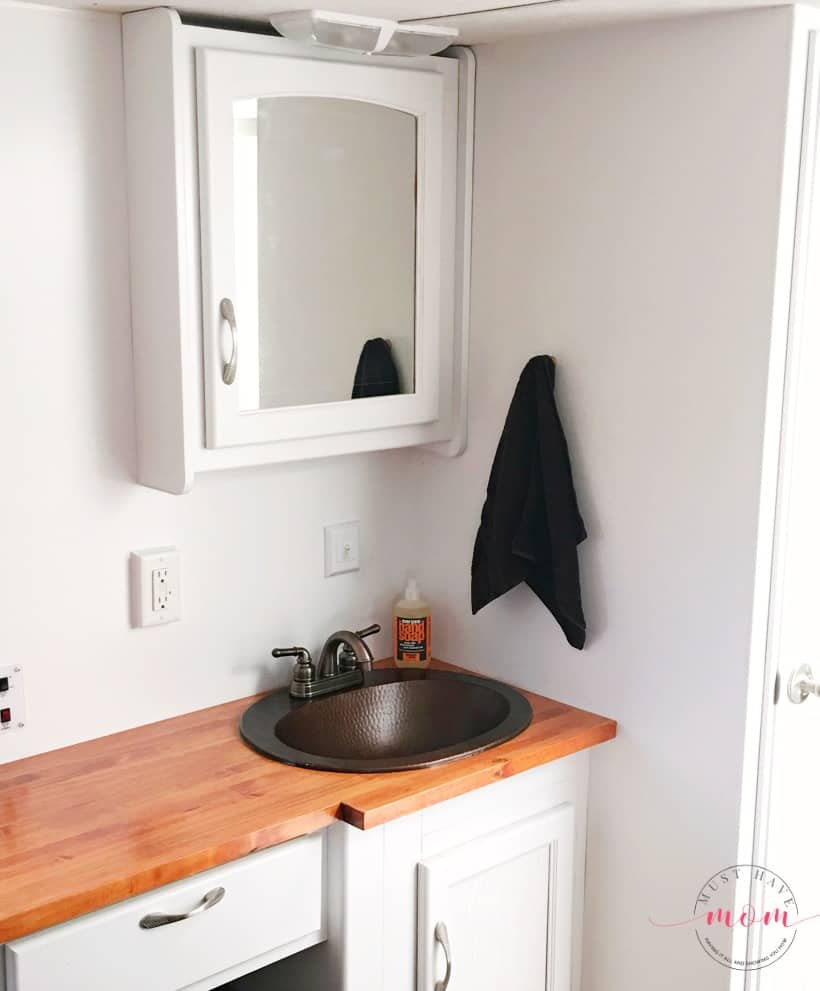 Camper Bathroom Sink Makeover
I love that our bathroom sink is in a separate room from the toilet and shower. Each has it's own area so people can use the sink separately from the toilet and shower. We removed the existing bathroom counter and sink, painted the cabinetry and walls white. We made our own wood countertops and they turned out beautifully! See how to make your own DIY wood countertops in my other post!
Shop This Look
We replaced the counter with wood countertops that I made and we replaced the sink with a copper sink and oil rubbed bronze RV faucet.
I added a simple copper towel holder and hung a black hand towel on it.
Shop The Look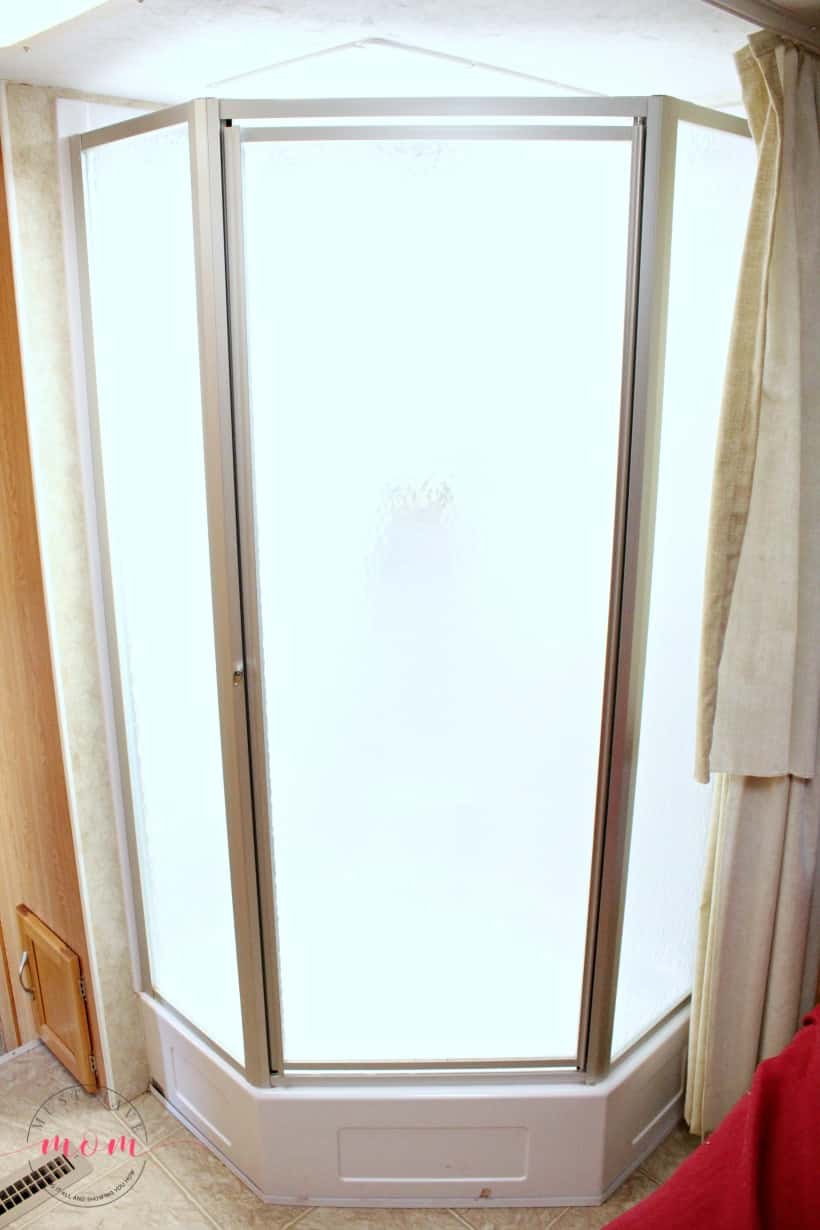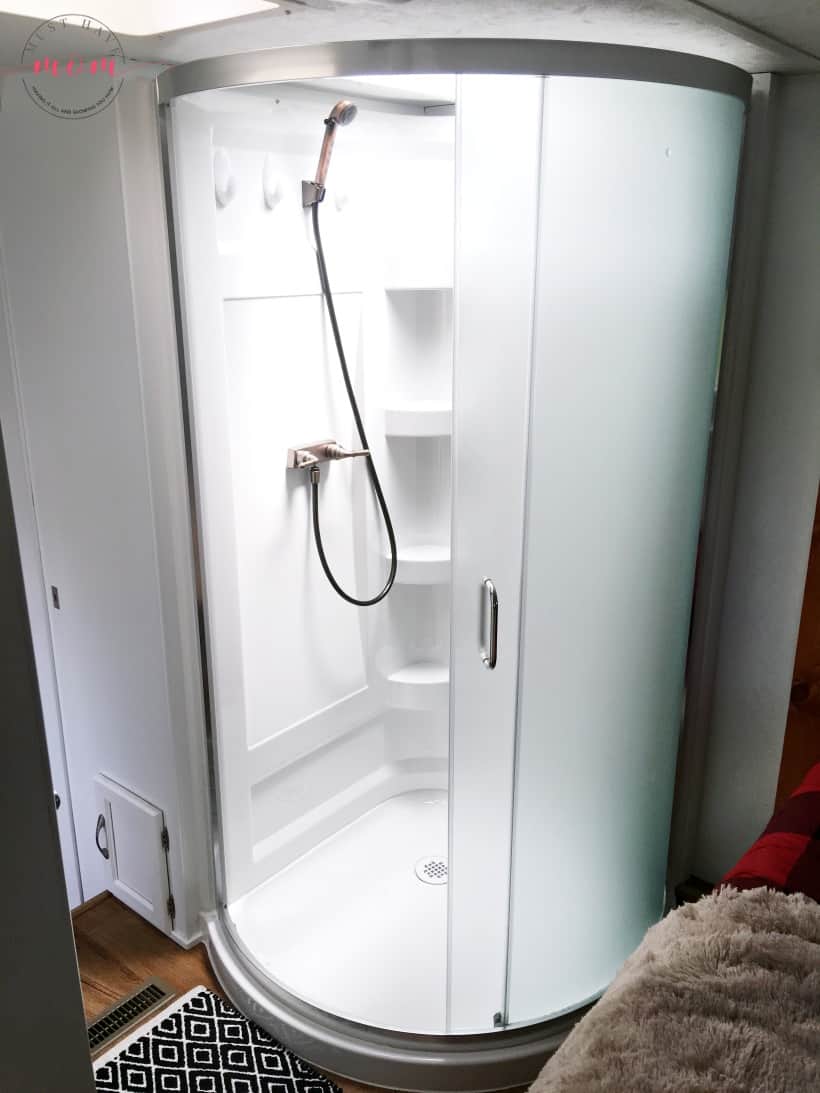 We removed the old RV shower which had a crack in the surround and we replaced it with a residential shower with an oil rubbed bronze RV shower fixture. The rounded surround gave us a huge shower space with a small footprint. The old RV shower that came with the RV was built up on a platform which stole a good six inches of headspace and had my husband's head up in the skylight when he showered. By removing the platform and installing the new shower on ground level we were able to add considerable height to the shower. This is one of my favorite improvements in the functionality of our camper.
Shop The Look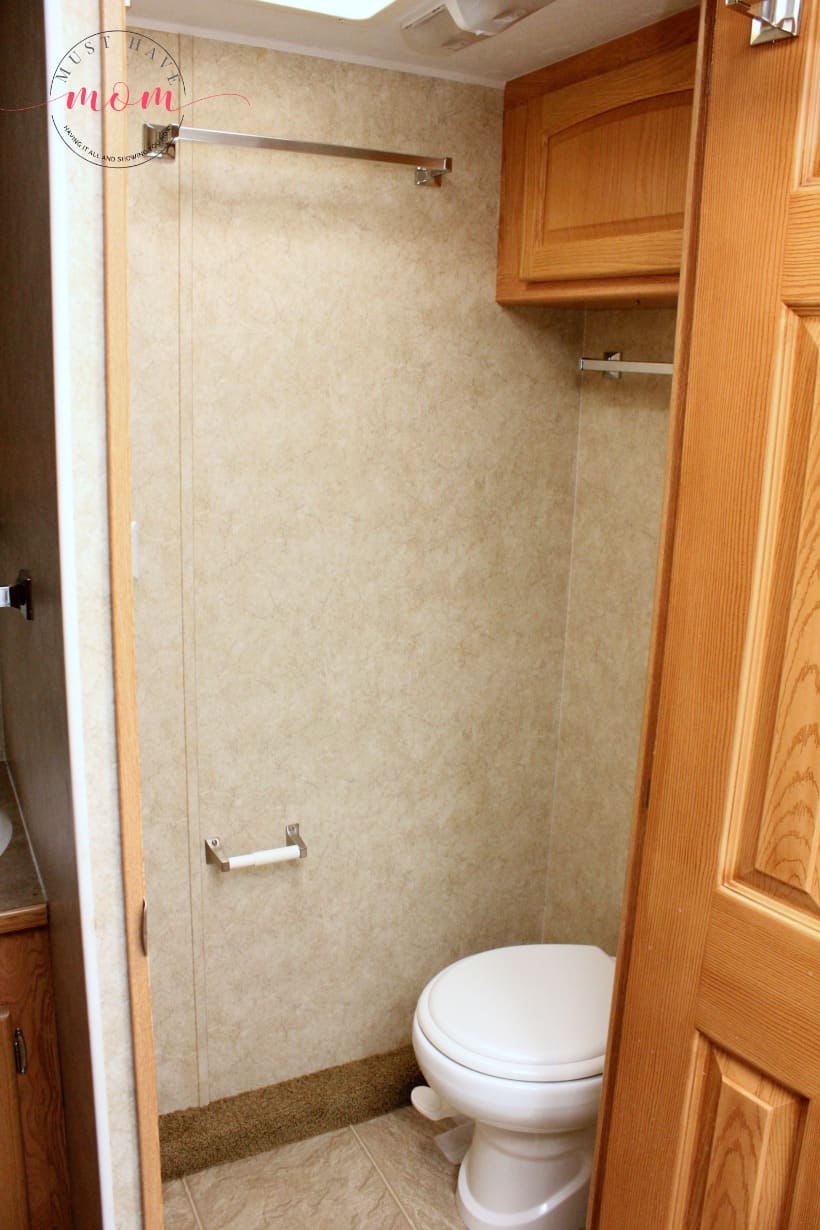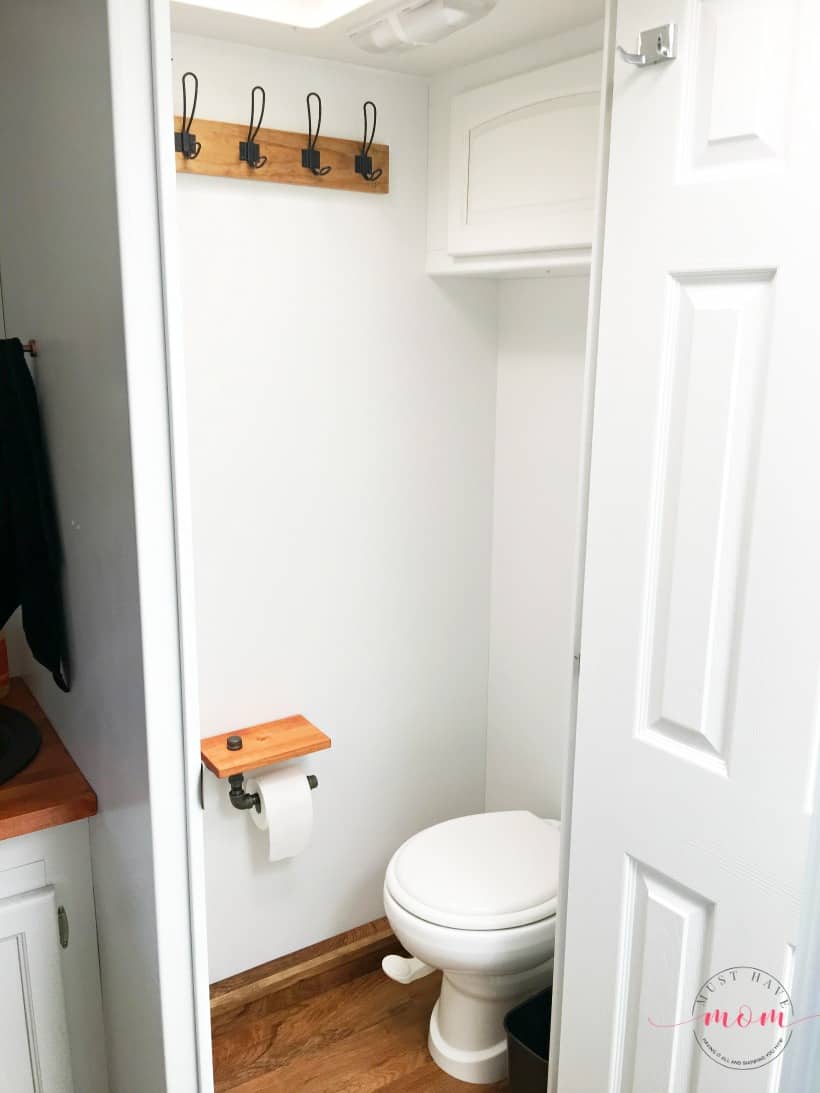 RV Bathroom Makeover
The toilet is in its own room. We replaced the towel bars with coat hooks on boards which we made. We removed the toilet paper holder and replaced it with a rustic toilet paper holder which we made from pipes and pine board which we stained. I love how it turned out. We painted the walls and cabinets white, along with the door.
Shop The Look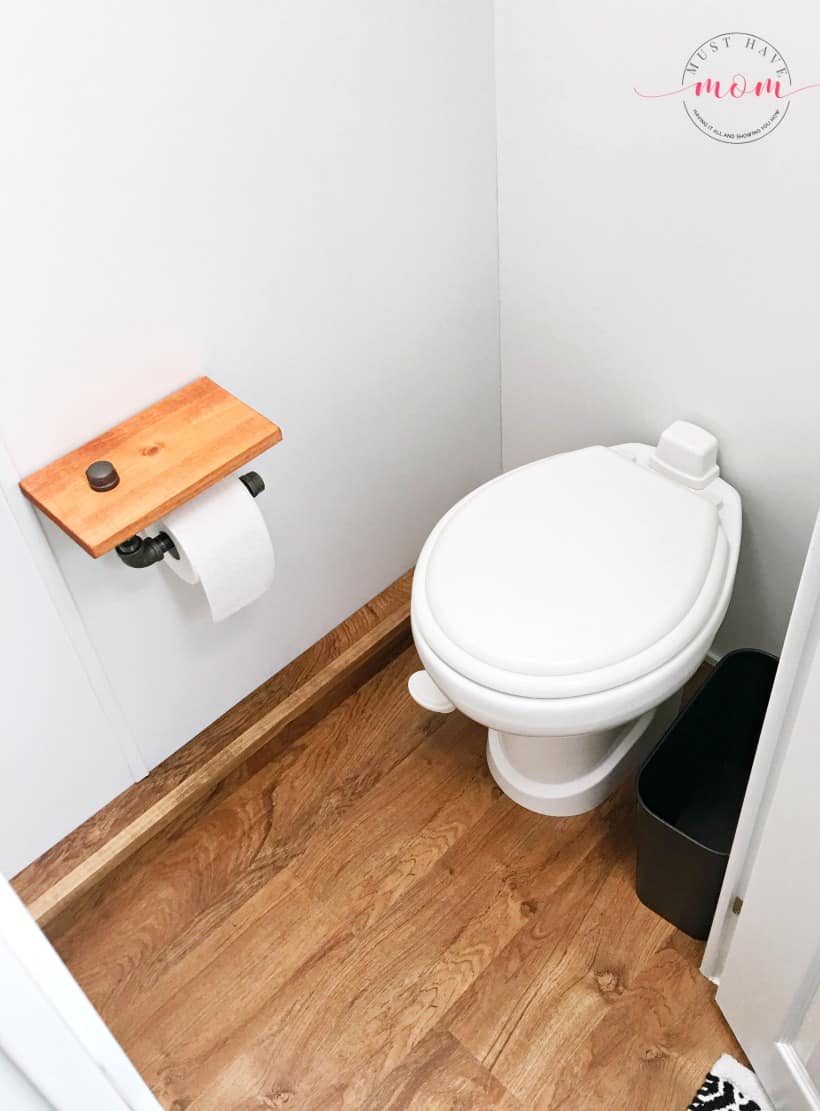 We also replaced the flooring with the vinyl click together planks that we did throughout the whole camper. We also went up and over the framework that was exposed with the flooring to cover it up. I added a small oil rubbed bronze trash can.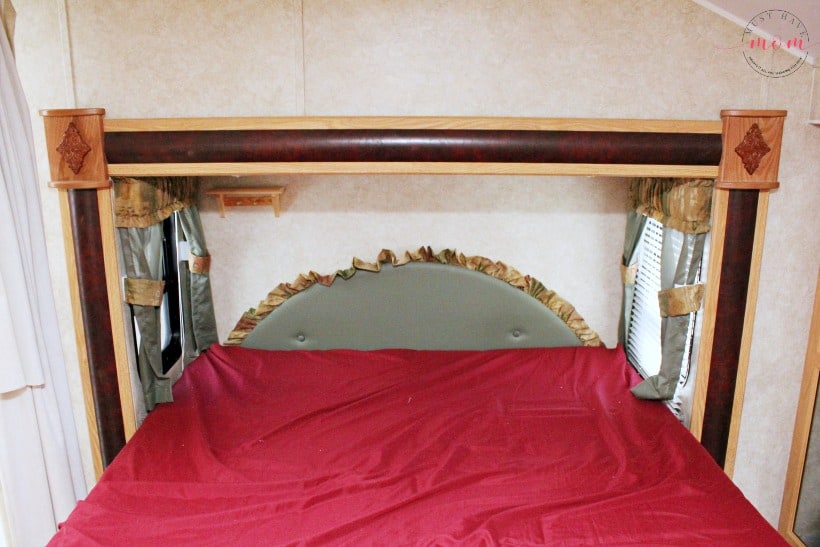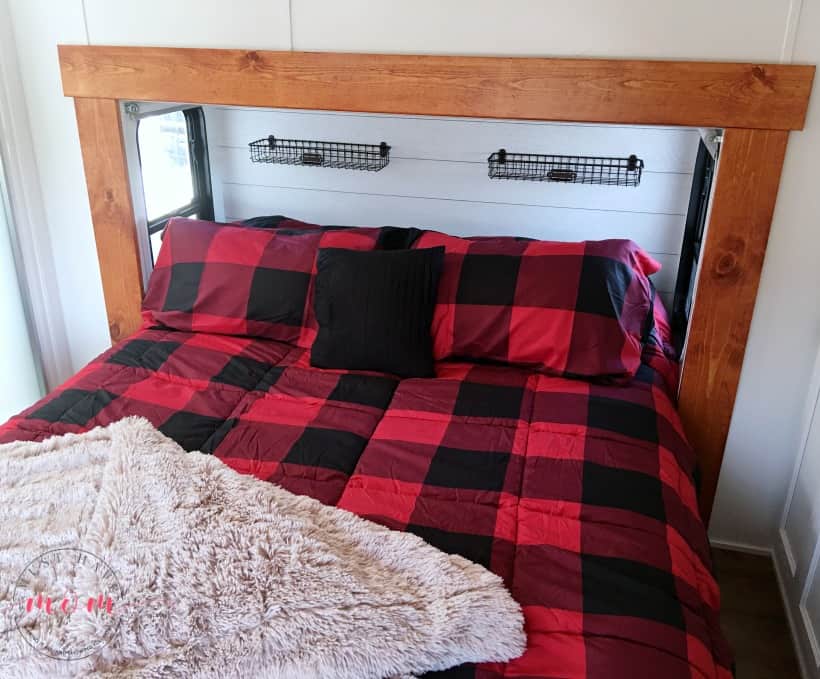 Fifth Wheel Master Bedroom Makeover
Ironically, the first thing I wanted to get rid of from the moment we bought this camper was the ugly, ruffled headboard in the master bedroom. I couldn't even fathom who thought that was a good idea! I couldn't wait to see that thing go! After removing the headboard, I applied shiplap wallpaper from Target to the wall behind the bed.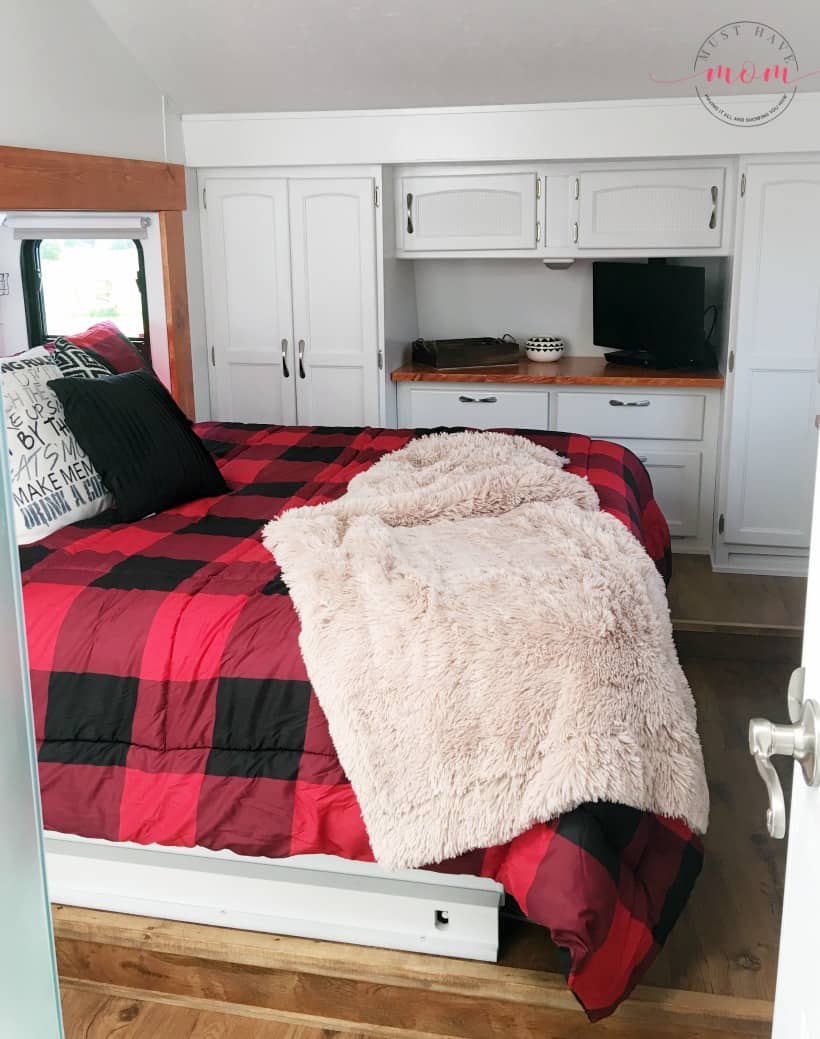 We painted the cabinets white and painted over the mirrors on the closet doors. We removed the countertop and replaced it with wood counters that I made. We removed the window coverings and replaced them with simple roller blinds. The flooring went up each level and we capped off the corners with bullnose trim that we made.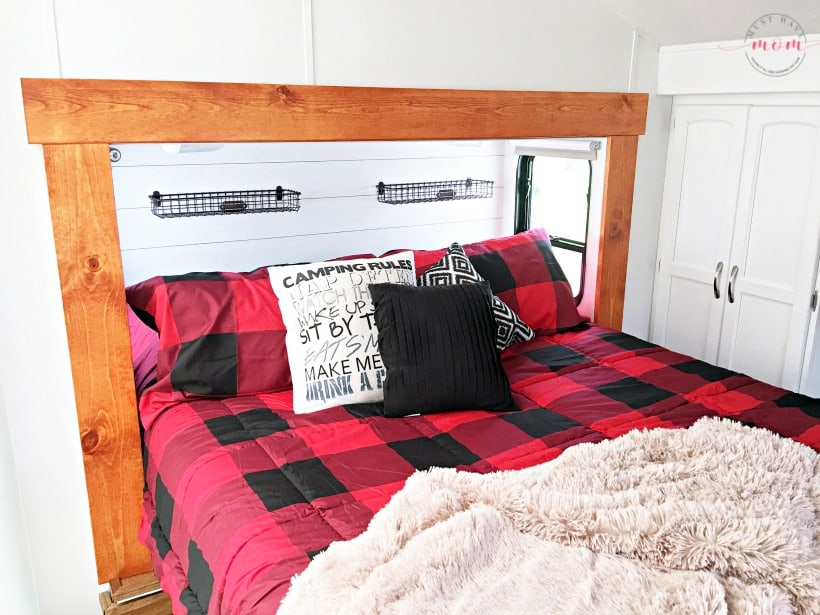 We replaced the slide out trim with stained pine boards that match the countertops. I was so happy to see the ugly faux leather slide trim go! I added wire baskets behind the bed so we would have a place for our phones, books, etc since we didn't have any nightstands. I added a red buffalo check bedding set and a faux fur blanket that is soooo luxurious and soft.
Shop The Look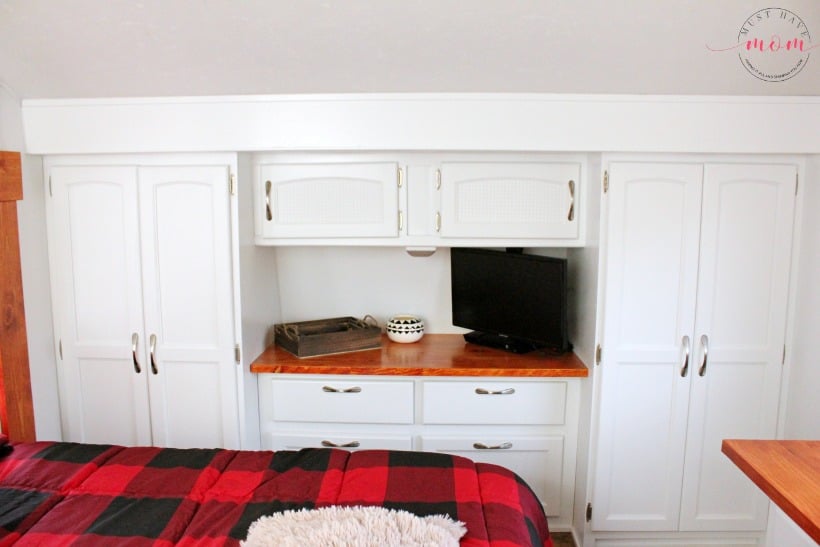 If you are hesitating to get rid of the outdated 80's style mirrors on your closets, I say don't hesitate, go for it! I'm so glad we painted over them. You can't even tell they used to be mirrors. We primed them and sprayed cabinet, door and trim paint over them.
We even mounted a small TV using this TV mount for under the cabinet.
Pin Rustic Modern RV Makeover