RV Bunk Ladder DIY + RV Bunkhouse Remodel!
Part of our recent RV makeover included added our own semi-DIY RV bunk ladder to our existing bunk beds so the kids could easily get in and out of bed while still having an unobtrusive and removable camper bunk ladder. We found a solution that takes up virtually no space, is easily removable and works awesome. I'll show you how to make your own RV bunk ladder for relatively little cost.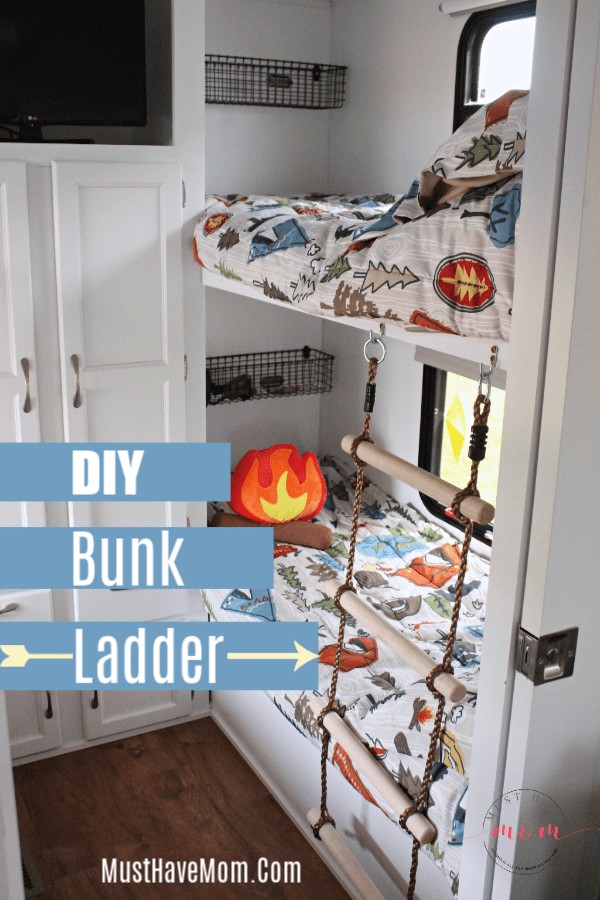 RV Bunk Ladder
We recently did a modern mountain RV makeover on our fifth wheel camper and part of that makeover included a complete makeover of the kid's bunk area. We bought our camper used and there was no RV bunk ladder included. It didn't seem that there ever was a bunk ladder present but if there was, we didn't receive it when we bought it. The bunks in our camper are pretty high and are difficult for an adult to climb up into, let alone a child! We knew we had to add a bunk ladder, but we didn't want it to stick out into the already too-small walkway or take up precious square footage in the RV. We came up with a solution that solved all of our problems and looks great! Rope ladders!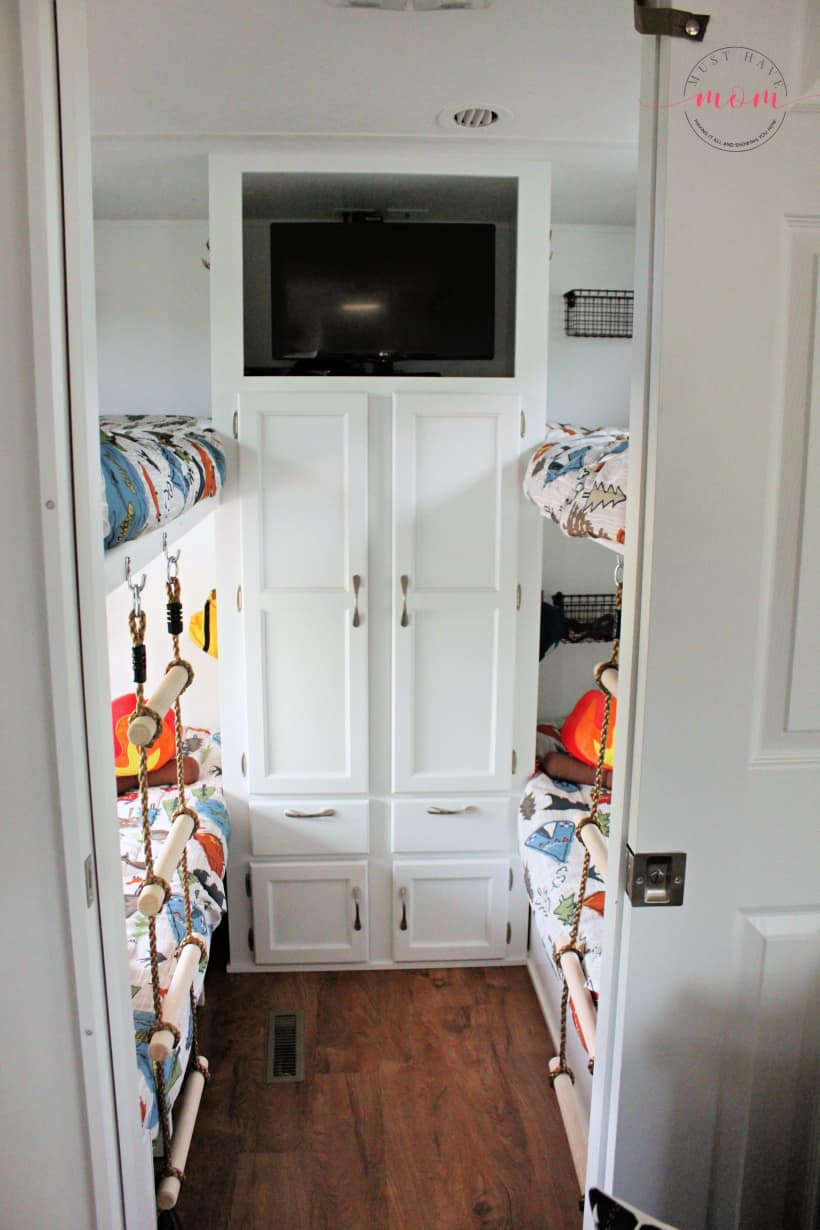 DIY RV Bunk Ladder Instructions
I'm going to dub this a semi-DIY RV bunk ladder since you'll be buying the ladder already assembled and then modifying it. We found that cost-wise and time involved, it was cheaper to buy these rope ladders on Amazon and then modify them to fit our RV bunk beds perfectly. If you are up for drilling dowels and stringing rope then by all means, go ahead! Here is how we made the RV bunk ladders.
RV Bunk Ladder Supplies
We bought all of these supplies from Amazon so I'll provide the direct links to exactly what we used in this project.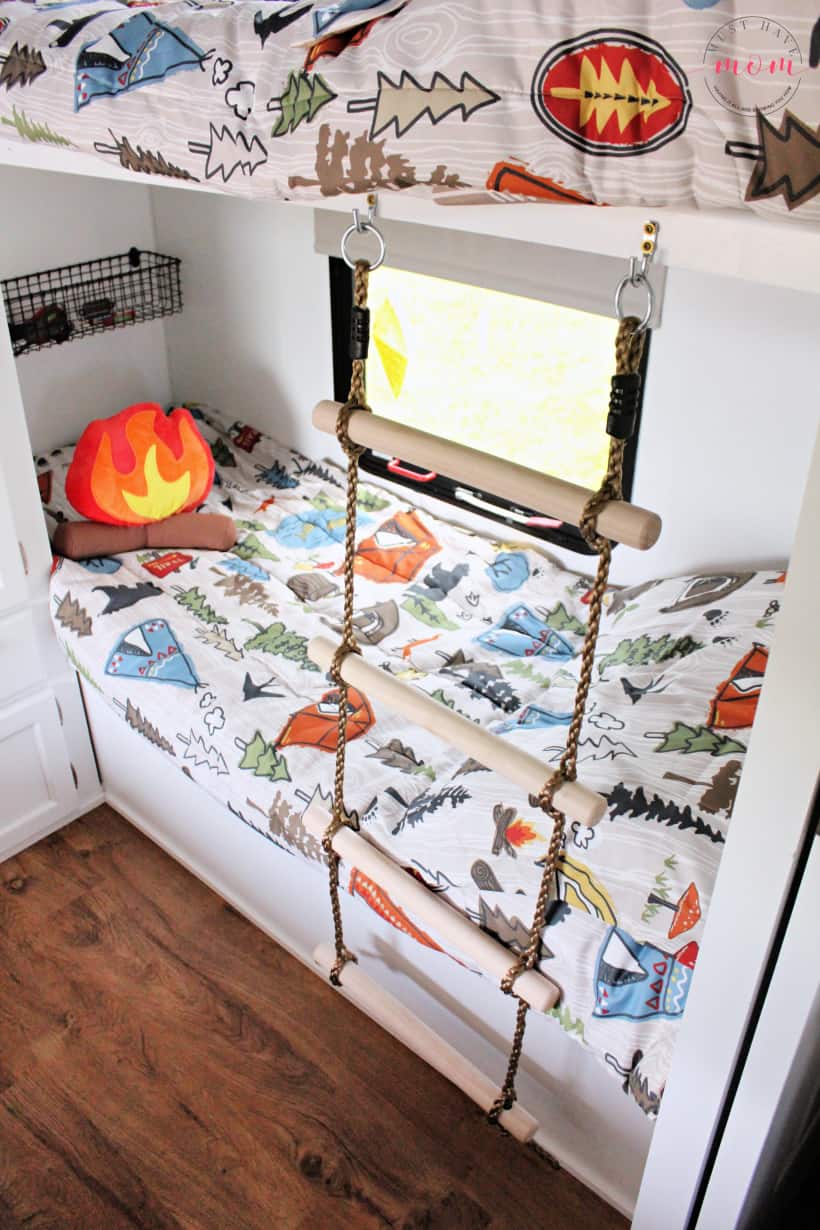 DIY RV Bunk Ladder Step 1
Order one or two rope ladders depending on how many bunks you have. We have a set of four bunks so we needed two ladders. The great thing about this DIY RV bunk ladder is that no matter the height of your bunks, this will work for you! Once you have your ladder you'll begin by untying the bottom of the ladder and measuring the correct length you need. Since every bunk height will be different I won't give you a specific measurement here. Hold it up to where you want to mount it and determine how close to the ground you want it. We left ours about six inches off the ground.
Then, untie the bottom of the rope and unstring and remove any excess wood dowels. After you've done this you may find that you don't like the spacing of the wood dowels. If they seem too far apart then you can continue to unstring the dowels and move them closer together and then restring them as they were originally. Once you've finished and are happy with the spacing, securely tie knots at the bottom of the last wood dowel to secure it in place.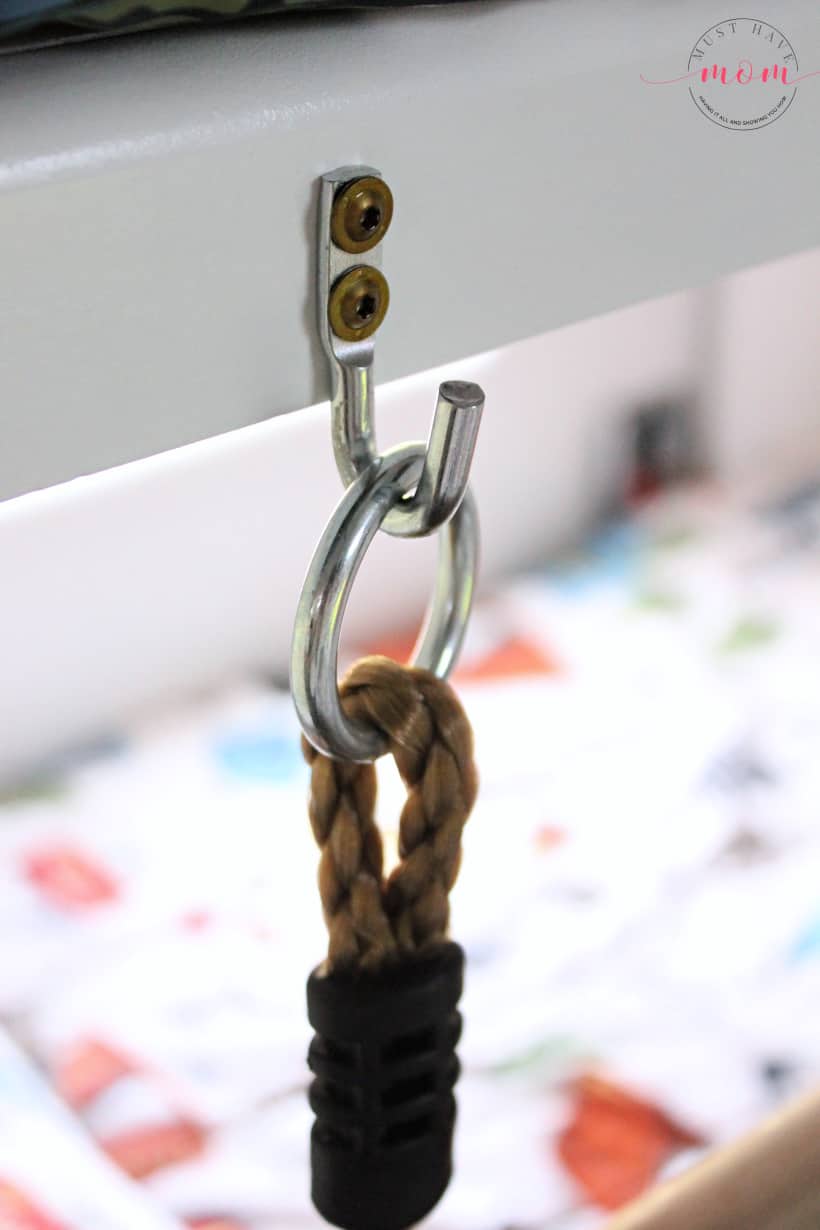 DIY RV Bunk Ladder Step 2
Next, mark the spot you want to mount the bunk bed ladder hooks and screw them securely into the side rail of the bunk bed. Check the side rail of the bunk bed to ensure that it is securely attached to the bed. Reinforce it with additional screws if you feel necessary. These ladders are only meant to hold a child's weight. If you'll be using them for adults then definitely make sure you reinforce everything to those higher weight capacities.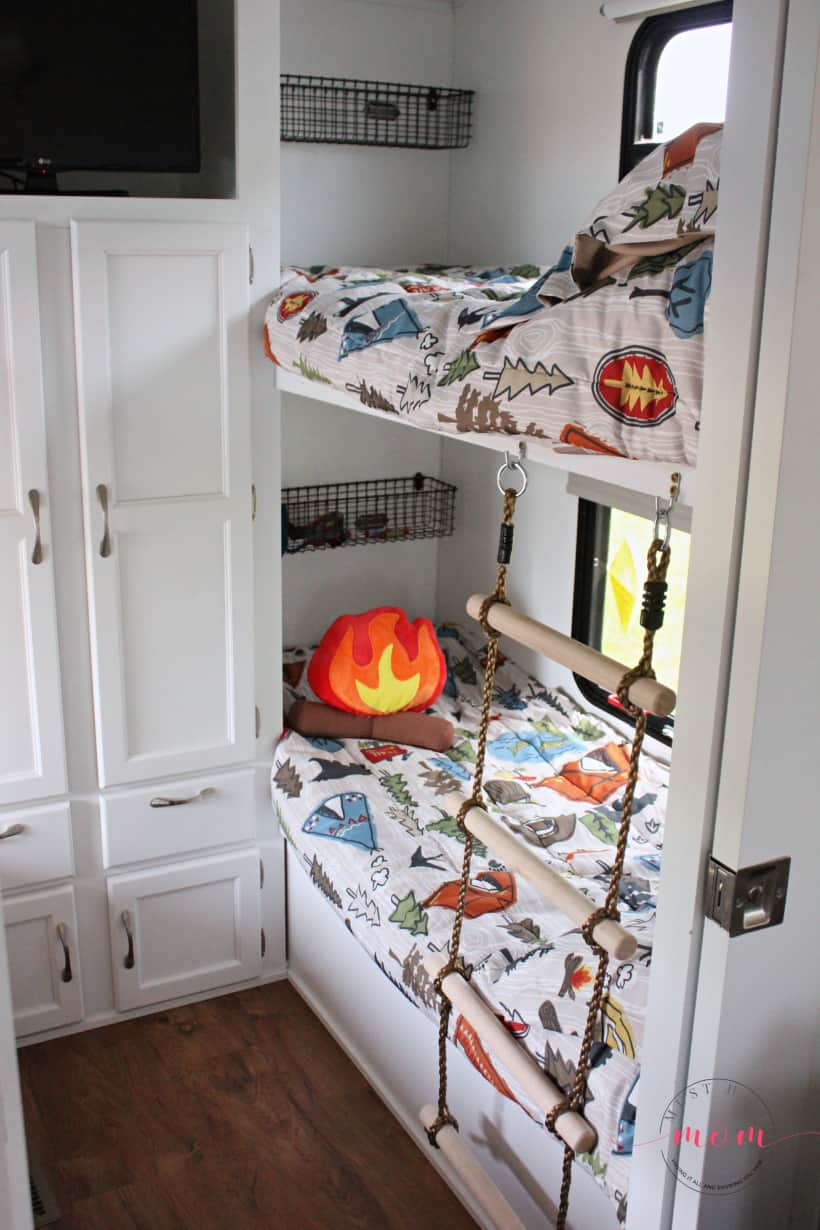 DIY RV Bunk Ladder Step 3
Hook the rope ladder onto the bunk bed ladder hooks you installed. That's it! Easy peasy right? I told you this was semi-DIY because you're simply customizing a product to work for another use! When we are traveling we simply take the ladders down and store them under the bed so they don't swing and scratch the paint. Kids can climb up into their beds and take up the ladder too if they want to prevent siblings from climbing up! My kids love doing this haha.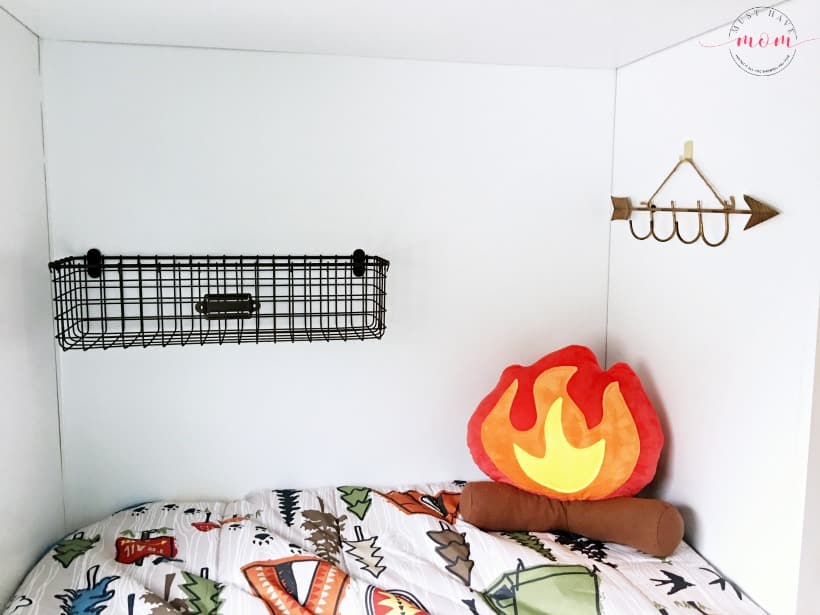 These RV bunk ladders take up no extra space and are super functional which is exactly what I was going for! They also match my camping theme perfectly in our rv bunkhouse remodel. We added camping bedding, campfire throw pillows, arrow hooks, and wire baskets to each bunk to complete the look and add storage.
*It looks like the camping bedding is sold out right now, but here is a really cute camping bedding set alternative!
Shop The Look

Don't Miss Future RV Remodeling Posts
Be sure to sign up below for our RV newsletter to get the latest RV makeover posts delivered straight to your inbox so you never miss out on what's new! As a thank you for signing up we'll also send you our free RV packing list!
Pin RV Bunk Ladder DIY