Stunning RV Renovation With Before & After Photos!
I am obsessed with RV makeovers! We did an RV remodel on our 32′ bumper tow travel trailer a year ago and you all went crazy for it. I spotted this gorgeous RV renovation that fellow camper, Wendy, did and I just had to show it to you! It is simply stunning and straight out of a magazine. She's so talented and I know this makeover will inspire your creative juices!!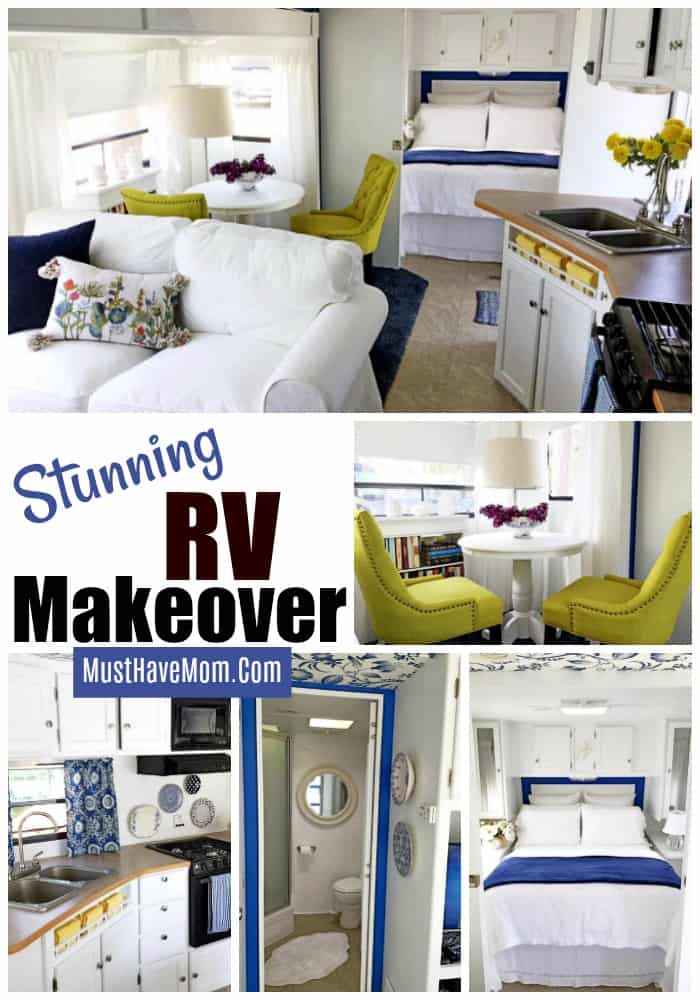 RV Renovation Before & After
Perhaps what is so striking about this RV renovation is the stark contrast in the before and after photos, but what is really captivating is the attention to detail! Wendy really outdid herself on this makeover and she's fondly named her camper "Maxine". We think the name suits her perfectly! Below is the before photo and the stunning after photos!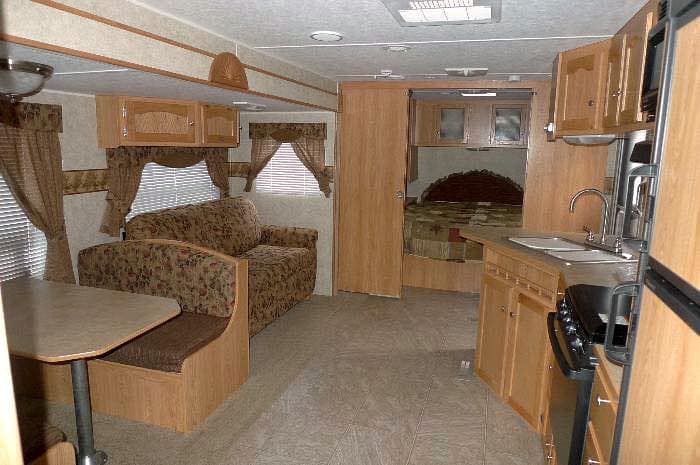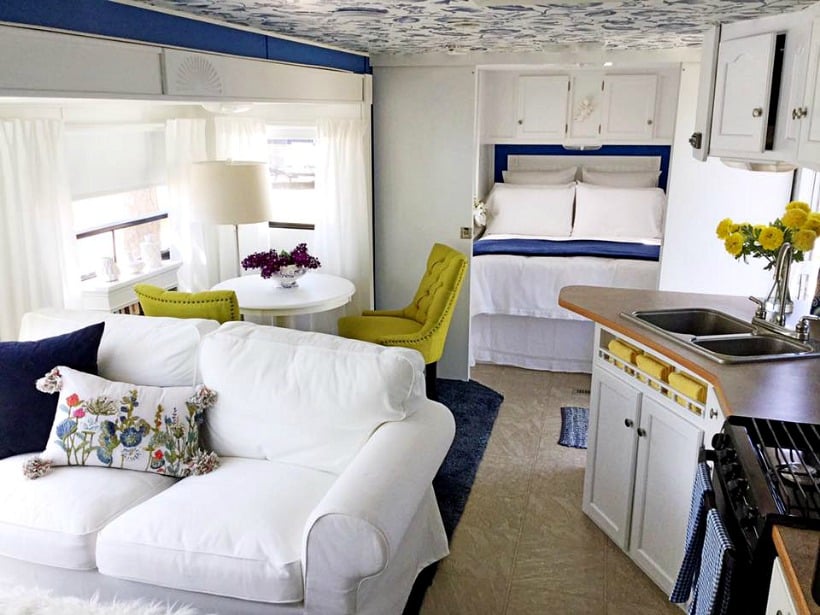 RV Makeover Reveal
Gone is the outdated booth and couch and in its place is a stunning seating arrangement. I love how she rearranged the space to be more efficient and inviting. The loveseat is from IKEA It feels so much cozier and like a home. The new color palette features bright white to make the space bright and airy, mixed with gorgeous blues and pops of yellow and green.
Don't miss that gorgeous wallpaper ceiling either! That is regular wallpaper on the ceiling and boy does it add an amazing pop to this makeover. Wendy tells me her neck will never be the same! I can only imagine her level of patience in doing this. She's amazing!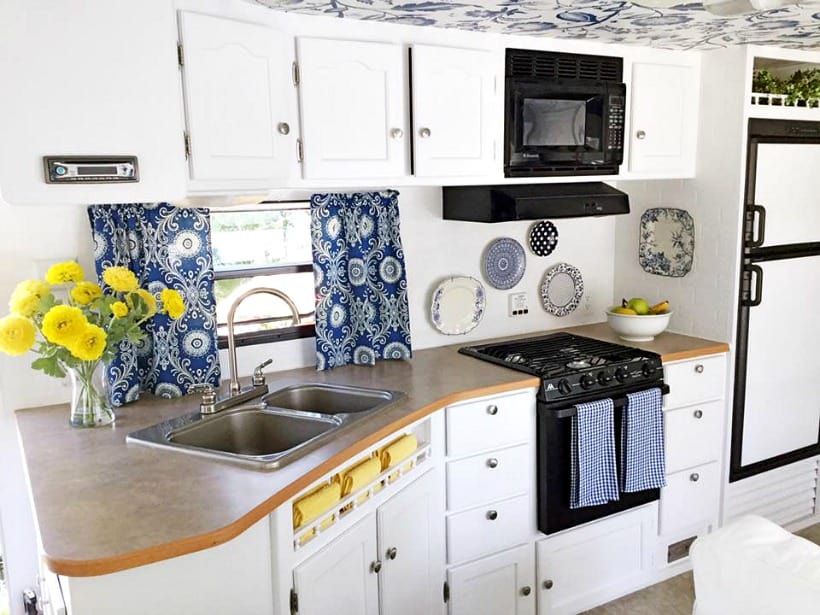 RV Kitchen Makeover
In the kitchen, the cabinets have been painted white which gives a fresh feel to the space and makes the countertops look new again. The white cabinets even bring new life to the appliances! Add in pops of blue and yellow in the towels and curtains and you have a stunning transformation. Not sure how to paint cabinets in a camper? Check out my RV remodel for instructions on how I did it.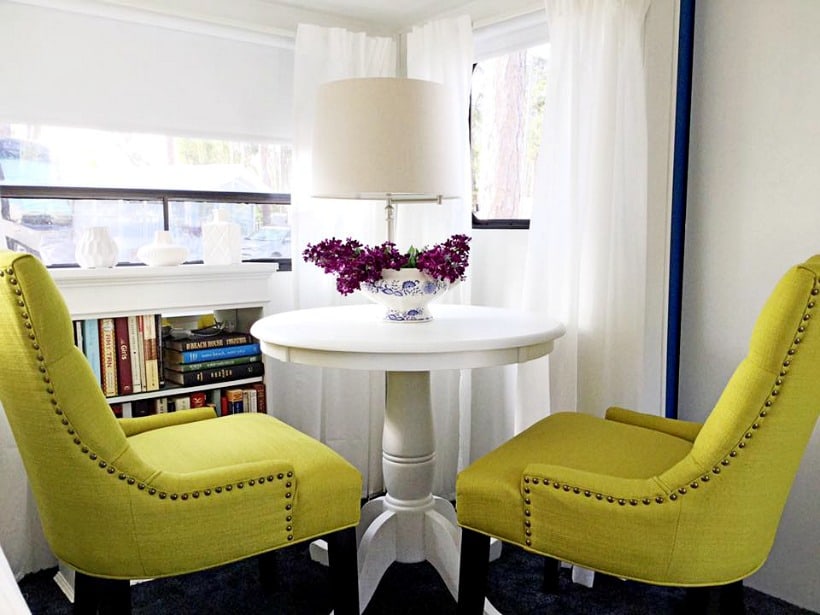 RV Table & Chairs Idea
One thing I always struggle with is comfortable seating in an RV. This table and chairs from Wayfair solves that problem and delivers a sturdy, yet comfortable seating space. Since there are no arms on the chairs, they don't take up a lot of space, but deliver in comfort and style. Add in curtains and roller blinds and remove the RV valance and you've got a bright, cheery breakfast nook!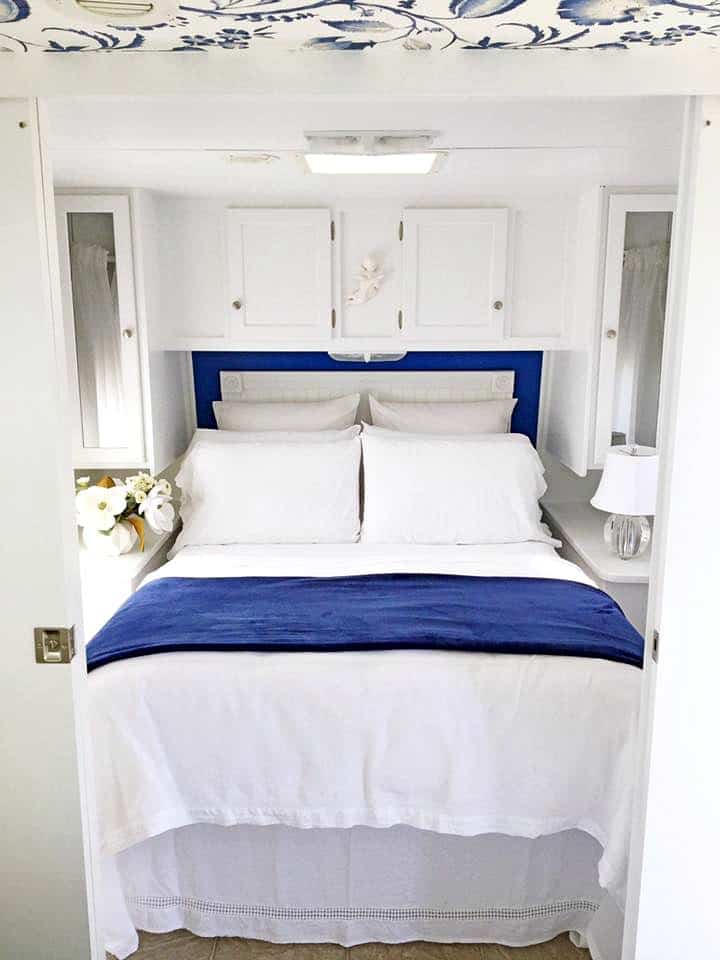 RV Master Bedroom Makeover
The RV master bedroom makeover is simply stunning and so inviting. I'd love to crawl into that bed after a long day outdoors! The blue accent wall behind the white headboard makes for the perfect pairing. Add in white bedding and a small lamp and you've got the perfect relaxing space.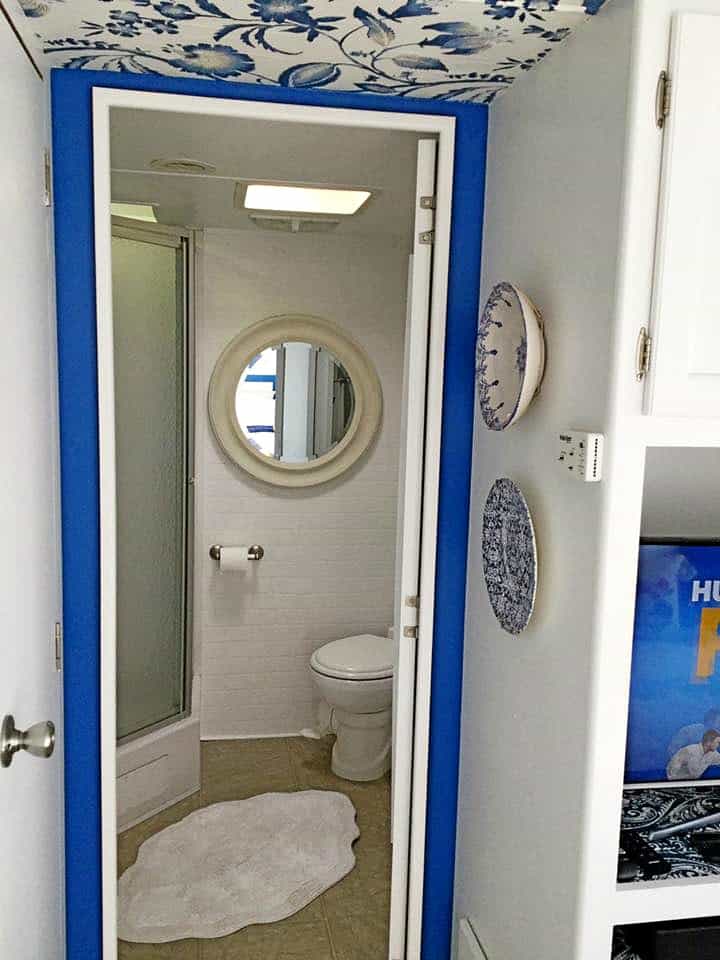 RV Bathroom Makeover
The RV bathroom makeover turns a small bathroom into an inviting oasis. The faux brick wall is perfect for this space and add a mirror on that wall to create the illusion of a bigger space.
Pin RV Renovation