Yes, it is possible to install a residential shower in your RV! Say goodbye to those awful RV showers spent ducking down under a faucet while holding your head in the skylight. Enjoy your showers from now on! I've got all the info you need to install a residential shower in your camper or fifth-wheel RV.
We love doing RV makeovers and we've shared several of them with you in the past. We've shown you how to paint your camper's interior, how to install new wood countertops and even how to make rope ladders for your bunkhouse. Now it's time to dig into the details and show you how to install a new shower in your camper. It's not as hard as you might think!
RV Corner Shower Upgrade DIY
If you use your camper as much as we do, you know how nice it is to have the luxury of a nice warm shower in the comfort of your own RV!
I know most campgrounds have shower houses. However, let's be honest, who really wants to gather up all their toiletries and head down to the nearest bathhouse. Although, sometimes even when we had full hookups, I would, just so I didn't have to struggle in those tiny RV showers!
Well, struggle no more! We decided to go ahead and install a residential shower in our camper! Read on for a step-by-step process of the install so you can install your very own and never have to, or want to, use one of those public washrooms ever again!
Installing a residential shower in your RV can be one of the most useful upgrades you can do, so let's get started!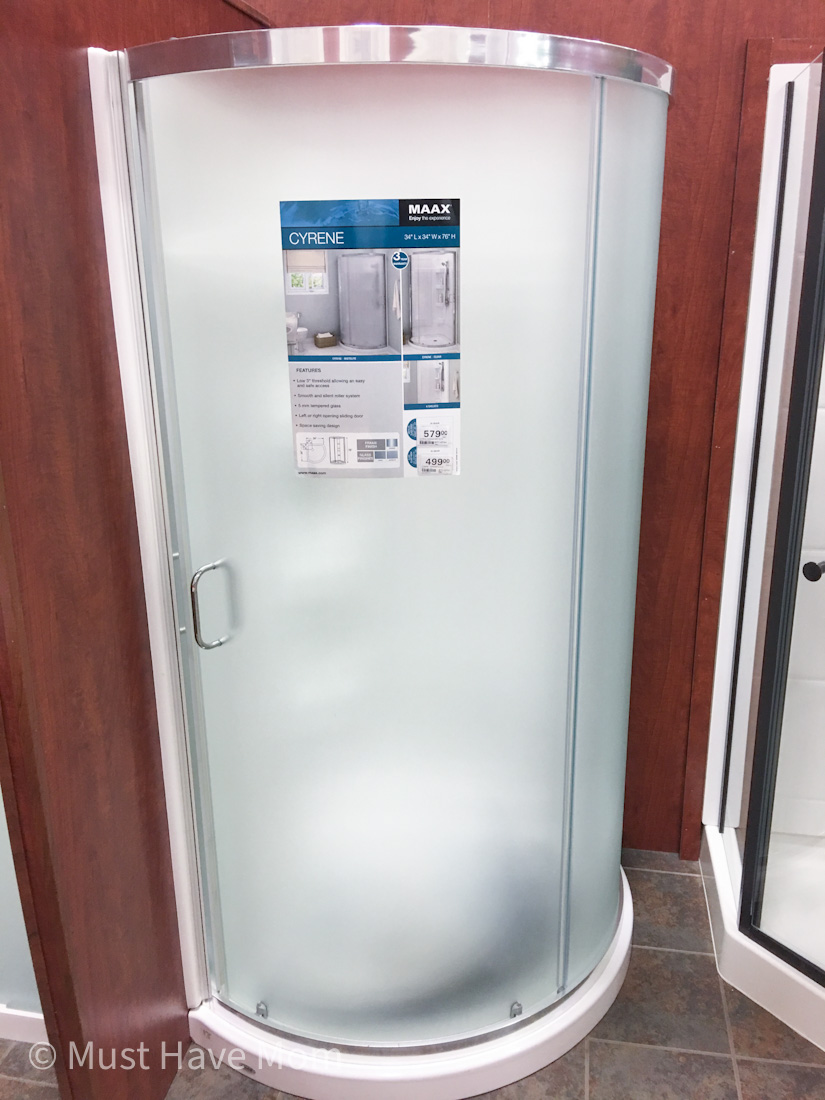 First off before you get to the fun part of the job, the demolition stage, it is time to do the most important part. Planning!
Take your time measuring and planning to make sure you can find a shower that will fit in your space. Believe me, it will be a tight fit, but it can be done!
Also, make sure to purchase your new shower and have it on hand before removing your old one. After a ton of research, we decided to go with the MAAX Cyrene shower from our local Menards. The beauty of this shower is, that it comes in four pieces which are perfect for fitting through the camper door!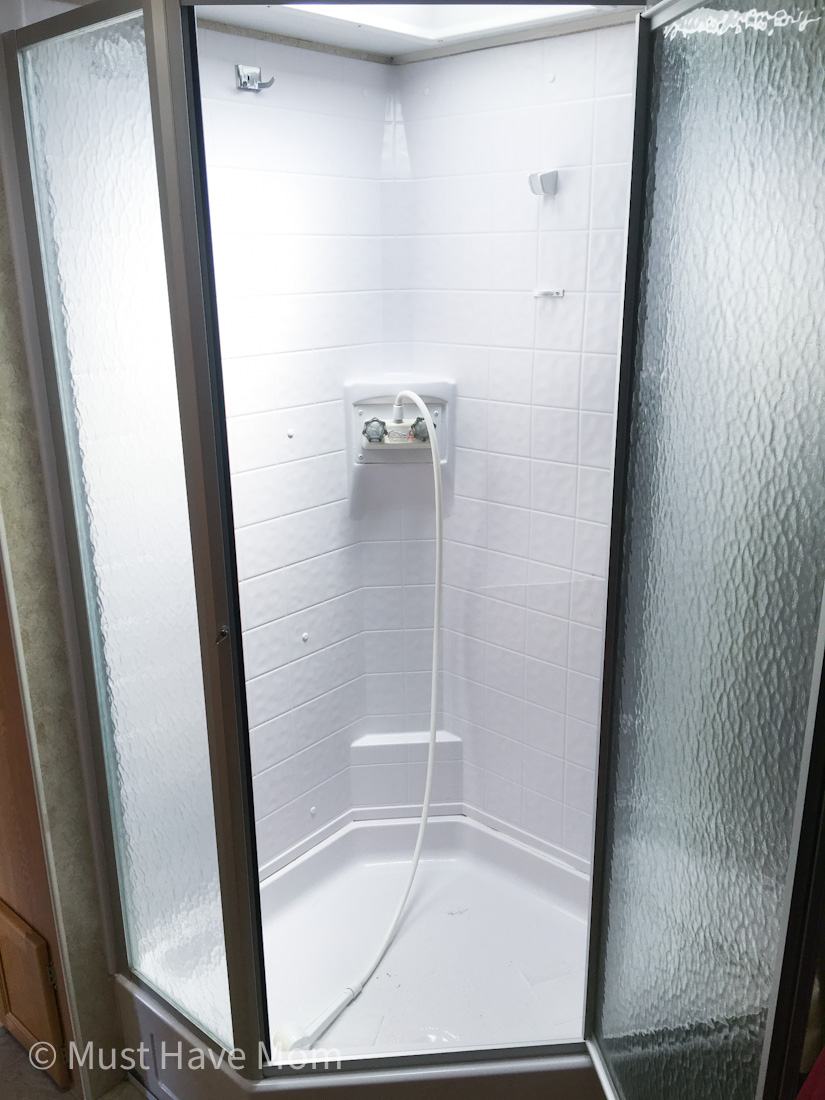 Now it is time to remove your old shower. Every shower will be a little different. First, remove the door and frame assembly. The door frame has screws and caulk attaching it to the walls. Next, work on removing the walls, ours had plastic rivets and some caulk holding it in place. You should be able to tap the center of the rivet out with a hammer and punch, then pull the rivet out with a plier.
I was not able to do that on ours. I ended up just prying the rivets out. I knew we weren't going to be saving the shower so I wasn't worried if it got a little wrecked.
Finally, move on to the base, you will need to access the plumbing for the drain. I was able to get to ours in the storage compartment under our floor. Disconnect the drain from the shower. Now you can go ahead and remove the base.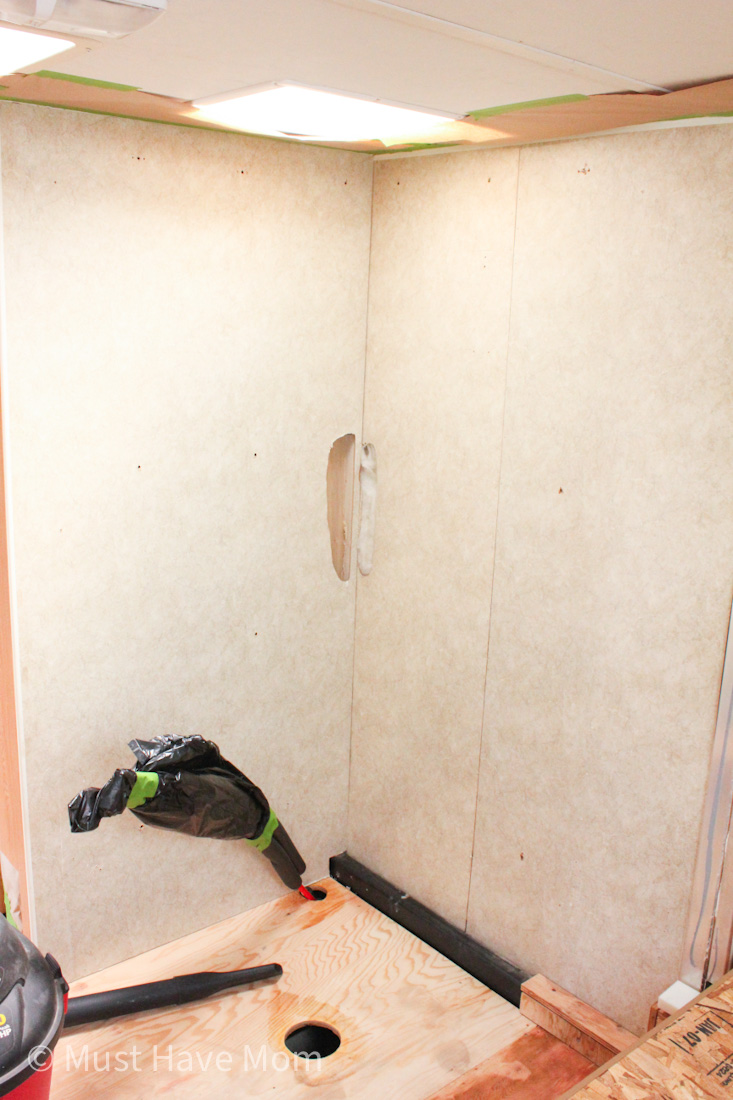 On to the install! At this point, you can refer to your specific shower installation instructions. I will provide you with tips and pointers on how we went about our install.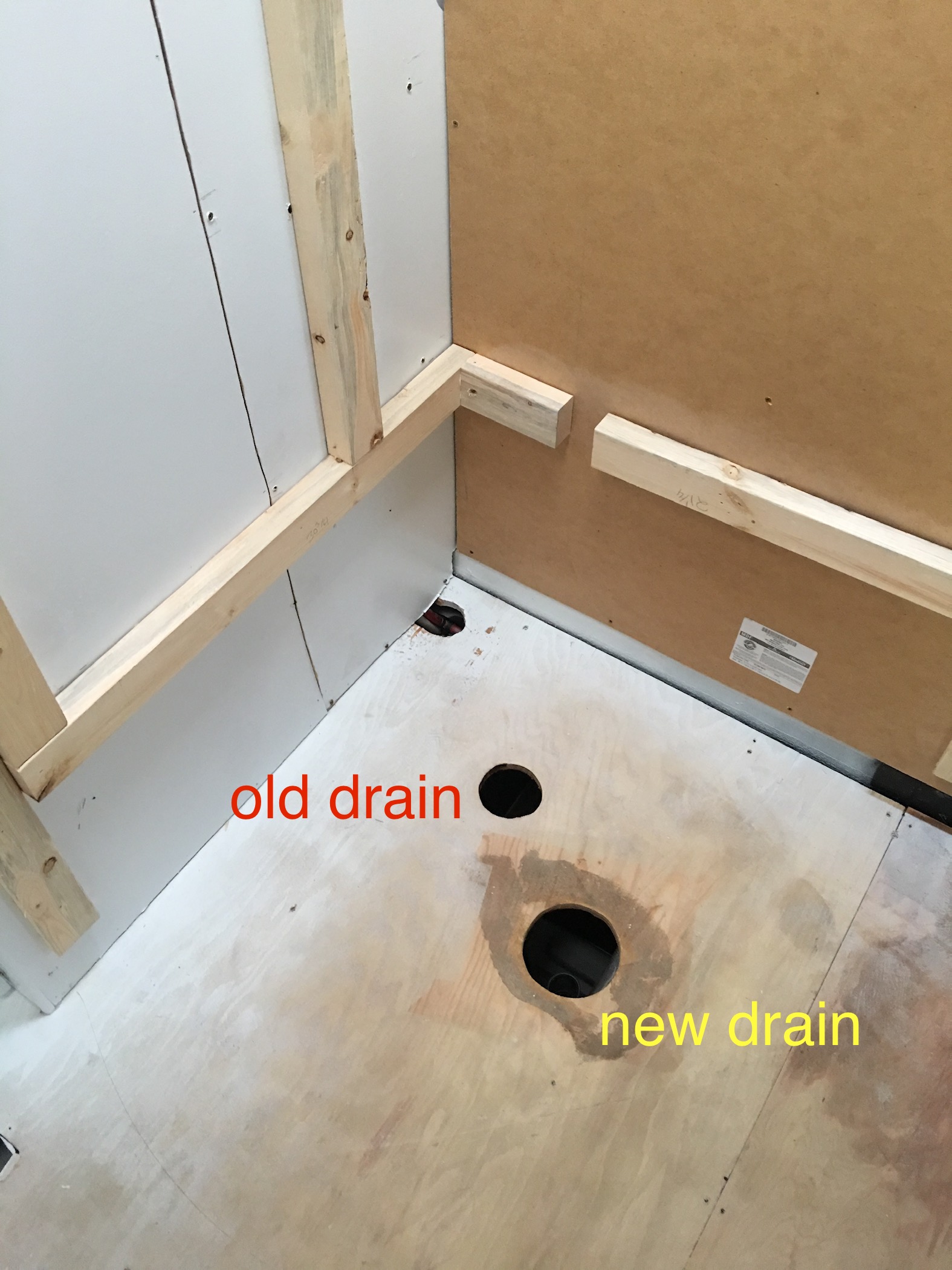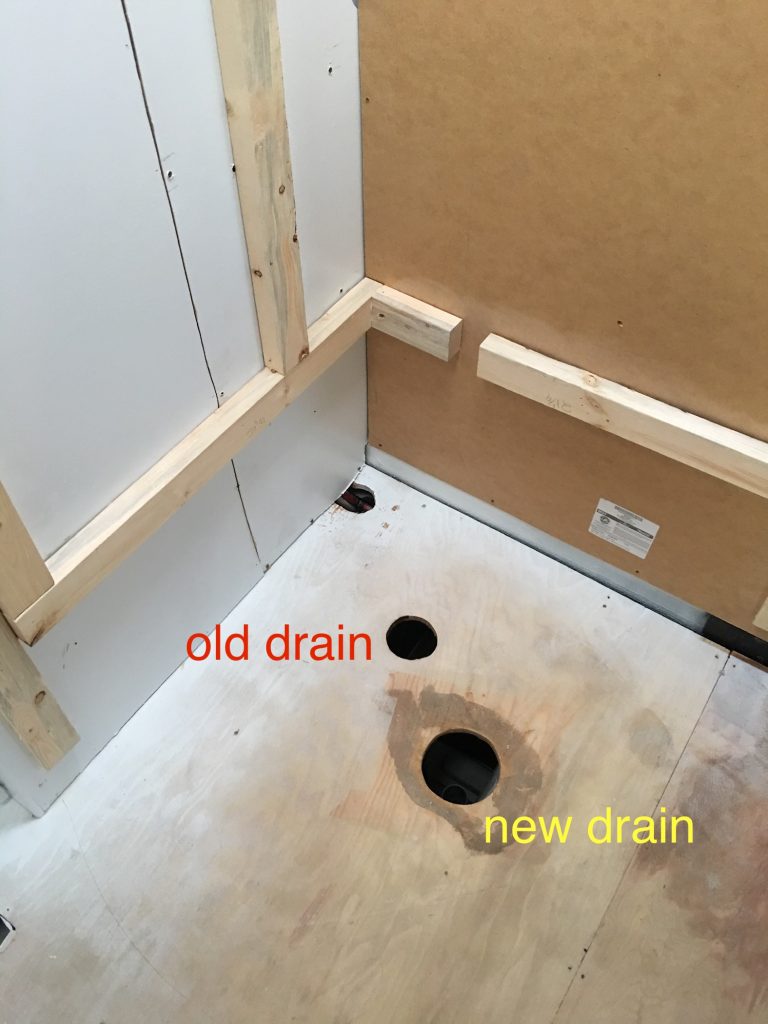 For starters, I needed to make a new opening in the floor to run the drain pipe for the new shower since it would be in a slightly different place than the original drain.
I used a hole saw on my drill. Make sure to look where you will be drilling to check and see there are no wires or anything else you could damage.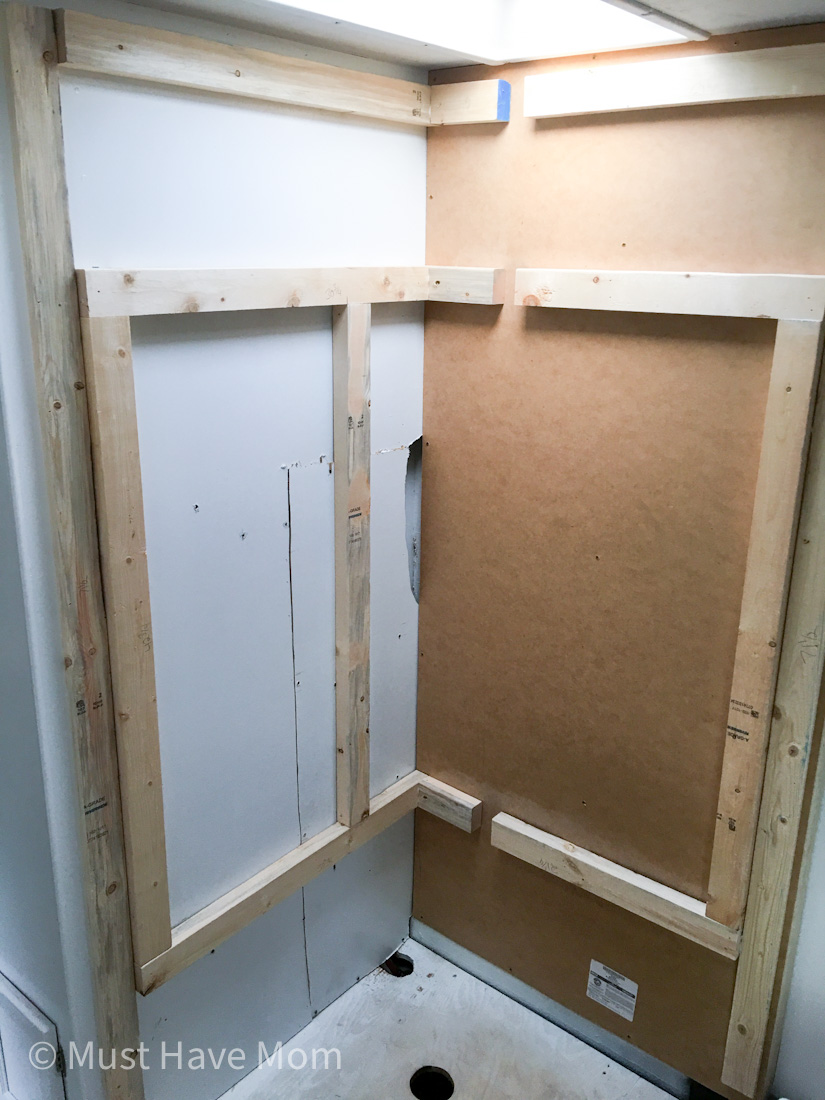 This specific model of shower has you build a frame out of 2X4's to secure the shower walls to. The quantity and length of boards are listed in the instructions.
Installing the boards can be the tricky part. As you may know, RV's don't have regular stud walls like a house. I did use a stud finder to find what structure is behind the walls. I then used screws and liquid nails to mount the 2X4's in the exact locations shown in the installation diagram.
This is a good time to rough in your plumbing for your water. Our camper already had pex tubing. Pex is very easy to work with. I just added on to the hot and cold plumbing so they would end up right where I wanted my faucet.
Now, we can move on to setting the base and installing the walls. This step will be the hardest part since you will be working in such tight quarters. Install the drain assembly into the base, then place the base in position but away from the walls enough so you can access the backside. Bring in the 2 piece walls and assemble them together per instructions.
Next, stand them up in position on the base and do a dry fit of the base and wall assembly into the corner, to make sure everything will fit properly. Now, you can slide the assembly away from the wall and attach the walls to the base as suggested in the instructions.
After that is complete go ahead and slide the assembly back into place for final positioning. Once you are happy with how everything looks secure the shower assembly to the boards that you previously mounted to the camper walls. Now it is starting to look like something!!!
You can now go ahead and follow your shower-specific instructions on installing the door frame and door.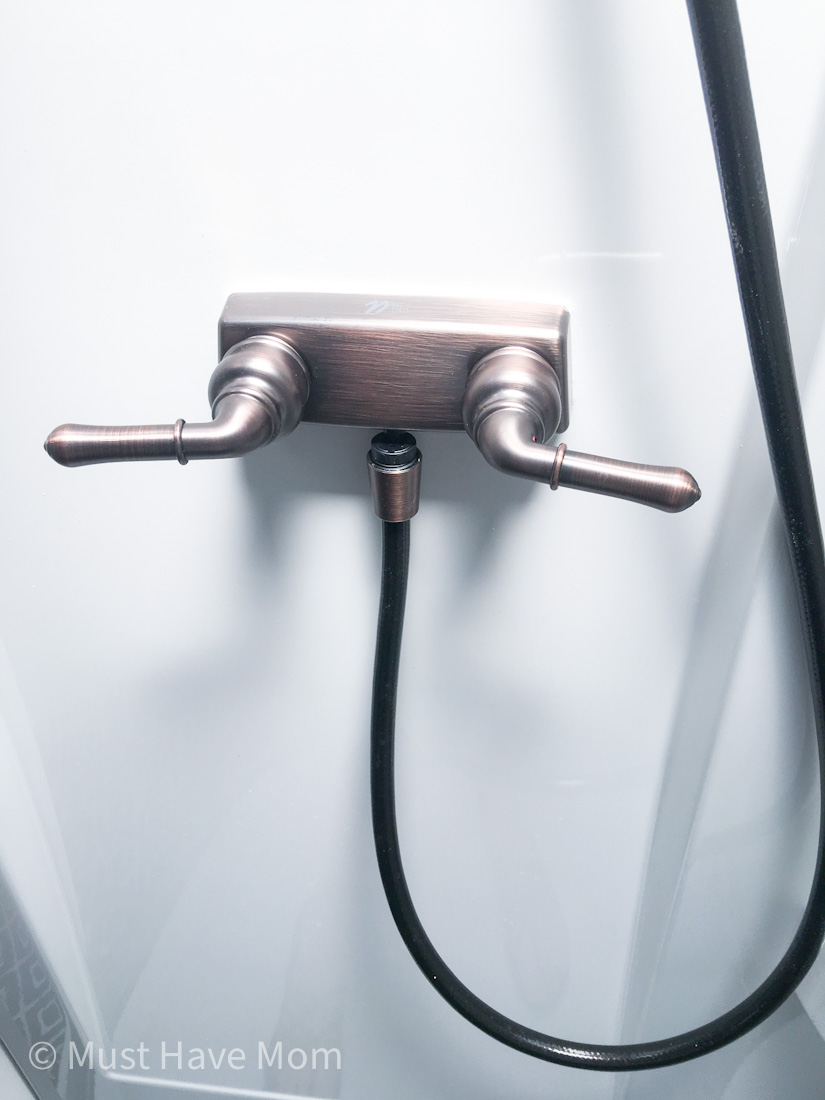 RV Shower Head and RV Shower Faucet Install
After that, you will need to do some drilling in your new shower surround. You will need to find where your shower head and faucet will be positioned. It is best to have your shower fixture on hand for this step.
*NOTE* This is the RV shower head and faucet we used
The RV shower fixture usually has a template for mounting. Make sure wherever you decide to mount your fixture, you have access to the backside to complete your plumbing. Also always make sure it is in an area that is unobstructed from other plumbing or wiring to ease drilling and installation.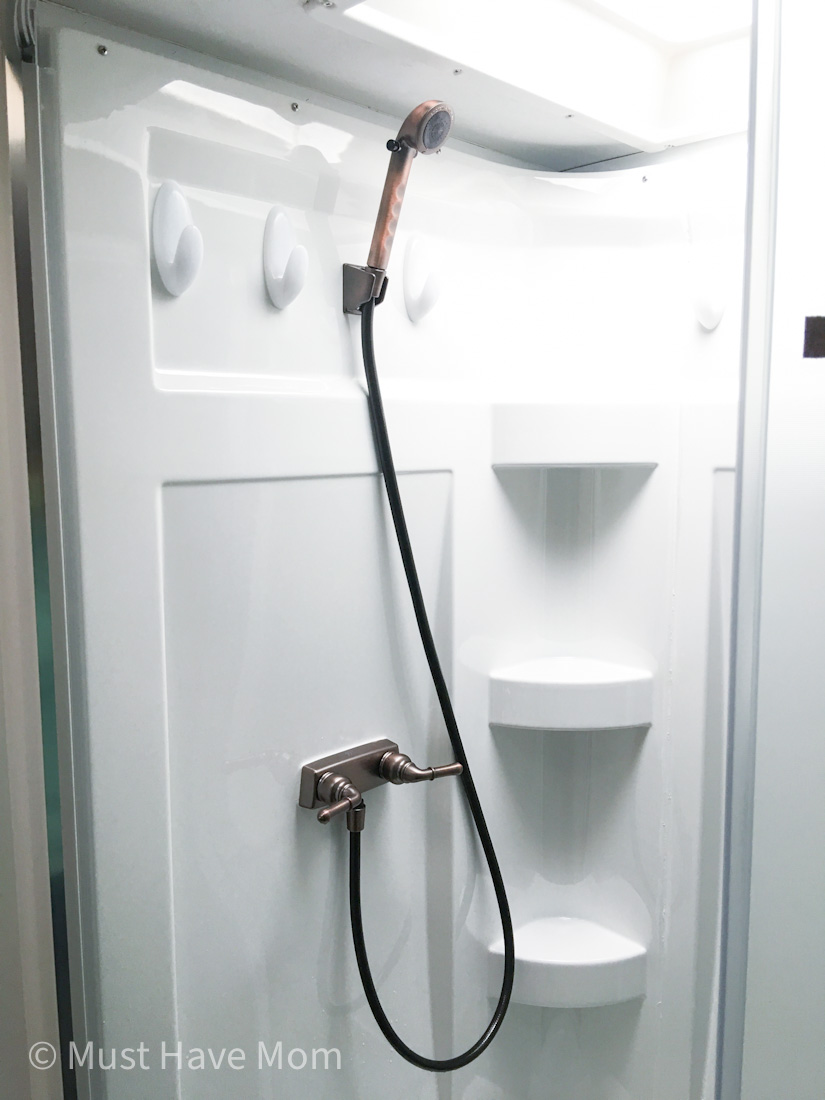 Once the water supply is hooked up and the drain is plumbed back into the main plumbing system you are ready for a test run. While paying very close attention to your plumbing lines, pressurize your water system and check for any leaks, repair if necessary.
Then run your RV shower while closely examining the drain line to also confirm there are no leaks!! After that give a big sigh of relief!! You have just completed one of the best upgrades to your camper that I can personally think of!! Time to book your next camping trip and RELAX!!!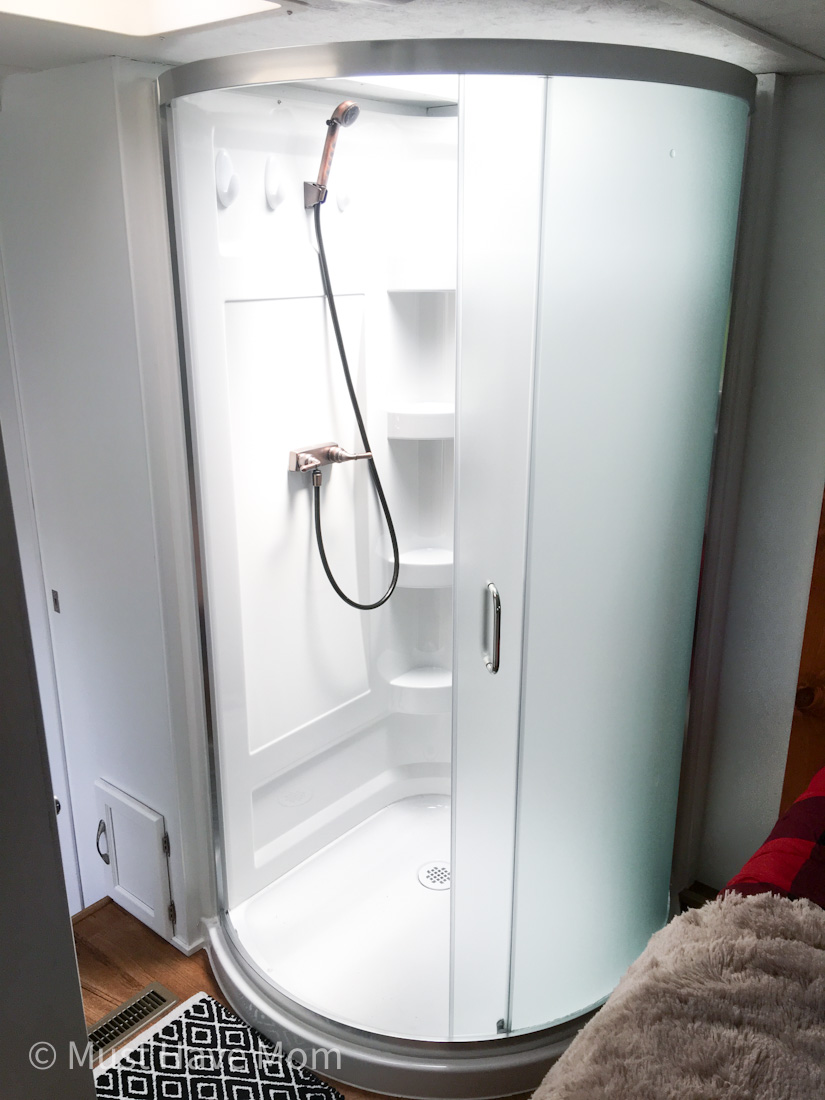 Share This Post On Pinterest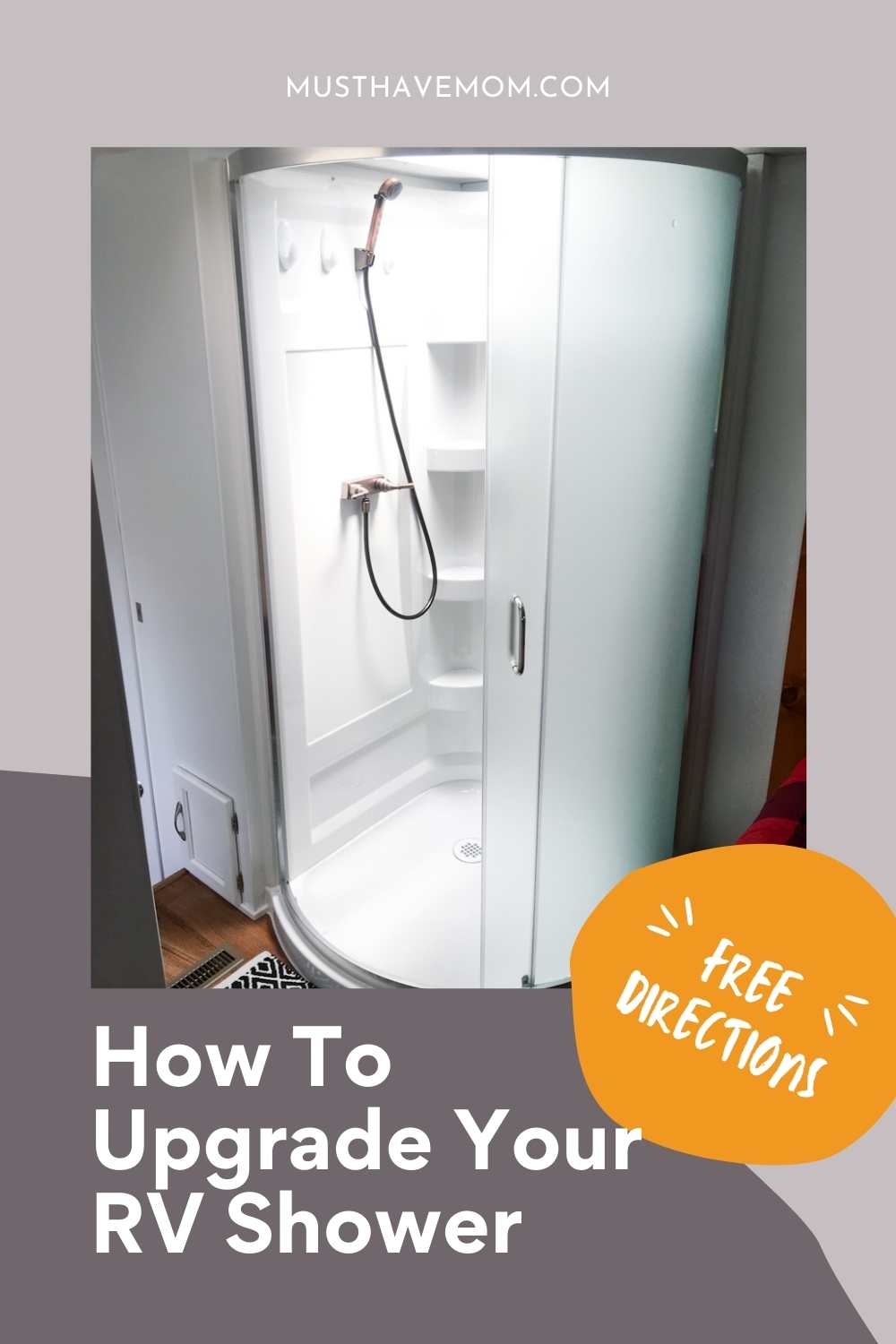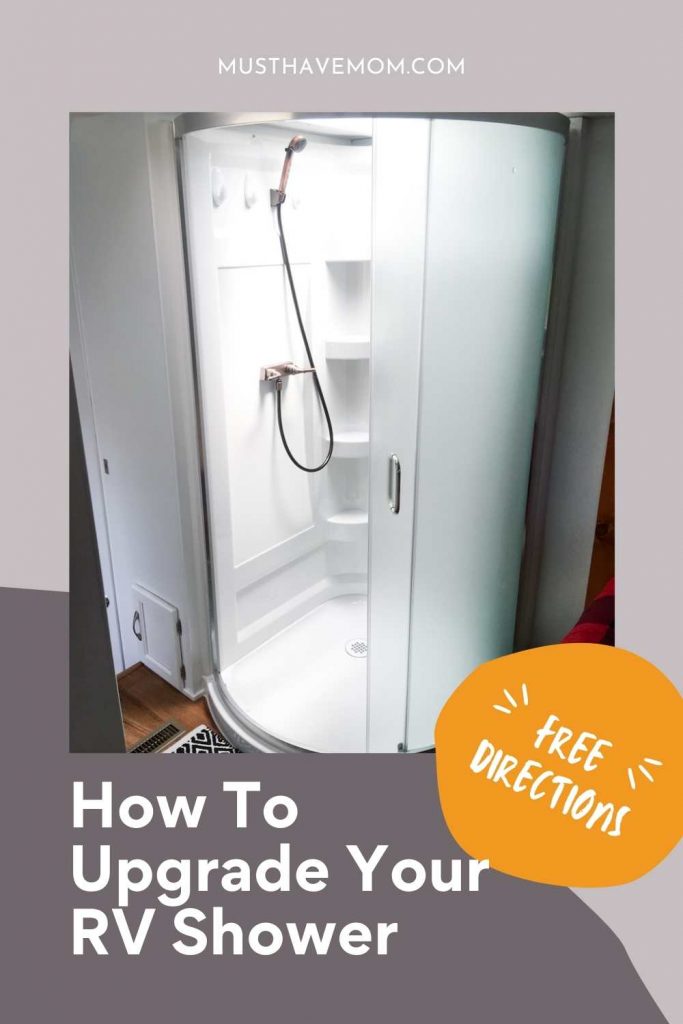 You May Also Like…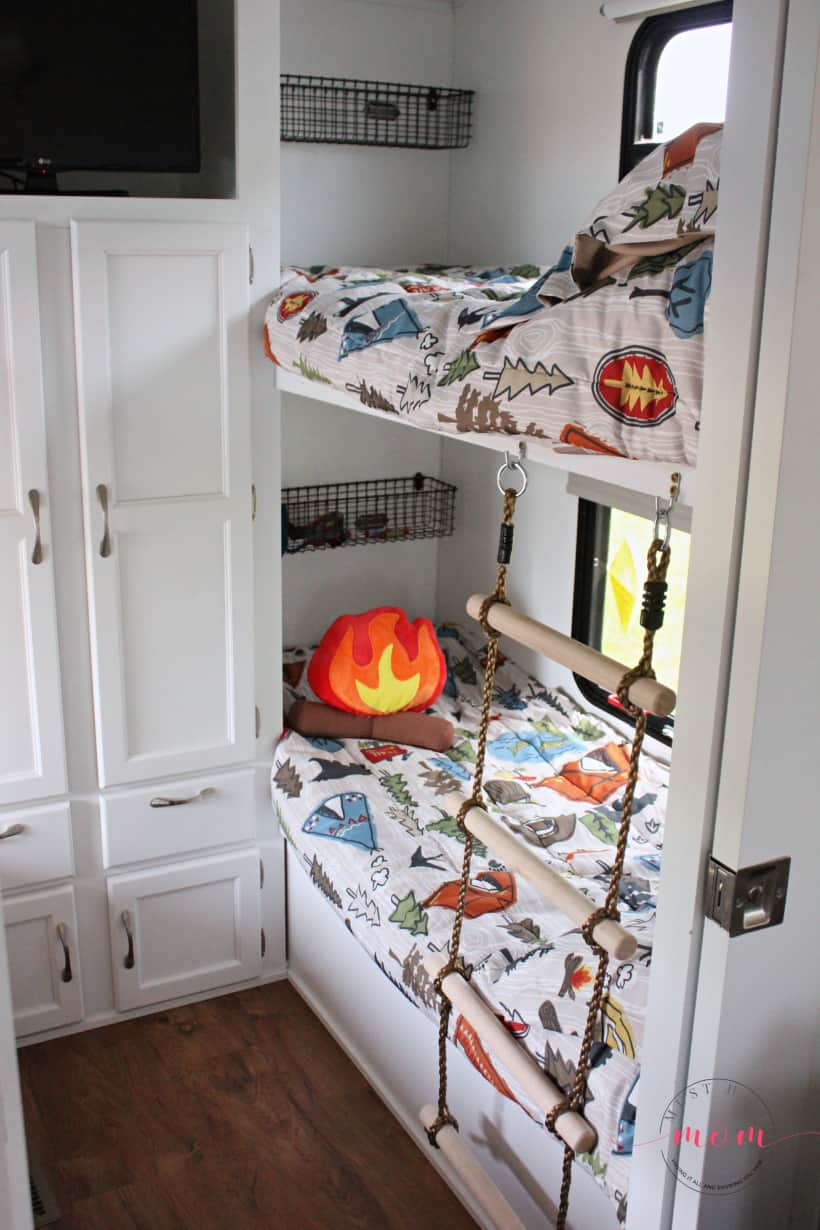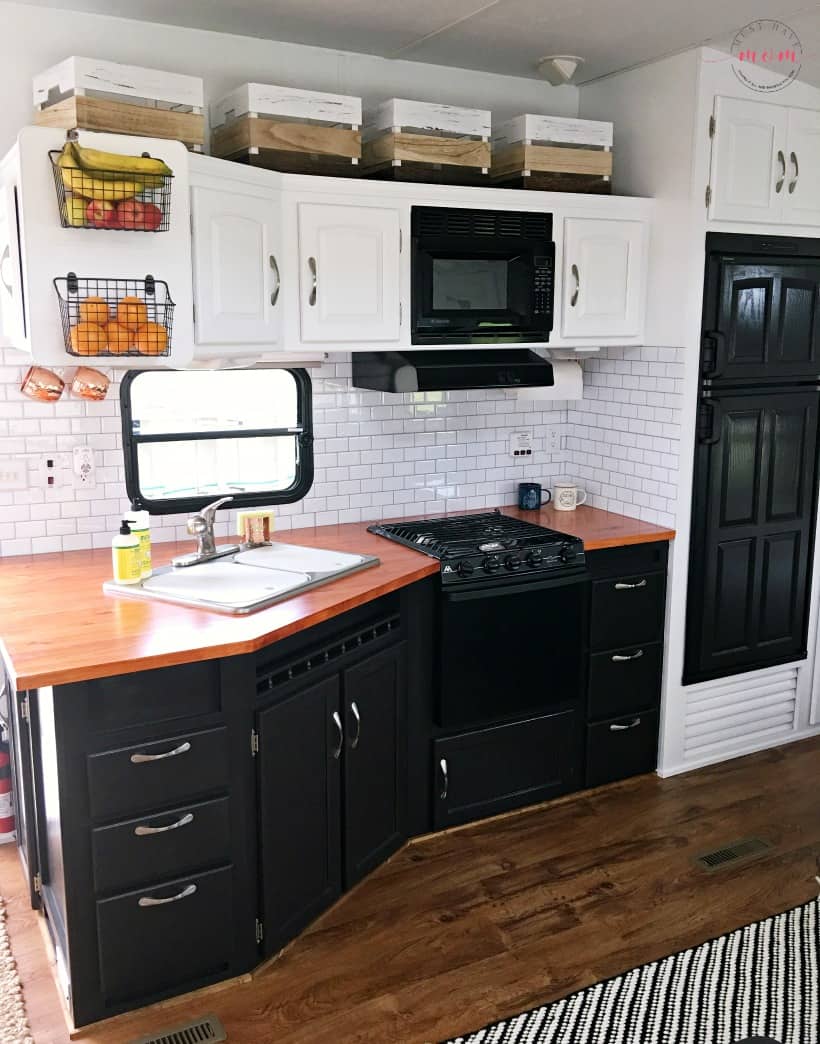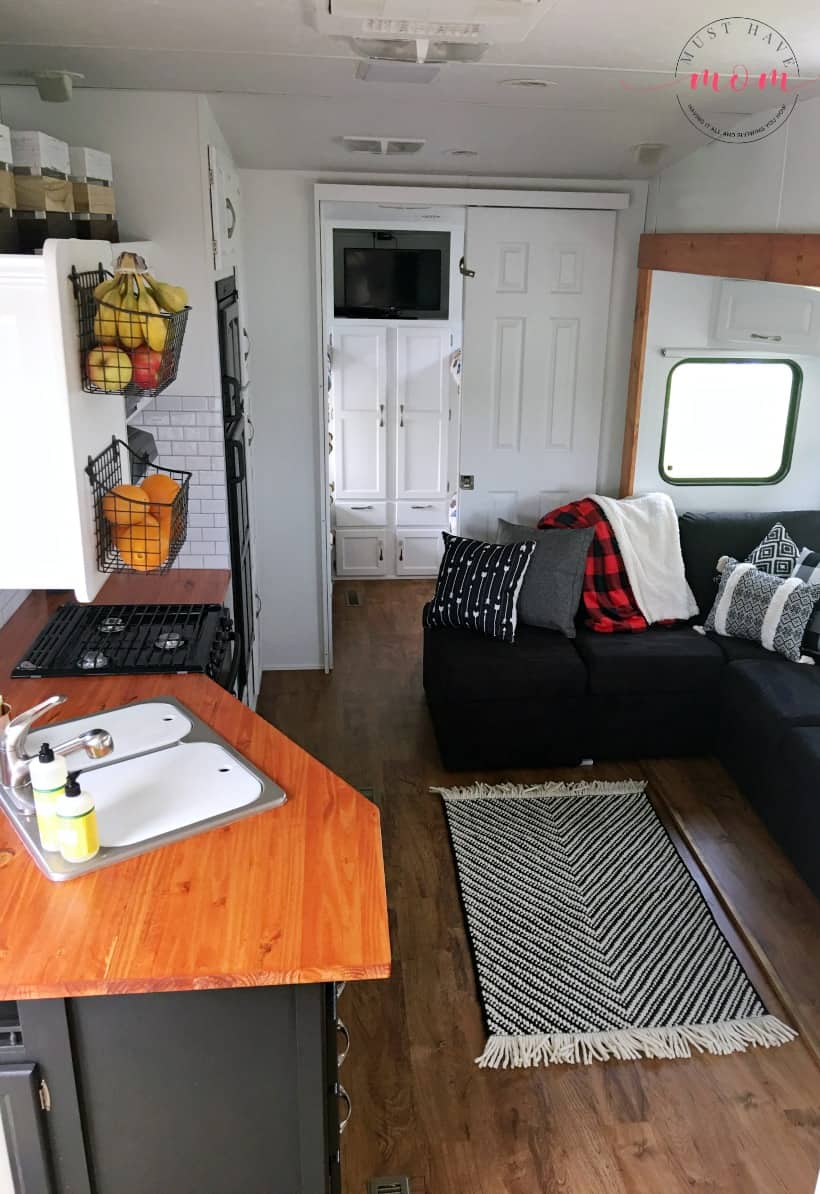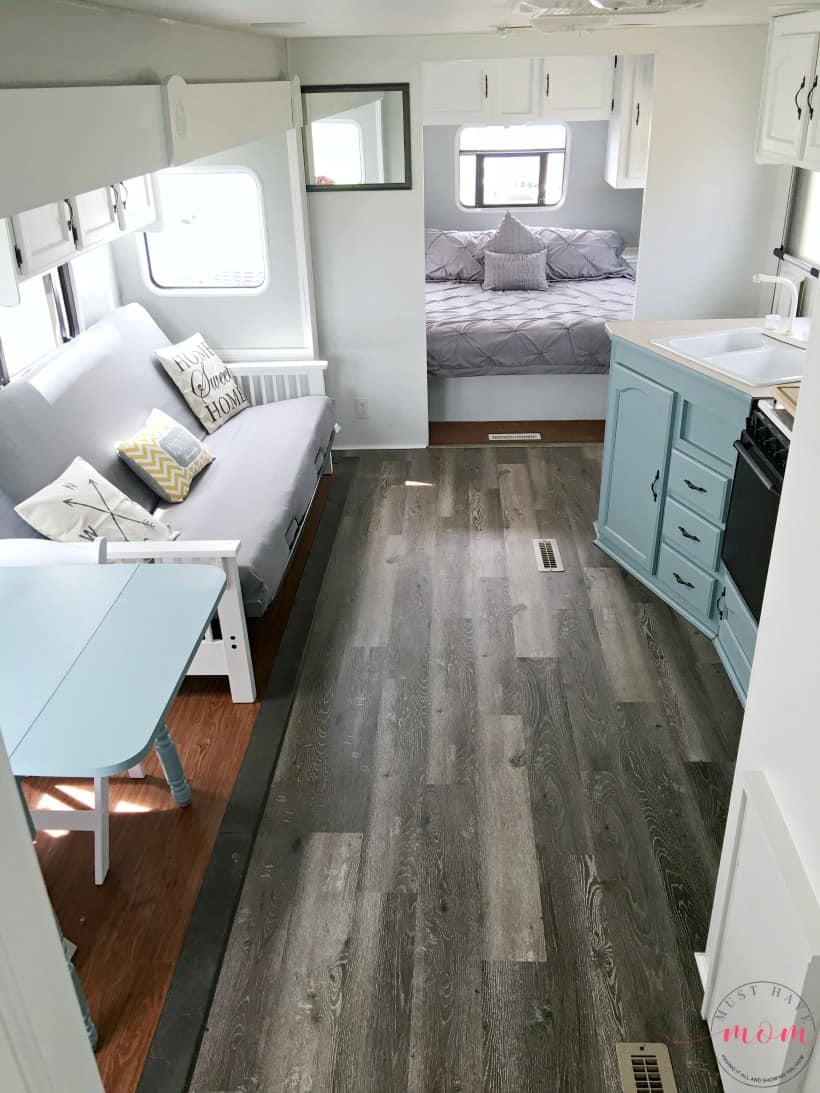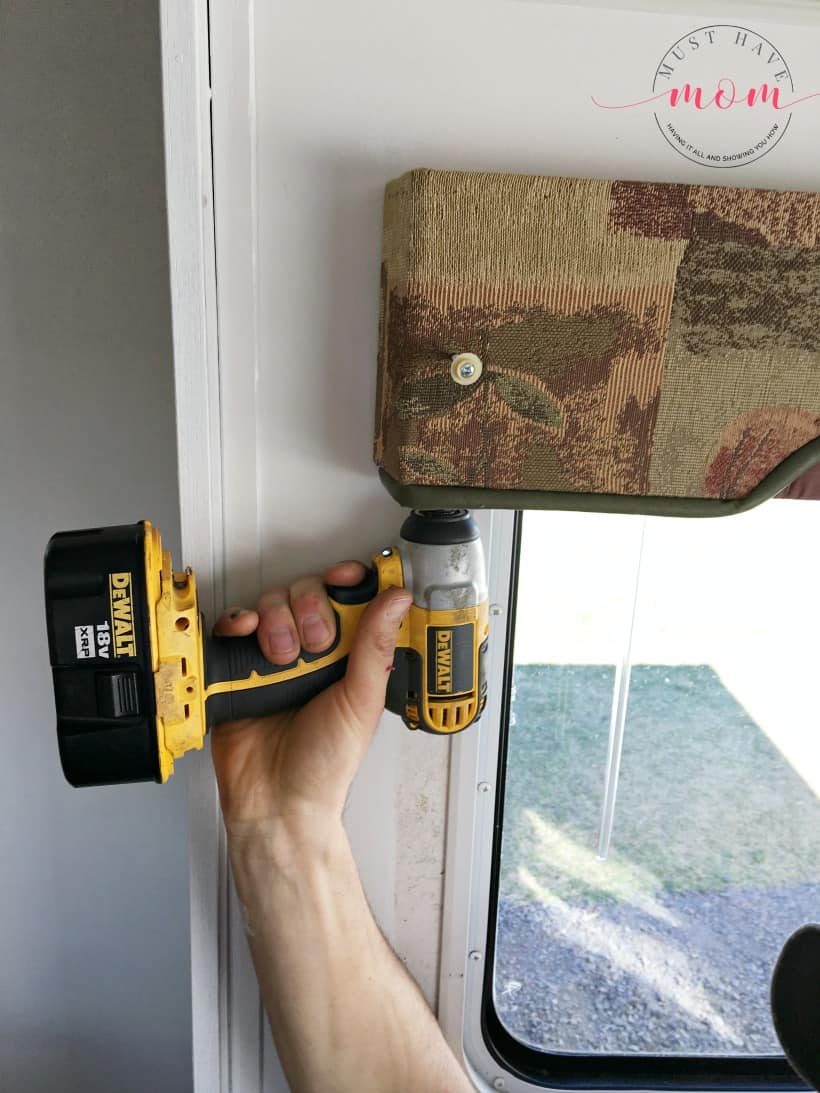 How To Remove RV Window Coverings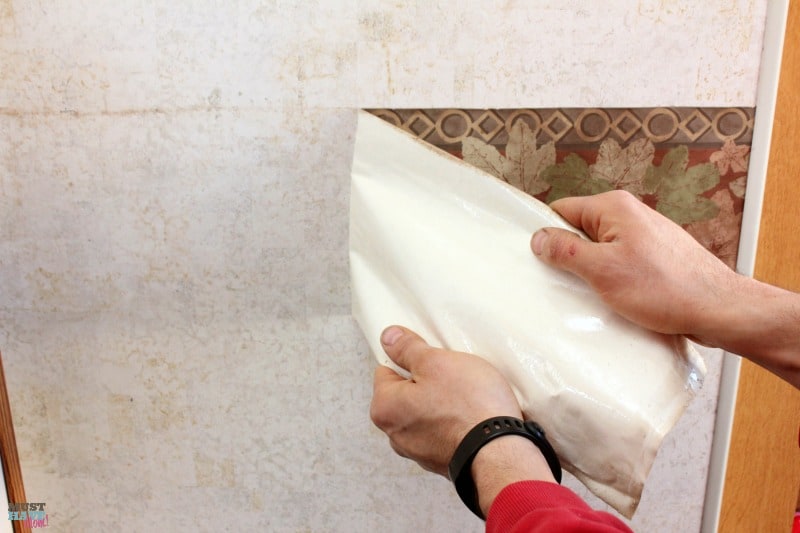 How To Remove RV Wallpaper Border