Easy RV Remodeling Instructions + RV Makeover REVEAL!
Last week I shared my RV remodeling plan with you in my Facebook live video and I promised to share my big RV makeover reveal with you. I can't wait to show you how our RV makeover turned out!!! It's finally time to lift the curtain and show you our RV makeover and I'll also tell you exactly how we did it so you can do it too!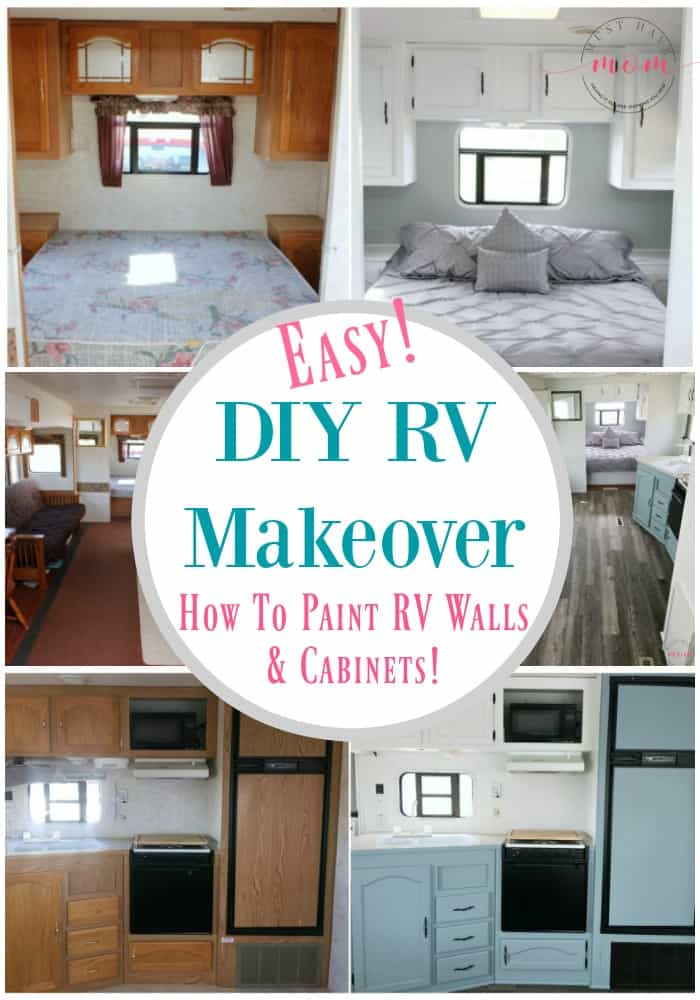 RV Remodeling
I'm not really sure who is behind the designs that you see in every RV across the country, but I know one thing, they need help! The dark, drab, cave-like feel that is overwhelmed in browns and outdated patterns just has TO GO! I couldn't wait to do an RV makeover on our beloved camper and I am over the moon with the final results!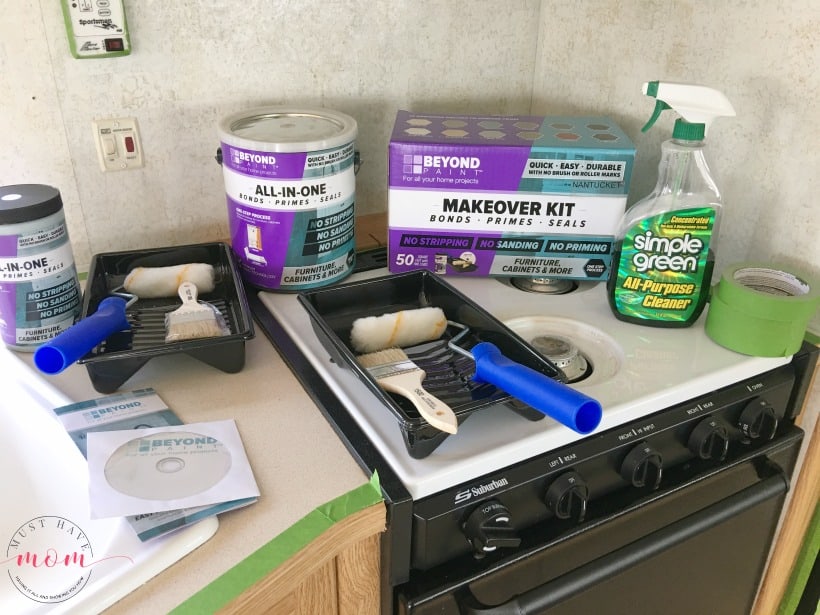 How To Paint RV Interior
Before we decided to dive into RV remodeling, I did a LOT of research into painting RV walls, painting cabinets and even painting the faux wood cabinets in our camper. I discovered a product called Beyond Paint and it seemed to fit all of my needs for our RV makeover.
As I shared with you in my Facebook live video (below), Beyond Paint will adhere to just about any surface, doesn't require any sanding, stripping or sealing and it comes in a variety of colors. I was SO excited to try it out and really see how it worked and see if it lived up to all the hype.
I'm super pleased to announce that Beyond Paint was extremely easy to use, required no prep (other than making sure the surface was clean), and turned out absolutely beautiful when we were finished. I highly recommend using Beyond Paint for your RV remodeling plans. You can use it on the RV wallpaper, cabinets, furniture, and more. We used it for all of our painting in the RV interior.


RV Remodeling Prep Work
Let's start out by talking about what prep work needs to be done before you start your RV makeover. First, you'll want to use a cleaner (Beyond Paint suggests Simple Green or a vinegar/water solution) that will de-grease your surfaces and clean all the built-up dirt off of them. Stay away from anything that will leave behind a waxy residue (like oil soap or polish).
After you thoroughly clean all the surfaces that you plan to paint, you'll need to remove any wallpaper borders that you aren't keeping. Instructions on how to remove RV wallpaper border. ONLY remove the wallpaper borders and DO NOT attempt to remove the wallpaper from the walls themselves. The wallpaper will be glued onto the plywood-type material that makes up your walls. You should not remove it!! You should instead paint over it with Beyond Paint. Wash the walls as well if you plan on painting them.
Next, you need to remove the RV window coverings so that you can paint behind them. Instructions to remove RV window coverings. I hated the ugly fabric on our RV window valances so I opted to leave them off entirely. If you want to you can recover the RV window valances in a more modern fabric.
After you've done these steps then remove the cabinet doors and hardware so that you can paint them. I recommend painting the cabinet doors in the garage so they aren't in your way. You can also use Beyond Paint to paint your furniture so wash any furniture you plan on painting. I painted the outdated wood dining room table and wood futon in our RV.
Finally, tape around any edges that you need to. We taped off the floors, windows, etc. Use a quality painter's tape and not masking tape.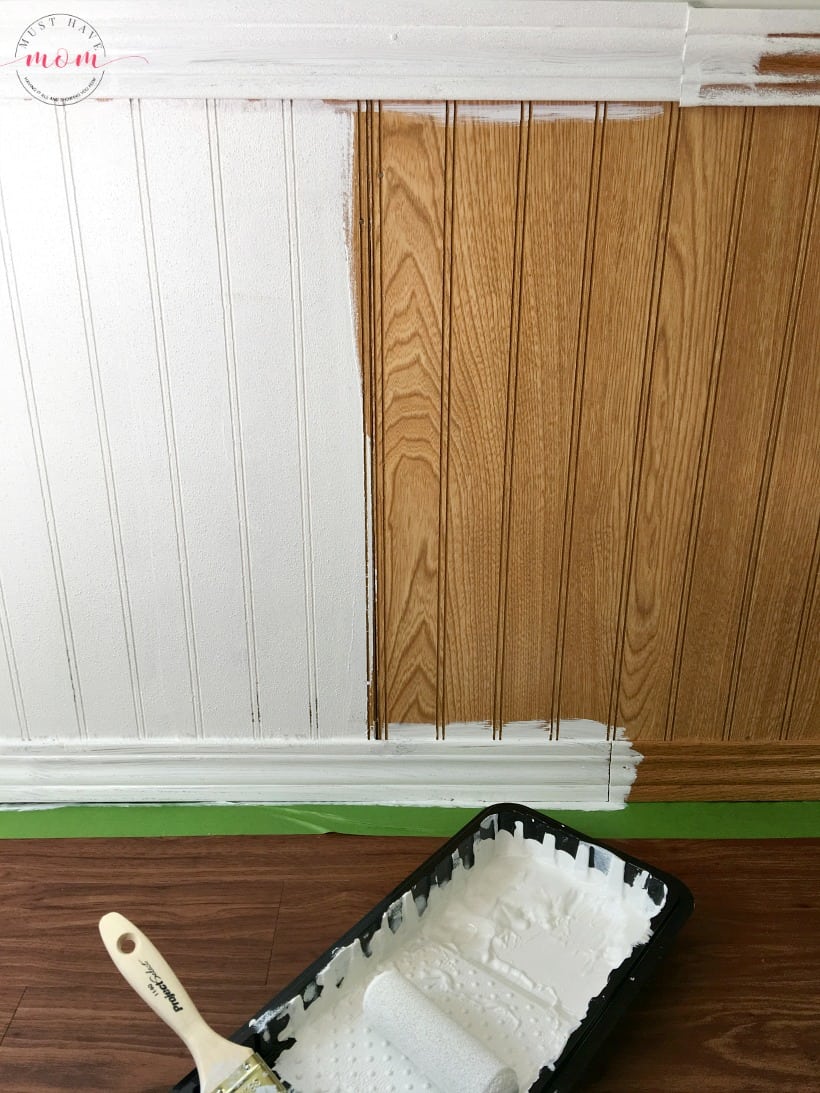 Now you are ready to start painting! For your painting project, you will need a small roller, brush, paint tray, and Beyond Paint. You can get the Beyond Paint makeover kit and it includes all of the painting tools in it, as well as a quart of paint. You can pick whichever color you like for your kit. The kit also comes with instructions and a DVD.
Beyond Paint worked perfectly on the wainscoting in our camper's living room and only required two coats (no need to prime!). It even covered the cabinet door that had a glass inlay. After painting it with Bright White, you couldn't even tell it had glass in it. I painted right over the glass and it covered it perfectly. I suggest doing fairly thick coats so you get the best coverage. In most cases, we only needed 2 coats of paint. Allow 2 hours between coats for them to dry. The only time we needed 3 coats was when we used Bright White on dark wood.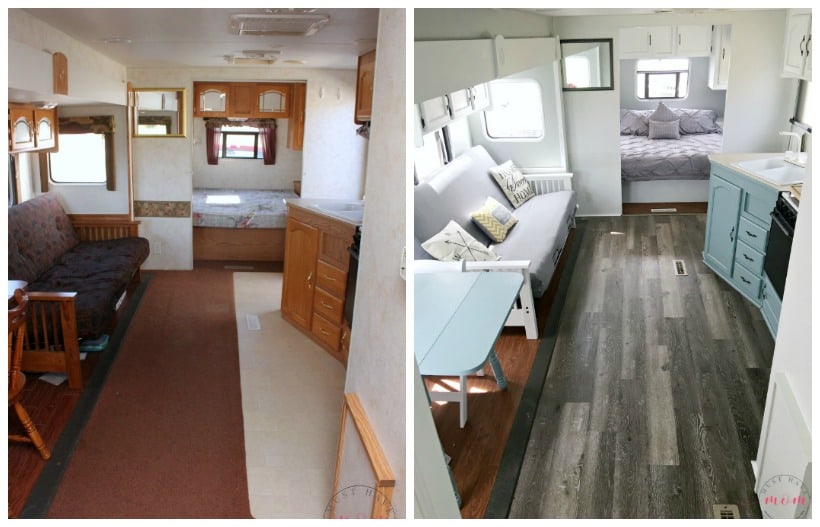 RV Remodeling Color Palette
For my RV makeover, I used three different colors of Beyond Paint. I used Bright White, Soft Gray, and Nantucket. The final look turned out exactly as I envisioned it!!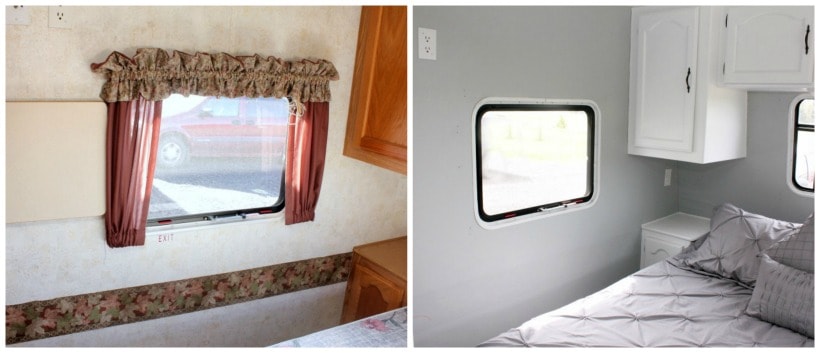 In our master bedroom, we removed the wallpaper border and RV window treatments. We then painted the walls Soft Gray and the cabinets, Bright White. The final look was stunning!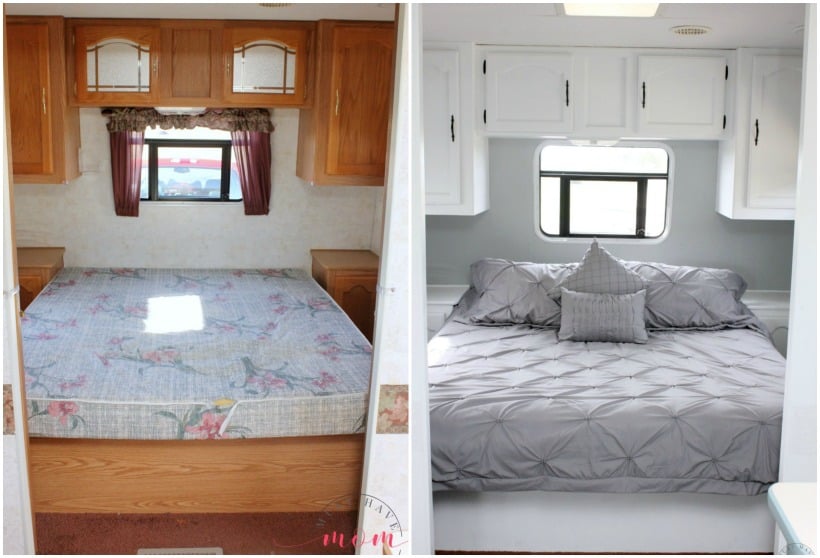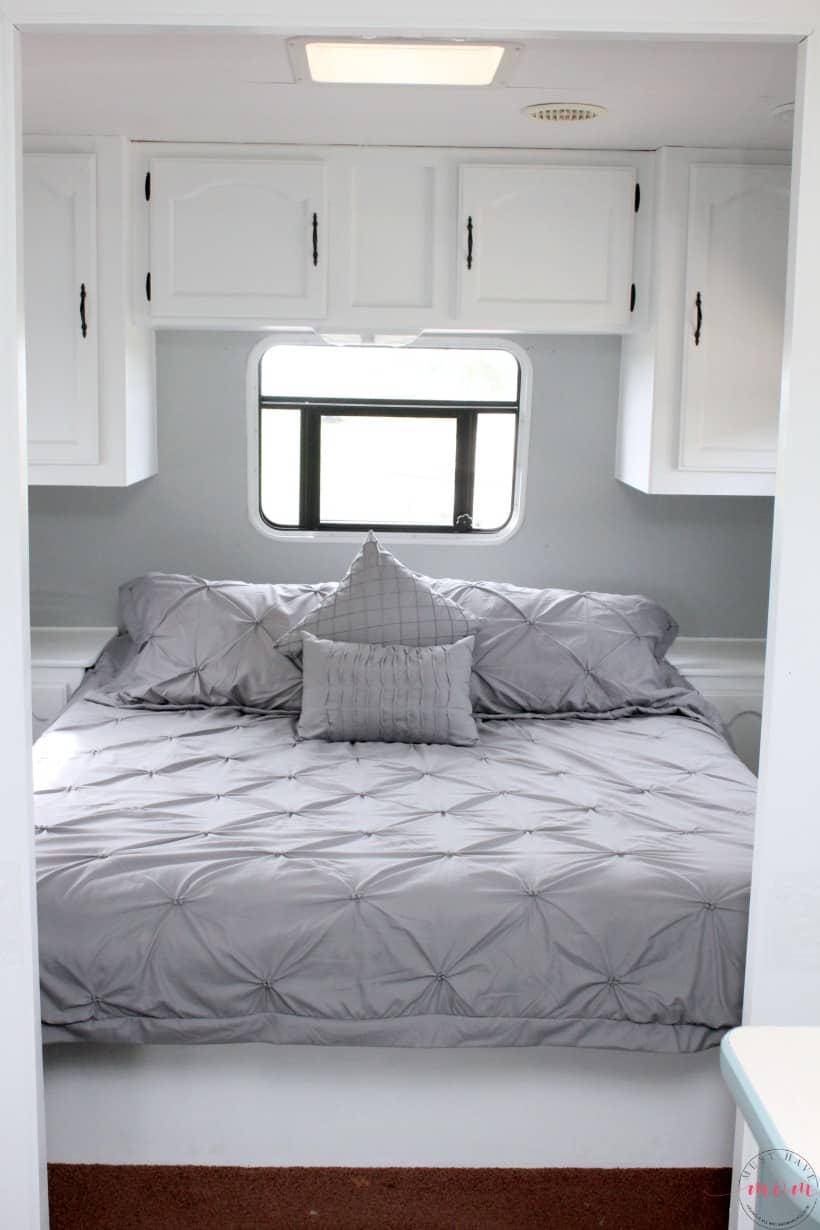 By simply painting the room it created an entirely different look. I never cease to be amazed at the dramatic results that a simple coat of paint can deliver! Isn't it inviting?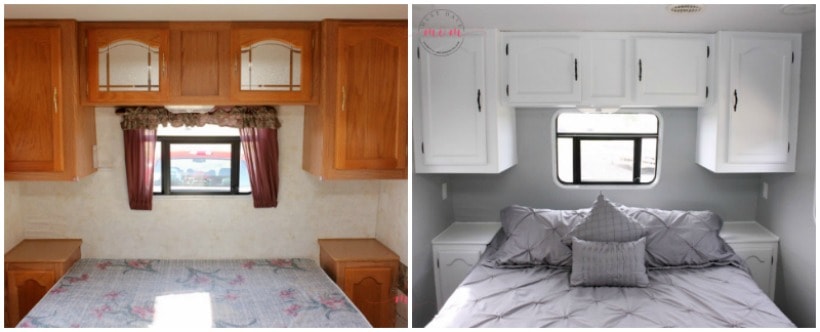 The end result of this easy RV remodeling project was a sanctuary where I can relax and feel tranquil. I love it!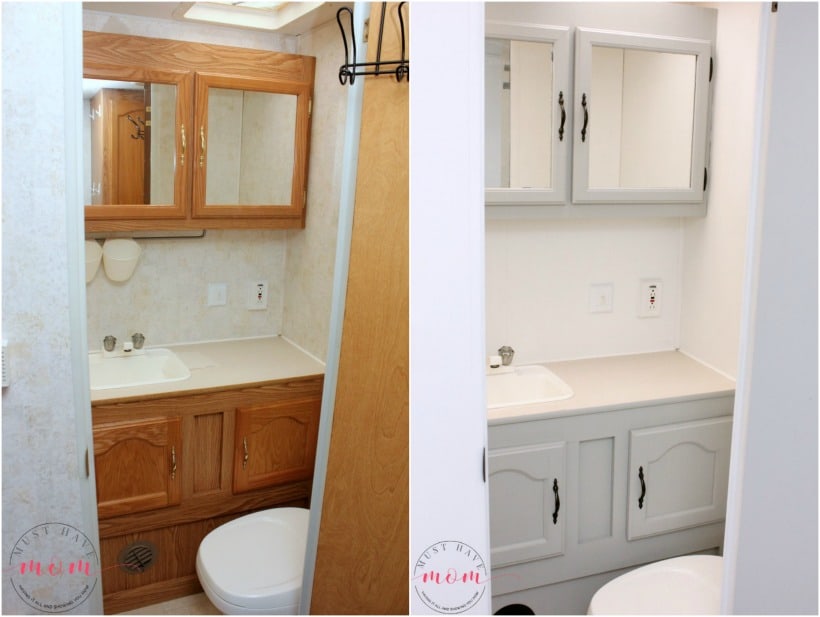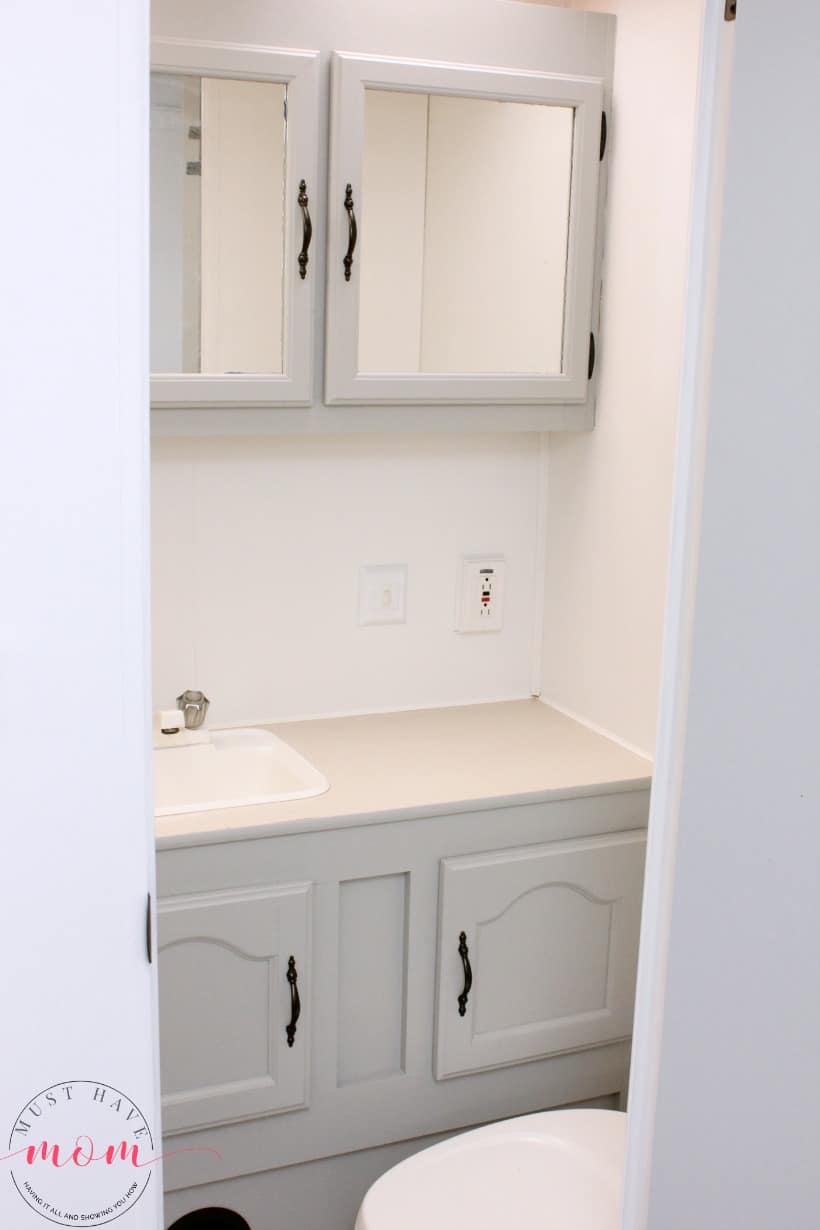 In our RV bathroom, we painted the walls Bright White and the cabinets Soft Gray. Can you believe the difference painting over that wallpaper makes?!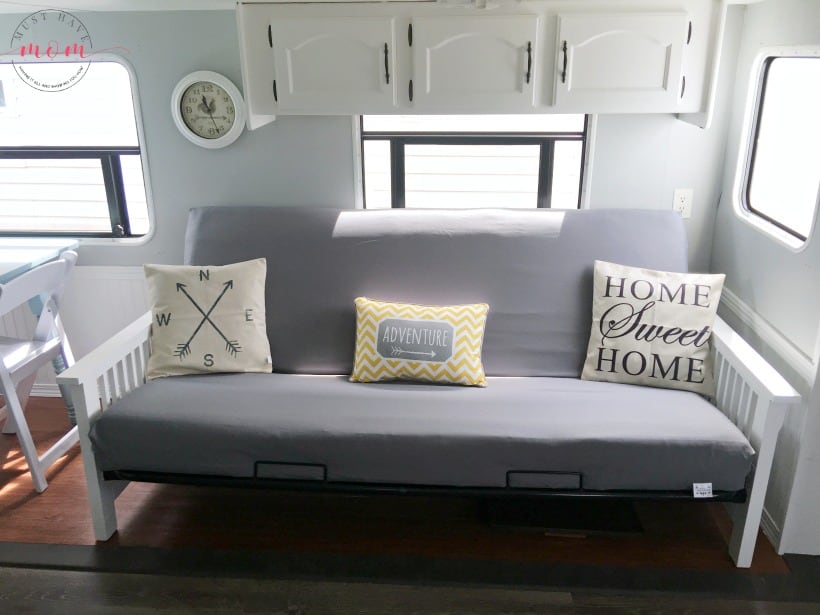 I also took the woodsy-feeling futon and painted the wood white and added a gray slipcover over the outdoor fabric. I also added a few pillow covers over my old throw pillows to give them new life. For under $40 I was able to transform the futon into a modern piece of furniture!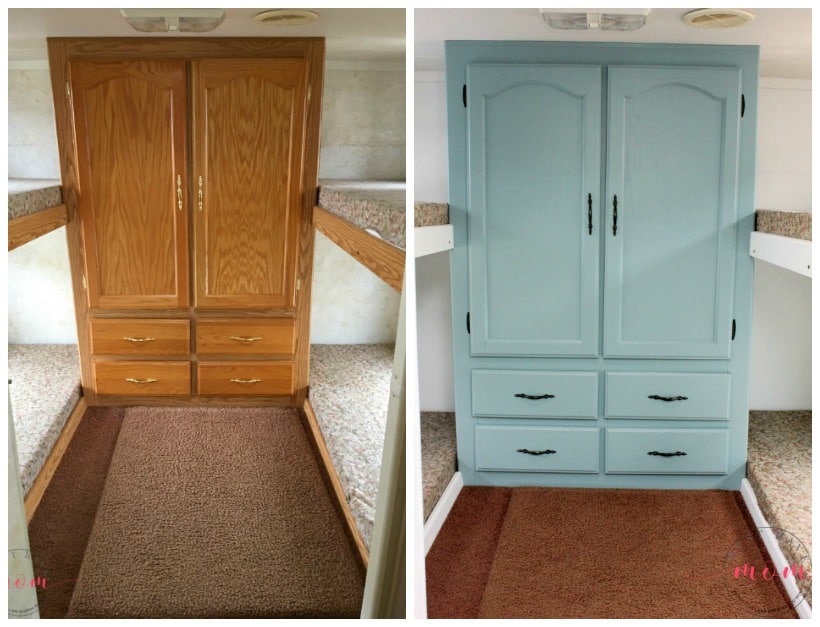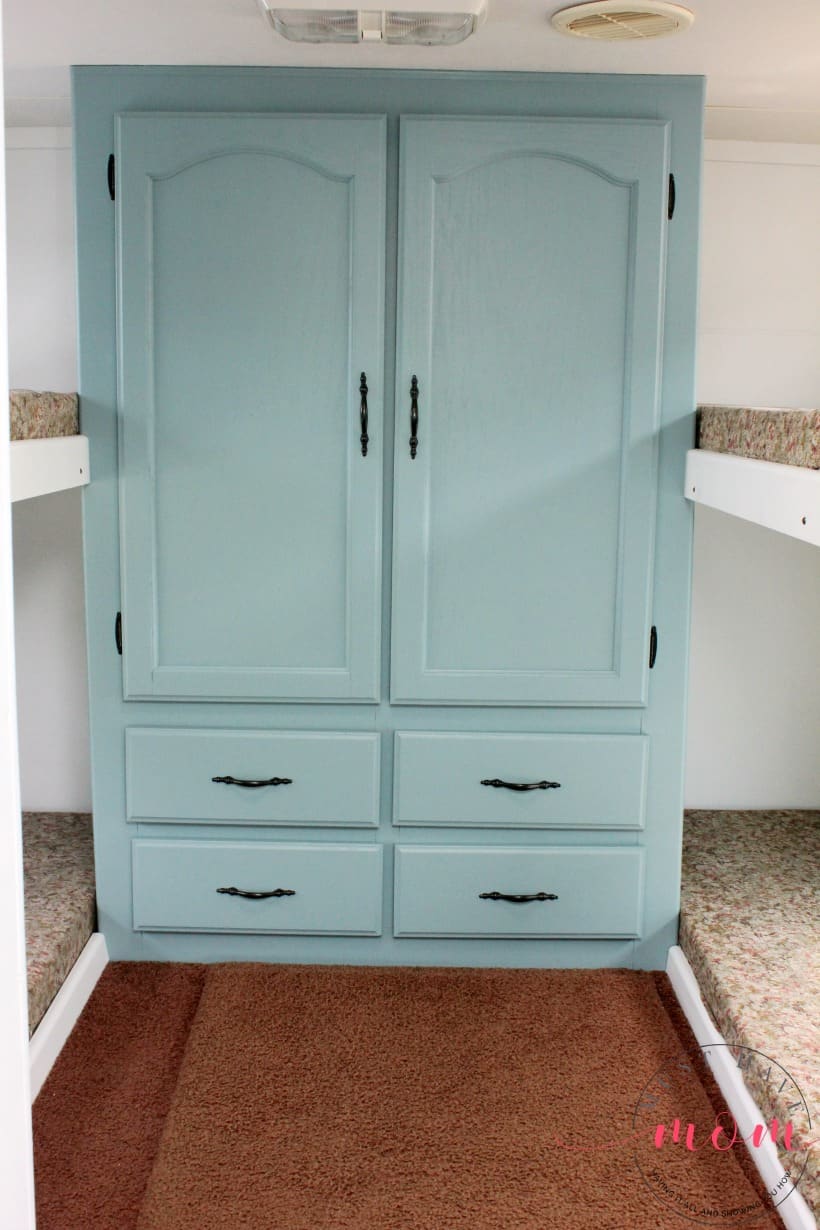 In the bunk area of our camper, we painted the walls and trim white and painted the fake wood cabinet Nantucket. The end result was a showpiece that looked worthy of a high-end home. I love how beautiful the cabinet turned out. We painted all of our outdated gold hardware with oil-rubbed bronze spray paint. When that is combined with the Nantucket, it really delivers a rich look.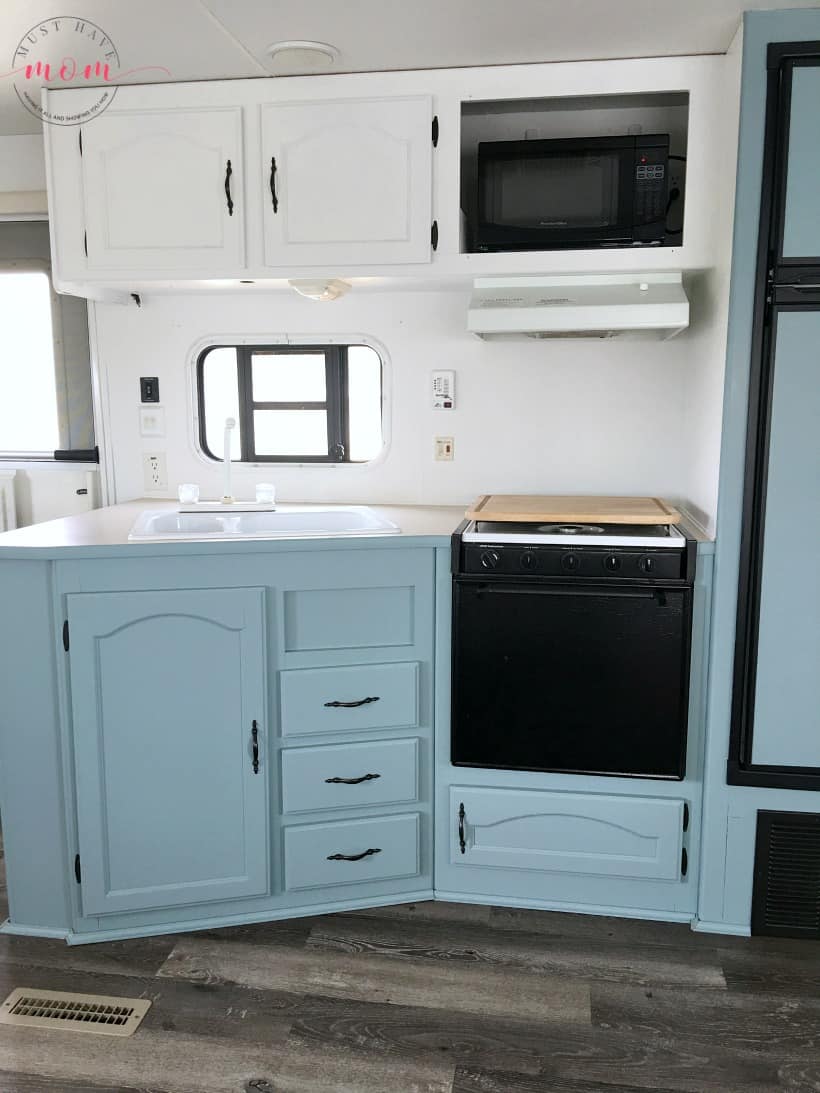 In our kitchen, we opted to do two-tone cabinets in Nantucket and Bright White. I love the end result! Combined with the new laminate flooring we installed, it looks amazing and really pops! It went from a dark-feeling cave to a bright and airy kitchen.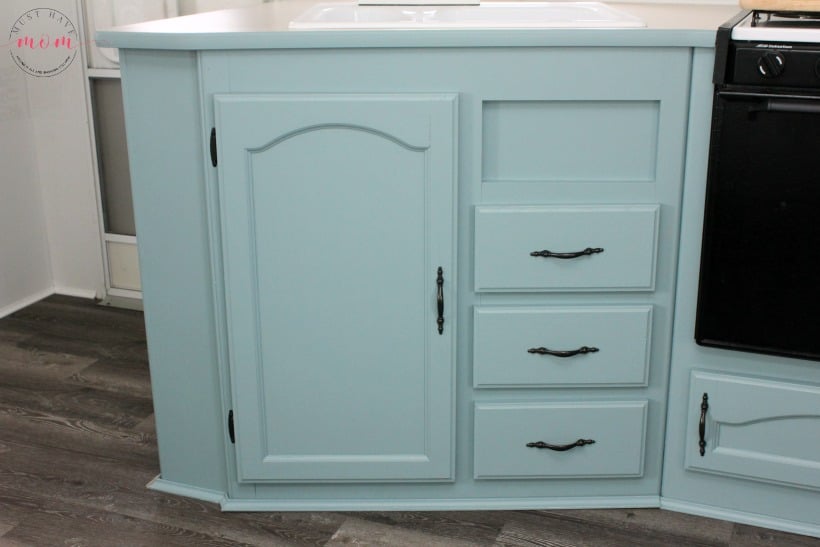 We removed all of the cabinet doors and drawers to paint them. I LOVE the color!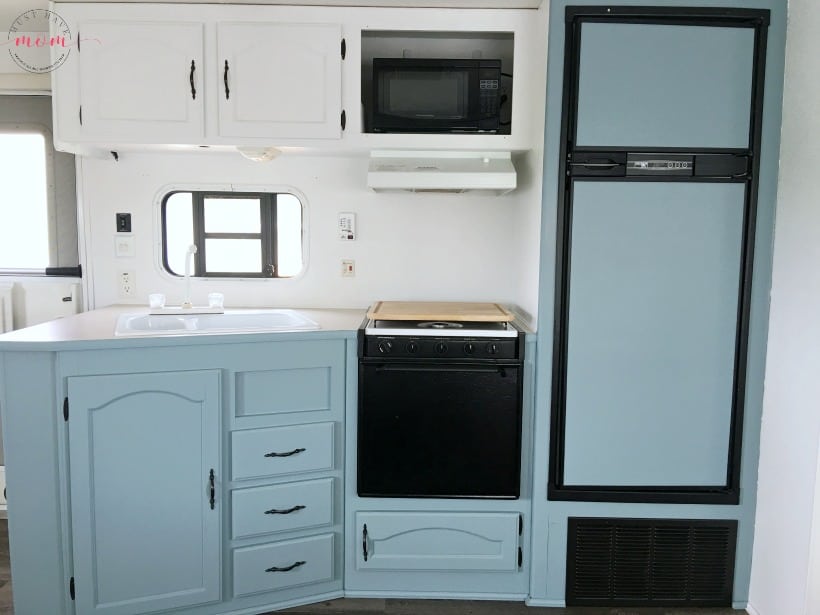 Don't be afraid to experiment with new trends and try out the two-tone cabinet colors! They are really on-trend and look beautiful.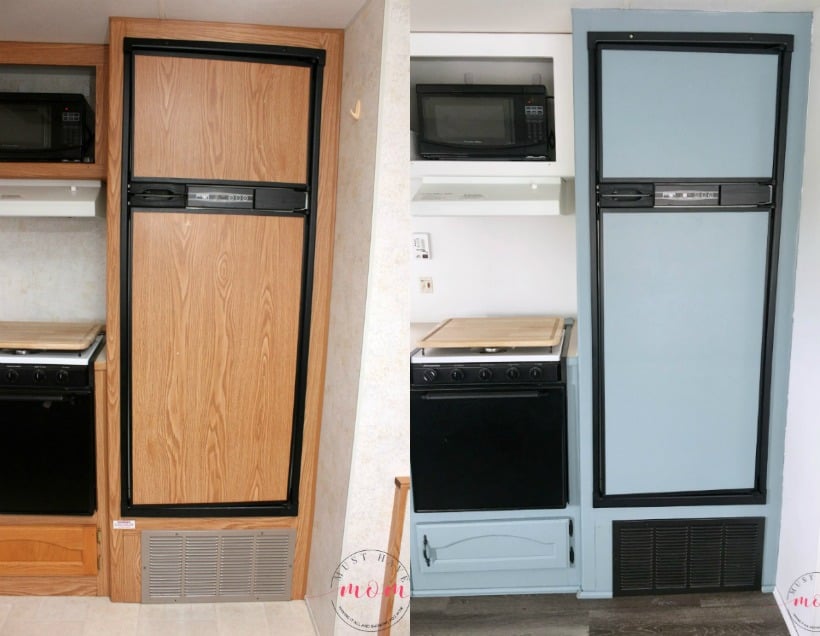 We even painted the RV fridge which had a fake-wood sticker panel on the front of it. We taped off the black plastic and painted over the wood with Nantucket. I love how it turned out!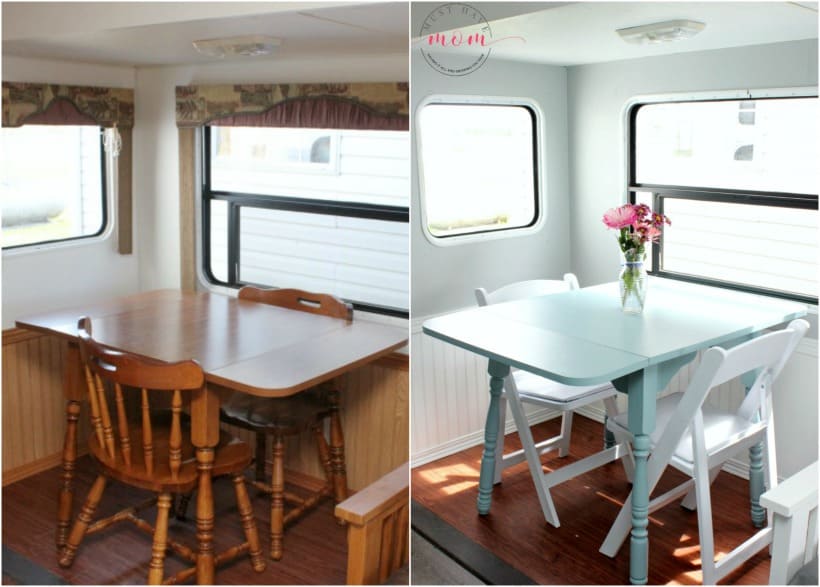 In our camper's dining area we painted our old wood table in Nantucket and did the walls in Soft Gray with Bright White wainscoting. It really transformed the space and saved us a ton of money by simply updating our existing furniture. We opted to get rid of the old chairs as they were too big and bulky, and we replaced them with lightweight white folding chairs.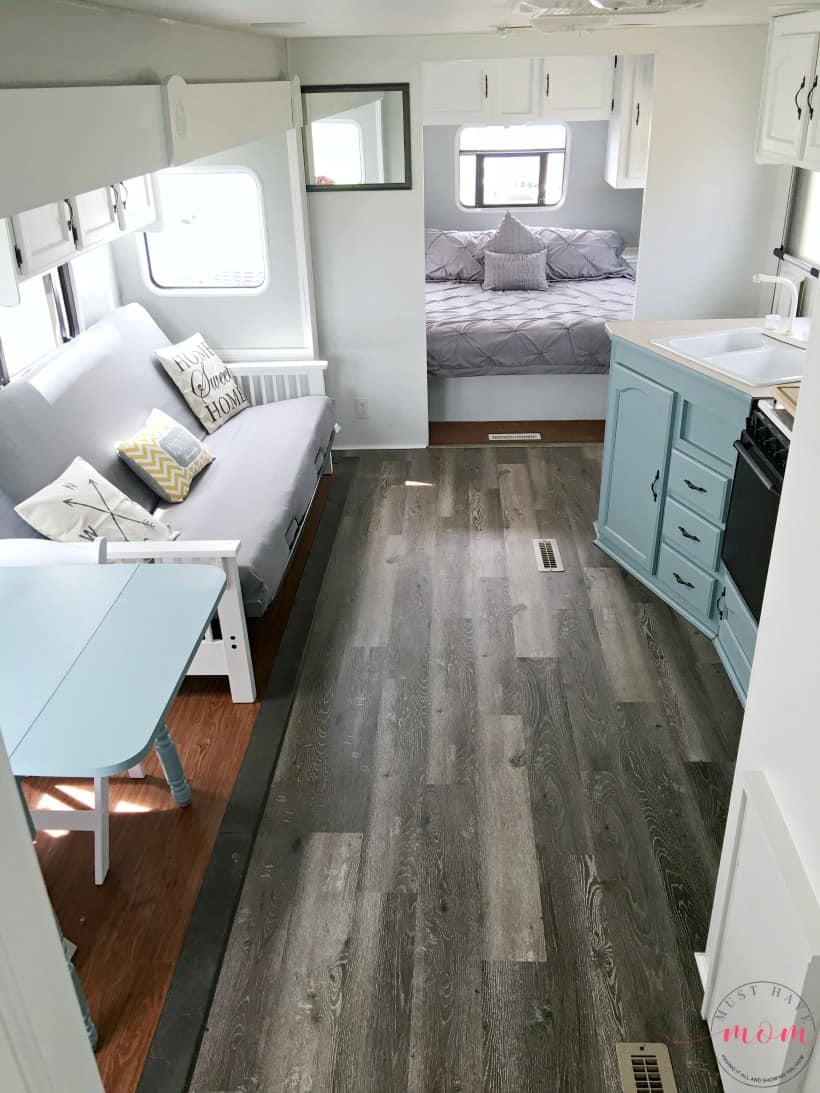 Our camper now looks like it is out of a magazine and it feels so bright and airy. It lets in a lot more natural light now and with the light color palette, it feels much bigger. This RV remodeling project took my husband and I (working together) just 2 weekends to complete! Since an RV is a small space, it is a really doable project in a couple of weekends' time!
Are you ready to update your RV or maybe you want to paint your kitchen or furniture in your home? You can find Beyond Paint on their site or on Amazon, Home Depot (order and pick up in-store too!), or Walmart.com! I can't say enough good things about it! Use promo code MUSTHAVEMOM to save 10% off your order.
Buy the Supplies We Used for this Makeover:
Here are the supplies we used for our RV makeover! You can order them now and be ready to start on your own camper makeover project! Use promo code MUSTHAVEMOM to save 10% off your order.
BEYOND PAINT – Furniture, Cabinets and More All-in-One Refinishing Paint -Quart of Bright White

BEYOND PAINT – Furniture, Cabinets and More All-in-One Refinishing Paint Quart- color: Nantucket

BEYOND PAINT Furniture, Cabinets and More All-in-One Refinishing Kit / Color- SOFT GRAY

Beyond Paint BP37 Multi Purpose Sealer

FrogTape 1358463 Multi-Surface Painting Tape, Green, 0.94-Inch x 60-Yard Roll

Rust-Oleum 249131 11 oz Universal All Surface Spray Paint, Oil Rubbed Bronze Metallic

HERCULES Series 800 lb. Capacity Premium White Plastic Folding Chair

Onker Cotton Linen Square Decorative Throw Pillow Case Cushion Cover 18

Magshion@Futon Cover Slipcover (Dark Gray, Full (54×75 in.))

All Purpose Concentrated Cleaner, 24 oz, Sassafras Scent

18

The Good Life – Camping / Traveling – French Flea Market Burlap Accent Throw Pillow – 8-in x 8-in

Did you enjoy this post? We love it when you share on social media using the sharing buttons above this post! Thank you!!
Pin the RV Makeover image below: