These Instant Pot ribs use a homemade dry rub combined with the magic of the Instant Pot to deliver flavorful, fall off the bone ribs that are out of this world amazing! Pair with your favorite BBQ sauce or our homemade dark cherry BBQ sauce and broil for a perfect finish.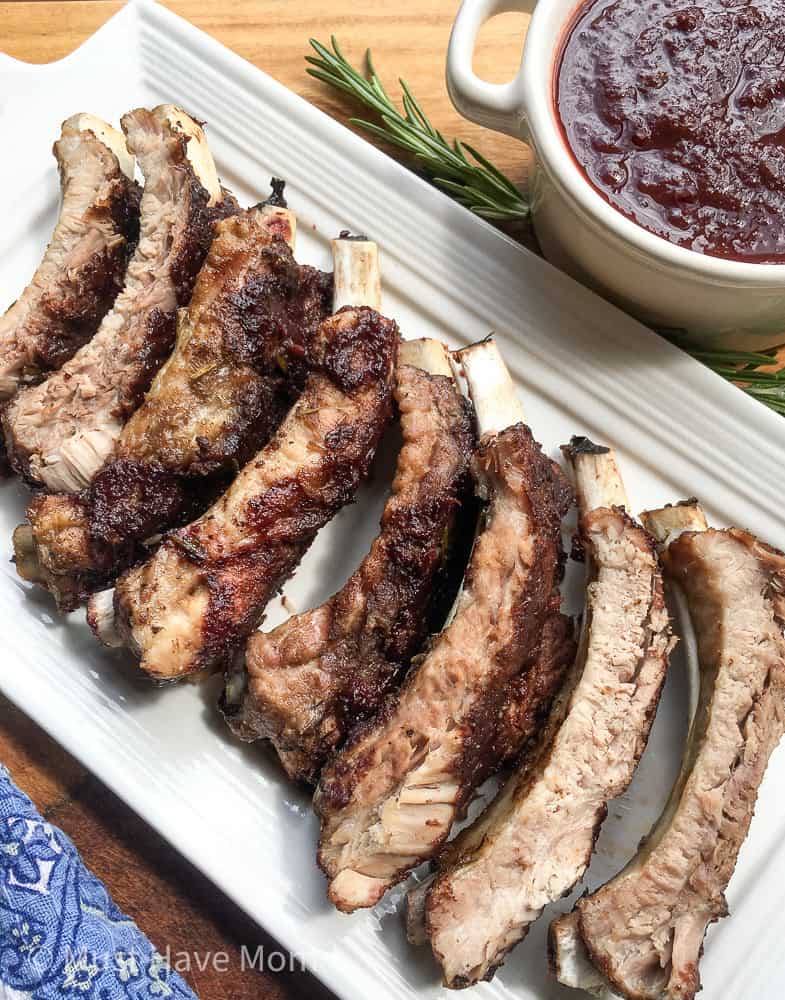 I love using my Instant Pot to make tender, juicy meat that would otherwise end up being dry and tough. It is my favorite way to make Instant Pot BBQ pork chops and beef barbacoa tacos. I know they will always turn out perfect in the Instant Pot! This rib recipe is no exception. It delivers delicious ribs that are restaurant-worthy.
Instant Pot Ribs
If you have never made ribs before then you may not realize how difficult they can be to make correctly. They typically need to cook all day in order to be tender and juicy. The Instant Pot allows you to skip that step and still end up with juicy, delicious ribs in a hurry.
I also love making my ribs in the slow cooker but I often forget to get it started in the morning or I just don't plan ahead. If you are the same way then keep this Instant Pot ribs recipe handy for those nights when you want ribs in a hurry!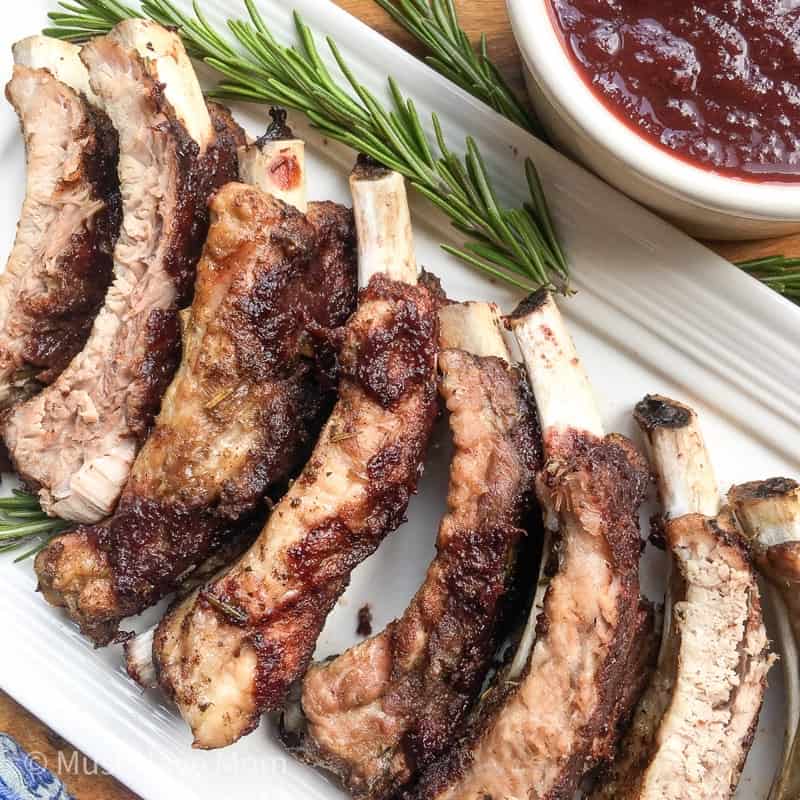 How to Cook Ribs in Instant Pot
Cooking ribs in the Instant Pot is SUPER easy! You'll simply need to prep the ribs by removing the membrane first. The membrane is a thin film over one side of the ribs. Just get it started by slightly peeling it up and then you should be able to peel up the entire thing off the whole rack of ribs.
Then you'll prepare your dry rub (recipe below) and rub the ribs with herbs. Cut the ribs to fit in your Instant Pot and use the rack to place them on. After cooking a quick pop under the broiler will yield bubbly, carmelized BBQ sauce-coated ribs that are bursting with flavor.
How Long to Cook Ribs In Instant Pot
Pork ribs only take 30 minutes in the Instant Pot! This doesn't include the time to come to pressure (much like recipes don't include the time the oven needs to preheat) or the time it takes to release the pressure.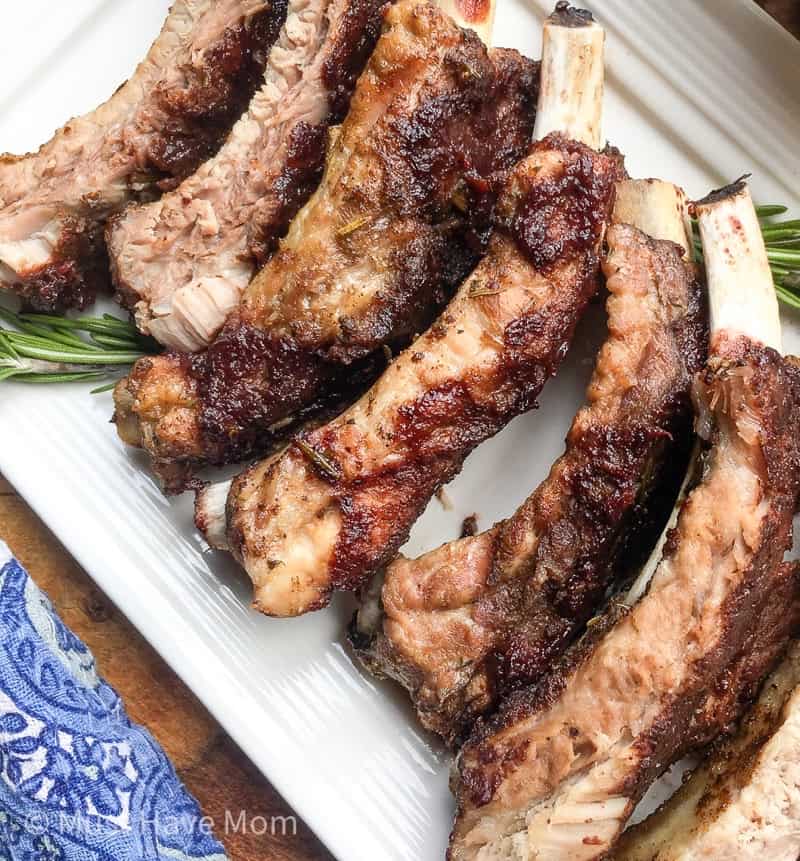 How Much Water in Instant Pot for Ribs?
Pork ribs in the Instant Pot require 1 cup of beef stock or water to cook. The beef stock will help the ribs be more flavorful. If you don't have any then you can also use water. You must use 1 cup of liquid though.
Can you Cook Two Racks of Ribs in Instant Pot?
How many racks of ribs you can cook in your Instant Pot will depend on how big your Instant Pot is. There are many sizes of Instant Pots available. An 8 quart Instant Pot will accommodate two racks of ribs although you will need to cut them to size.
How Long to Cook Frozen Ribs in Instant Pot?
You can cook frozen ribs in the Instant Pot however it will already need to be cut so that it fits. Cook frozen ribs in the Instant Pot for 35 minutes plus a 15 minute natural pressure release.
Instant Pot Ribs Recipe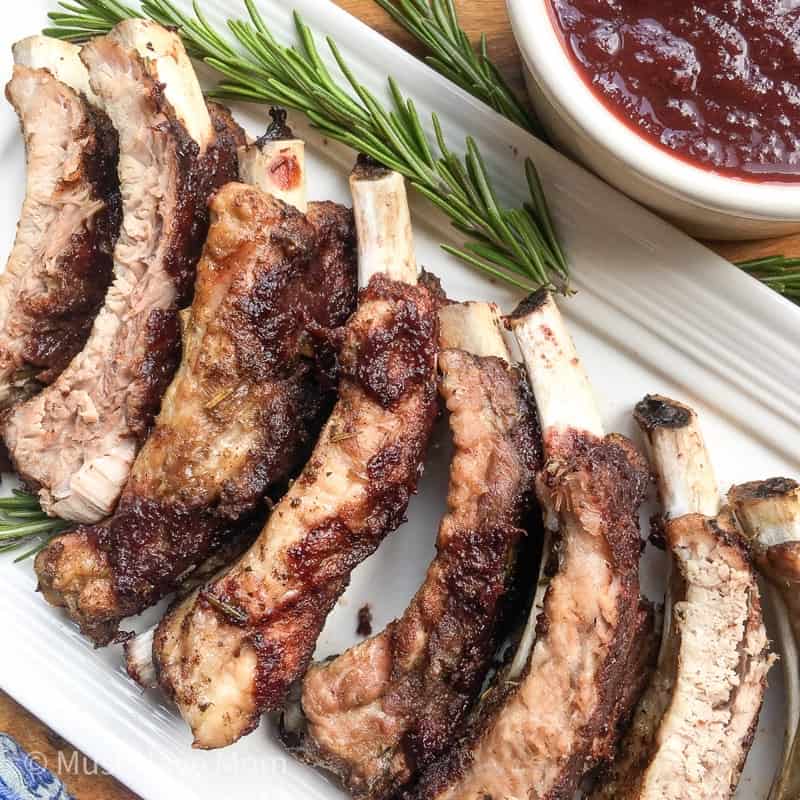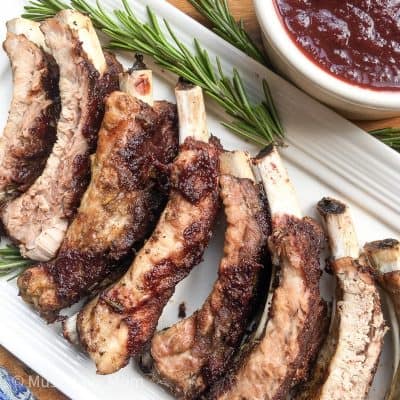 Instant Pot Baby Back Ribs
These Instant Pot ribs are tender and fall off the bone! Combine a dry rub with homemade cherry BBQ sauce for an out of thtis world flavor combination. Have a favoritte BBQ sauce? Use any sauce you prefer!
Ingredients
Dry Rub Ingredients:
1

tsp

garlic powder

1

tsp

chili powder

1

tsp

dried rosemary 

1

tsp

ground cumin

1/2

tsp

cinnamon

1/4

tsp

cayenne pepper

1/2

tsp

smoked paprika

Salt and black pepper

to taste
Other Ingredients:
2.5-3

lbs

baby back ribs

1

cup

beef stock or water

Dark Cherry BBQ Sauce* (or BBQ sauce of choice)
Instructions
Combine ingredients for the dry rub in a small bowl and stir to combine. Set aside. 

Carefully remove membrane from back of baby back ribs with a sharp knife, if necessary. Once you get it started it usually peels off easily. Cut the ribs into 3 or 4 equal-sized parts and work the dry rub into each section on both sides. Set aside.

Add beef broth or water to Instant Pot and insert the metal rack. Place the seasoned ribs on their sides on top of the insert. (Do not stack them flat on top of each other). 

Lock the Instant Pot lid into place and flip the pressure valve to "Sealing." Set the "Manual" setting to high for 30 minutes.

Meanwhile, line a large, rimmed baking sheet with aluminum foil and set aside. 

Once cooking time is complete, do a quick release (QR) by flipping the sealing valve to the "Venting" position. Unlock and remove the Instant Pot lid and carefully transfer ribs to prepared baking sheet. Brush ribs with a generous amount of BBQ sauce on each side.

Pre-heat broiler to high and broil the ribs for 3-5 minutes or until nicely browned. Remove from oven and cool slightly before cutting into individual portions. Serve immediately with extra BBQ sauce for dipping. 
Notes
Place the ribs under a hot broiler after cooking in the Instant Pot for a mouth-watering, caramelized crust.
Dark Cherry BBQ Sauce* - recipe can be found here.
Pin Baby Back Ribs