Have you heard of the Instant Pot yet? I recently discovered this amazing device that offers up the ability to pressure cook, saute, slow cook and more all in one handy appliance. I bought one off Amazon and I've been hooked ever since. It is my go-to for quick and easy dinners in no time. It makes cooking effortless. No really, it's seriously amazing. It practically has a cult following now. Once you taste these easy Instant Pot BBQ Pork Chops that are ready in about 10 minutes, I'll make a believer out of you!
Do you have an instant pot?
Instant Pot IP-DUO60 7-in-1 Multi-Functional Pressure Cooker, 6Qt/1000W

If you don't have an Instant Pot yet then I highly recommend choosing the Instant Pot Duo 7 in 1 Pressure Cooker. It has a 6 quart capacity and has the added yogurt function that the 6 in 1 model doesn't include. Not only that, but you are able to buy it for the same price that I bought the lesser 6 in 1 model for at Christmas. I'm a little bit jealous that you'll be getting an Instant Pot with an added function for the same price that I bought mine! And mine doesn't make yogurt! If you've been hesitating to buy I can tell you that I love mine so much that I bought two! I use them so often that one of them stays on my counter permanently. You won't regret it!

MY LATEST VIDEOS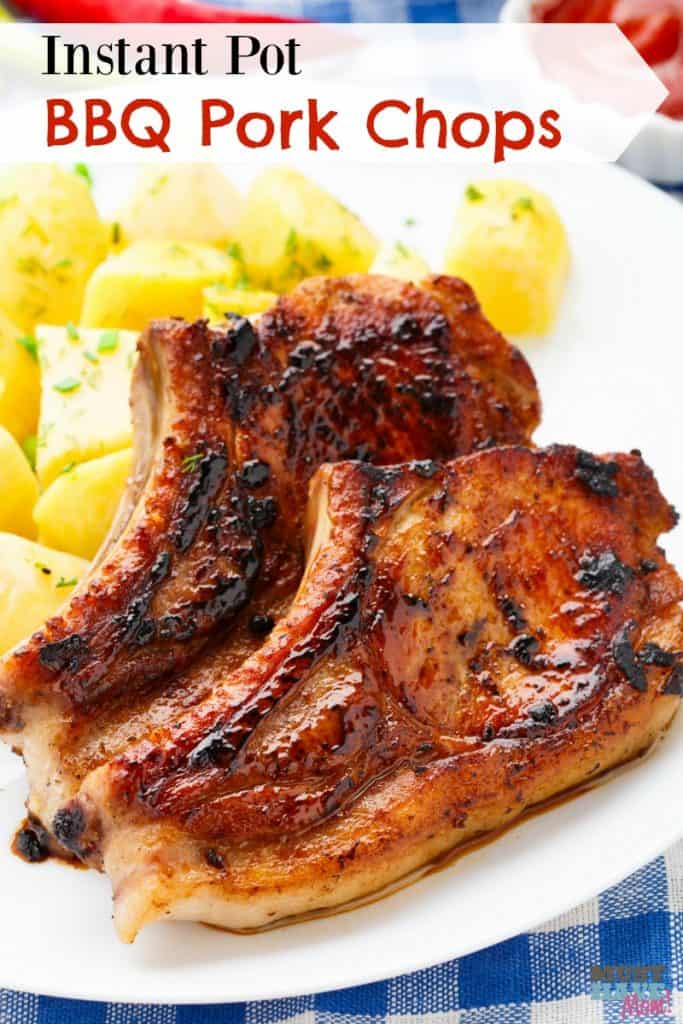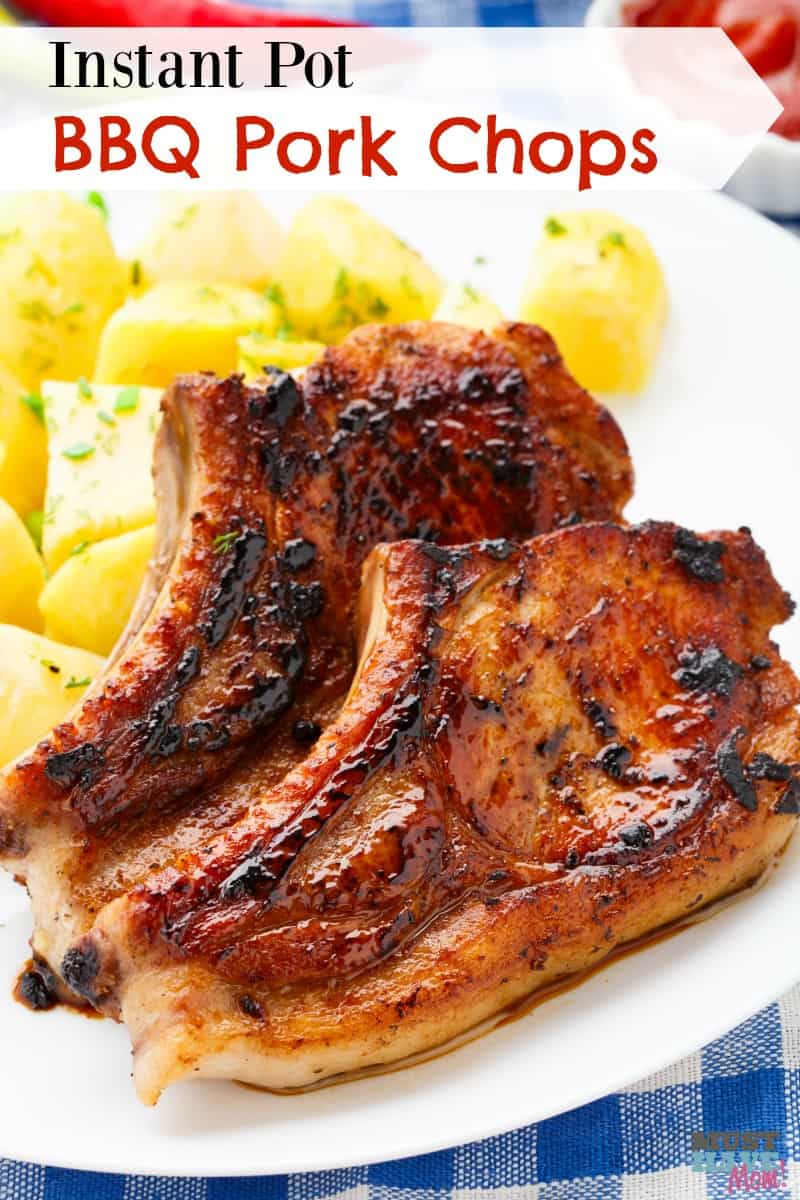 Instant Pot BBQ Pork Chops
I am notorious for planning out my weekly meals so my weeknights are organized and as effortless as possible. Every once in awhile though I'll forget to take meat out of the freezer and I'll have to work on the fly. Tonight we were supposed to be having BBQ ribs for dinner but I couldn't find them in my overly stuffed freezer. I found bone in pork chops instead and set those out to thaw. I knew I could make them amazing with my Instant Pot but I couldn't find a recipe for Instant Pot BBQ pork chops anywhere online!!! I knew I had to experiment and I wasn't expecting amazing results.
Much to my surprise and delight my pork chops turned out absolutely amazing!! They were fall off the bone tender and packed full of flavor. They were easily the most moist pork chops I have EVER eaten. With that in mind I knew I better share this amazing Instant Pot BBQ pork chops recipe ASAP! I can't be the only one struggling to find an amazing Instant Pot BBQ pork chops recipe!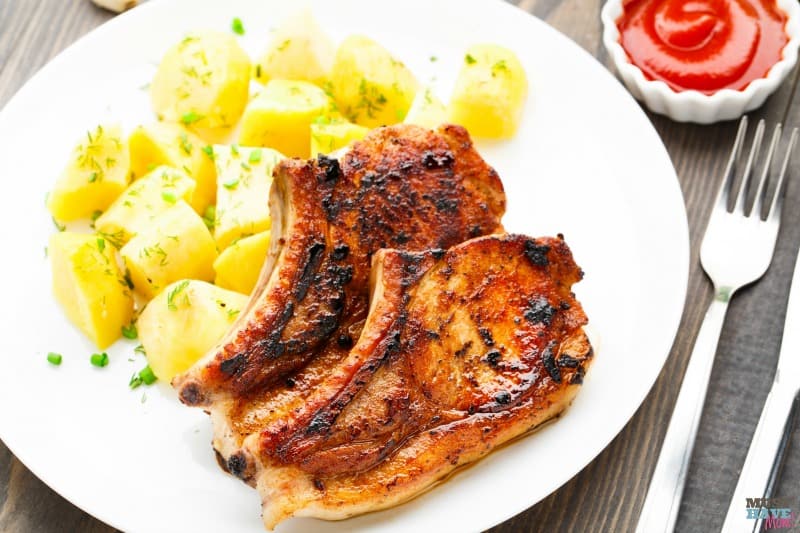 First I took 4 (mostly) thawed bone-in pork chops and seasoned them with Rub Some Butt BBQ Seasoning. I set my Instant Pot to saute and added 2 Tbsp olive oil and let it get hot. I then browned the pork chops on both sides, one at a time.
Once all pork chops are browned, remove final pork chop from pot and set aside. Add 1 1/2 cups chicken broth and scrape the bottom of the pot with a wooden spoon to deglaze your pot. Add the browned pork chops back to the Instant Pot. Add a squirt of your favorite BBQ sauce to the pot, but don't add much. This just adds in some flavor while they cook. I used Sweet Baby Ray's Sweet 'N Spicy BBQ sauce. *Note: since making these previously I had a look at the ingredient label on the Sweet Baby Ray's BBQ sauce and saw the first ingredient was high fructose corn syrup! We switched over to Annie's Spicy organic BBQ sauce instead and it tastes just as great without all the icky ingredients! We buy it from Thrive Market which offers it at an unbeatable price. Get 15% off your entire order and free shipping if you use my link!
Now turn off the Instant Pot to stop the saute function and then choose manual. Set it to 10 minutes. Ensure your pressure valve is set to "sealing". Now sit back and wait while your pork chops are cooked to falling apart perfection! If your pork chops are boneless or are completely thawed then reduce time by 2-3 minutes. If you are cooking more pork chops you don't need to adjust the time, but be sure you keep it below the "fill" line.
Once the Instant Pot completes the 10 minutes turn it off and allow it to naturally release pressure for 10 minutes. Then if you are in a hurry you can quick release any remaining pressure. Transfer the pork chops to a baking sheet and baste them in BBQ sauce. Place them under the broiler on high for 2-3 minutes until BBQ sauce gets caramelized and bubbly. Serve immediately and enjoy!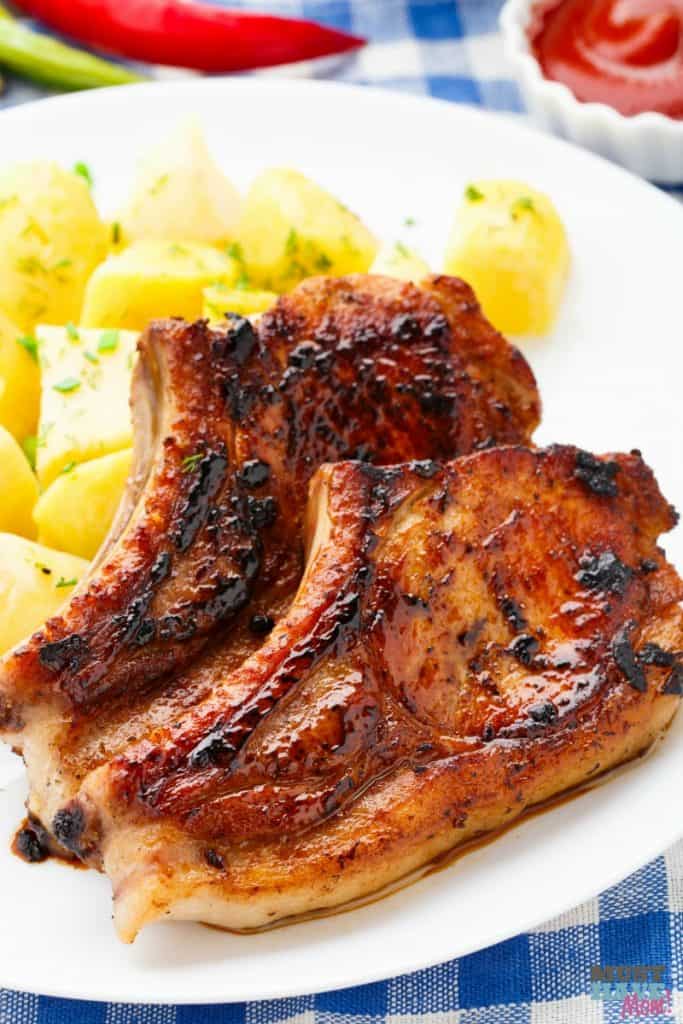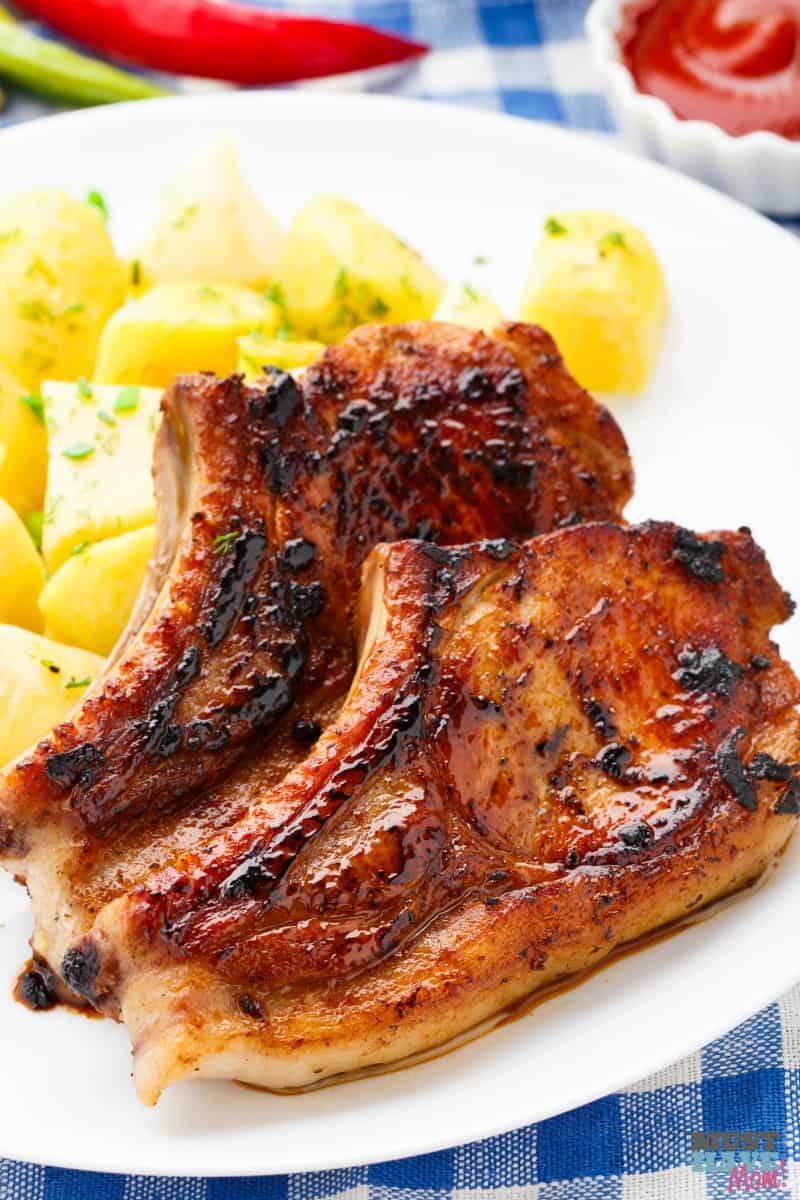 Print the Instant Pot BBQ Pork Chops Recipe: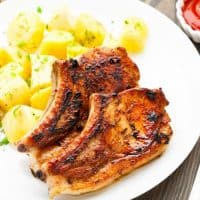 Instant Pot BBQ Pork Chops Recipe
Quick and easy Instant Pot pork chops recipe that delivers moist, tender pork chops that are packed with flavor!
Ingredients
4

bone-in pork chops

2

Tbsp

olive oil

Rub Some Butt BBQ Seasoning

or your favorite pork seasoning

Sweet Baby Ray's Sweet 'N Spicy BBQ Sauce or your favorite BBQ sauce

1 1/2

cups

chicken broth
Instructions
Season both sides of pork chop with your favorite pork seasoning (I use "Rub Some Butt BBQ Seasoning).

Turn Instant Pot pressure cooker to "Saute" option and add olive oil. Allow to get hot and then brown your pork chops on both sides, working them one at a time and removing them to a pan.

Once all pork chops have been browned add in chicken broth to pot. Use a wooden spoon to scrape the bits off the bottom of the pan.

Add pork chops back into pot, with chicken broth. Add a squirt (2 Tbsp or so) of BBQ sauce into the pot.

Place lid on and set the Instant Pot to "Manual" 10 minutes. Allow pressure cooker to count down and finish cooking, then turn it off. Allow pressure to naturally release. After ten minutes you may release any remaining pressure and remove lid. If you release pressure immediately it will dry out the pork chops so resist the urge to release pressure before 10 minutes have passed.

Remove pork chops and place them on a baking sheet. Baste with BBQ sauce and place under oven broiler on high for 2-3 minutes until caramelized and bubbly. Serve immediately.
Pin the Instant Pot BBQ Pork Chops Recipe:
Accessories For Your Instant Pot:
Instant Pot IP-DUO60 7-in-1 Multi-Functional Pressure Cooker, 6Qt/1000W

Instant Pot Tempered Glass Lid, Stainless Steel Rim, for 5 Qt/L or 6 Qt/L Models

Instant Pot Sealing Ring, Transparent White, for 5 Qt/L or 6 Qt/L Models

Instant Pot Inner Pot, Stainless Steel with 3 Ply Bottom, for 6 Qt/L Models

Instant Pot Electric Pressure Cooker Springform Cake Pan with Tempered Glass Base, Premium Non-Stick Silicone

Instant Pot Silicone Mitts (Set of 2), Mini, Red

Instant Pot Electric Pressure Cooker Long Handled Silicone Trivet, fits 5,6 or 8Qt models

The Instant Pot® Electric Pressure Cooker Cookbook: Easy Recipes for Fast & Healthy Meals

Instant Pot Cookbook: Easy & Healthy Instant Pot Recipes For The Everyday Home

Premium Vegetable Steamer Basket – 5.5-9.3

Rub Some Butt Carolina Style Barbecue Seasoning

Rub Some Butt Carolina Style Barbecue Sauce