Last week I took my favorite Italian sausage lasagna recipe and turned it into a spaghetti squash lasagna recipe and the end result was AMAZING. My kids actually said they liked it even more than traditional lasagna! Any recipe that I can add extra veggies to and take away carbs and still have my kids declare it better than the original version is a MAJOR winner in my book! I didn't originally plan on sharing this recipe here but after my family's over the top reactions, I just had to share it with you.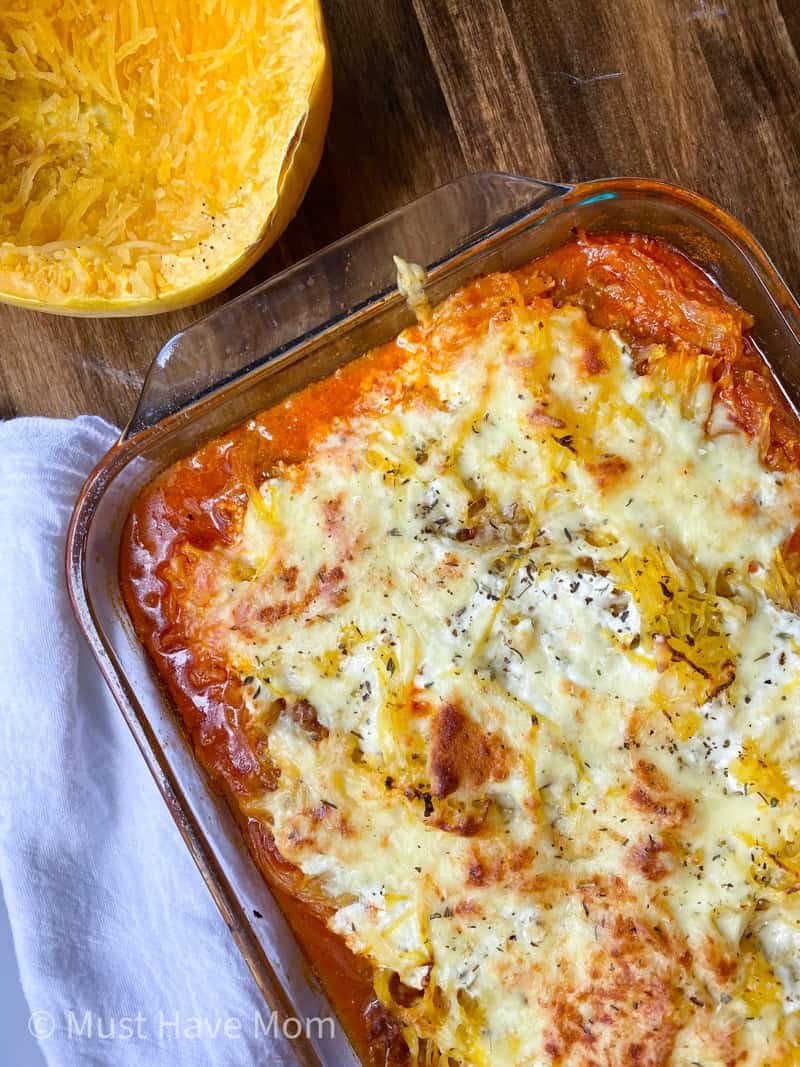 I love clean eating recipes that use ingredients from the garden. This recipe ranks right up there with my favorite green bean fries recipe and my favorite comfort food – lasagna soup!
Spaghetti Squash Lasagna
Spaghetti squash lasagna is like traditional lasagna but with spaghetti squash in place of the lasagna noodles. This fun substitute also makes it a gluten free lasagna that actually tastes good! I also always use Italian sausage in my lasagna to give it a flavor boost so this lasagna is doubly good! Like my kids, I also prefer the spaghetti squash version to the traditional pasta version! Shocker! I know. This is just that good!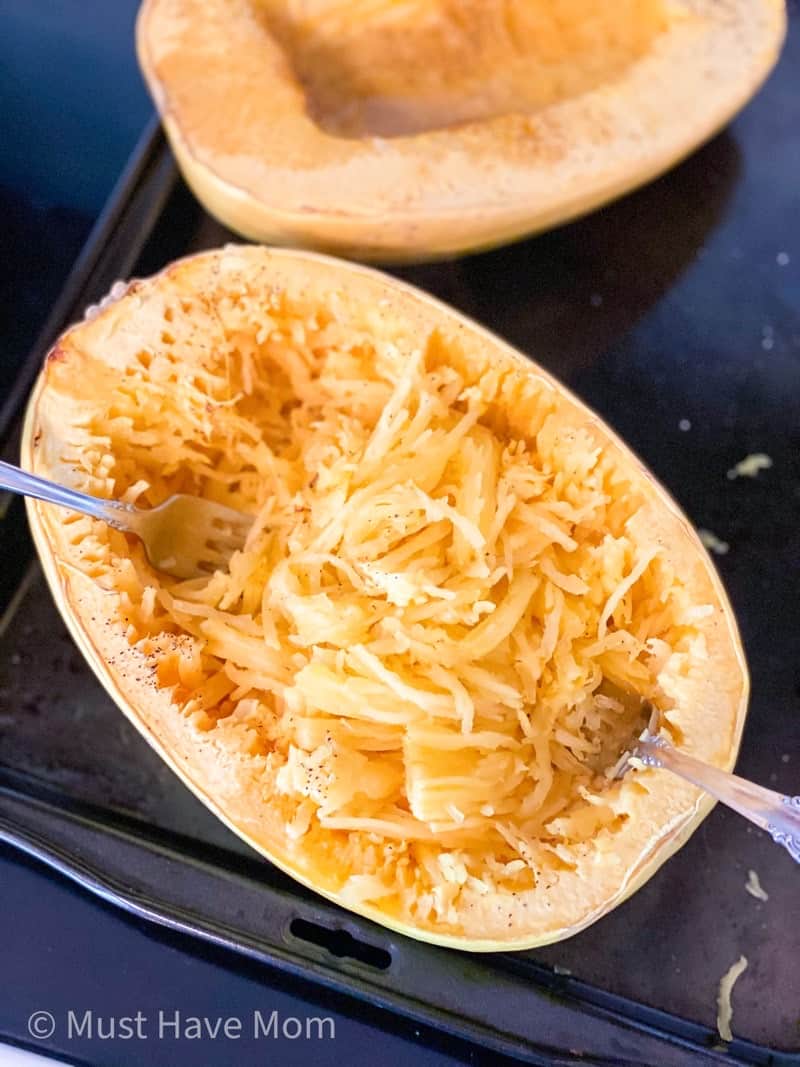 Do I cook the spaghetti squash before I make lasagna?
Yes! First, you'll need to roast the spaghetti squash in the oven with a little bit of olive oil and salt/pepper to taste. It takes about 40 minutes to get perfectly al dente spaghetti squash. Don't overcook it! No one wants mushy "noodles".
Use a very sharp butcher knife to carefully cut the squash in half. Scoop out the seeds in the center. Poke some holes in the squash (flesh side) with a fork. Place on a baking sheet and drizzle with olive oil. Sprinkle with salt and pepper and bake at 400  degrees for 40-45 minutes.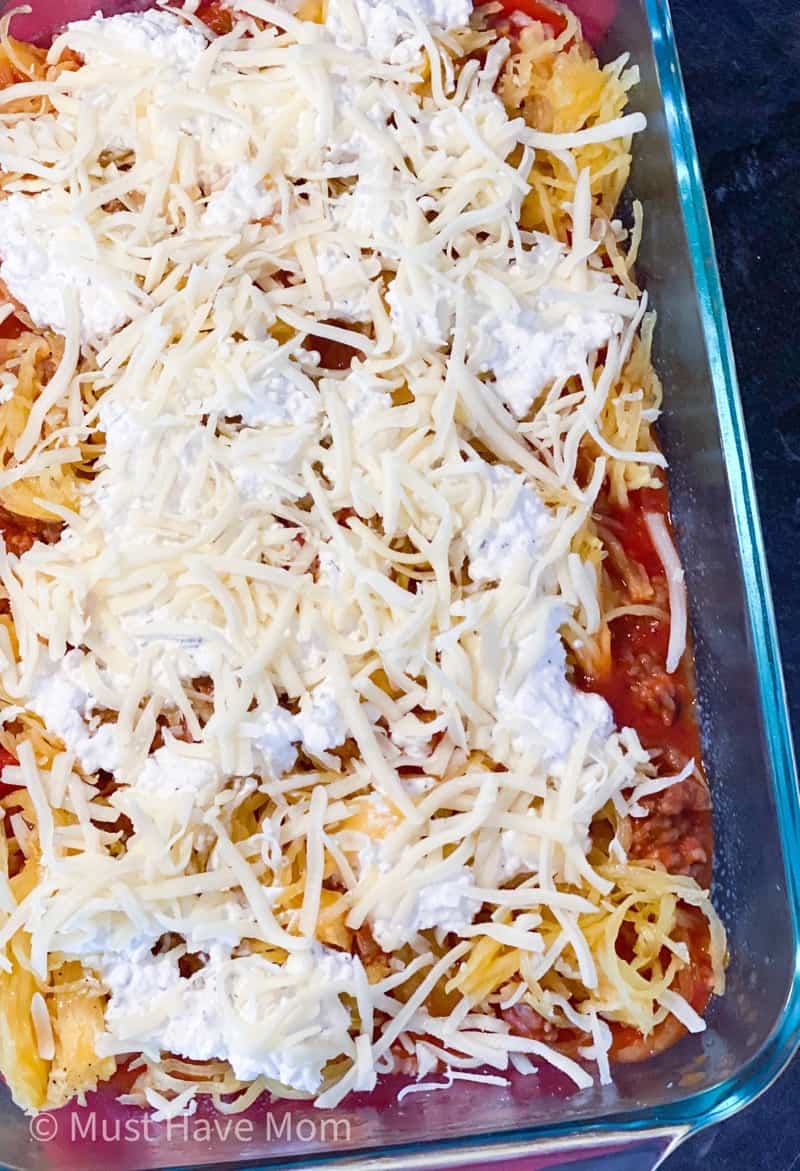 Once your squash has finished baking, take two forks and fuff out all the "noodles". You'll be using them to layer your lasagna bake.
Begin with a layer of the meat sauce mixture on the bottom. Add a layer of spaghetti squash "noodles" and then a cheese layer.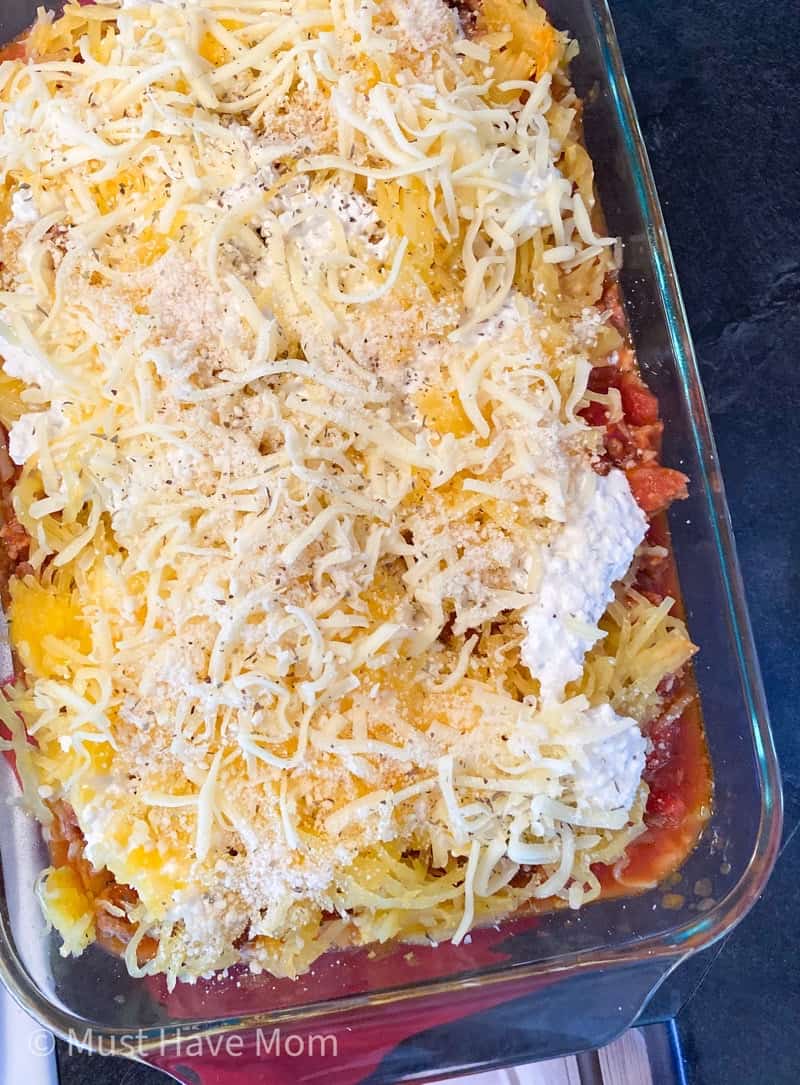 Continue to layer and top with mozzarella and parmesan cheese. Sprinkle with a little Italian seasoning if you'd like to make it pretty (and tasty).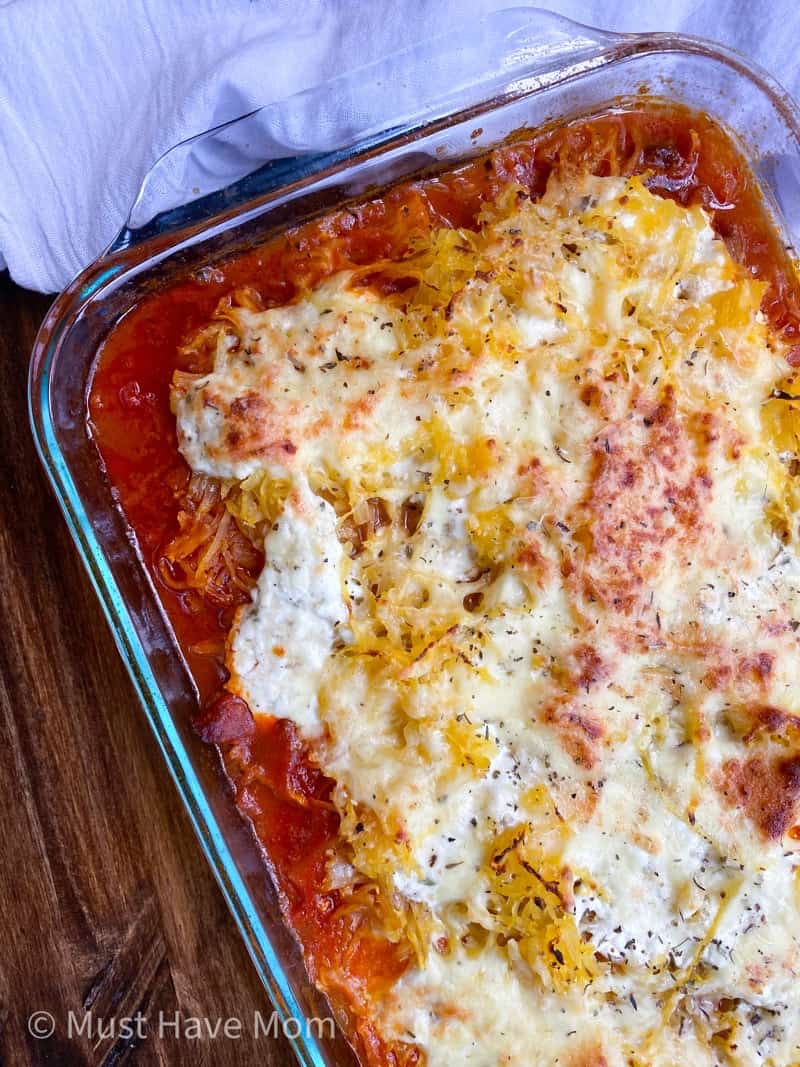 Then back in the oven it goes! You'll bake it until it gets bubbly and delicious (about 30 minutes).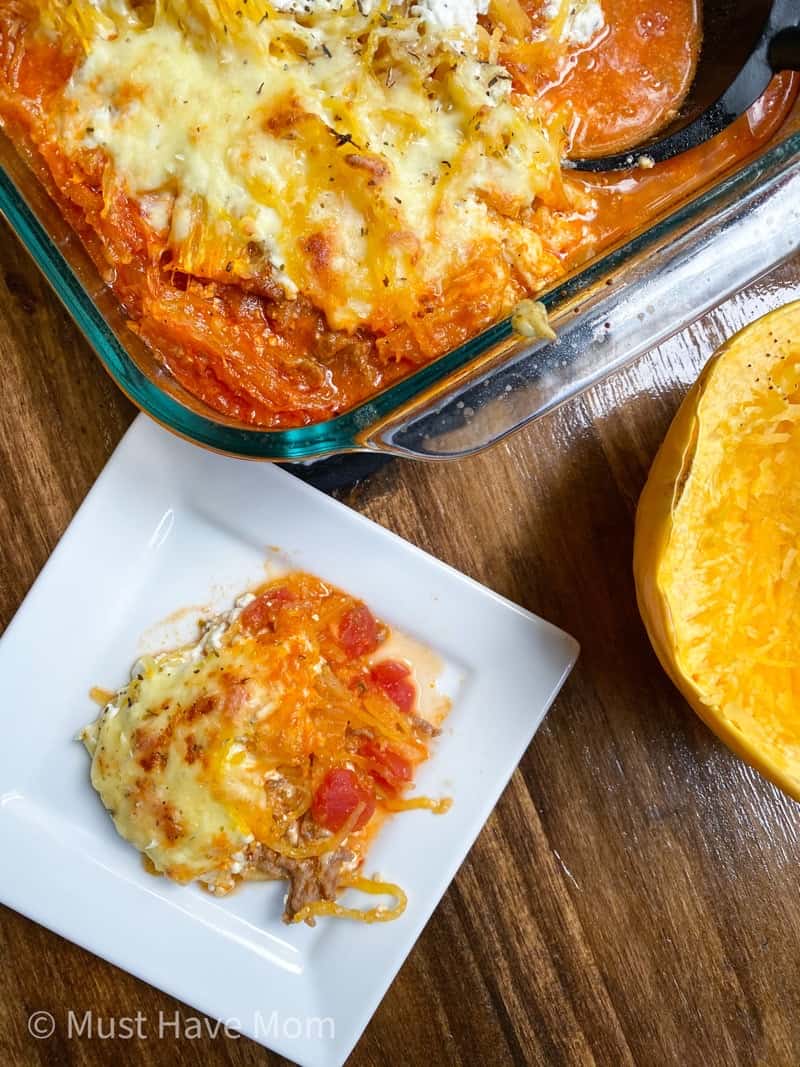 Once it comes out of the oven you can use a sharp knife to slice the cheese layer and use a big spoon to scoop out a hearty helping.
The great thing about spaghetti squash lasagna is that it is satisfying like comfort food while still being light! I easily eat two helpings and I rarely take two helpings of anything. This is so good that I can't help myself but since it is mostly veggies, it is light and doesn't leave me feeling bogged down later.
Spaghetti Squash Lasagna Recipe
Print the recipe below and add it to a binder so you always have it handy!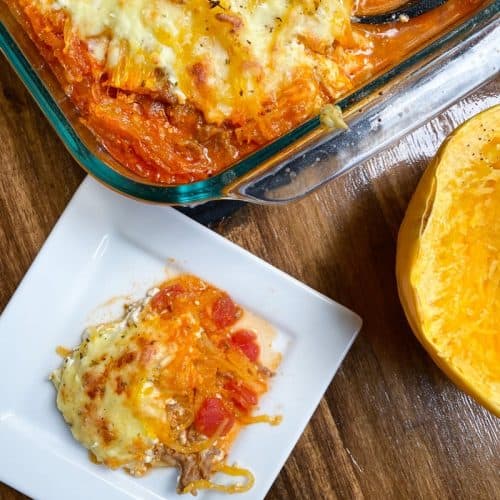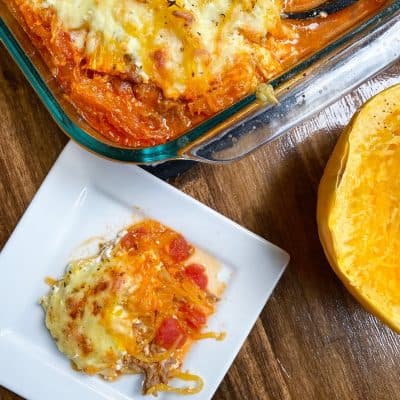 Spaghetti Squash Lasagna
Satisfying comfort food without the guilt! This gluten free lasagna uses spaghetti squash in place of noodles for hearty comfort food that is light and delicious. My kids even declared this better than traditional lasagna!
Ingredients
1

spaghetti squash

whole

olive oil

to taste

salt and pepper

to taste
For Meat/Sauce Mixture
1

lb

ground Italian sausage

mild

1

medium onion

diced

3

cloves garlic

minced

3

tbsp

fresh parsley

chopped, divided

1

tbsp

fresh basil

chopped

1

tsp

sugar

1

14.5 oz can

diced tomatoes

undrained

1

15 oz can

tomato sauce
For Cottage Cheese Mixture
1

16 oz container

cottage cheese

1/2

cup

Paremsan cheese

grated, divided

1.5

tsp

dried oregano

2

cups

mozzarella cheese

shredded
Instructions
Preheat oven to 400 degrees F.

Slice spaghetti squash in half using a large knife and carefully rocking it back and forth. Scoop out the seeds and strings using a spoon and discard. Pierce the flesh with a fork several times. Place on a baking sheet and drizzle with olive oil and sprinkle with salt and pepper. Bake at 400 degrees F for 40-45 minutes until al dente.

In a skillet over medium heat, cook Italian sausage, onion and garlic until no longer pink. Drain grease.

Stir in 2 tbsp of parsley, basil, sugar, tomatoes and tomato sauce. Heat to boiling, stirring occassionally. Reduce heat to low and simmer uncovered.

Mix cottage cheese, 1/4 cup of Parmesan cheese, oregano and remaining 1 tbsp of parsley in a medium bowl and set aside.

Once spaghetti squash is finished baking, remove from oven. Use two forks to fluff the squash out into "noodles". Repeat with other half.
Assemble Lasagna
In a 9x13" oven safe baking dish, spread 1/2 the sausage/sauce mixture on the bottom of the dish. Top with a layer of spaghetti squash. Spread half the cottage cheese mixture over the top. Sprinkle with 1/2 of the mozzarella cheese.

Repeat layers, ending with mozzarella and remaining 1/4 cup of Paremsan cheese. Sprinkle with Italian seasoning if desired.

Bake 30 minutes att 400 degrees F or until hot and bubbly. Remove from oven and slice. Use a large spoon to scoop out a hearty portion.
Pin Recipe