Instant Pot Garlic Mashed Potatoes
Need a quick and easy side dish? Instant pot garlic mashed potatoes are prepped and done in less than 30 minutes. And thanks to the Instant Pot, most of the cooking time can be spent getting other things ready. Everyone loves red skin mashed potatoes and thanks to the instant pot, I can have smooth and creamy mashed potatoes on the table in no time.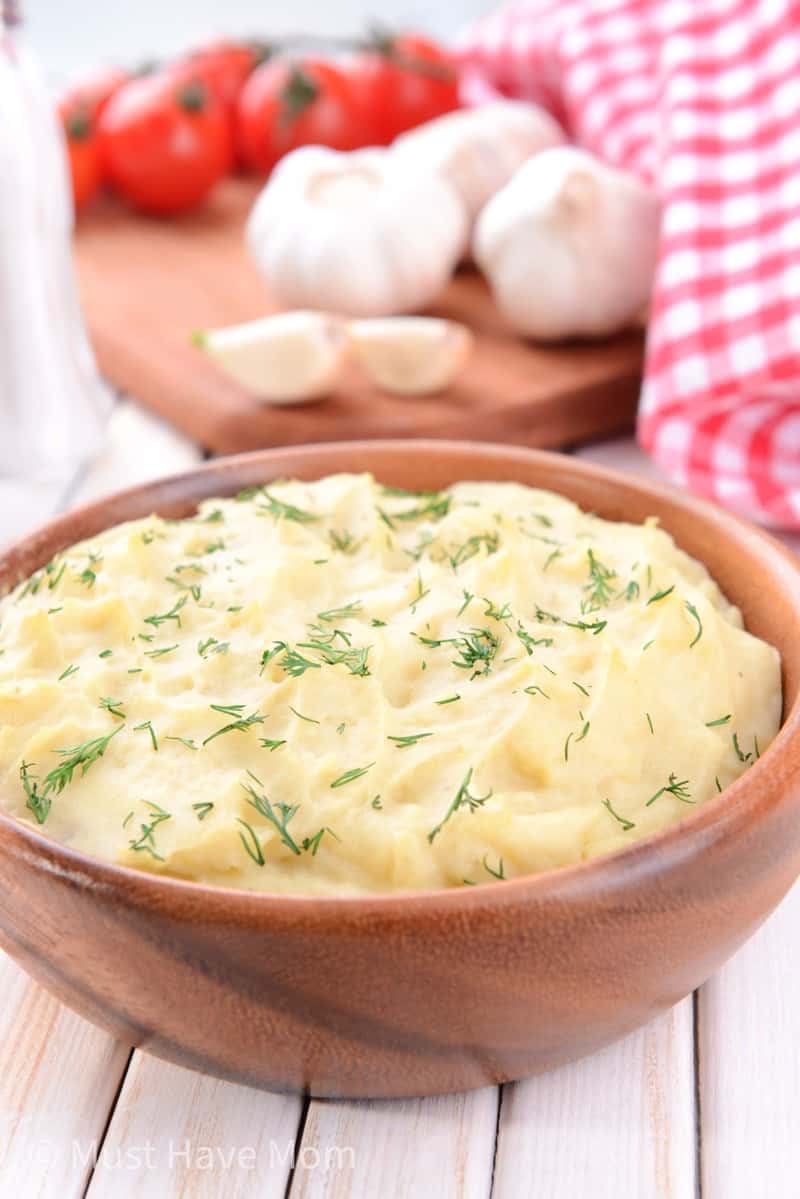 I love using my Instant Pot to make potatoes! It makes quick work of a task that normally takes a while. My first try at potatoes was this Instant Pot diced potatoes recipe. They turned out perfect and that got me thinking that the Instant Pot was the perfect way to make red skin mashed potatoes too!
If you are a big fan of potatoes then you'll definitely want to try out these loaded baked potato skins as well. They are SO delish. This sweet potato breakfast hash is a healthy choice for potatoes at breakfast and finally, this old fashioned potato salad will remind you of your grandma's recipe.
Red Skin Mashed Potatoes
Red potatoes are considered waxy, meaning they have more moisture and less starch than other potatoes. They are great for mashing because they are naturally smooth and creamy but if they are over mashed, they can become gluey faster than russet or Yukon gold potatoes.
Did you know that red potatoes contain fewer calories, carbs, and fiber than Russet potatoes? They also have slightly more vitamin K and niacin. Plus you don't have to peel them, making this an easy but healthier potato dish.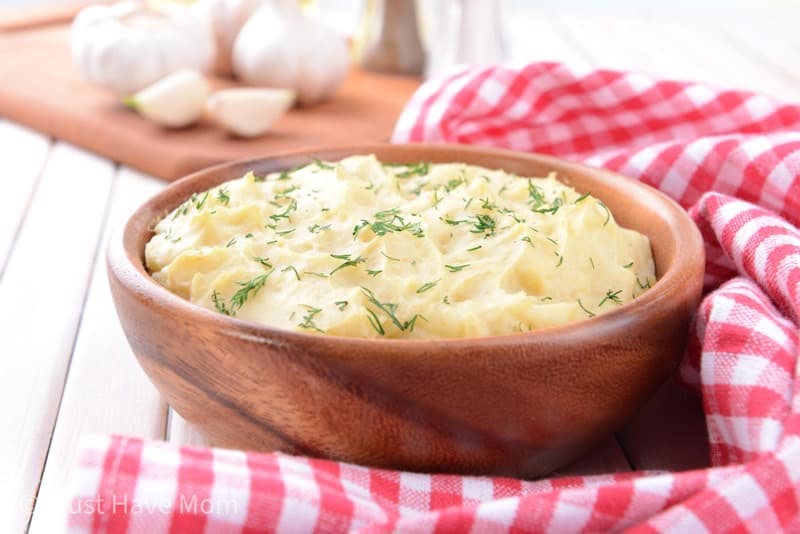 Instant Pot Mashed Red Potatoes
One of my favorite things about Instant Pot mashed red potatoes is you don't have to peel red potatoes. What a time saver! Their skins have a delicate flavor and are very thin and tender. They also add a pretty pop of color to any plate. If you can't find red potatoes you can also use Yukon gold potatoes as those do not need to be peeled either.
The secret to these ultra-smooth and creamy instant pot red mashed potatoes is cream cheese. You don't have to worry about over mashing. Just add in the cream cheese and blend. You will have perfect mashed red potatoes in no time.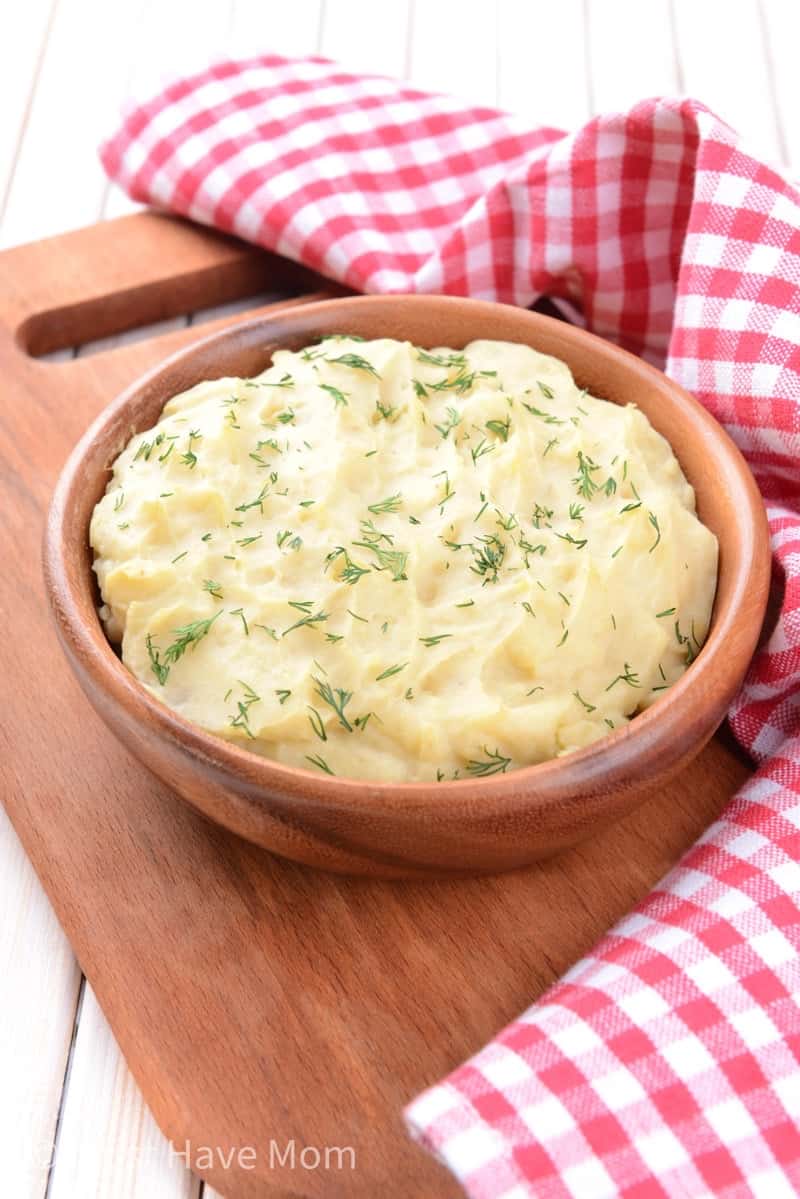 Mashed Potatoes Without Milk
These Instant Pot garlic mashed potatoes are made without any milk. There is cream cheese in them so if you are trying to make dairy free mashed potatoes then you'll want to use a dairy free cream cheese such as Daiya Cream Cheeze. Another alternative is Kite Hill cream cheese which is made with almond milk.
Print Instant Pot Garlic Mashed potatoes Recipe
Print the recipe below and add it to a binder to create your very own personal cookbook!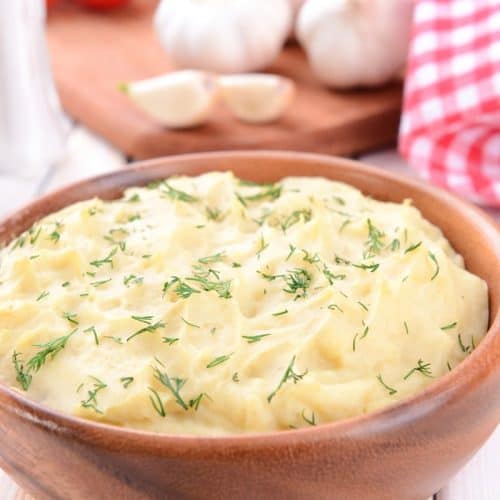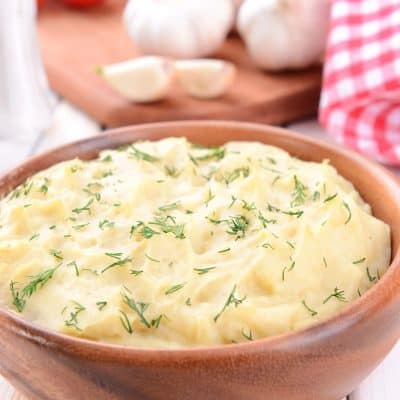 Instant Pot Garlic Mashed Potatoes
Easy garlic mashed potatoes in your Instant Pot! Use red potatoes or yukon gold potatoes.
Ingredients
2

lbs

red potatoes

washed and cubed

4

cloves

garlic

peeled and chopped

1

cup

chicken or vegetable broth

4

ozs

cream cheese

cut into chunks

sea salt and black pepper

to taste
Instructions
Place potatoes, garlic, and broth in Instant Pot®. Season with salt and black pepper, to taste. 

Add the lid and flip pressure valve to the "Sealing" position. Select the "Manual" option and adjust the setting to "high." Set cook time to 8 minutes. When finished, allow pressure to release naturally for 10 minutes, then do a quick release for any remaining pressure. 

Carefully open the lid and add cream cheese. Mash potato mixture with a potato masher or an immersion blender until blended, but not completely smooth. Season with additional salt and black pepper, to taste, and serve immediately.
Notes
For dairy free mashed potatoes substitute dairy free cream cheese such as Daiya or Kite Hill brands. 
Serve these mashed red potatoes alongside your favorite protein for a complete meal made in no time! Try our favorite Instant Pot BBQ pork chops or this Instant Pot Lemon and Garlic Chicken for a full meal in no time.
Can you freeze mashed potatoes?
I always was told that you cannot freeze potatoes because they turn black however mashed potatoes do tend to freeze well if you know this tip! To freeze mashed potatoes they must have fat included in the recipe in order to help them freeze well and have the same consistency when thawed. Since our recipe uses cream cheese this will be the fat they need to freeze well.
Cook your mashed potatoes as directed and allow to completely cool. Place in a freezer-safe container and freeze. Alternatively, you can drop them in 1 cup portions onto a cookie sheet and freeze them. Then, once frozen place into a gallon zip top bag.
They will last a few months in the freezer.
How long do mashed potatoes last?
Mashed potatoes should be stored in the fridge and will last 3-5 days. To prolong their life see the notes above and freeze them.
How to keep mashed potatoes warm
You can keep mashed potatoes warm by putting them in a double broiler on low on the stove. The steam from the pot below will keep the mashed potatoes warm. Alternatively, you can put them in a slow cooker with a little bit of butter, broth or cream on the bottom to help keep them from drying out. Stir once an hour and keep them on low/warm.
Pin Instant Pot Red Mashed Potatoes Recipe
We love it when you pin our recipes and it also helps you easily find them later!