This is a sponsored post written by me on behalf of Sargento. All opinions are 100% mine.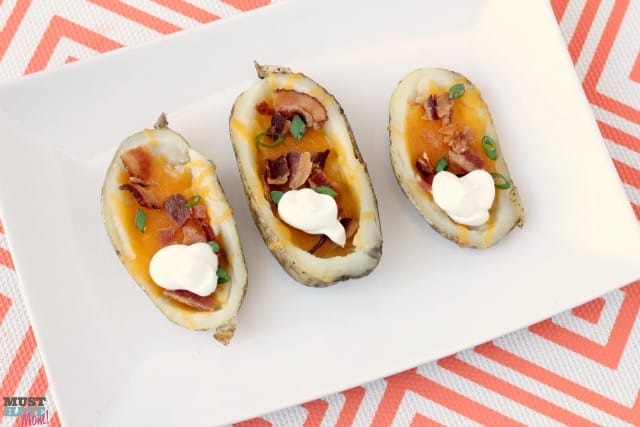 The big game is not too far away and I'm already busy testing out some game day recipes. These cheddar and bacon potato skins were a big hit at my house and they sure didn't last long on the plate! These are definitely a keeper. Crisp, salty potato skin paired with a thin layer of potato, melted cheddar cheese, crisp bacon, sliced green onions and a dollop of sour cream and you've got a winner on your hands! Want to make them for your game day party? Of course you do! I'll show you how step by step!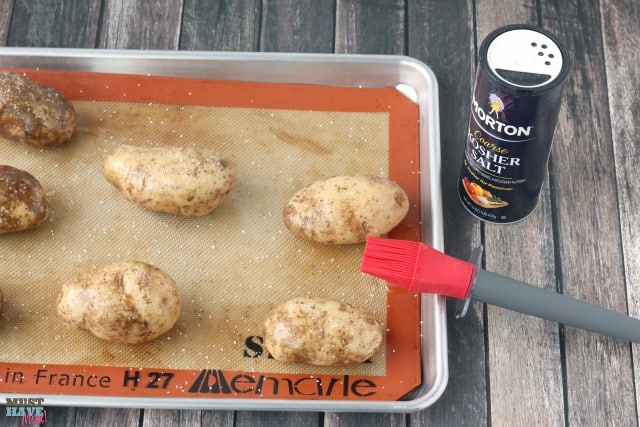 MY LATEST VIDEOS
To make these delicious potato skins you'll start off with 8 small russet potatoes which will yield you 16 potato skins. Brush each potato with canola oil and sprinkle it with coarse salt. Then bake them at 400 degrees F for 35-45 minutes until potatoes are tender and skin is starting to crisp.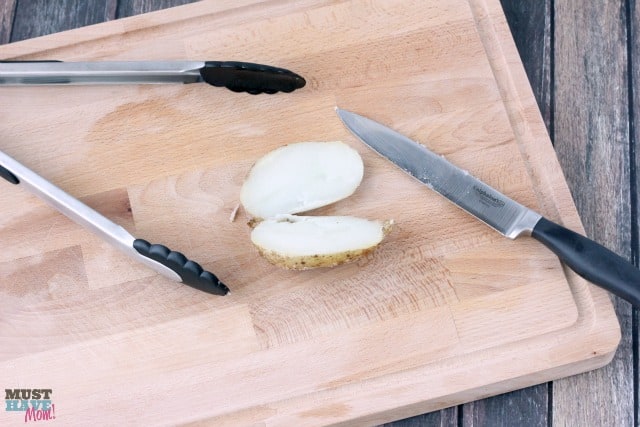 Next, using tongs to hold the potato, slice it in half lengthwise. Be careful, they are hot!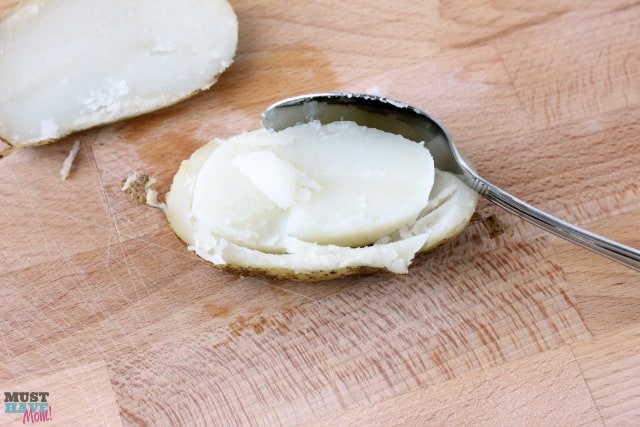 Now use a spoon to cut a rim around the edge of the potato. This will make it easier to remove the potato from the skin.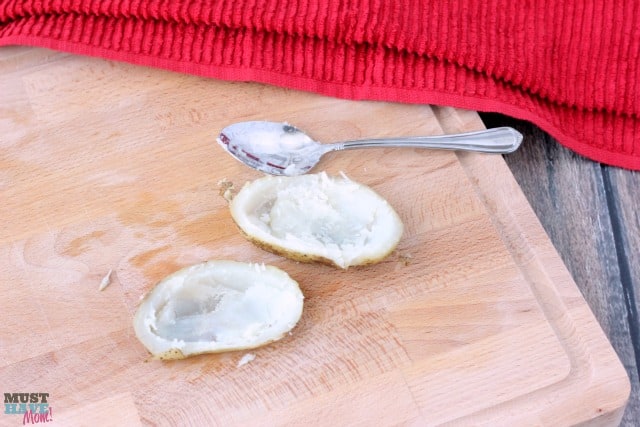 Now remove the majority of the potato, leaving a thin layer of potato behind. Be sure to save the scooped out potatoes for another dish! Can you say easy mashed potatoes?!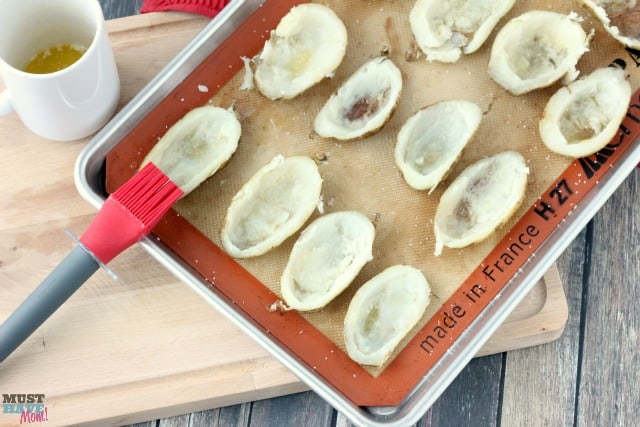 Now return the potato skins to the pan and brush them with butter. Increase the oven temperature to 425 degrees F and bake them for about 3 minutes. Then turn them over, brush the other side with butter and bake another 3-4 minutes until the skin is crisp.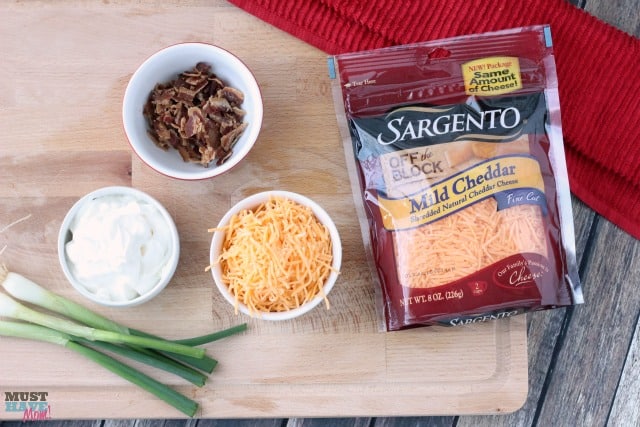 Now you'll need toppings! The best part!! You really can customize these any way you like by adding whatever toppings you choose. For these you will need Sargento Mild Cheddar (fine cut), cooked bacon that has been crumbled, green onions (sliced) and sour cream (or sub greek yogurt for a healthier version).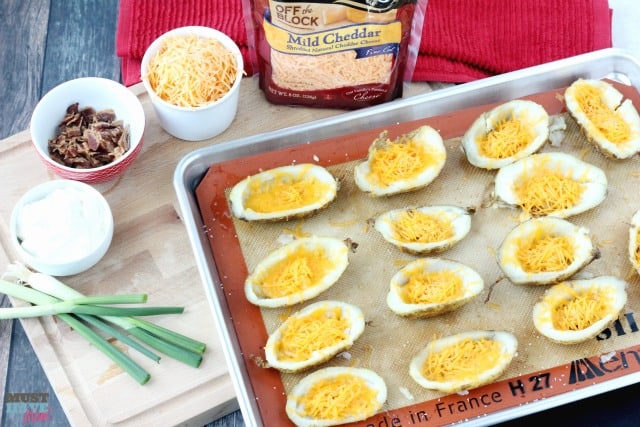 When you remove the potato skins from the oven return them to face right side up. Fill each one generously with cheese. Return to oven just until cheese melts.
One thing I love about these potato skins is that you are getting restaurant quality food that you've prepared fresh. They don't contain any artificial ingredients and you know exactly what goes into making them. When choosing what cheese to put in them there is a specific reason I picked Sargento. Real Cheese People know that real, natural cheese makes all the difference. No artificial ingredients here. Sargento is known for the best and most unique cheese blends, from 4 State Cheddar to 6 Cheese Italian, which help home cooks get even more creative in the kitchen. Plus Sargento shredded cheese is cut off the block, every time!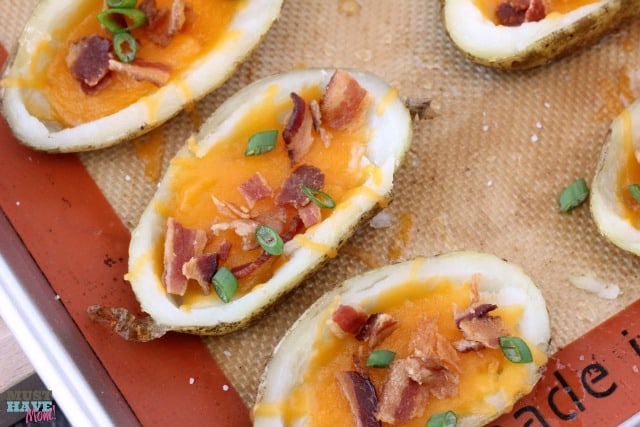 Remove from oven and add bacon, sliced green onions and sour cream!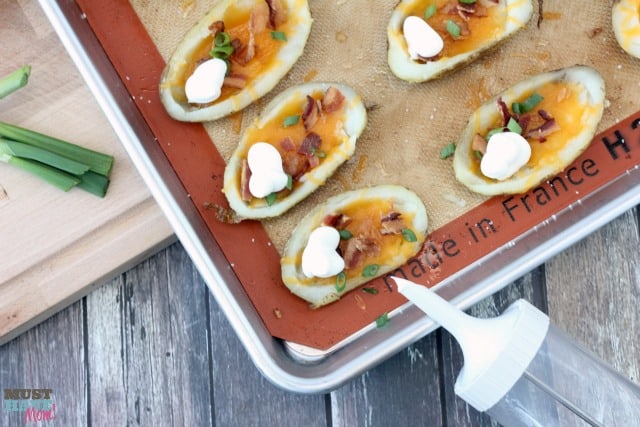 I used a frosting gun to pipe my sour cream onto them. You can also put it in a sandwich bag and snip the corner or just dollop it on with a spoon!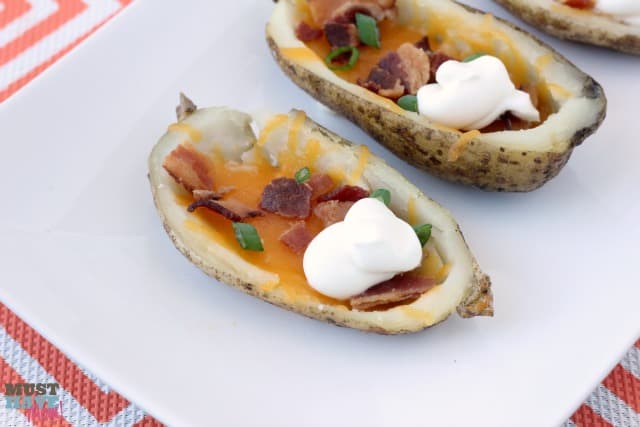 Serve immediately while hot!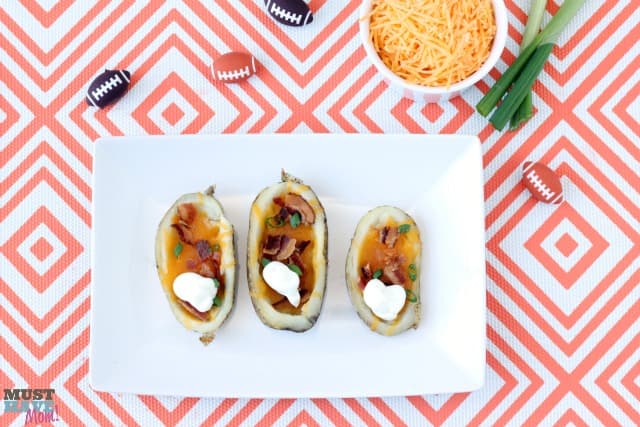 Of course presentation is everything so make sure you decorate your game day table with some mini footballs!
You can print off the recipe below. Be sure to also pin it on Pinterest and share it on Facebook for easy finding later!
Sarah | Must Have Mom
Yields 16
Cheddar & Bacon Potato Skins
Delicious appetizer that is perfect for game day!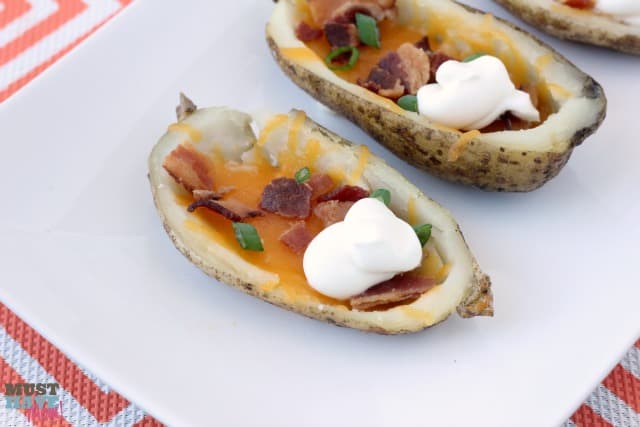 Ingredients
8 small russet potatoes, washed and scrubbed
4 Tbsp canola oil
coarse salt to taste
2 Tbsp melted butter
1 1/2 cups Sargento shredded cheddar cheese
8 slices thick cut bacon, cooked crisp and diced
2 green onions, sliced
1/3 cup sour cream (or sub plain greek yogurt)
Instructions
Preheat oven to 400 degrees F.
Place the potatoes on a baking sheet and brush the potatoes with canola oil. Sprinkle each potato with coarse salt. Bake for 35 to 45 minutes until the potatoes are tender when poked with a fork and the skin is starting to crisp.
Slice the potatoes in half lengthwise and use a spoon to cut a rim around the edge of each half. Then scoop out the insides, leaving a thin layer of potato behind. *Tip: Use the scooped out potatoes for another meal!
Raise the oven temperature to 425 degrees F.
Brush the inside of each potato with melted butter and place them back in the oven for 3 minutes.
Then flip potato halves over. Brush the other side with butter and bake an additional 3-4 minutes until crisp.
Remove potatoes from oven and fill the halves with a generous portion of Sargento shredded cheddar cheese.
Place them in the oven until the cheese melts then remove from oven.
Sprinkle them with chopped bacon, sliced green onions and then add a dollop of sour cream.
Serve immediately.
7.6.7
308
https://musthavemom.com/cheddar-bacon-potato-skins-recipe/