Instant Pot Lemon and Garlic Chicken Recipe
This pressure cooker chicken recipe is one of my family's favorite weeknight meals! It's a favorite Instant Pot recipe of mine because it allows me to get dinner on the table in just 25 minutes! This Instant Pot whole chicken comes out of the pressure cooker falling off the bone! It's juicy and packed with lemon and garlic flavor.

One of my son's is a very pick eater and this is at the top of his favorite dinner recipes list! It's super easy to make too! This recipe is a family favorite, along with this Instant Pot BBQ Pork Chops recipe! It only has 6 ingredients too! If you want to make this Instant Pot chicken recipe then here are the supplies you'll need, order them NOW so you have them ready for this week's meal plan!
Pressure Cooker Chicken Supplies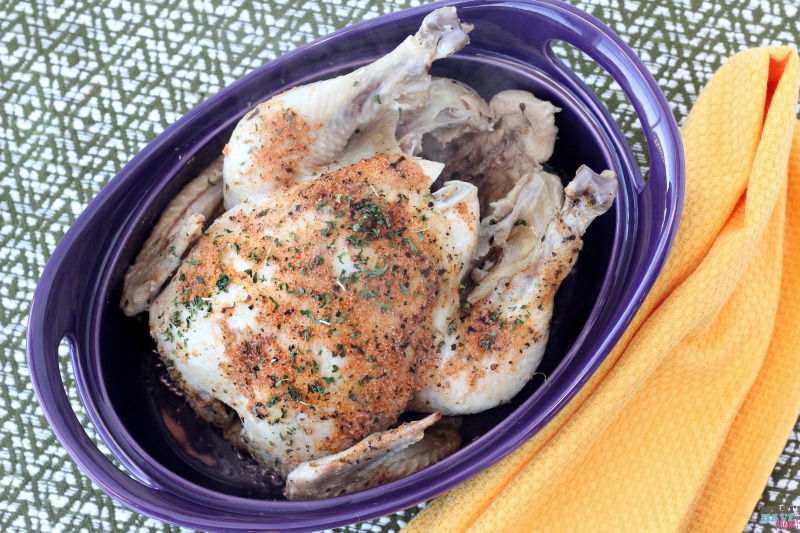 Pressure Cooker Chicken Recipe
Begin by rubbing Flavor God Lemon Garlic seasoning all over the outside of the chicken. We LOVE Flavor God seasonings because they have NO additives, are low in salt and are non-GMO! They are my go-to seasonings because they have TONS of different flavor combos!
Turn the Instant Pot on to "Saute" and add organic coconut oil. Heat until melted and add the chicken, breast side down and sear until browned. Then flip the chicken over and add organic chicken broth, lemon juice, garlic cloves and sprinkle chicken with parsley. I did not use the trivet when I cooked my chicken because I like it to sit in the broth and really soak up the flavors. It has not ever burned to the bottom of the pot by doing this. Do whichever way you wish, with or without the trivet will work!
Lock the pressure cooker lid and ensure the valve is turned to sealing. Now set the Instant Pot for manual 25 minutes on high. Once the pressure cooker finishes cooking let the pressure release naturally. This usually takes 15 minutes or so. I love this pressure cooker chicken recipe because I can put everything in the pot and walk away! No standing over a stove cooking.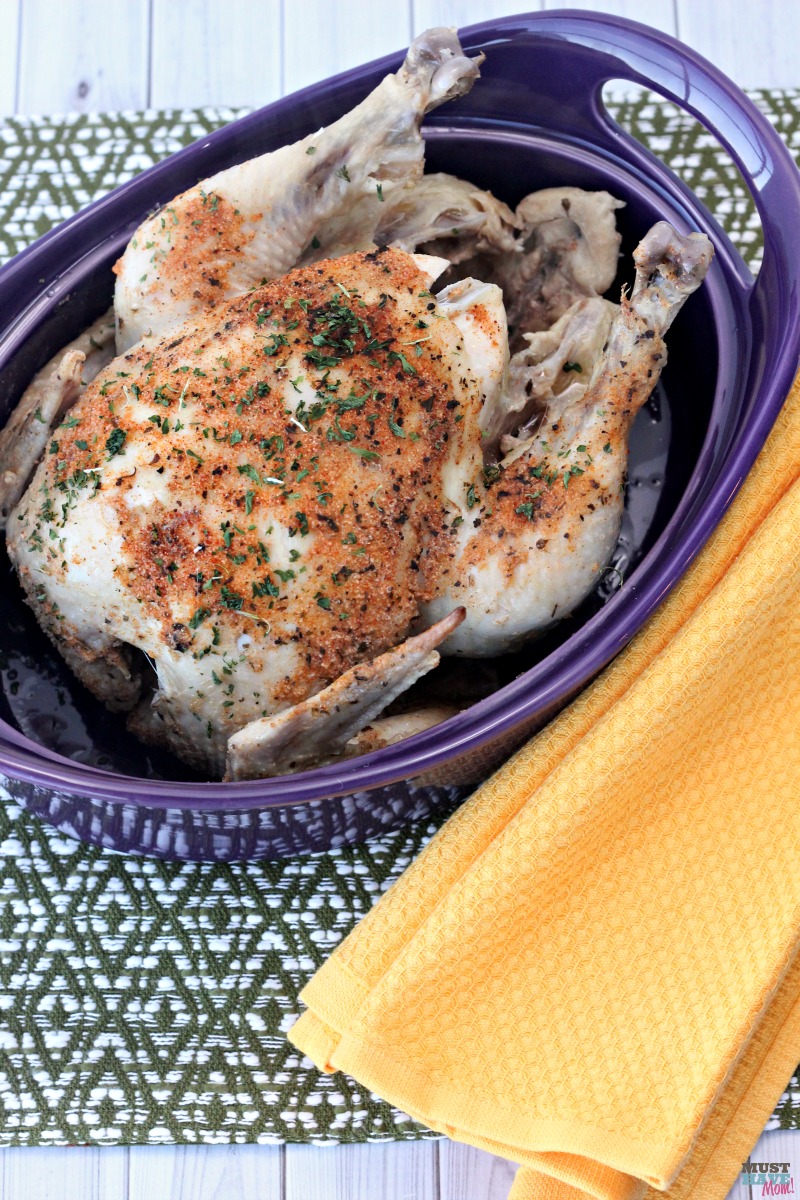 Remove chicken from Instant Pot and let rest for 5 minutes before carving. I love serving my pressure cooker chicken in my favorite Rachel Ray casserole dish. It makes for a pretty presentation at dinner parties and wows the guests! Plus you can cut it right in the dish.
DON'T toss your remaining broth and bones! We will use this afterwards to make an amazing pressure cooker chicken stock! Save the broth and bones (just leave what's in the pot there and save the bones after dinner). I'll be sharing my Instant Pot chicken stock recipe in an upcoming post so be sure to subscribe to my email newsletter (top of the page) to get that recipe delivered to your inbox!
Print the Pressure Cooker Chicken Recipe below!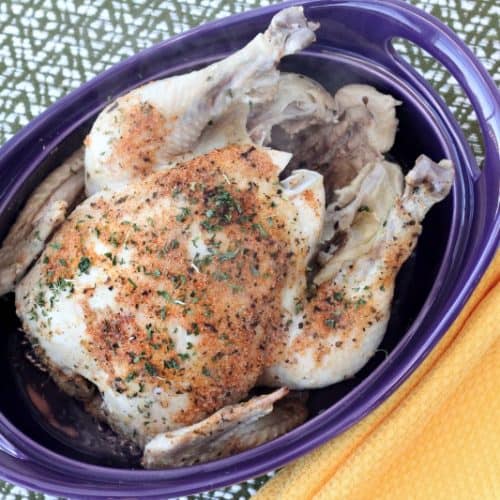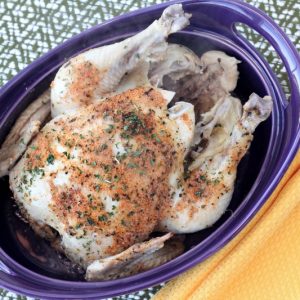 Instant Pot Lemon and Garlic Chicken Recipe
Delicious, fall-off-the-bone whole chicken that is bursting with lemon garlic flavor and done in just 25 minutes!
Ingredients
1 4

lb

whole chicken

Flavor God lemon garlic seasoning

1

tablespoon

organic virgin coconut oil

1 1/2

cups

organic chicken broth

2

tablespoons

lemon juice

6

cloves

garlic

peeled

2

tablespoons

parsley
Instructions
Begin by rubbing the chicken with Flavor God lemon garlic seasoning. Be sure you have removed the giblets from inside the bird first!

Turn Instant Pot to "Saute" mode and add coconut oil. Once melted add chicken, breast side down and sear for a couple minutes until browned. Flip chicken over and add broth, lemon juice, garlic cloves and sprinkle parsley over chicken. *You may use the trivet or cook the chicken right in the broth for maximum flavor. With or without the trivet works.

Turn Instant Pot to "Manual" mode and set for 25 minutes on high. Be sure valve is set to "sealing". Once pressure cooker finishes cooking, allow to release pressure naturally.

Remove chicken from pressure cooker and let stand for 5 minutes before carving.
We love when you pin our recipes to pinterest and share them on Facebook using the social share icons above and below this post!
 Our Favorite Instant Pot Accessories!