Indoor Activities For Kids
These indoor activities for kids are exciting and inexpensive! Make your own DIY nerf targets using your Cricut Maker and set them up around the house to have exciting nerf competitions collecting the most points. Who will win?!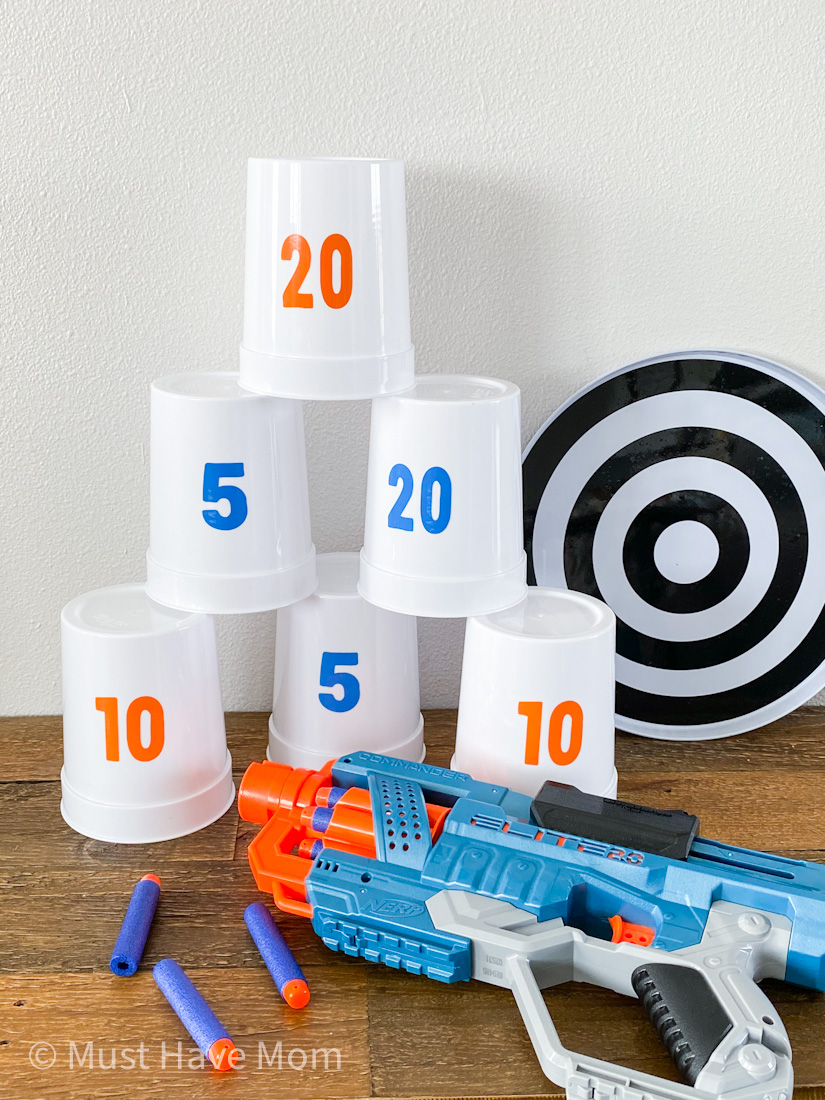 My kids have been indoors more than usual thanks to our long Minnesota winters and a cold snap that made it dangerous to even go outside (-50 degree temps!). That got my wheels turning in an effort to keep them occupied and cut down on the bickering. Have you ever noticed how kids bicker more when they are bored? Yes, it's true! This activity was just what we ALL needed and turned out to be a TON of fun! Grab your nerf guns and let's get started!
DIY Nerf Targets
You can use items you have around the house for this fun indoor activities for kids idea or you can take a trip to the dollar store and grab a few items. Either way, it's inexpensive and TONS of fun! We made several different targets using everything from tin stove burner covers to plastic cups and even a muffin tin! I'll show you each of them, along with instructions to make your own.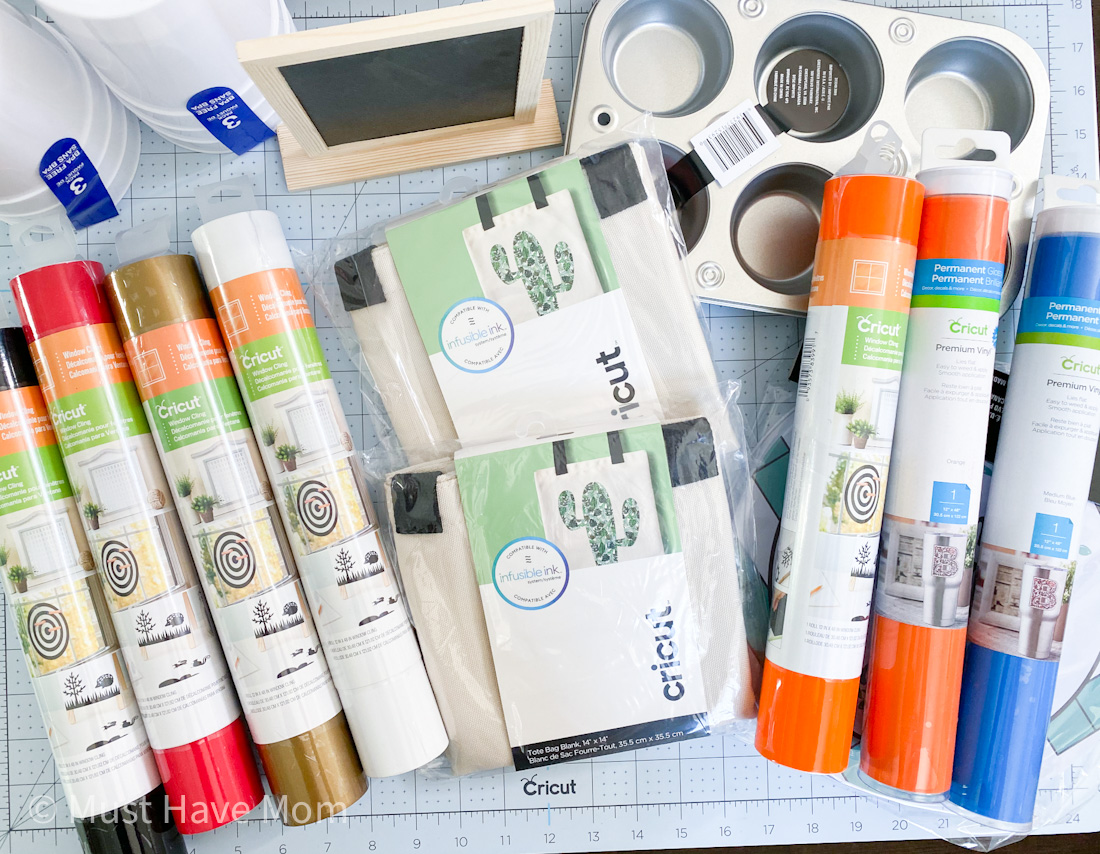 For these projects, we used various materials. You don't need to get all of them unless you plan on making all of the DIY Nerf targets and don't forget to use what you have at home already too! Here are the supplies we used: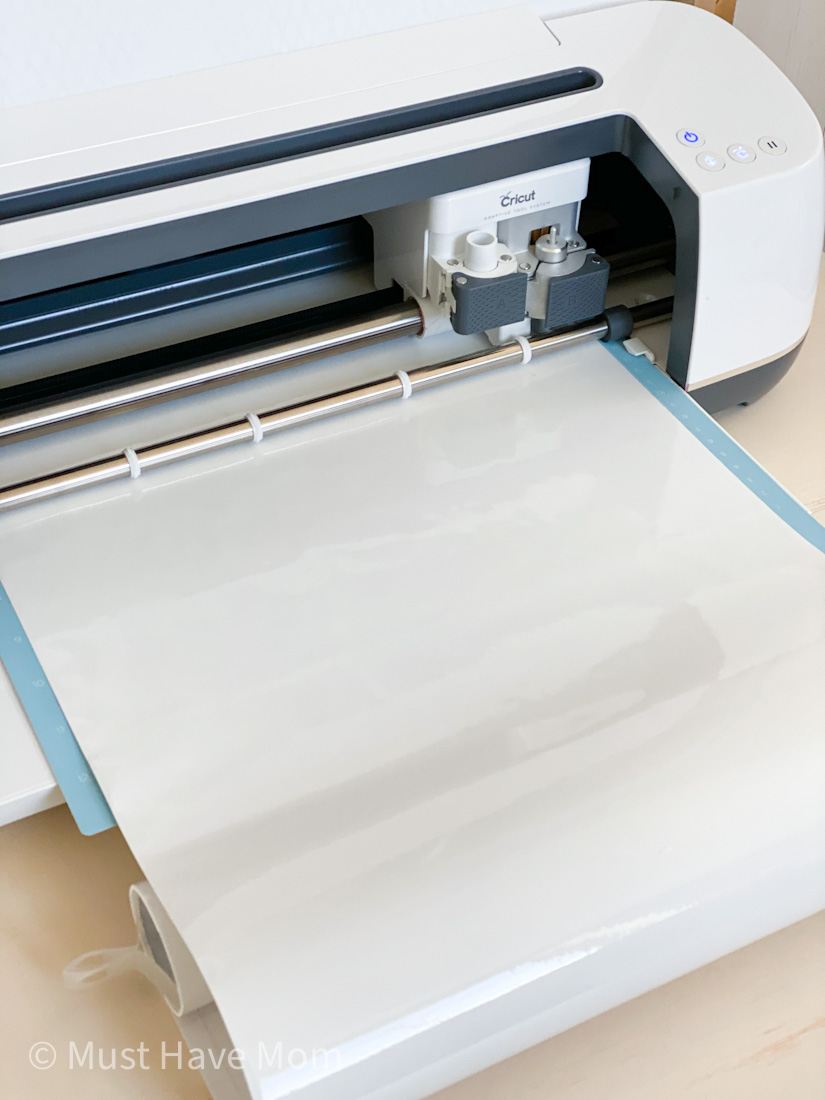 Nerf Window Cling Target
Making your own DIY nerf targets that cling on the windows is SO easy. I love Cricut's window cling! It's really easy to work with and I love that we can put it up and take it down over and over again so we get lots of use out of these targets!
You'll need black and white Cricut window cling for this target project. You can use the free design file in Design Space by searching "target". Add the window cling target to your canvas and create it. Start by putting the window cling shiny side up on your Cricut mat and following the steps in Design Space.
You will cut the large circle of white window cling first.
Then, you will cut the bullseye rings of the black window cling.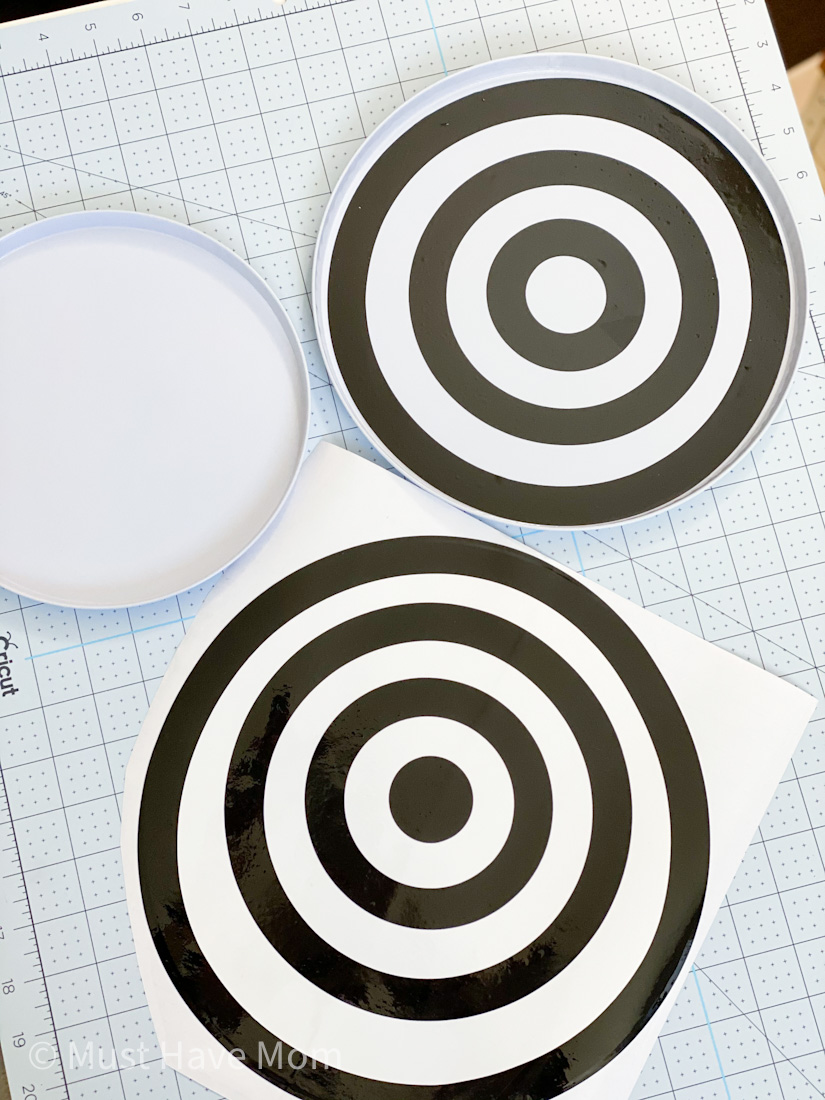 After they have finished cutting, remove the black rings and place them over the circle of white window cling to create a target. I then used the leftover black rings on my tin burner covers. They cling to the metal perfectly and by doing this nothing goes to waste and you've now created 2 targets from 1 cut!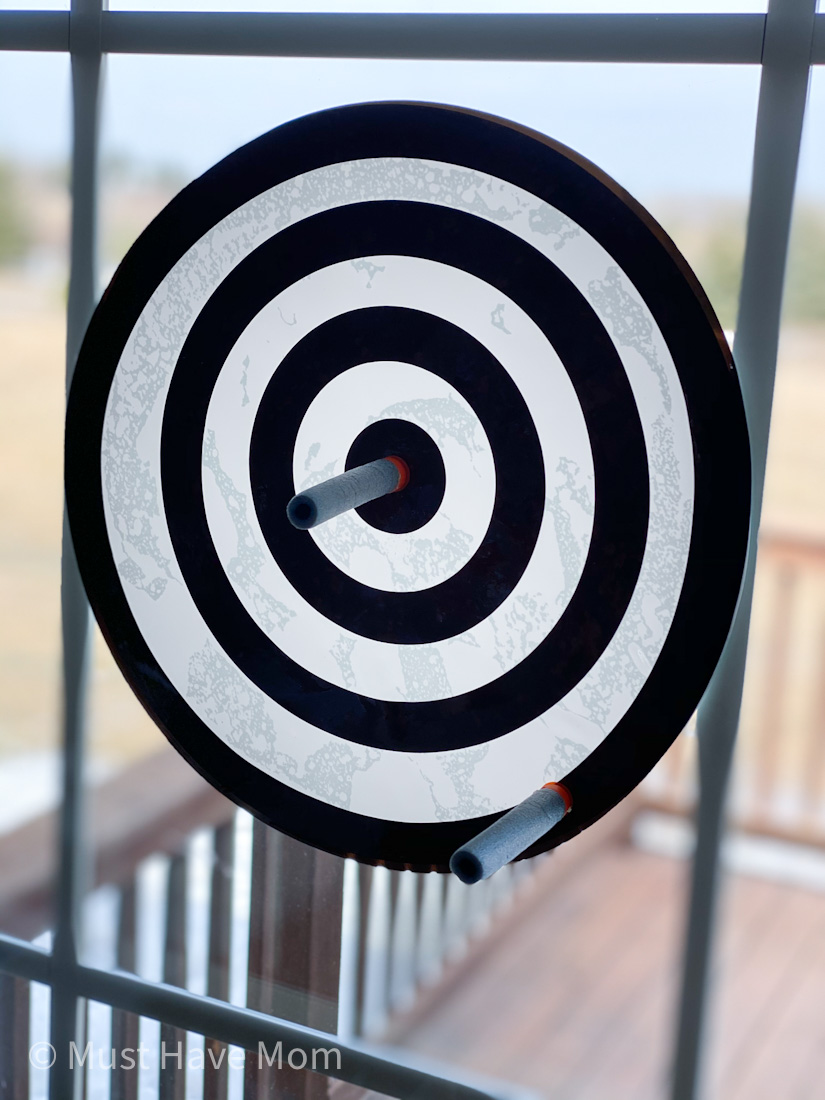 Make sure you save the paper backing when you apply the window cling to the window so you can place it back on the paper when you want to take the target down. You can use it over and over again! Use the suction cup darts to stick to the window. Indoor activities for kids should always include window clings! They are so fun.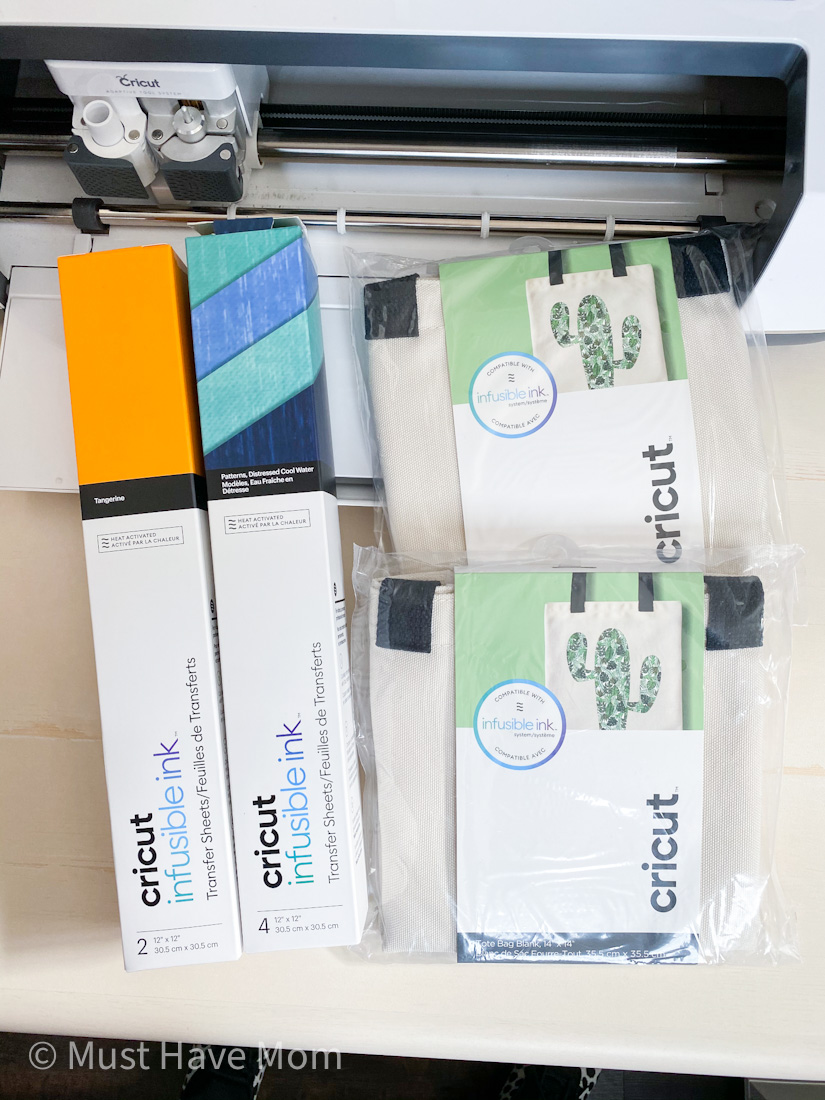 DIY Nerf Ammo Bag
For my next project, I made my own Nerf ammo bags for the kids to hold all of their darts. They had been using cardboard boxes before this and it definitely was not cutting it! These bags are perfect because they can store the darts in them when they aren't using them and they can sling it over their shoulder during a Nerf gun war so they have darts close at hand to refill their guns!
You'll need Cricut Infusible Ink and the Cricut Infusible Ink tote bag blanks for this project. We also made a smaller zipper pouch too using the Cricut cosmetic bag blanks.
Use the free Design Space file here and load it onto your canvas.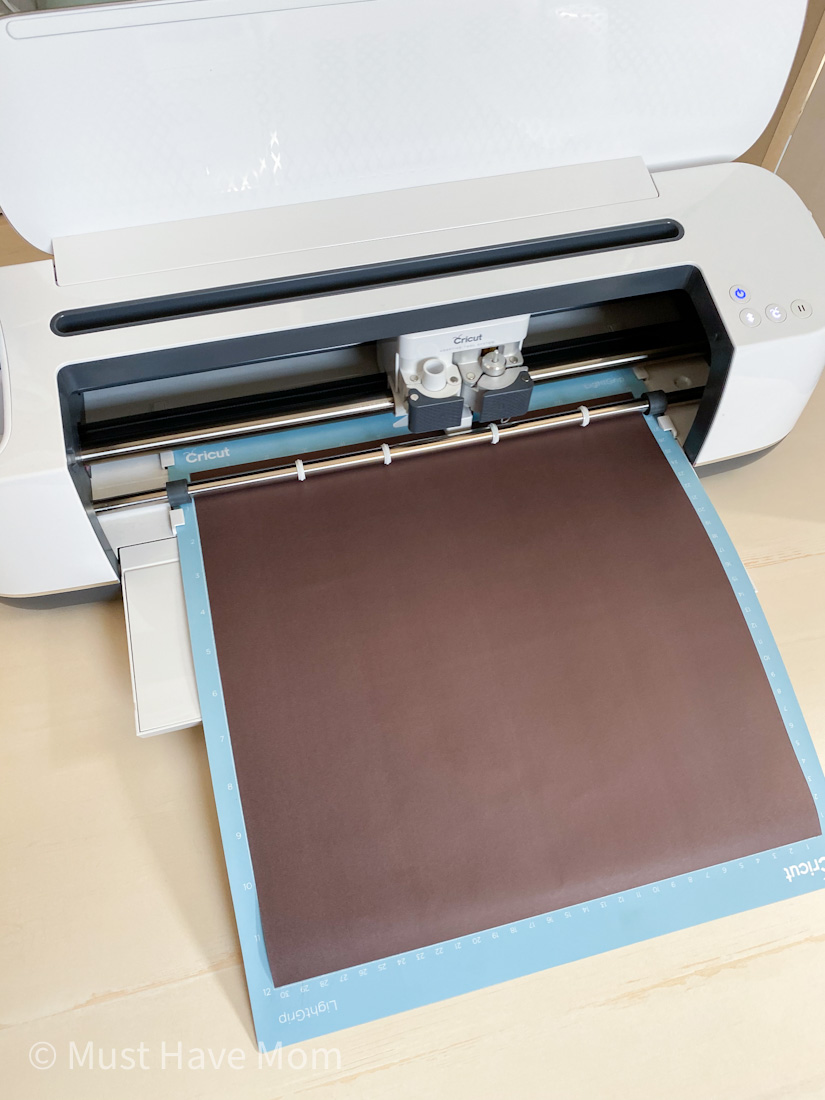 You'll need one color of Infusible Ink for your target and another for your words, "Ammo Bag". I went with what I had on hand! Let your kids pick their favorite colors. It doesn't matter what color you use.
Cut the Infusible Ink color side facing up. Be sure to mirror your words!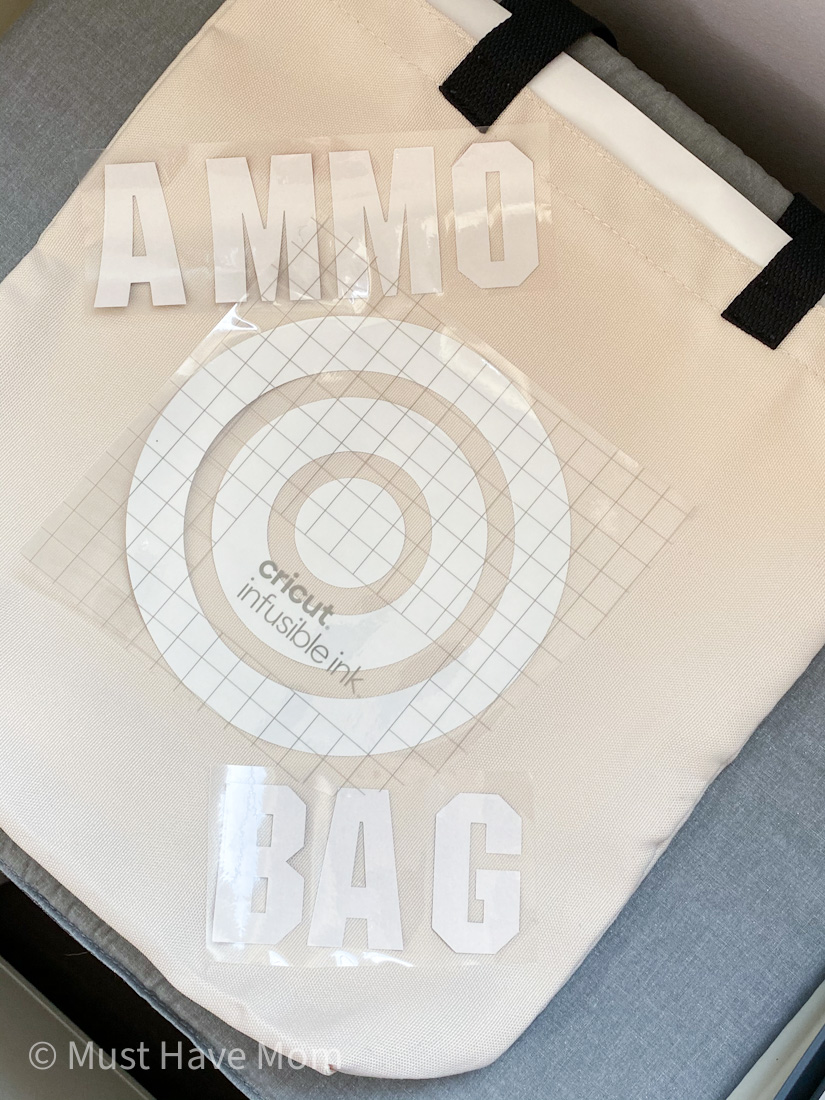 Follow my step-by-step guide on how to use Infusible Ink in order to apply the ink to your tote bag and cosmetic bag. You'll want to place your Infusible Ink where you want it with the color side down (white side facing up). Then cover with butcher paper and press at 385 degrees F for 40 seconds.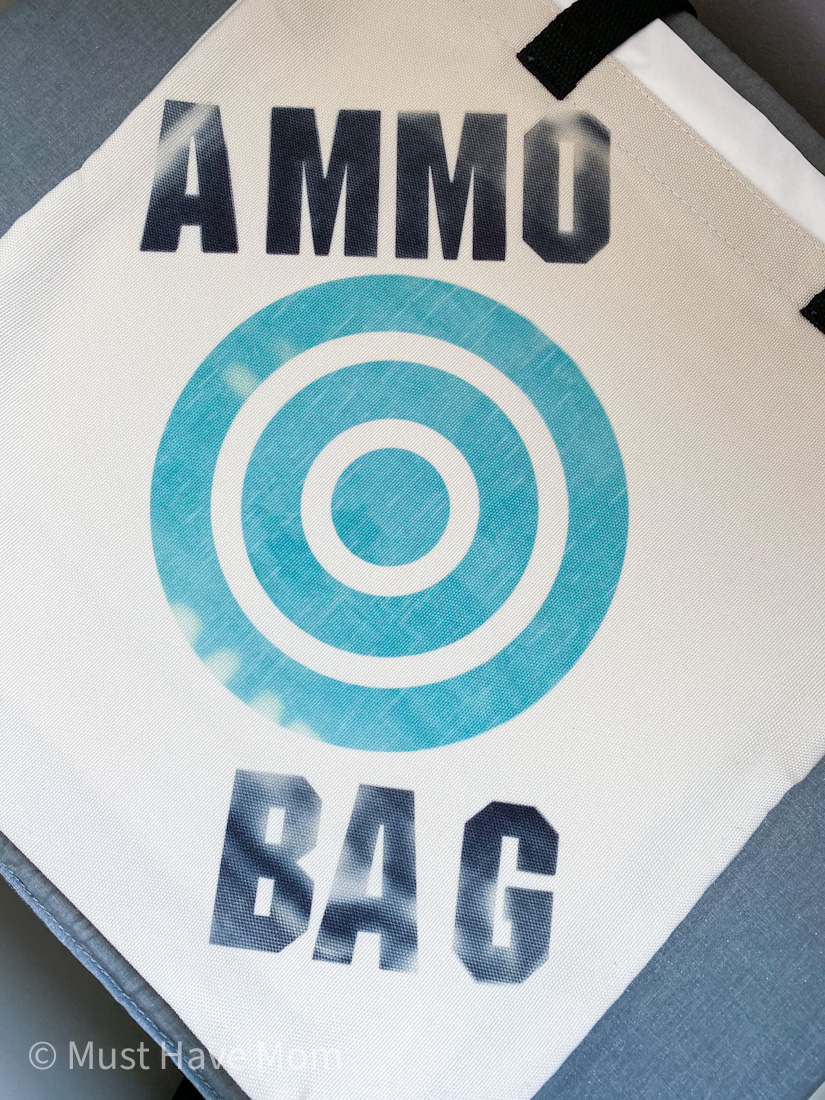 Then remove the Infusible Ink to reveal the transferred color. I pressed mine a bit unevenly but I wanted a more rustic look so it felt more "army". The boys thought it achieved the look perfectly!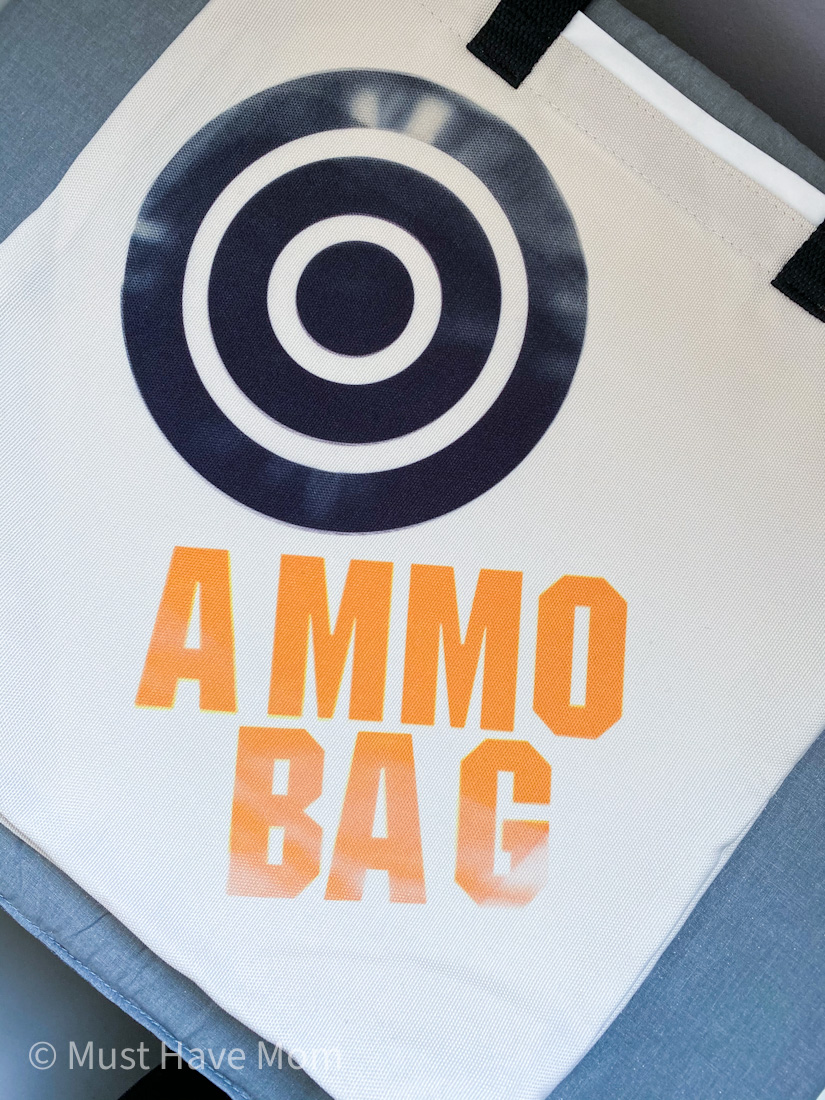 For the next bag, I used different colored Infusible Ink and changed the placement of the words. I like them both!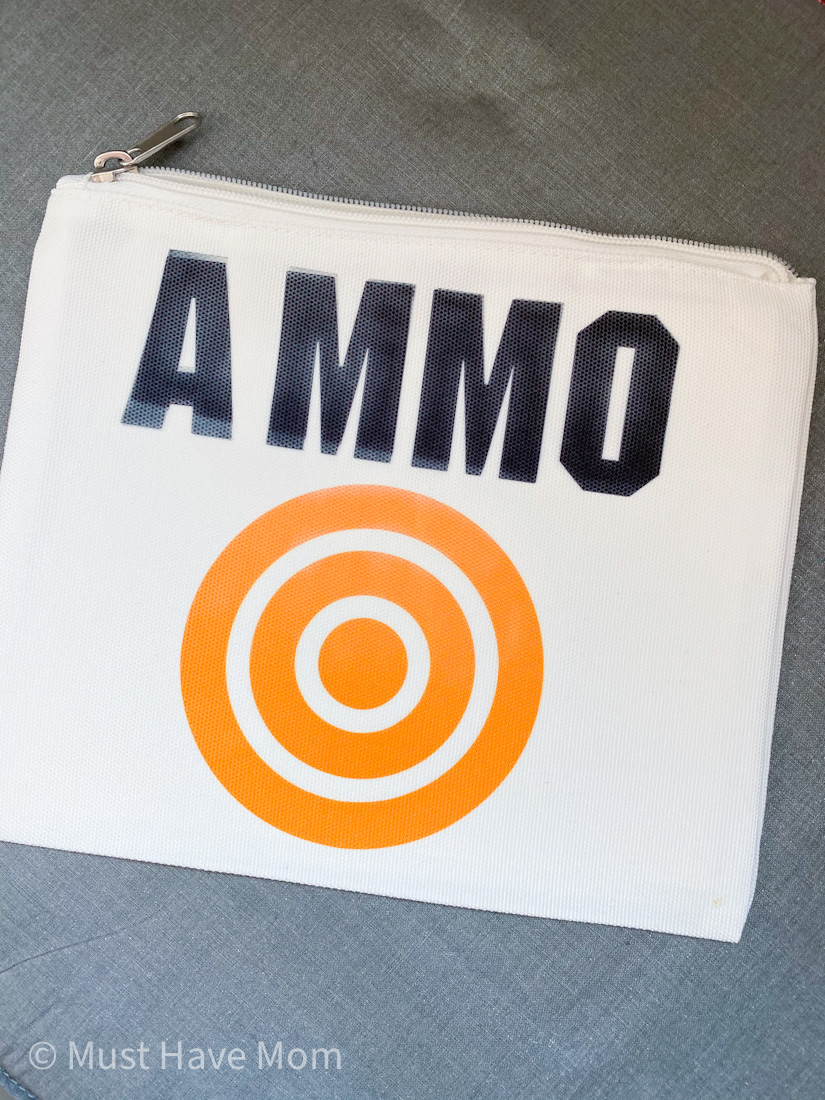 I also made a smaller zipper pouch by resizing the same graphics to fit on the Cricut cosmetic pouch blank.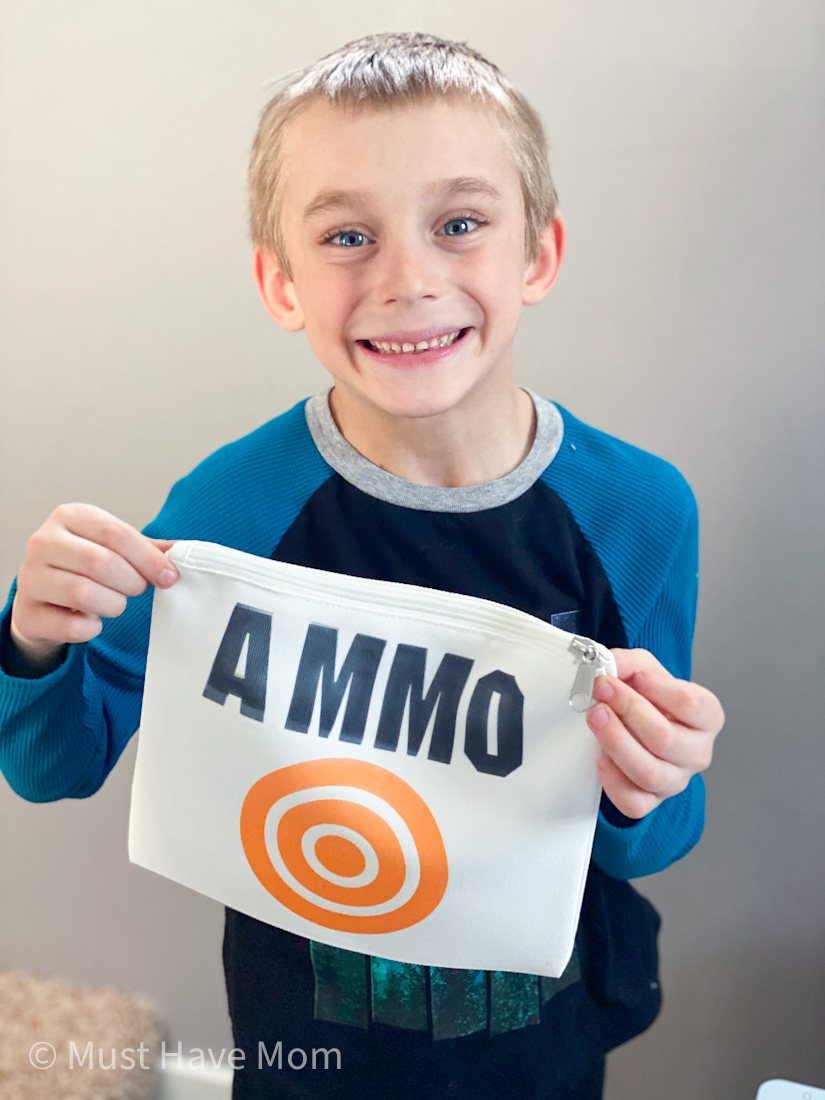 Now the bags were ready to be filled with darts for target practice! Let's make the rest of the targets next! These are seriously the best indoor activities for kids!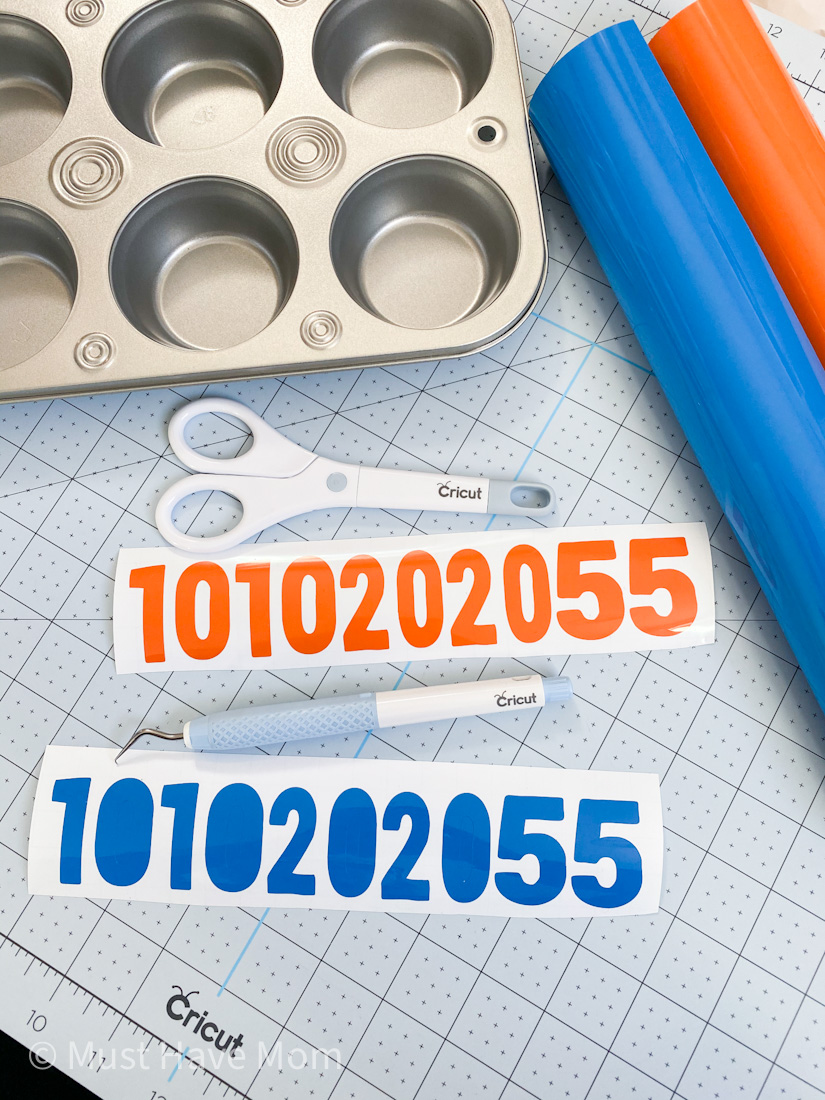 For this target, we will use a muffin tin! The indented cups will serve as the targets worth various points if they hit the dart inside the cup. I used Cricut permanent vinyl for this project but you could also use Cricut removable vinyl if you want to remove it after and use the muffin tin again. I grabbed a muffin tin at the dollar store so I didn't care if I got it back!
Grab the Design Space cut file here and cut the numbers on different colors of Cricut vinyl.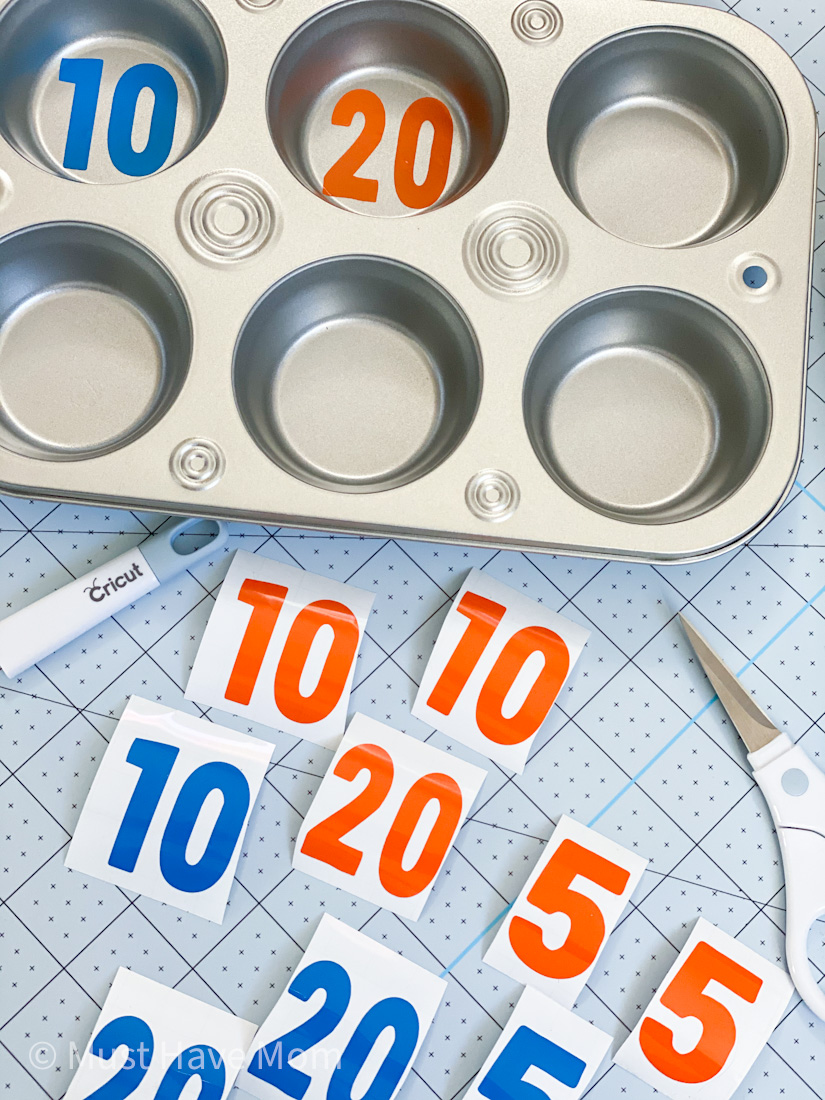 Weed your numbers and then use Cricut transfer tape to apply each number inside the muffin cup.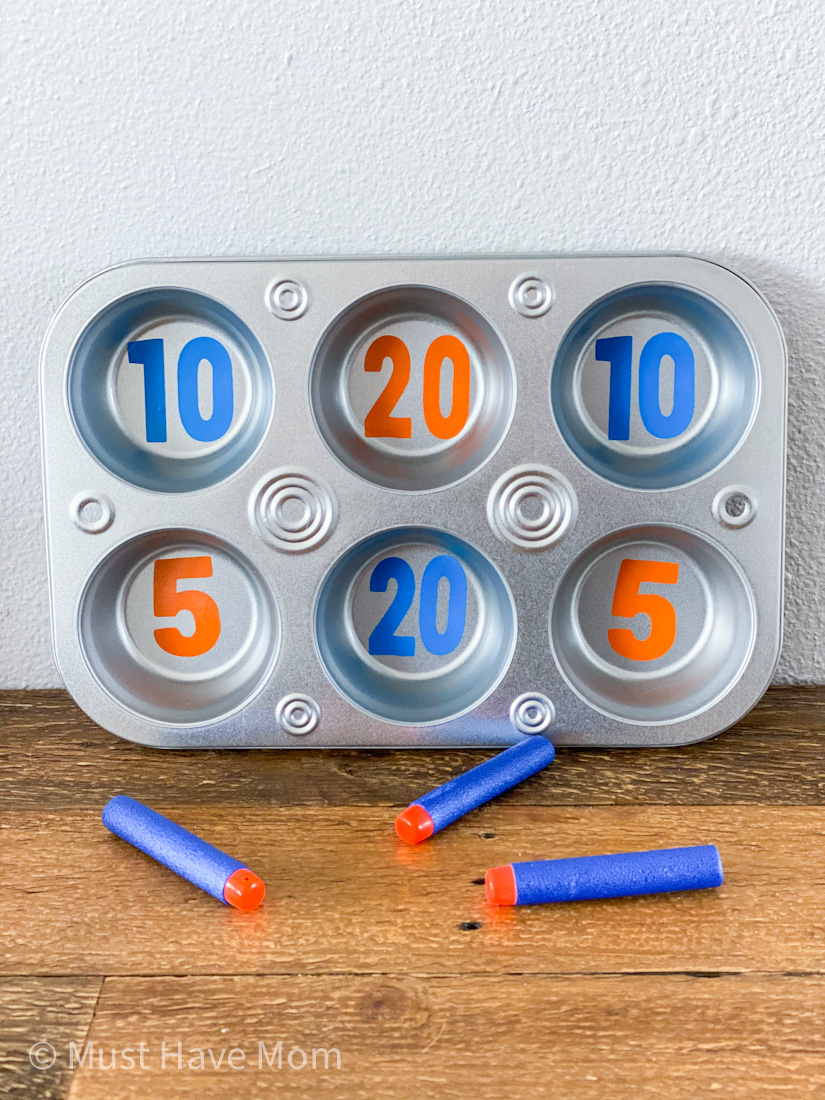 You can set up your muffin tin DIY nerf gun target anywhere! Add up the points for each number successfully hit with your darts.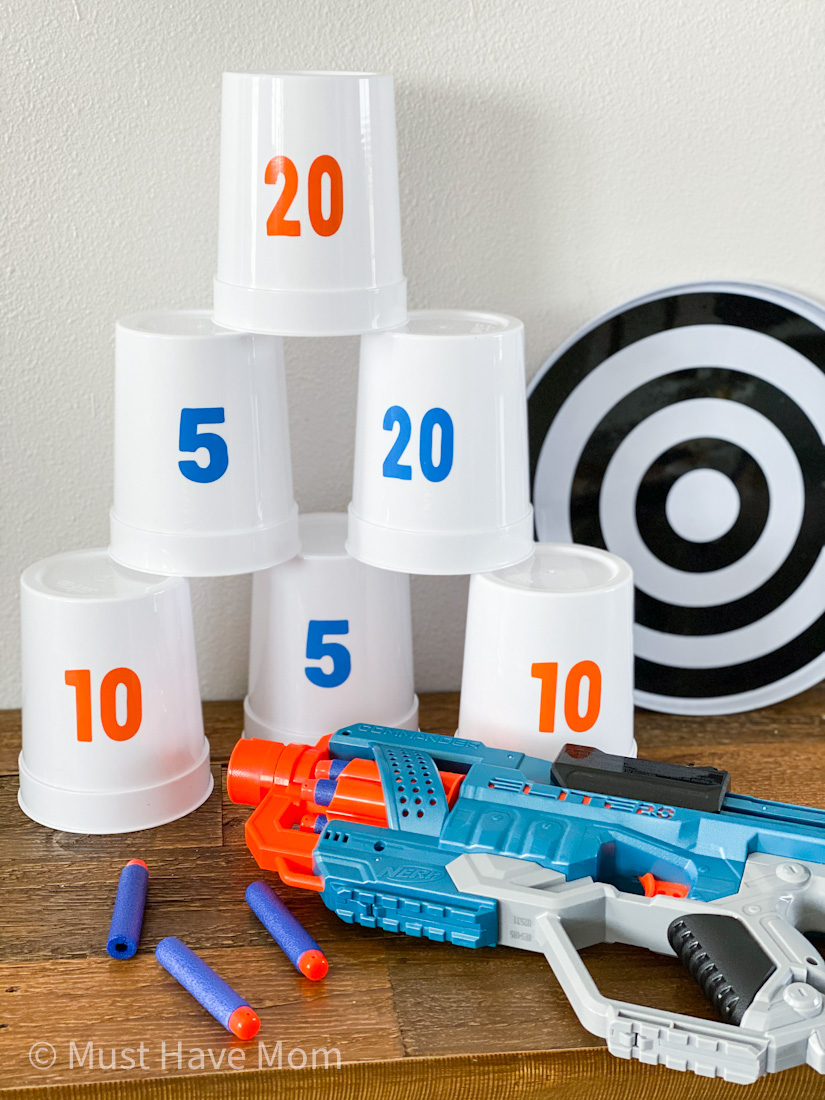 For our last target, we are going to use the remaining numbers and apply them to plastic cups! Stack the cups and create a target practice game. Add up the numbers hit during target practice to get your score!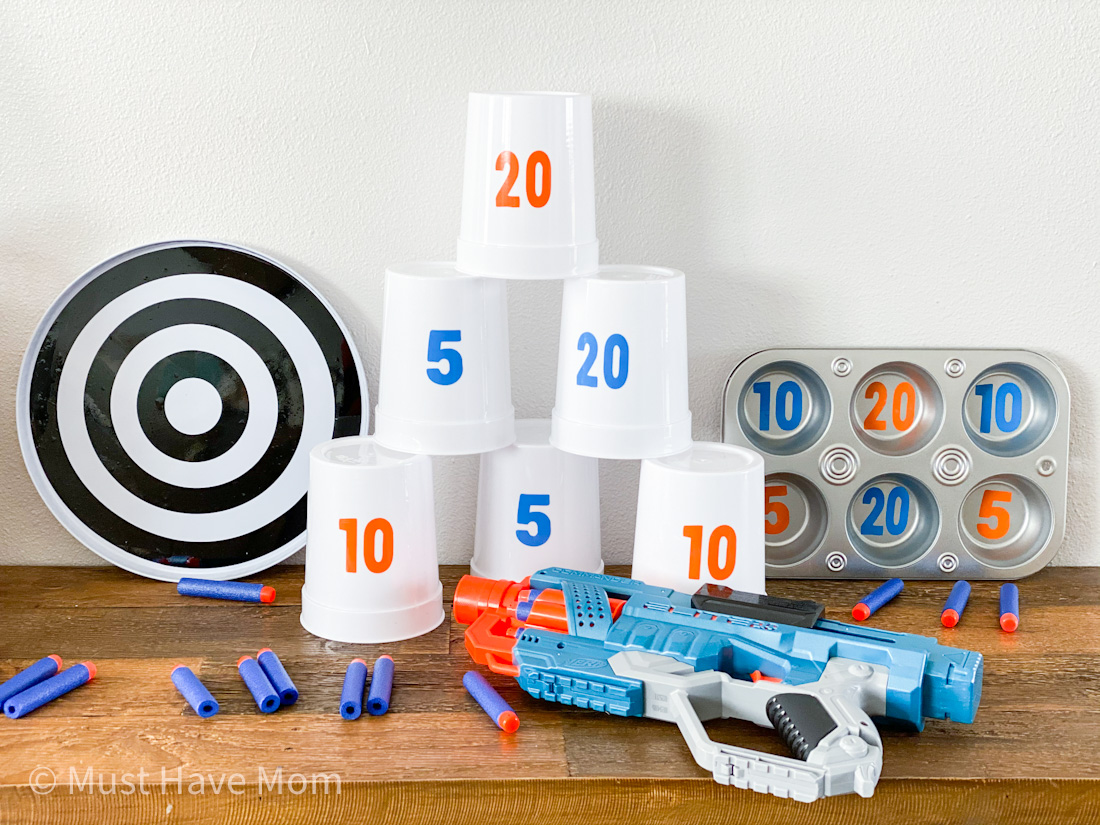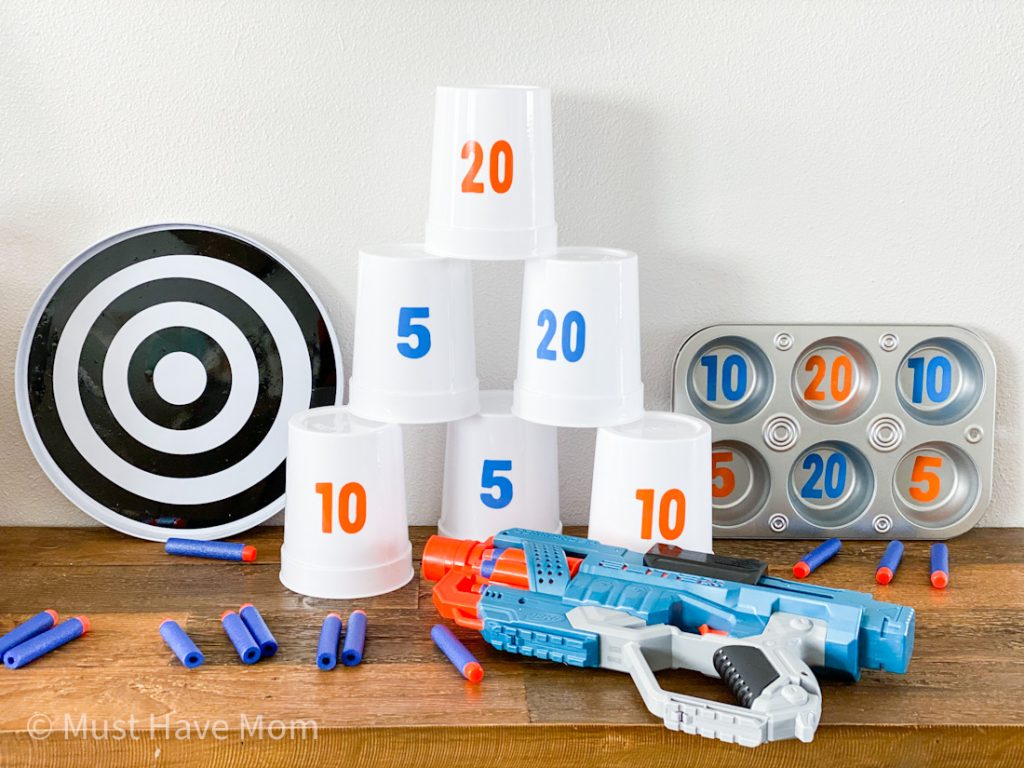 It really doesn't take long to put together all of these targets and now you are ready for the ultimate Nerf target practice!! Then once everyone has practiced you can start having competitions and keeping score using the numbers on the targets. The possibilities are endless here and it is the perfect fun indoor activities for kids idea that will leave them begging for more! And it may even stop the bickering!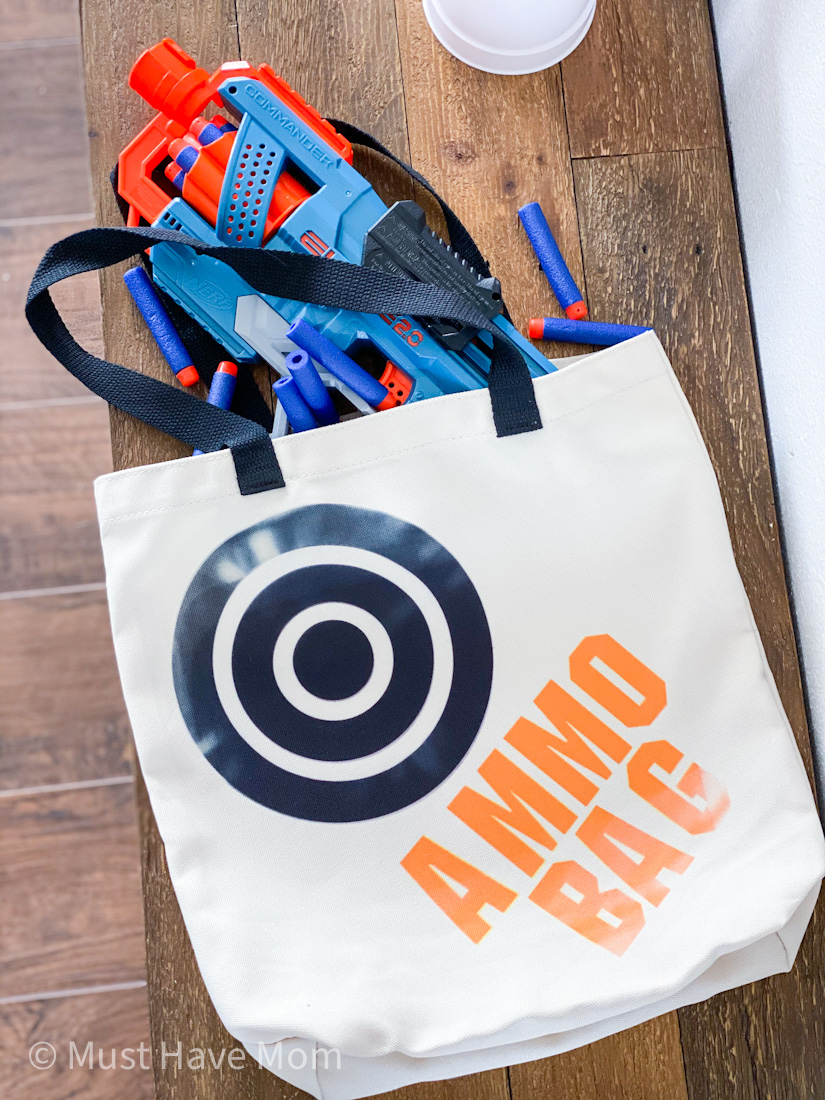 When the fun is over you can pack up the darts and even the Nerf gun in your new Ammo Bag!! It works great for storage and play!
Pin Indoor Activities For Kids
We LOVE when you pin our posts! It helps more people see them and helps you find it easier when you go looking for it later. Thanks for pinning our post! We appreciate it.