5 Easy Cricut Joy Projects To Organize Your Home
This is a sponsored post written by me on behalf of Cricut. All opinions are 100% mine.
The new Cricut Joy is here and we've got 5 easy Cricut Joy projects to organize your home. See why the new Cricut Joy is a must-have for crafters AND non-crafters!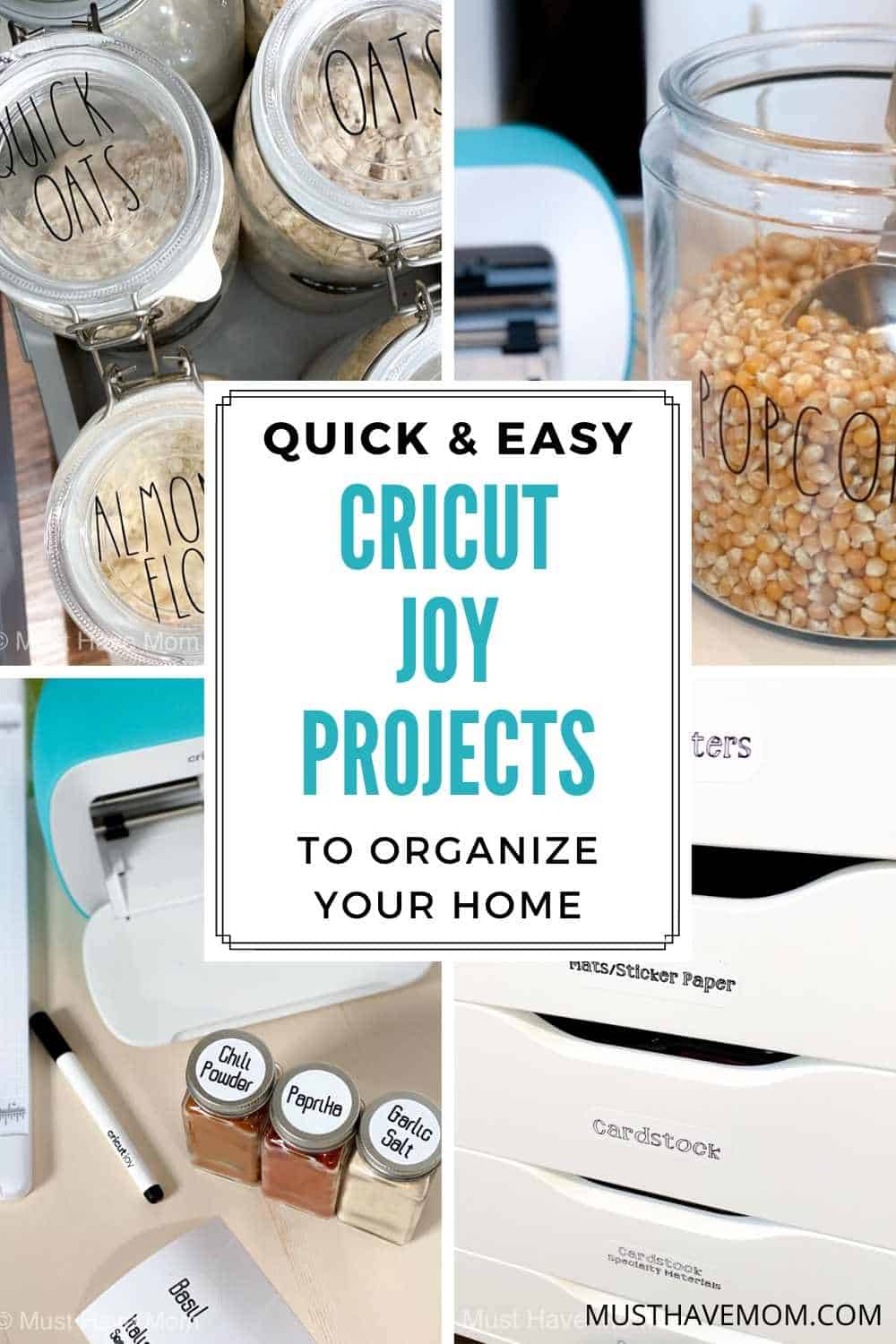 I love Cricut projects and I love Cricut so much that I have the Explore Air 2 and the Cricut Maker, but I am SO excited for the pint-sized version, the Cricut Joy! I've been busy organizing my home for Spring and I just LOVE an organized home. I used to use a label maker for a lot of these projects but a label maker just isn't very pretty. Thankfully, Cricut just released their all new Cricut Joy machine which fits in the palm of my hand but produces gorgeous labels (and much more!!). I'll show you 5 easy projects you can do with your Cricut Joy to get organized!

What's Cricut Joy?
Cricut Joy is the newest cutting machine released by Cricut! The Cricut Joy is meant to work as a compact cutting machine for your craft projects, card making needs, labeling projects and so much more. It's so compact you can hold it in the palm of your hand. Its compact design means that you don't need a craft room in order to have the space for this machine. You can use this cutting machine on your kitchen counter, your coffee table or even take it on the go with you! And one of the best parts is that you can instantly set it up and put it away quickly too.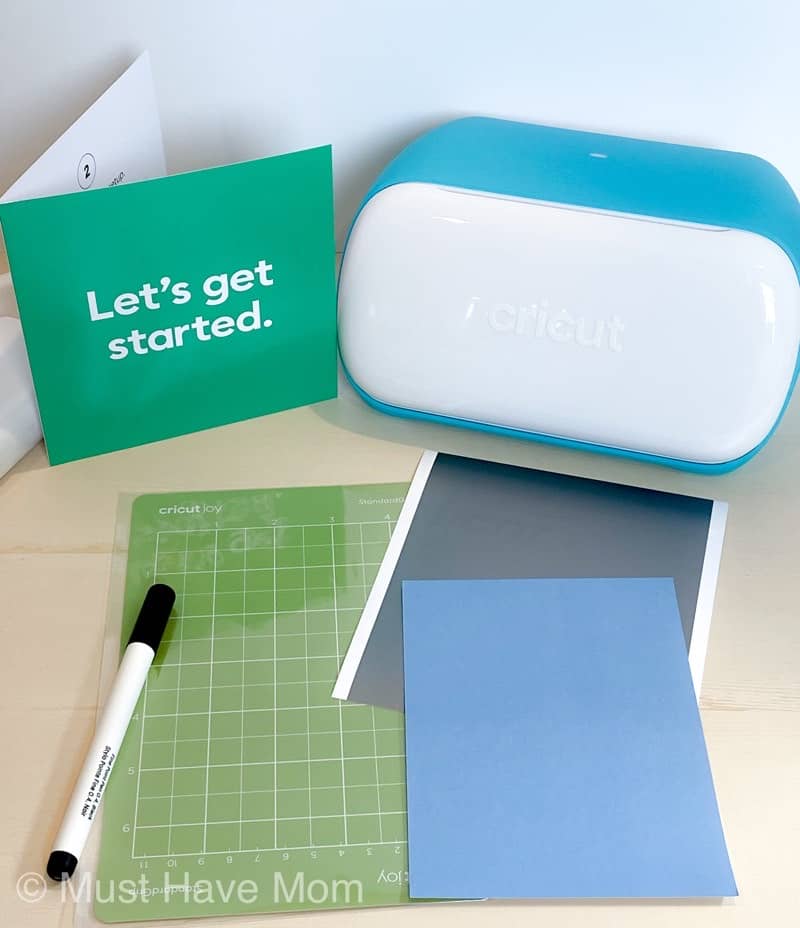 Why do I need a Cricut Joy?
A Cricut Joy can make your craft life heaven, as it can cut, draw and even write for you. Sounds great, right? Cricut Joy also adds a personal touch to anything as it can help you to customize, personalize and organize your everyday work – sounds like a perfect deal if you haven't Marie Kondo'd your crafting life.
And there will definitely be joy when you use this Cricut Joy to perfectly cut the materials you want. Kiss those long sharp scissors or dangerous cutters goodbye. This smart machine can work with more than 50 crafting materials including cardstock, vinyl, iron-on and construction materials.
If you find crafts like cupcake toppers, gift tags, decals, cards, school projects and custom decor to be intimidating then the Cricut Joy is for you! Itt makes crafting a cinch, even if you aren't crafty. And I think this would especially be good for families like us who are constantly working on one school project after another. It will be much safer to hand over the machine to your kid as compared to pointy scissors. Also, it will cut down the time it takes to make the project.
You can even customize monograms or any labels by using their pen without even lifting a finger. Sports T-shirts are easily doable too along with inscribing invitation cards – all this without a hassle of a cutting mat!
This device is also claiming to be a supportive tool for calligraphers. Sounds pretty good, doesn't it?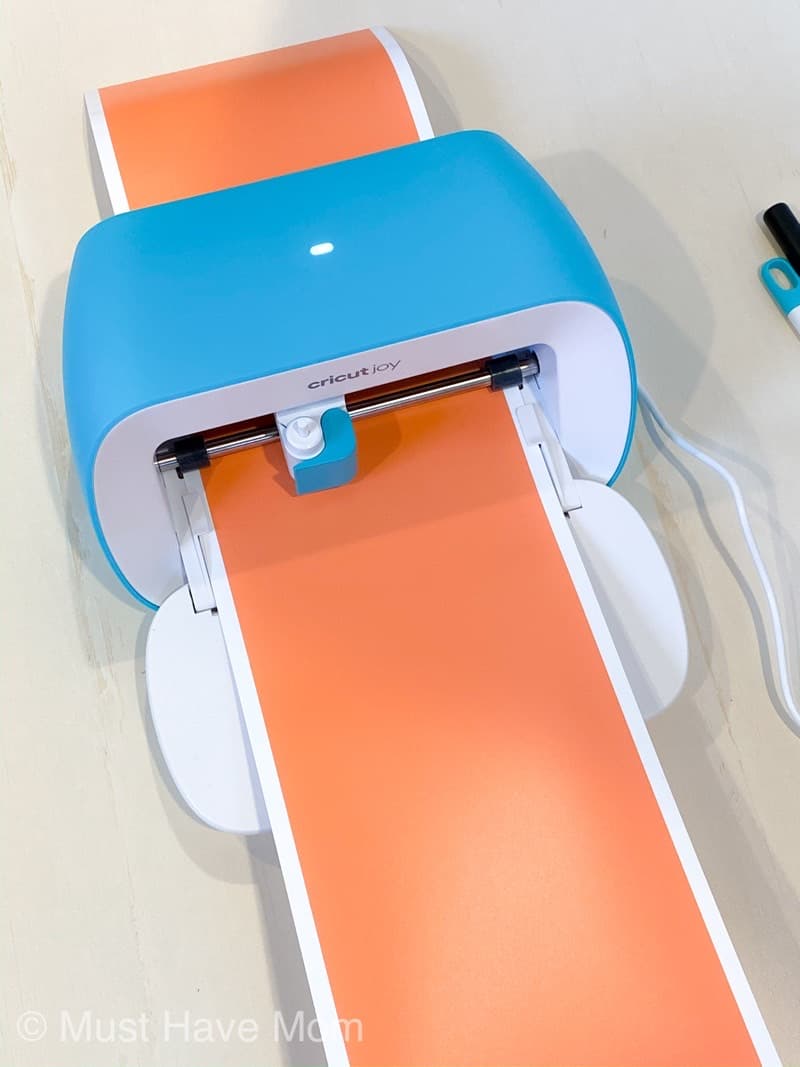 What is so special about this crafting cutting machine?
D-R-U-M R-O-L-L
Its built-in sensors can easily measure the required material for your project and get the cutting done without a mat on board. You just need to load it and go with the flow. I'm so excited about this mat-less feature!
In fact, the machine will work like a smart tool to cut shapes like hearts, stars or even confetti leading up to 4 feet with repeated cuts up to 20 feet. High-five technology!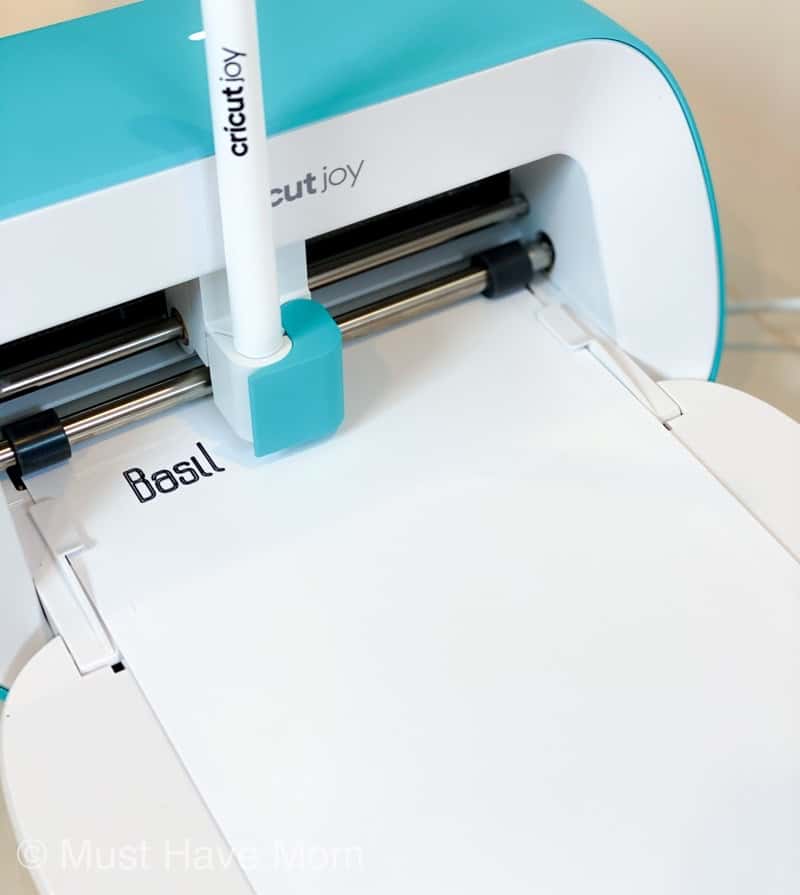 Tools and Accessories
Getting excited much?! Me too! Let's add to the excitement by talking about the tools and accessories you can use with the Cricut Joy:
all-purpose blade and housing
card mat
variety of writing tools
tool-set – Spatula, Scraper, and a Weeder
vinyl, iron-on, smart label
infusible ink + infusible ink pens
insert cards
Where and when can I get Cricut Joy?
The Cricut Joy is available in stores and on the Cricut website.
5 Home Organizing Projects Using Cricut Joy
Are you ready to get your home organized in the most fun way possible? I've got 5 quick and easy projects that will get your house organized in a hurry!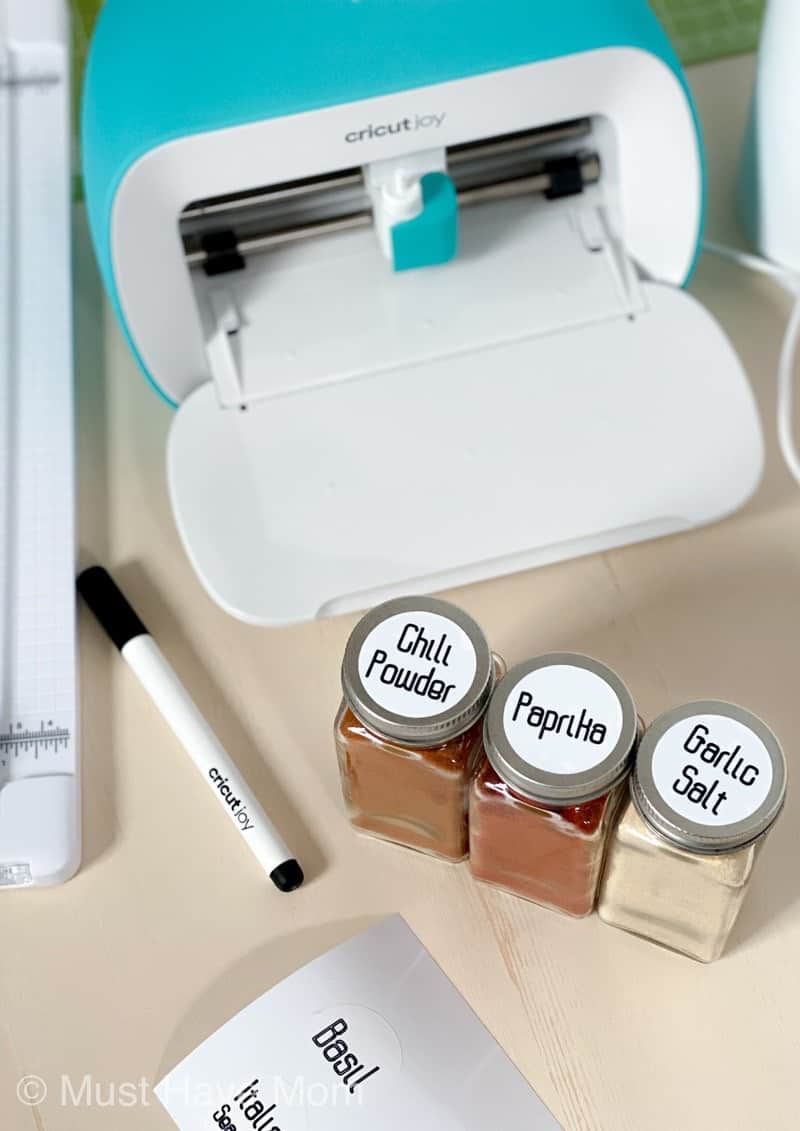 DIY Spice Jar Labels
I was SO excited to finally get my spice cabinet organized. I keep all of my spices in a lazy susan cabinet so I look down on them and I spend ages picking each one up and checking the label. These DIY spice jar labels that I made with my Cricut Joy have been a huge timesaver and are one of my favorite ways to get organized!
For this Cricut Joy project you'll need:
Open the Design Space file and adjust to your liking and what spices you have on hand. Then follow the on-screen prompts to write and cut the labels. Then just peel and stick to the top of the spice jars. Super easy!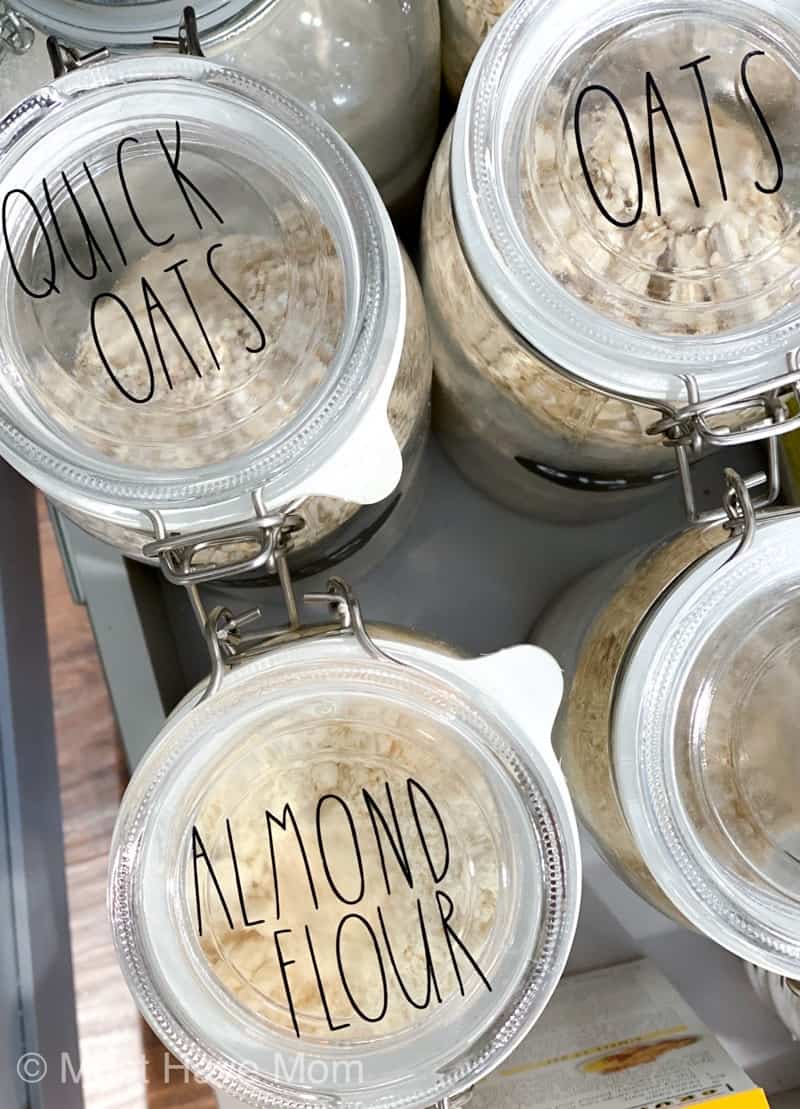 Pantry Labels
I am a huge farmhouse style decor fan and I love Rae Dunn decor. These pantry labels are Rae-Dunn inspired and are so easy to do! You'll need the following supplies for this project:
Free Design Space File (HERE)
Open the free Design Space file and adjust it to your own needs. Then cut the Smart Vinyl using your Cricut Joy. Use Transfer Tape to transfer each of the words to the jar of your choosing.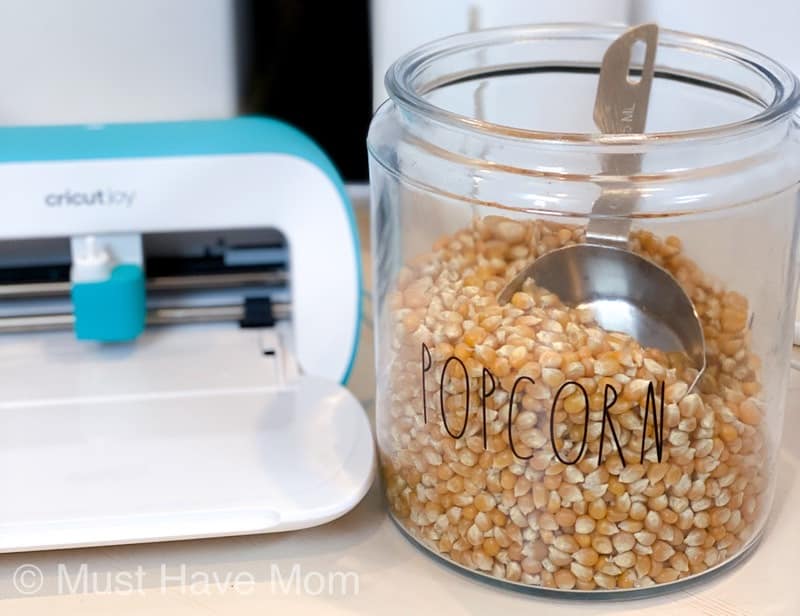 You can add the pantry labels to the top of the jars or the front like I do with this popcorn jar. Get creative with it!

DIY Recipe Binder
I print off a LOT of recipes that I find on Pinterest and other blogs. I set out to organize my recipes into one easy to use recipe binder. I simply turned a beautiful binder into a personalized cookbook! Here's what you need for this project: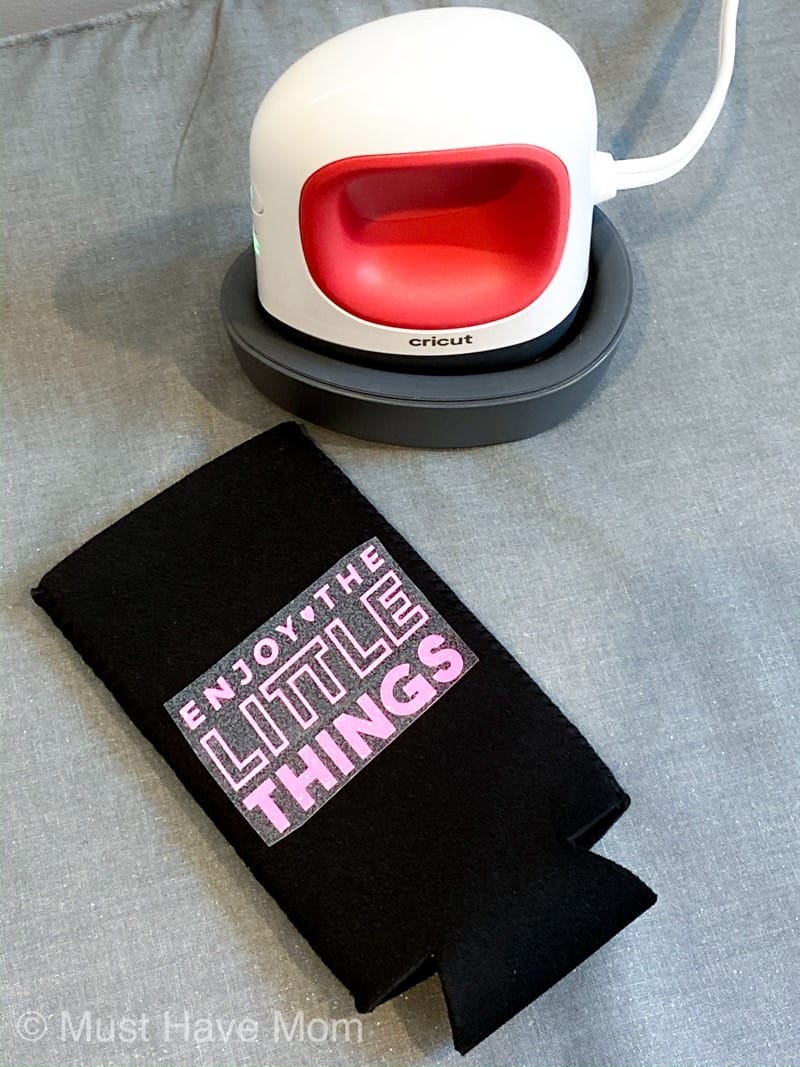 Personalized Can Cooler
You can even organize your drinks! Create personalized can koozies using your Cricut Joy and Smart Iron-On™ Glitter Vinyl. I made a reminder on my can cooler to enjoy the little things! Here is what you need to personalize your can coolers:
Open the Design Space File. Use the Cricut Joy to cut it out – be sure the image is mirrored. Weed the design. Iron on to the can cooler using your EasyPress Mini. Peel off the plastic sheet. That's it!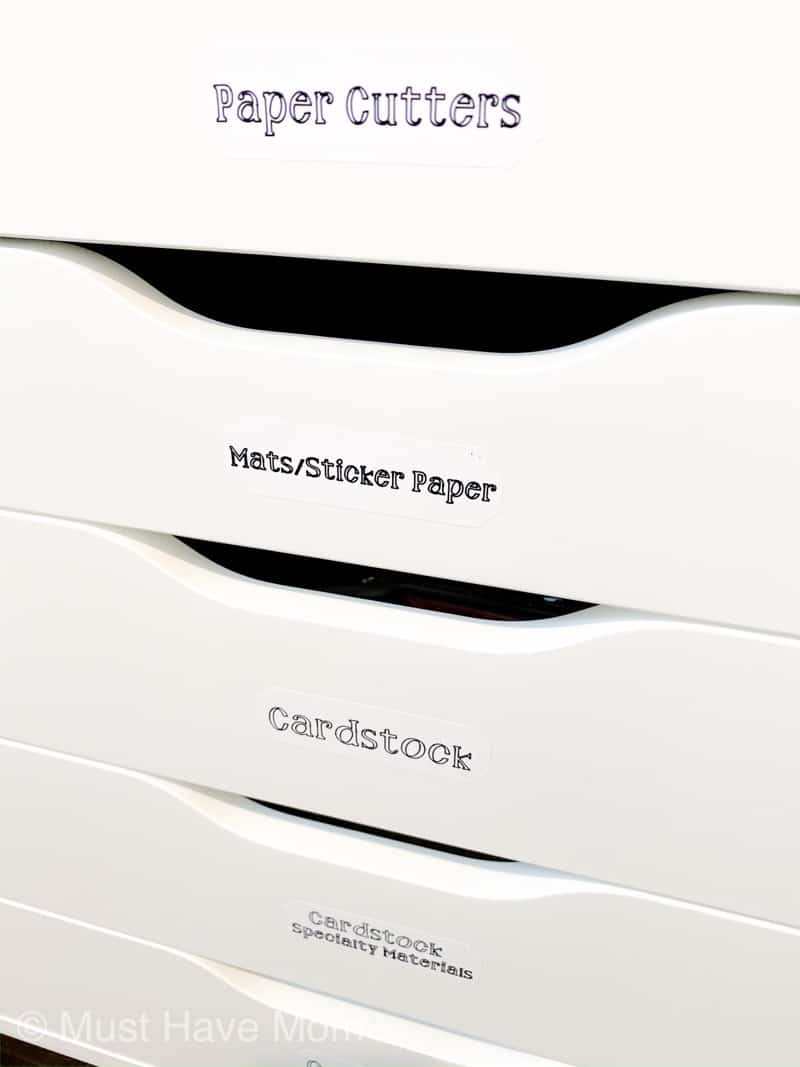 Craft Room Labels
Organize your craft room with these handy craft room labels! I used my Cricut Joy to create these labels for my craft drawers so I can easily find everything I need. Here's what you need for this project:
Open the Design Space file and adjust as needed for your craft room drawers. Write and cut using your Cricut Joy. Peel off the labels and apply to your drawers. That's it!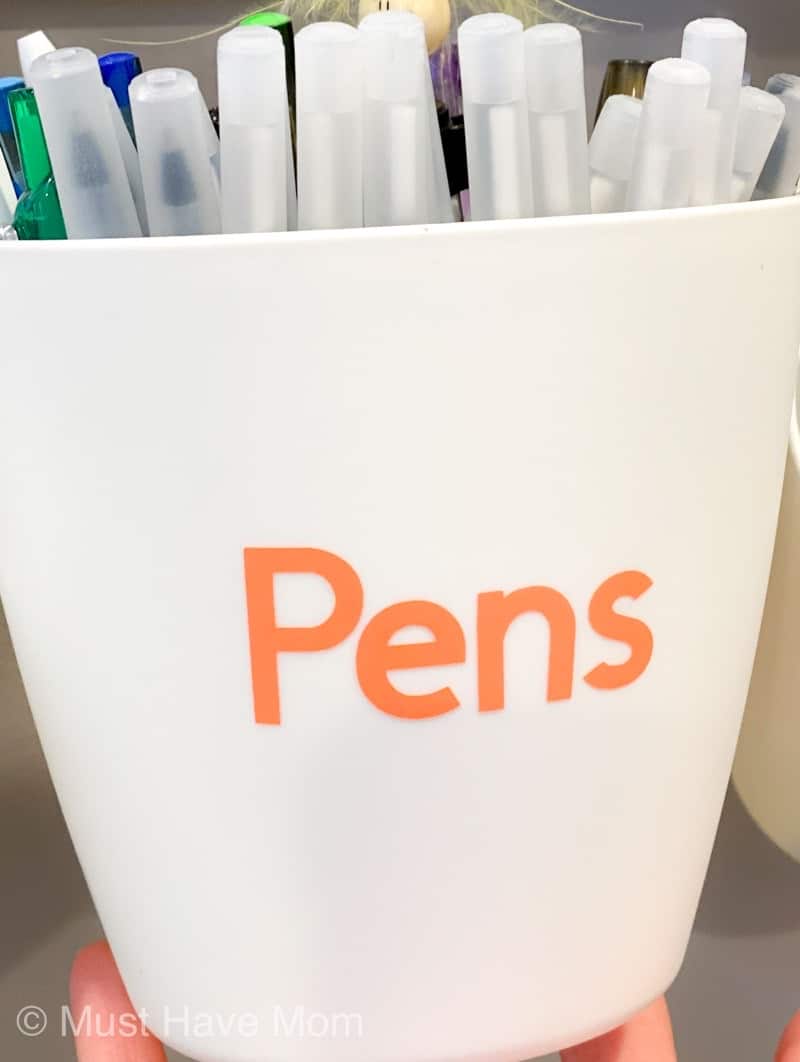 You can also use your Cricut Joy to create home office labels! Get organized with the free Design Space file HERE.
As you can see, the new Cricut Joy is one incredible little machine! It can cut, write, create cards and SO MUCH MORE. This is just the tip of the iceberg of projects that can be made using the Cricut Joy. Get one now from Cricut.com!