Rainbow Jello Sensory Bin Activity
Try this fun rainbow jello sensory bin activity with your kids and see the magical reactions when baking soda and vinegar meet in a colorful combination!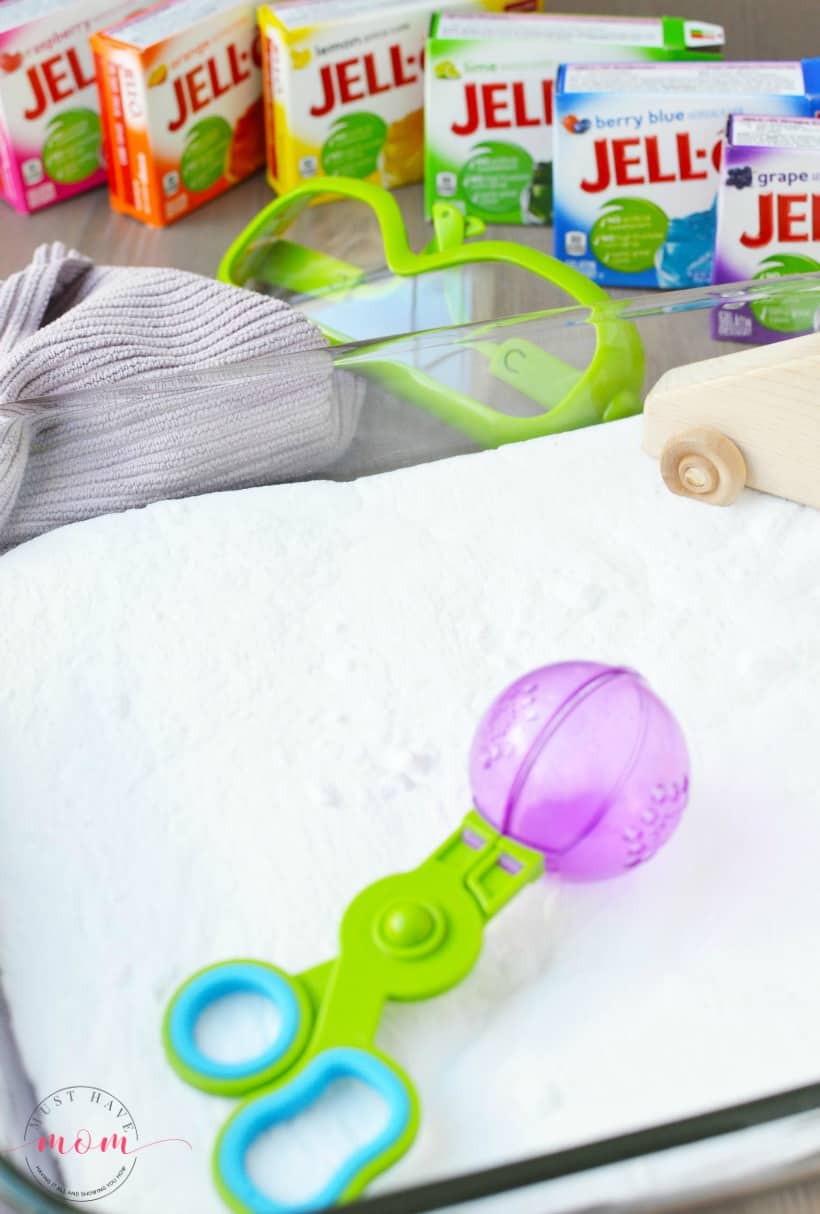 Rainbow Jello Sensory Bin
This fun rainbow jello sensory bin activity is perfect for toddlers and older kids because it can be adapted for different ages. Incorporate different lessons into the sensory play activity and it becomes an educational experience.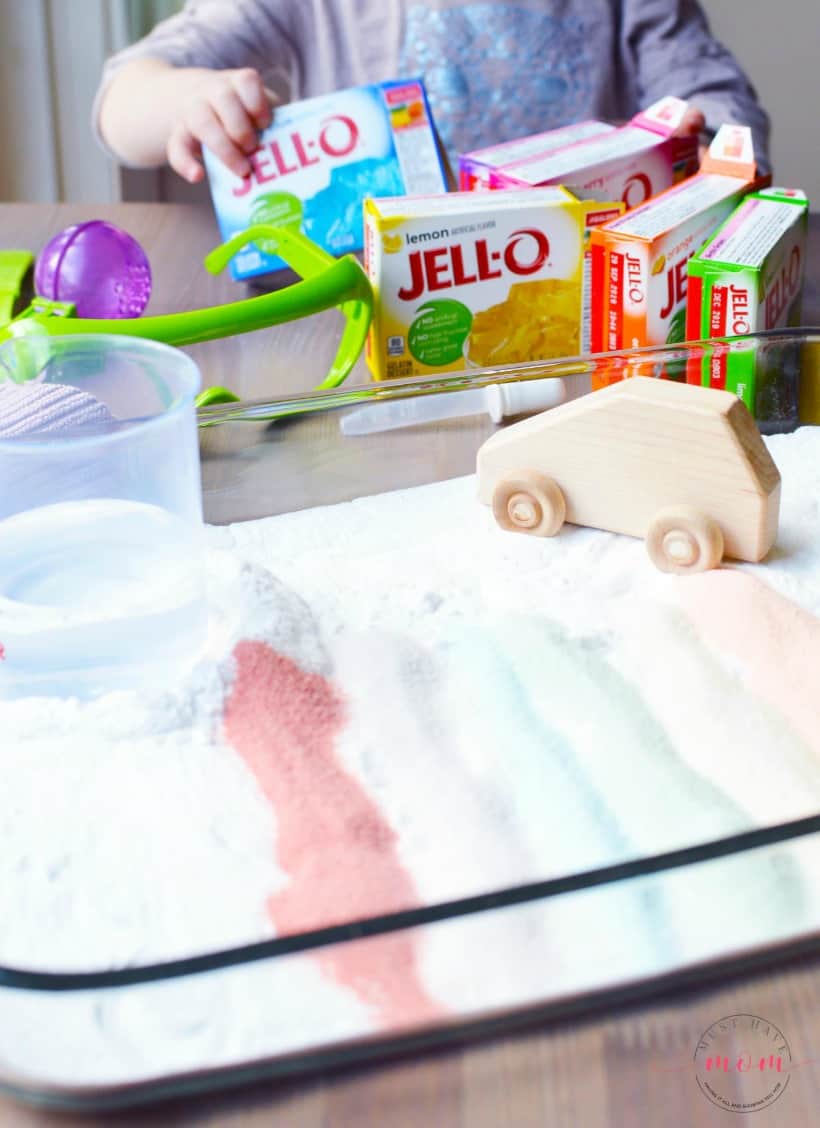 How To Make A Rainbow Jello Sensory Bin
To make this rainbow jello sensory bin you'll need:
JELL-O in the shades of the rainbow, we went with seven colors

baking soda to cover the bottom ½ inch of a baking dish or similarly styled tray with side walls

1 to 2 cups of distilled vinegar (give them a little at a time or talk with your kiddos about saving some to use throughout the project)
Optional fun goodies to add in to expand upon the play:
pipets or medicine dispensers

spoons

sifters

funnel

vehicles

plastic animals

glitter
Begin by spreading the baking soda across the bottom of a tray. Open the JELL-O packets and pour each of the colors on top of the baking soda in circles, lines, a rainbow…  Try to leave a little bit of plain baking soda between each of the colors so the baking soda and vinegar can work their magic.

Sprinkle and sift a little extra baking soda over the colors or lightly mix the JELL-O powder and baking soda together a little bit.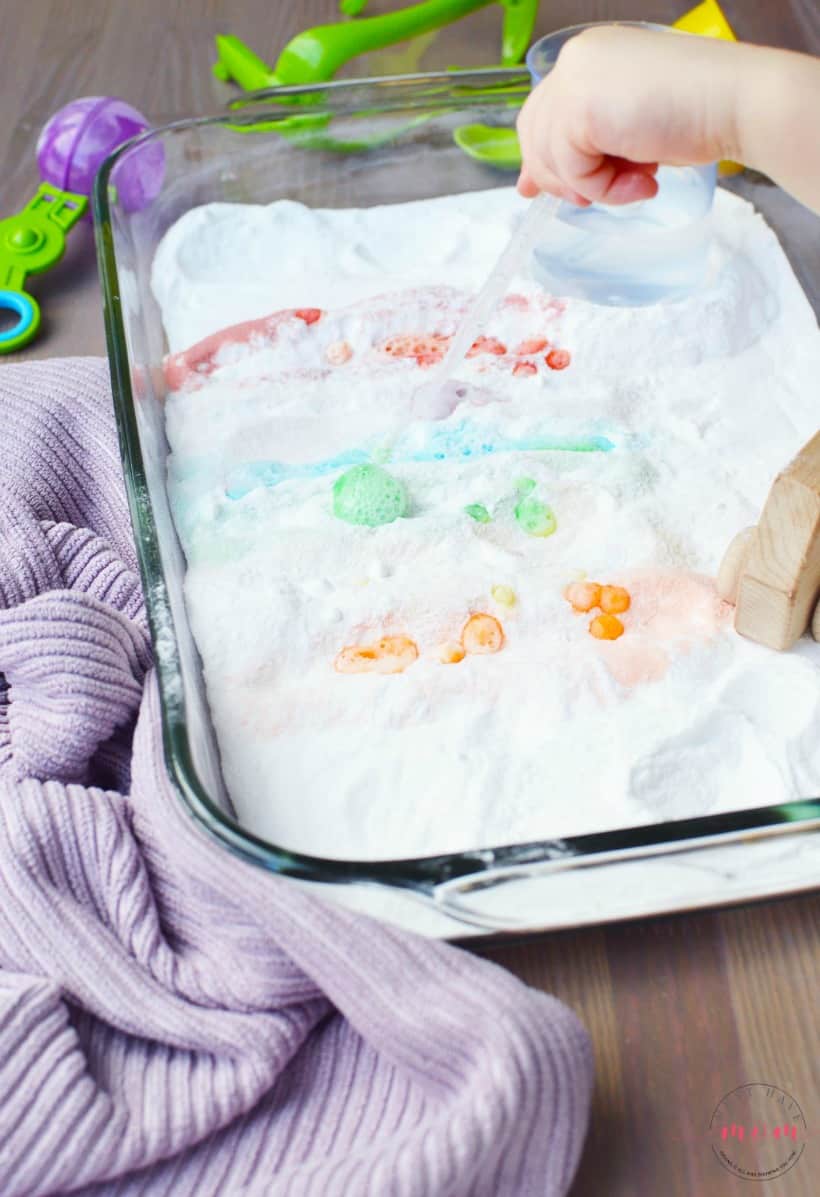 Help your little ones fill the spoons or pipets with the distilled vinegar and let them discover the fun that can be had when fantastically bright JELL-O is mixed into the bubbling reaction that baking soda and vinegar have together.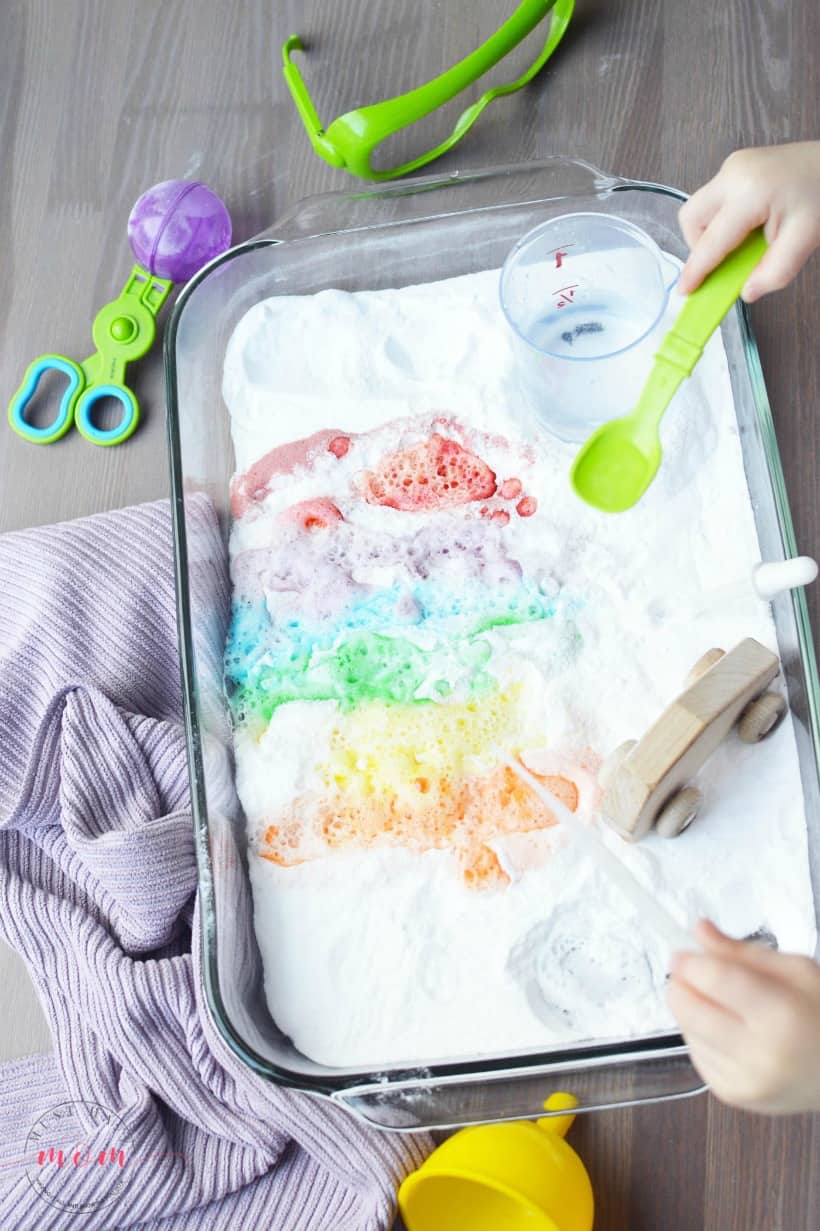 You can talk with your child about color mixing and the results or for older kids introduce color wheel concepts. Most importantly, dig in and have fun!
Introduce additional toys such as toy vehicles to drive through the newly created colors!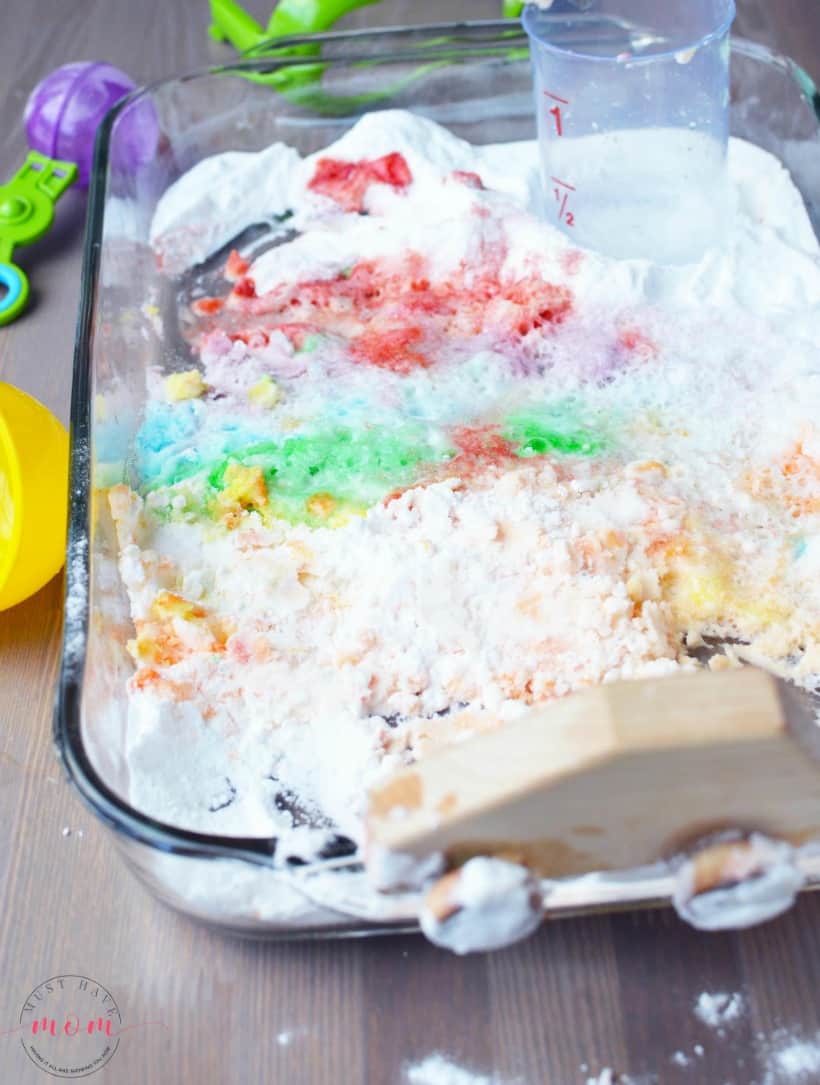 Let your child continue adding the vinegar and creating magical reactions in the rainbow jello sensory tray!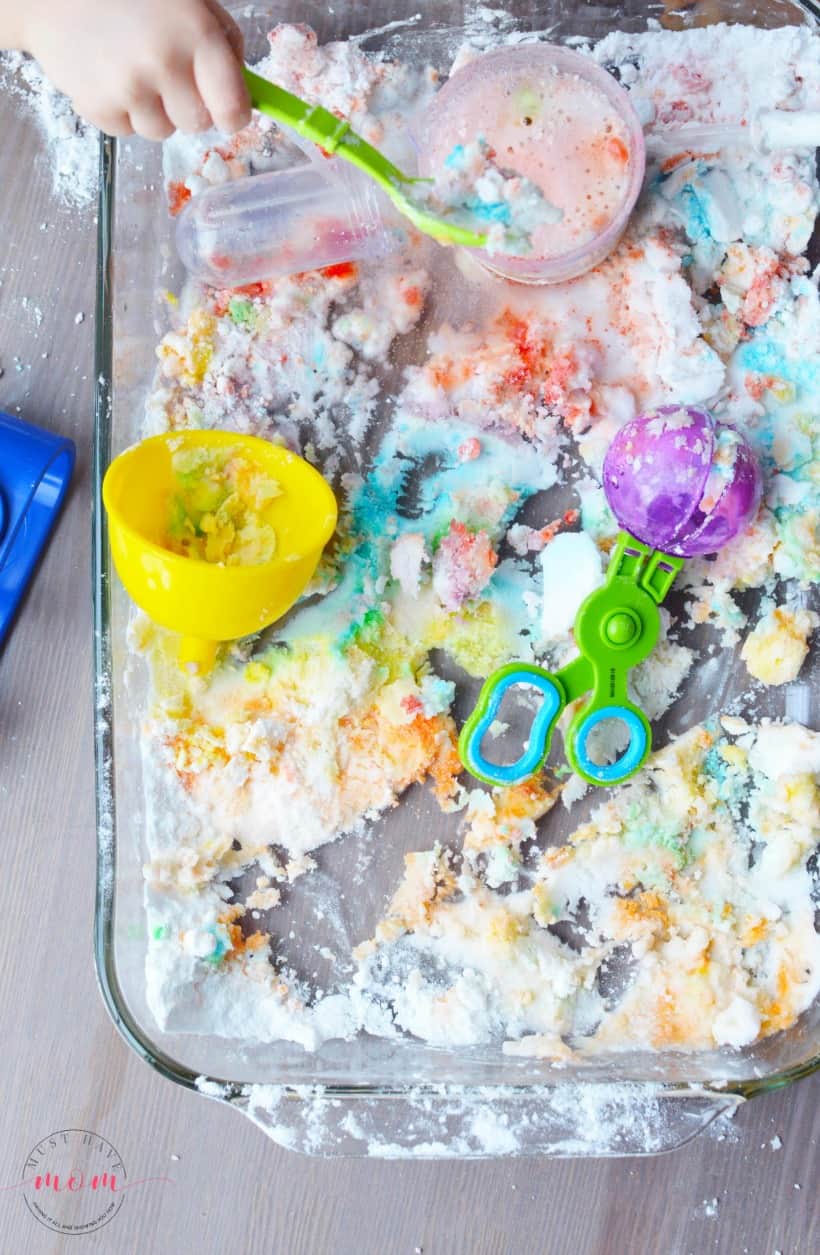 This is a great activity for kids of all ages. Toddlers will enjoy the sensory play with cars, toy animals, pipettes and funnels. Older kids will learn about the reaction of vinegar and baking soda with the fun addition of a rainbow of color thanks to the rainbow jello you added. This is a great homeschooling activity or fun rainy day play!
Pin Rainbow Jello Sensory Bin