How To Create An Organized Office! Small Touches That Make A BIG Impact
I have had a new home office in the works for many, many months and I am thrilled that it is just about finished!!! I was very purposeful in my design of this office. I wanted an organized office that looked sleek and tidy. I wanted a modern look with rustic touches. It really is the little things that ended up making a big impact in the final look of my office. I'm excited to show you my favorite parts!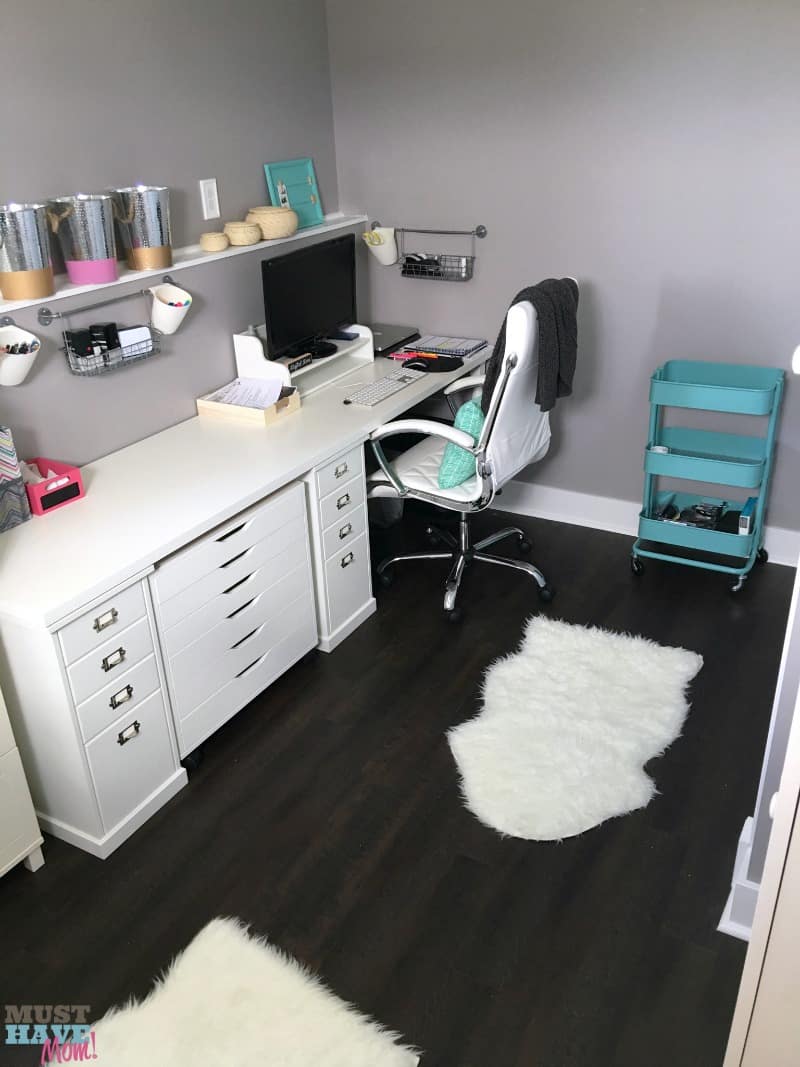 This room started out as a completely unfinished room in our basement. We added an egress window and built it from the studs up! It had a cement floor and bare studs. I was so excited to pick out everything from the flooring to the trim! There are still a few unfinished things (like shelving, window treatments and wall hangings), but the majority of it is complete! It is the organized office I dreamed of and it has an absolutely calming atmosphere. When I sit in my office I can concentrate and work more efficiently because it is organized and calming.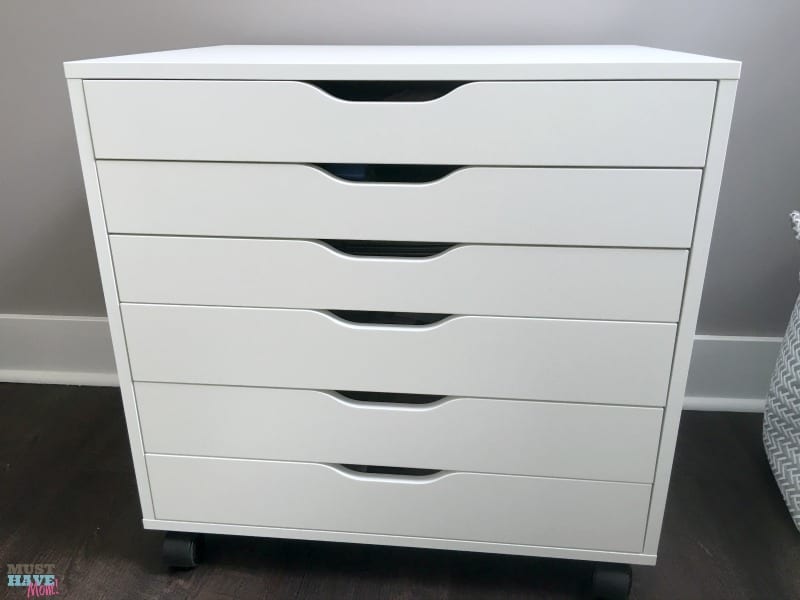 I wanted all of my storage to be sleek and hidden. I bought this awesome drawer unit that is on wheels for all of my different paper storage.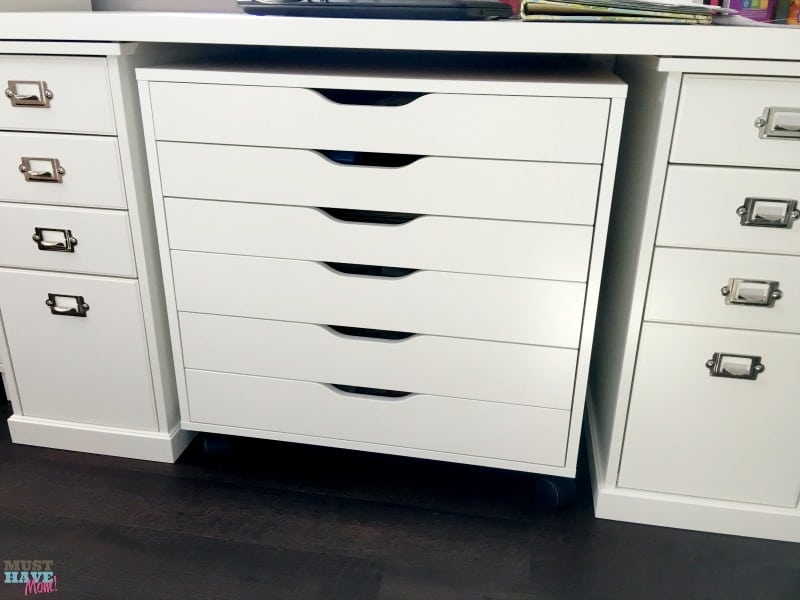 When I am not using it I can tuck it away under the desk unit. It matches the decor and fits right in. When I am working I can pull it out and turn it sideways and have extra counter space. It has multi-purpose functions!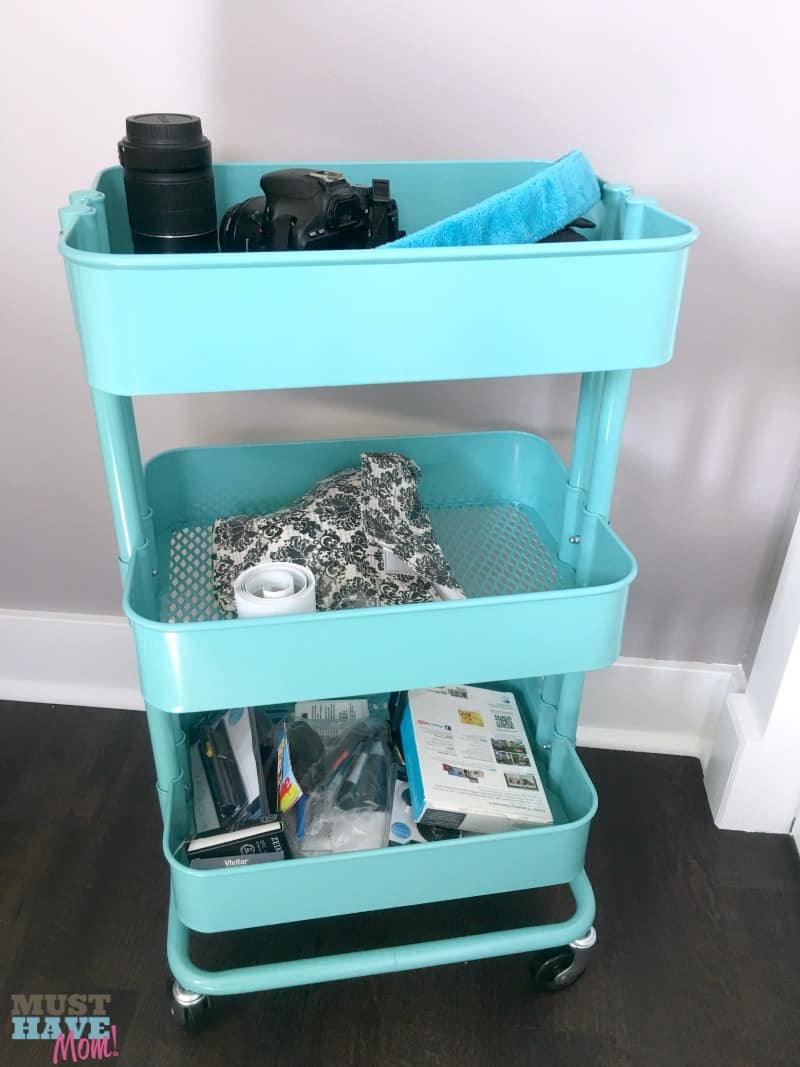 I shoot a lot of photos for Must Have Mom so I have a fair amount of camera equipment and lenses. I wanted an easy way to move them around and store them in a readily accessible spot that looked pretty too. This IKEA cart was perfect and matched my color scheme.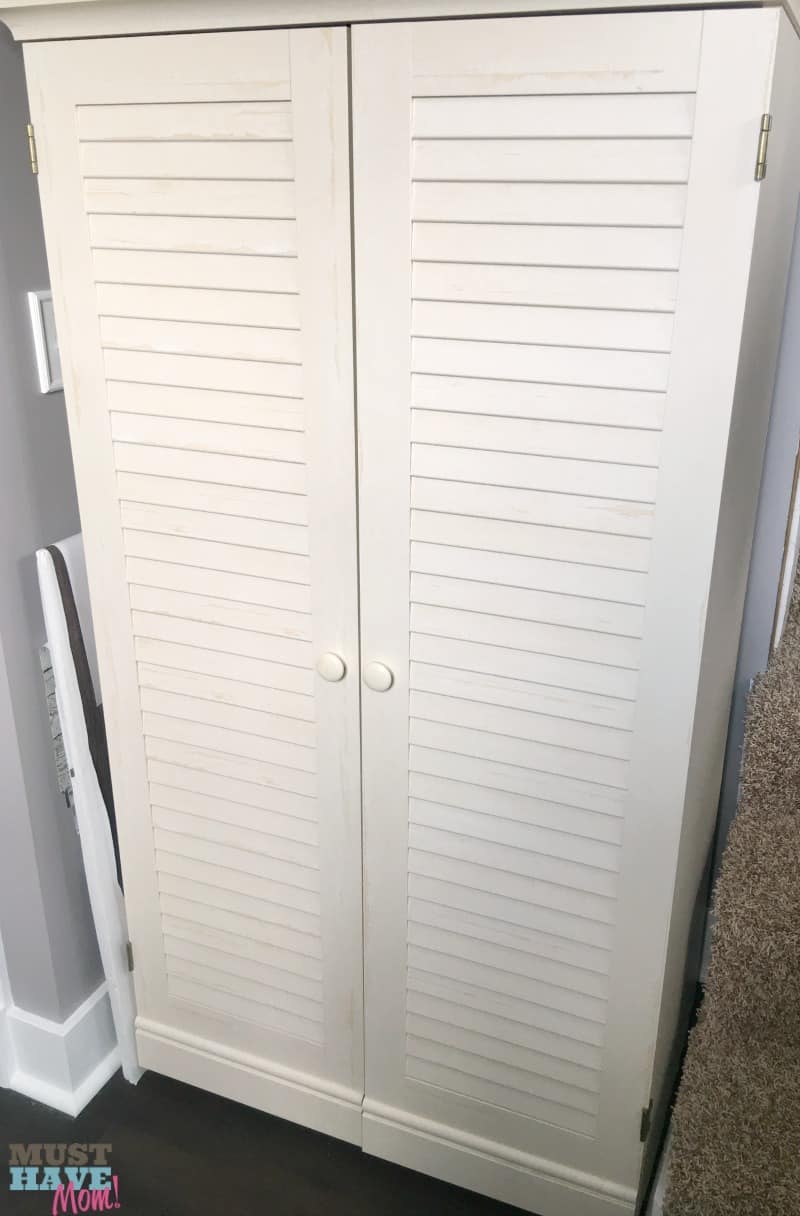 I also needed a crafting space as I create many crafts as part of my job here at Must Have Mom. This craft cabinet was exactly what I was looking for. When it is not in use it is a neat, tidy looking cabinet.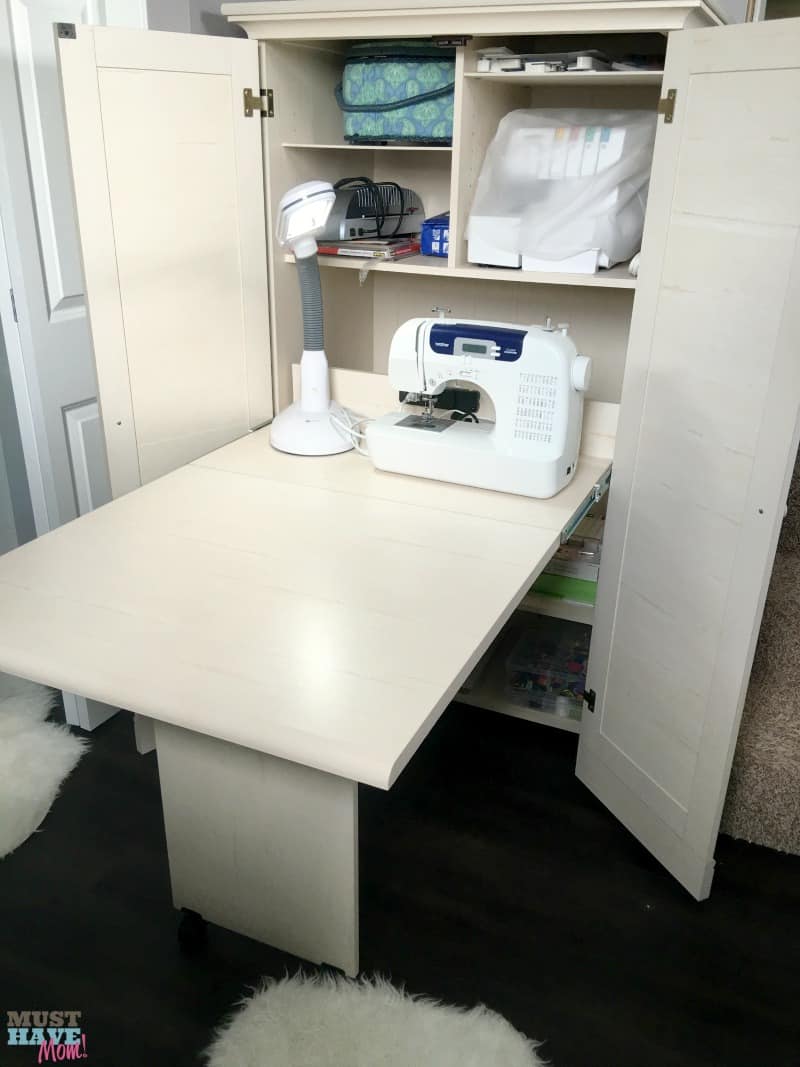 When opened up it reveals a ton of storage space for my sewing machine, serger, laminator, Cricut, lamp and extra supplies. I still have more room to add things too! I couldn't believe how much fit inside. The thing I love most about this craft cabinet is that it has a pull out table so I have a dedicated workspace to  my crafting that will also fold away when I am not using it.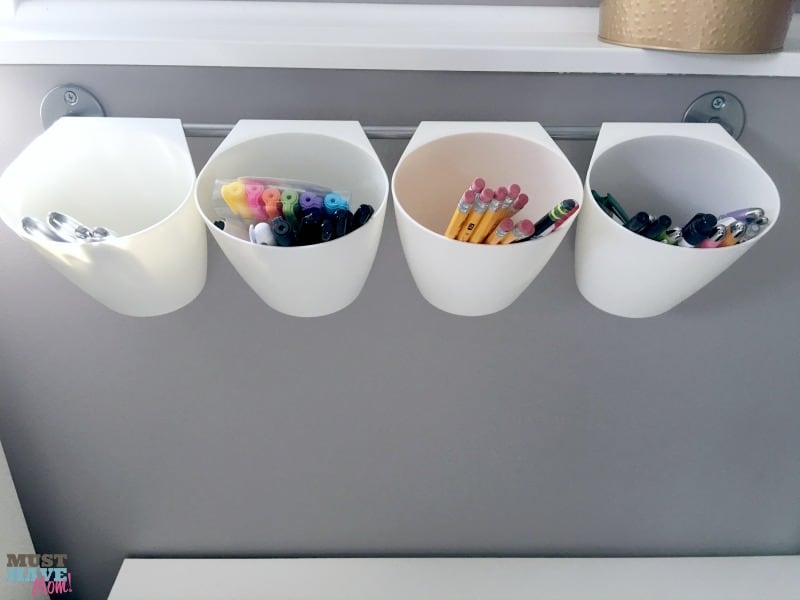 I knew I wanted a clean desk without a lot of clutter however I use a lot of different supplies throughout my day. I solved that problem by hanging these bars with buckets to store all of my pens, pencils, highlighters, etc up and off the desk. I found these at IKEA as well.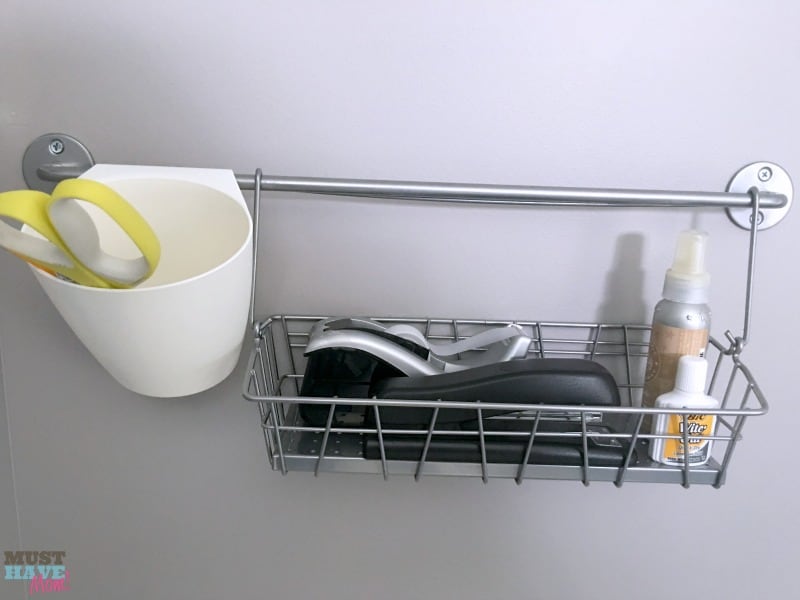 I also got a basket for one of my bars which serves to store my tape dispenser and stapler.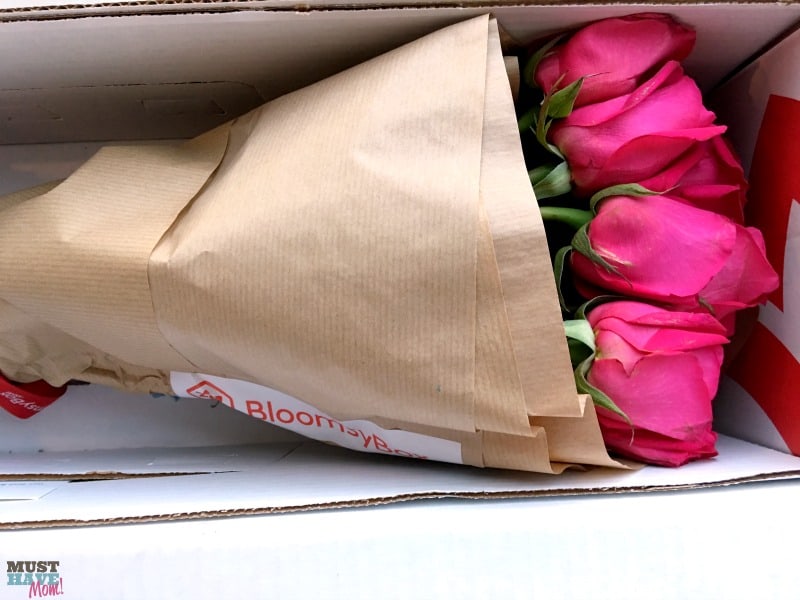 One thing that many people probably don't think of when decorating their home office is flowers! I treated myself to a subscription from BloomsyBox. BloomsyBox delivers a handpicked single-variety bouquet to my doorstep each month! Since the flowers are sourced direct from suppliers in Holland, South America and California there is no middle-man mark-up to increase the price.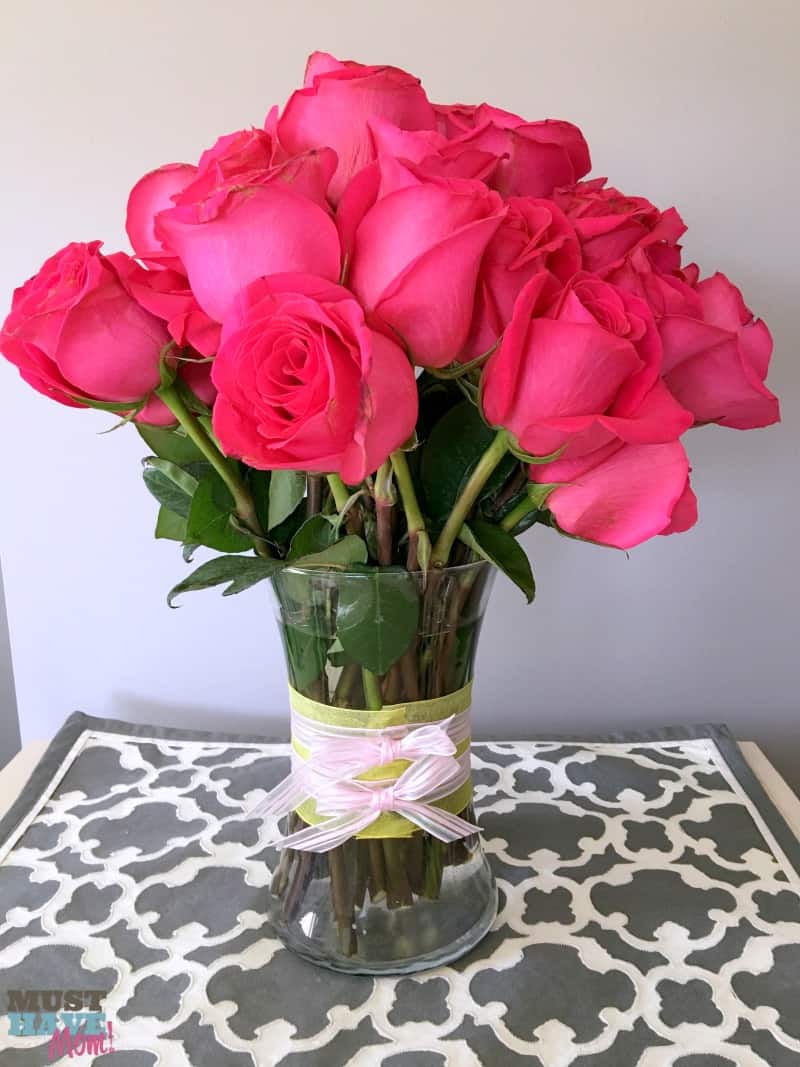 The flowers are absolutely beautiful and they smell AMAZING!! I wish I could send the smell to you because I have never had a bouquet of roses that smelled so incredible. The fragrant smell fills my whole office and brightens my day. These little touches in my office make it so much easier to work each day. They brighten my office and make my day relaxed and happy.
The flowers arrive in plastic-free wrapping and I just snip the ends off them and arrange them in a vase. They are always a single variety of flowers, with no fillers. You really end up getting a great value with the subscription. Who doesn't want fresh flowers in their office regularly? Of course you may want to move them to the kitchen table when you aren't working because they smell incredible. When you are away you can suspend your subscription too!
Check out BloomsyBox subscriptions and varieties!
I am so THRILLED with my new home office and I love all the little touches that came together to make a big impact!
What is your favorite tip for an organized office or home? Do you have a little treat like my BloomsyBox subscription that you treat yourself too?
If you enjoyed this post you may also like this Hidden Home Office post: